As soon as we heard about Tsuta, the world's first Michelin Star ramen restaurant, eating there was added to our Tokyo wishlist! Tsuta was awarded a Michelin Star in December 2015 and became an overnight sensation with diners from all over the globe queuing for hours for a taste of the Michelin Star ramen. With a $10 price tag and only 9 seats, demand for a spot at the tiny restaurant is so high that a ticketing system has been implemented. On a rainy Tokyo Sunday morning we managed to grab one of the highly coveted seats in Tsuta and feasted on a delicious bowl of Michelin Star ramen. Here's our tips and guide to getting a spot a Tsuata: enjoy!
How getting a seat at Tsuta works
A ticketing system is in place at Tsuta and, in return for a refundable ¥1,000 deposit, tickets are distributed outside the restaurant from 8am (and often 7am). Everyone in the party must be present to get a ticket. The coloured ticket represents a seating time at which you can return to the restaurant to eat with tickets typically allocated for 11am, 12pm, 1pm, 2pm, 3pm or 4pm.
Ticket Time!
The first step in eating at Tsuta is to get a ticket for a spot at 9 seater ramen counter.
1 | What time to queue at Tsuta to get a ticket
Tsuta serves about 70 meals a day meaning there are around 70 spots available. Weekends are typically busier than weekdays and, on a rainy Sunday morning in Tokyo, our 8am arrival secured us tickets for a 1pm ramen slot. Sometimes the tickets sell out early but on other days it's possible to get a seat by showing up for a ticket at midday.
The coveted tickets: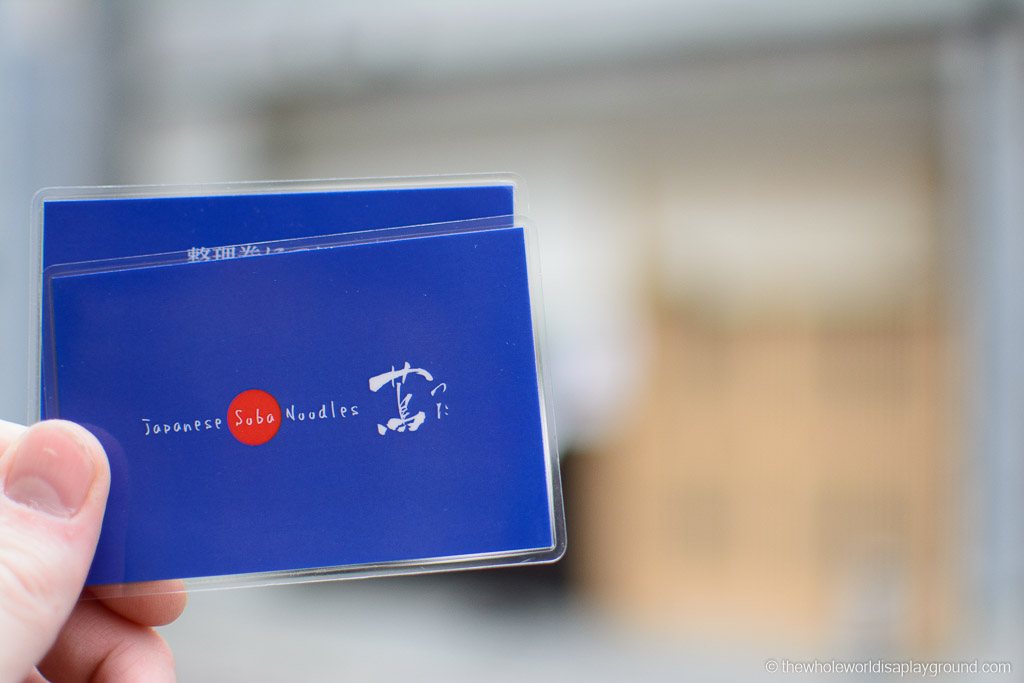 Where to stay in Tokyo
Courtyard by Marriott Tokyo Station: We opted for the Courtyard Tokyo Station as the hotel is located close to Tokyo's main train station and is within walking distance of our Tokyo must see sites such as the Tsukiji fish market, Sushi Dai and Ginza. The accommodation was high quality, good value and our room, while compact, was fitted out well. Click here for latest prices!
Click here for the best Tokyo Hotel Prices
2 | Bring Cash
The staff collect a ¥1,000 refundable deposit from each customer which is returned on arrival for the meal.
3 | Tsuta Opening Hours
Tsuta is open from 11am to 4pm or whenever the ingredients run out for the day. Tsuta is closed on a Wednesday.
4 | How to get to Tsuta
Tsuta is a two minute walk from Sugamo Station on the Yamanote train line which loops around center of Tokyo. We took the train from Tokyo station and 10 stops later hopped off at Yamanote ready for our Michelin Star adventure!
5 | Where to queue for Tsuta?
The queue is located at the side of the restaurant in a covered entrance to the apartment block next door. There are signs with instructions on the wall.
The restaurant front and a glimpse of the queue.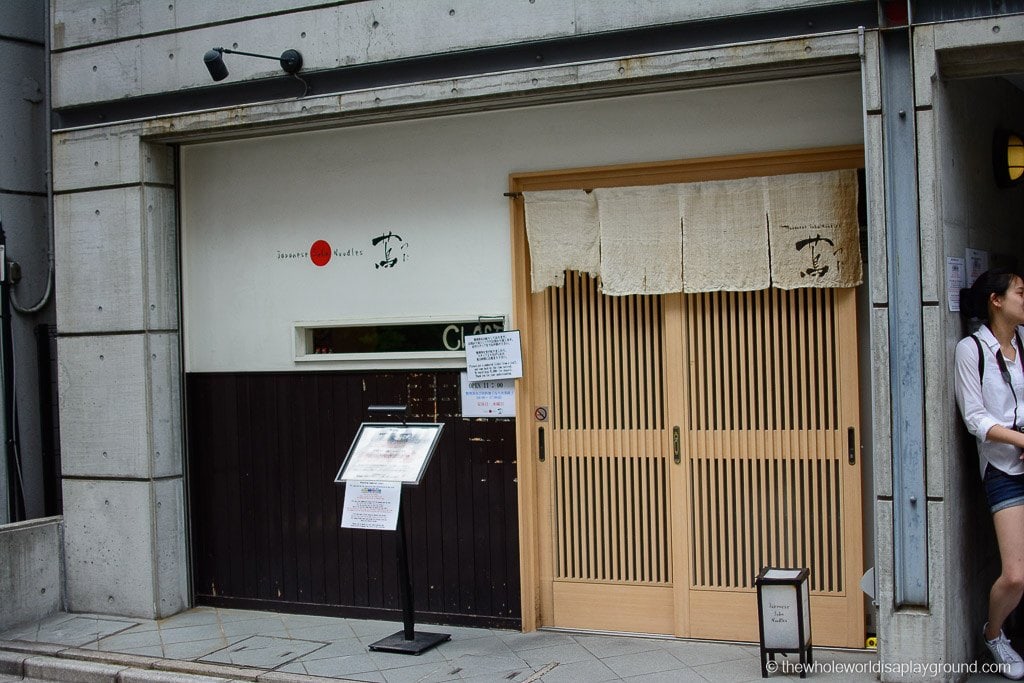 6 | Do I need to queue all day?
Nope! Once you have a ticket and a time slot there's no need to hang around. It's just a case of returning around the time of your slot and joining the queue of ticket holders waiting to get inside.
Instructions for the Tsuta ticketing system: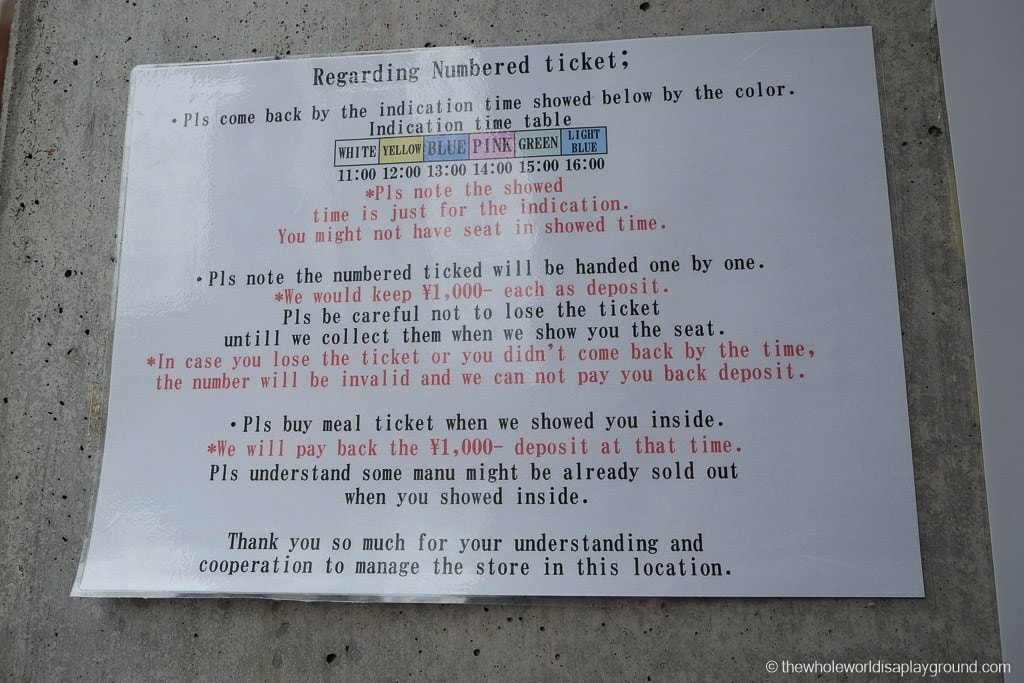 Travel Guides
Here are some of the best travel guides for planning your Japan trip. We personally used the Lonely Planet Japan series for our trip planning. Click on the images below to buy yours now!
Meal Time!
After a few hours of sightseeing in Shibuya to work up an appetite we returned to Tsuta for our much anticipated Michelin Star ramen!
1 | Getting seated
Returning at the allocated ticket time does not guarantee you will be seated exactly at that time. When we arrived back for our 1pm slot we joined the other ticket holders queuing to get inside to sit at one of the 9 seats available. It took about 30 minutes from us joining the queue 7th and 8th in line to sitting down with a bowl of ramen. Our ticket was collected and our ¥1,000 deposit was returned as we waited outside.
2 | Ordering
Like many ramen spots in Tokyo food orders are collected via a vending machine on entry. The vending machine is in Japanese so we had to enlist the help of one of the staff to decipher the menu options. Bring cash: the vending machine accepts ¥1,000 or ¥2,000 notes.
3 | Tsuta menu
Tsuta has 4 ramen options: hot or cold buckwheat noodles (soba or tsukesoba) served in a salt (shio) or soy sauce (shoyu) soup. The staff recommended we went with the first button which is a ¥1,250 soy broth with pork and soba noodles made from 4 different types of wheat and finished off with an egg, truffle oil, spring onion and fermented bamboo shoots. After placing our order we waited on some free seats.
4 | Ramen time!
We were given a spot at the ramen counter when the next two seats became available. Our ramen was freshly prepared as we waited and served a few minutes later. Needles to say the ramen was outstanding and we enjoyed every bite.
This is what Michelin Star ramen looks like!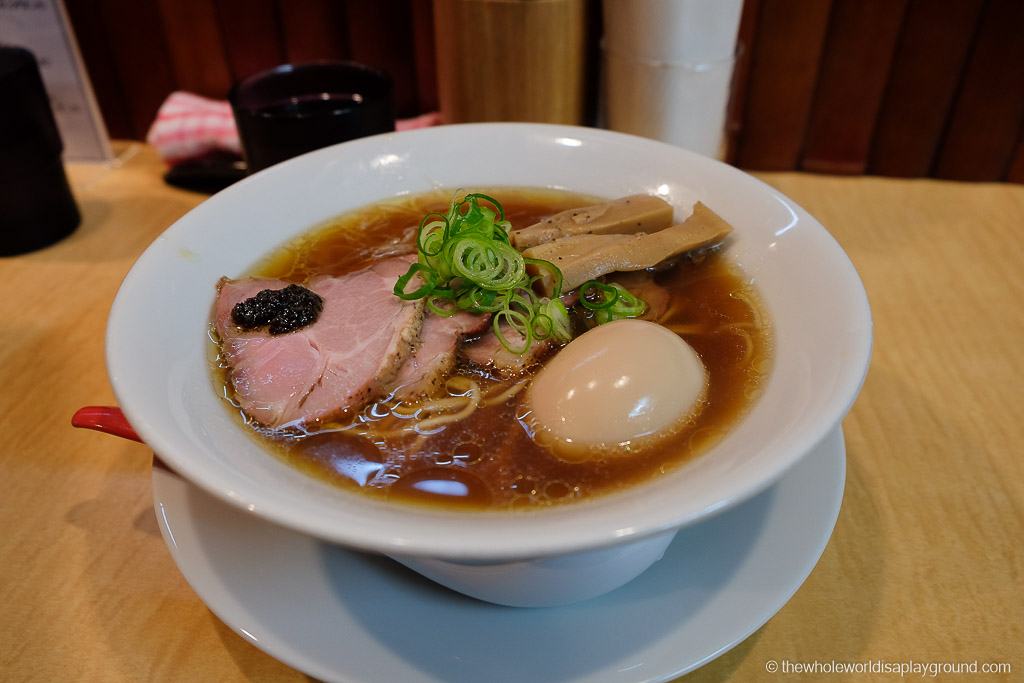 5 | Tsuta Etiquette
Tsuta is all about the ramen and and eating there is quite a serious affair. The silence is broken only by some quiet appreciation of the food and the occasional ramen slurp! Our meal lasted about 20 minutes from sitting down to leaving. Photographs of the kitchen are not permitted.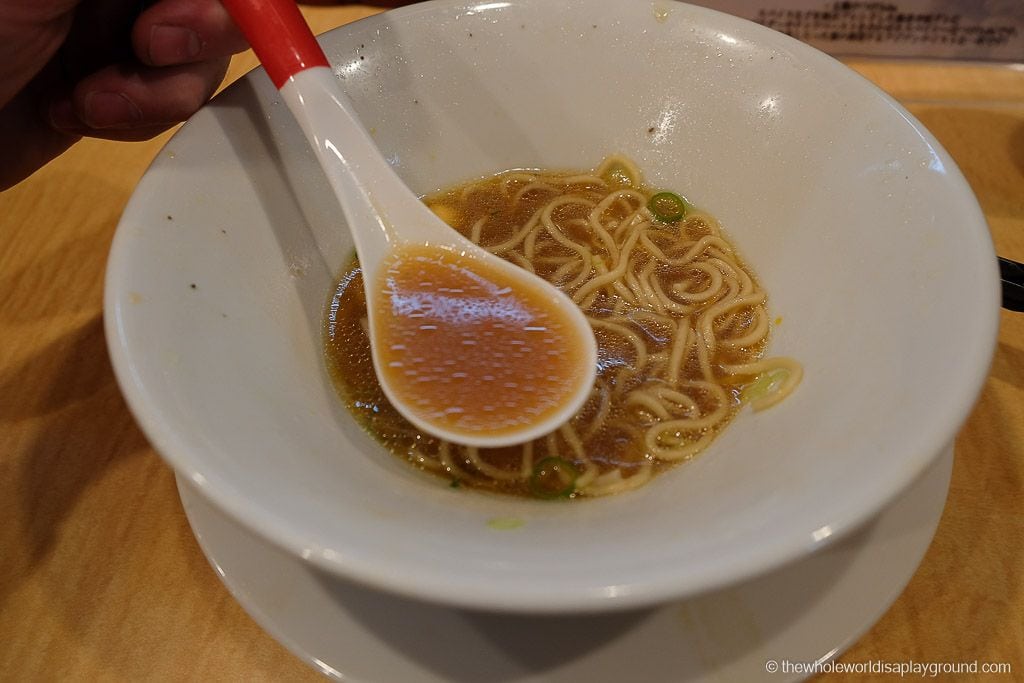 Enjoy!
Tsuta is likely going to be the best value Michelin Star meal you will ever eat so savour the moment and the ramen and enjoy!