We were taking off for a fun filled week in New York City and we were flying in style with a KLM Business Class flight from Amsterdam to New York. Having been on our best detox behaviour for the month of January we were dreaming about New York food and a welcome glass of champagne!
After some rest and relaxation in the KLM Amsterdam lounge (check out our lounge adventures here!) we made our way to the gate ready for some fun in the sky!
Welcome on Board!
Boarding:
The gate was over a 10 minute walk from the lounge and involved some lengthy queues and a separate security check. It's impossible to judge just how much time to leave and we had about 30 minutes of hanging around in the boarding area. There was a separate small seating area for business class but it was full and we were happier standing at the window indulging in some plane spotting!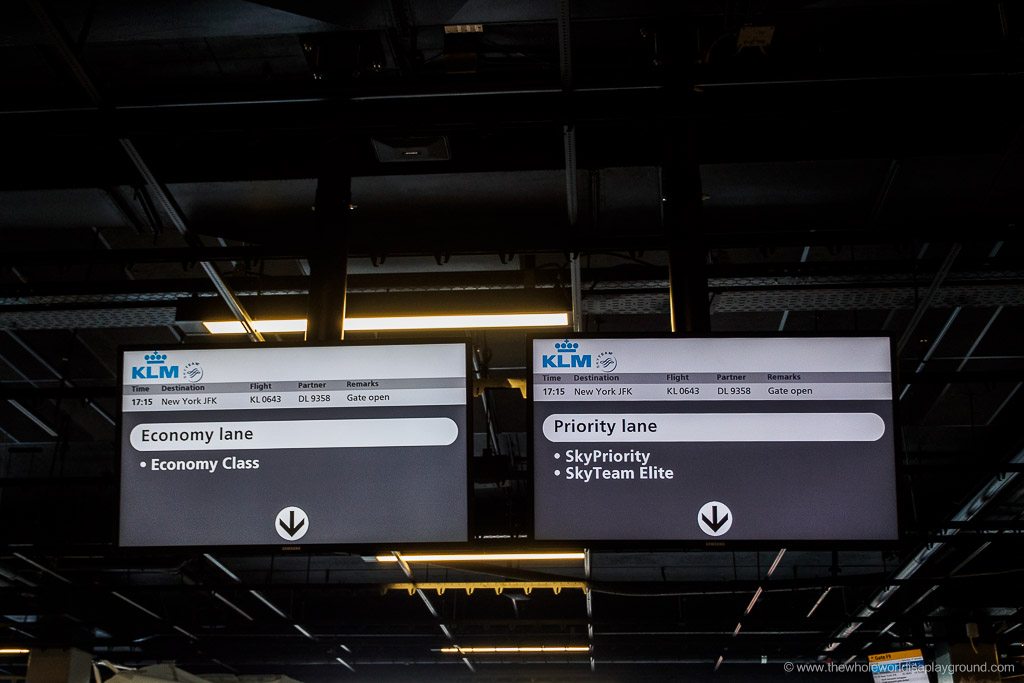 Eventually boarding began and, although it was a little chaotic, we made it on board relatively quickly and were welcomed with a nice, chilled glass of champagne. It was time to relax!
I spy New York!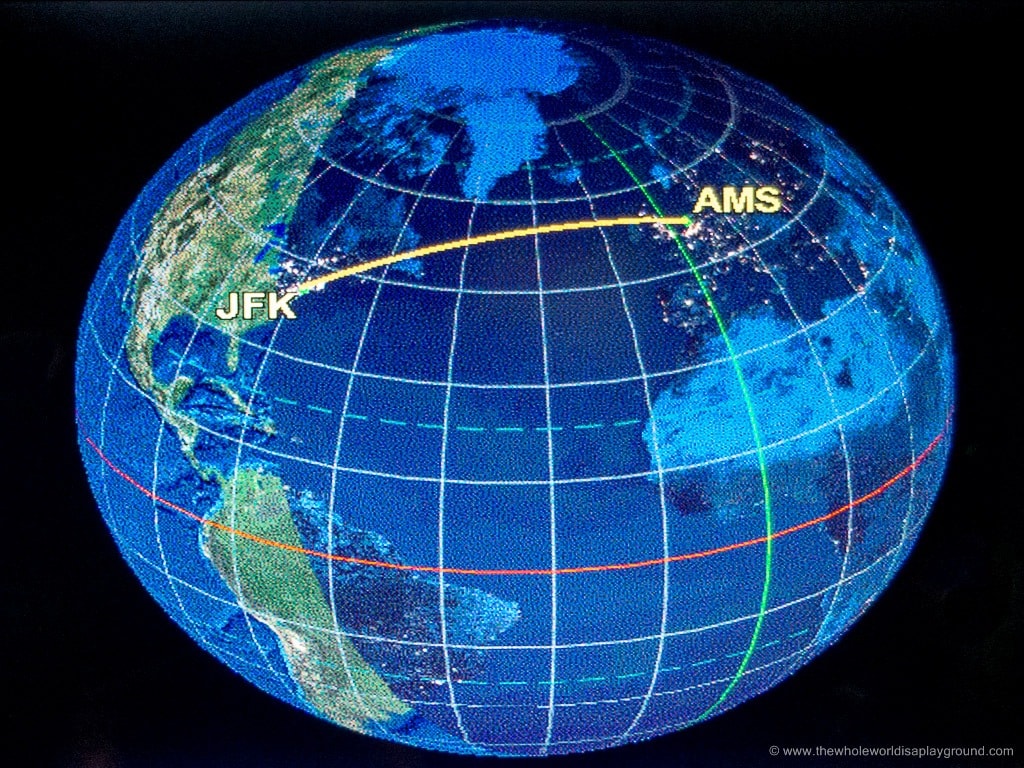 The Cabin
Our pre booking research meant we opted for a flight operating on the newly refurbished Boeing 747-400 with fully lie flat beds.  We had a choice between business class seats in either the upper or lower deck of the plane. The novelty of going upstairs to a solely business class cabin won out and we choose an upper deck seat for our journey!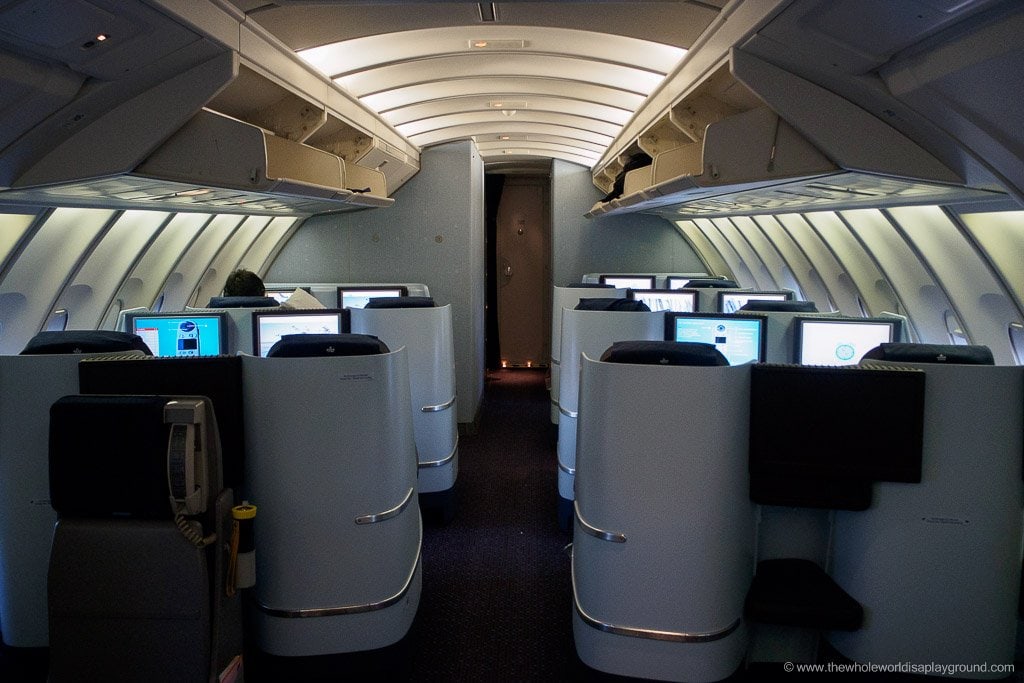 The Seat
The upper deck has 20 business class seats and is spacious and private with four rows of 2 x 2 seats and 2 rows of 1 x 2 seats at either end of the cabin. We loved the calmness and privacy of the small cabin and the only foot traffic was the crew during service times.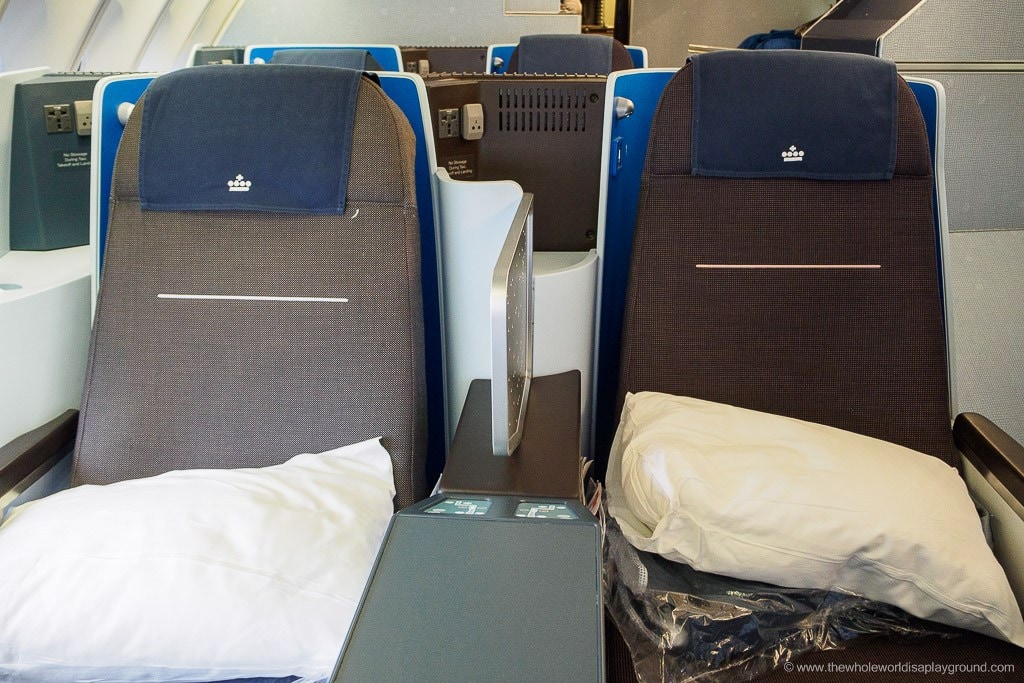 We'd read mixed reviews about the KLM Business Class offering but we were instantly impressed with the layout and the seating. The hard shells meant our space (or those behind us) was never compromised when we reclined and the cabin was in excellent condition. The seats are great for travelling as a pair but, for single travellers, the window seat does not have aisle access and toilet breaks require climbing over your seat buddy!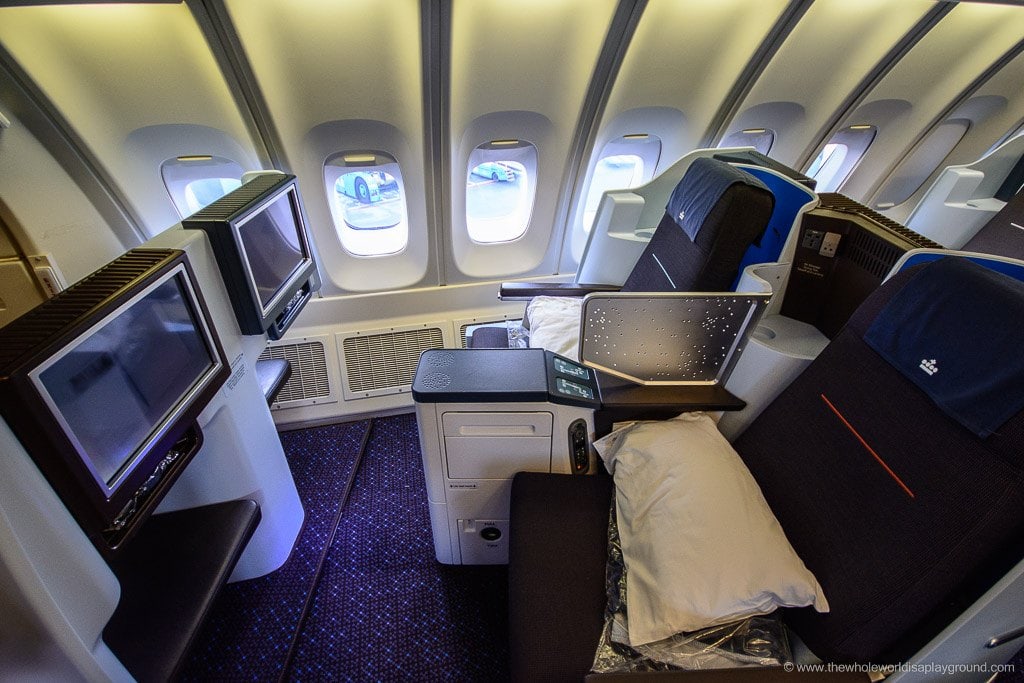 The seat was comfortable for relaxing. I like to have something to rest my feet on and was delighted to be able to stretch out to the foot rest. The flat screen television was big and head phones were provided.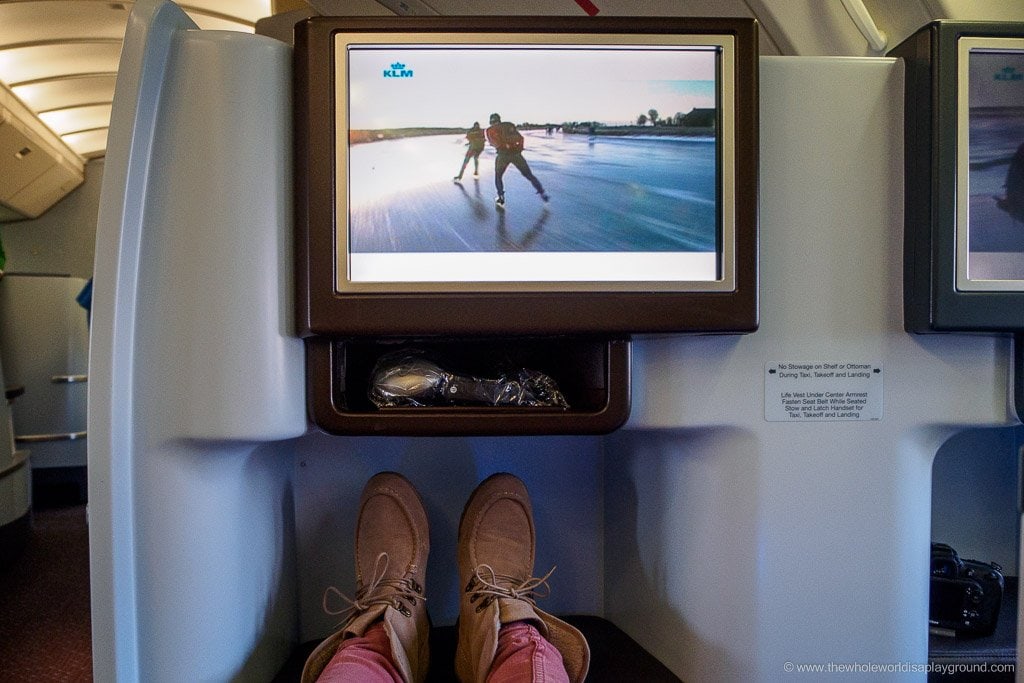 Food and Drinks
After discovering that the menu had been designed by the three Michelin Star chef Jonnie Boer we were excited for the dinner service. Our choices included a cold starter or soup, a selection of 3 mains and dessert, fruit or a cheese plate.
The Main Service
Dinner tray: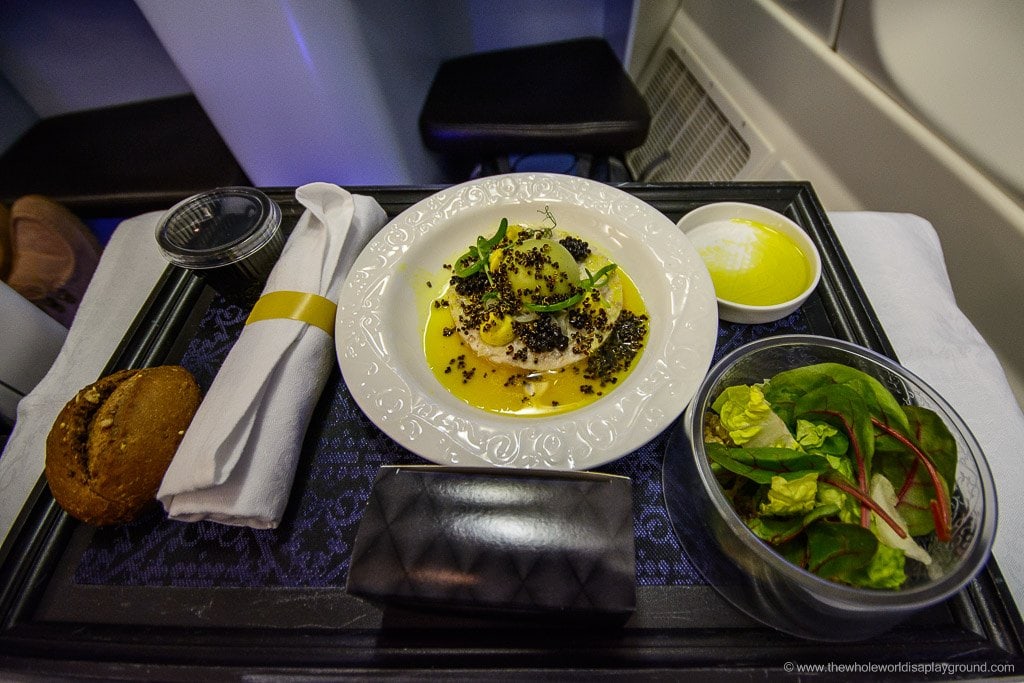 Starters:
We both opted for the smoked tuna salad on a crepe with avocado and herring caviar served with quinoa and a spicy dressing. The soup choice was chicory with quinoa. The tuna dish was absolutely delicious and an excellent start to the meal.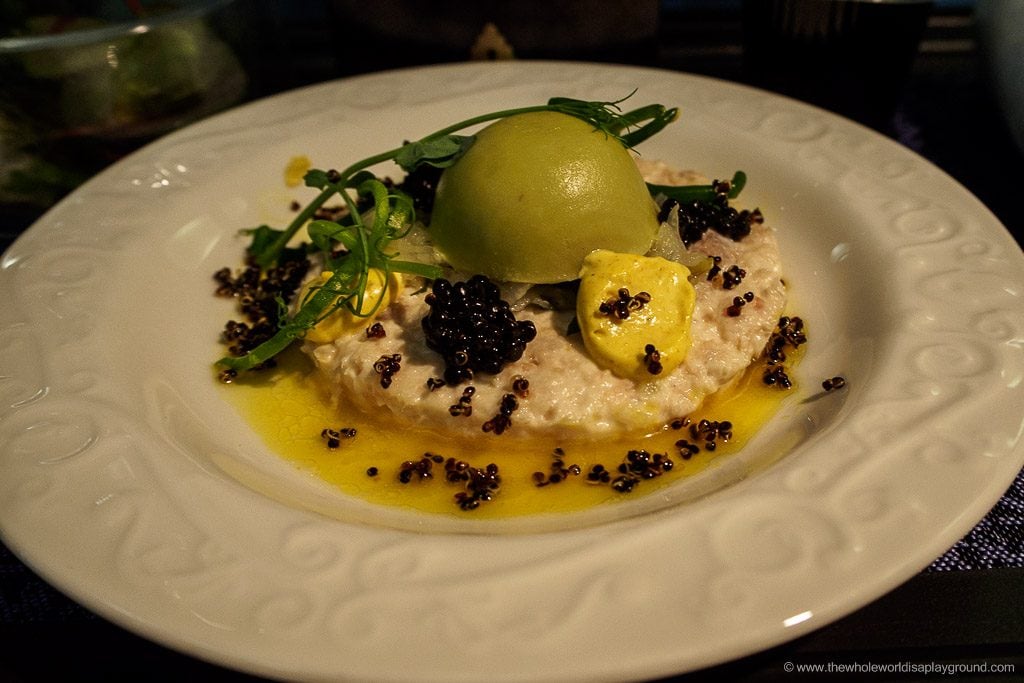 Mains:
For mains, the choice included a chicken thigh in tomato sauce, braised beef and a salmon in a green curry sauce. I choose the salmon while the husband opted for the chicken.
The chicken thigh was served in a Spanish tomato sauce and accompanied by macadamia nut mashed potatoes, pickled carrots, celeriac, onion and cucumber.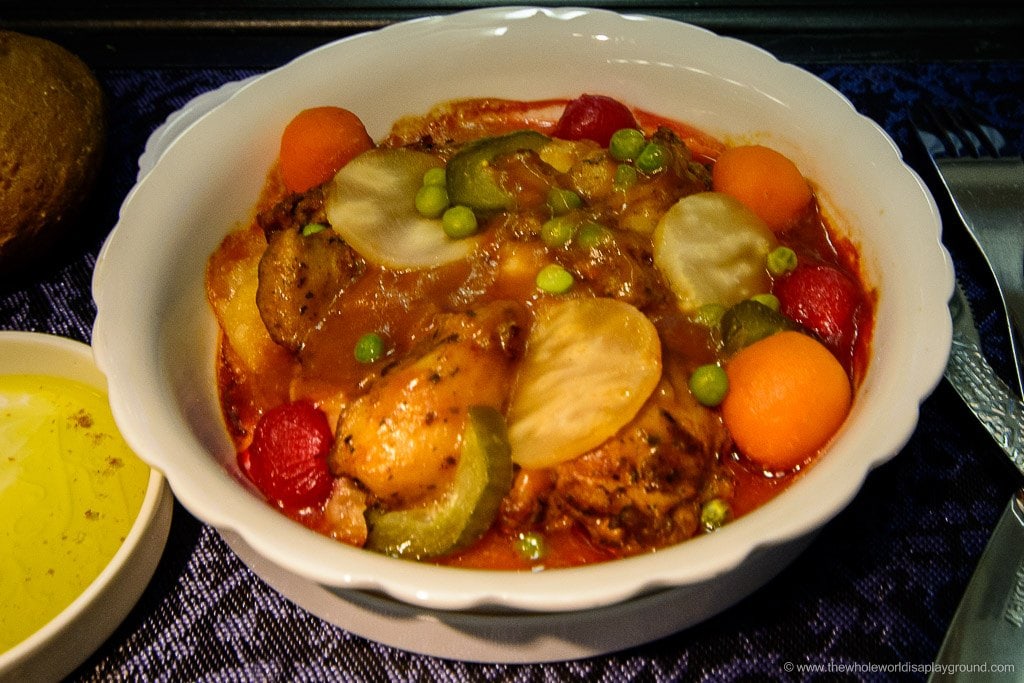 The salmon was in a green curry sauce and served with pearl pasta, carrot and passion fruit mash, green asparagus and pickled vegetables.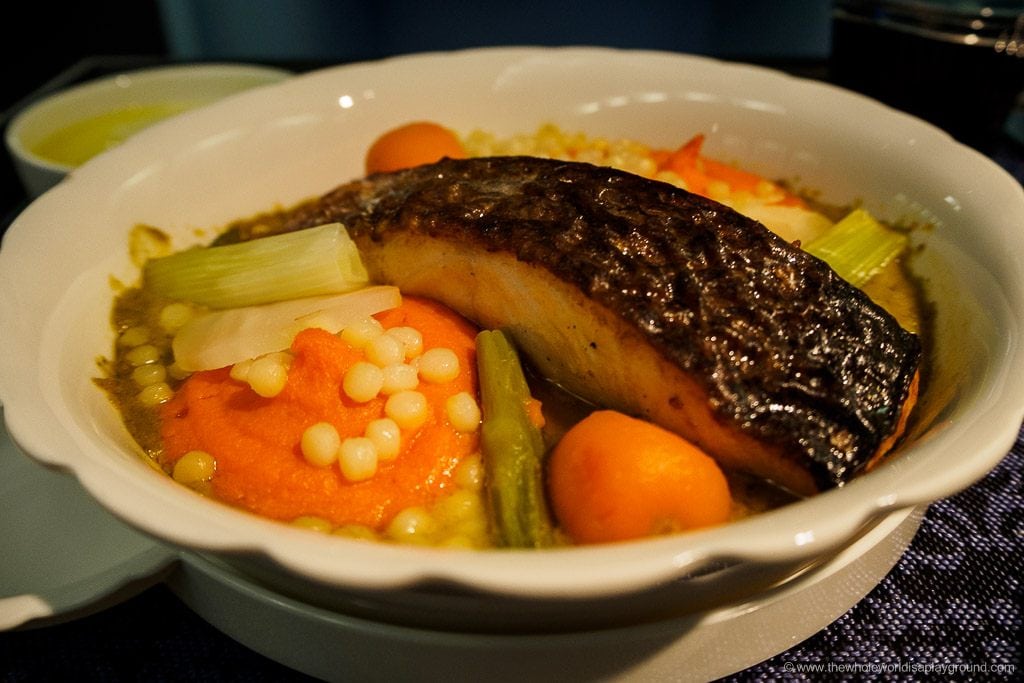 The mains were a bit stodgy and stew like for my personal taste but the flavours were good.
Desserts:
Dave tried the banana salted caramel dessert (I'm pretty sure he did a taste test before taking this pic, tut tut!!) and declared it delicious!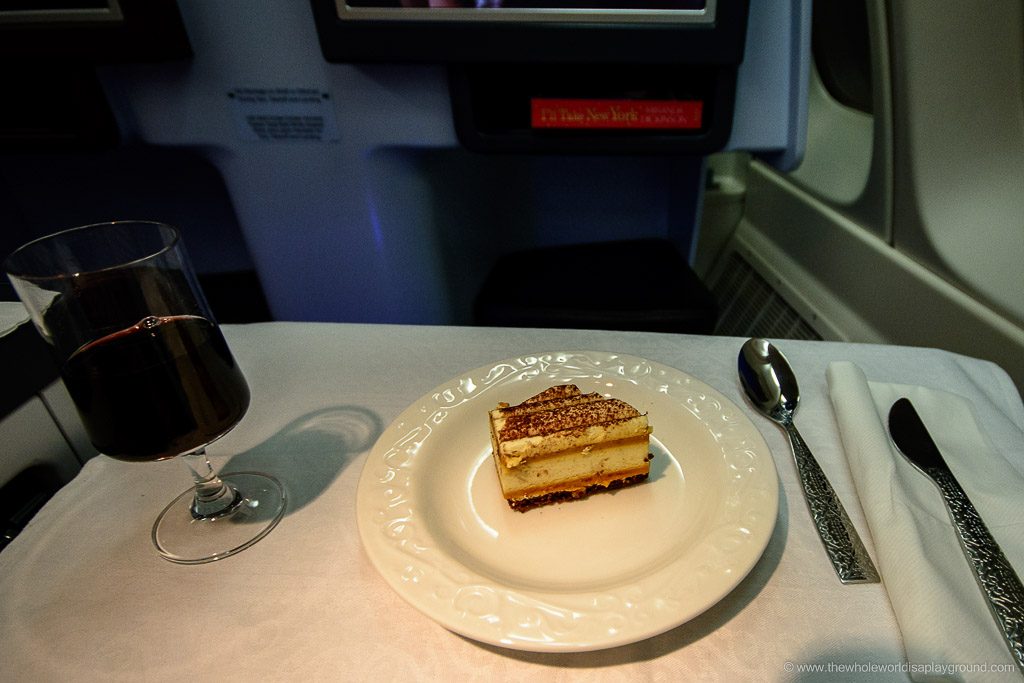 The presentation and variety of the cheese plate was disappointing and could definitely do with a little more thought.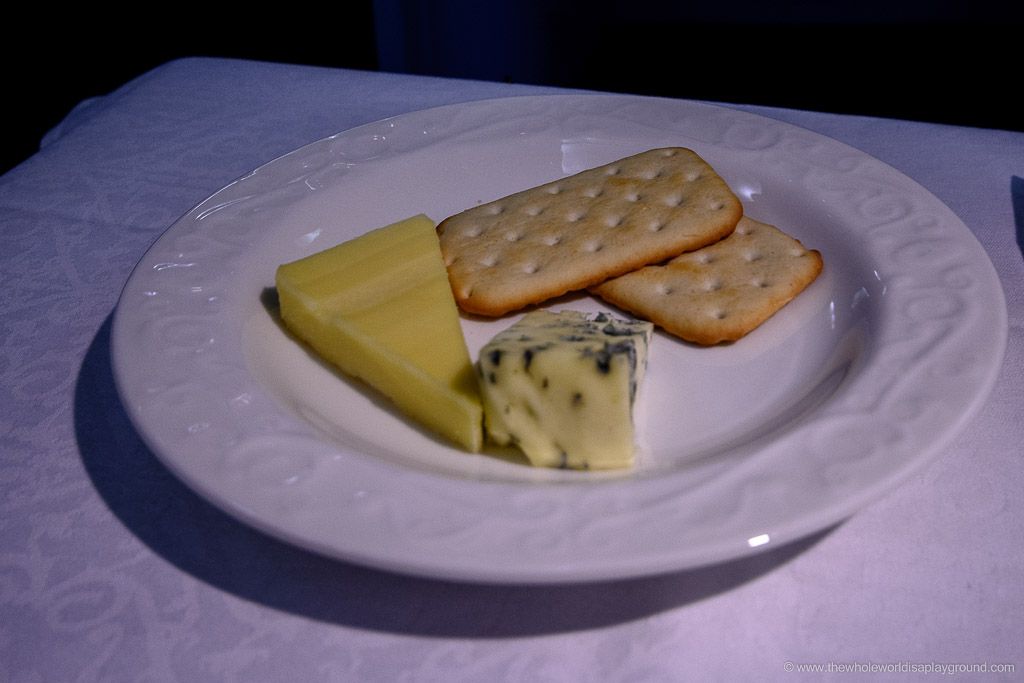 The Light Meal
A light meal was served shortly before landing and consisted of a chicken salad with mango and coconut and a turkey and club sandwich.
Drinks:
Champagne and diet coke were the order of the day on our flight (not together I might add!).  The champagne was a refreshing and bubbly Nicolas Feuillatte Brut Reserve.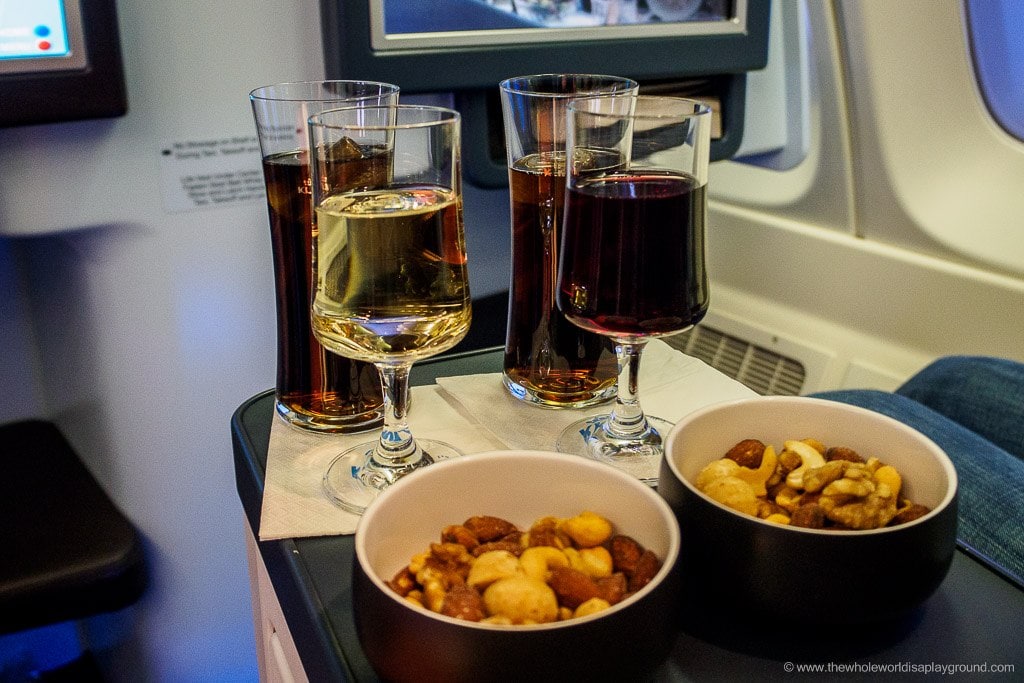 Other choices included a selection of soft drinks, juices, wines, spirits and liqueurs. Heineken was the only beer available.
Wine menu: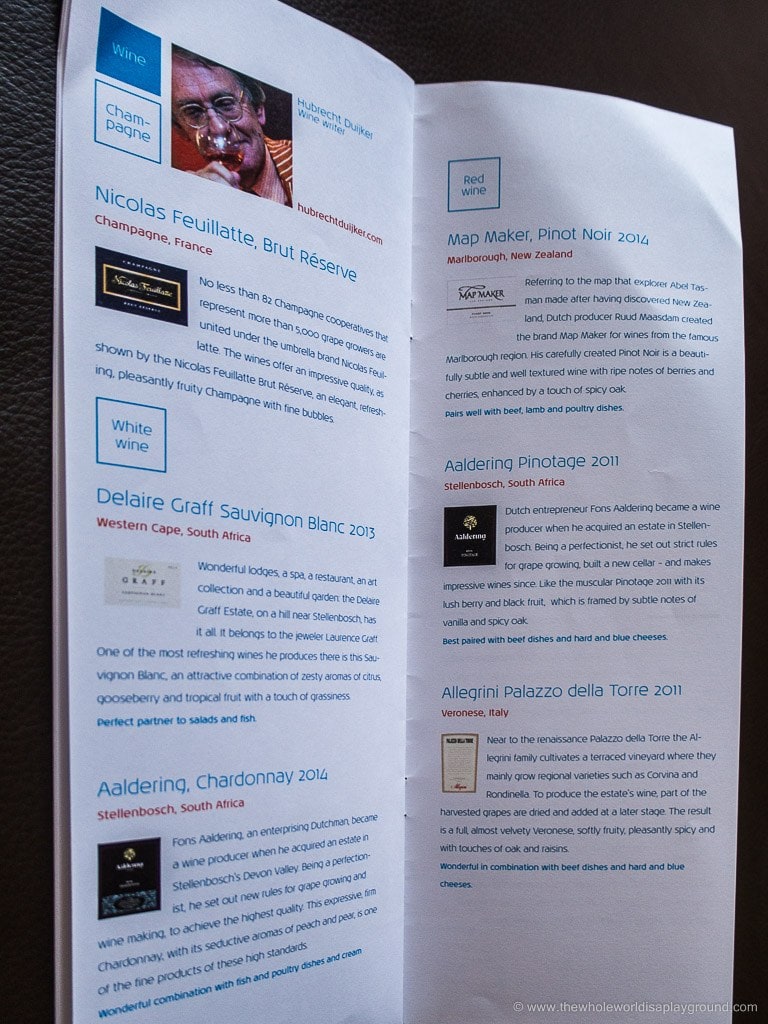 Dessert wines and spirits: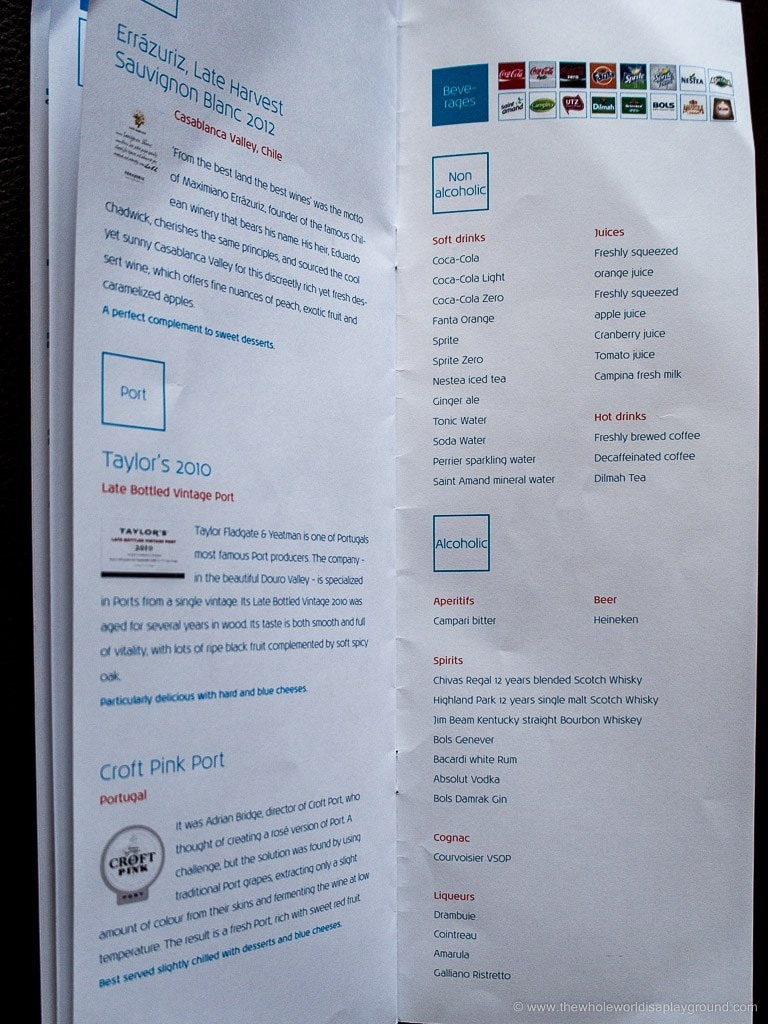 Sleep Time!
It was time for a little nap and we converted our seats into the flat bed. The seats have a 180 degree recline and are 207cm long. We were provided with a nicely padded pillow and comforter and the bed was very comfortable for catching up on some sleep.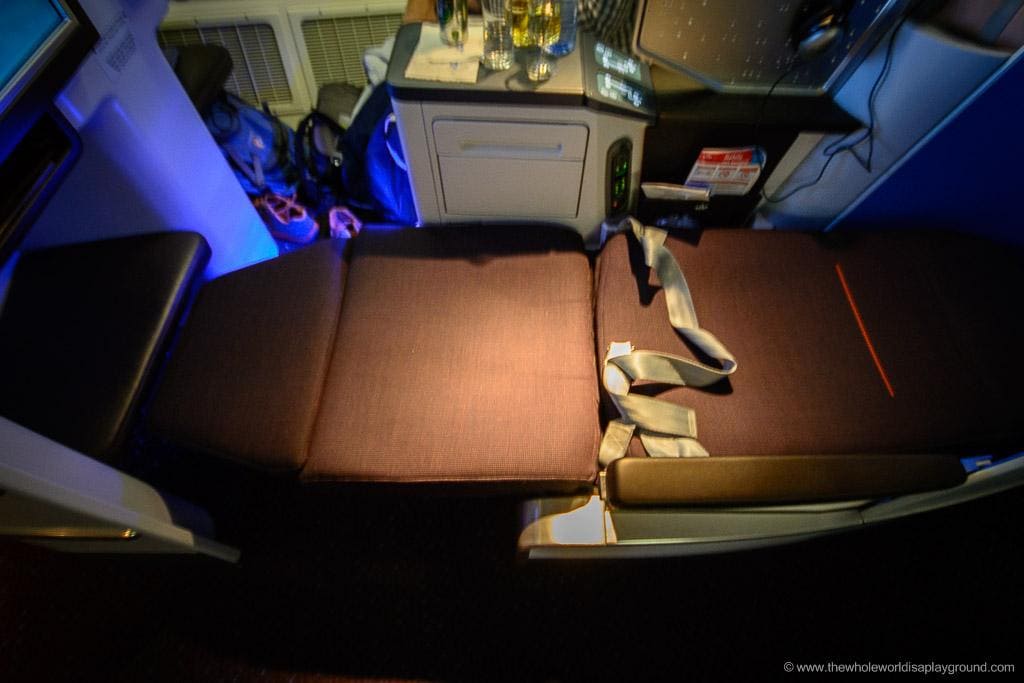 Privacy
The seats are equipped with a privacy divider between pairs of seats and the slightly staggered configuration gave a little more privacy than I expected, especially when lying down. However, even with the partition, it's still quite close for comfort if you are seated beside a stranger! The window seats don't have aisle access and getting to the toilet does require a climb over the legs of your seat mate.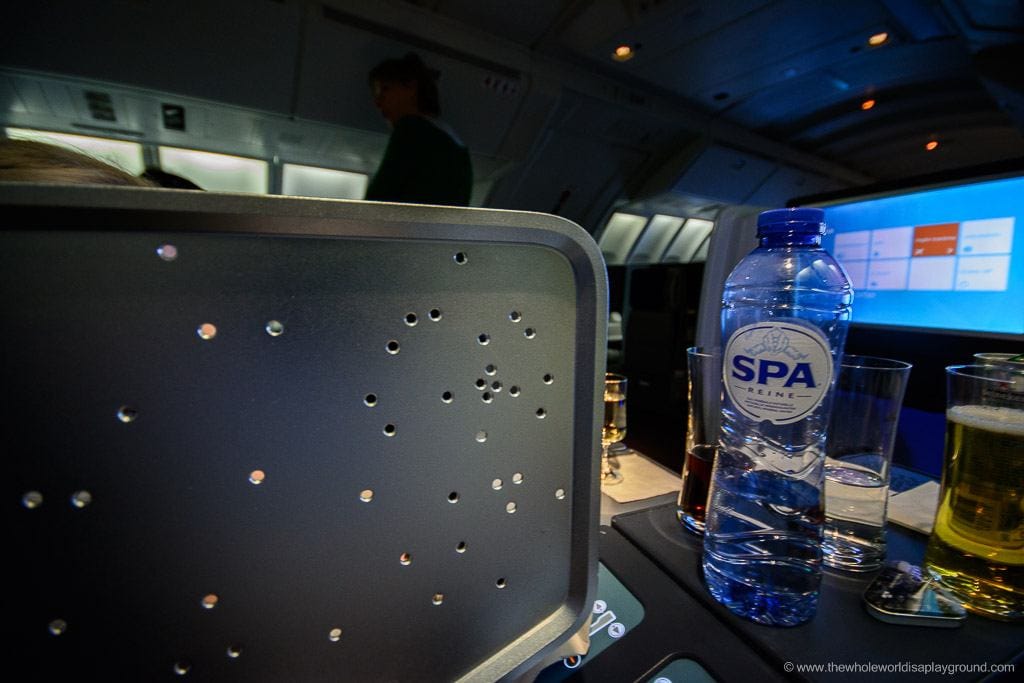 Best seat for single travellers:
1A is a solo seat on the lower deck and an excellent choice if you can secure it while travelling alone.
Amenity Kit
Male and female Viktor and Rolf amenity kits were provided and contained the usual accessories: socks, eye mask, ear plugs, a toothbrush, a pen and a comb. The new style bags aren't overly useful post flight given the flat shape but they look nice!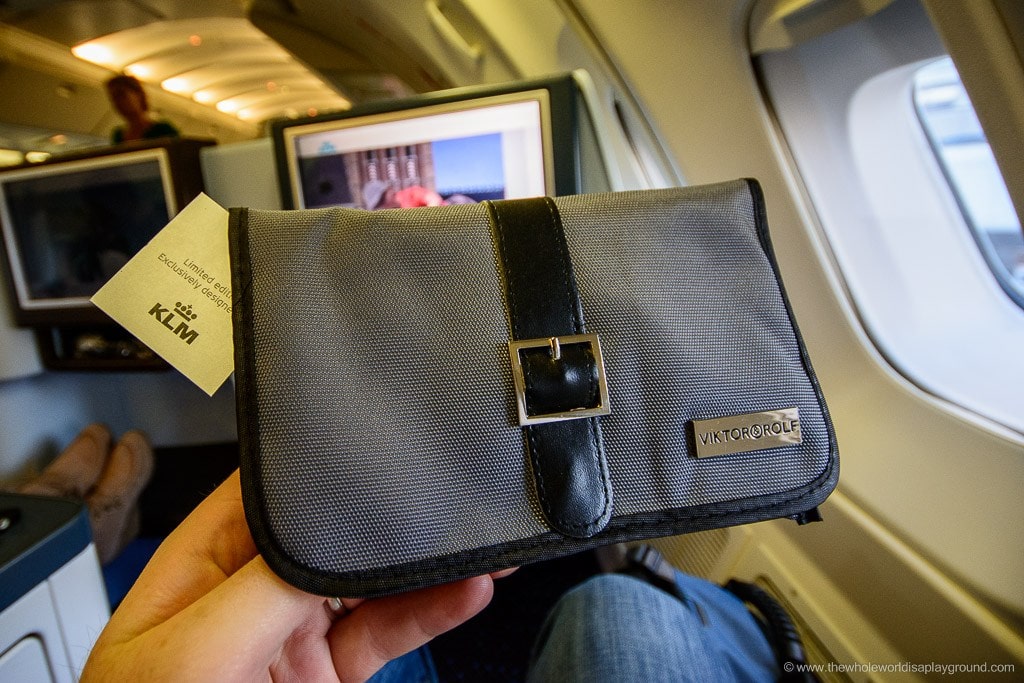 The contents: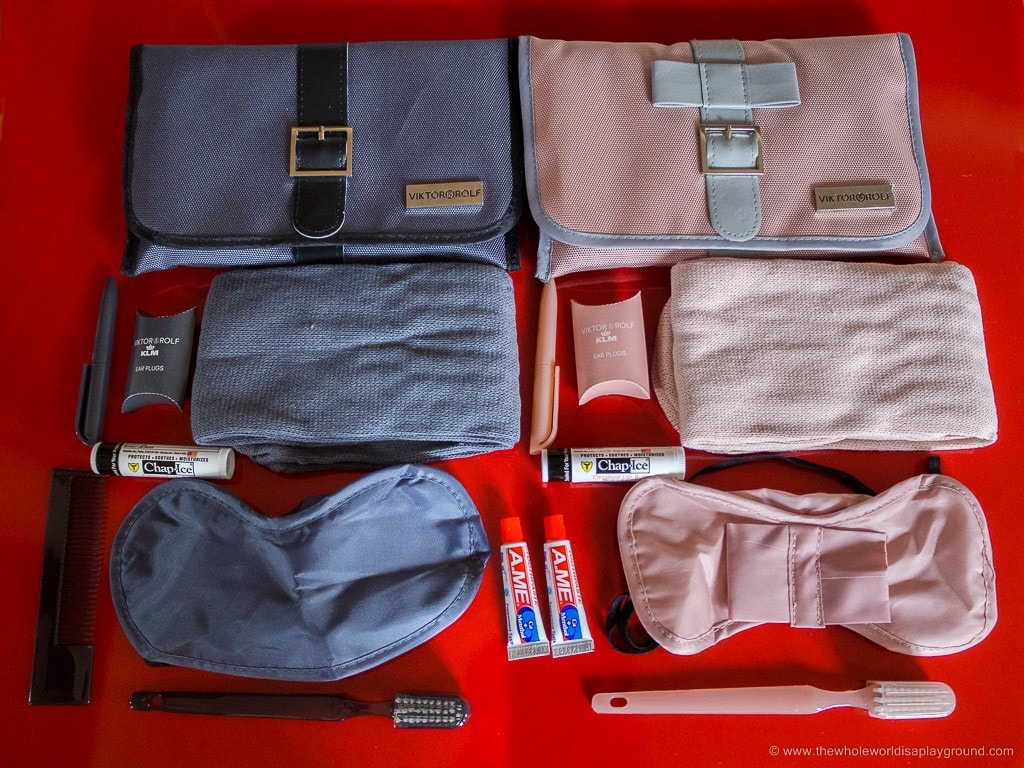 Overall
We were really impressed with the new KLM Business Class product and the crew were fantastic. The upper deck is excellent and gives a real sense of privacy and calm and the flat beds are a great addition. With a more streamlined boarding process and some small improvements on the food the flight would have been close to perfect!
Cheers!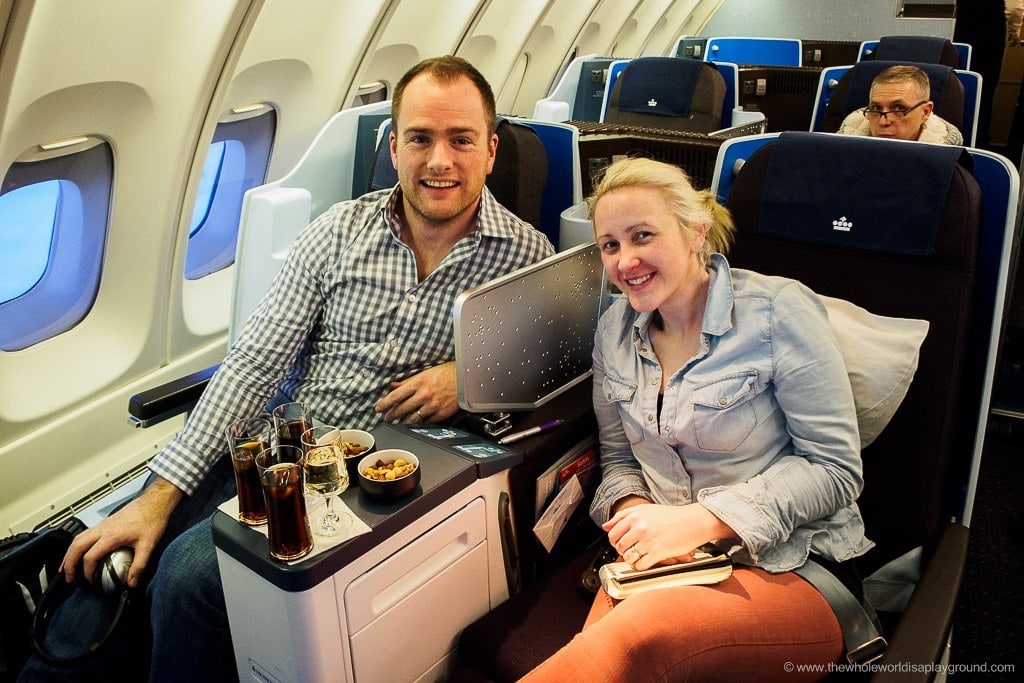 Fabulous views!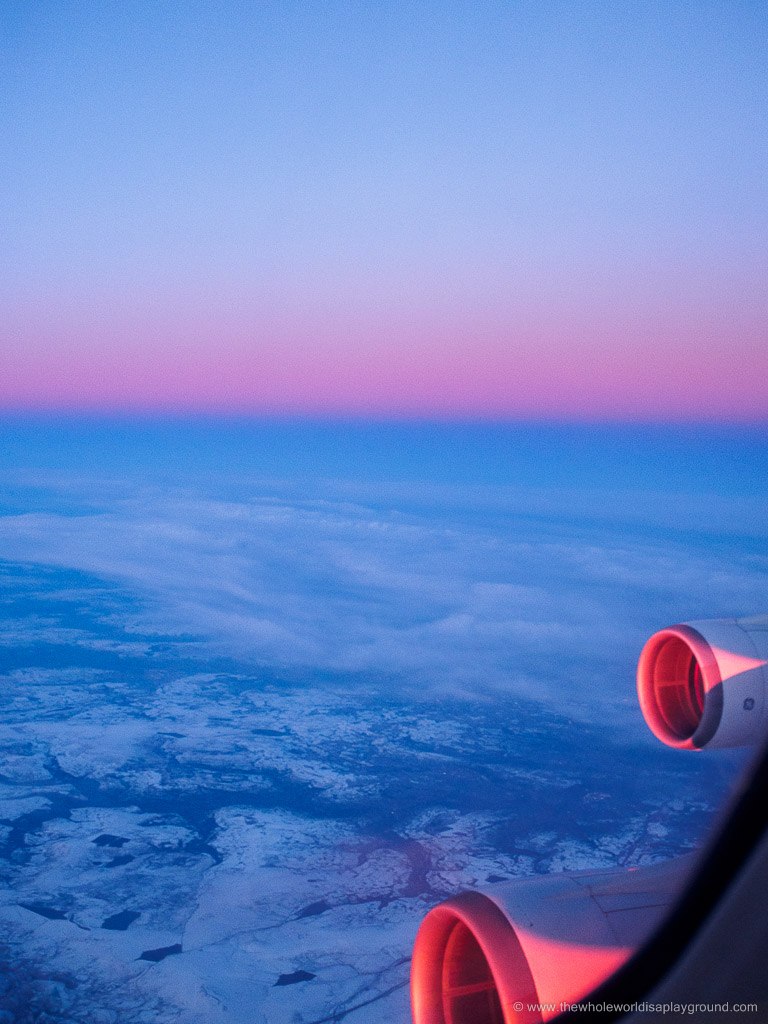 Tempted? Book your KLM flight here!