A Namibia road trip is an incredible way to experience the country and renting a car was an essential part of our Namibia itinerary. We've driven on its good roads, its not so good roads and its off roads, through its deserts and cities and across its borders. Having experienced driving on Namibian roads on multiple visits we wanted to share everything we learned about driving in the country to help you plan your road trip in Namibia. Here are our top tips for renting a car in Namibia!
Should I drive in Namibia?
Let's start with the question we get asked most frequently about driving in Namibia: should I drive in Namibia? From our experiences, driving in Namibia is safe, fun and sometimes challenging but not nearly as stressful as many other countries where we've done self drives! The tarred roads are typically in good condition, the gravel roads are manageable and get easier to navigate with experience and off road driving is generally an optional part of any itinerary.
So as long as you are comfortable with the prospect of driving on the gravel roads then self-driving is a great option if that is how you prefer to travel – it's a fantastic way to see the country at your own pace.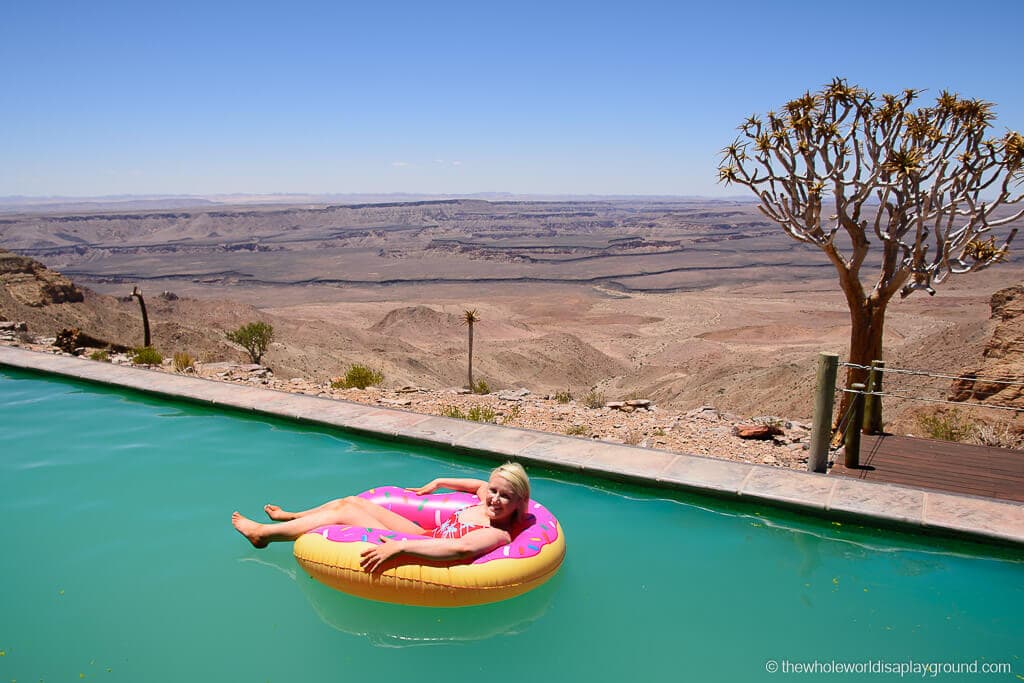 Choosing a rental car and 4x4s
1 | Rent the biggest car you can afford if you're travelling for more than a few days and ensure it has good air con. The vastness of the country means you are going to spend many, many hours in the car and it is more than worth it to spend a little extra for some comfort. We, as three adults and a baby on our latest trip, shared a Toyota Fortuna, and it was perfect for a longer haul trip. The tinted windows meant our luggage wasn't too visible in the trunk and we had plenty of leg room during the trip. Window shades are also a great option if you have passengers in the back of the car as it get uncomfortably hot during the extreme temperatures.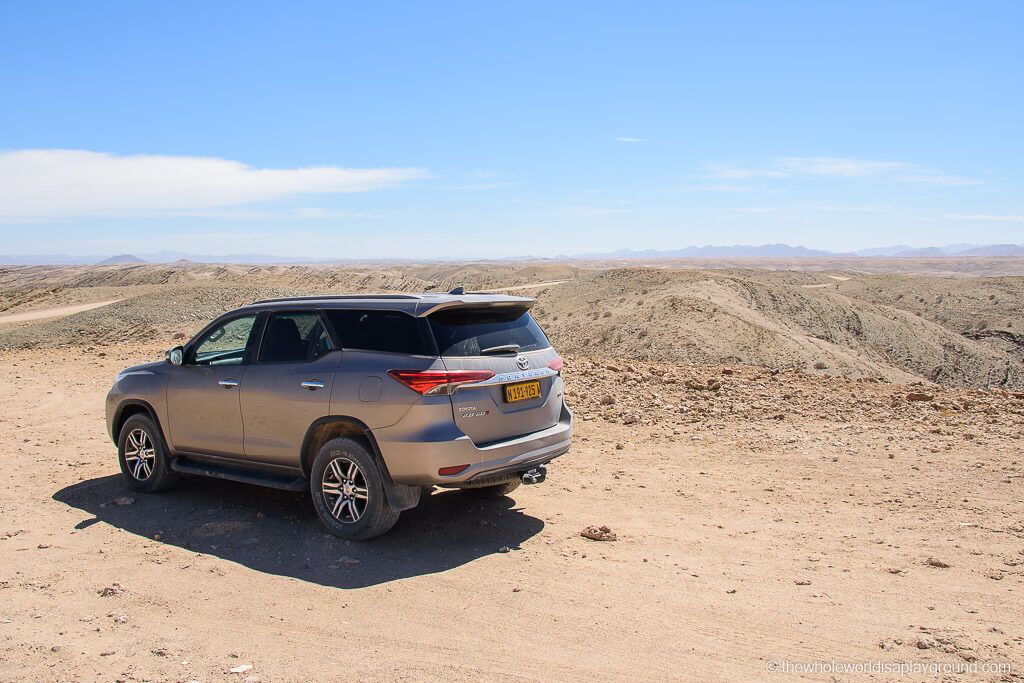 Renting a Car in Namibia
Renting a car in Namibia is the best way to explore the country. Most of the main roads are good quality, however some are classed as gravel roads. For these (eg. Driving to Sossusvlei) we recommend getting a 4×4 as it will make driving much more comfortable. Having your own car gives you the flexibility to travel at your own pace and explore all the hidden sights Namibia as to offer.
We're huge fans of road trips and have driven rental cars in over 40 countries so we have a lot of experience renting cars in foreign countries. Book your car now with RentalCars.com, where you will find the best rental car prices
Click here for the best rental car prices
2 | Do I need a 4×4 for Namibia? No, you can visit most of Namibia with a regular car and most of the major tourist sites can be reached without a 4×4. However a 4×4 vehicle can make your trip much more comfortable.
There were many times where we needed it and loved having this freedom – Sossusvlei Dunes and Dead Vlei are one example. You cannot access Deavlei without a 4×4 car due to deep sand and we saw other vehicles getting stuck. However, there are shuttles as an alternative. Much of the Skeleton Coast is only accessible by 4×4 as is the road to the amazing Fish River Lodge at Fish River Canyon – check it out here to understand why we made the trip! We also encountered a number of gravel roads which would likely be very uncomfortable in a regular car due to their very poor condition especially after rain.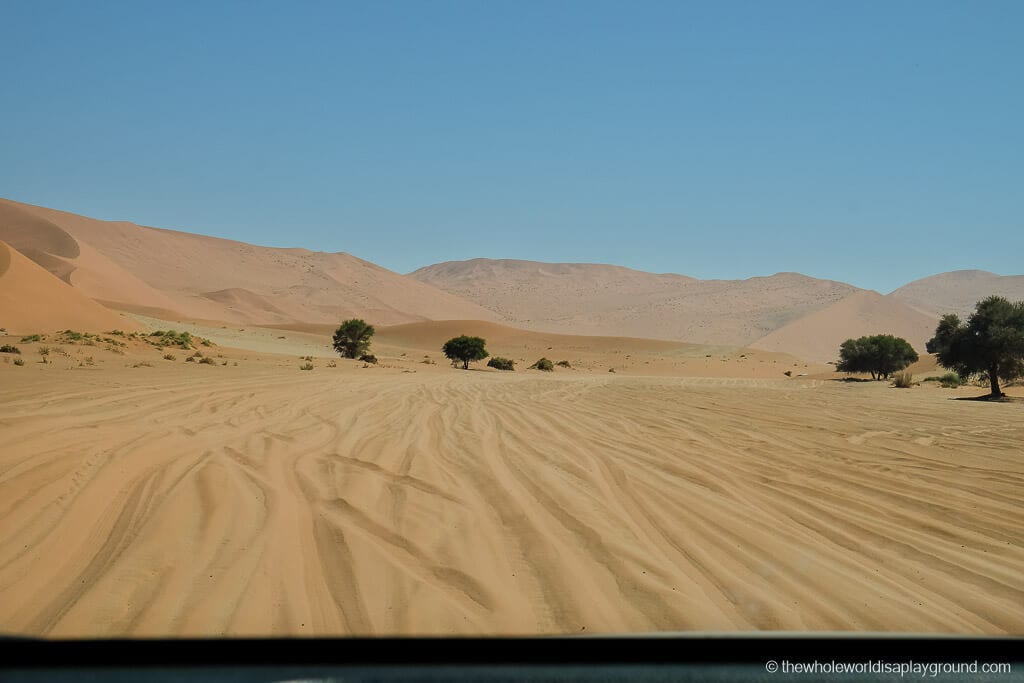 3 | If you are renting a 4×4 ensure you have the proper off-road tires and understand the tire pressure. Ask at the time of rental on the best way to handle the tire pressure on gravel roads – generally you'll need to lower your tire pressure on sand and gravel roads to improve traction and reduce the chances of a puncture but it's dependent on a number of factors. Just because you rent a 4×4 doesn't mean it's set up for off road driving so ensure you have the proper off-road tires before you leave the rental office. This especially important if you are renting in somewhere like Cape Town, where off road driving isn't typical, and are planning to drive into Namibia on the 4×4 roads.
Namibia driving tip: Off road tires have thicker walls which vastly reduces the chance of a flat tire while on the 4×4 roads and tracks.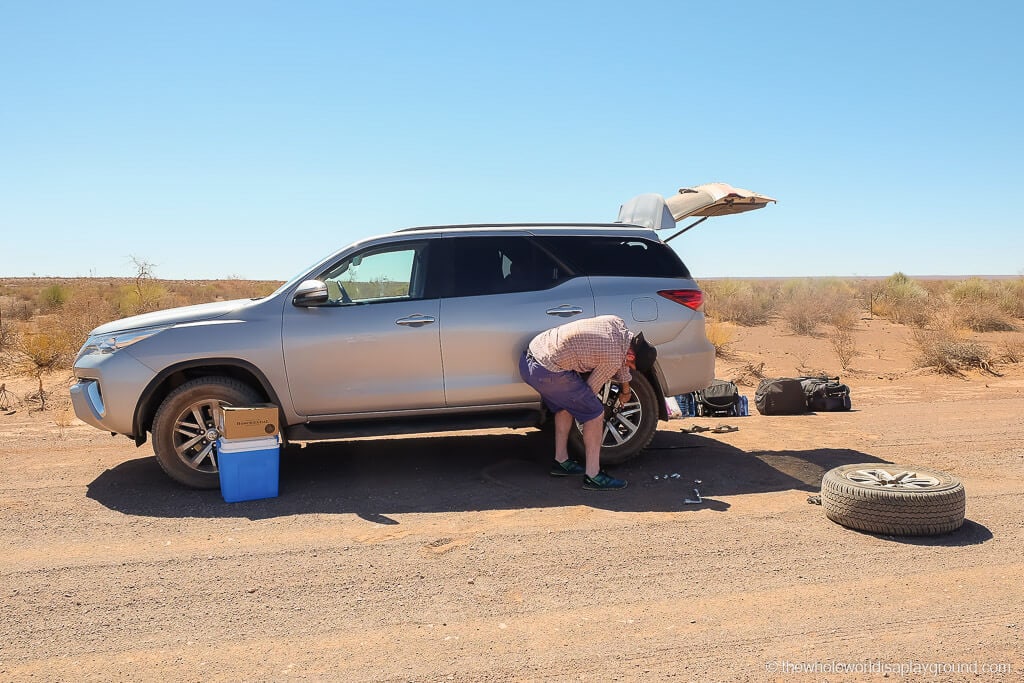 4 | Many rentals are equipped with black boxes which track the movement and speed of the vehicle during the rental: this means that your insurance may be invalid if you have an accident and are acting outside the terms of the insurance so it's important to understand the rules at the time of renting. Stick to the speed limit and rental rules!
The Roads and Speed Limits in Namibia
5 | There are three road types in Namibia: tarred roads, gravel roads and off road. The tarred roads are typically in very condition and are very easy to drive on. The gravel roads vary in their condition and can range from very coarse gravel to sand. The off road conditions tend to include very deep sand or rocky roads which have not been graded and require slow and careful driving to avoid a puncture or getting stuck.
Namibia driving tip: A word of warning – do not try to drive on a road marked for 4×4 vehicles in a normal saloon car. As best you'll get a puncture, at worst you'll get firmly stuck and need rescued – especially in sand!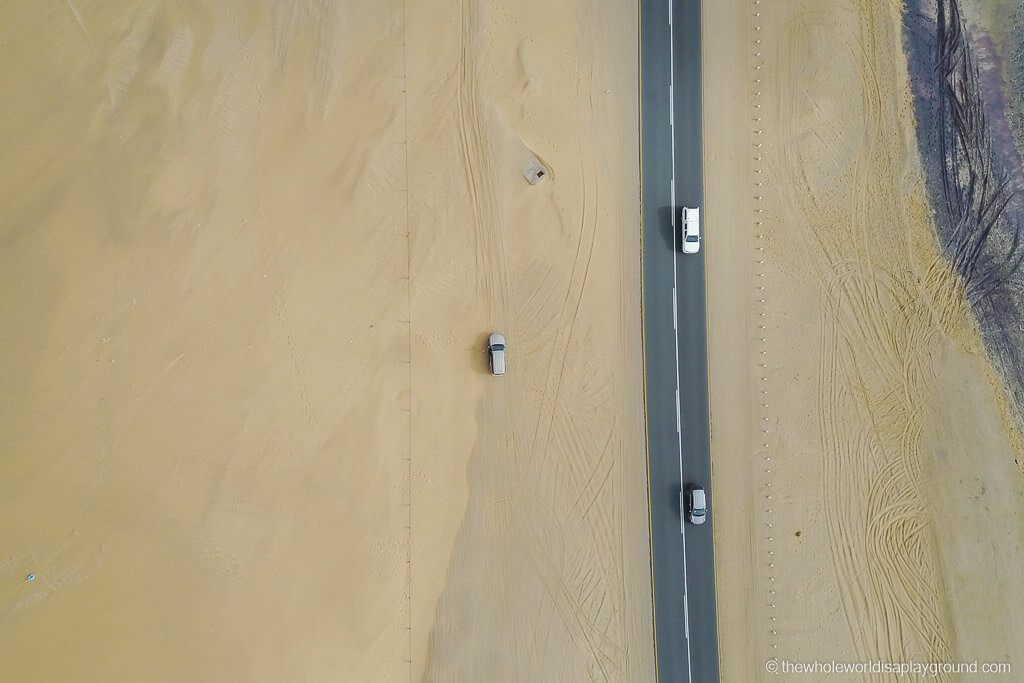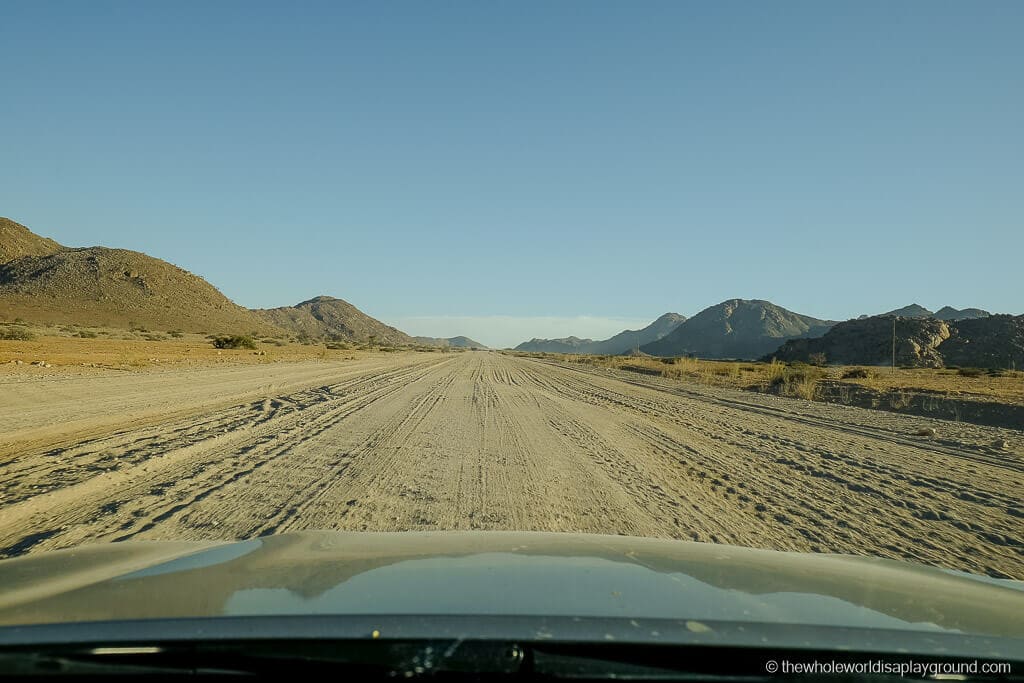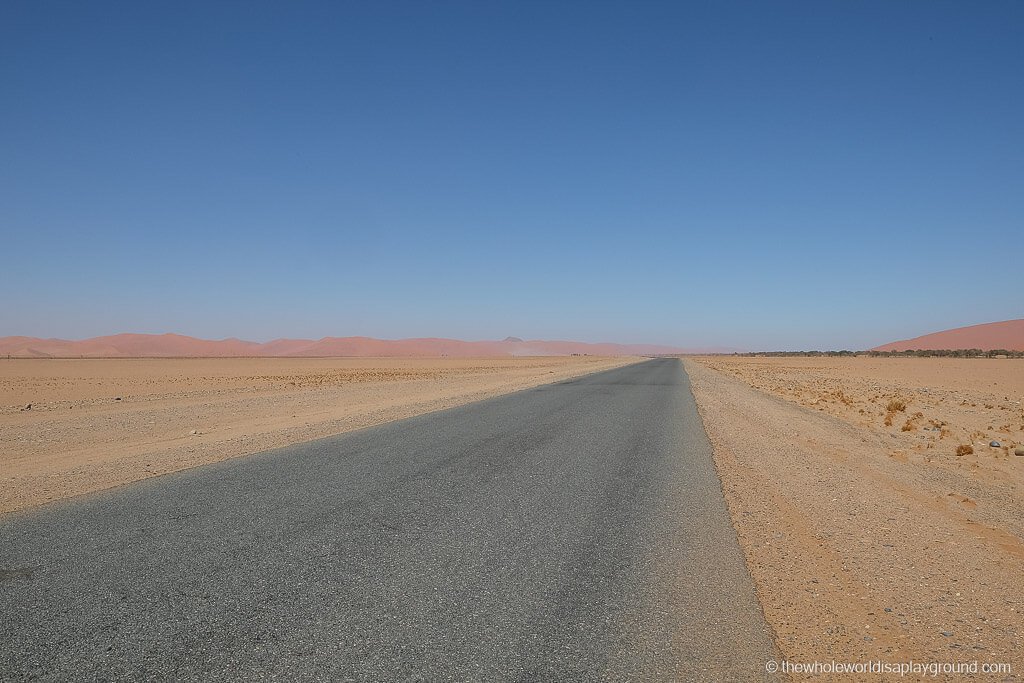 6 | The general speed limits (as at the time of publishing this article, be sure to double check when you travel) are 120 km/h pm tarred roads, 80 km/h on gravel hours and 60 km/h in urban areas. The gravel roads are in varying conditions and, speaking from experience, a puncture is a real possibility – it's best to consider the condition of each road and reduced your speed accordingly. Watch your speed: we noticed that the Namibian drivers rarely, if ever, broke the speed limit.
Driving Safely in Namibia
7 | Purchase a SIM that can make calls when you arrive in Namibia: this is essential if you need to call for assistance. There are often long distances between towns and you can drive on a road for hours without seeing another car. Cell phone communication is the only option.
8 | Always carry a spare wheel, preferably two, and know how to change it. If you're not familiar with the car ask the rental company to demonstrate how to change the tire. This is super important as 4×4's spare tires are usually stored under the car and can be tricky to get to if you don't know the car! Don't ever drive without a spare wheel outside of the urban areas as you could end up in a really difficult situation and with no passing cars to help out for hours.
9 | Always, always carry water. Temperatures can be extreme and water is essential. Even a quick tire change will require plenty of water to recover lost fluids.
10 | Set out at sunrise for long drives. This will help avoid the extreme temperatures at midday and will give you a buffer if the drive time is longer than expected. It's important never to drive at dark outside of urban areas (see more on this below) so you need to ensure you reach your destination promptly.
11 | Share you itinerary. Let your accommodation know to expect you if it is in one of the more remote areas. It's important, in the event of an accident, that someone knows to raise the alarm.
12 | Use multiple drivers or plan shorter journey times. Namibia roads tend to be long and straight or require intense concentration when they become gravel. Either way, they're tiring so ensure you plan realistic journeys or have someone to share the driving with.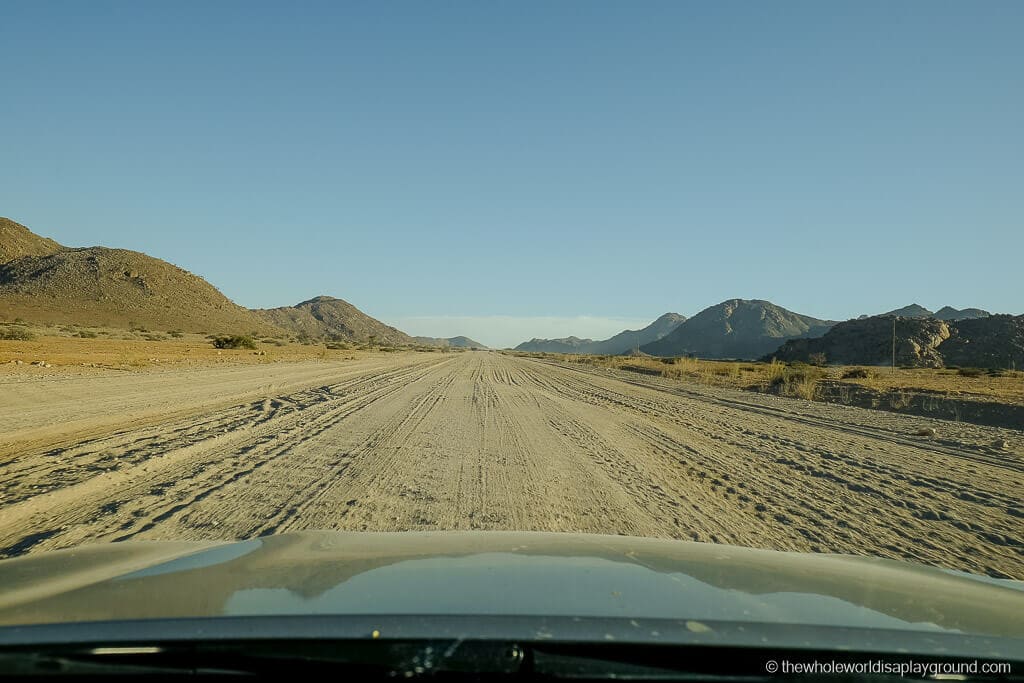 Namibia Driving Etiquette
13 | Driving is on the left hand side in Namibia.
14 | We generally found Namibian drivers to be very courteous and everyone we met on the road was very considerate when over taking and changing lanes.
15 | When driving on a single lane road move to the left into the hard shoulder to let cars past if it safe to do so or use a climbing lane if available. This can be quite counter-intuitive as a European driver but it was a common occurrence and caused us to sweat profusely when it happened on the brow of a hill!
16 | Once you pass another driver a flash of the hazard lights suffices as a thank you. You'll usually be greeted by a friendly flash of their headlights. It's a friendly gesture so don't be alarmed when it first happens!
17 | It's advised that you keep your lights on at all times and, remember, this is a requirement even in daylight hours in adverse weather. Most drivers keep their lights on at all times as it makes cars easier to spot and is a great safety precaution.
Driving Directions and Times
18 | A good GPS is essential. We used an offline GPS app (Osm And navigation) which we have on our cellphones and, on occasion, used the data on the sims we purchased at the beginning of our trip. It's always worth carrying a paper map in case technology fails.
19 | Double check your route before you start and have a general idea of the route before you set out each day. This is especially important in where you are journeying on gravel roads. Allow lots of buffer and be very aware of drive times as journeys can multiply in length. Drives times in Namibia are measured in hours and due to gravel roads your drive times will be longer than the GPS says!
Fuel stops
20 | Gas stations can be infrequent so plan your route accordingly and top up whenever possible. Towns can be few and far between in the more remote areas so ensure you map out your fuel stops along with the route and fill up frequently.
21 | Don't fill your own car. There are petrol attendants at all the fuel stops who will fill you up, bring the credit card machine and wash your windows as you wait. If you need it, they can check your oil, water and tyre pressure. As a tourist, it's customary to tip a small amount such as 10 or 20 Namibian rand for the service.
Driving at night – don't do it..ever
The number one rule is to avoid driving after dark! Our car rental company advised us of this a number of times when we picked up our car. There are a number of reasons for this:
22 | In some areas there are lots of people walking on the hard shoulder after dark and it was almost impossible to see them with the head lamps as they didn't typically wear any reflective gear.
23 | Many of the roads do not have fluorescent line markings or cats-eyes. This makes driving after dark particularly difficult as it can be difficult to see the road!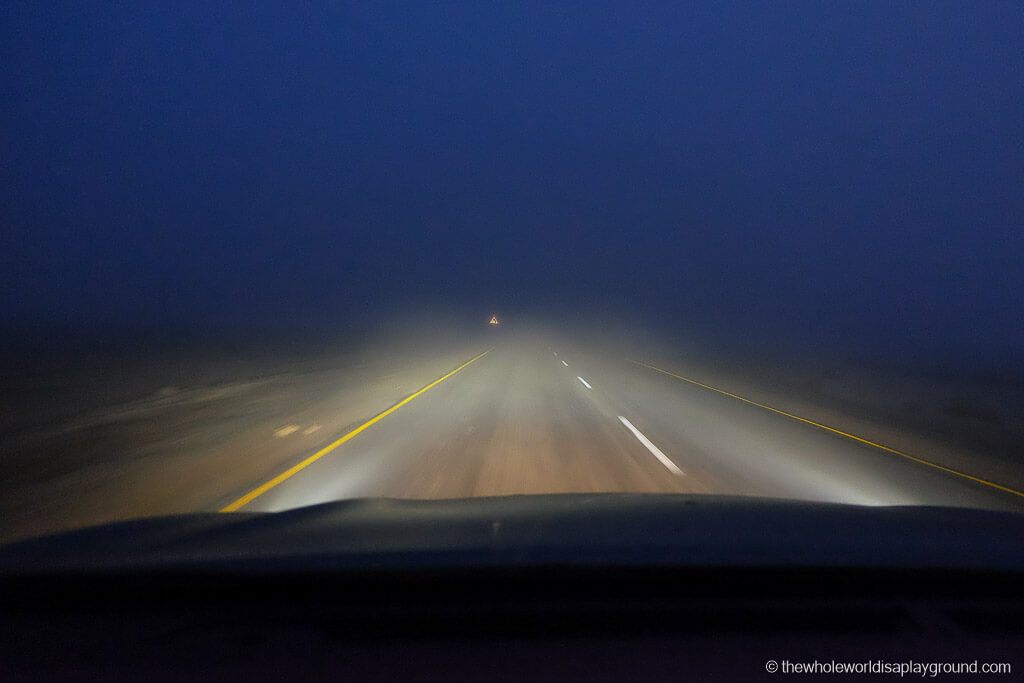 Gravel and off road driving
24 | Gravel roads are inevitable outside of the cities where tarred roads abruptly turn to gravel. Make sure to slow down as you approach and be extra careful if you are inexperienced with the conditions.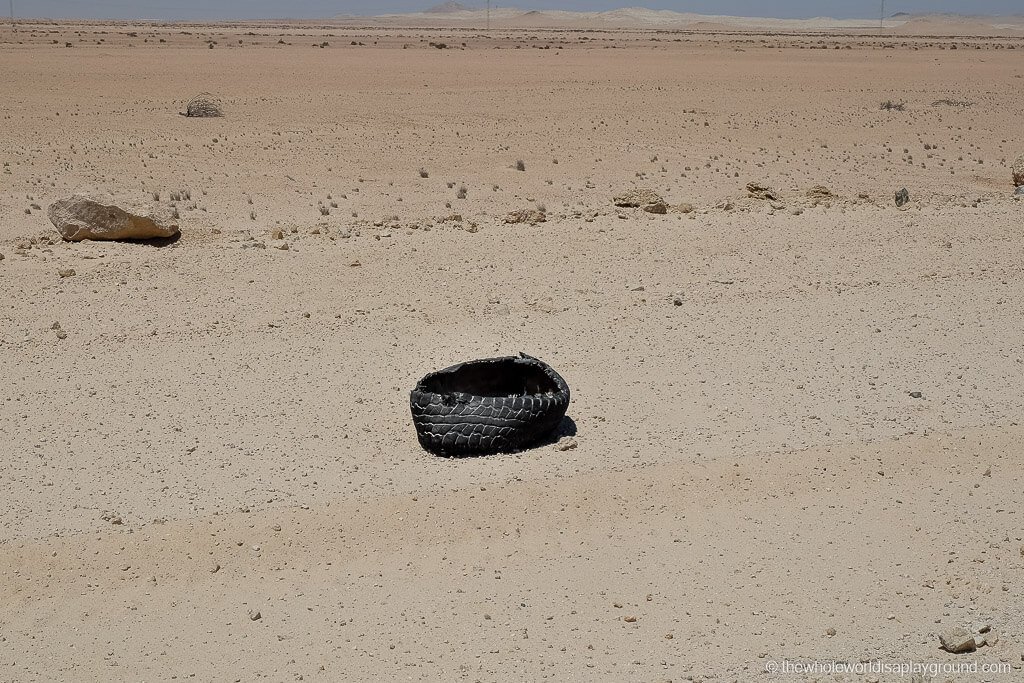 25 | Slow down. The speed limit is 80 km/h but this is not always achievable. Slow down as necessary to reflect the road conditions or when you meet oncoming traffic to avoid a chipped or broken windscreen from the dirt they kick out.
26 | Avoid driving near the edge where the road is not as graded and beware of sudden dips in the road. The dips are often marked: we found that there tended to be signs warning of the dips en route to Sossusvlei but not on our way to Fish River Canyon.
27 | Make use of previous tracks. The gravel roads tend to be quiet so you don't need to stick to one side on straight stretch. Follow the tire tracks of previous drivers as this tends to be the best route. Always make sure to stay on your own side on corners or the brow of a hill.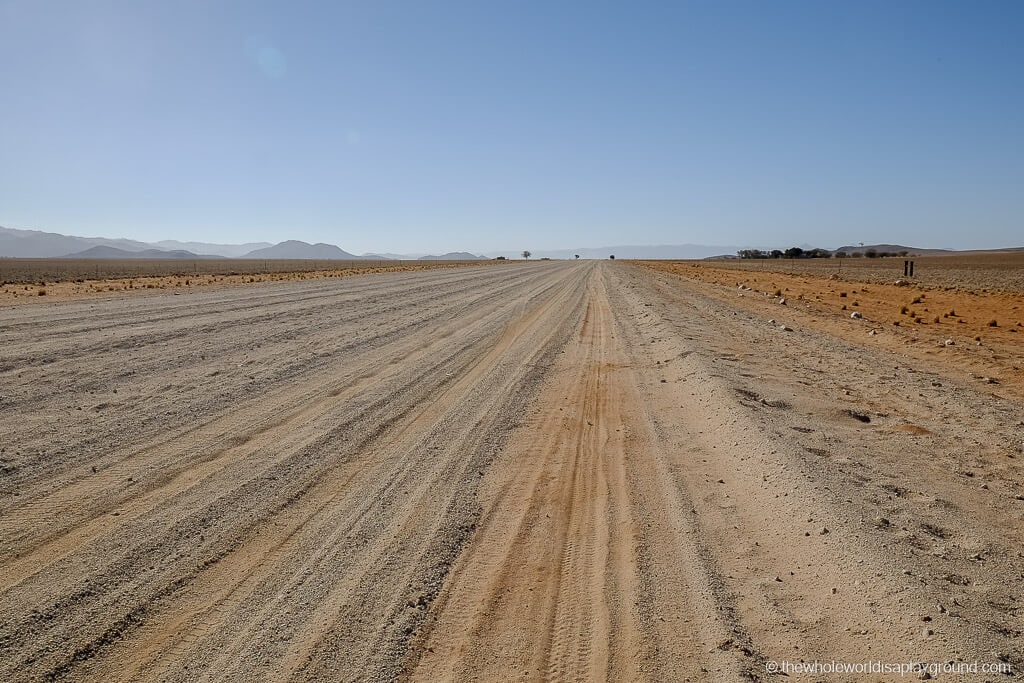 28 | Beware of train track and farm gate crossings. Gravel and sand tends to get very compacted at the crossings and it's crucial to reduce your speed to avoid a puncture.
29 | Take care of dust in your car trunk. Gravel roads leave a plume of dust in their wake so ensure that your belongings are protected with tarpaulin if your trunk is not fully sealed. The dust in Namibia is extremely fine and will stick like glue to fabrics so be careful around the car after a long drive!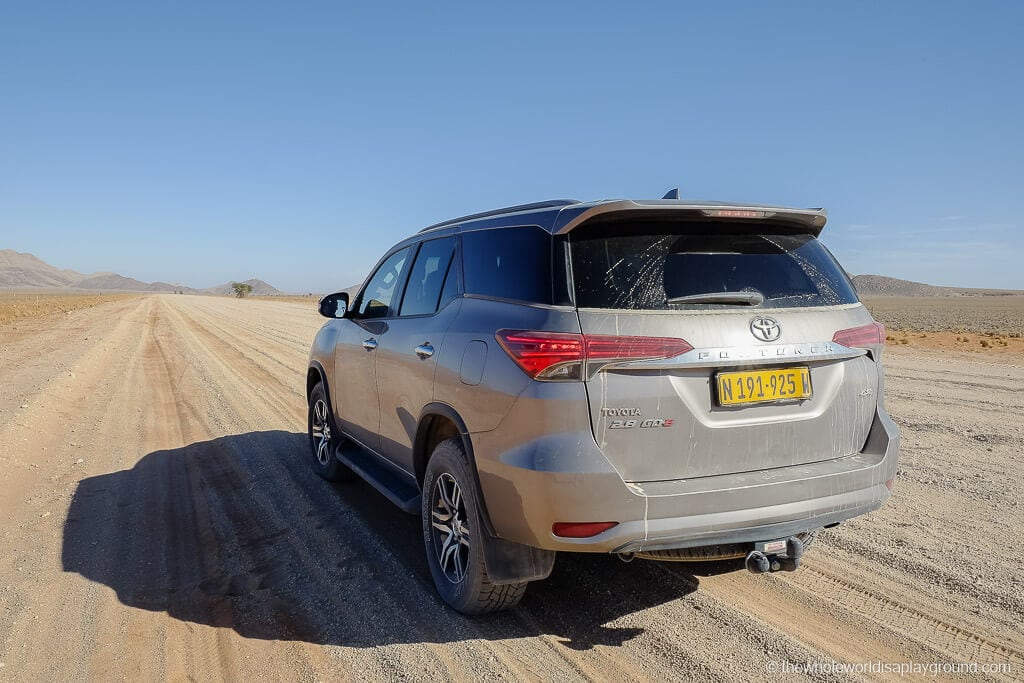 Driving in other African Countries with a Namibian Rental
Most of the major rental companies allow their cars to be driven into Botswana, Lesotho, Mozambique, Namibia, Swaziland and Zimbabwe.
30 | If you want to drive outside of Namibia be sure to mention it to your rental company when you pick up your car. We rented from Avis and received a letter (free of charge) for customs which gave us permission to enter South Africa and Botswana with the rental car. We also received a similar letter allowing us to travel to Namibia after picking up our car in Cape Town on another occasion but this took much longer to obtain. These letters were required at the borders so don't lose them! We were still liable for the vehicle border crossing fees.

So there you have it: 30 tips for driving through Namibia on a road trip. Most of all HAVE FUN!
For more Namibia reading click on the link to check out