Whats In Our Bag
One of the most common questions we get asked is what camera gear we use for the photography and video on thewholeworldisaplayground.com. So we've put together this post on whats in our camera bag. All the gear on this list is what we person personally use for all the photography and video content so we can stand by our recommendations. We've built up this gear over the past years of travelling the world and highly recommend everything on the list. If you have any questions or comments please do leave a comment below!
Photo Editing
In addition to the photography gear below we use Adobe Lightroom and Photoshop to manage and edit all our photography. We highly advise anyone looking to get serious about photography to buy and start learning Lightroom as soon as they get their first camera. Taking the shots is but one piece of the puzzle with photography. Archiving and editing your image is a really important aspect of photography and Lightroom is simply the best in class for these purposes. Learning how to use Lightroom will dramatically improve your photography and speed of editing and managing your portfolio.
Simply said buying an Adobe Lightroom and Photoshop subscription is one of the best investments you can make in your photography!
Drones are the most recent addition to our photo gear and we love them. Where possible both of them come with us and they give a completely new aspect to our photography and videography. Tip: Please ensure to check and abide by local laws when flying drones. Drone laws are constantly changing, so it's your responsibility to make sure you know and follow them.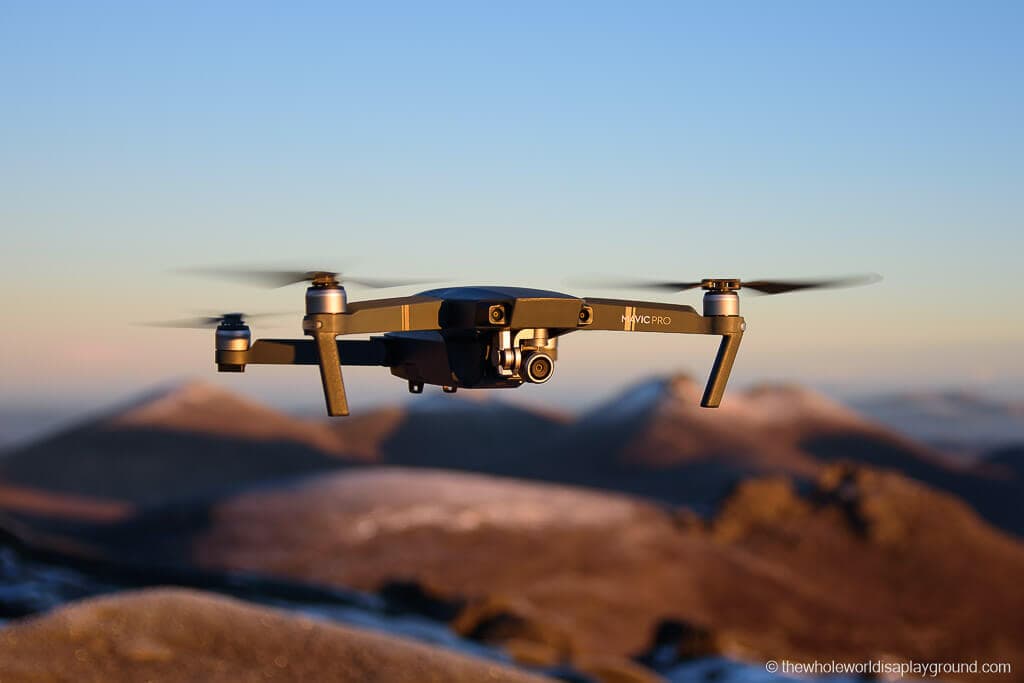 The new DJI Mavic Pro really is the ultimate travel drone. This now guaranteed to come everywhere with us. This foldable piece of awesomeness is so compact it'll fit in any bag with your other gear, the auto-follow and selfies modes are great and the quality of the 4k footage is fantastic. The Mavic is great for those situations where the Phantom 4 simply isn't feasible to bring/use. We highly recommend buying the Fly More Bundle as it includes three batteries, a carry bag and a hub charger. It's pretty good value as batteries will at least €90/$100 separately.
The big brother of our Mavic Pro, the DJI Phantom 4 offers significantly improved video and photo quality courtesy of it's superior camera. Where possible we'll take this along with the Mavic Pro as photo and video quality is simply superior on the Phantom 4 compared to the Mavic, so we prefer to use it whenever possible.
Update Feb 2017: The Phantom 4 has recently had an upgraded to the DJI Phantom 4 Pro (improved quality and sensor technology to avoid obstacles), so the Phantom 4 currently retails at around €1,200 / $1,200, which is fantastic value considering the quality of the technology.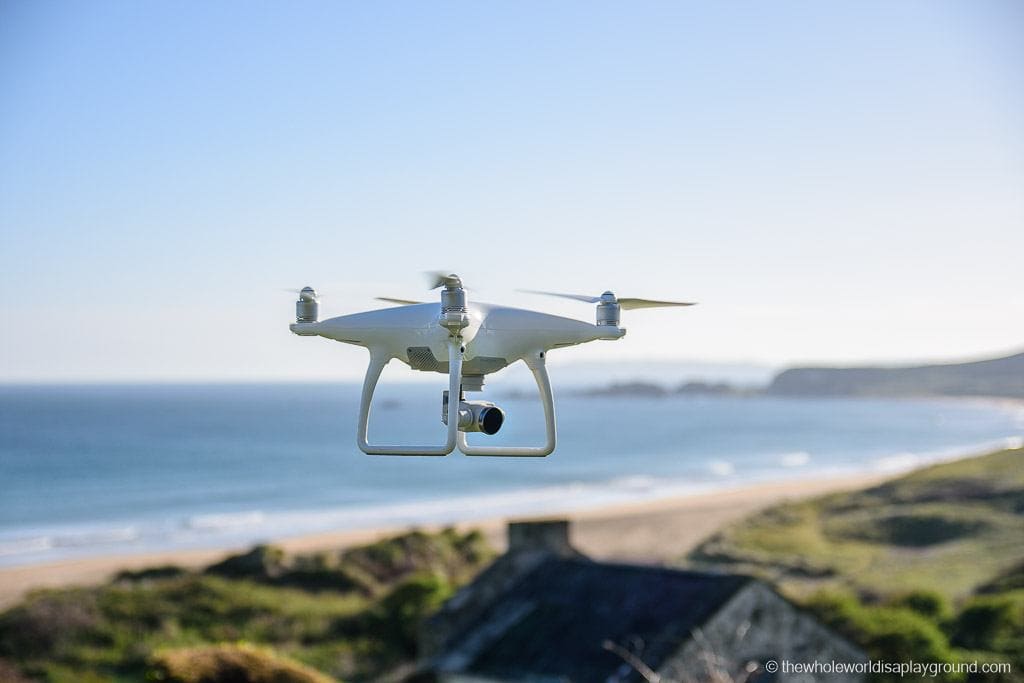 Although this is a little bulky we love this instant camera. Being able to take a snap and have a physical photo instantly is really cool, and great for giving to friends or people you meet on the road. We have the older version and our top tip is to buy the film in bulk when you get a good price as buying individual packs can get expensive.
The mini sibling of the larger Instax wide, this polaroid is great for selfies and the built in flash produces great results. We usually bring this for shots with friends
A must have for any travel blogger, the GO PRO comes everywhere with us. From great action shots on a head mount or pole to buttery smooth video using our Feiyu G5 v2 stabilised gimbal the GO PRO Hero 4 silver is the perfect travel action camera. Its portability and versatility makes it extremely useful in so many situations. We highly reccommend buying the Feiyu G4 gimbal when you get your Go Pro. You can thank us for the smooth footage later! If you want the latest version the GoPro Hero 5 is now available.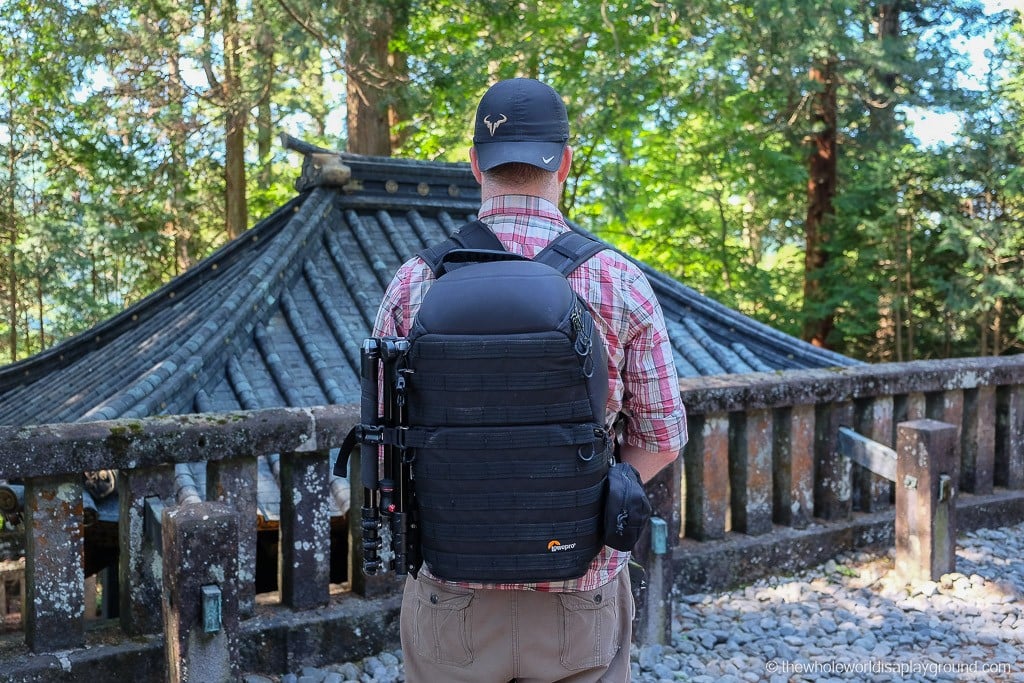 Camera Bag: Lowepro ProTactic 450
The quest for the ultimate camera bag may be over. Dave absolutely loves this bag. It's very compact yet you can fit a lot of gear in it, thus it's a great carry-all solution. It works great for camera gear and clothes, or will carry all our camera gear in one bag for longer trips. The best features are:
It only opens at the back/sides so increased security
Laptop sleeve in the back which fits Dave's 15inch laptop
The amount of gear it fits: 2xDSLRs, 2x Micro 4/3rds, 4 x lenses, hard drives, 15 inch laptop, cables, chargers and hard drives
Tripod can be carried on the side with the included strap
The interior and exterior are easily customisable for all your gear
Tripod: Manfrotto Be Free travel tripod
This has been our tripod of choice for years. It's extremely reliable, rugged, cheap, relatively light and collapses down into a very small form factor. Coupled with the Black rapid strap Dave can go from walking around to a tripod setup extremely quickly with this system, always useful as a travel photographer!
Camera strap: Peak Design Capture Pro
This clip allows you to easily carry a DSLR with a mid sized lense easily on your hip or on you bag while hiking. We simply love it and use it on all our travels. It's super discreet so it's not obvious that you're carrying a large camera. Plus while hiking it makes accessing your camera much easier.
Joby SLR Zoom Gorillapod
This tentacled marvel works great with the Go Pro or the Micro 4/3's cameras, allowing you to attached your camera to literally anything, railings, tree branches.. the list is endless. Make sure to get the SLR zoom version, it's only slightly bigger than the basic version but is much more sturdy and had a quick release plate for your camera included.
Camera Strap: Black Rapid
As a travel photographer, you will carry your camera everywhere. So investing in a quality camera strap is really worth it. Dave initially debated buying this due to it's price, but it now comes everywhere with us. The Black Rapid R7 is a discreet sling strap which allows Dave to carry the heavy DSLR all day, discreetly and easily.
Tip: Make sure to purchase the BlackRapid Fastenr bolt for the strap. Although it's an expensive piece of metal, it enables you to quickly remove the camera from the strap and mount on a Manfrotto tripod. Dave has used this system for years now and it works great.
Disclosure Notice: We are a participant in the Amazon Services LLC Associates Program, an affiliate advertising program designed to provide a means for us to earn fees by linking to Amazon.com and affiliated sites.