2,200 temple ruins stand in the ancient plain of Bagan and we were determined to find an amazing vantage point from which to witness a picture perfect sunrise. We researched extensively in the pursuit of the best Bagan sunrise and our hard work paid off when we found our perfect sunrise spot.
We present to you our favourite sunrise temple together with all the details on where to find the best Bagan sunrises!
Bagan Tip: Try to stay as close to the Bagan temples as possible so avoid a long trip to/from the temples.
2018 Update: It is not permitted to climb the Bagan temples as of January 2018. There are some artificial hills/mounds which have good sunrise and sunset views. There are two mounds are located close to Sulamani Pagoda and another near Pwar Saw village.
Our best Bagan hotels for visiting the temples
Bagan hotels tend to book up fast so book your hotel as far in advance of your travels as you can. Hotels in Bagan are located across three areas: Old and New Bagan and Nyaung-U. Nyaung-U, a mix of boutique hotels and local residents about 3km from the temples, is our favourite. Old Bagan, in the heart of the temples, houses many of Bagan's luxury hotels while New Bagan is home to larger hotels and new builds.
Nguang-U
Zfreeti Hotel: we stayed in the Zfreeti, a small hotel with lots of great restaurant options in the surrounding streets and an inviting swimming pool! We rented electric bikes from the store across the street to get around – Check for lowest prices here
Other good options in Nguang-U include the Sky View Hotel and Motel Zein.
Old Bagan
Aureum Palace Hotel and Resort: located within the actual Bagan Archaeological Preservation Zone amongst the ancient temples themselves, this hotel give you the very best views of the Bagan plains. It's definitely one of the most unique hotels we've ever seen – Check for lowest prices here
Other good luxury options in Old Bagan include The Hotel @ Tharabar Gate and the Bagan Thande Hotel
New Bagan
Bagan Lodge (New Bagan): If you prefer New Bagan this might be your best option – Check for lowest prices here
Another good option is the Blue Bird Hotel.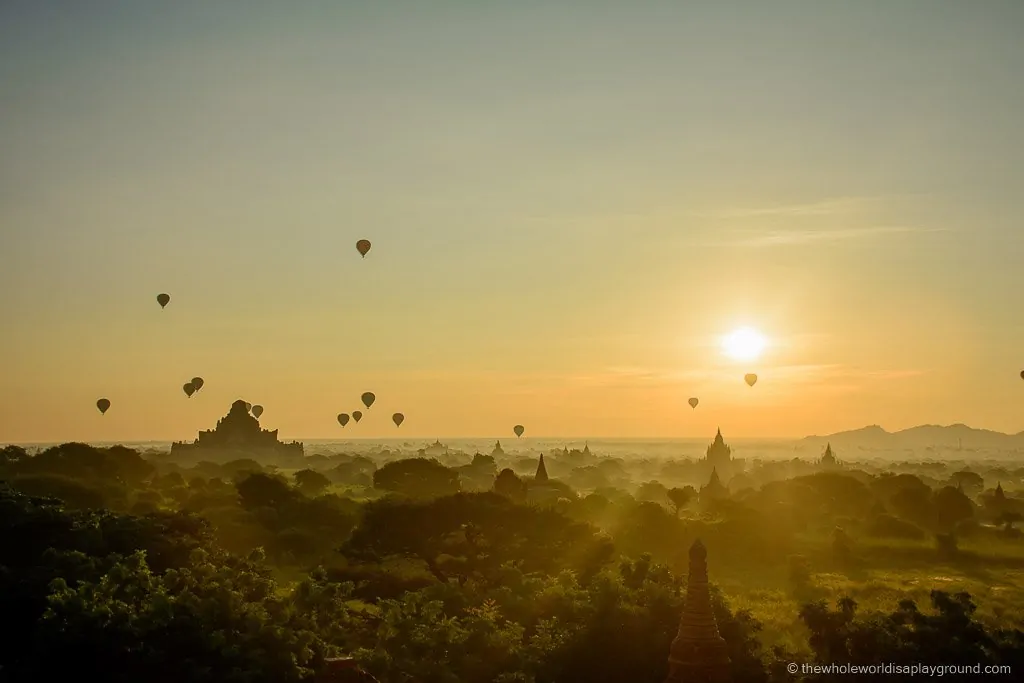 Bagan Sunrises
Bagan sunrises are truly iconic. Temples as far as the eye can see, a morning mist rising over the plain, a rainbow coloured sky and hot air balloons drifting over the horizon. Our mornings in Bagan are some of our favourite travel moments that we've ever experienced and are one of the highlights of our Myanmar adventures.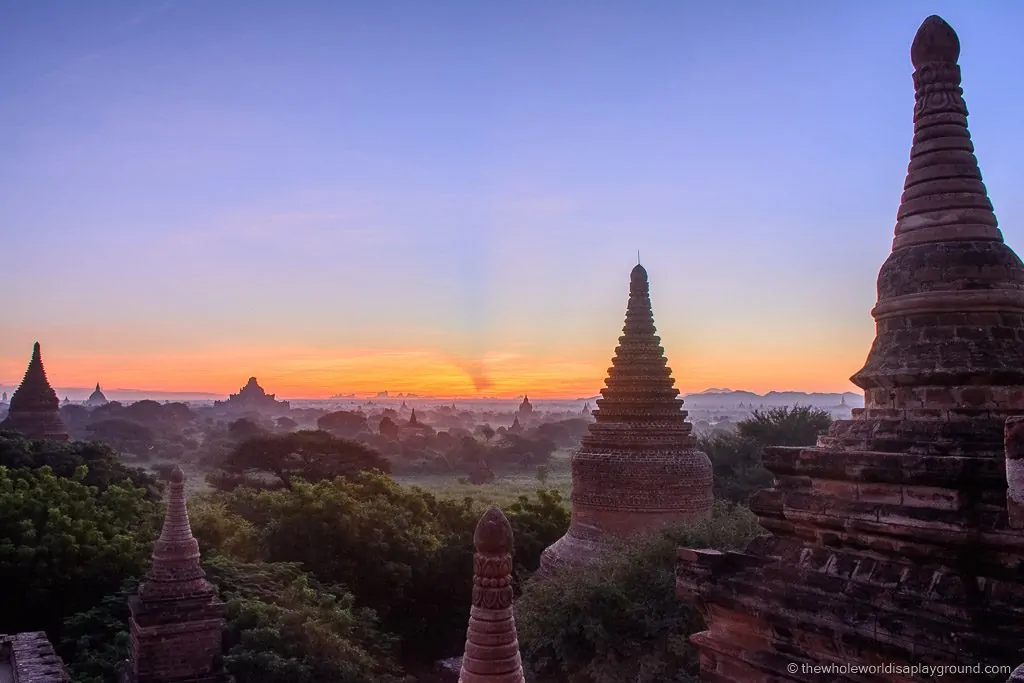 Our best Bagan sunrise spot: Low ka Oushang Pagoda!
We had some strict requirements for our sunrise temple of choice and it had to meet the following criteria: perfect views, not too busy and at least two storeys high. That is all!
Maps were consulted, sunrise angles investigated, heights and climbing potential of the temples considered and the number of other tourists estimated. I'm not exaggerating, we were absolutely determined to find the perfect spot to watch the sun rise over the sacred plain as hot air balloons filled the sky!
Low ka Oushang, a small, slightly off the beaten track pagoda seemed like the perfect spot to capture the best Bagan sunrise.
What time do you call this?!
As we hopped on our e-bikes in the darkness of the Bagan night I inquired as to what time it was. 4:45am was the response. Say what?!! It might sound extremely early but it's important to get to the temples before the sun starts to rise. This happens about 20 minutes before the actual sunrise time and it's often the most beautiful part of the morning when the sky illuminates in a rainbow of colours.
Is it still night time?!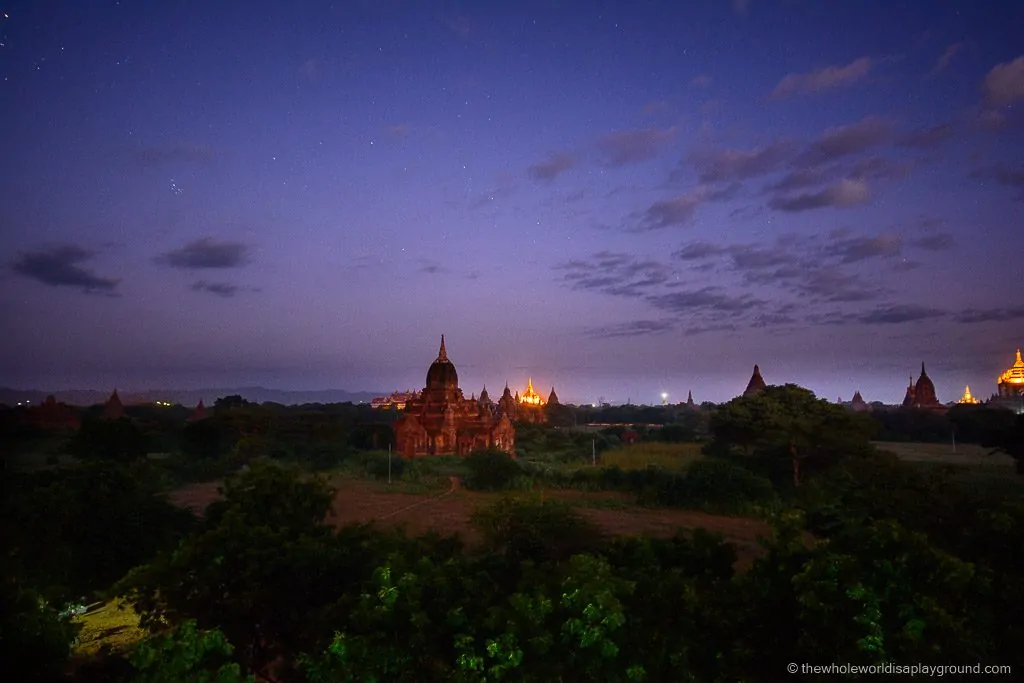 The pre sunrise sky: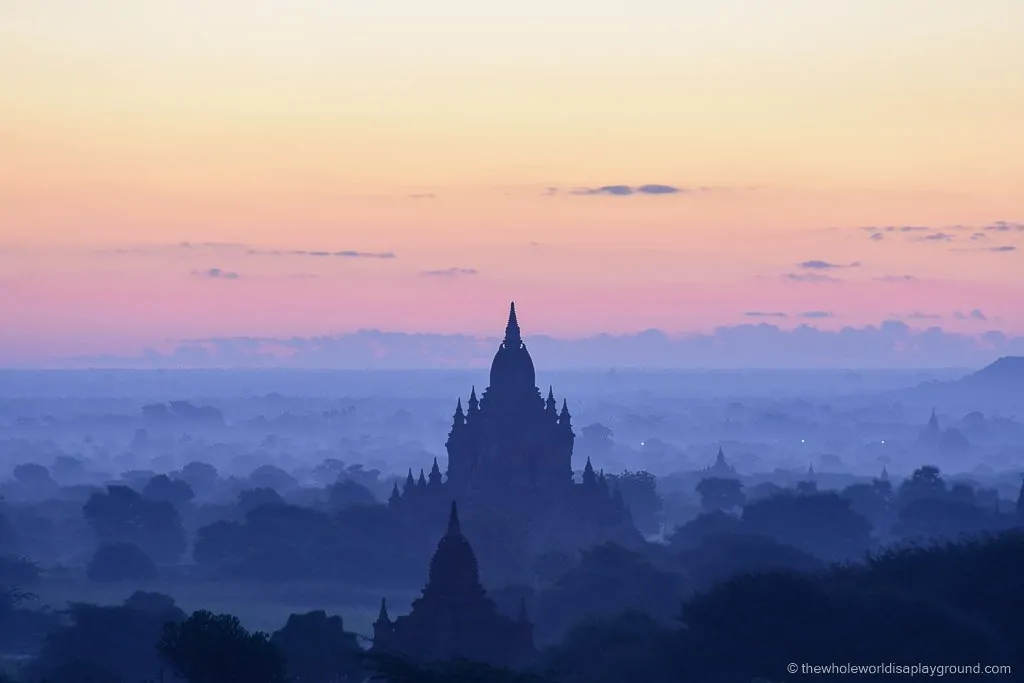 The perfect sunrise: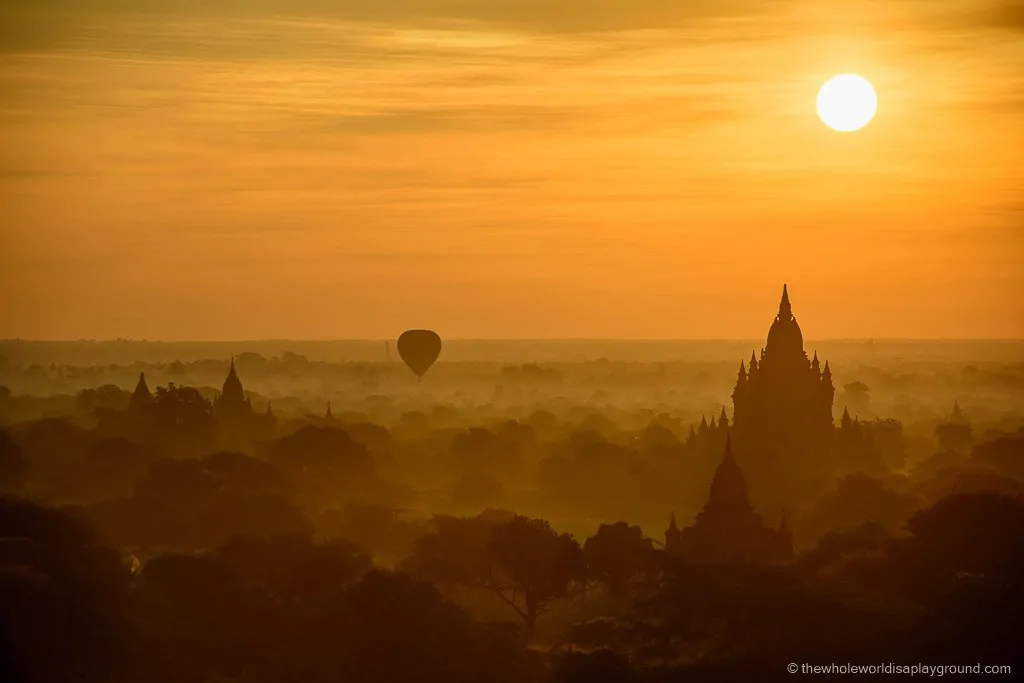 Why Lowka Oushang Temple is our best Bagan sunrise spot:
Easy to access second level terrace (with the possibility to climb even higher if you want to and don't mind heights!)
Gorgeous views overlooking scores of temples on the sacred plain – you can see almost the entire Bagan plain from here
The family who look after the pagoda open it well before sunrise
It's slightly off the beaten track and so it attracts a relatively small crowd. On the two mornings we watched the sunrise here we were joined by less than 15 people at the pagoda.
We didn't come across anyone selling anything. Just to note: the sellers in Bagan are harmless and are often young kids but their persistence can be frustrating when you are trying to enjoy the moment.
The second level terrace at Low ka Oushang: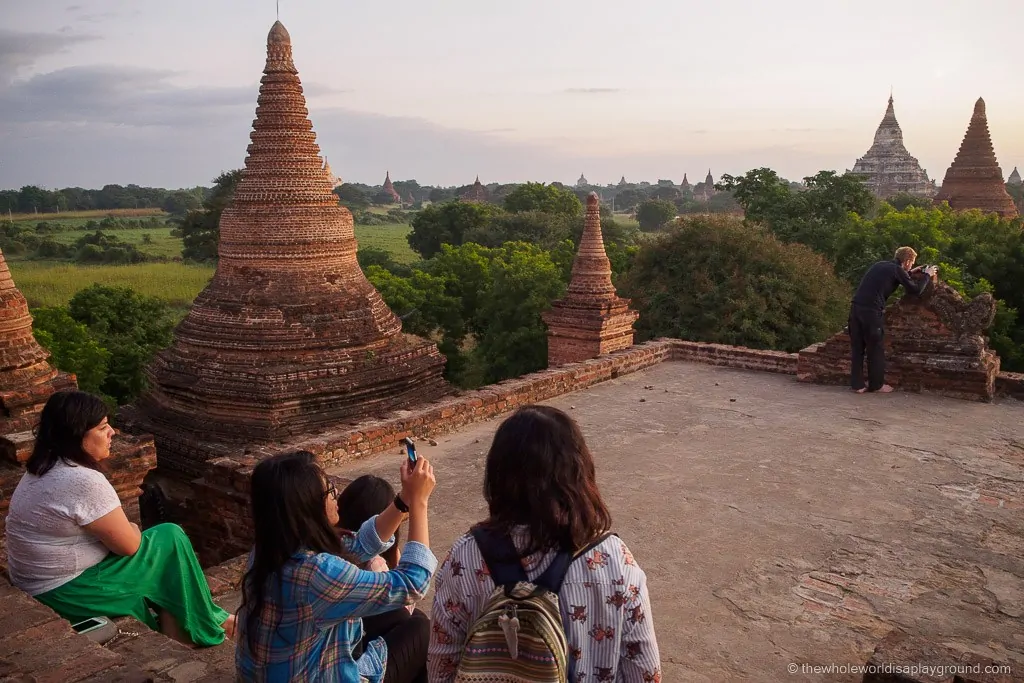 The sunrise crowds
It's almost impossible to find any empty temples or pagodas for sunrise or sunset in Bagan these days. Lowka Ou Shang is one of the best sunrise spots in Bagan if you're trying to avoid the sunrise rush. It's a relatively quiet spot and, on the mornings we spent there, there was a really great mix of people who were happy to sit back and enjoy the beautiful sunrise.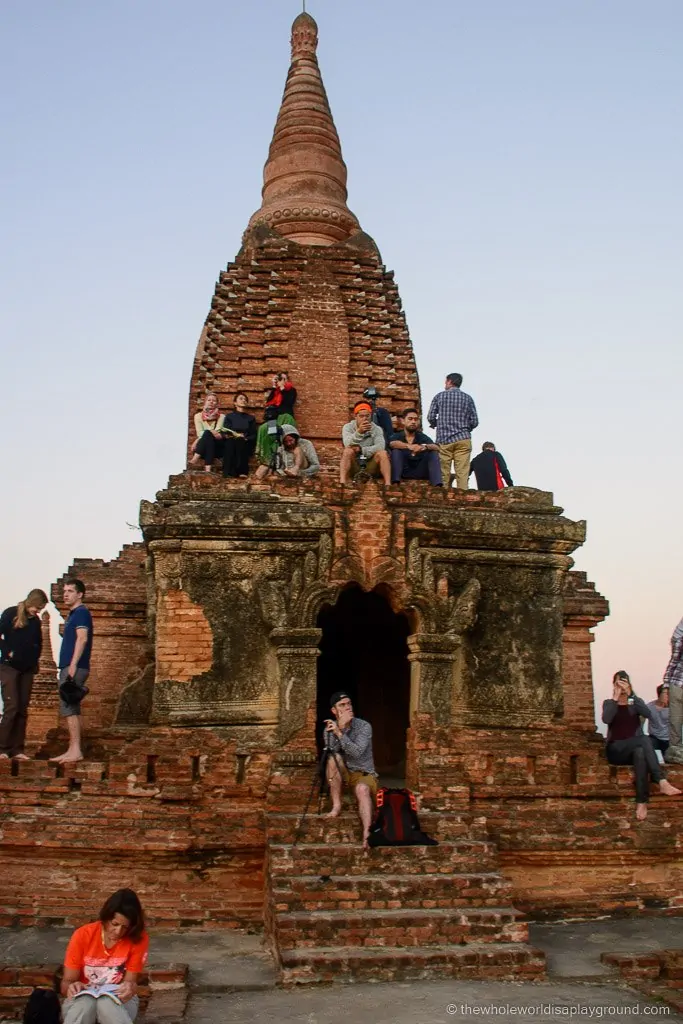 Location
Low ka Oushang is located in the north-west of the central Bagan plain and is within easy reach of the main road with an eBike.
We've heard some reports that Low Ka Oushang has been closed recently for sunrise although remains open for sunset. If it's closed try some of the temple surrounding Low Ka Oushang as they will have a similar view. Thein maz is a good choice.
Myanmar Guide Books
We highly recommend investing in a guidebook for your Myanmar trip and planning. Lack of reliable wifi meant having our guidebook invaluable on a number of occasions. We used the following guidebooks for our trip:
Our alternative best Bagan sunrise
Sunrise at Shwesandaw Pagoda
Shwesandaw is perfectly positioned to capture a beautiful Bagan sunrise and it's possible to access the higher levels of the seven storey pagoda. On the down side, Shewsandaw attracts the tour buses and is crowded as a result.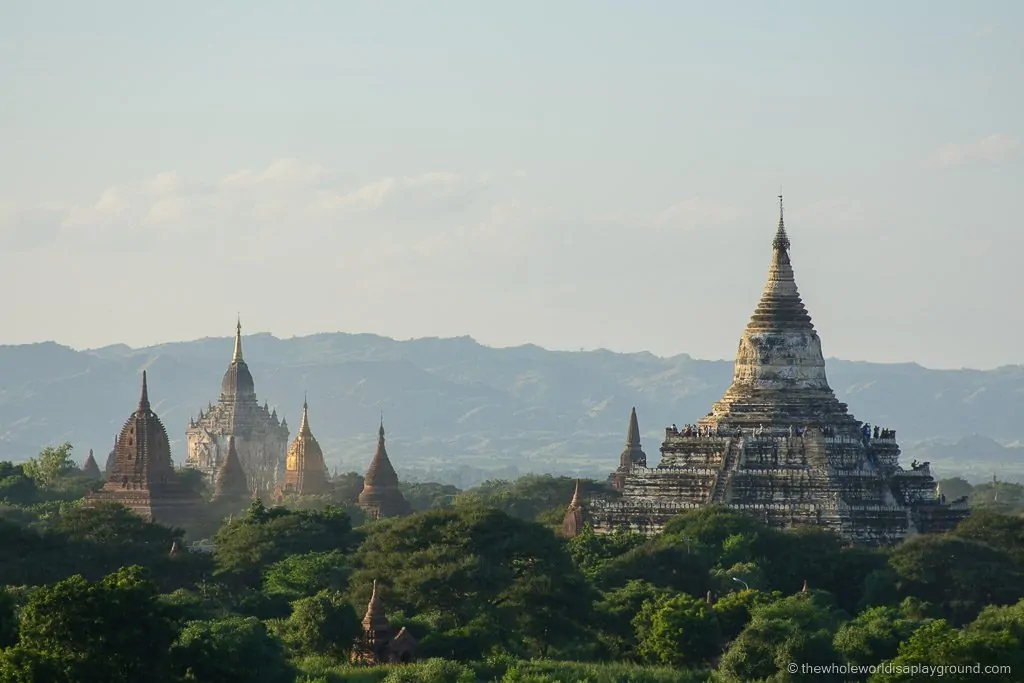 Sunrise at Buledi Temple
Buledi is very easily accessible and is situated off main road between Old Bagan and Nyaung-U. It has fab views to the east for sunrise and the west for sunset but it is a bit of a steep climb to the top.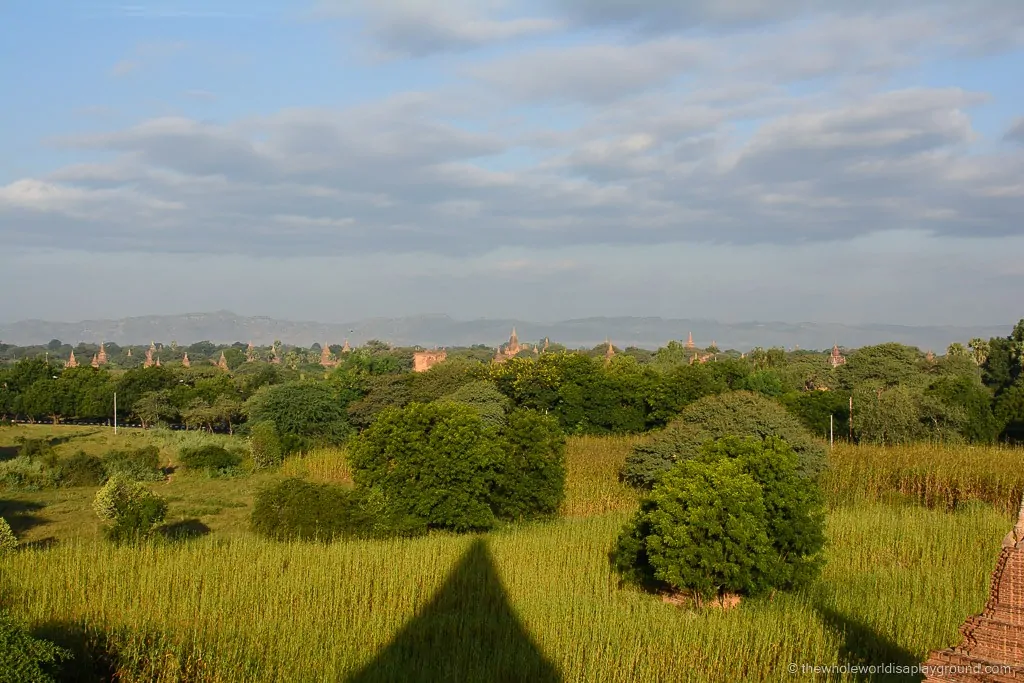 Planning a Myanmar trip? Pin this article for later!



So there you have it, the lowdown on our best Bagan sunrise spots: if you've been to any amazing Bagan sunrise temples or pagodas let us know in the comments!