Now that you've got your new DJI Mini 2 drone it's time to take your drone footage to the next level! One of the easiest ways to improve your drone videos and photos is to invest in some of the best DJI Mini 2 accessories. We've traveled around the world with a variety of DJI drones for over 5 years and have first-hand experience of knowing what gear is essential for capturing the best drone footage.
Based on our experience we've put together this list of the best DJI Mini 2 accessories that every drone owner should consider adding to their camera bag. The drone accessories in this list will help you to fly safer, longer, and most importantly capture the very best footage possible with your DJI Mini 2 drone.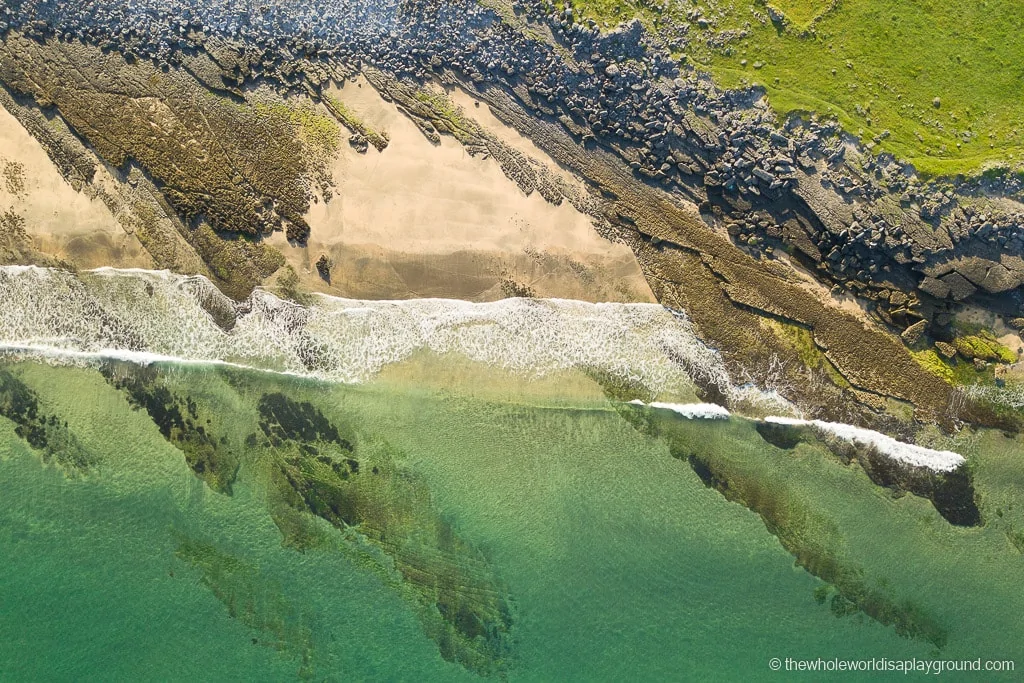 1 | Extra batteries
Like all DJI drones, the DJI Mini 2 has a really good battery life at around 30 minutes. In real-world conditions, however (i.e. allowing for wind, take-off and landing times, and ambient temperatures) you're going to get less time than this for actual shooting.
In reality, the flight time is around 20-25 minutes, and, based on this, you'll likely need extra batteries for your Mini 2 to allow you additional flying time. The last thing you want is to miss a shot due to low battery (trust us, it hurts when it happens!) We recommend purchasing 3 to 4 of the official DJI Mini 2 batteries depending on how long you would like to fly for – check prices now!
DJI Mini 2 Accessories tip: generally speaking the more drone batteries you have the better, however you need to consider that you're going to have to carry the batteries with you while in transit. We find that 3 or 4 batteries is the best balance between size and weight for drone batteries and will allow you around an hour of real world flight time. Always make sure you label your batteries and have them all charged before intend to fly.
It's actually a lot better value to purchase the DJI Mini 2 Fly More bundle as it includes 3 official batteries and a great carry case for the Mini 2 – check prices now!
DJI Mini 2 Accessory tip: it's very important to store drone batteries correctly when not in use. We've used battery safe bags for all our drone batteries for years and highly recommend picking some up. They're cheap, speed up your trip through airport security and give you piece of mind that if (in the rare case) a battery does rupture and catch fire then the fire bag should protect you and your other equipment- check prices now!
2 | Charging Hub
One of the trickiest things about drone flying is making sure all your batteries stay charged. DJI offers a really nice, compact charging hub for the Mini 2. While it is good, the batteries only charge in sequence so it takes a long time to charge multiple batteries. We prefer having a system that can charge everything at once (phone, drone batteries, and controller) and in parallel is more versatile.
This charger is a really good option for a charging hub as it charges up to 4 batteries in parallel. This means it will charge everything in under 90 minutes, which is a lot faster than the DJI charger – check prices now!
3 | Car Charger
One of the biggest challenges with drone flying is keeping your batteries charged while on the go. Even with three batteries, you are limited to 80-90 mins of flying. If you are on a road trip this might not be enough time each day. Luckily there are a number of options for charging Mini 2 batteries on the go. We highly recommend buying an inverter charger for your car. This will allow you to use your current Mini 2 chargers while on the road. We've used inverters for years on the road and they are a real must-have for a drone owner.
Cup holder car inverter
We've used this compact inverter from Bestek for years on our road trips and it's been super reliable. It sits neatly in the cup holder of your car and allows easy access to the socket and usb ports- check prices now!
Dual Inverter Charger
A more recent addition to our travel gear is a more powerful Bestek inverter which allows you to charge two plugged-in devices. It's great if you need additional power for charging. It won't fit in your car cupholder but it will power both the DJI Mini 2 charger and a larger device like a laptop charger comfortably – check prices now!
4 | Spare propellers
Accidents happen and this is definitely true with drones, including ours! The first casualty in a drone crash is usually the propellers. We've broken and damaged the propellers many times on our DJI drones, thankfully without damage to the drone, so it's always worth carrying spares. Even a minor glance against a surface is enough to crack or damage a propeller. So grab at least 4 spares and throw them in your bag – check prices now!
DJI Mini 2 Accessories tip: We highly recommend only buying official DJI replacement propellers for your Mini 2. They are specifically made for the drone and switching to an alternative brand can sometimes give you issues due to the delicate balance of the drone in the air. Yes, they might be a little more expensive but they're worth it.
5 | Video / Photo Editing Software
Once you've got that stunning footage on your Mini 2 it's time to make a video. We use Adobe Premiere Pro for all our video editing. It's widely accepted as the best video editing software. Try it for the free trial and we promise you'll love it!
We also use Adobe Lightroom for managing and editing all our photos and highly recommend it. We find it the best software for cataloguing, organizing and editing your images. It will change the way you manage and edit your photos for the better. The combination of Lightroom and Photoshop for a small monthly fee is a fantastic deal – check prices now!
6 | Spare Remote Sticks
The removable control sticks on the Mini 2 are fantastic but, now that they detach, its a lot easier to lose them. It's worth picking up a spare set and throwing them in your bag just in case you need them. You might even prefer this set as they're harder to lose and look great – check prices now!
7 | Propeller Guards
Due to its super compact size, you may find yourself flying the drone in confined spaces. This is where the propeller guards come in – they protect against minor bumps or brushes against surfaces. The guards simply click onto the Mini 2 and give added protection to both the drone and anything it might bump into during flight. This is great if you are flying the drone indoors or close to objects – check prices now!
DJI Mini 2 Accessories tip: The propellor guards will slightly reduce flight time however they are worth it for the protection they offer.
8 | SD Cards and Hard Drives
The DJI Mini 2 uses micro-SD cards to store video and photos. We find these Sandisk 32GB micro SD cardswork best. We use the 32GB models as it forces you to backup your footage regularly and you can carry multiple in your pocket. Make sure to throw some spare micro SD adapters in your bag too.
For backing up footage we use the rule of three – three copies fo your files, in three different locations. We keep a copy on the original micro SD card, and two more copies on separate hard drives. We carry each of the drives in different bags so the chances of losing all three copies are reduced. You cannot be too prepared for a data loss. After all, you'll likely only be in a location once with your drone so you don't want to lose the footage!
Our personal choice for backing up our footage is these Sandisk Extreme External SSD drives. They're small, extremely fast and really rugged – trust me I've been hard on ours and they still work great. We use them on the road for the past 2 years and love them – check prices now!
Another cheaper option is these Seagate passport drives which we used primarily before moving to SSD's. They're cheap and reliable and come with us everywhere – check prices now!
9 | DJI Mini 2 Case
If you don't get the Fly More bundle with your DJI Mini 2 then you won't have a case for your new drone. The Mini 2 is a super-compact drone that you easily pop into any bag, however we recommend having it in a protective case. There are a number of options for case for your DJI Mini 2 drone – remember, you need to protect the drone and it's accessories such as the batteries and controller too! Each option has it's merits so it's up to you to decide which works best for you!
Single Clamshell Case
This is our preferred option that stores your DJI Mini 2, the controller, and some extra accessories (for example batteries and chargers). The case offers improved protection for your drone and holds everything you need to fly in one easily accessible place. We throw this case into our large camera bag, a Lowepro Whistler Backpack 450 AW II, which protects it even further. These cases work great for the Mini 2 – check prices now!
Multiple Cases
Some owners prefer to have separate cases for each item, drone, controller, etc. This makes it easier to carry everything in a larger bag – check prices now!
Hardshell Case
The major benefit of these hardshell cases is that they offer the most protection for your drone. The rugged case protects the drone from falls, bumps, and water damage. The downside is they are bulkier and limit how easy it is to carry your drone in larger bags – check prices now!
10 | Neutral Density (ND) Filters
When researching DJI Mini 2 accessories you're sure to come across Neutral Density filters. For anyone new to videography and shooting video on your DJI Mini 2 drone, Neutral Density (ND) filters are one of the most important accessories you can have in your bag.
So what use are these filters for your Mini 2 drone? The simple explanation is that they allow you to capture more cinematic quality footage on your drone by limiting the amount of light hitting the drone camera sensor. To do this we shoot footage on our DJI Mini 2 in manual mode, using an appropriate ND filter to adjust the light entering the camera to alow us to shoot at a standard frame rate.
When shooting in manual mode the general rule is that the shutter speed should stay fixed at twice the frame rate. This means if you're shooting at 30fps on the DJI Mini 2, then your shutter speed should remain as close to 60 as possible. The only way to do this in daylight hours is by using ND filters.
Using ND filters will allow you to capture buttery smooth cinematic footage on your DJI Mini 2- check prices now!
11 | Landing Pad
A landing pad is really handy to have if you need to take off or land on long grass or rough terrain. This landing pad folds small enough to pop in your drone bag – check prices now!
Happy Droning
So there you have it, our list of the best accessories for your new DJI Mini 2. If you have any other recommendations that you think we've missed let us know in the comments below.