Investing in a stabilized gimbal was the one GoPro accessory purchase that brought our GoPro footage to another level and a good quality stabilized handheld gimbal is a purchase that we recommend for all GoPro owners to invest in. A GoPro gimbal will allow you to capture higher quality footage on your GoPro and allow you to produce more professional level videos. We've travelled around the world for the last few years with our GoPro and stabilized gimbal and wish we have purchased it the instant we bought our GoPro. This list includes the gimbals which we recommend as the best GoPro gimbals currently available.
What is a Stabilized Gimbal?
The first question most new GoPro owners ask when they view their first footage is why does it look so shaky? Why is it not as smooth and stable as the GoPro videos I've watched on YouTube? Well, in short, those videos are most likely shot using a stabilized gimbal!
In simple terms, a stabilization gimbal allows you to shoot smooth, high quality video by keeping the GoPro extremely stable as you move around and pan through shots. While you can stabilize footage to some degree in post-production using video editing software like Adobe premiere Pro, which we use, it is much more effective to shoot stable footage in the camera itself.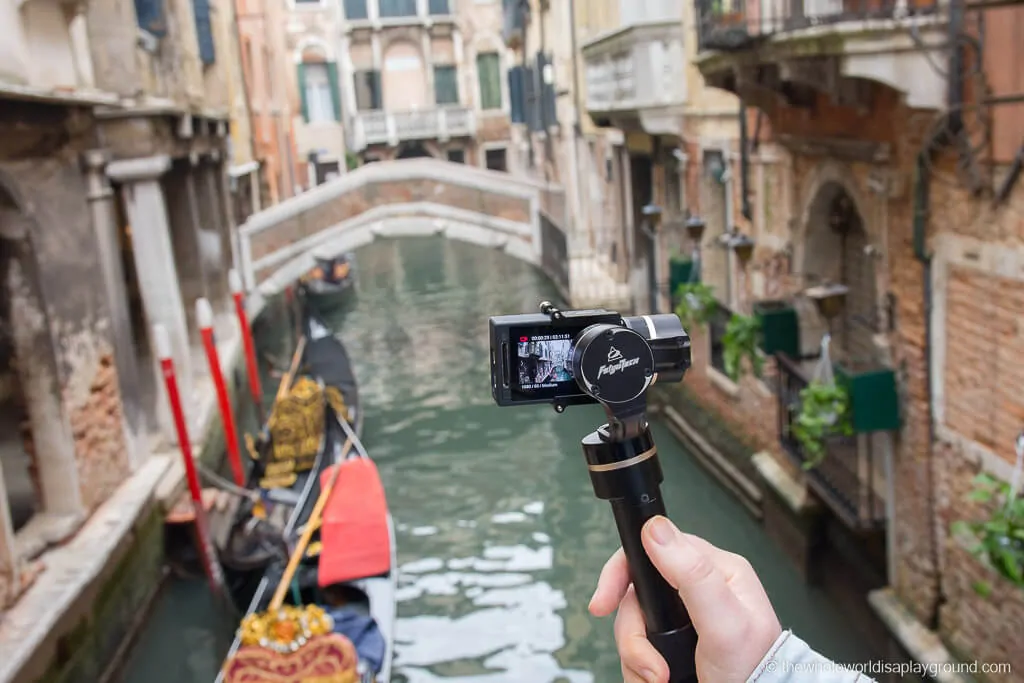 What to consider when buying a GoPro Gimbal
GoPro Model: Most gimbals on the market work with the GoPro Hero models 3,4 and 5 but only some are compatible with the Hero 6 and Session models
Level of Stabilization: 3 axis gimbal is the gold standard for smooth shots, so all of the gimbals we have included in this list have 3 axis stabilization
Wearable or stick: Gimbals come in two basic forms. A traditional handle form where you hold the gimbal or a wearable version that attaches to helmets, your body etc. We find that the new wearable versions are more versatile
Controls: The entry level gimbals have basic controls such as pan, tilt and lock while the more advanced models have directional controls via a thumb stick.
Price: The GoPro is an expensive action camera so spending more on a gimbal can be a difficult decision. Luckily it's the single best upgrade for your GoPro and most of these gimbals are relatively cheap GoPro gimbals.
1 | Feiyu WG 2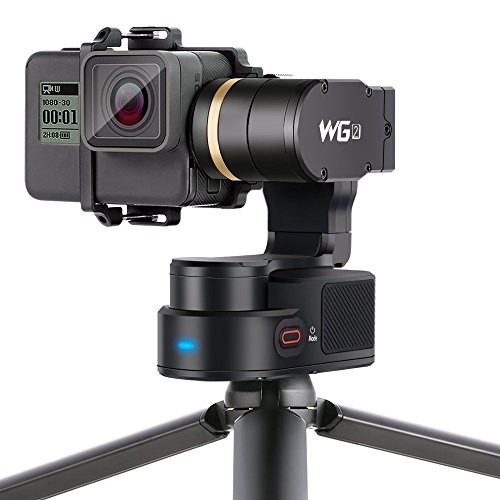 Works with: Hero 4/5/Session
The WG2 from Feiyu is a great contender for the best GoPro gimbal. The biggest selling point of this wearable gimbal is that is it 100% waterproof and works with the existing GoPro mounts although you need to purchase an inexpensive tripod adapter. The WG2 can be mounted vertically, forward or inverted to allow you to capture footage from all angles. A foldable tripod is also included in the box so you can quickly set the gimbal on any surface for hands free filming.
fully waterproof with a quality metal construction
wearable gimbal with a handle extension included
360 degree rotation for full panoramic shooting
included mount for Hero Session
panorama and time lapse modes
case included
panning can be somewhat slow at times during action shots
need to purchase a GoPro tripod mount in order to attach to GoPro mounts
2 | Feiyu G5 V2 (updated model)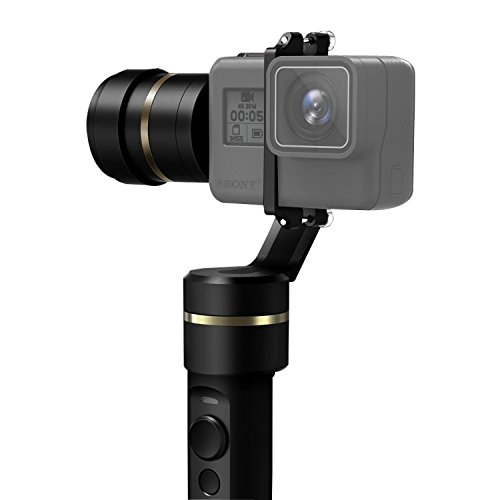 Works with: All GoPro models except Hero Session
The G5 is our favourite gimbal on the market and the manufacturer, Feiyu, are well known for their quality gimbals. We personally use the predecessor of the G5 (the Feiyu Tech G4) and have used it heavily for over 2 years with no problems and it's been 100% reliable. The G5 improves on the G4 by adding joystick control to allow easy pan and rotation using your thumb when holding the gimbal. This is a really useful feature as it allows you to focus on holding the gimbal still while panning. The G5 also has a splashproof design so there is no need to worry about some rain getting on the gimbal. This is very important for the GoPro Hero 5 and 6 which are waterproofed without any casings. There's good foam protection within the holder for your GoPro to avoid scratching and it adds to the smoother footage. The gimbal can also be controlled via the free smartphone app or using the separately sold remote control.
quality all-metal construction with rubber finish
splashproof so great for Hero 5 and 6 models which are waterproofed
joystick for advanced panning and movement
control from smartphone app or remote control (sold separately)
included tripod for gimbal
mount available for smartphones (sold separately)
no carry case included
can't use GoPro while in protective case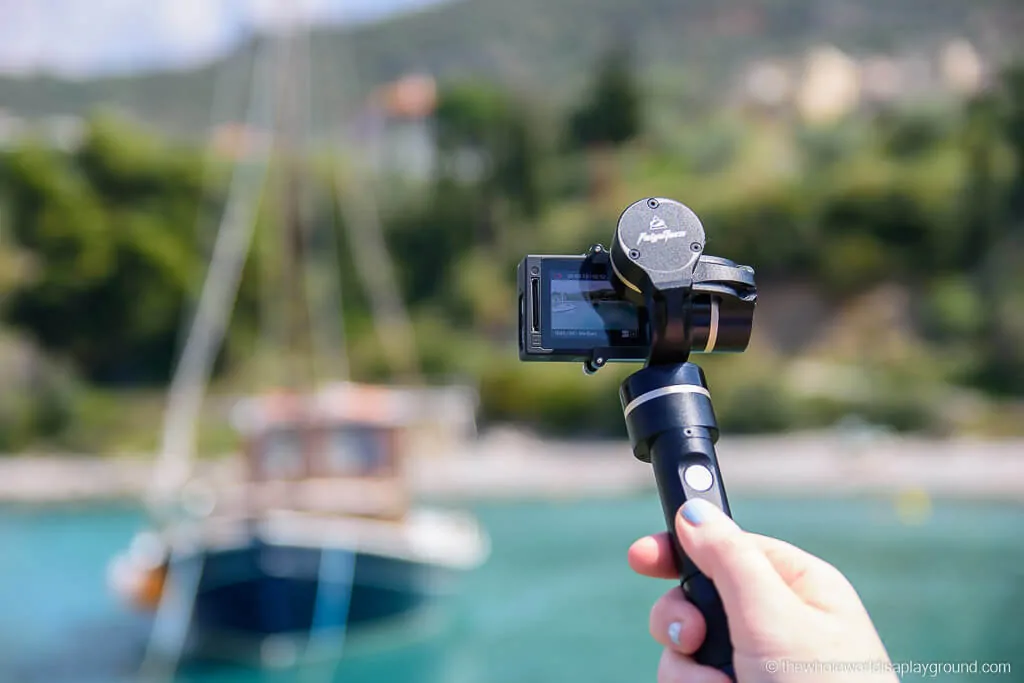 3 | REMOVU S1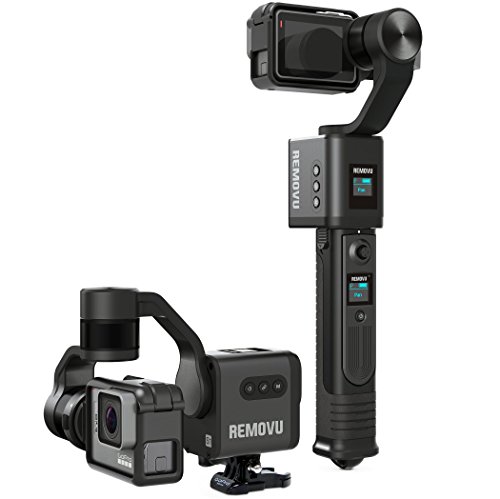 Works with: All GoPro Hero models
The Removu S1 is another highly capable GoPro gimbal. The major benefit of this gimbal is that its both a standard stick style gimbal and converts into a wearable version by detaching the small pole. I addition to these it's also compatible with all GoPro models, something not many gimbals can do so it's really useful if you have multiple GoPro models. The gimbal itself is also rainproof and includes a rainproof housing for the Hero 3 and 4. There is also a rainproof carry case included in the box.
rainproof
Handheld and wearble configurations
wireless remote included
great battery life: 3-5 hours
4 | Zhiyun Smooth Q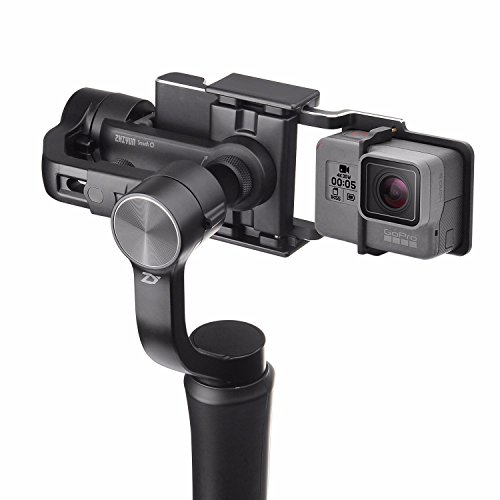 Works with: All Hero models except the Session
Originally a smartphone only gimbal, the Smooth Q now allows you to attach a GoPro using the Eachshot plate adapter which is included. This makes the Smooth Q a versatile gimbal option for those planning to use their iPhone or Android phone to capture footage along with their GoPro. The included carry case and splash proofing ensure your gimbal will be safe in most weather conditions and transporting will be a breeze.
battery life is great at up to 12 hours
splash and snow proofed design
chargeable over USB so you can charge while on the go
carry case included
both smartphone and GoPro compatible
can charge smartphone from the gimbal while filming
the included EachShot plate makes the gimbal head bulky so not as discreet as other options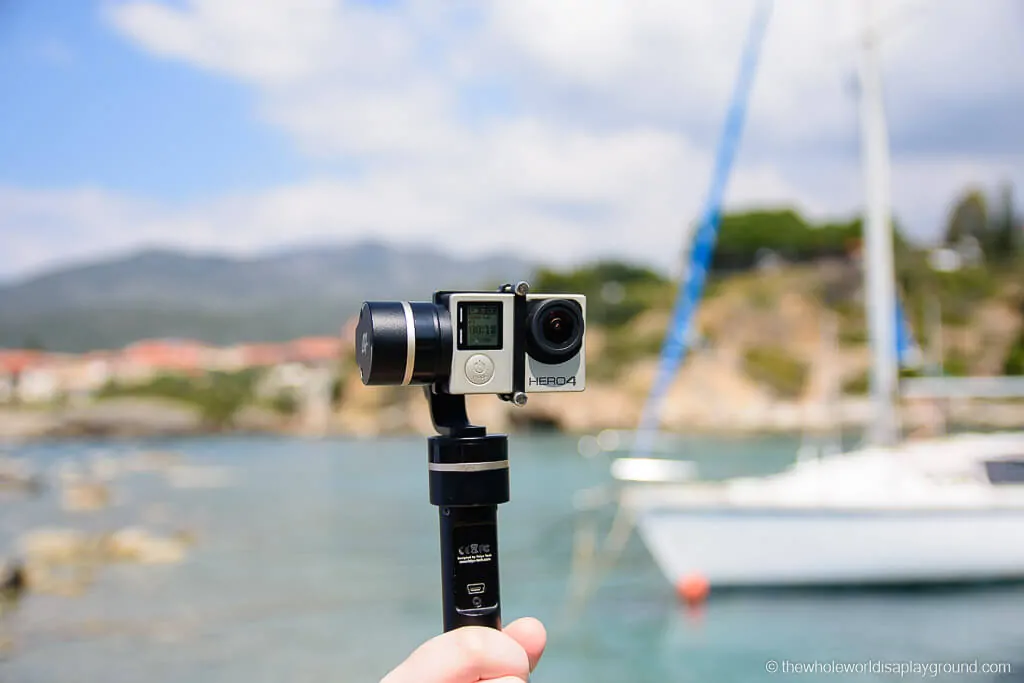 5 | EVO GP-PRO 3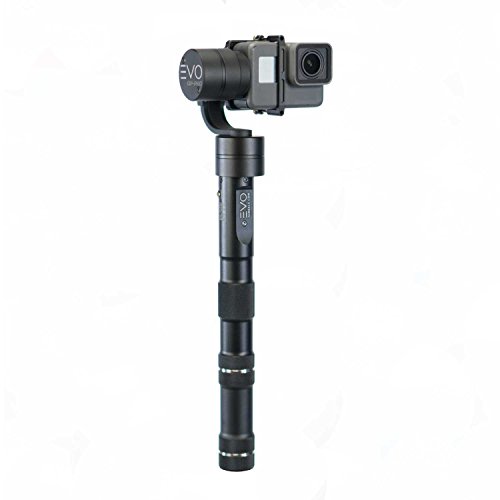 Works with: Hero 3/4/5 and Session
The Evo GP-Pro 3 is a more traditional gimbal model but still very capable and it produces beautifully smooth footage. A standard stick gimbal, the GP-Pro 3 offers premium build quality and solid construction although one of the potential negatives is that it is not splashproof. It's also possible to use the GP-Pro 3 to stabilize smartphone footage but it does require an adapter which is sold separately.
premium metal construction
easy setup
built in charger to charge GoPro from gimbal (Hero 3/4 only)
includes adapter for Hero Session
Possible to attach extension poles (sold separately)
GoPro ports accessible while in gimbal
no carry case included
not splashproof
6 | EVO Gimbals EVO SS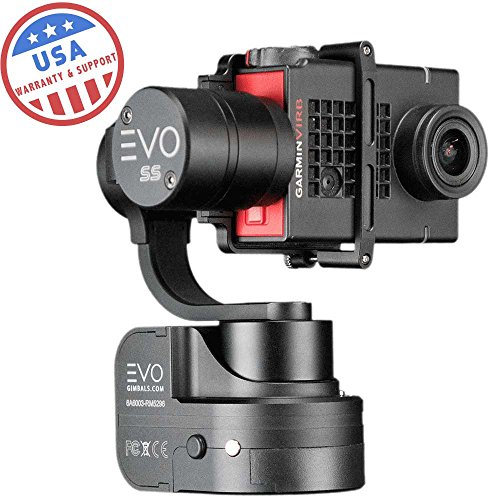 Works with: Hero 3/4/5 and Session
The newer Evo SS is a great alternative to the EVO GP-PRO 3. This is a wearable gimbal which allows you to attach your stabilised gimbal to the existing GoPro adapters. This is a real game changer as it allows you to use the GoPro for hands free stabilised action shots which previously would be very difficult, if not impossible.
wearable gimbal and also has an extension handle included for standard use
works with all standard GoPro mounts and includes thread to mount on tripod
great customer service from Evo Gimbals
not compatible with Hero 6
not splash/waterproof