Austin is quirky, vibrant and the live music capital of the world. It is also home to some amazing street art and there are some incredible murals in Austin. Colorful art decorates many of its streets, to the extent that many of the murals have become tourist destinations in themselves!
On our most recent visit to Austin we set out to explore the best of the city's murals. From the postcard style greetings to the Austin favorite 'I love you so much', we've included all our favorite murals in Austin!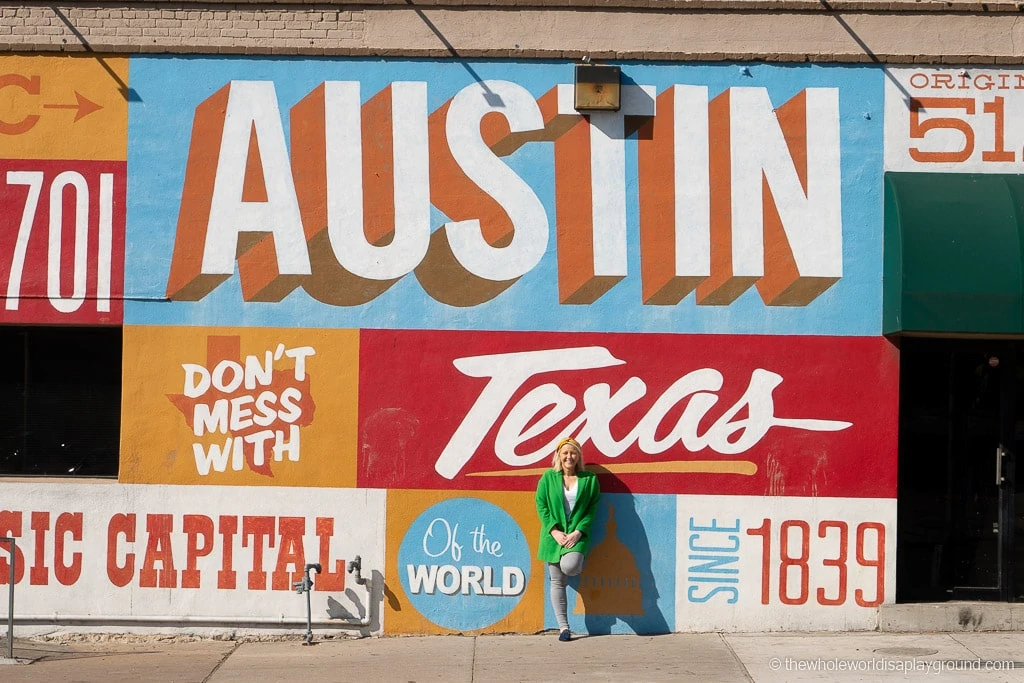 17 Best Murals in Austin
From the cute and kitschy 'You're my butter half' to the imposing Tau Ceti, these are our favorite murals in Austin.
1 | Don't Mess With Texas
Location: 6th Street and I-35 frontage road
One of the most colorful and iconic Austin murals, make sure to get a photo at the Don't Mess With Texas mural at 6th Street and the I35 frontage road. This is one of the most popular murals in the city so it can get busy with visitors trying to take photos: you'll probably need to take a photo from across the street if you want to get the whole mural in shot.
Best Murals in Austin tip: The mural faces onto the slip road of the I35 – make take care not to step off the sidewalk as vehicles pass at speed !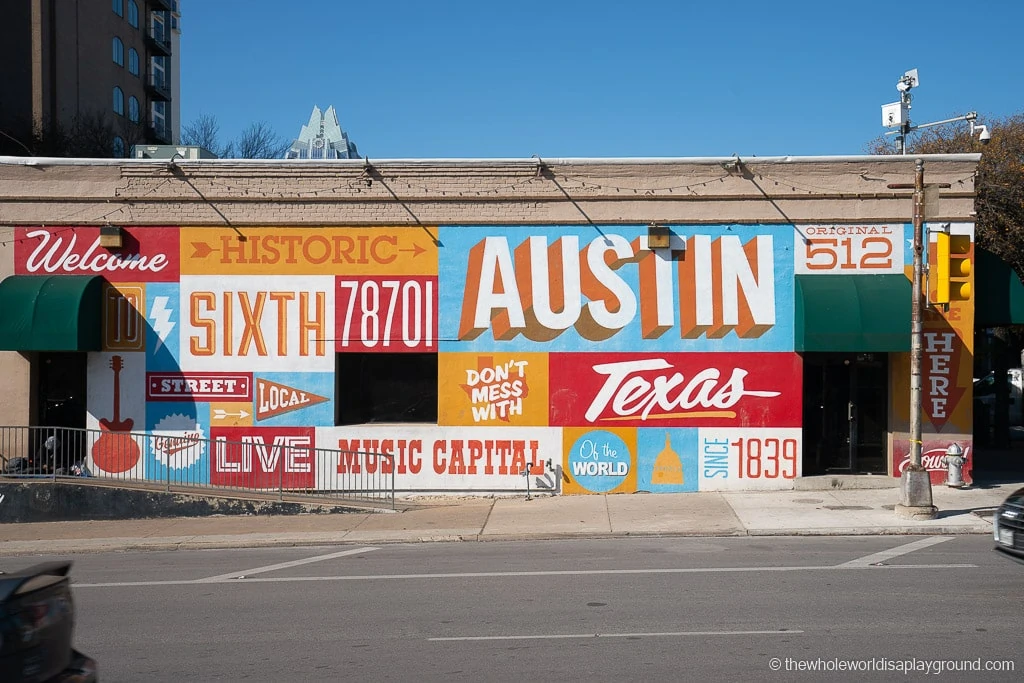 2 | Tau Ceti
Location: Brazos and Second streets
The towering Tau Ceti mural is one of the most unique murals in Austin. Created by the artist Josef Kristofolett in 20187, the mural is named after a star in the Cetus constellation. It is located on the inverted corner of a 10 store parking lot, the mural can only be described as a trio of huge triangular rainbows.
The mural is beautiful during the day and is equally special at night when it is lit up from street lighting. There are two good angles for capturing the mural: from directly underneath using a wide angle lens or from directly across the intersection on the north west corner.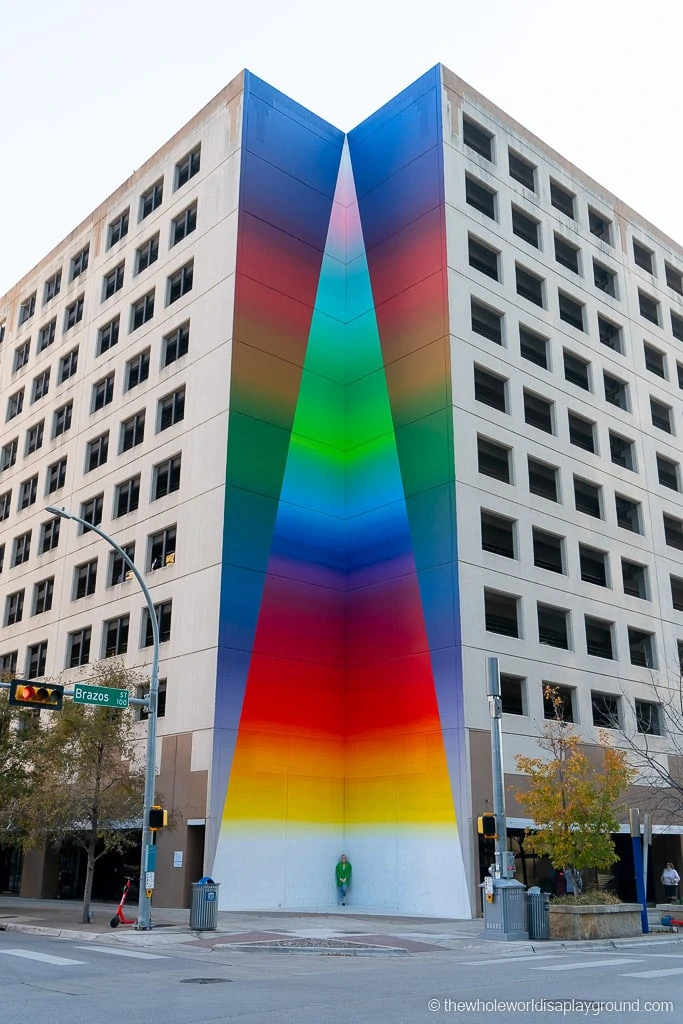 3 | Be Here Now
Location: New Austin Hotel
Created by artist Jason Eatherly the Be Here now is located on the side of the New Austin Hotel. There's a bike rack in front on the mural so you'll need to get close to get an unobstructed shot.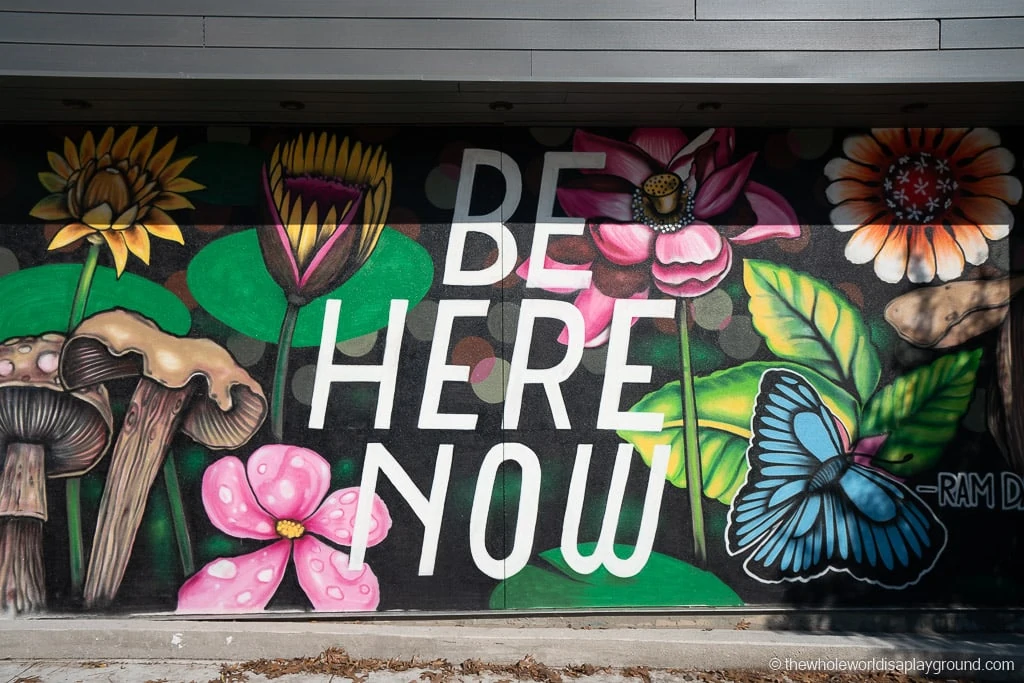 4 | You're My Butter Half
Location: 2000 E Martin Luther King Jr Blvd
The You're my Butter Half mural is one of the cutest murals in the city. It's lighthearted, fun and a great place for a couples selfie! The is located a little out of town in a quiet neighborhood so you'll likely need a car to get to it.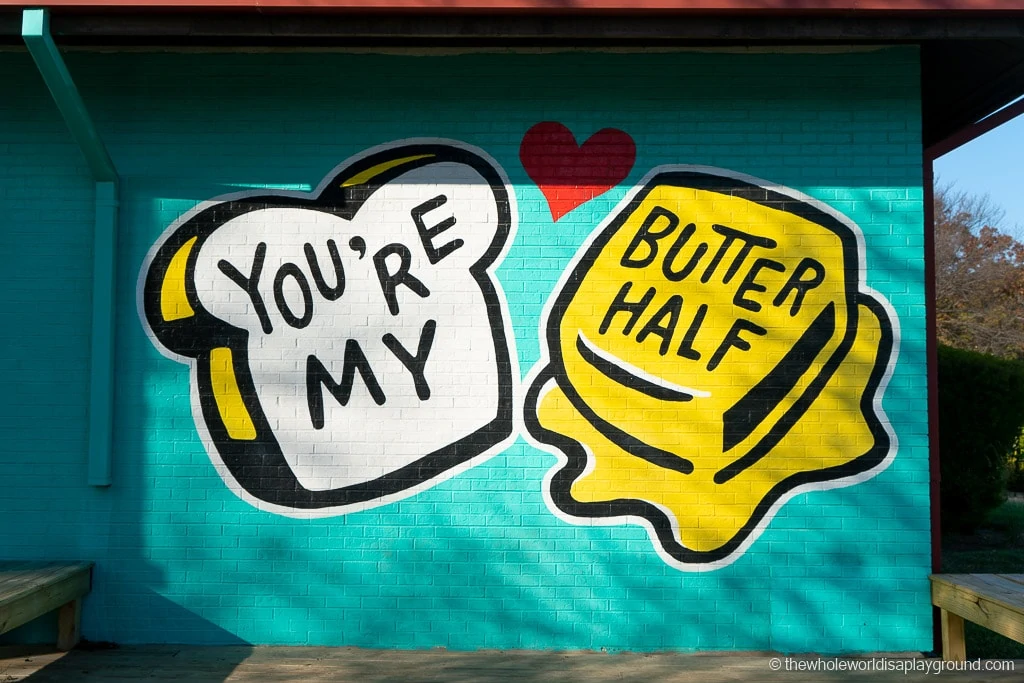 5 | Greetings from Austin
Location: 1720 S 1st St
South of Congress (or SOCO) is one of the best-known areas of Austin and it's a hub of independent shops and culture. It's no surprise that the area is packed with street art and murals.
Greeting from Austin is one of our favourite murals in the city and is one of its longest standing murals. It was created in 1998 and restored in 2013. Designed to resemble a vintage postcard, the mural features some of the city's best-known landmarks including the Texas State Capitol.
Due to its popularity, the mural usually attracts crowds at weekends so there may be a queue for photos!
6 | I Love you So Much
Location: Wall of Jo's Coffee, 1300 S Congress Ave
'I Love You So Much' is a really popular mural located on the side of Jo's Coffee shop on South Congress Avenue. The story behind the mural only adds to its popularity. The mural is rumored to have been created as a peace offering following an argument between the couple who own Jo's Coffee. Today you'll see a regular stream of people posing for photos at the mural.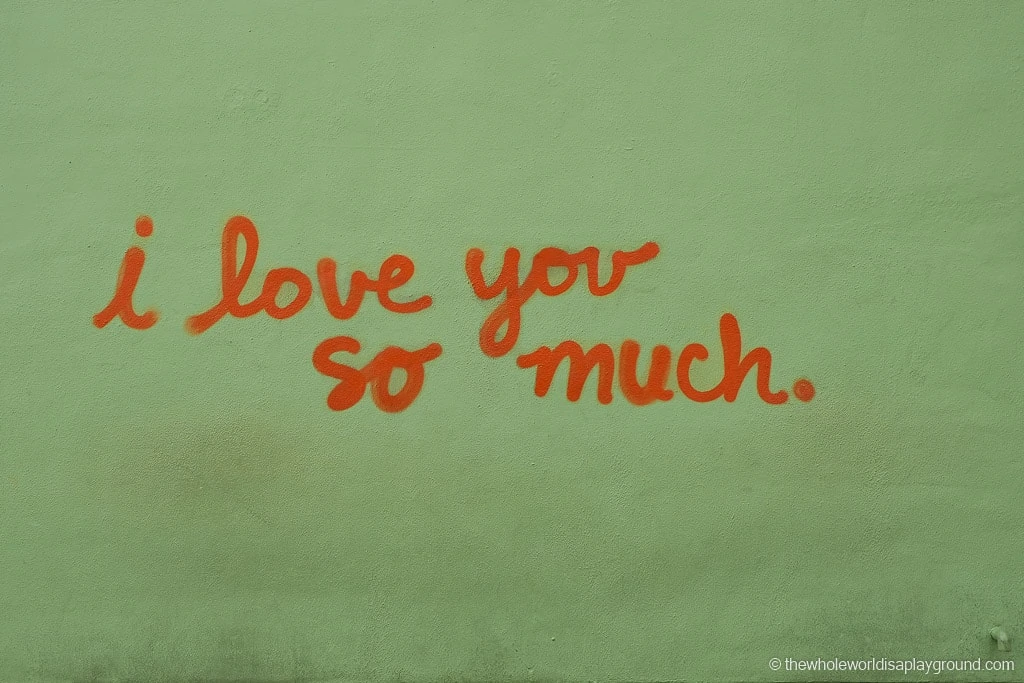 7 | Love from Austin
Location: Wall of Prima Dora: 1912 S Congress Ave
This monochrome mural is located on the site of the Prima Dora store on South Congress. Make sure to pop into the store itself as it's packed full of colorful, quirky trinkets and souvenirs from local artists.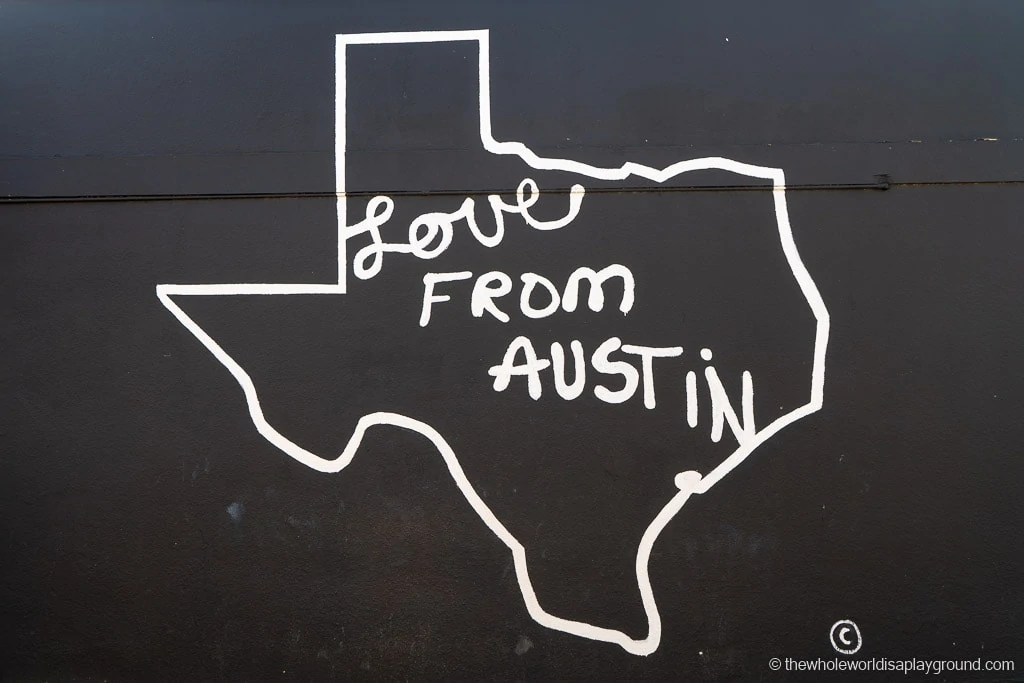 8 | You Make My Heart sing
Location: 301 W Riverside Dr, Austin, TX 78704
Located in the old Threadgill's World Headquarters Building, the You Make My Heart Sing mural is easy to miss as you pass on the street. The mural is located on the back of the old Threadgill's bar and restaurant building.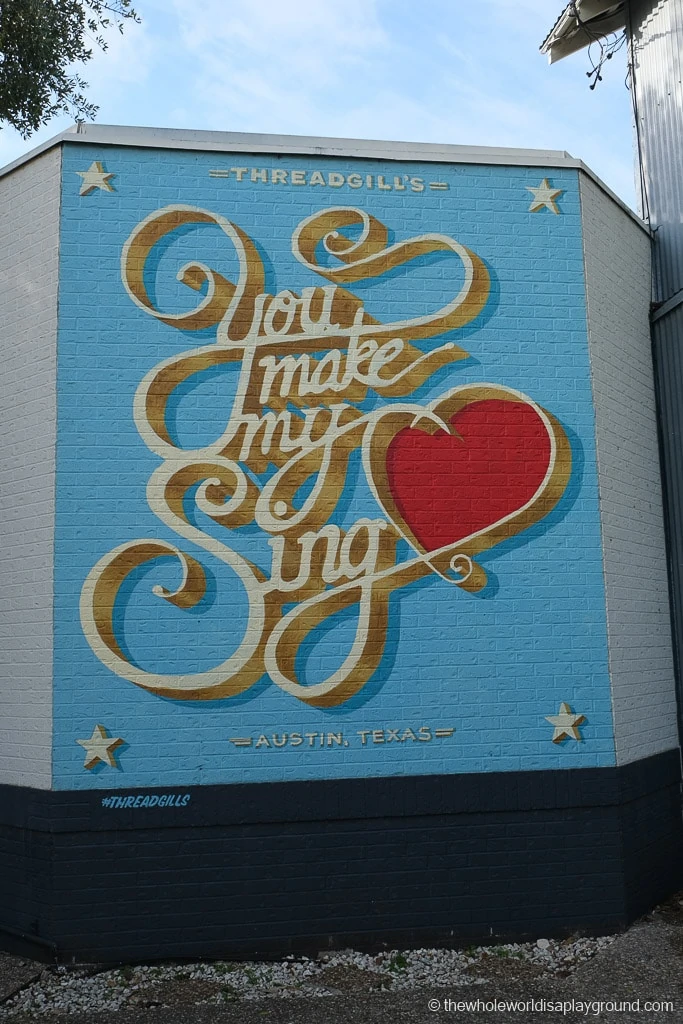 9 | SOCO
Location: 800 S Congress
The SOCO mural is on the side of the Hudson Meat Market facing South Congress Avenue.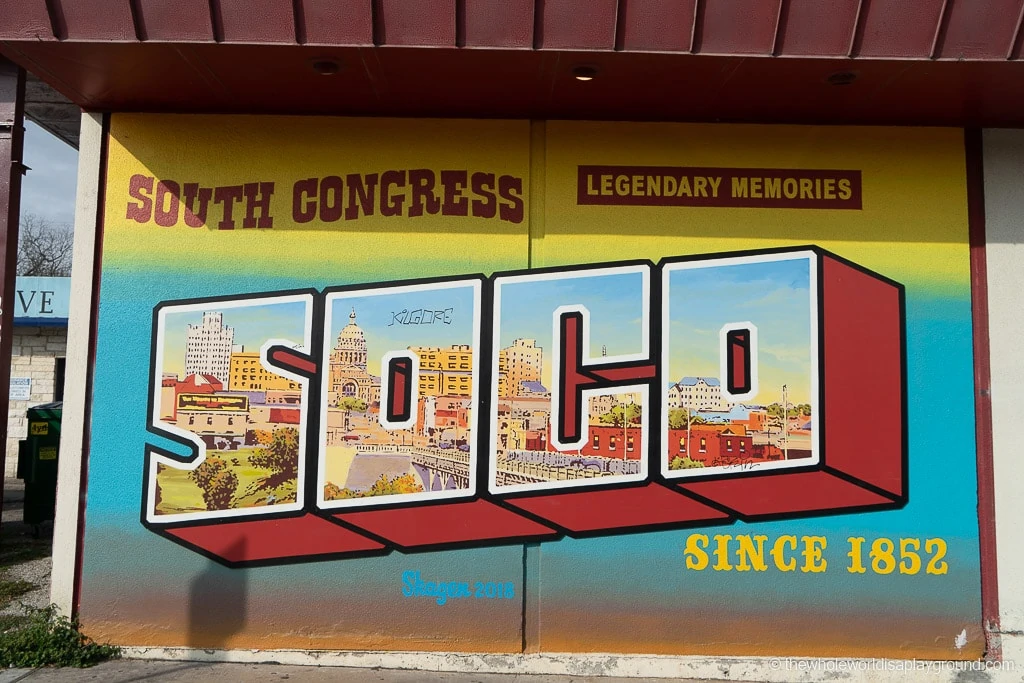 10 | Till Death Do Us Part
Location: E 7th St and Waller St
The work of Federico Archuleta, Til Death Do us Part is a Mexican inspired mural featuring two hugging skulls.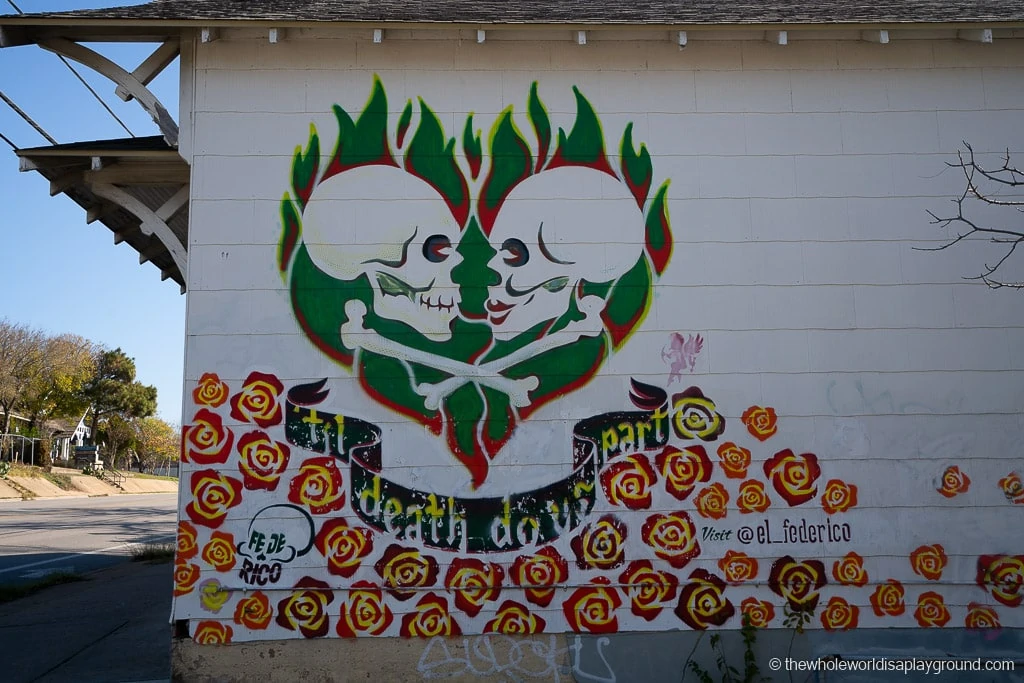 11 | Hi, How Are you
Location: Guadalupe Street and 21st Street
While it may look like graffiti, the frog known as Jeremiah is an Austin music icon and has featured on everything from murals to t-shirts worn by Kurt Cobain. Created by musician Daniel Johnston for a music album cover, the manager of the Sound Exchange store commissioned Johnston to paint a version of the cover on the wall. Despite the store closing and the building changing hands several times since 1993, the mural has remained
12 | Houston Toad
Location: 6th Street and San Jacinto Blvd. (222 E. 6th Street)
British artist Louis Masai created this colorful mural to highlight the plight of the endangered Houston Toad. Although the massive mural is slightly dated and showing it's the age it's still beautiful and worth a look.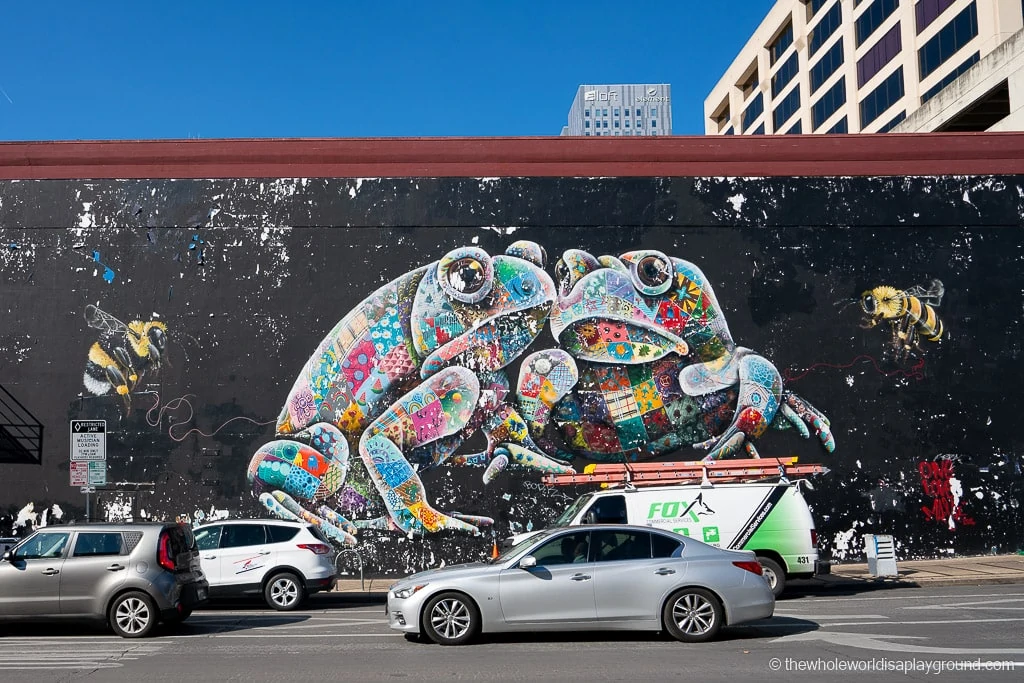 13 | This Is Not a Test
Location: 1902 S. Congress Ave.
This huge mural is on the wall of Bird's Barbershop in SOCO and is reminiscent of an emergency broadcast interruption.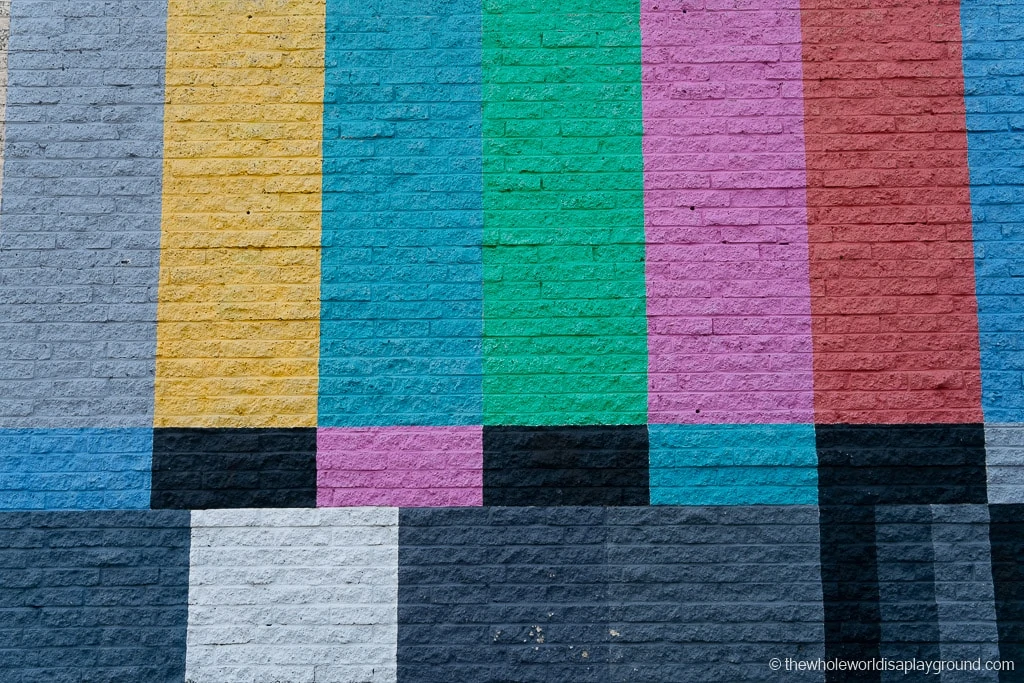 14 | ATX Sign
Location: Whole Foods, 525 N Lamar Blvd
Although it's not strictly a mural the ATX sign is one of the most popular photo spots in Austin. Located in the Whole Foods parking lot on N Lamar Boulevard, this unique sign is not to be missed. Unfortunately it had taken a break for maintenance on our most recent Austin visit so we didn't get to check it out!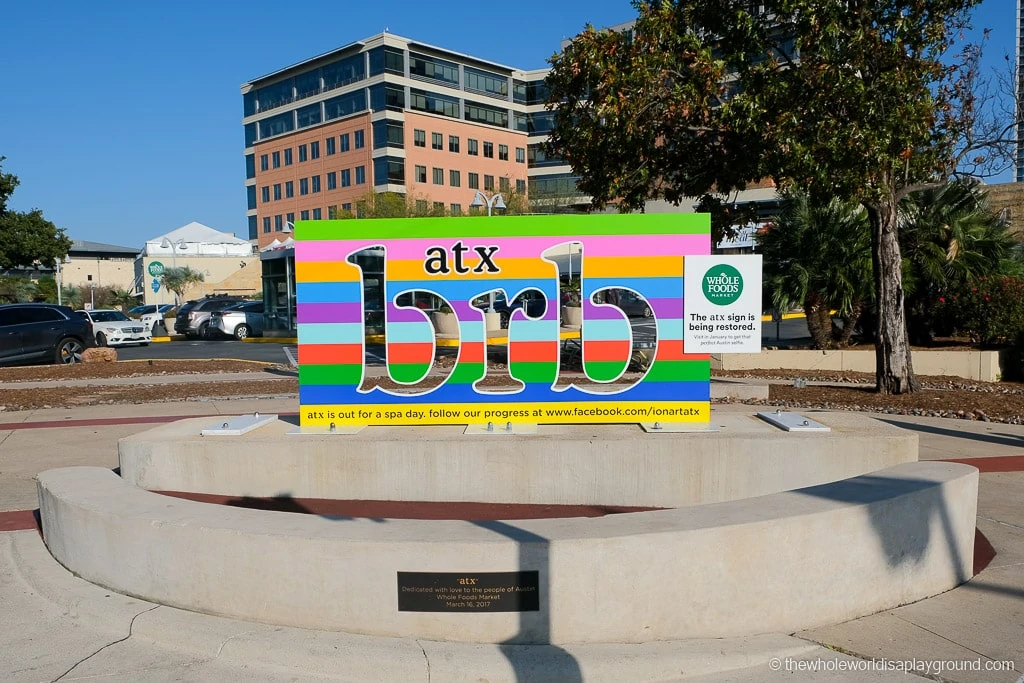 15 | Willie for President
Location: 100-130 E Elizabeth St
It's no secret that Austin loves Willie Nelson and there are a few murals of him around the city. Our favourite is the Willie for President Mural on the side of STAG Austin in SOCO.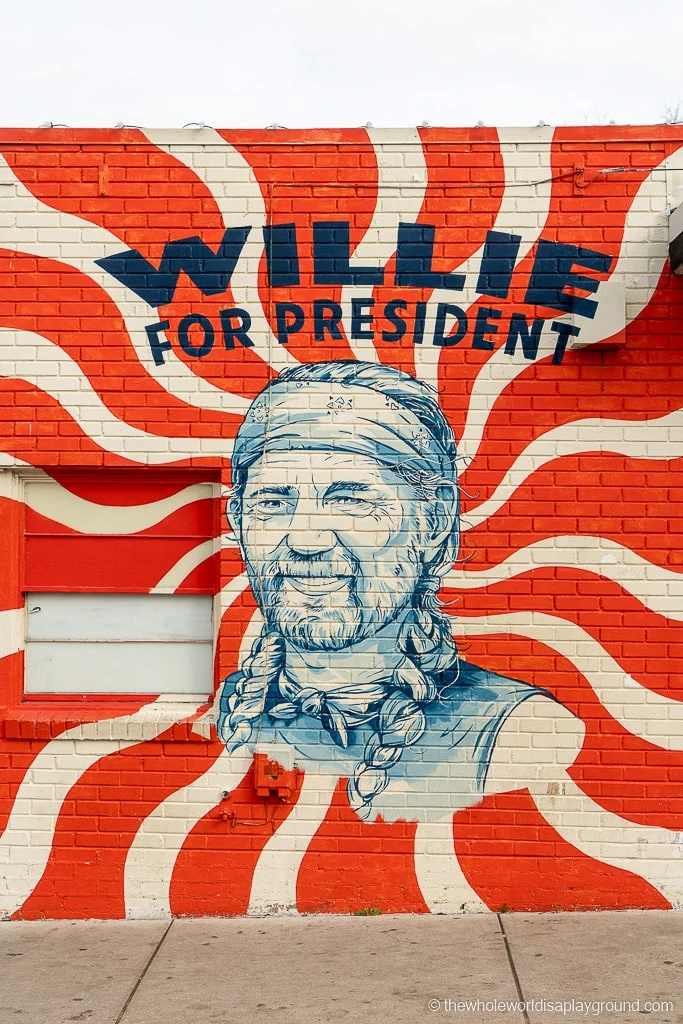 17 | Smile, Even If You Don't Want To
Location: South Congress and Elizabeth St.
Located directly behind the Willie For President, this mural is likely to do as it says!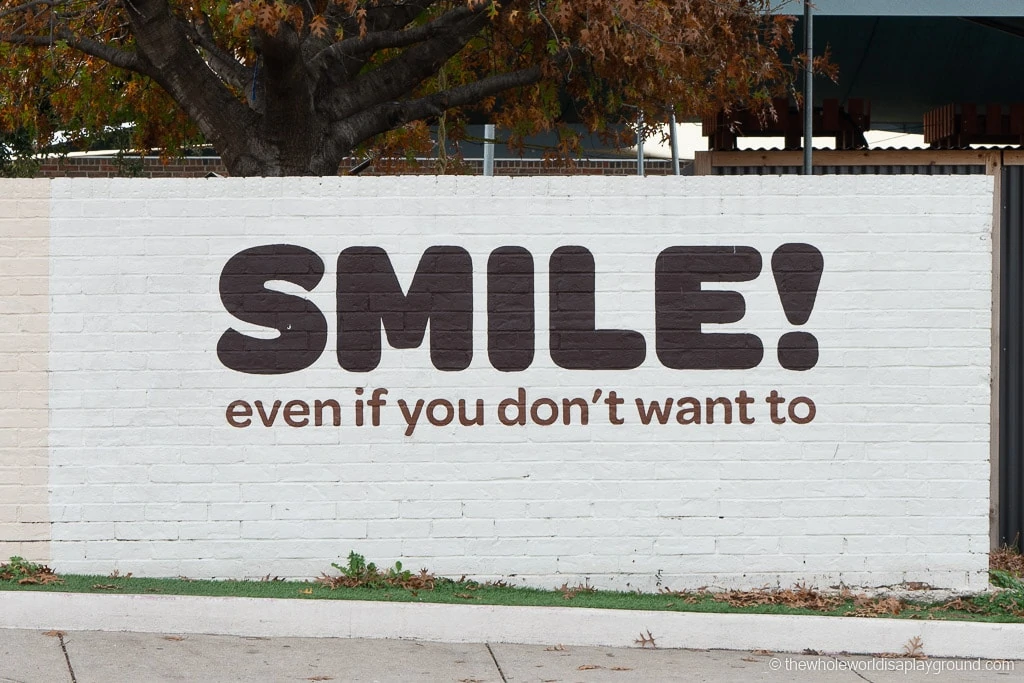 16 | Before I Die
Location: 206 E Elizabeth St
Add your own spin to one of Austin's murals. Before I die is an ever changing bucket list of things people want to do before they die. This was the most fun of all the murals in Austin as it's interactive! Grab a piece of chalk and add you're must do things to the list!