One of the rising stars of tourism in Tokyo, there are lots of unique things to do in Odaiba. The man made island is famous for its panoramic views of the Tokyo skyline, its incredible Digital Art Museum and its assortment of futuristic and quirky attractions. Odaiba is also a shopping and entertainment mecca and a Tokyo must visit! Read on for our guide to the 15 best things to in Odabia!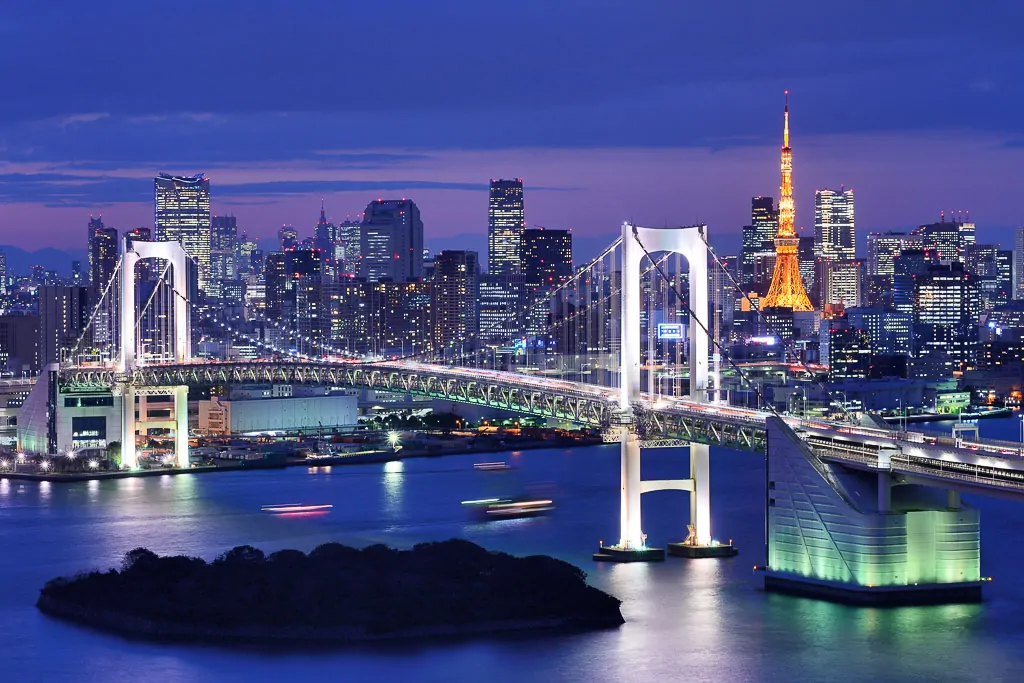 How to get to Odaiba
Odaiba is easily reached by train and is accessed via the Yurikamone Line monorail which starts from Shimbashi Station. We recommend buying a metro card during your time in Tokyo. It saves both time and money!
You can order a Sucia card, a pre-paid pay-as-you-go metro card which allows travel throughout Tokyo – check prices here!
Alternatively, you can get a 24hr/48h/72h Tokyo subway card if you're planning lots of subway travel – check prices here!
Things to do in Odaiba tip: the Yurikamone Line monorail is a scenic ride: the train crosses the Rainbow Bridge to Odaiba and the view of the Tokyo skyline is beautiful.
The Best Things to do in Odaiba
From the world's first Digital Art Museum to a replica of the Statue of Liberty, a giant Gundam robot and one of the largest onsen in Japan, here are the 15 best things to do in Odaiba!
1 | TeamLab Borderless Digital Art Museum (closed)
Currently closed to be relocated in 2023: TeamLab Planets is a magnificent alternative and is located in nearby Toyosu – check ticket prices here!
One of the most magical places in Tokyo, TeamLab Borderless is the world's first Digital Art Museum. It is a truly remarkable and enchanting world of colour, light and sound: there are gushing digital waterfalls, an extraordinary room filled with lanterns and a mesmerising crystal world. The stunning projections and interactive rooms make it one of the best things to do in Odaiba (and Tokyo) and is definitely not to be missed!
Things to do in Odaiba tip: Although TeamLa Border DIgital Art Museum in Odaiba closed permanently in 2022 it is moving to a permanent home in the Toranomon-Azabudai Project which is epected to open in 2023.
TeamLab Borderless sells out almost every day so it's essential to reserve tickets in advance. Entrance is only by official ticket and luckily you can reserve your tickets in advance on Klook – check prices here!
Buy your Digital Museum tickets now
Tickets are reserved for a specific day but there are no assigned entry times – ticket holders can visit at any time during the museum opening hours.
Things to do in Odaiba tip: as tickets are not assigned by time the museum can get uncomfortably busy at peak times. We highly recommend visiting the museum first thing in the morning or late afternoon. A weekday is ideal as the crowds are less.
2 | Statue of Liberty
Odaiba's Statue of Liberty brings a little piece of NYC to Tokyo! The statue was originally sent from France in 1998 in tribute to the relationship between France and Japan. It arrived in Odaiba in 2000 and now Lady Liberty sits in front of the spectacular backdrop of the Rainbow Bridge. The scene is one of the most popular photo spots in Tokyo.
Things to do in Odaiba tip: be prepared! The NYC Statue of Liberty is 7 times taller than the Odaiba version!
3 | Tokyo Ramen Kokugikan Mai
Located in Aqua City shopping mall, an entire floor of the mall is dedicated to ramen. It's an awesome spot to experience Japan's most popular dish. Tokyo Ramen Kokugikan Mai is a collection of 6 popular ramen stores each serving an original dish showcasing different styles of ramen.
4 | Legoland Discovery Centre
If you are travelling with kids who are Lego fans then check out the Legoland Discovery Center. It is the ultimate lego playground! There are over 3 million Lego blocks, 2 rides and 10 play zones, Lego classes and a 4D cinema – check prices here!
Buy your Legoland Discovery tickets now
Things to do in Odaiba tip: the Legoland Discovery Centre in Tokyo is aimed at kids aged between 3 and 10. Adults must be accompanied by children and a visit takes around three hours.
5 | Gundam Robot
A 20 meter tall Unicorn Gundam Robot stands next to the DiverCity Tokyo Plaza Mall in Odaiba. With accompanying sound and light, it transforms from Unicorn mode to battle ready Destroy mode several times a day. In the evening, Anime clips are projected and Gundam music is blasted through speakers. It's an awesome photo stop when your in the area and much loved by anime fans.
6 | Unko Museum
The Unko museum is one of the more quirky things to see in Tokyo and has been extremely popular since opening in 2019. This poop-themed museum ("Unko" is Japanese for poop) is a weird and wonderful museum and definitely worth a visit when you're in Odaiba. Taking inspiration from the colorful Kawaii culture that is synonymous with Japan, the Unko museum will have you laughing till you cry with all the poop-themed activities
And don't worry, there is no actual poop at the museum, only a lot of fun and lots of rainbow-themed craziness! It's a lot of fun and you can reserve your tickets in advance – check prices now!
Buy your Unko Museum tickets now
7 | Palette Town Ferris Wheel (closed)
Odaiba is home to a 115 metre tall brightly colored Ferris Wheel. A 16 minute ride on the Ferris Wheel rewards with views of Rainbow Bridge and iconic Tokyo landmarks including Tokyo Tower and Tokyo Skytree. At night, the Ferris Wheel is lit up in 100 colours and an evening ride showcases the twinkling lights of Tokyo.
8 | Tokyo Joypolis
Tokyo Joypolis is a indoor arcade by SEGA and has arcade games together with 3D and virtual reality attractions. There's a rollercoaster, a haunted house, a Transformers-themed ride and a virtual snowboard halfpipe to try out – check prices here!
Buy your Tokyo Joypolis tickets now
Things to do in Odaiba tip: Tokyo Joypolis is a great option for kids and teens on rainy days and nostalgic adults who remember the heady Sonic days!
9 | Rainbow Bridge
Officially known as the Tokyo Connector Bridge, Rainbow Bridge is a suspension bridge connecting mainland Tokyo with Odaiba. The bridge, and the Tokyo backdrop, are now instantly recognizable. Rainbow Bridge is supported by two bright white towers and, during December, solar energy is collected during the day and used to bathe the bridge in bright lights in the evening.
Things to do in Odaiba tip: It's possible to walk across the bridge: it takes about 30 minutes and, although, the views are awesome, walkers have to contend with the fumes from passing traffic.
10 | Odaiba Beach
The man-made Odaiba Beach runs almost 1km long in Odaiba Seaside Park and was created using sand transported from the Izu Islands. The beach is popular for sunbathing and sports such as volleyball and Frisbee although swimming is prohibited. Odaiba Beach boasts lovely views of the Tokyo skyline and Rainbow Bridge.
Things to do in Odaiba tip: in July, Odaiba Beach is the setting for the Marine Day Lantern Festival. The festival celebrates the ocean. Hundreds of colorful lanterns are placed on the beach and, against the backdrop of Rainbow Bridge, it's a stunning sight.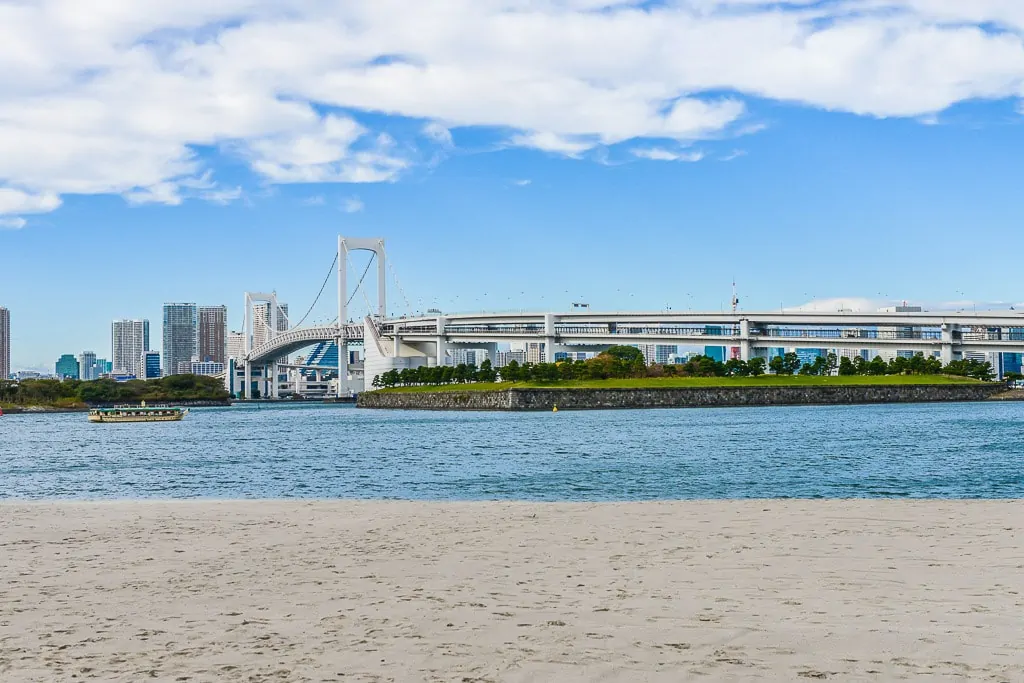 11 | Miraikan, The National Museum of Science and Innovation
Created by Japan's Science and Technology Agency, Miraikan is one of the most popular things to do in Tokyo with kids. Exhibits include a full size model of the International Space Station living quarters, the 10million pixel Geo-Cosmos globe and a section of rock core which recorded the meteorite impact that led to the demise of the dinosaurs. Recent special exhibitions have included the Mammoth exhibition which showcased frozen specimens from the extinct mammoth population.
12 | Take to the water
The Tokyo skyline is stunning from the water and a water bus between Asakusa and Odaiba is both a great sightseeing experience and a fun way to travel between the two locations. Spot iconic Tokyo sights including the Tokyo Sky Tree and the Rainbow Bridge as you sail around the bay. Once you arrive in Odaiba, allow some time to explore some of the awesome sights we've mentioned. The trip takes 50 minutes and the water buses on the Asakusa-Odaiba line have the benefit of panoramic windows to take in those awesome views – check prices here!
Buy your Water Bus tickets now
13 | Venus Fort (closed)
Located in Palette Town, Venus Fort is a shopping mall modelled on a medieval European village. The plush complex has a grand interior with Renaissance statues and paintings and is the perfect mix of sightseeing and shopping. The domed roof displays a stunning sky scene complete with clouds and sunsets. The Fountain Plaza, with six Roman goddesses holding the fountain, is a highlight. As is the Church Plaza which is modeled on a Roman temple.
14 | Trick Art Museum
The Trick Eye Museum, a 3D optical illusion art exhibit, is another great option in Odaiba. The theme of the museum is the 'Vividness of Gorgeous Edo' and visitors are taken back in time to the Edo era. It's fun to experience the world of illusions and the immersive art in the Trick Eye Museum as well as capture tons of silly photos!
15 | Mega Web (closed)
Another Palette Town attraction, Mega Web is a Toyota themed park aimed at car enthusiasts. Mega Web has zones showcasing sports cars, future models, Gazoo Racing cars and the latest Toyota offerings. Visitors can see, touch and experience historic cars, current models and futuristic models. It's also possible to test drive the new car models.