So why is Bruges our favourite Christmas market destination in Europe? From late November until Christmas each year the entire old town of Bruges, or Brugge as it's known, transforms into a Christmas market wonderland. We visited Bruges at the peak of its Christmas spirit and left full of Christmas cheer!
For such a small town Bruges packs a seriously festive punch: the food, the drinks, the decorations and the fairytale setting of the town of Bruges itself all add to the charm! We've crowned Bruges our favorite Christmas market destination in Europe and here's our favourite things to do during a festive trip to Bruges!
1 | Bruges Christmas Market Village
Bruges main square is the focal point of the Christmas Market and is full to the brim with food, drink and craft stalls and an ice rink centre piece all under the beautiful backdrop of the Belfry of Bruges.
The narrow streets leading away from Market Square are lined with countless Christmas shops selling everything from decorations to the famous Belgium chocolate. We spent hours exploring, eating lots of chocolate and generally getting lost in everything Christmas!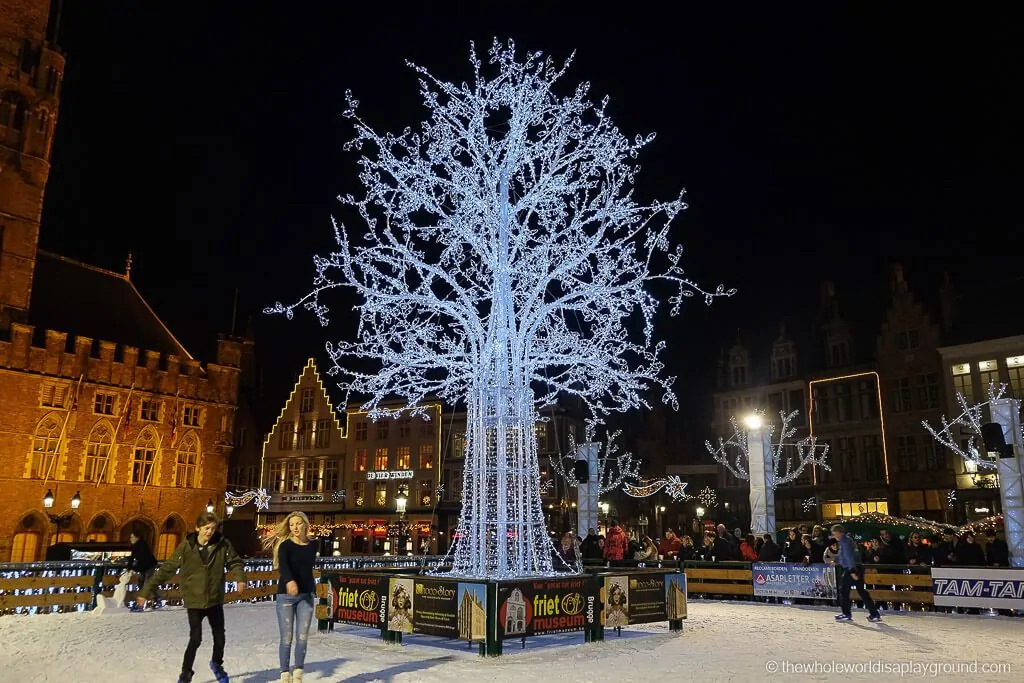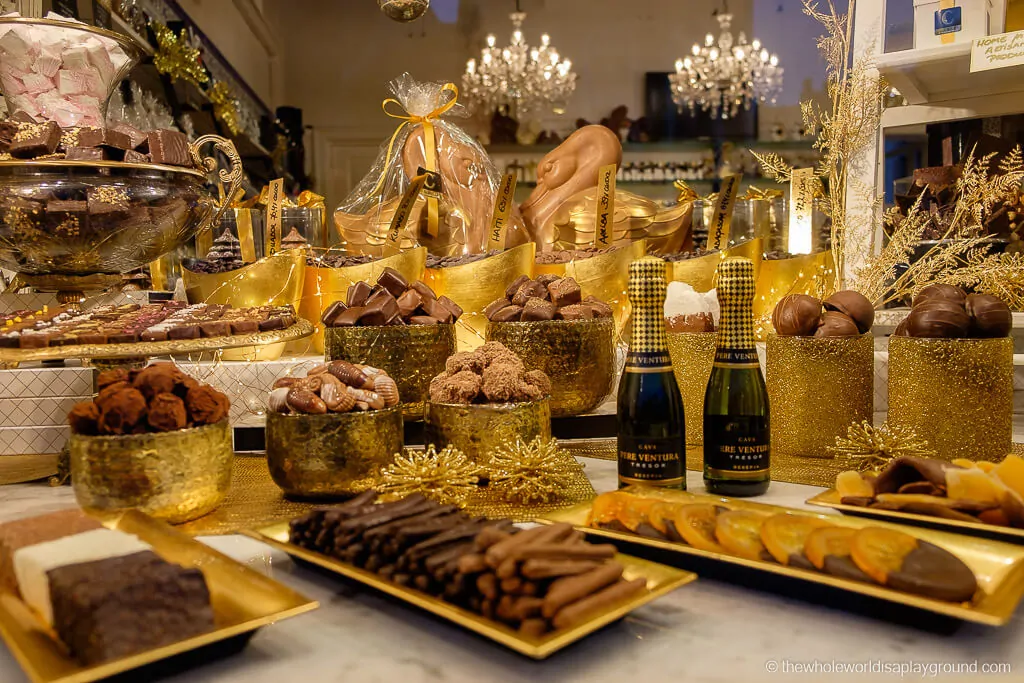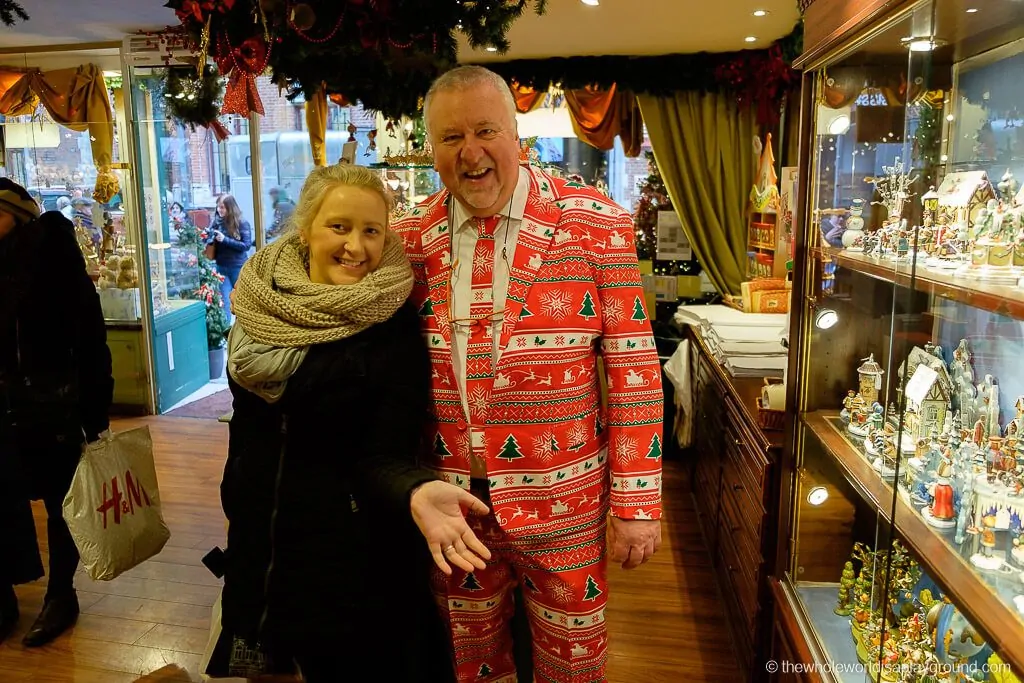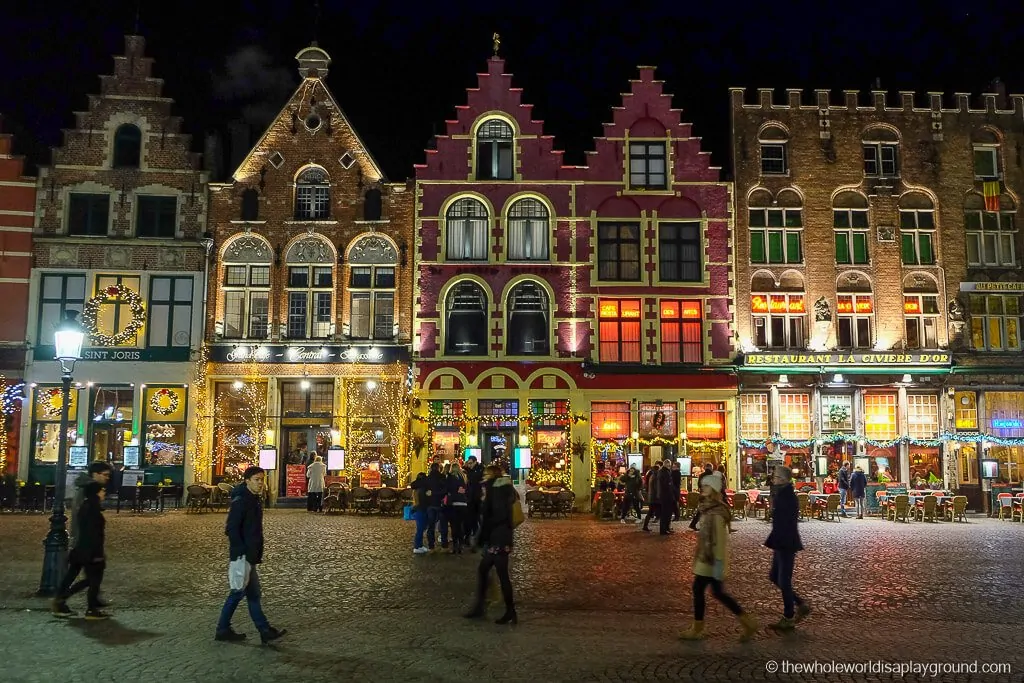 2 | The Food
The first stop for some delicious food and snacks has to be the centre of the Christmas Village in Bruges Market Square. There's a huge range of food on offer, from the Belgian staples of frites, comforting potatoes and waffles to hot dogs and prawns. All washed down with some mulled wine of course!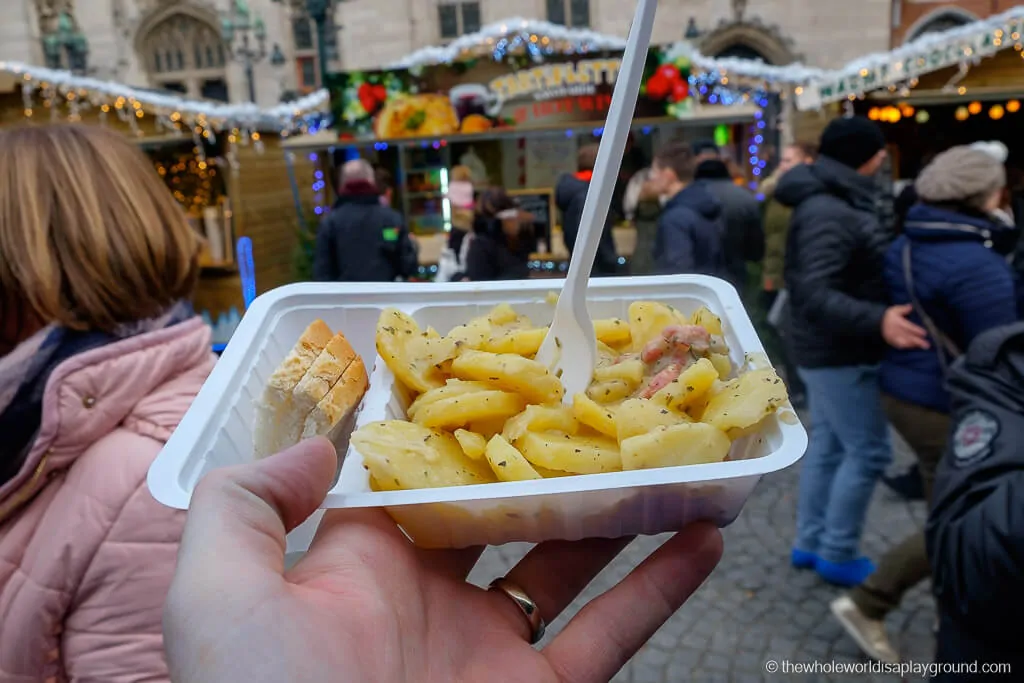 If you want to supplement your Christmas snacks we had some of the best food of our trip at Ganzespel, a gem of a restaurant with incredible food which is perfect for those chilly winter evenings. It's a simple, home style restaurant and worth the 15 chilly minute walk from market square. If you're in Bruges we highly recommend taking the time for dinner here… you won't regret it.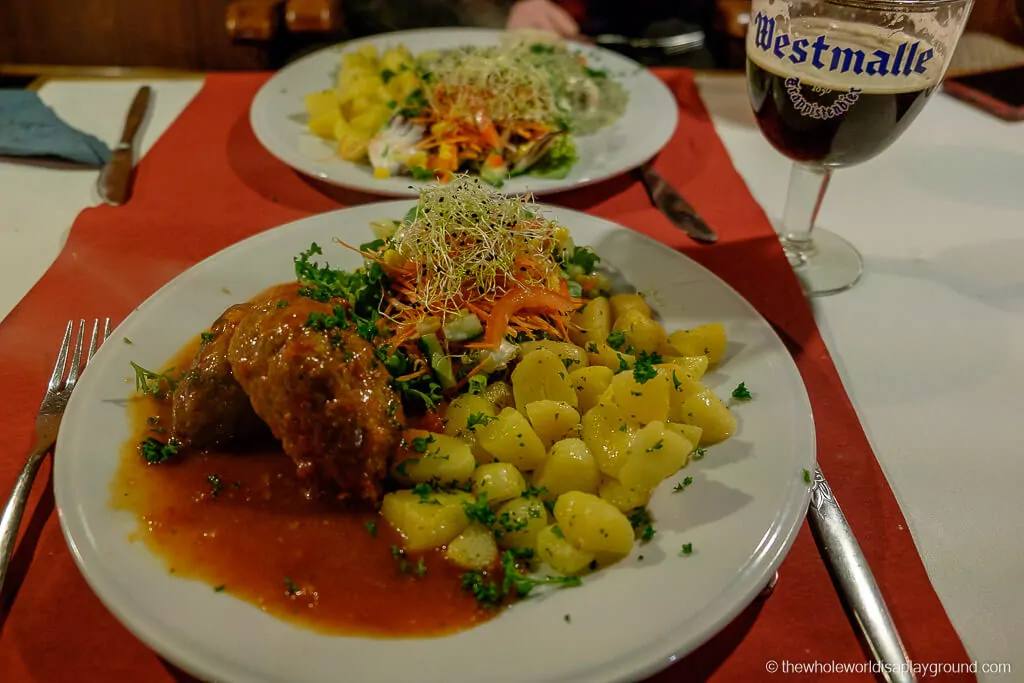 3 | The Christmas Decorations
The entire town of Bruges transforms into a festive wonderland. Fairy lights are strung all over the town, Christmas trees adorn every window and Christmas decorations fill every shop. Best of all, the Christmas cheer is evident in the streets and with everyone you meet!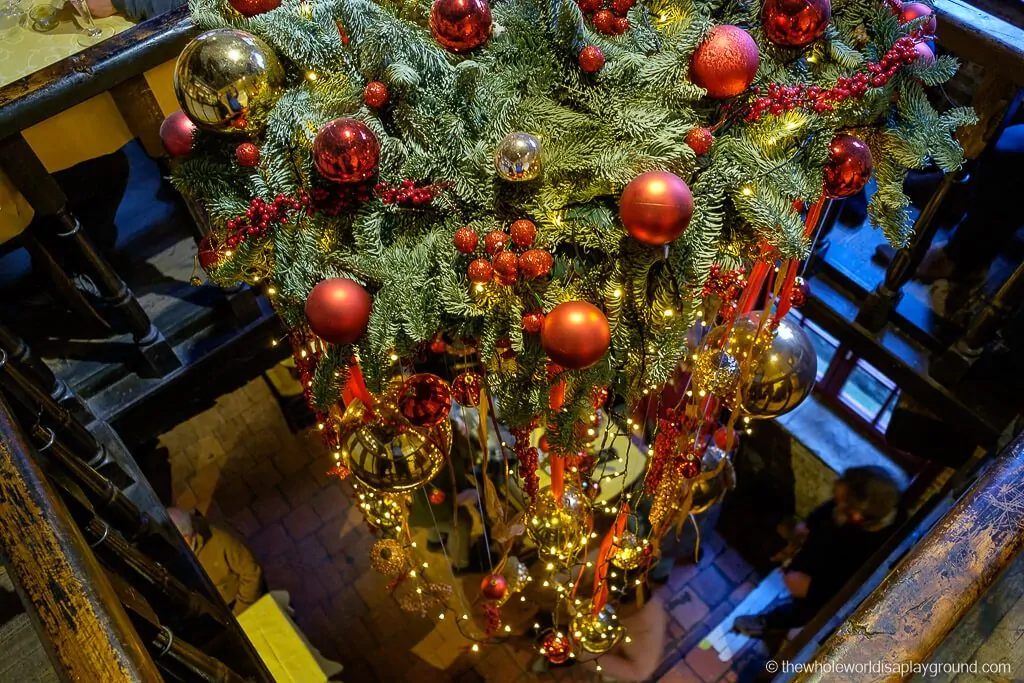 4 | Evenings in Bruges Old Town
Bruges is a very popular day trip destination and the town is crammed full with visitors during the day. Evenings in Bruges are truly special: after the day trippers leave the old town of Bruges becomes a true wonderland. idyllic, quiet, charming and ridiculously beautiful. Wandering the streets in the cool winter night air, making stops for mulled wine or some hot chocolate, followed by a stroll along the canals and finishing up with a nightcap in one of the many cosy bars is the perfect ending to a Christmas evening in Bruges.
Where to Stay in Bruges
Hotel Acacia – We stayed at the charming Hotel Acacia, which has a resident parrot (Coco) at reception to say hello each time you return – check prices now!
Hotel Croix De Bourgogne Tucked away in a hidden courtyard overlooking the canals – check prices now!
Hotel Orangerie: Located right on the canal this charming boutique hotel is part of the small luxury hotels of the world group – check prices now!
Click here for the best Bruges hotel prices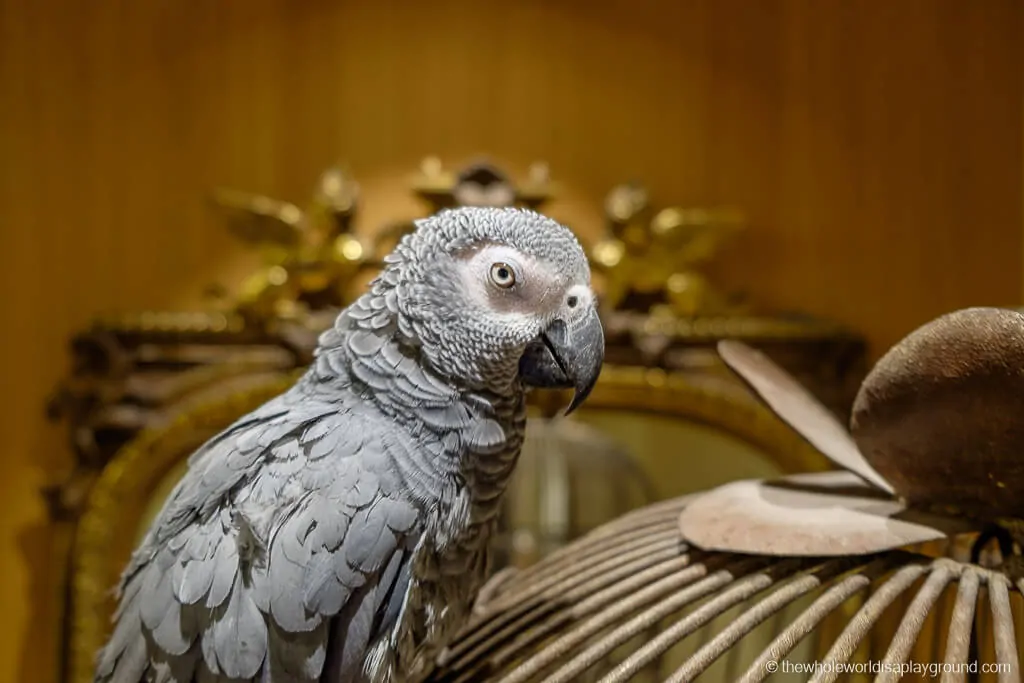 5 | Christmas Shopping
If you're looking for unique Christmas presents Bruges is one of the best places we've visited. The massive selection of Christmas decorations, the unique curio shops with antique trinkets and the beautiful handmade Christmas gifts are a real treat. Bruges has a huge range of quirky Christmas gifts.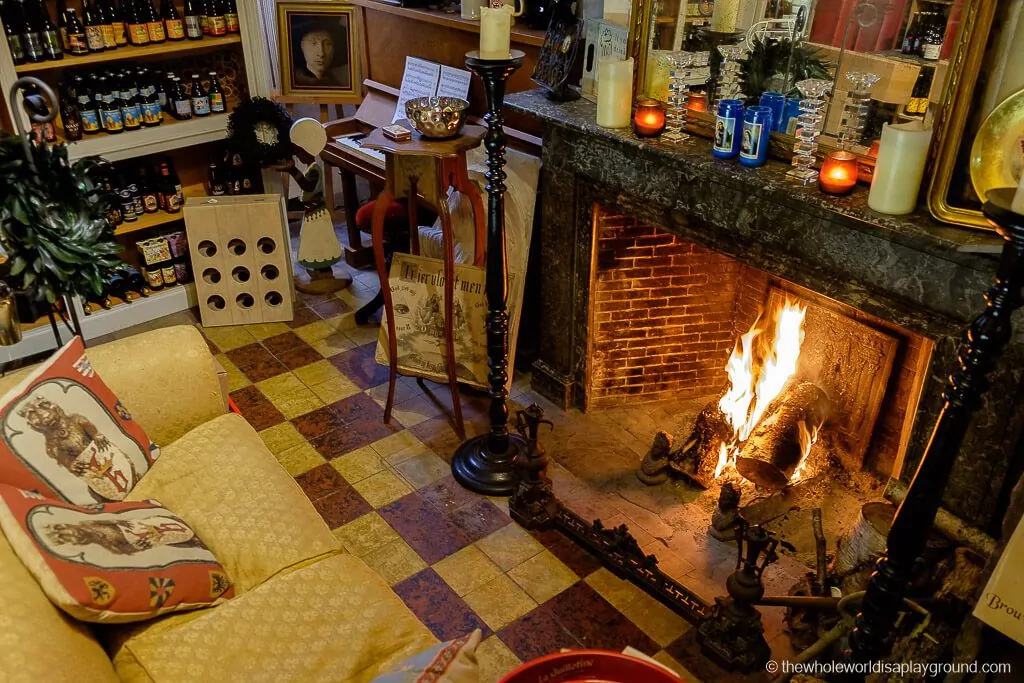 6 | The Chocolate
Belgium is famous for many things but one of the first that pops to mind is chocolate. Bruges does not disappoint for chocolate and quriky Christmas themed creations. The chocolate shops in Bruges are simply next level but care is needed when buying handmade chocolates – only 8 chocolatiers in Bruges actually sell their own handmade chocolate.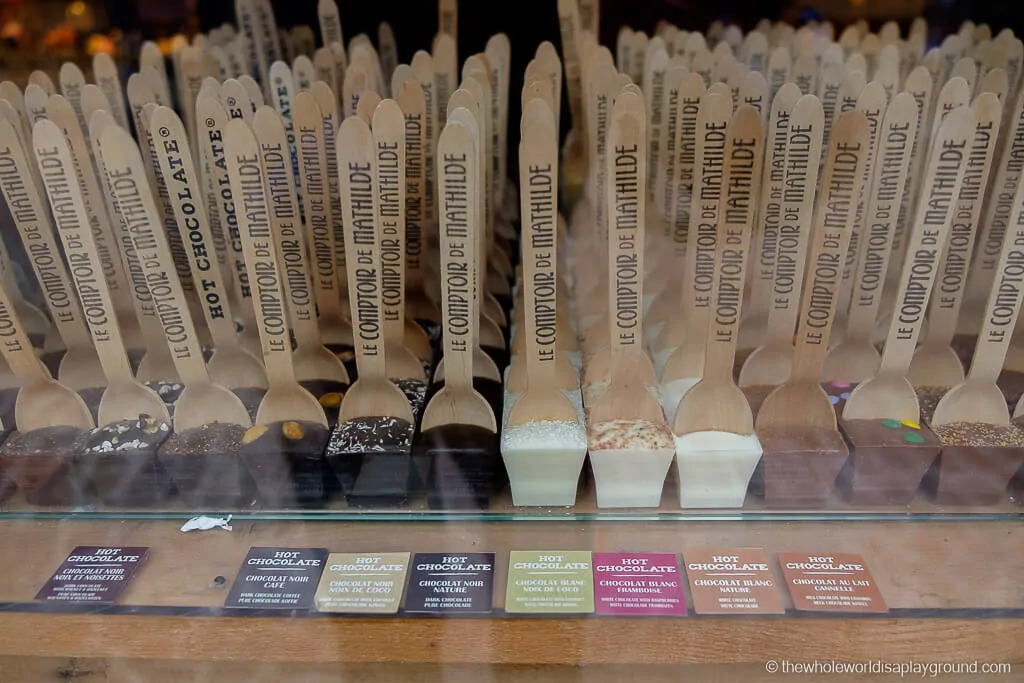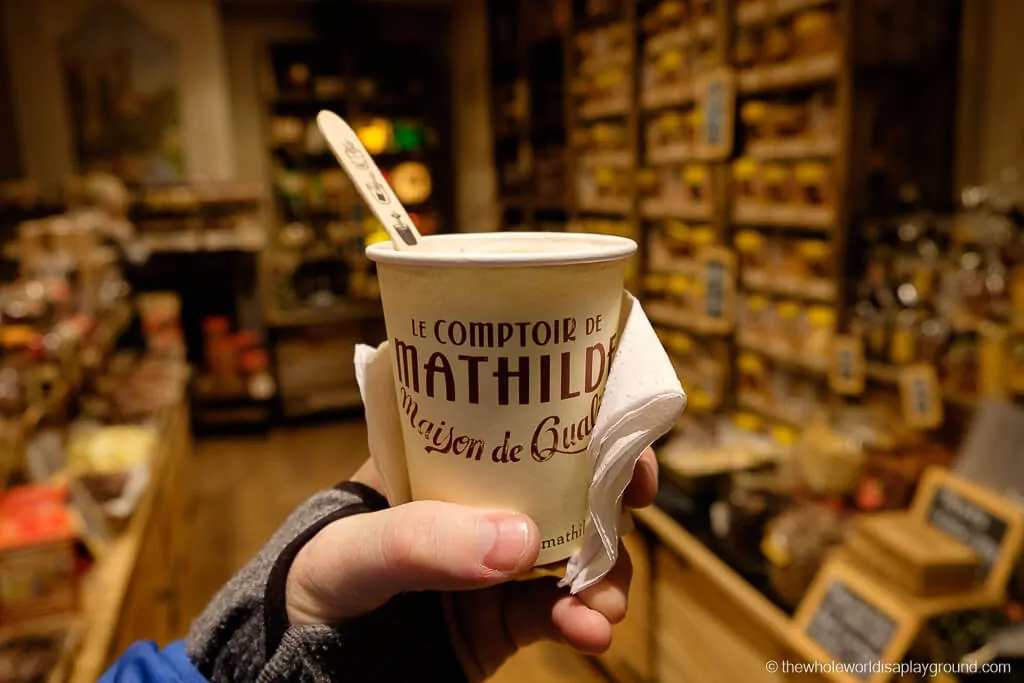 Some of our favourite chocolates shops are:
Chocolaterie Jan De Clerck: this old style shop is a short walk from Market Square and, as a bonus, there is an amazing beer shop next door. You'll find some truly awesome chocolate gift ideas here.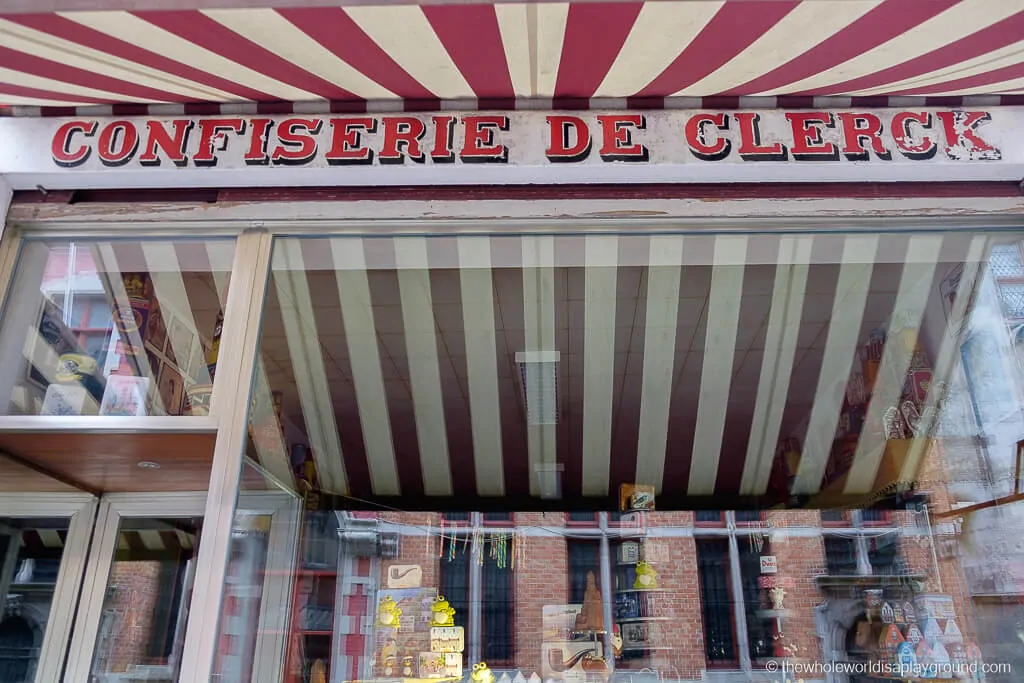 Dumon Chocolatier: Dumon chocolatiers is just off market square. This quaint little store sells some of the best chocolate we've ever tasted.
Chocoladehuije, Wollestraat; again just off Market Square, Chocolate House is a well deserved favourite. The chocolate is truly special – we recommend the rice crispy caramel chocolates, a taste explosion!
7 | Romantic strolls around Bruges Old Town and the canals
One of the best things about Bruges is getting lost in the maze of narrow streets that weave around the old town and the canals. Every corner is like a scene from a fairytale. Ice skating in the main square, a romantic stroll around Love Lake in Minnewater Park or simply chilling in a cosy bar over a beer or a hot chocolate are some of our favourite things to do in Bruges.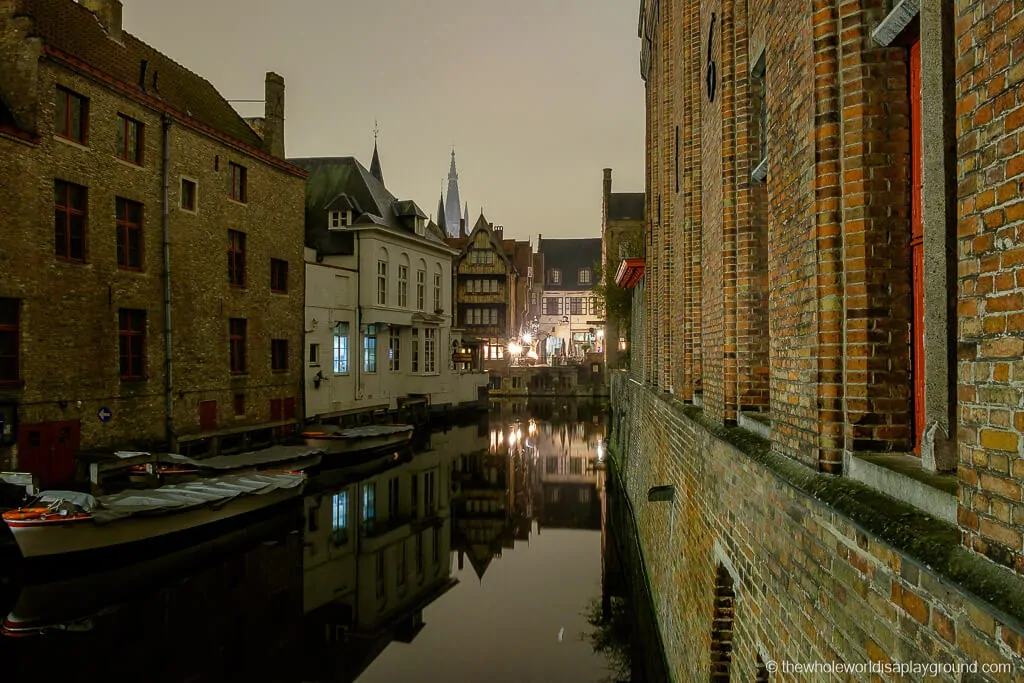 8 | The Belgian Beer

Beer is right up there with chocolate as one of Belgium's most famous and awesome contributions to the world. Bruges has a plethora of cool bars and pubs, each serving their own distinctive brews and Belgian standards.
Local haunt Garre might be our favourite pub in the world – this quirky Belgian beer pub is located in a hidden alley just off Breidelstraat adjacent to the market square. Serving up their signature house beer alongside a huge range of quirky beers it is an amazing place to hangout. Just be careful…true to Belgian standards the beer is ludicrously strong (think wine strength) so don't have too many or you'll have trouble making it back to your hotel!