Bangkok is one of our favourite cities in The Whole World is a Playground House and, having spent well over a month exploring the crazy Thai capital, we were in search of some unique Bangkok fun as we passed through the city on the way home from our incredible Myanmar adventure.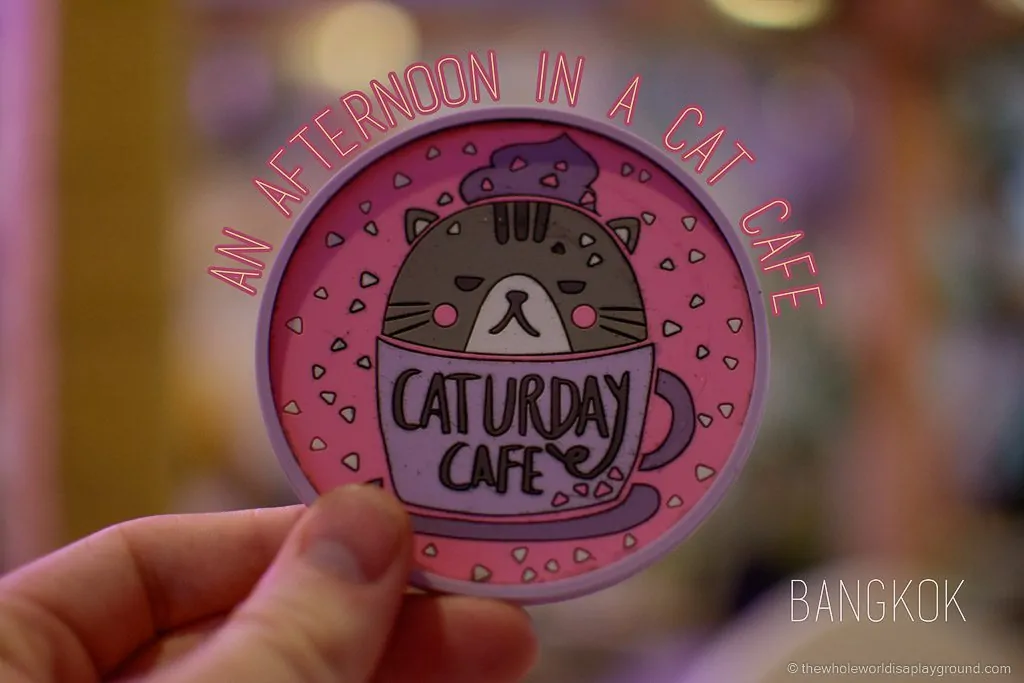 'Let's visit a cat cafe!' I squealed as soon as I learned of their existence in Bangkok. Luckily Dave was a big fan of the suggestion and, having located Caturday, a cat cafe close to our hotel, we set off for an afternoon of cat fun!
Cat Cafes in Bangkok
Cat cafes are exactly as the name suggests: cafes filled with gorgeous, cuddly cats. The idea behind the Bangkok cat cafes is that the tiny city living spaces don't lend themselves to keeping a cat so, instead, the locals visit a cat cafe for their cat fix. Apparently spending time with the cats is relaxing and therapeutic and therefore a much loved adventure in Bangkok.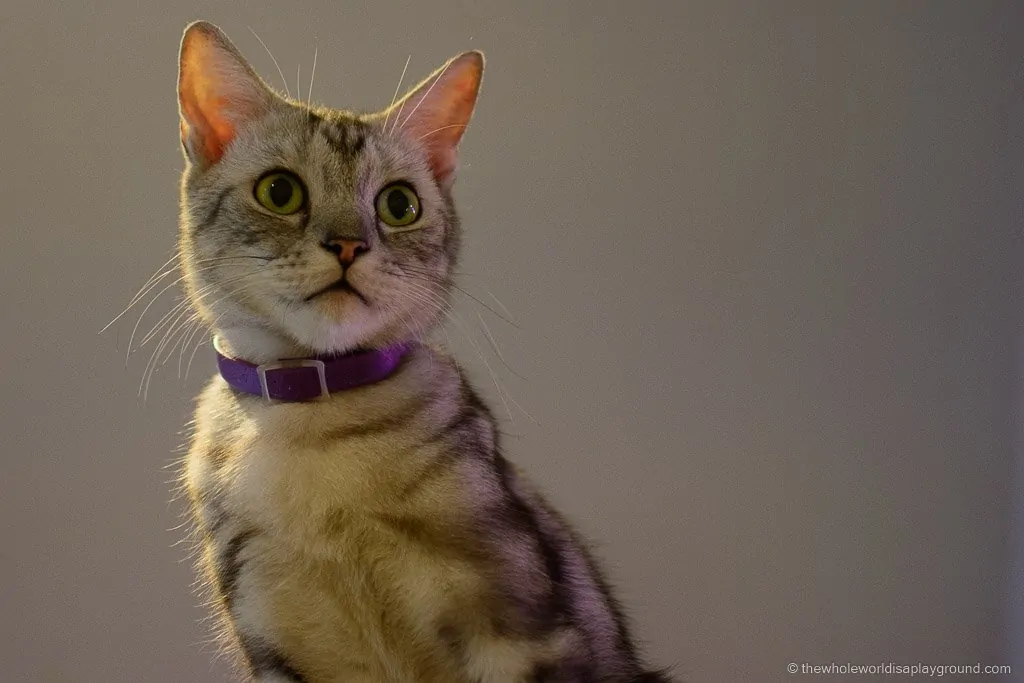 Caturday Cat Cafe, Bangkok
Caturday was our cat cafe of choice after reading about how well they cared for the cats and we set off in the blistering Bangkok sunshine for our cat adventure. Luckily for us, Caturday was only a 20 minute walk from our hotel and we quickly located the cafe on a side street off the main Phayathai Road close to the Ratchathewi BTS station.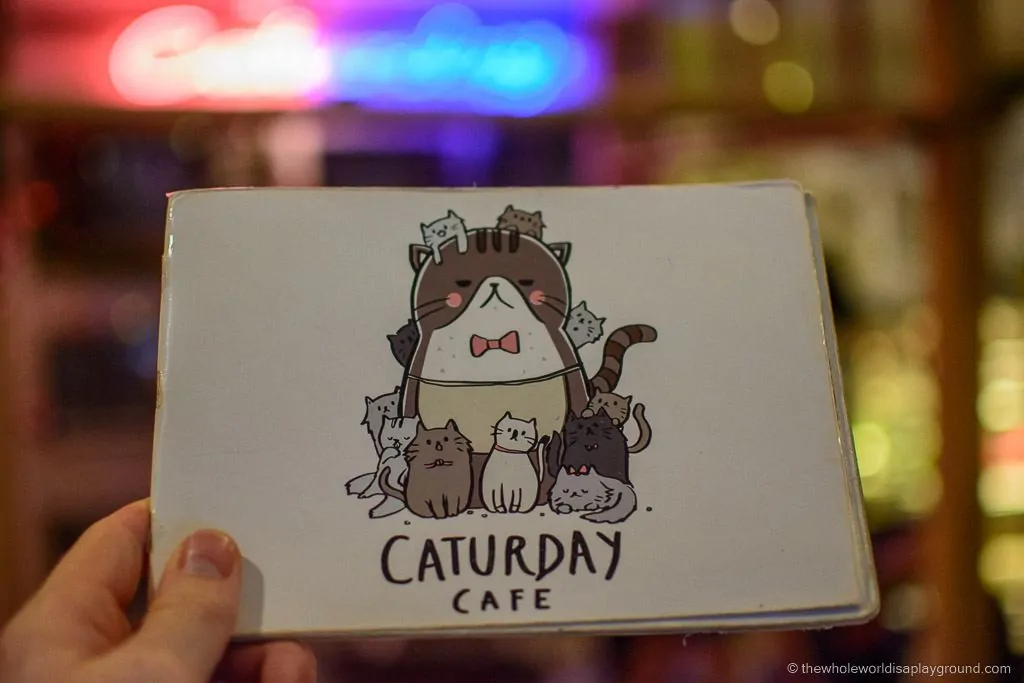 Glancing through the window to the cat filled cafe we knew we were in the right place and, after disposing off our shoes and disinfecting our hands to protect the cats, we entered purrfect bliss! Come on, we had to include a cat reference somewhere!
We were seated at a table occupied by three cats. One bowtied beauty was asleep at our feet (and remained so for our visit!) and the other two stayed for some cuddles before wandering off in search of food!
Have a seat: just mind the cat cushions!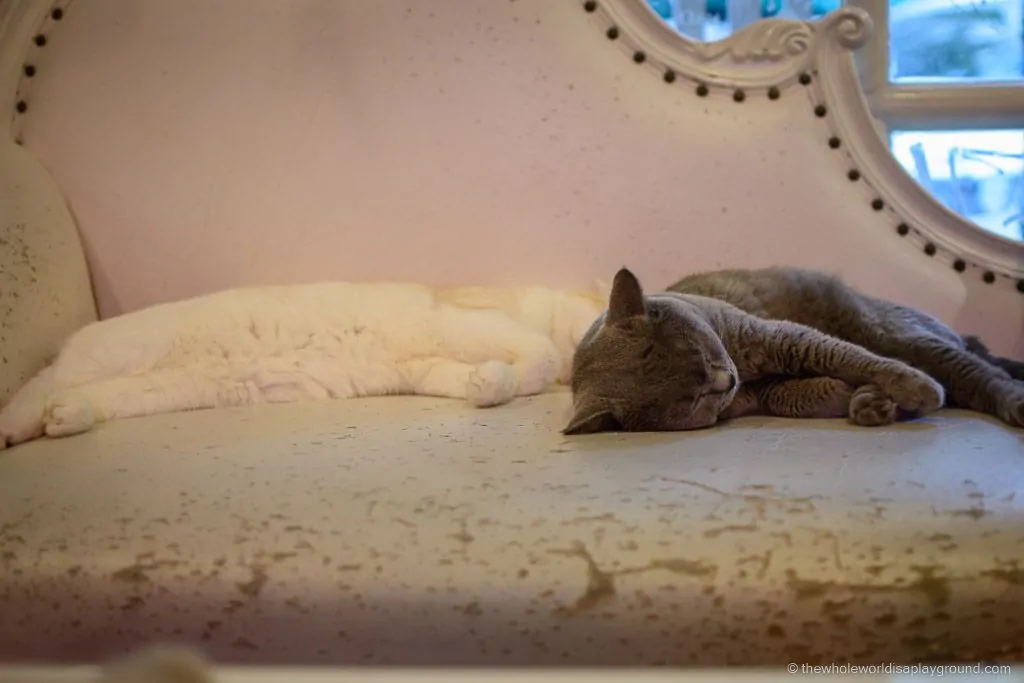 Where to stay in Bangkok
We've spent over two months in Bangkok and have had the opportunity to sample some amazing hotels across the city. Our favourites include:
Click here for the best Bangkok hotel prices
Cat treats!
After ordering some afternoon treats of red velvet cake (Dave!) and chocolate lava cake (Elaine!) we enjoyed some kitty time before our food arrived. We joined the numerous cats lounging around the floor and fed, stroked and played with the gorgeous felines. The cakes were delicious but, let's face it, we were there for the cats!
Red velvet cat cake!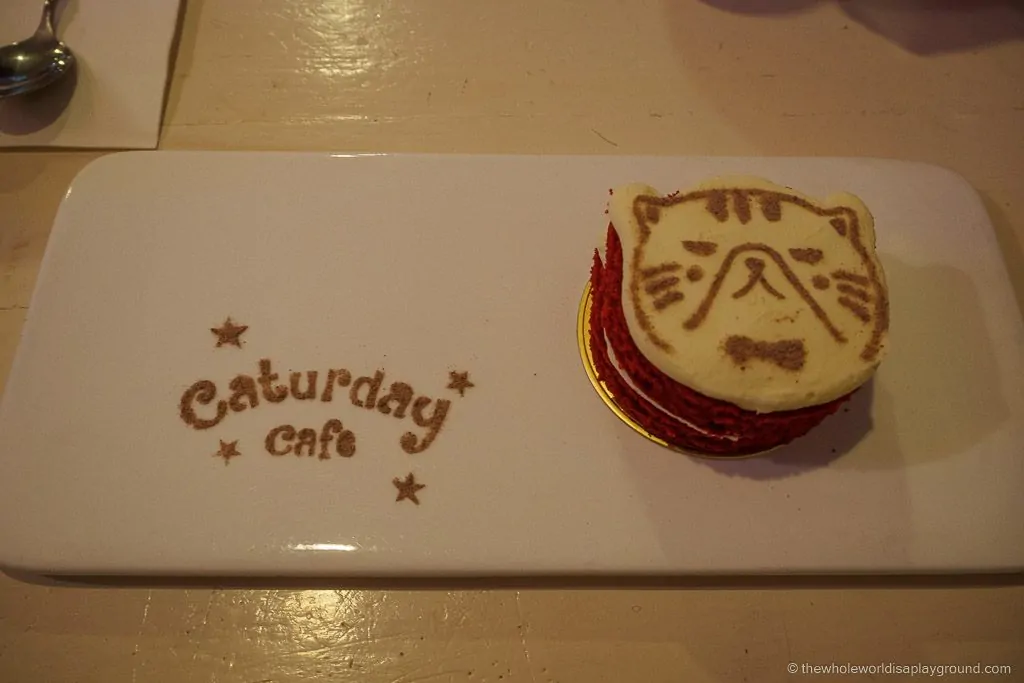 Grumpy Cat!
We fell in love with this little guy who, although had the grumpiest cat face in Bangkok, was the most adorable little ball of fur! Meet our very own grumpy cat!
That face!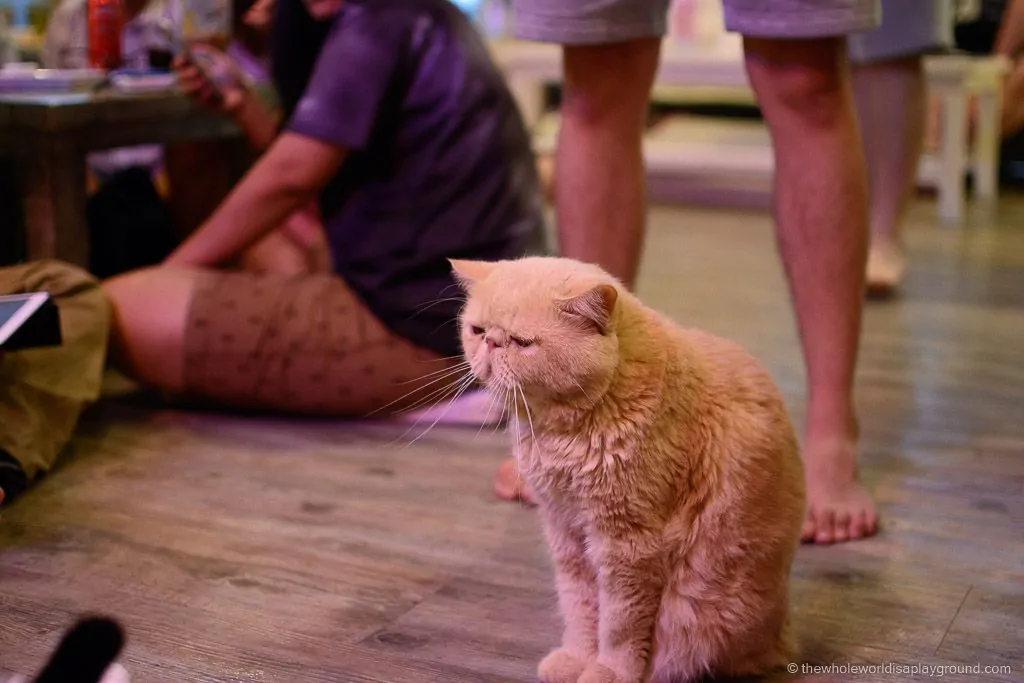 So much love!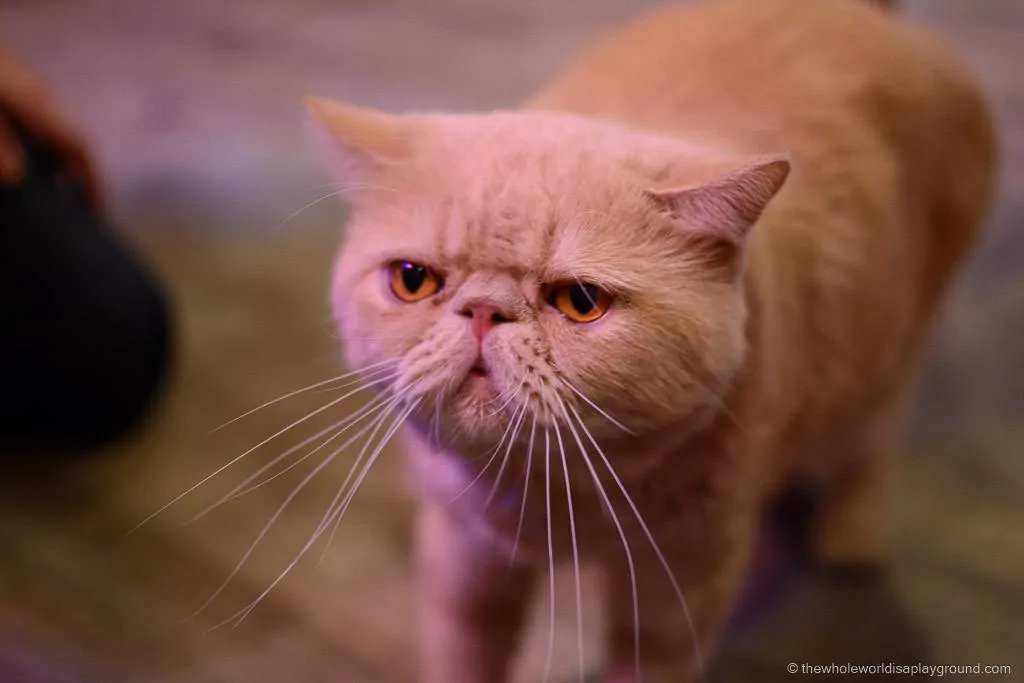 Enjoying his dinner!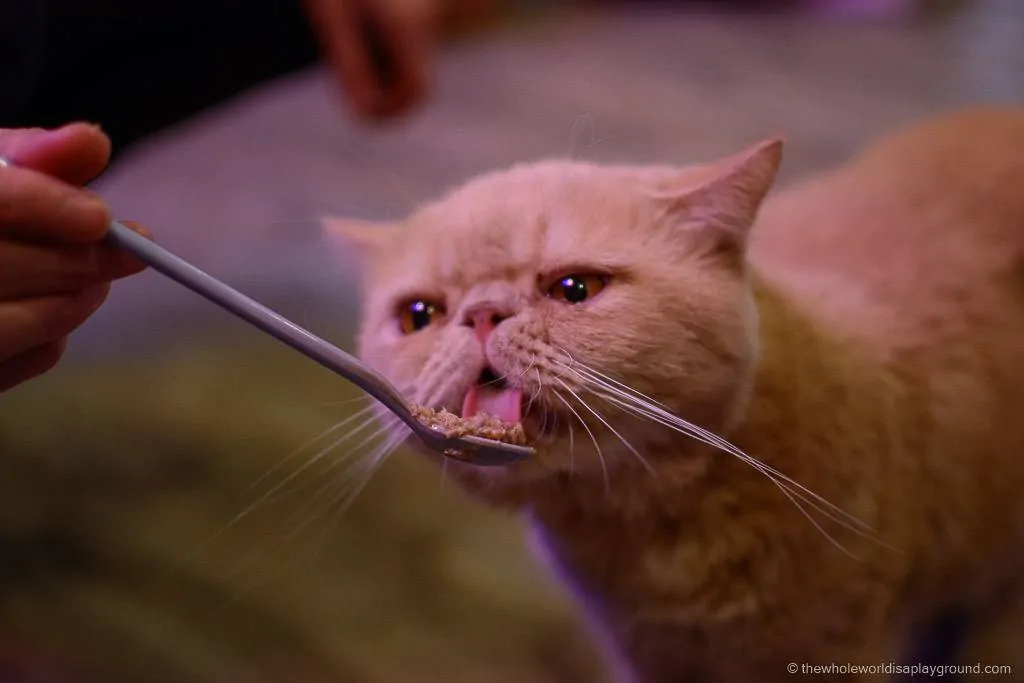 One more!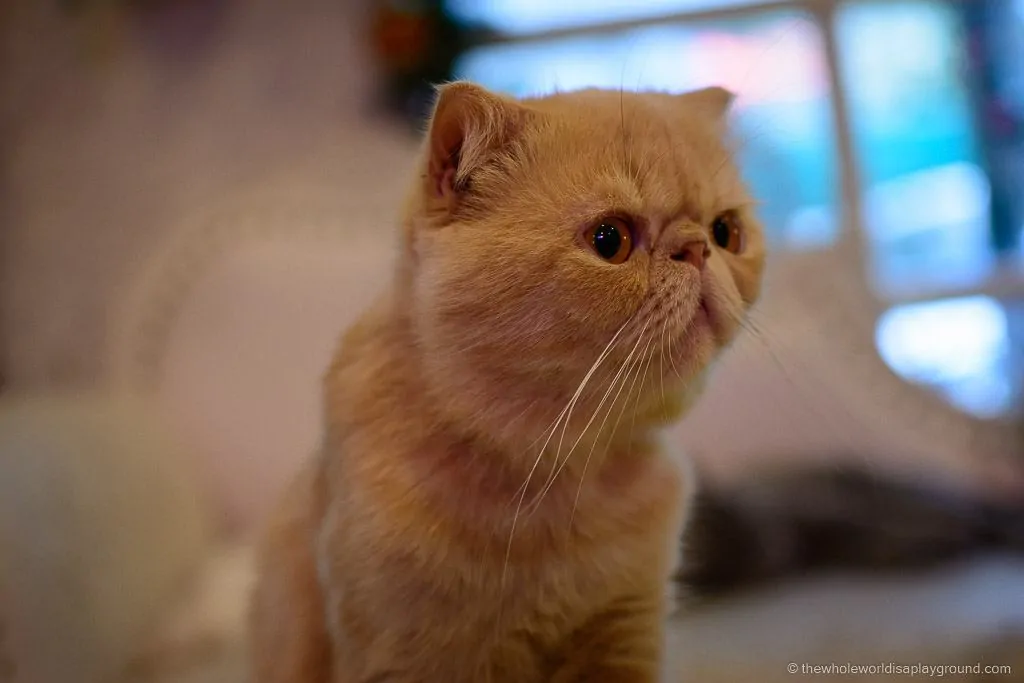 The Cats!
Caturday has a lovely mix of cats of different breeds, shapes and sizes it was so much fun to watch them play, sleep and interact with each other and the customers in the cafe. There were around 20 cats hanging out at Caturday during our afternoon visit. Here's some pics of our faves!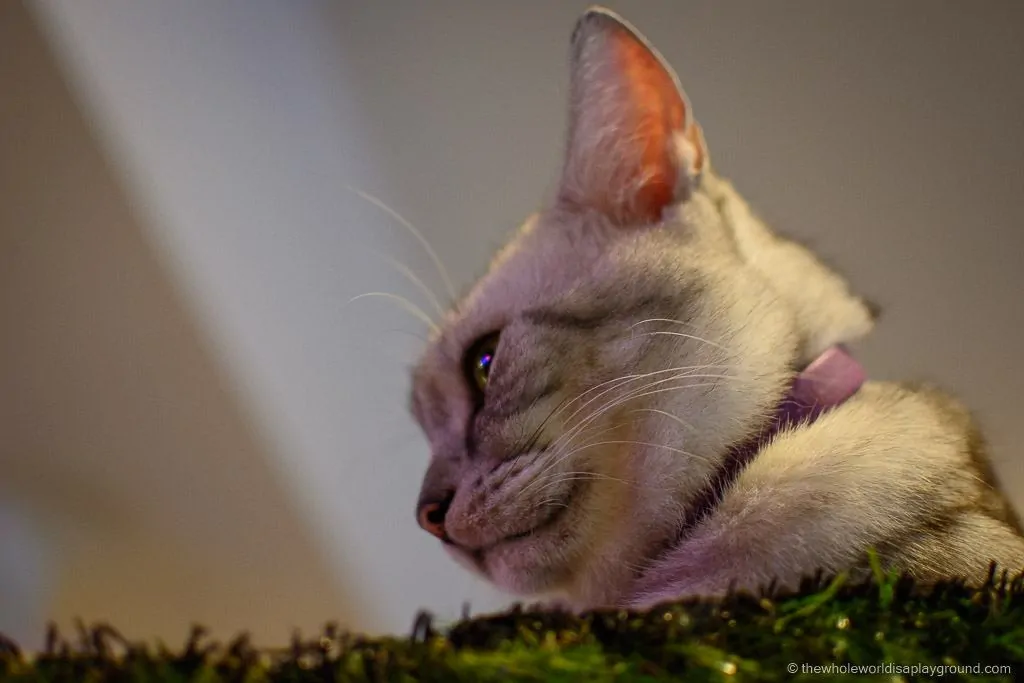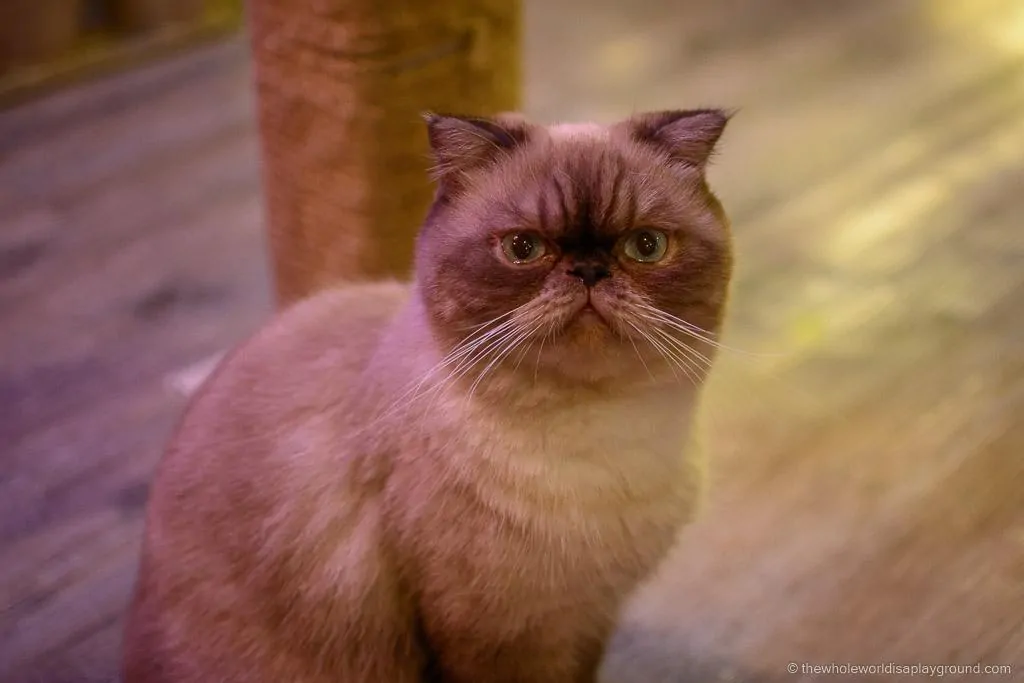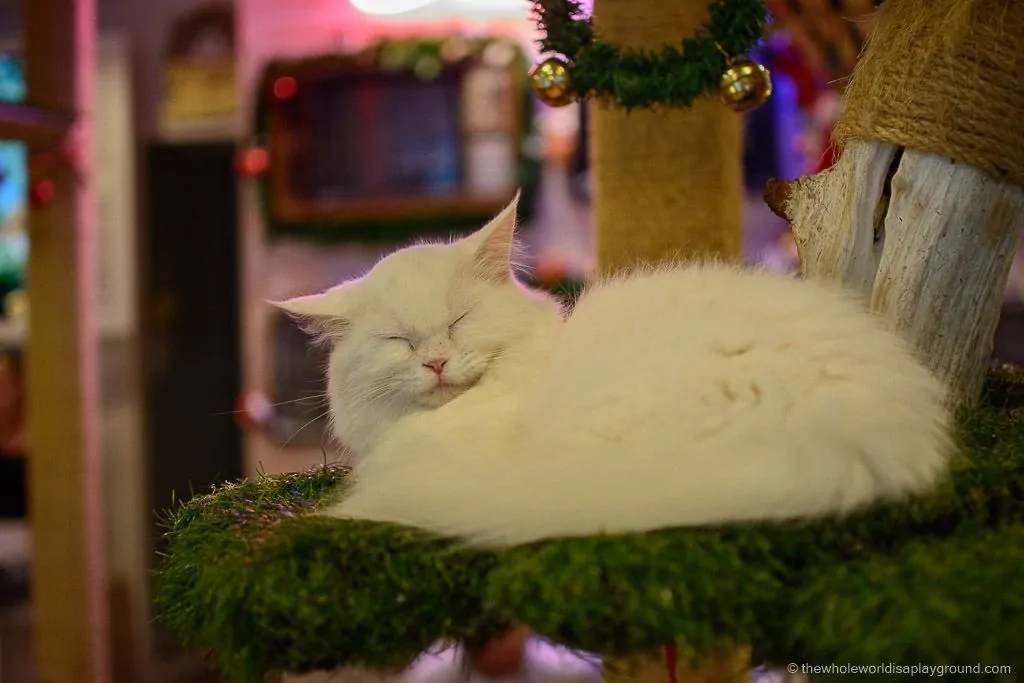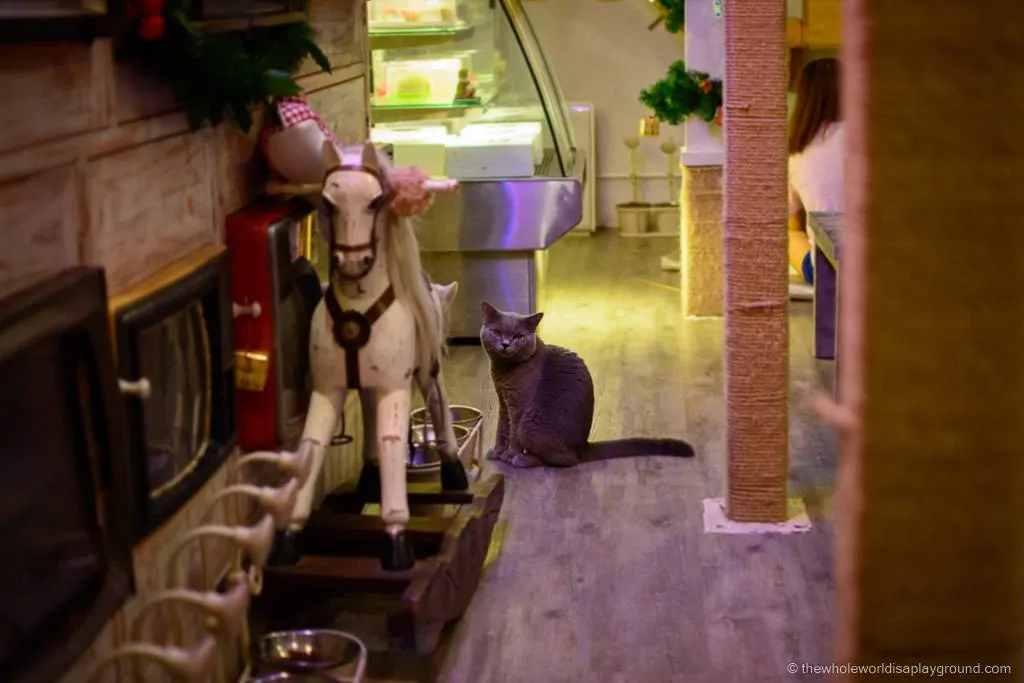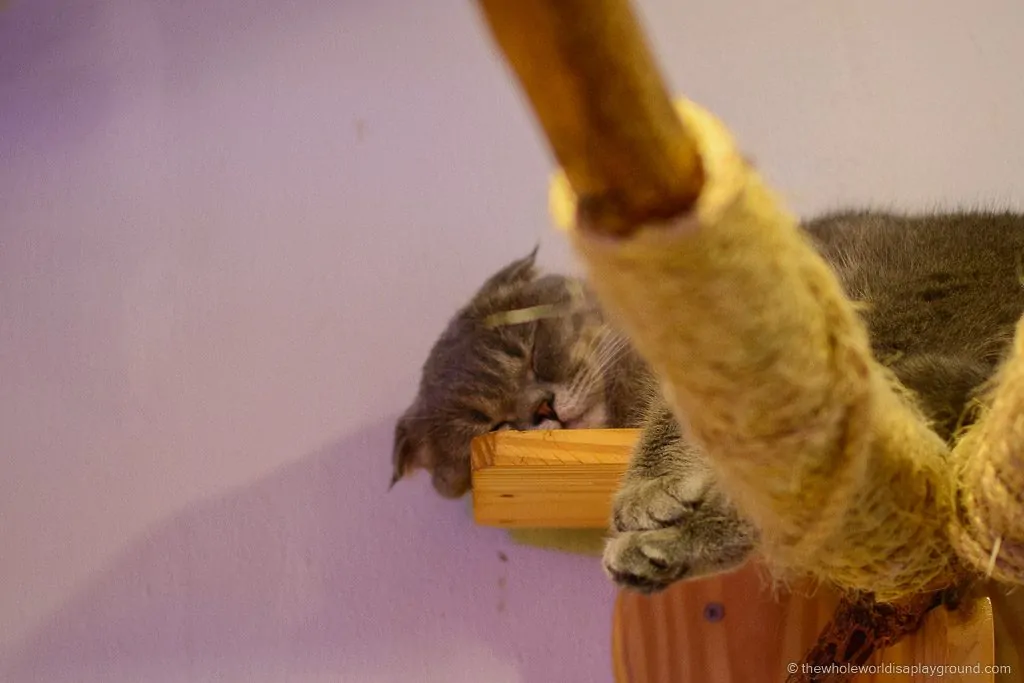 Feeding time!
The cats were extremely well fed and seemed to love the Caturday staff. Feeding time was the main event and it was fun to watch the cats jostle for prime position!
The Cafe
The decor in the cafe was a quirky, cat themed extravaganza with cat paintings and ornaments lining the walls. The tables were a relaxed mix of dining tables and fun floor tables which were perfect for interacting with the cats.
The cafe: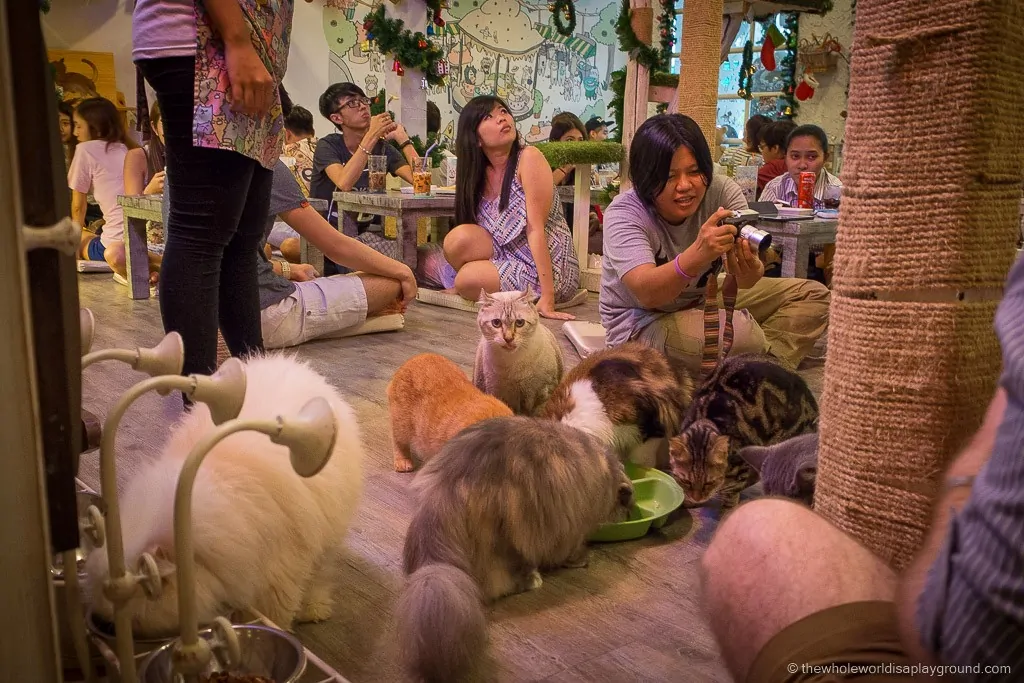 Our favourite!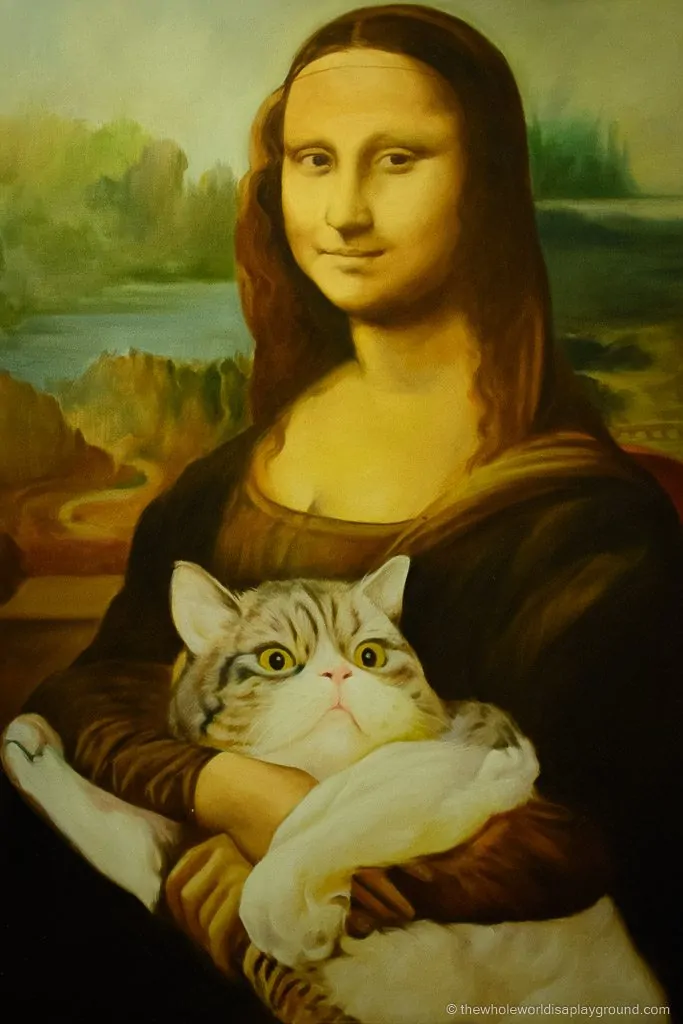 Angels and cats: the Christmas edition!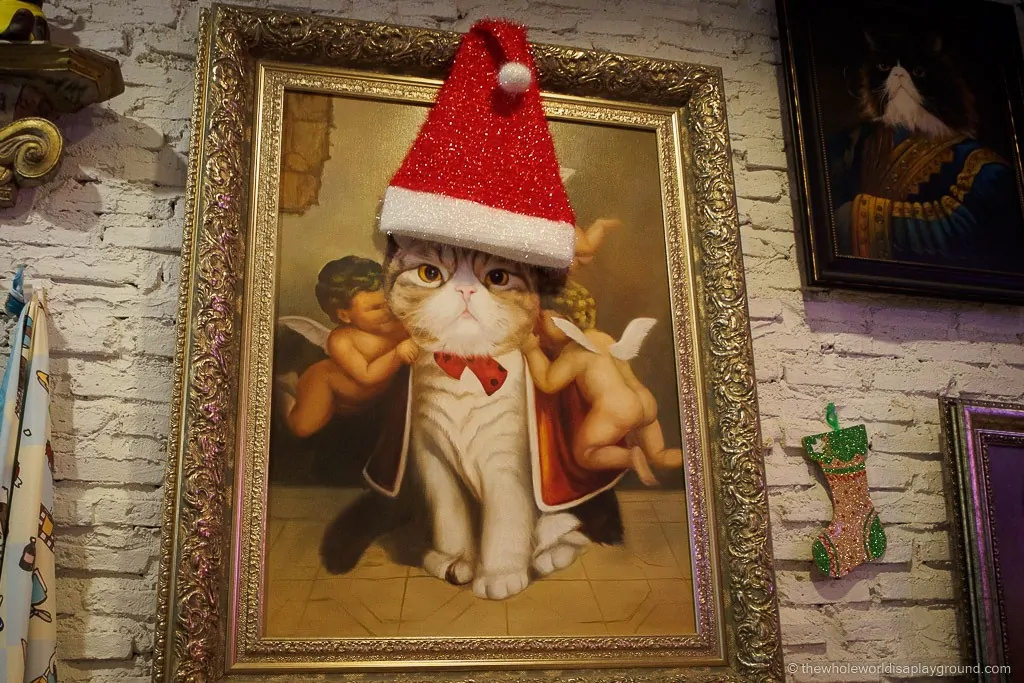 Love!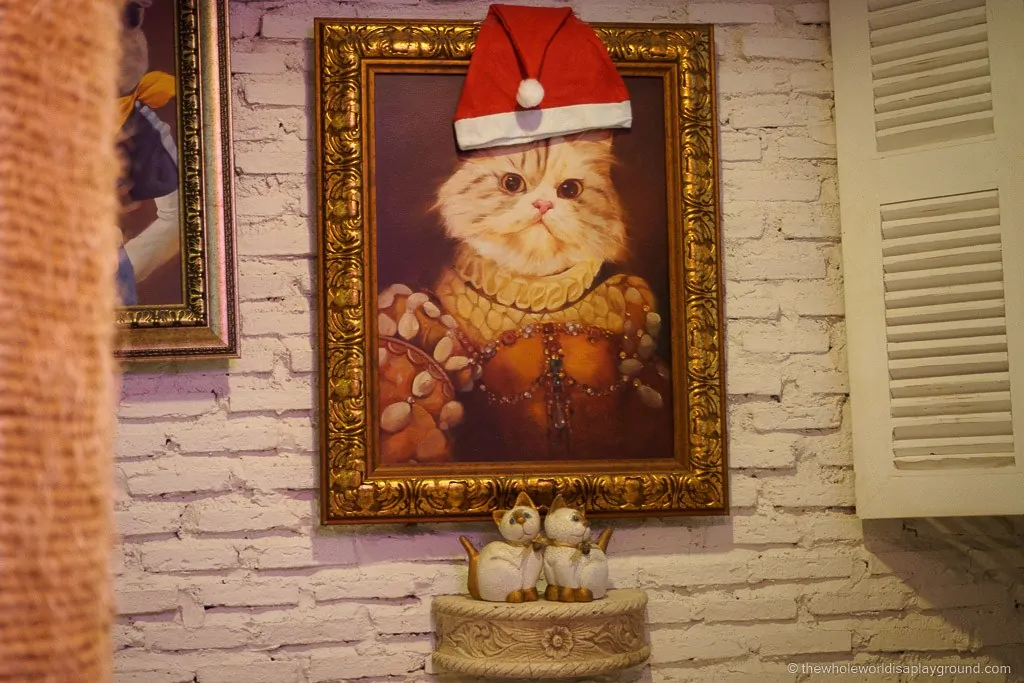 Love notes to the fur babies!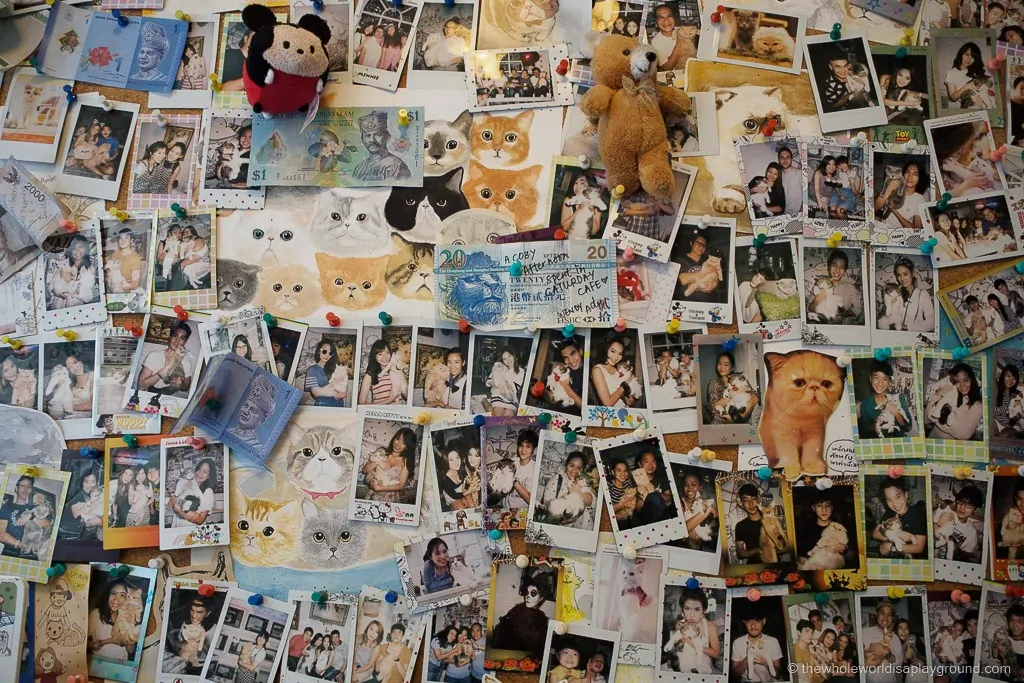 Overall
Our trip to the cat cafe was a total highlight of our Bangkok trip! The cats won us over as soon as we walked through the door and we were quickly converted from dog lovers to wanting to add a cat to The Whole World is a Playground family when we get home! Caturday is a fab set up and it was lovely to see how well looked after and loved the cats seemed. A cat cafe is a Bangkok hidden gem and the perfect stop if you're done with all the main city sights! Just be warned, a kitten will be top of your wish list after a visit!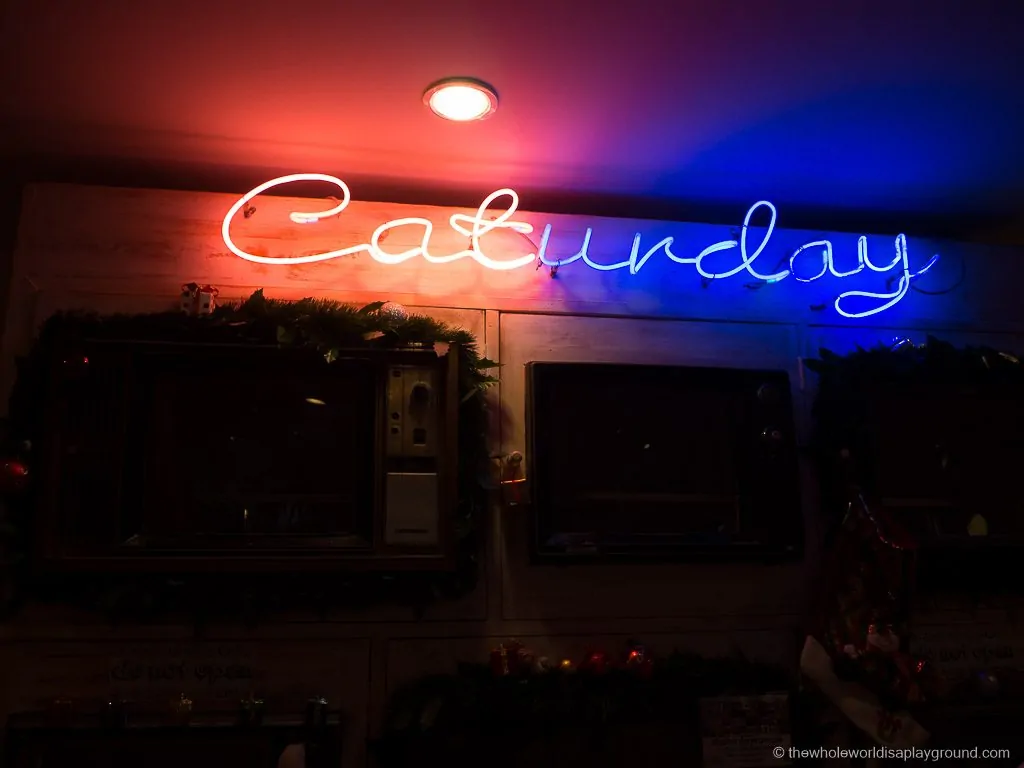 Visiting a Cat Cafe in Bangkok
Bangkok is home to numerous cat cafes and we wanted to make a responsible choice when choosing which one to visit. Caturday has lots of house rules around hygiene and interacting with the cats and, for us, that was a good sign. The cats seemed well fed, well loved and well looked after and had lots of quiet spaces to relax in if they grew tired off the cafe customers.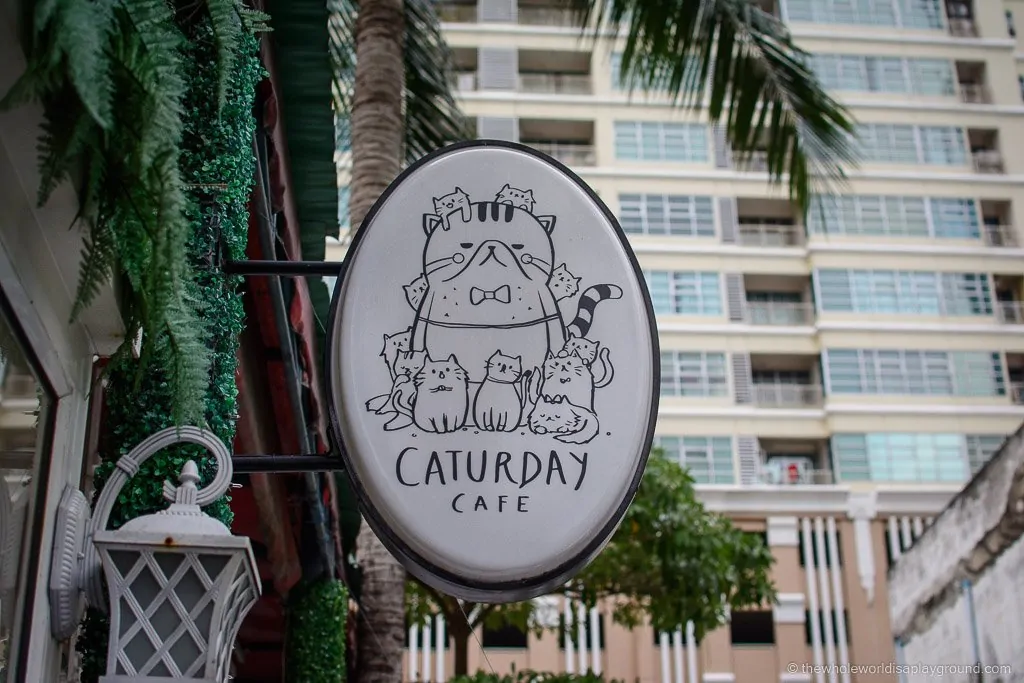 Getting to Caturday
Address: 115 Phayathai Rd, Thanon Phetchaburi, Ratchathewi, Bangkok 10400, Thailand
Directions: Caturday is located on a side street off the main Phayathai Road close to the Ratchathewi BTS station.