Nakiryu is Tokyo's second ramen restaurant to be granted a Michelin Star and we managed to grab one of the highly coveted seats on a rainy morning in Tokyo! With a $10 price tag, no reservations and only 10 seats, demand for a spot at the tiny restaurant is high and queues are inevitable at Nakiryu:  here's our tips and guide to getting a seat and dining at Nakiryu: enjoy!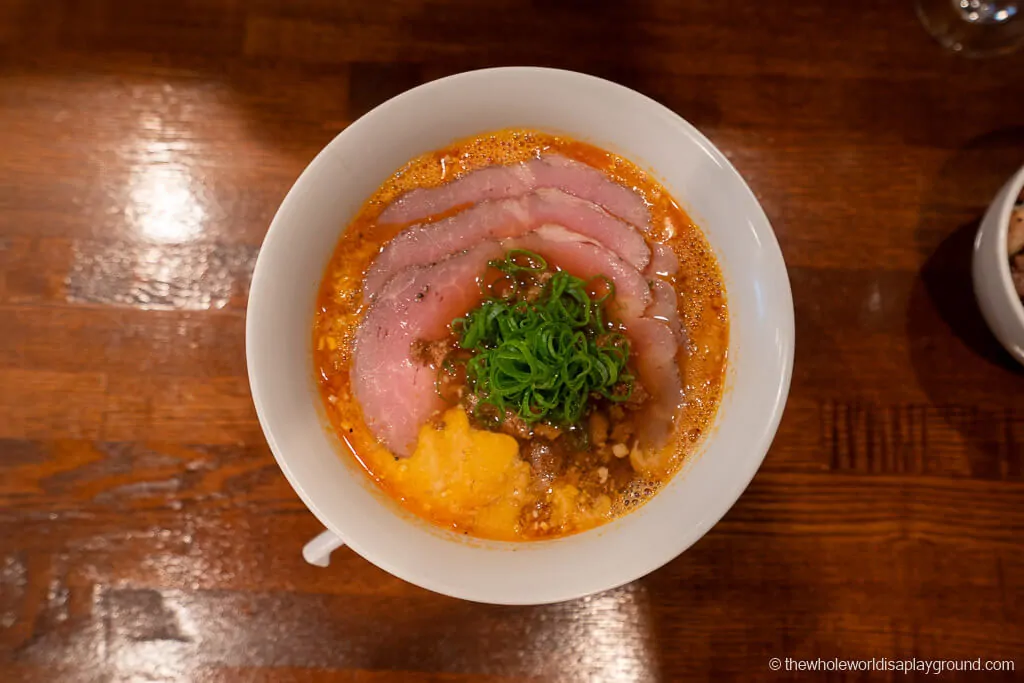 How getting a seat at Nakiryu works
There are three steps to dining at Nakiryu: queueing, ordering and the dining experience!
Queueing for Nakiryu
Nakiryu offers both a lunchtime and an evening service and, like most ramen spots in Tokyo, does not accept reservations. To secure a seat at Nakiryu, diners need to queue outside the ramen restaurant until a spot becomes available. There are no tables and only 10 seats at the Nakiryu counter but, as orders are limited to one bowl of ramen per person, the line moves quite quickly.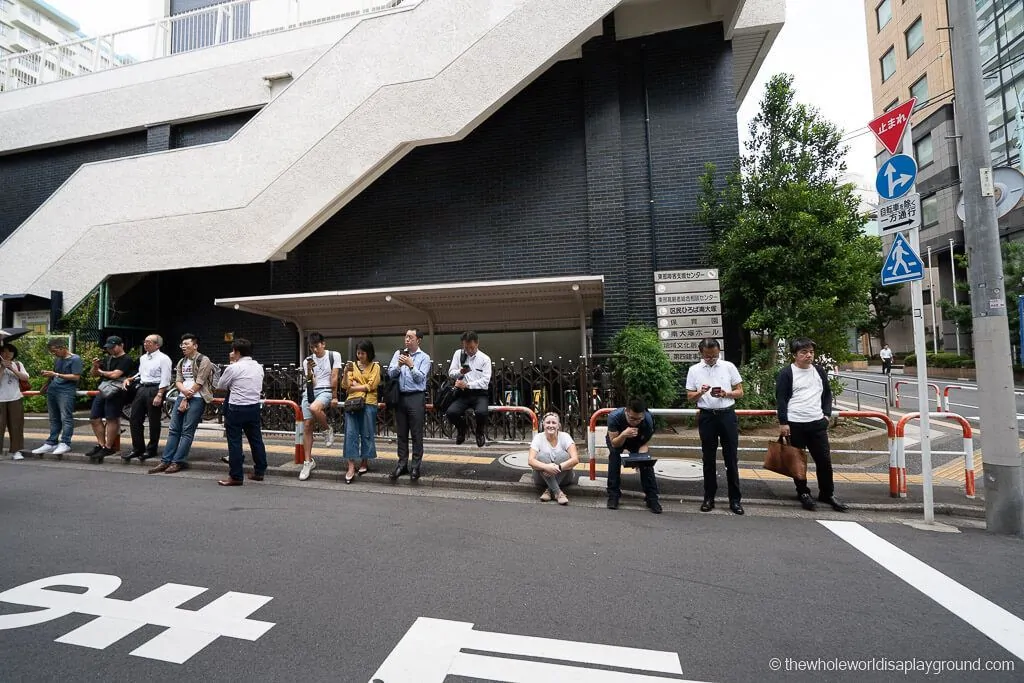 Where to stay in Tokyo
Courtyard by Marriott Tokyo Station: We opted for the Courtyard Tokyo Station as the hotel is located close to Tokyo's main train station and is within walking distance of our Tokyo must see sites such as the Tsukiji fish market, Sushi Dai and Ginza. The accommodation was high quality, good value and our room, while compact, was fitted out well. Click here for latest prices!
Click here for the best Tokyo Hotel Prices
1 | Where to Queue
The line forms at the side of Nakiryu on the corner with the park: there are usually people queuing unless you arrive very early. We arrived around opening time at 11am and queued for approximately one hour so make sure to bring some entertainment to pass the time! It's best to arrive at least 30 minutes prior to opening to try and avoid the long queues.
How to eat at Nakiryu Tokyo tip: we visited on a rainy day and the staff gave umbrellas to those approaching the top of the queue. You'll be exposed to the elements on wet and sunny days so wear sunscreen or wet gear as appropriate!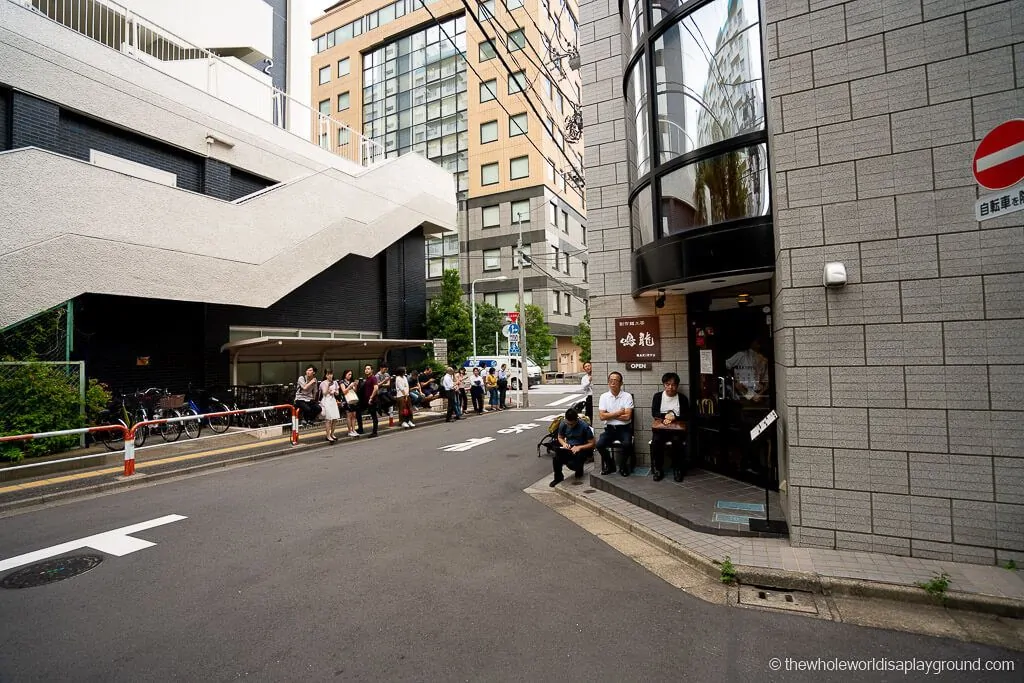 2 | Nakiryu Opening Hours
The current Nakiryu opening hours are:
Monday: 11:30am to 3pm
Tuesday: closed
Wednesday to Sunday: 11:30am to 3pm and 6pm to 9pm
Nakiryu prepares a limited number of soup and noodle servings each day and closes early when supplies run out.
How to eat at Nakiryu Tokyo tip: staff monitor the queue outside very closely to ensure their are servings avaiable for those joining the queue but it's best to arrive earlier to ensure you'll make the cut for a bowl of ramen!
3 | How to get to Nakiryu
Nakiry is just over a five minute walk from both Otsuka Station on the Yamanote train line and Shin-Otsuka Station on the Marunouchi Line. We took the Yamanote line from Tokyo station and 7 stops later hopped off at the Otsuka station for our Michelin Star adventure!
4 | The Nakiryu Menu
As we approached the top of the queue at Nakiryu we were given two things, a seat and a menu, both of which were most welcome after 60 minutes queueing! The Nakiryu menu is available in English as well as Japanese which made it easy for us to choose our dishes!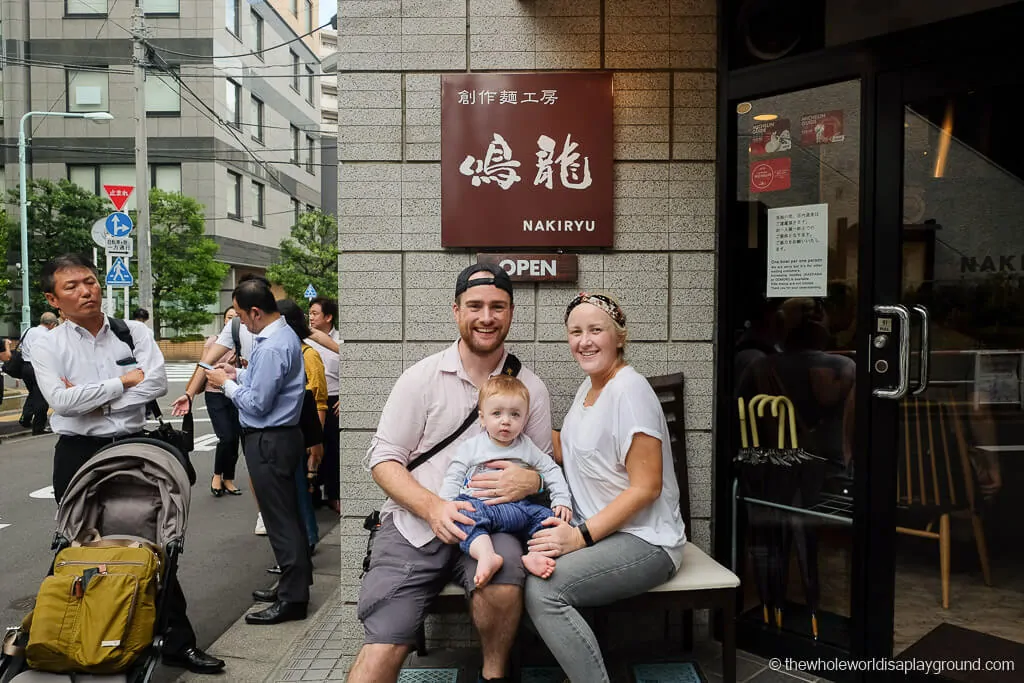 The menu includes a choice of spicy tantanmen, shoyu (a soy sauce flavoured ramen) and a salt based ramen as well as a selection of toppings, sides and some dishes which are only available in the evenings. Water is provided at the table and there is a small selection of alcoholic and soft drinks on the menu. As orders are limited to one main dish, some of the ramen is available with an extra helping of noodles for hungry diners.
How to eat at Nakiryu Tokyo tip: The vending machine in Nakiryu is in Japanese but it's quite easy to figure out the dishes from the prices. It also helps to take note of the menu numbers of the dishes you want to order so you can get help from the staff!
We ordered the regular tantanmen and the spicy tantanmen and both were excellent. The regular dish was creamy and flavourful while the spicy tantanmen had a nice kick to it without being overly spicy. The homemade noodles were thin and delicious. Our side order of diced braised pork on rice was one of the best dishes we had in Japan and is only available during the lunchtime serving.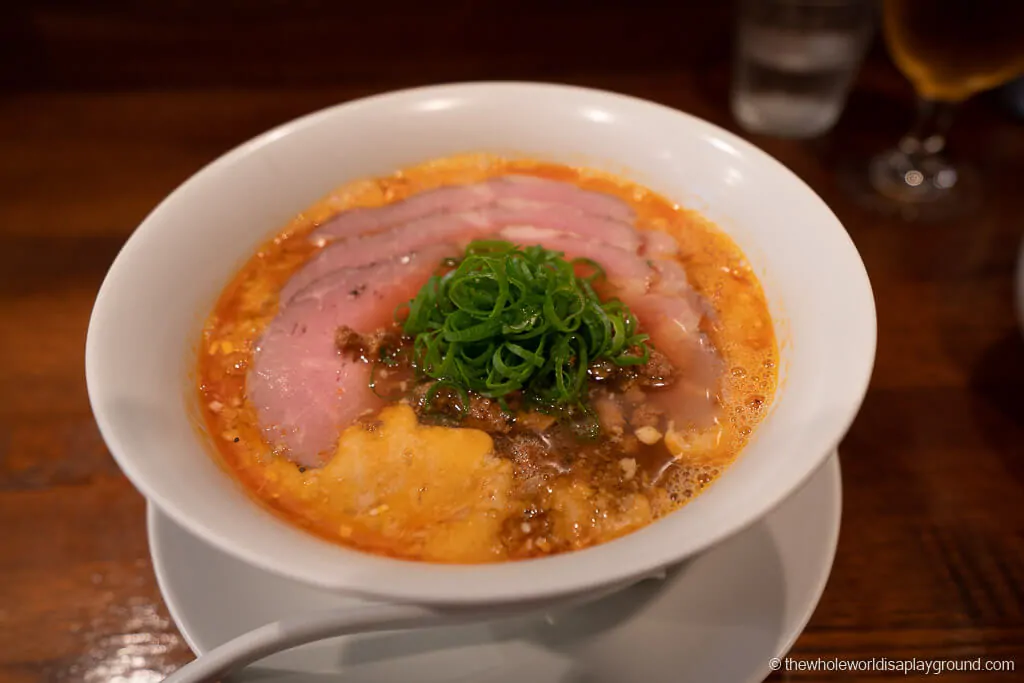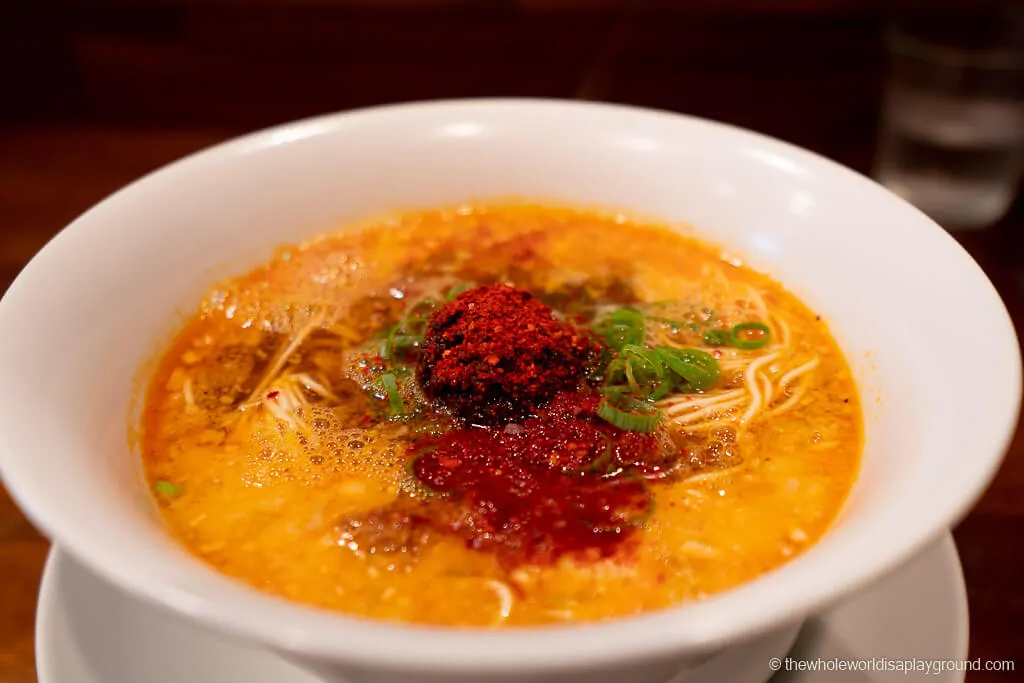 6 | Lunch or dinner at Nakiryu
The dinner service includes some additional dishes including gyoza, braised pork and tofu while our favourite dish, a diced braised pork on rice, is only available at lunchtime!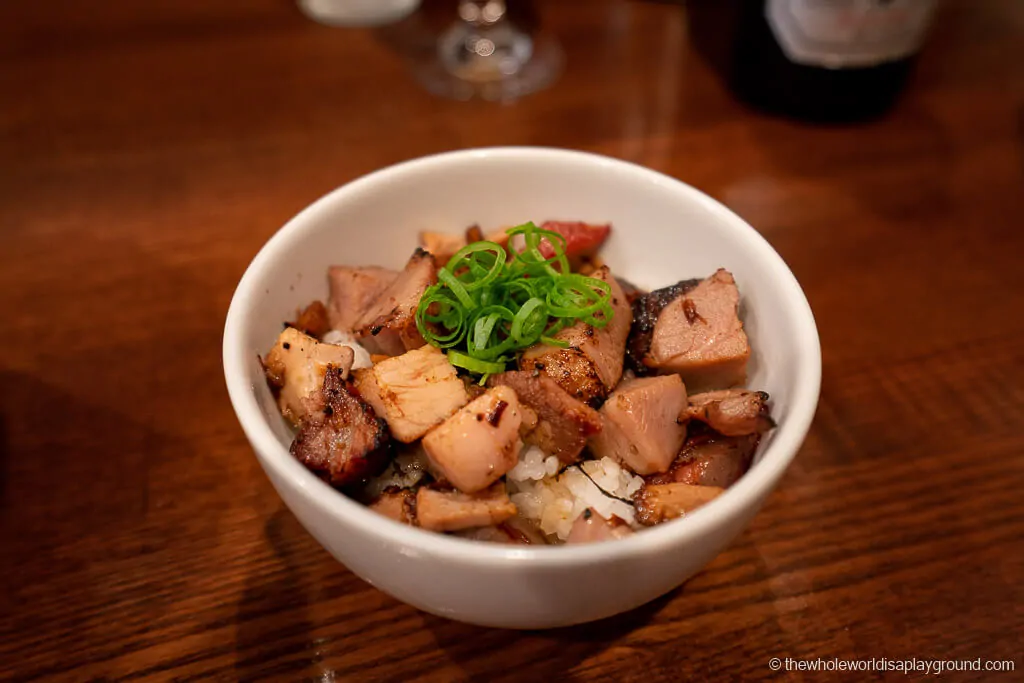 Ordering at Nakiryu
As is typical of most Tokyo ramen spots, orders are made via a vending machine.
1 | Bring Cash
The vending machine at Nakiryu accepts ¥1,000 and ¥2,000 notes so bring enough cash to cover the cost of the meal. We only had ¥5,000 notes but the staff kindly provided us with change for the vending machine.
2 |  Place your order on the vending machine
At the vending machine place your entire order for ramen, side dishes and drinks and collect the order tickets from the machine.
The vending machine in Nakiryu is in Japanese but it's quite easy to figure out the dishes from the prices. It also helps to take note of the menu numbers of the dishes you want to order so you can get assistance from the staff.
How to eat at Nakiryu Tokyo tip: if you are dining in a pair/group make sure to keep your tickets separate. We mixed up our pile of tickets and, because they're in Japanese, couldn't distingush the dishes so I ended up with extra noodles instead of Dave!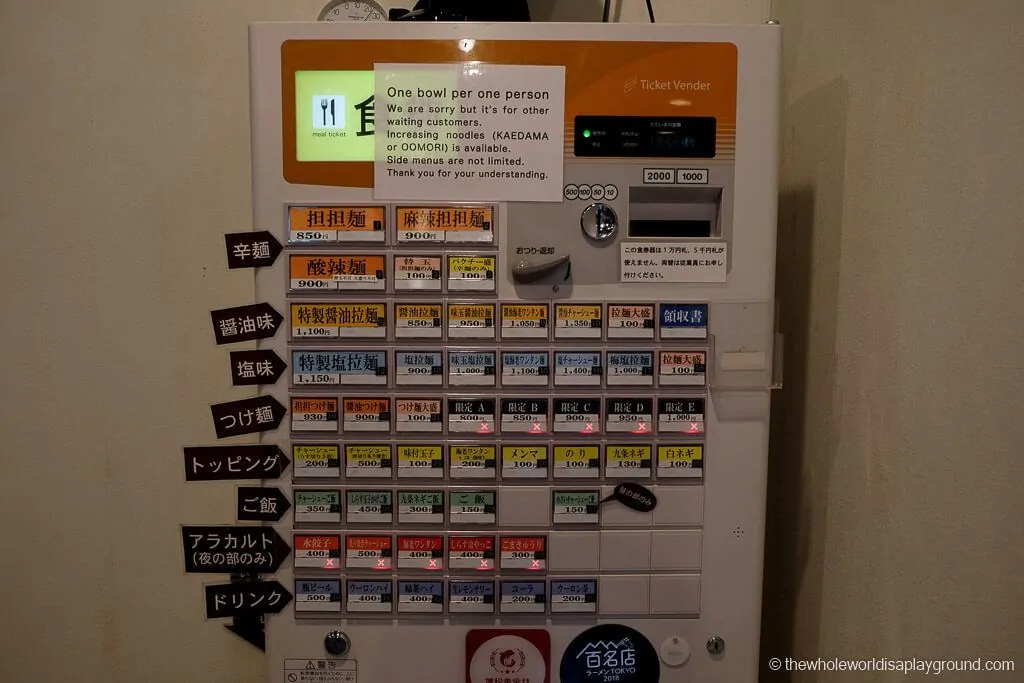 3 |  Pass your tickets to the chef
Once seated, place your tickets on the counter for the chef to collect and watch as they prepare your meal!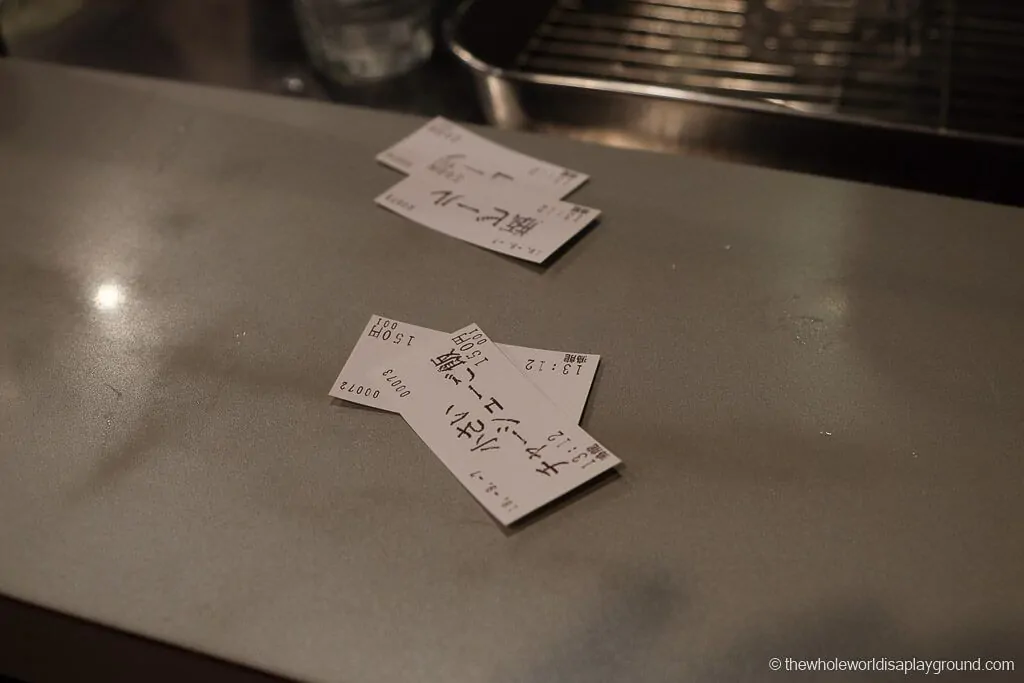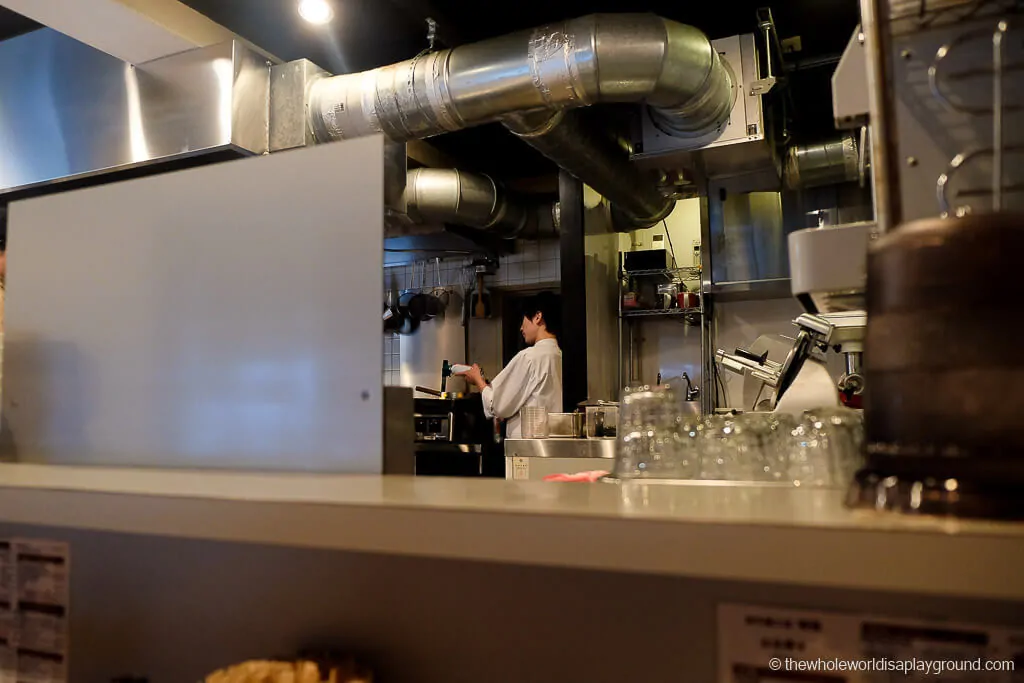 Eat the Nakiryu ramen!
All the effort is rewarded when the chefs serve up a delicious bowl of steaming ramen! Nakiryu is likely going to be the best value Michelin Star meal you will ever eat so savour the moment and the ramen and enjoy!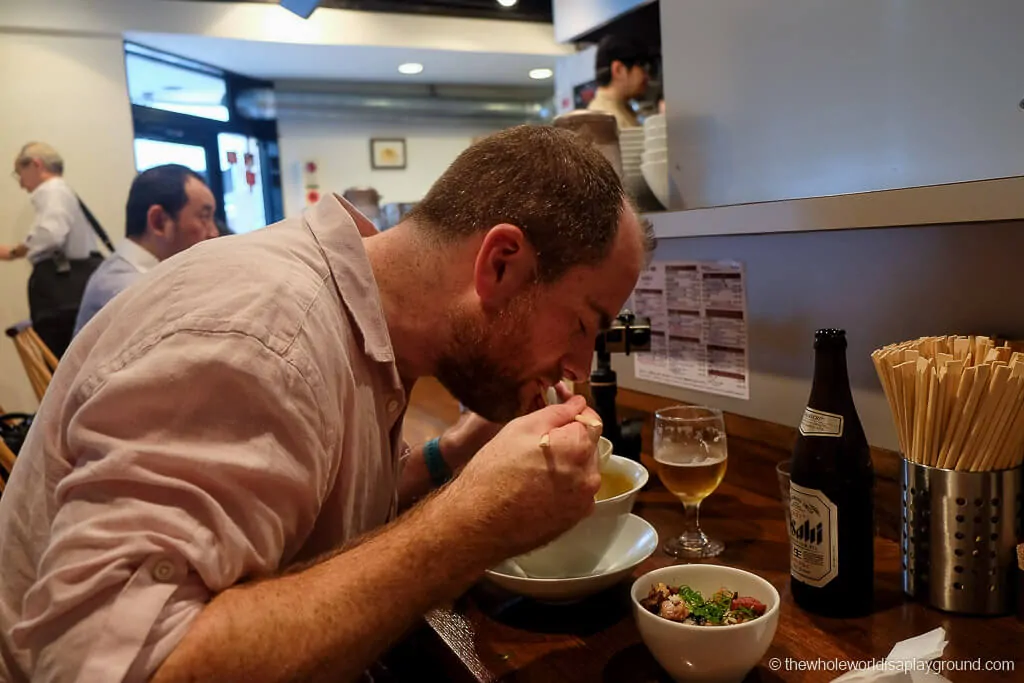 For more on Michelin Star ramen in Tokyo