A Visit to Kakku, Myanmar
Kakku, where an incredible 2,478 stupas are arranged in neat rows over a square kilometre of Shan State hillside, is one of the most spectacular monuments in Myanmar. After a dawn boat ride to catch the sunrise and explore the treasures of Inle Lake we set out for Kakku to discover the ancient religious monument. The breathtaking Kakku pagodas have to be seen to be believed and is a Shan State hidden gem. In case you're planning to visit Inle Lake and Kakku, we wanted to share how to get to Kakku and what we did on our half day trip from Inle Lake. Kakku is one of the best sights we saw during our time in Myanmar and absolutely worth the trip!
Kakku
One of Myanmar's most spectacular sights, Kakku is a huge collection of 2,478 stupas which are believed to have been commissioned as far back as 2,00 years ago with some dating the site back to the 3rd Century BC and credit it as being founded by the Indian Emperor Ashoka. The original pagoda collection was extended by King Alaungsithu in the 12th Century when he reigned over Bagan and many more were added in the 17th and 18th Centuries.
Kakku is a site of religious devotion for Myanmar's Pa'O people, the second largest ethnic group in the Shan State. The site has been restored extensively and, in recent years, has suffered destruction from extreme weather and earthquakes.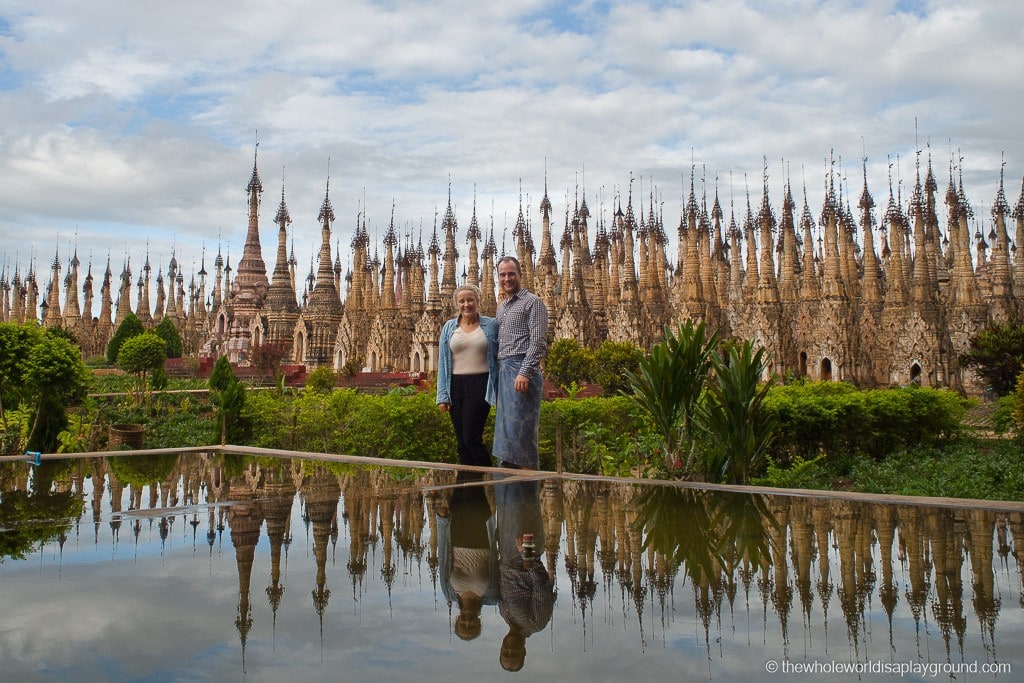 Getting to Kakku
Kakku is located 33 miles from Tounggyi, the capital of the Shan State, and is a 2.5 hour car journey from Inle Lake. Tounggyi runs along the mountain ridge above Inle Lake and some of the roads are in quite poor condition but it's worth the rough ride.
Kakku is easily accessed by a tour from Inle Lake – click here for Kakku tours from Inle Lake!
Click here to reserve a Kakku tour
Kakku tip: A market is held in Tounggyi every 5 days and a colourful display of flowers, fish, vegetables, fruits and spices are on offer. Be sure to check with your driver if it's a market day on your visit and make a stop if it is.
Kakku Essentials
Sim Card
A 4G Sim is essential to research and plan on the go. We collected our Myanmar sim car from the airport while leaving Bangkok and found it invaluable for our travels around the country. Pick up a sim card for Myanmar from the following airports:
Where to stay in Inle Lake
A visit to Inle Lake centres around the lake itself and we found staying on the lake itself an unforgettable experience. We highly recommend staying at one of the resorts on the lake, which all offer direct access to the lake from the hotels.
Inle Cottage Boutique Hotel: located in Nyaung Shwe, Inle Cottage is a quiet boutique hotel. It offers free bikes and wifi and has clean and spacious rooms – check prices now!
Inle Princess Hotel: We stayed in the beautiful Inle Princess Resort which is situated on the shores of Inle Lake. The villas are stunning, the food excellent and the views unbeatable. It's the perfect choice if you are looking for some luxury in Inle Lake – Check latest prices here
Myanmar Treasure Resort: Located on the lake close to the Inle Princess Hotel this collection of stilted luxury rooms look over the lake giving perfect viewing for Inle Lake sunsets – Check latest prices here
Click here for the best inle Lake Hotel Prices
Our Pa'O Guide

When we arrived in Tounggyi we made the required stop at the Pa'O Collective Centre to pay our entrance fees and pick up our Pa'O guide – due to local laws, it is required to take the trip with a local guide.
Kakku tip: Our Kakku tickets cost US $3 per person to enter the site and an additional US $5 for our mandatory guide to accompany us to site from Tounggyi.
The Pa'O guides are members of the local community and wear traditional Pa'O dress which includes a colourful turban and a flag badge on their jackets to represent their origins. Our guide was really interesting and filled us in on both Kakku and the local Shan State culture.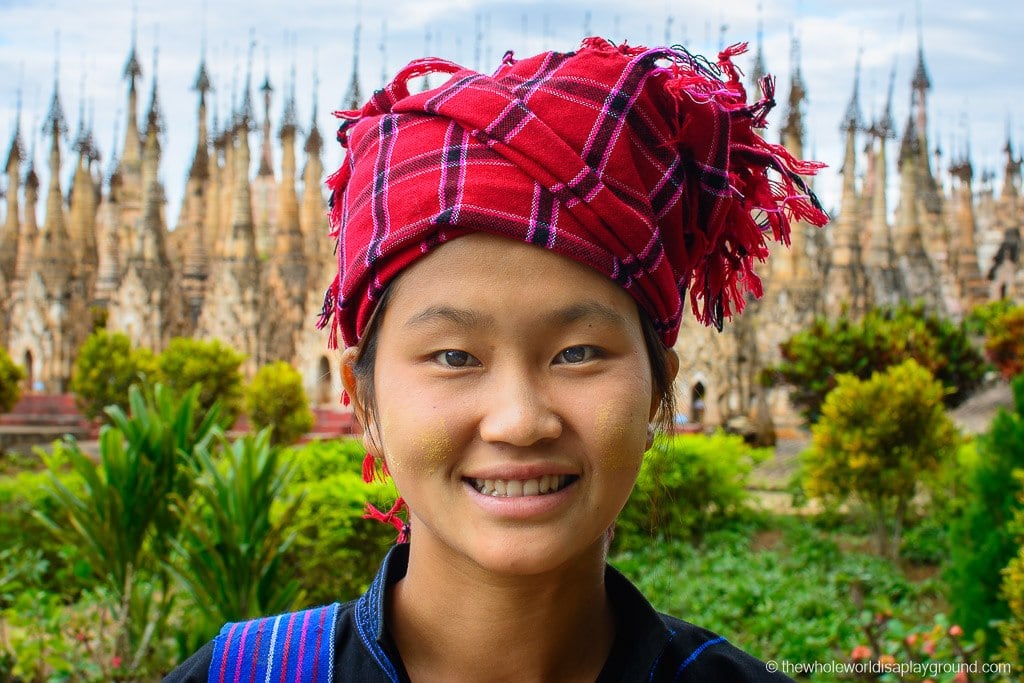 Exploring Kakku
As we pulled up to Kakku we were instantly in awe of the vast arrangement of stupas which lined the horizon. The pale pink, beige and orange stupas are positioned in neat rows with two tall stupas standing out and flanked with the few thousand smaller stupas surrounding them – their style is unique to the Shan State region.
The stupas are decorated with fascinating figures including Buddha's, angels, dancers and mythical beasts and are a mix of old and new: the restoration work is evident at the pinnacle of the stupas which were knocked off over the years in times of extreme weather and earthquakes.
Given it's remote location relative to the other Myanmar tourist sights Kakku is often quiet, especially on weekdays. As we wandered around we  met only a few other tourists and the only sound was the bells chiming in the breeze.
Kakku tip: shoes and socks must be removed so be careful of the walkways which can be slippery in the rain and scorching in the sun. We'd recommend an umbrella on very sunny days as the site is quite open.
Where to get the the best photo of Kakku

A reflective pool close to the entrance lends itself to awesome photos of Kakku and shows the vast number of pagodas beautifully. On a calm day the reflections from the pool are a lovely addition to pictures.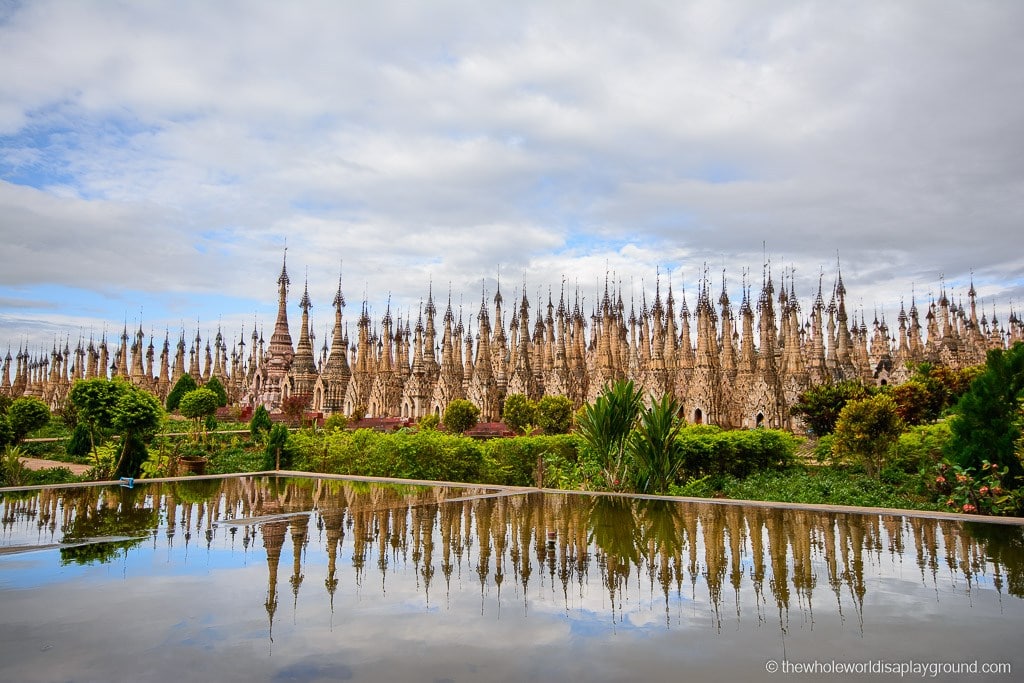 Disclaimer: As an Amazon Associate I earn from qualifying purchases.