The Japan Rail Pass is a popular choice for visitors to Japan and, when purchasing your JR Pass, you will need to decide whether you wish to buy a green JR pass or an ordinary JR pass. While the green pass brings with it extra luxuries it also comes at an additional cost and, having opted to use a green car pass for our Japan travels, we wanted to share our comparison of a green pass and an ordinary pass to help you decide if the Green JR Pass is worth the extra cost.
The Green Car 
Green cars are the equivalent of first class carriages in Japan. While the standard cars are comfortable and roomy the green cars have some advantages:
More spacious seats which recline and have more legroom
Extra luggage storage
Hot/cold towel upon boarding
Typically quieter than standard cars
2 seaters widely available if you are travelling with a companion
Refreshment provided on some trains
Easy to work on laptop due to the extra space and table room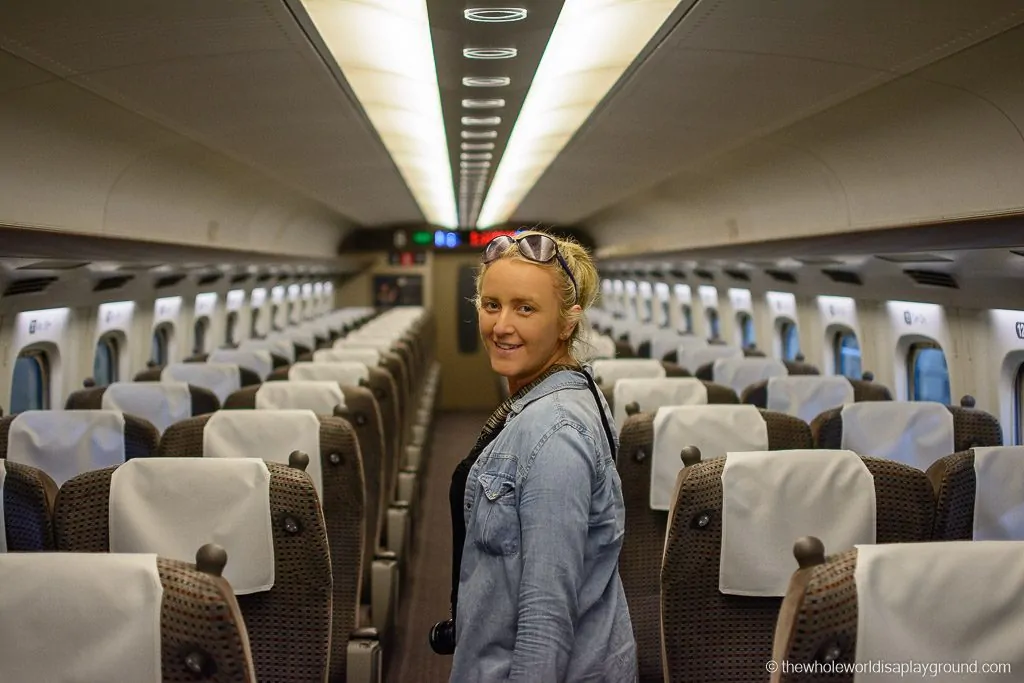 The Ordinary Car carriages
The ordinary cars are of a high standard on Japanese trains and are more plus and spacious than what we have come to expect after travelling on trains across areas such as Western Europe.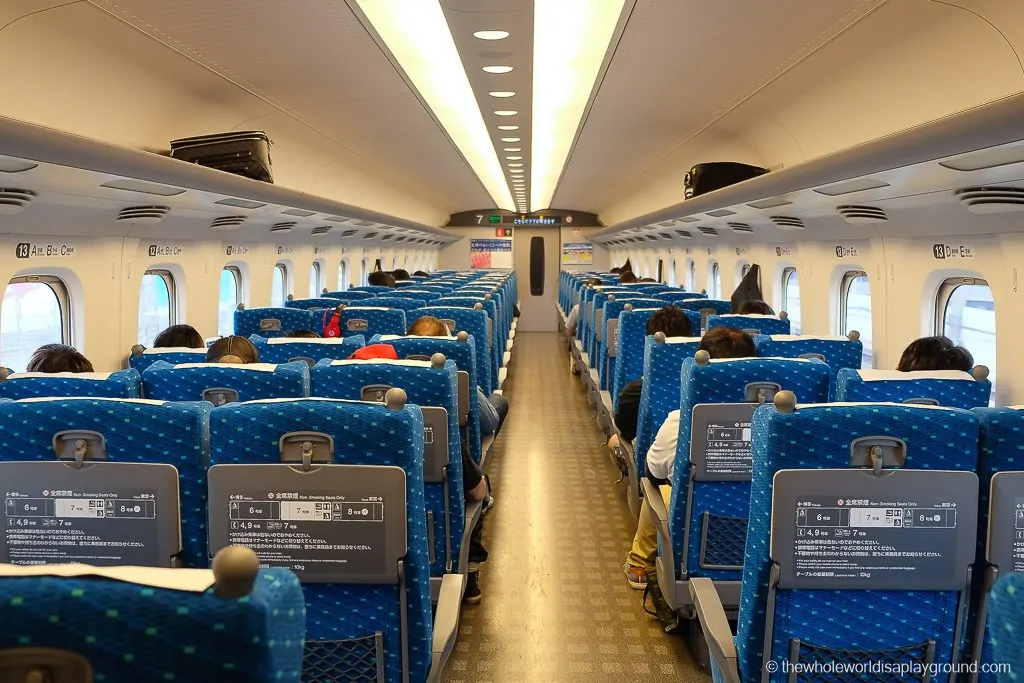 Sim Card & Internet
One of the best investments you can make for your trip to Japan is to buy/rent a sim card or 4G hotspot. This will give you internet access while on the go throughout the cities in Japan, where free public wi-fi is extremely limited.
We have used both sim cards and 4G hotspots during our trips to Japan. A sim card is perfect if you just have your phone – just check the sim card is compatible with your phone The 4G hotspots are great if you have multiple devices that need internet or if you're travelling a group. They also avoid any compatibility issues with installing a sim card.
We used the Klook app to order our sim cards for our last trip. The app is great as you can order in advance and pick up on arrival or from various departure cities.
Click here to order your sim card or 4G hotspot now
The cost
A 7 day Green JR Pass runs at USD $86 more expensive than an ordinary car pass, USD $147 extra for a 14 day pass and an additional USD $199 on a 21 day pass – you can check out the latest prices for green and ordinary passes on Japan Rail Pass where we purchased our JR passes.
The savings realised from a JR Pass are more substantial than on an ordinary car pass. Here's an example of how much we saved with our 7 day pass when we compared the cost of each individual journey to how much we paid for our JR Pass:
| | | |
| --- | --- | --- |
| Route | Standard Car | Green Car |
| Tokyo Narita to Kyoto | ¥15,660 | ¥23,010 |
| Kyoto to Hiroshima return | ¥21,140 | ¥30,00 |
| Kyoto to Shin Osaka | ¥1,420 | ¥3,780 |
| Hashimoto to Nara | ¥1,140 | ¥1,140 |
| Nara to Takayama | ¥9,820 | ¥15,530 |
| Tanazawa to Tokyo | ¥13,600 | ¥26,970 |
| Total cost of individual trains | ¥52,960 | ¥84,900 |
| JR Pass 7 day cost | ¥29,110 | ¥38,880 |
| Savings | ¥23,850 (around US $250) | ¥ 46,020 (around US $410) |
The Green Car seats
The Green Car carriages were typically two seaters which was great as we were travelling as a pair. The seats were spacious and very comfortable and many had electric sockets for charging.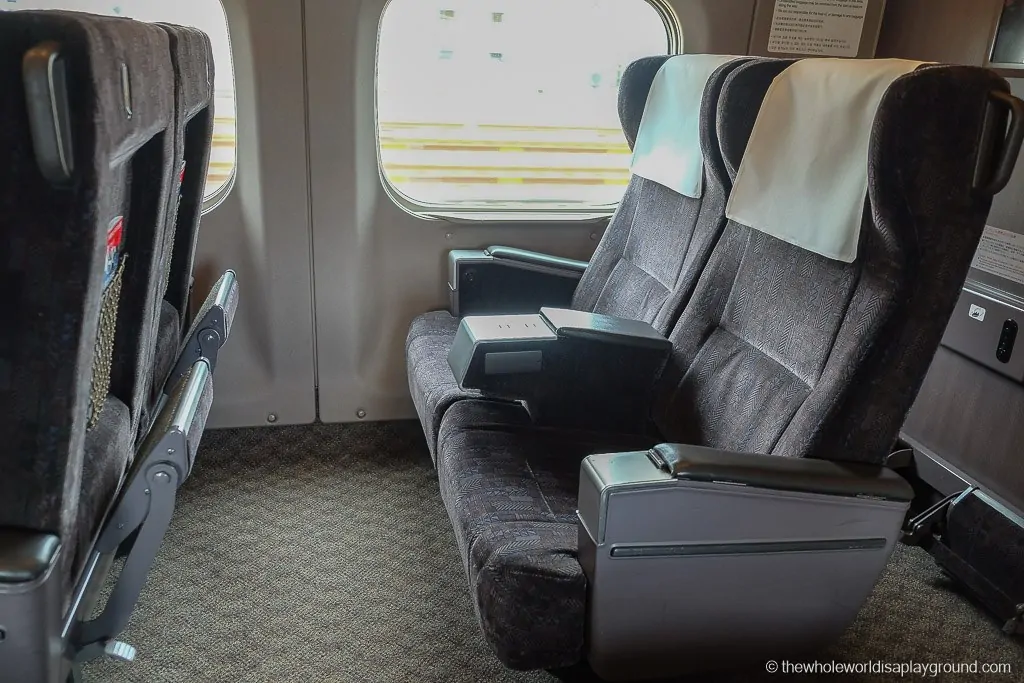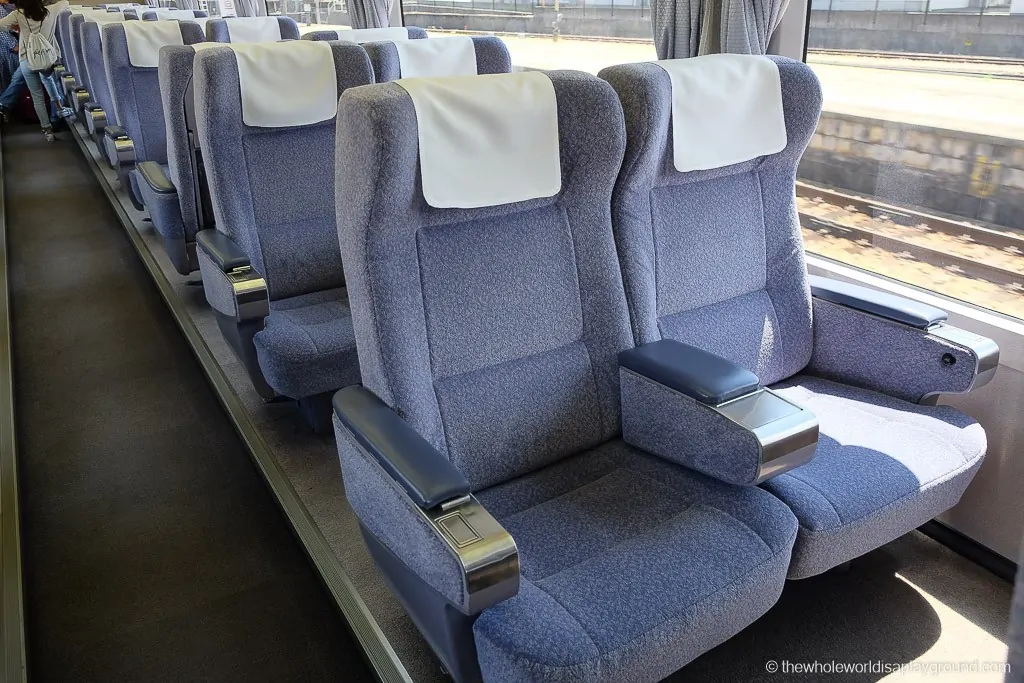 Reserved and Unreserved Carriages
All seating in the green car is reserved. This means a reservation is always required to travel on green cars and you must go to a ticket window prior to travel to reserve a seat. We usually reserved ours at the end previous journey, the night before early morning trains or the station just before we traveled.
With ordinary car passes it is possible to reserve a seat in the reserved seating carriage or hop on the train and find a free seat in one of the unreserved seating carriages. Carriages are marked as reserved or unreserved so it's easy to distinguish between the two. During quieter times it's easy to find a free seat but, during busier periods, we'd recommend reserving a seat if you wish to sit beside someone.
The cost of seat reservations are included in both the ordinary and green JR Pass.
 Availability of Green Cars
Not all rail routes have green cars but we were able to make almost all of our journeys on a train with a green car. An example of a trip where a green car wasn't available was a short journey between Himeji and Kyoto late in the evening.
Green cars vs ordinary cars: our verdict
Japanese trains are of a very high standard and both ordinary and standard carriages are comfortable options for train travel and either are a good bet when travelling through Japan. However, for us the additional cost of the green car JR pass was worth it for the benefits of a quiet carriage, spacious comfortable seats, plenty of luggage storage and the ability to work on our laptops quite comfortably.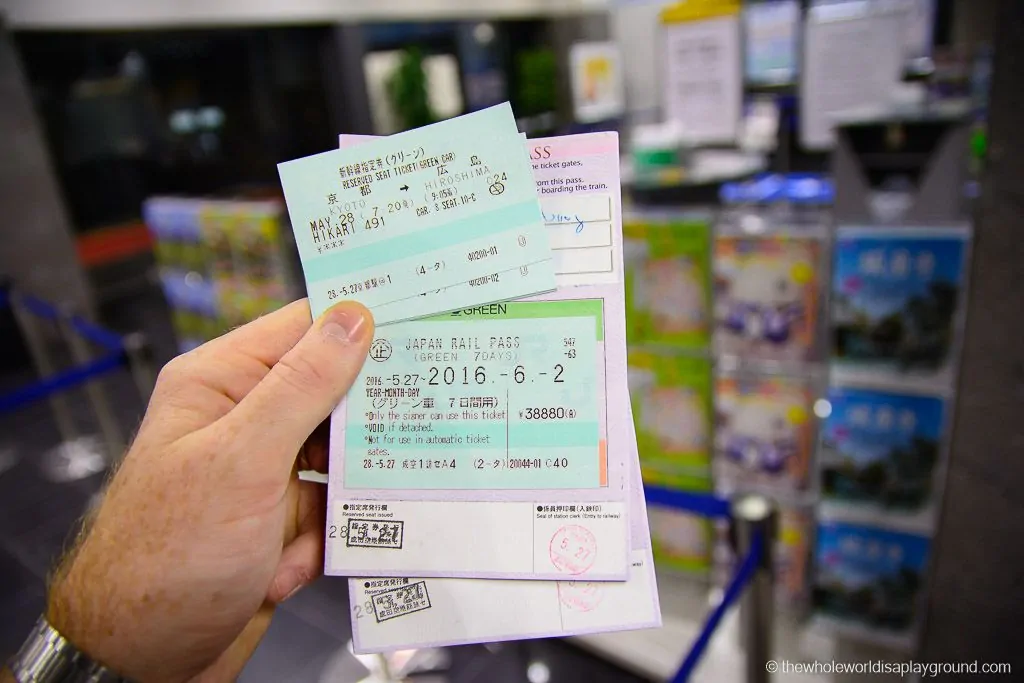 Travel Guides
Here are some of the best travel guides for planning your Japan trip. We personally used the Lonely Planet Japan series for our trip planning. Click on the images below to buy yours now!