Every photographer will eventually face the decision which filter system to invest in and, after a lot of research and trialling a number of filter brands, I decided to purchase the NiSi V5 Pro filter holder kit and NiSi Filters. The NiSi filters have transformed my photography and taken it to another level in terms of quality and content. As a landscape and travel photographer the Nisi V5 filter set is one of the most important pieces of gear I've added to my bag and I wanted to share a review to help you choose the best filter set for your photography needs.
Why you need a good ND filter set
The quality of your photography will improve significantly with a high quality filter set. It allows adjustments to the light in photographs that simply cannot be replicated in post production editing. However, investing in a good filter set is a big decision as filter sets for DSLR cameras are expensive – a full set including a holder, ND filters and graduated ND filters will run into hundreds of dollars. On top of this, filters are fragile which can result in replacing them in time due to damage and breakage.
I've tried the cheaper versions and have suffered with bad colour casts and light leakage from the filter holders which destroys any potentially good photograph. As they say, a picture paints a thousand words, so the following shot shows a thousand reasons not to buy cheap ND filter kits!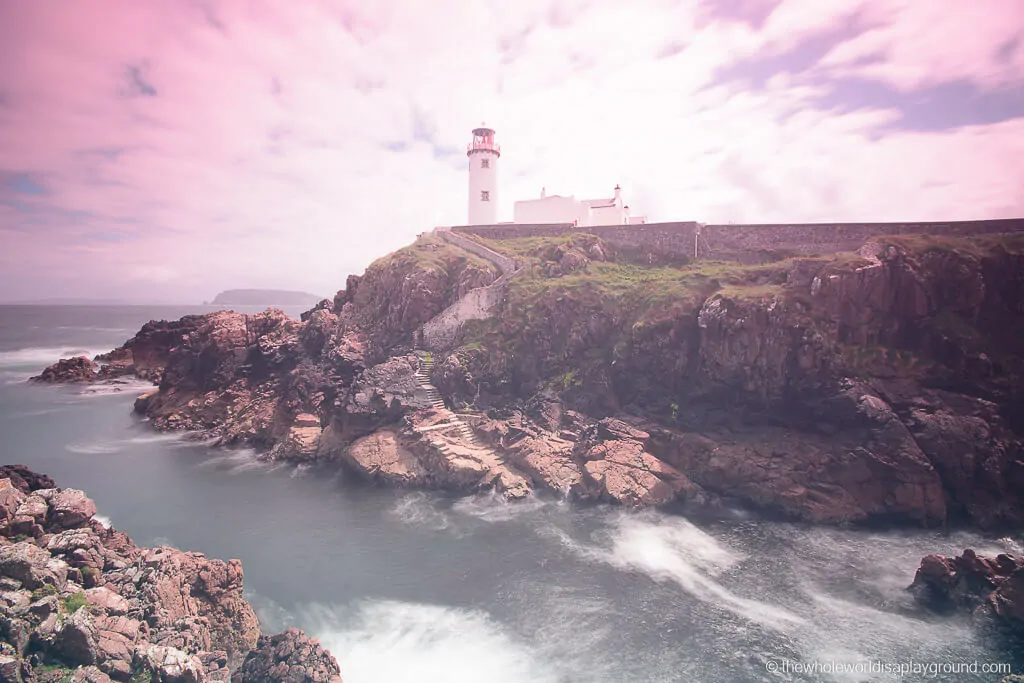 After investing in the NiSi filters I'm now able to take much better quality shots with the ND filters (with no light bleeds or colour casting), like the following shot from our time at Lake Bled, Slovenia last year.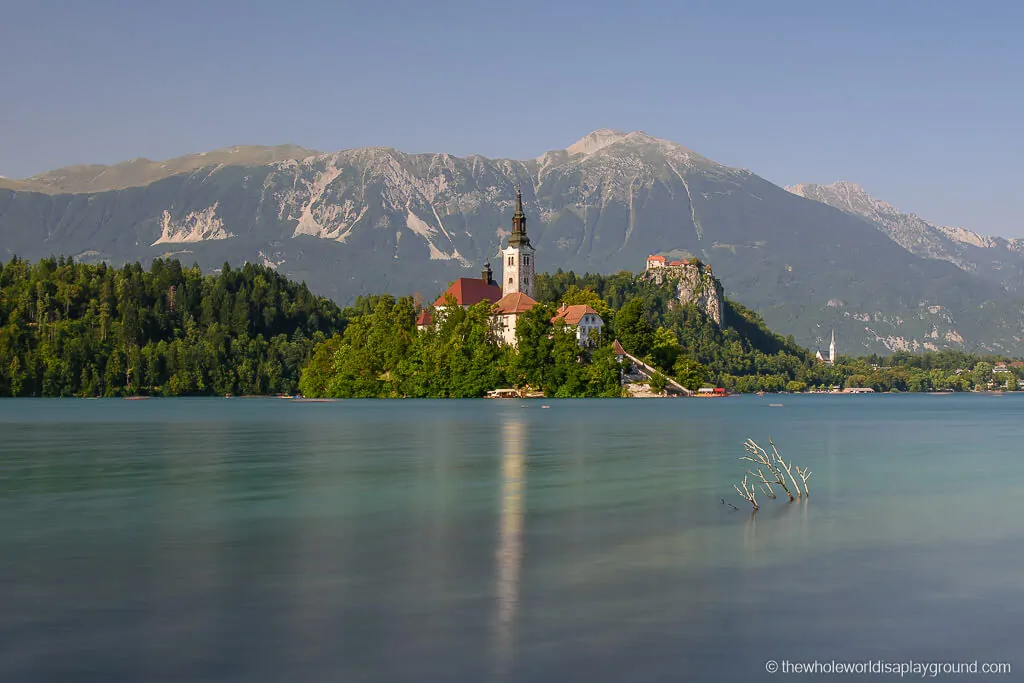 The NiSi V5 Pro Filter Kit
I've owned the NiSi V5 Pro filter kit for the past year, which comprises of the following:
NiSi 100mm System V5-PRO Filter Holder
Ultra slim 82mm Circular Polarizer (CPL) with holder
Four adapter rings (67, 72, 77, 82mm)
Leather carry case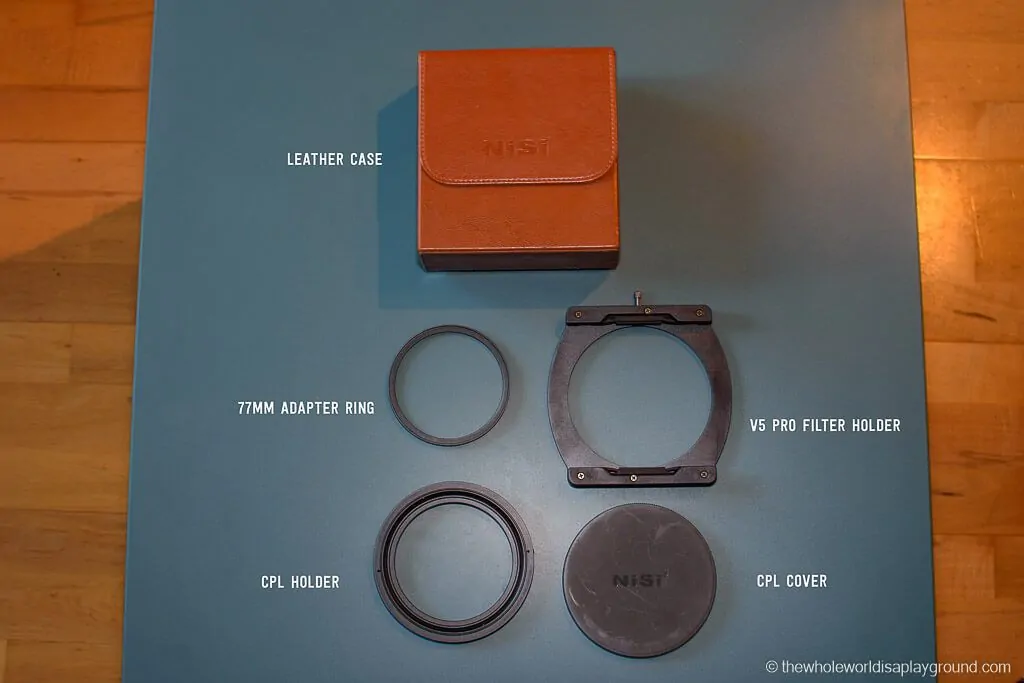 Assuming you're using only one of the adapter rings, all of these items fit neatly into the leather carry case. The case can be clipped securely onto your bag or belt via the buckle and velcro on the back and the secure magnetic door on the case makes accessing the filters and the holder quick and easy.
The V5 filter holder is a significant upgrade to the previous model and, while the filters slide in firm, they are not difficult to slide in. A criticism of the previous model was that the fitting was too tight and scratched the filters. After repeated use I've seen no wear and tear on the filters as a result of the holder.
The NiSi Filter System
So once you've decided that the NiSi V5 Pro filter is for you you'll need to decide what filters you'll need. Generally speaking you'll be looking the following basic kit, which will be the filter holder kit and a number of Neutral Density (ND) filters
the NiSi V5 Pro filter holder (this include the CPL)
a 3 or 4 stop ND filter
a 10 stop ND filter
3 or 4 stop soft edge graduated filter
3 or 4 stop hard edge graduated filter
This would be a good starter kit which you can build on depending on your needs. You'll figure this out over time however this kit will cover you in most situations. NiSi have a wide range of both so you'll be able to choose the combination that suits your photography style and needs.
Below I've given a thorough listing of the filters  available from NiSi and the reasons you will want to consider each. See the bottom of this post for some sample images I've taken with my NiSi filters.
As I'm a travel photographer I wanted to keep the physical size of filters I carry to a minimum. That's why I went with the 100×100 4 stop and 10 stop filters. Based on my great experience with the NiSi filters I'm expanding this kit to include a number of hard and soft edge graduated filters.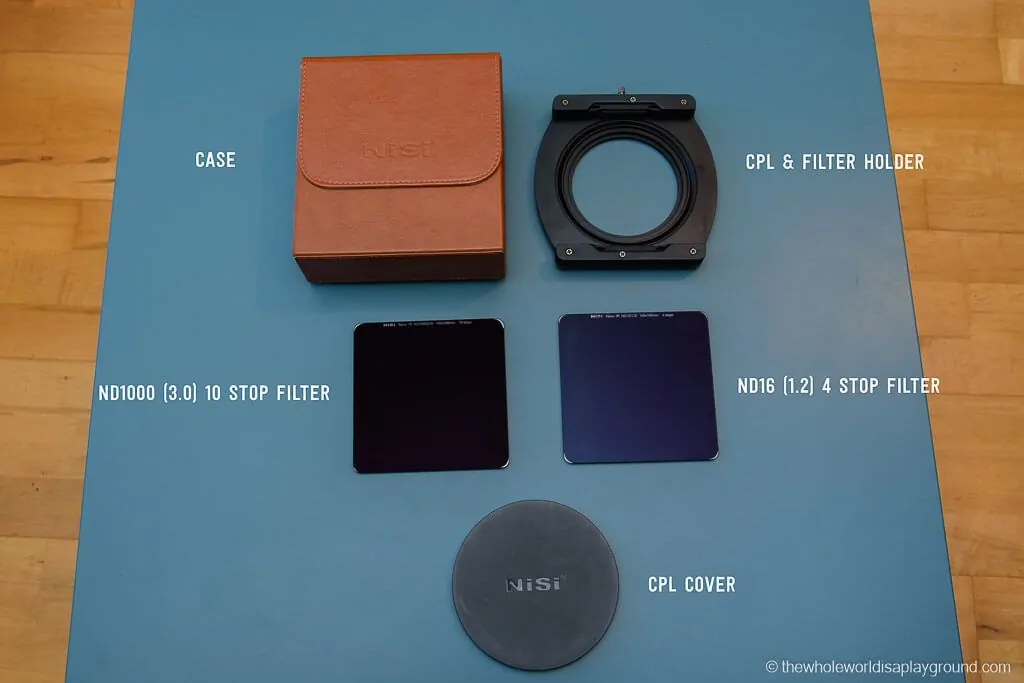 NiSi ND Filters
Here is the current range of NiSi 100mm filters available. Each comes with a leather pouch for carrying however I personally don't use these individual pouches as I find the leather cases a better option and offer more protection. I recommend buying a separate case for your filters for added protection and for each of use in the field.
NiSi ND4(0.6) 2 Stop Filter
The lowest ND available currently is the ND4 filter. A filter like this would suit photography during the blue hour / early golden hour and likely used in conjunction with a graduated filter for best results.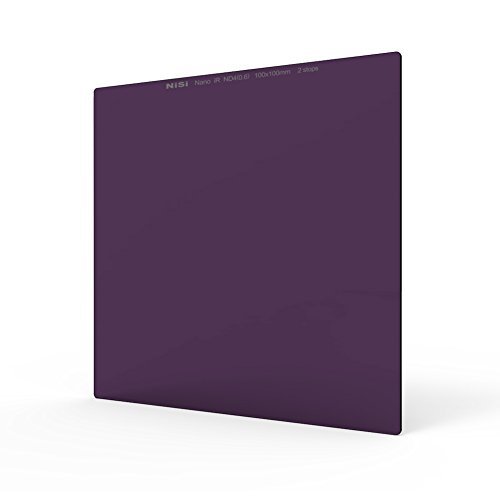 Buy now on Amazon!
NiSi  ND16 (1.2) 4 Stop Filter
I chose to go with the 4 stop as it offered me the most versatility for my shoots to avoid having to take too many filters on my travels. So far it's worked out great and I love this filter. It work's great for sunrise and sunset shoots when I want to take some longer exposure shots.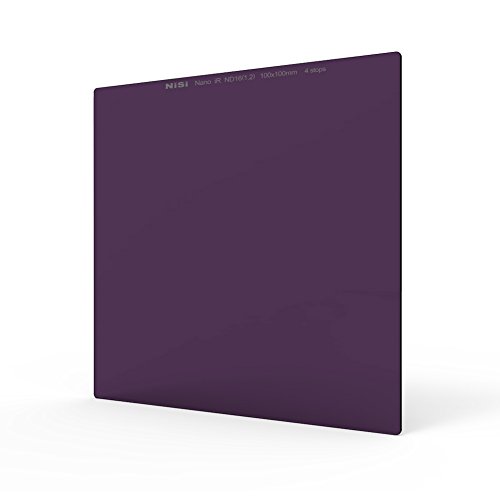 NiSi ND64 (1.8) 6 Stop Filter
This will likely be my next filter purchase along with the gradated filters. The 6-stop will allow longer exposures at time when the 4 stop just isn't enough, especially in those situations where the sunlight at dawn/sunset is very bright.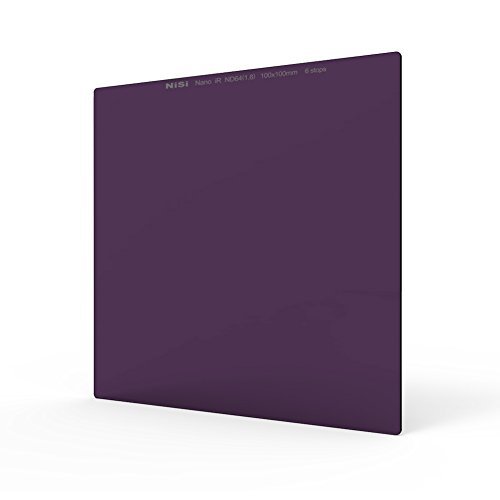 Buy now on Amazon!
NiSi ND1000(3.0) 10 Stop Filter
Probably my favourite piece of camera gear since I purchased the NiSi V5 Pro filter system. I simple love this filter. Allowing you to take long exposure shots during the day or super long exposures during the golden hour, this filter has performed perfectly for me. Tack sharp and with no colour cast it's been amazing.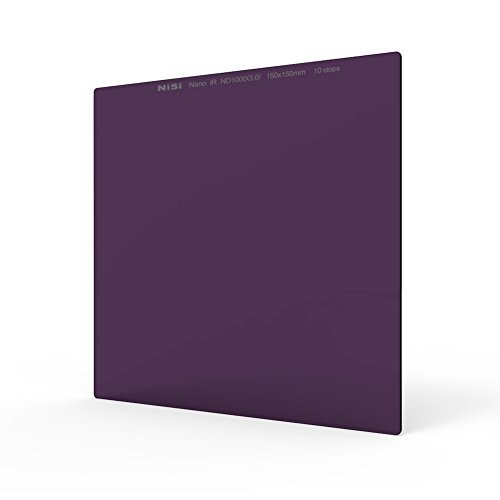 Buy now on Amazon!
NiSi ND32000(4.2) 15 Stop Filter
For those who want extreme long exposures you may want to consider the  recently launched 15 stop filter.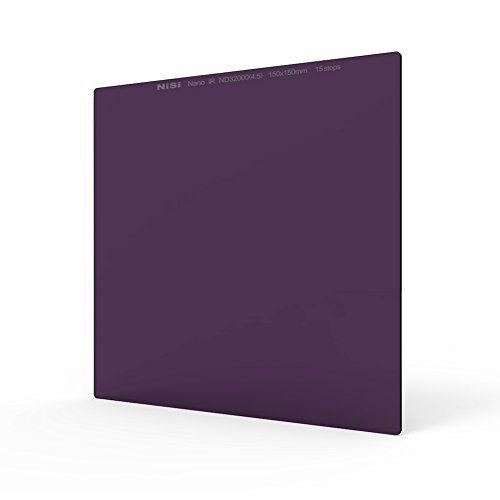 Buy now on Amazon!
Graduated ND Filters
Like other brands the graduated ND filters are not square due to the need to adjust for the horizon etc. Instead they measure 100x150mm and due to this you'll need a different case, see below, to allow you to carry them safely.
NiSi Soft Edge Filters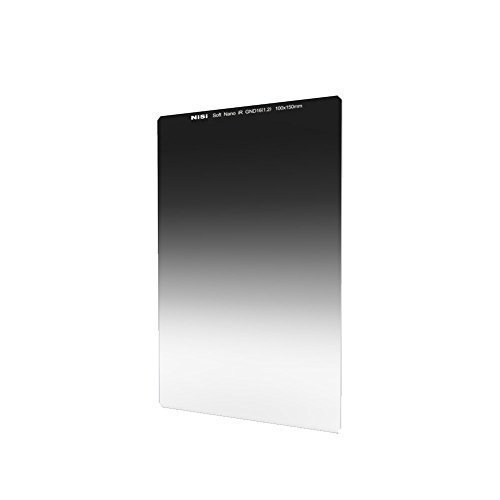 Buy now on Amazon!
Soft edge filters are used when you need to reduced the light from a portion of your composition but there are objects in the foreground which overlap with the horizon.  NiSi offer a range of soft edge filters to cater for almost every need. The most popular would be the 3 and 4 stop versions which would be combined with a 4 or 6 stop ND filter for real world usage, however each variation has their use depending on the photographers needs.
NiSi Hard Edge Filters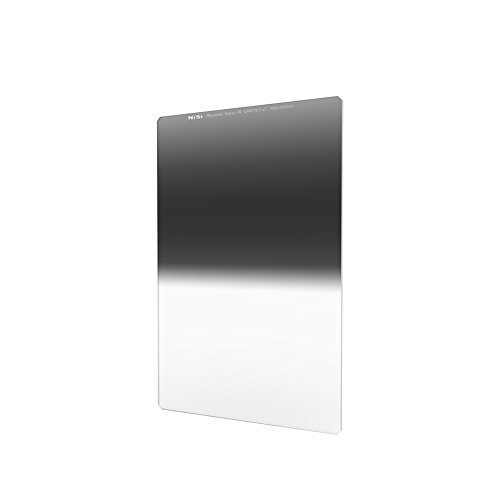 Buy now on Amazon!
Hard edge filters are used when there is a clear horizon and no objects overlap with the horizon. Again NiSi offer a range of hard edge filters, with the
Filter Cases and Lens Cap
The leather case that comes with the  V5 Pro filter holder kit is brilliant. These leathers cases are very solid and look great. I personally use the V5 PRO holder case with my filters. However it only holds the filter holder and 100x100mm filters. If you need to carry more filters or larged graduated filters you're going to need another case.
NiSi Large filter case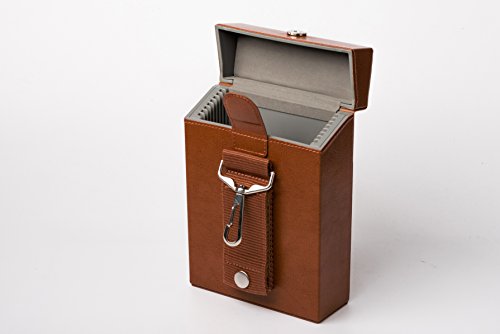 Buy now on Amazon!
This larger version of the included case will allow you to carry up to 8 150x100mm or 100mmx100mm filters and keep them protected. It also includes a fastener for attaching to your tripod or bag and a strap if you want to carry it that way – check prices on Amazon!
Haida 100 Filter Pouch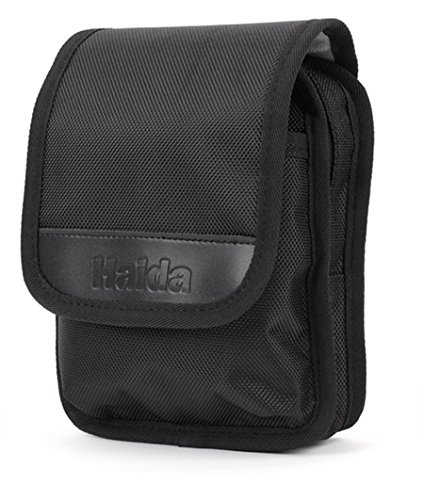 Buy now on Amazon!
This pouch will allow you to carry up to 6 filters and the V5 Pro filter kit in a single easy to access pouch. The protection for your filters is excellent and the zippered enclosure ensures that your filters will be  safe from dust and moisture – check prices on Amazon!
CPL Lens Cap
I highly recommend purchasing the lens cap for the CPL. It fits onto the CPL while installed in the V5 PRO holder and provides protection to the CPL when you stow your camera and lens in your bag with the CPL holder attached – check prices on Amazon!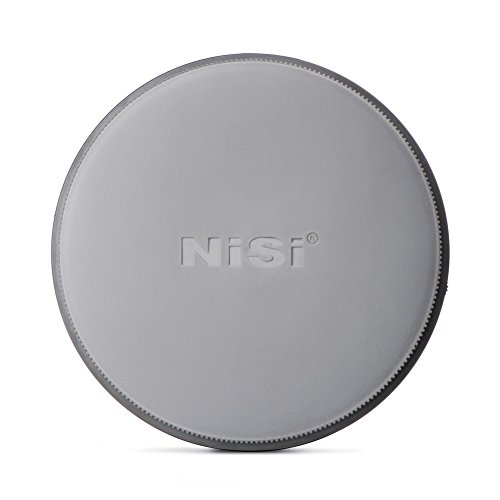 Buy now on Amazon!
Why I decided on the NiSi filter set
There are a number of brands to consider when buying a filter kit: Formatt, Hi-Tech,NiSi, Lee and Cokin all offer good products. Here's the reasons I decided on the Nisi V5 Pro Filter set:
Price – Despite the quality of the NiSi system, the complete filter set works out cheaper than much of the competition including Lee and Formatt-Hitec). When you add together the value of the holder, filters and the CPL you'll find these are cheaper than the other premium brands while just as good, if not better in quality.
Premium construction – the holder is milled aluminium and has a premium feel to it
High quality glass – NiSi filters are made from premium quality glass rather than the resin chosen by some other brands. They also have a nano coating to repel water and dust during use. I've found them very easy to clean and maintain and despite heavy use I've had no scratches on the filters as yet.
Ease of use – the system is very easy to use. The CPL and adapter live on my lens via an included step down ring and the filter holder is super easy to put on and take off. The filters have never slipped from the holder and adjusting the CPL with the filters attached is super easy with the small adjustment wheels on the V5 PRO holder.
No colour cast – this is very important. Color cast can occur in some filters and it is very difficult (if not impossible) to remove in post-production. Even on very long exposures spanning minutes with the 10-stop NiSi filter the NiSi filters produce a natural image with no observable colour cast
No light leakage – the filter holder has shown no colour cast for me throughout extensive use and the glass filters have foam padding which eliminates any light leaking into the lens. Once you install it correctly you shouldn't get any colour cast.
Circular polariser (CPL) design – the integrated utlra slim circular polariser design avoids any vignetting with your lenses even with wide angle lenses – more on this below. The easy to access adjustment wheels on the filter holder allow easy adjustment of the polariser once you've framed your shot and you have filters attached. Another major benefit of the CPL is that, because it's closer to your lens, the CPL is smaller than other brands making it a lot easier to transport. I considered Lee filters but the large CPL discouraged me!
Compatible with other filter sets including Lee, Cokin, Hitech and Singh-Ray – so if there is a particular filter you want to purchase from another brand you can use it on the NiSi holder.
Included extras: the filter holder set included a very useful case and step down rings for all common thread sizes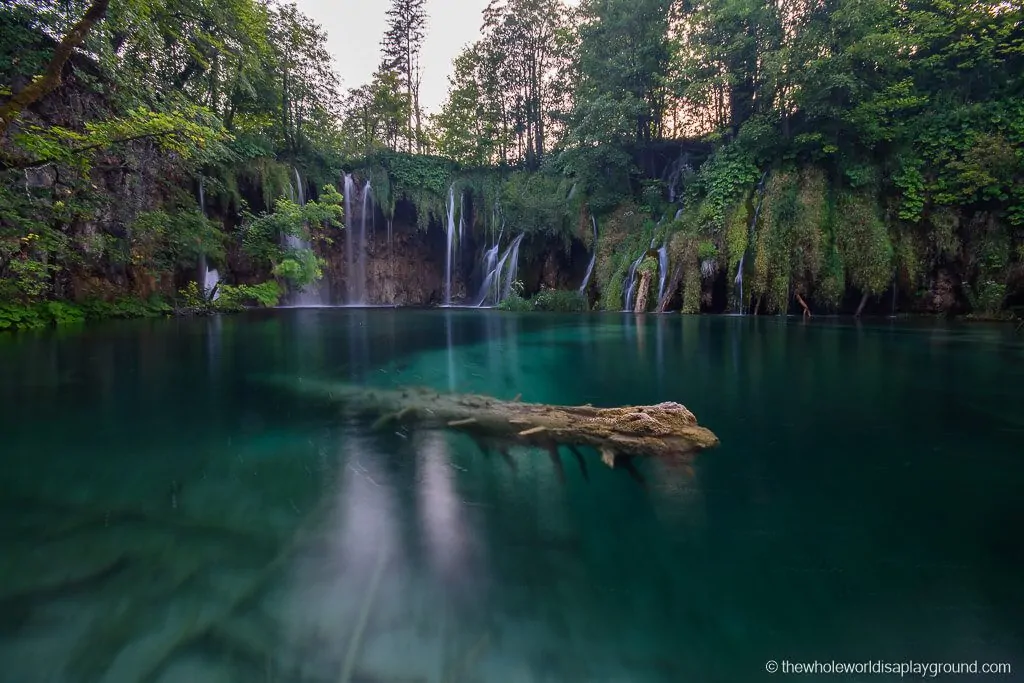 My experience with the NiSi filter system
So far I've loved the NiSi filter system. I've travelled with them to various locations around Europe and Africa over the past few months and they're been amazing to use. There's a lot of things I love about the system and I highly recommend it to anyone who's looking to invest in a filter system. Like any product, there are some aspects that need improvement but I can safely say I'll be staying with this kit for a long time. Some aspects I wanted to mention are: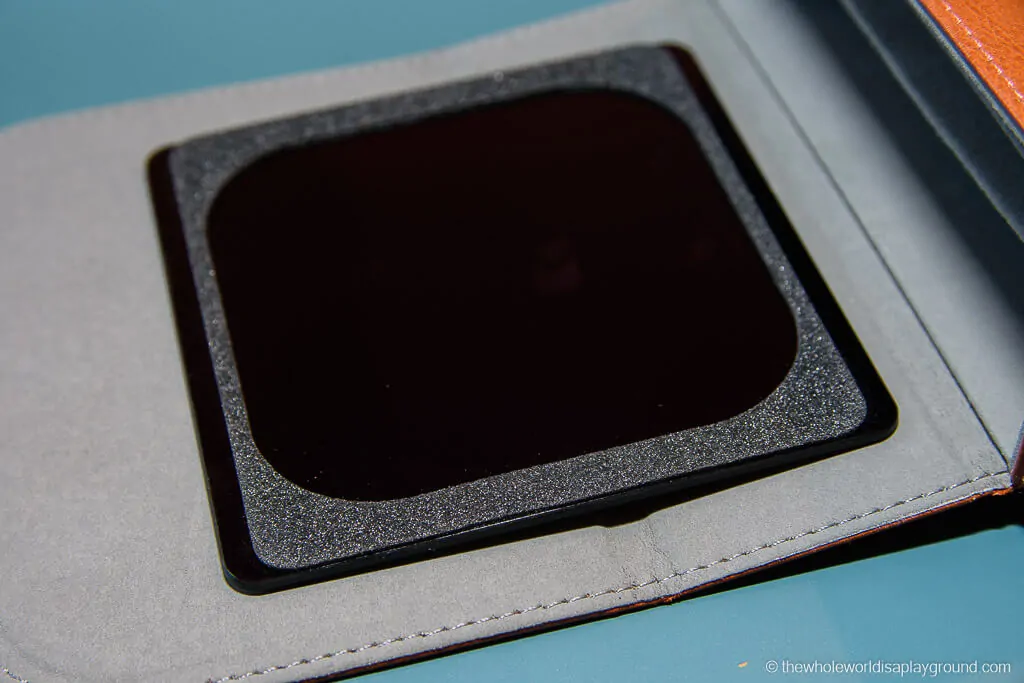 Light blocking foam backing on the NiSi filters[/caption]
Durability:  Like other filter brands the NiSi slim CPL and filters are fragile. They are made of glass so don't expect them to survive even a minor drop. If you're moving around on location always remove the V5 PRO filter holder and CPL before moving the camera. I broke this rule in Cape Town, South Africa and managed to bang the holder off a rock when moving locations and shattered the CPL. Stupid on my part and it could easily have been avoided had I been more careful.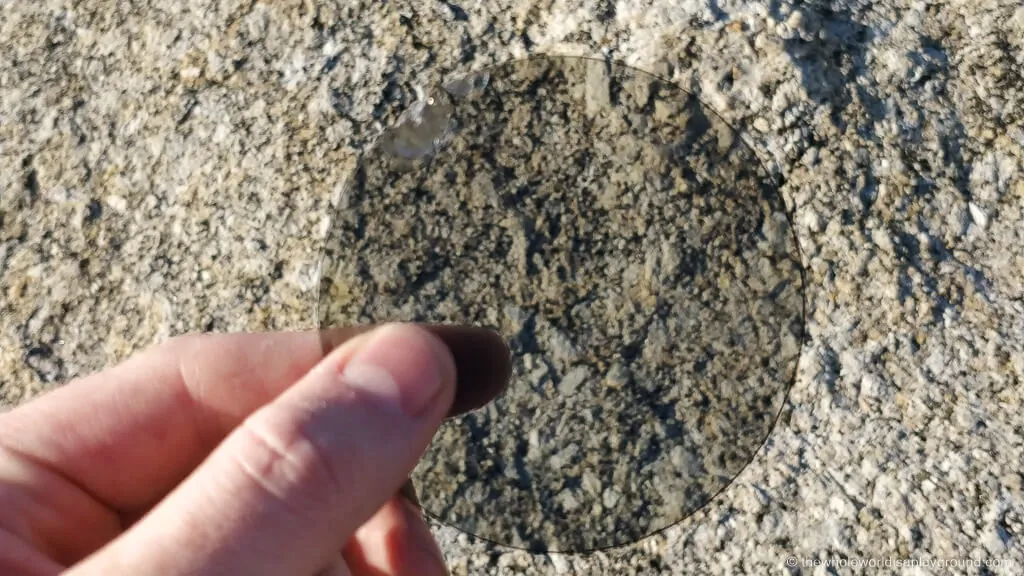 Filter holder: it is very easy to add and remove the gasket from the CPL holder and the filters slide snugly into the V5 Pro holder with little effort. It doesn't scratch the filter glass, a fault which was reported with the previous model.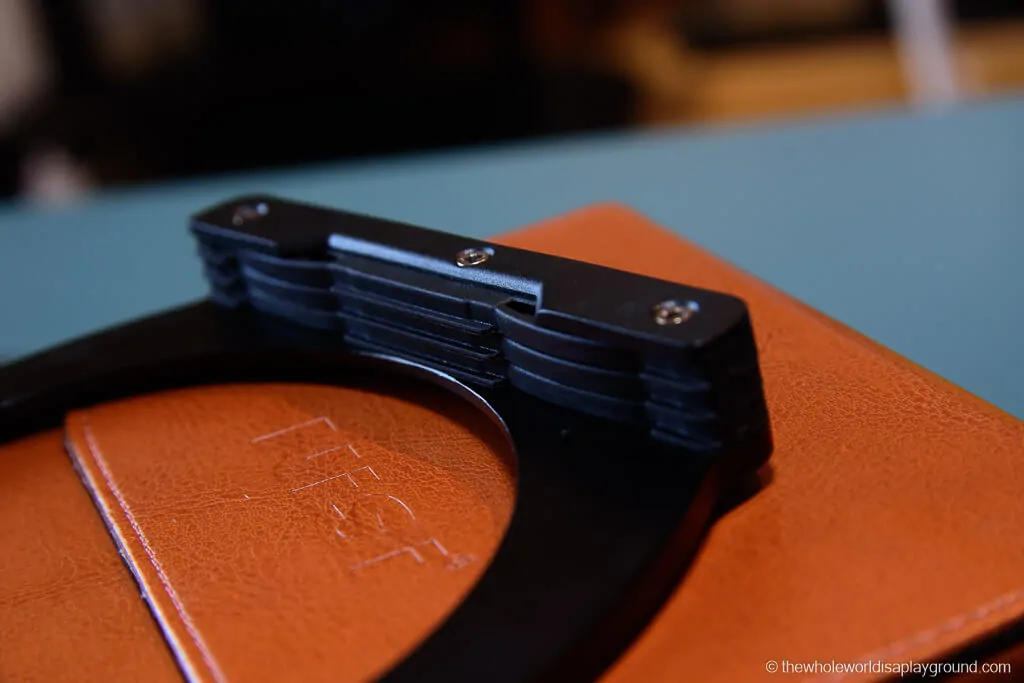 Summary
So there you have it, my detailed review of the NiSi V5 Pro filter holder kit and filters. I had lots of questions when I researched this kit so hopefully the review is helpful for those of you with similar questions and who are considering purchasing the kit. The set has been a great purchase for me and it's seriously improved the quality of my photographs and demonstrated the benefits of shooting with a quality filter system.
For anyone considering taking the jump to a system like this my advice is to invest if you can – you'll be amazed when you see the results in your first photos captured while using it!
Sample images taken with the NiSi V5 Pro Kit
Below are some of the images I've captured using the NiSi V5 Pro Kit