Having spent an amazing two weeks exploring the cities, mountains, desert and coastline of Oman we've put together our recommended Oman itinerary. From historic Muscat to the beauty of Jebel Shams to the natural wonders of the Ras Al Jinz turtle reserve, Wadi Shab and the Bimmah Sinkhole, Oman is breathtaking and one of our favorite places to visit in the Middle East.  For those of you planning your own Oman itinerary, we wanted to share our guide to Oman including the best things to do and what to see. Enjoy!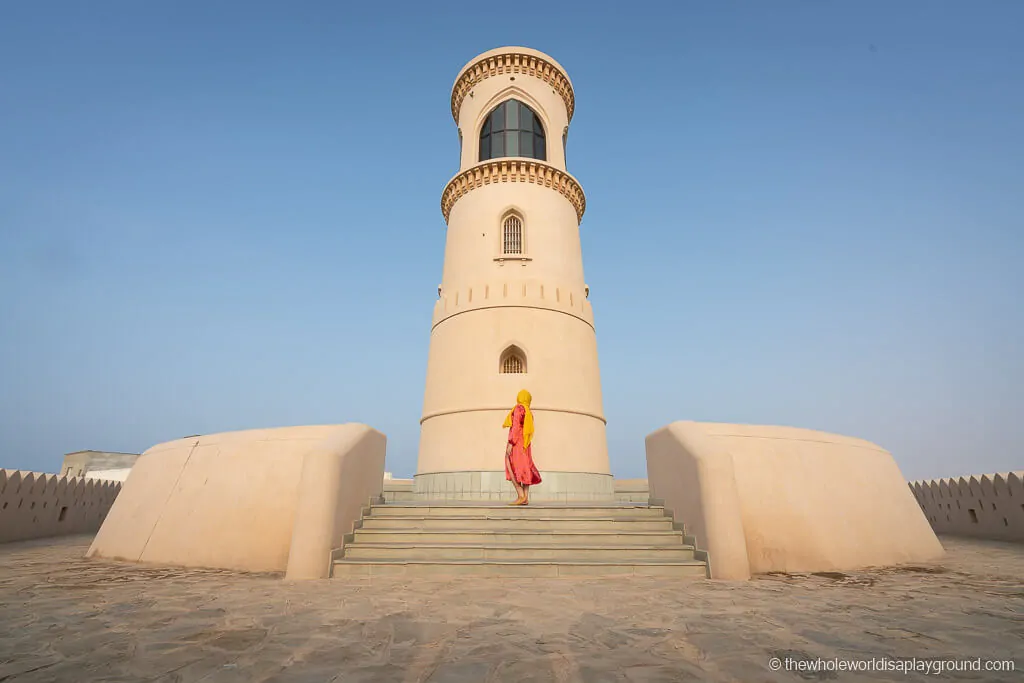 Oman Itinerary and Route
With its excellent roads and good driving standards, Oman is the perfect country for a road trip. We followed a circular route starting and ending in Muscat, Oman's capital city and the point of arrival and departure for most Oman travellers.
Oman Route
The Route: Muscat – Nizwa – Jebel Akhdar  – Wahiba Sands – Sur – Jas al Rinz – Muscat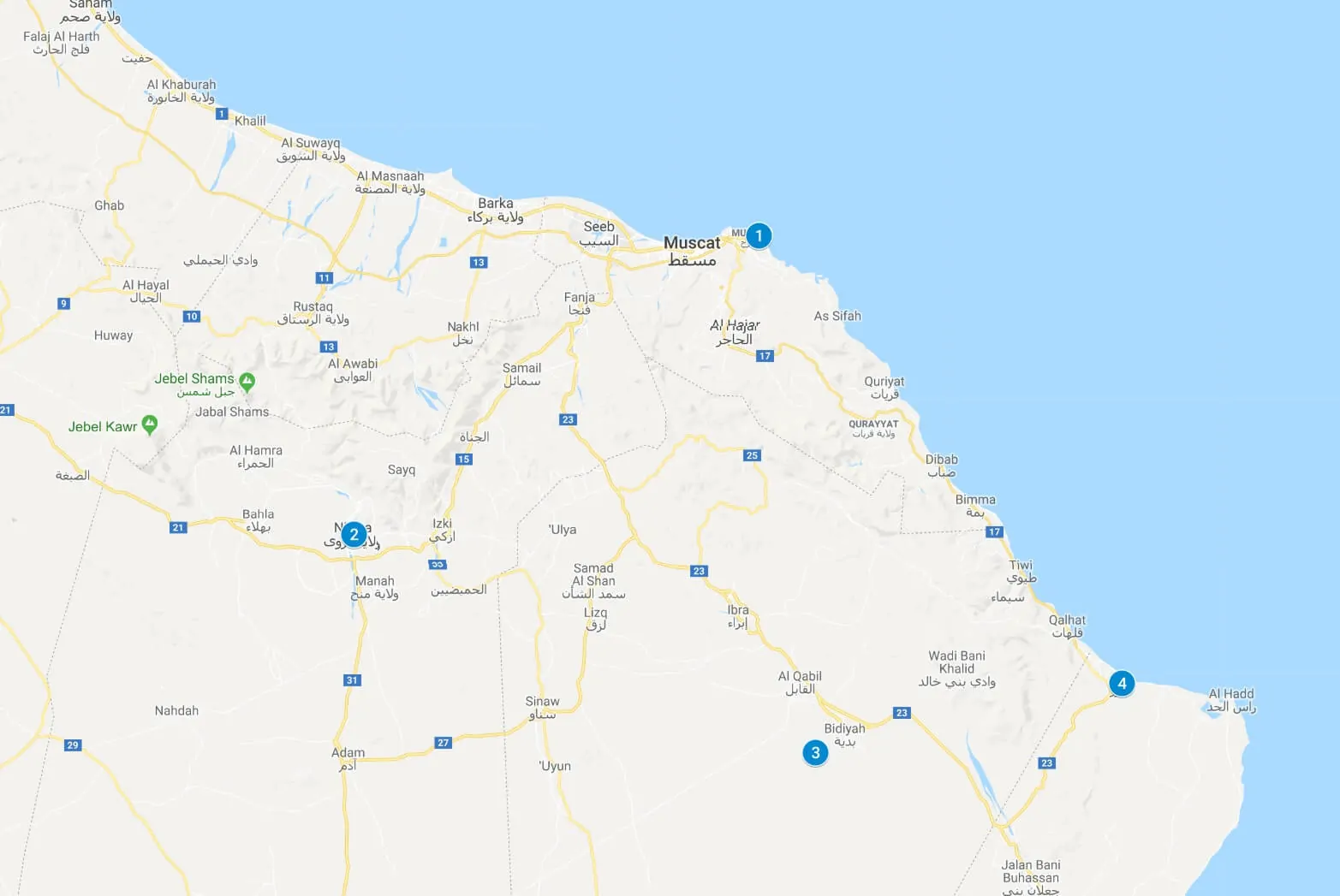 Click here for an interactive Google map with all the sights marked
How long to spend in Oman
We recommend budgeting 10 nights to explore Oman at a leisurely pace. This will allow you enough time to visit all the major sights, from Muscat to the Al Hajdar mountains and the many beautiful Wadis as well as the unmissable Wahiba Sands desert. Our route can be completed in as little as 7 days, however, a one week visit won't leave much space for downtime.
Oman itinerary tip: Depending on your style of travel you can either base yourself in Muscat for 5 to 6 nights of this itinerary and visit many of the places via day trips, or you can move around the country, spending a few nights in each area.
How to get around Oman
Most visitors to Oman either pick up a rental car and self-drive or use taxis/private drivers to explore the country.
Renting a car in Oman
Oman is by far one of the easiest countries we've rented and driven a car in and we highly recommend renting a car in Oman if you are comfortable driving. The roads are high-quality, driving standards are generally good and fuel is extremely cheap (compared to the UK and Ireland anyway!).
We rented a 4×4. While this option is a little more expensive, having a 4×4 allows for a more comfortable journey and it gives more options for exploring. In particular, a 4×4 is recommended to access Wahiba Sands (regular cars can get stuck in the sand) and for the Jebel Akbar and Jebel Shams mountain ranges.
We're huge fans of road trips and have driven rental cars in almost 50 countries so we have a lot of experience renting cars in foreign countries. Oman is one of our favourite countries where we have rented a car. Book your car now with RentalCars.com, where you will find the best rental car prices
Click here for the best rental car prices!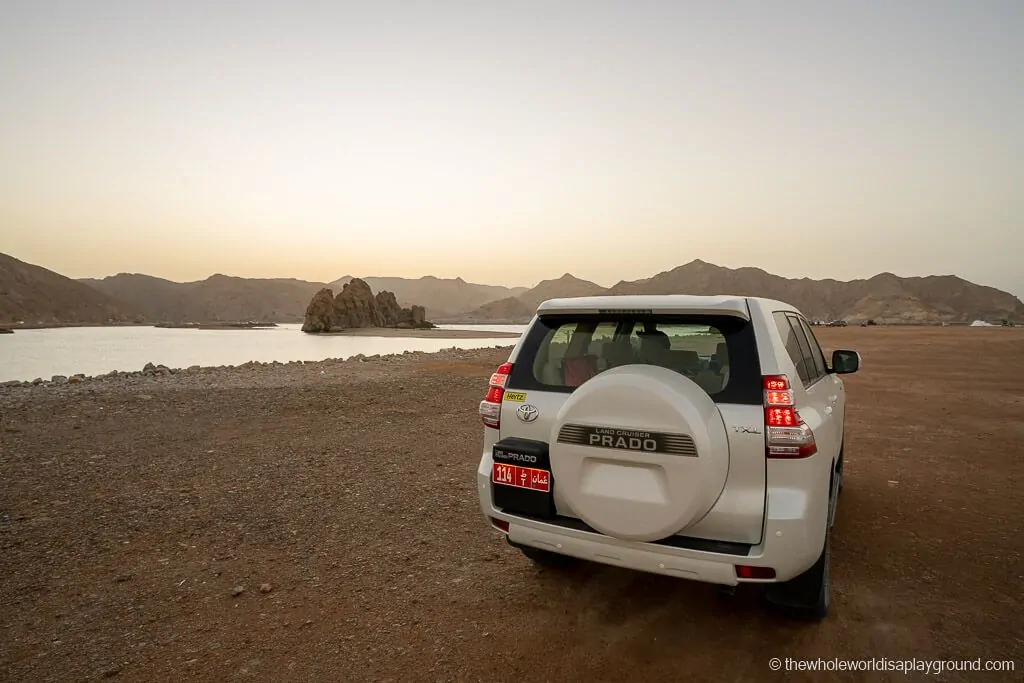 Best time to visit Oman
Depending on your tolerance to high temperatures, you may want to plan your visit to coincide with the cooler months! During the summer, temperatures can reach almost 50°C making sightseeing very difficult
Oman itinerary tip: We visited Oman at the end of October and the temperatures were a pleasant 30°C during the day. We planned our hikes and outdoor activities for first thing in the morning and relaxed in the afternoons during the peak midday temperatures.
Sim Card and Internet
As with most countries, having mobile data during a trip is invaluable for navigation and research. There are lots of options on arrival at Muscat Airport – we picked up an Omantel data only sim card and had good reception throughout most of the country.
Oman Itinerary tip: Google maps turn by turn navigation doesn't work in Oman. We used Waze, a great alternative and very useful for avoiding traffic delays in Muscat.
Daily Oman Itinerary
We've outlined our day to day Oman itinerary as a starting point for planning your own Oman experience.
Days 1 to 3: Muscat
Oman's capital city really surprised us with the wide variety of things to see and do. After arriving at Muscat Airport we recommend spending the next two nights in Oman. This will allow you to see the main sights and to enjoy everything that this beautiful coastal city has to offer.
Where to Stay in Muscat
There are many great accommodation options in Muscat and, although the focus is on high-end luxury, it's possible to find hotels to fit any budget.
Sheraton Muscat – we stayed in the Sheraton Muscat and rate it very highly. The hotel is located between Old and New Muscat, with most sights reachable in under 15 minutes by car – check prices now!
Kempinski Hotel Muscat – located close to the airport and along Muscat's beautiful coastline, the Kempinski is a relatively recent addition to the Muscat hotel scene–check prices now!
Park Inn by Radisson – within walking distance of the many shops of Avenues Mall and Muscat Grand Mall, the Park Inn is clean and comfortable with a great rooftop pool – check prices now!           
Click here for the best Muscat hotel prices
Day 1: Explore Muscat
Day 1 is an introduction to some of Muscat, and Oman's, finest sights with visits to the Sultan Qaboos Grand Mosque, the Muttrah Corniche and the Muttrah Souk.
Sultan Qaboos Grand Mosque
The stunning Sultan Qaboos Grand Mosque is a Muscat highlight, so much so that we visited it twice! The magnificent mosque was completed in 2001 and welcomes up to 20,000 people during prayers.
The grounds of the mosque are stunning but it is the interior of that steals the show. The main prayer hall has a huge intricate prayer rug and a beautiful chandelier, the largest in the world, with ornate detailing on the roof. Plan at least 1 to 2 hours to really enjoy the mosque and visit early to avoid the crowds.
Oman Itinerary tip: Non Muslims are allowed to enter the mosque from Saturday to Thursday between the hours of 8am and 11am. Due to this the mosque tends to get extremely busy from 9.30am to 11.00am with tourists.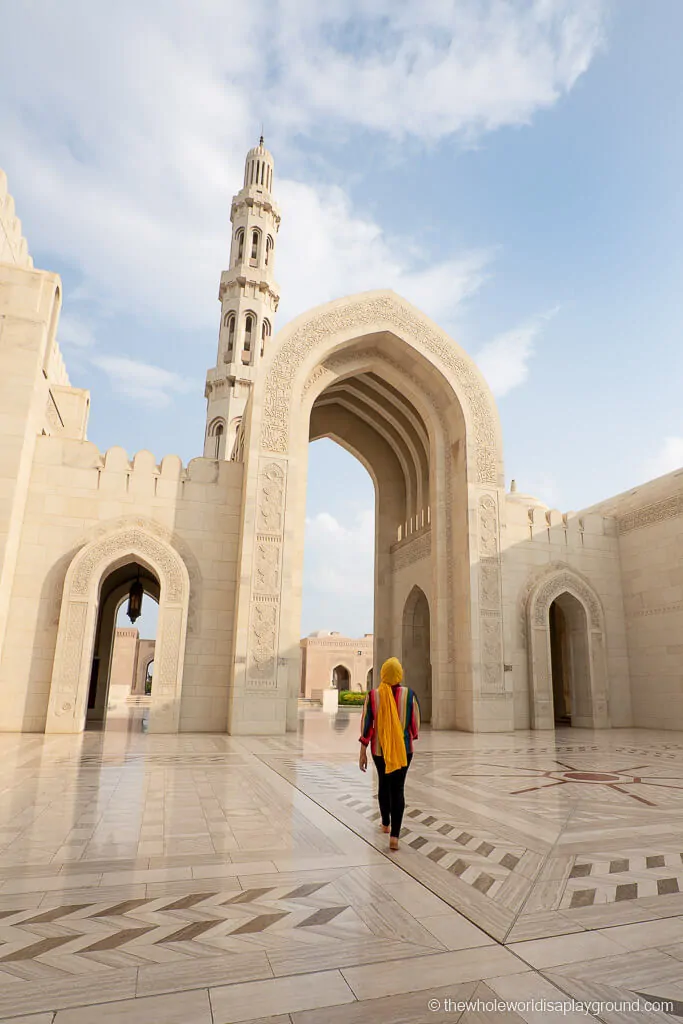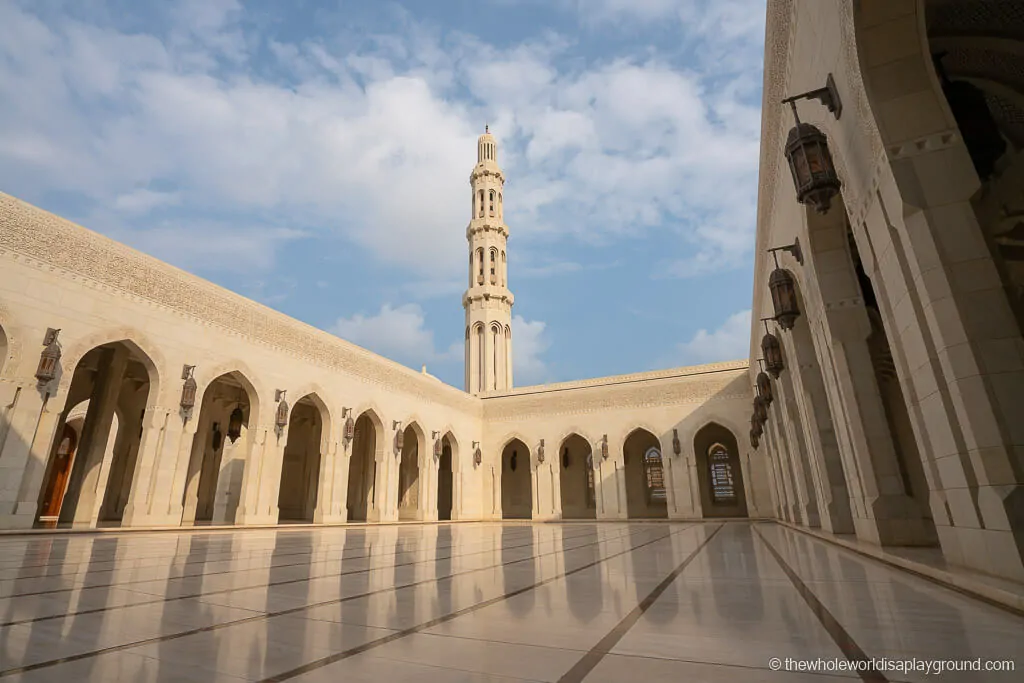 What to wear when visiting the Sultan Qaboos Grand Mosque
The Sultan Qaboos Grand Mosque has a strict dress code which needs to be adhered to. Women must have their hair covered and clothes must reach the wrist and ankle. They were very strict about enforcing this and headscarves and robes are available to rent at the entrance. Men must also cover their arms and legs.
Oman Itinerary tip: visitor attire is checked upon entry. If your chosen outfit is not acceptable you will be directed to the entrance and avised to rent suitable clothing before being allowed to entry.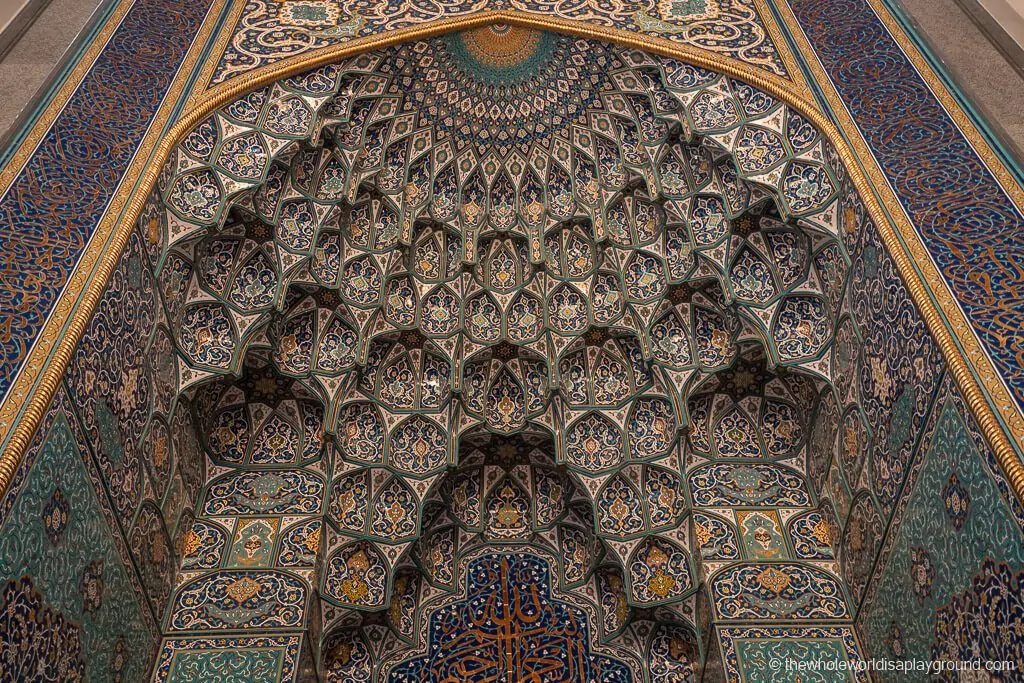 After the early morning start, relax at your hotel during the hottest part of the day. The temperatures can get very hot so try to aim to be indoors or near a swimming pool/your hotel.
Muttrah Corniche and Muttrah Souk
As the temperatures cool in the afternoon, take a stroll along the Muttrah Corniche promenade. The corniche is beautiful in the late afternoon and is often crowded with locals and tourists enjoying the cooler evening air. Make sure to look out for the magnificent incense burner monument on the hill by the sea.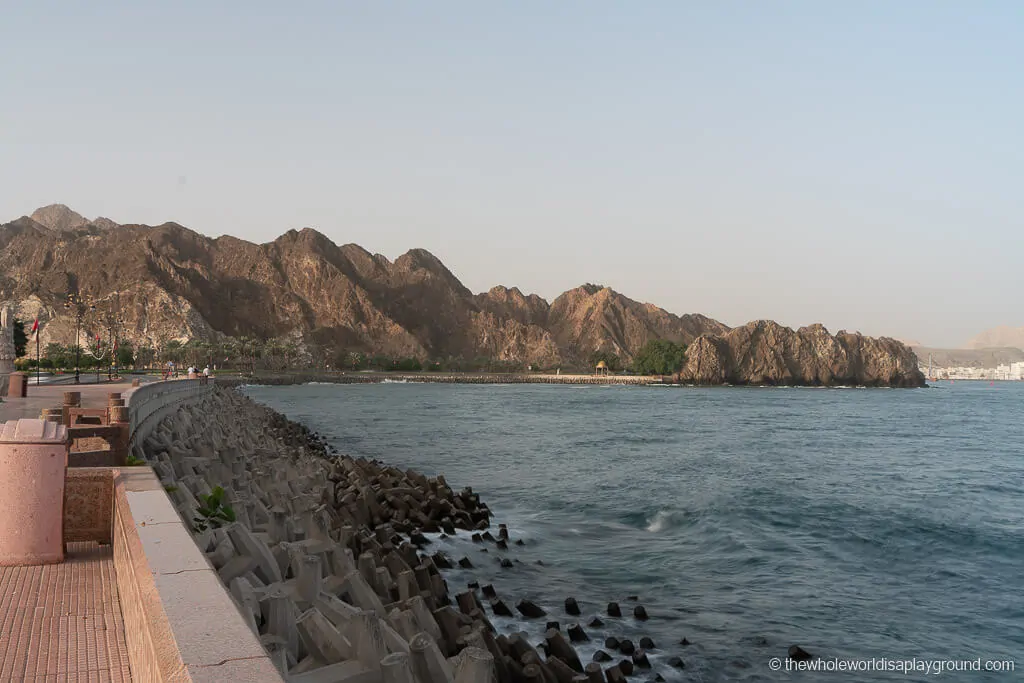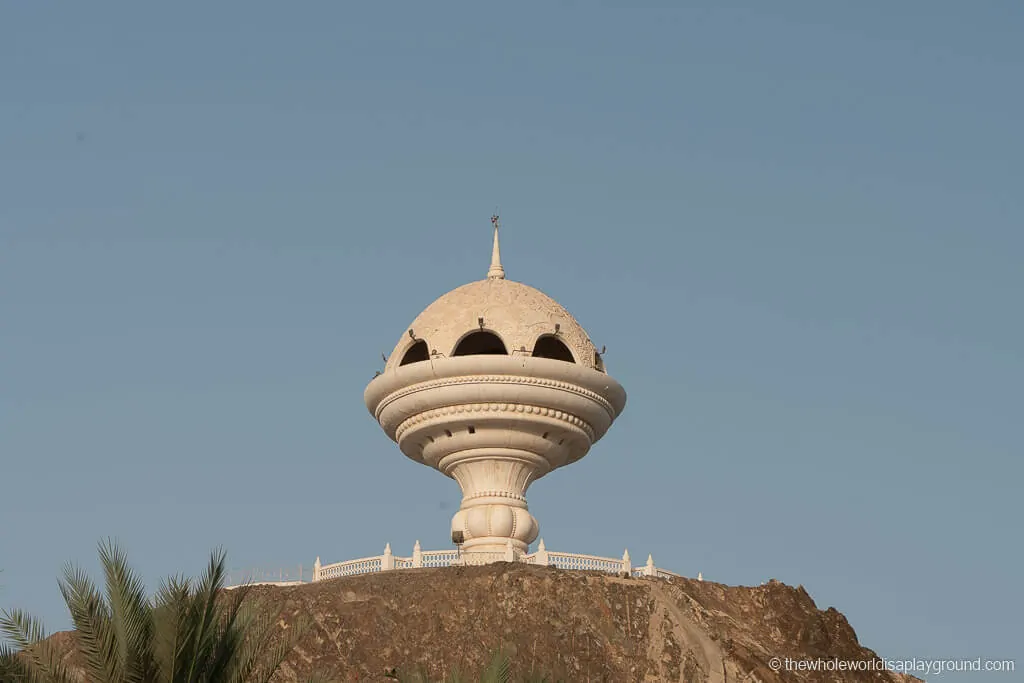 After a stroll along the corniche, prepare to haggle at the Mutrah Souk, one of the oldest Arabian markets in the world. It's easy to get lost in the narrow streets of the ancient souk, where everything from gold and incense to fridge magnets are sold.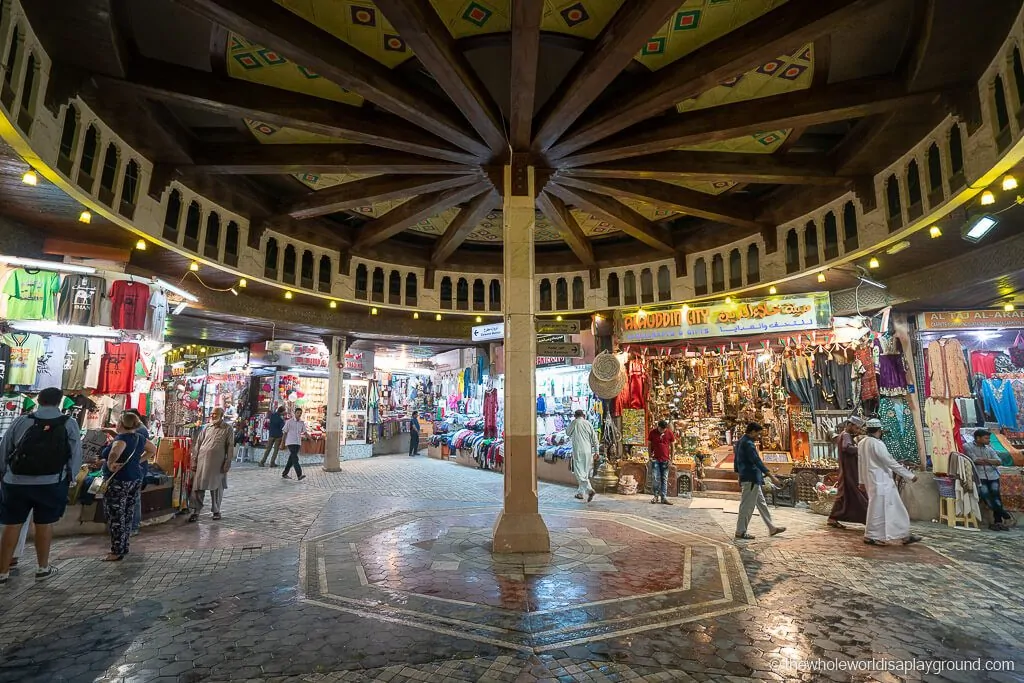 Day 2: Day trip to Wadi Shab
Oman's most famous wadi, Wadi Shab, is simply incredible and a highlight of any Oman itinerary. The beautiful turquoise pools, waterfalls and cave finale are more than enough reward for the hike into the canyon!
Oman itinerary tip: Wadi Shab is an easy day trip from Muscat or, if you prefer, the Sama Wadi Shab Resort is a good option close by – check prices here!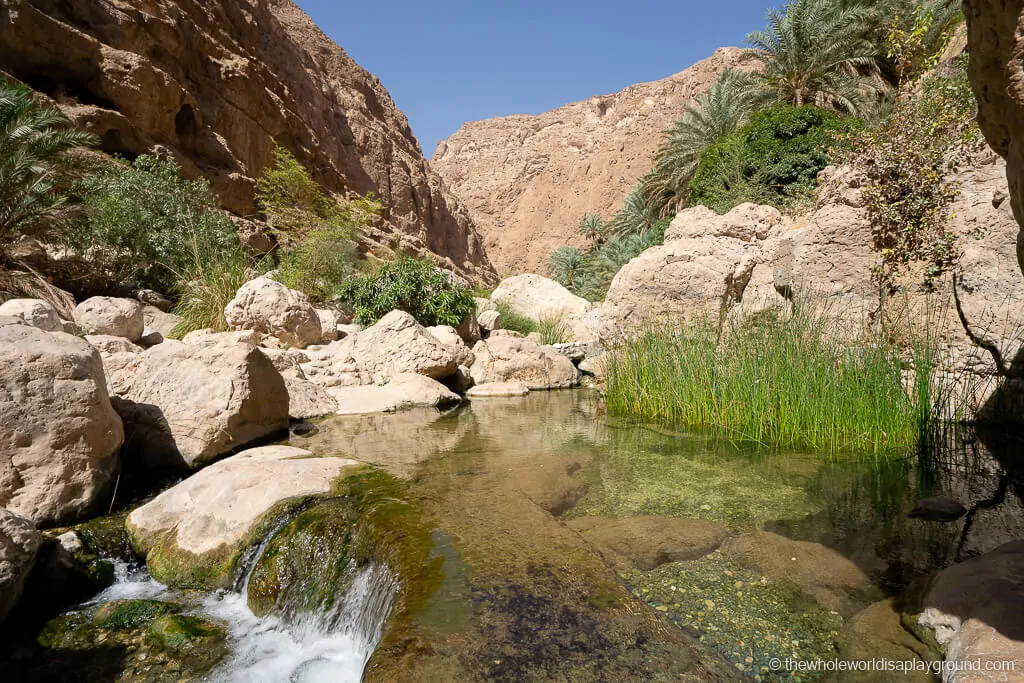 Wadi Shab: What you need to know
The entrance to Wadi Shab is a 2-hour drive south along the coast from Muscat and located just off the motorway. There is a dedicated car park at the entrance.
Depending on water levels, visitors take a short boat ride (2 OMR return) across the Wadi to the start of the hike.
Aim to arrive at the entrance to Wadi Shab as early as possible as this will allow you to complete the hike in the cooler morning temperatures when there is more shade.
The wadi involves a relatively strenuous hike which takes around one hour from the car park. We only recommend participating if you are in reasonably good fitness.
It is recommended that you are a strong swimmer and can swim at least 100metres if you wish to swim through the cave at Wadi Shab. Please do not put yourself or others in danger.
Plan an early morning start from Muscat to Wadi Shab. It's worth dedicating a day to this trip as it's an early start, a very long hike and in the heat, you will be very tired.
There are limited facilities and cell phone coverage in the Wadi, so make sure to pack lots of water and some food. Water shoes and a wet-bag for your electronics are also must-haves as you will get wet!
Oman iItinerary tip: Wadi Shab is a very popular place for tourist and locals at weekends so we recommend visiting on a weekday. There can be significant crowds at weekends so the experience can be more enjoyable if you can avoid these peak times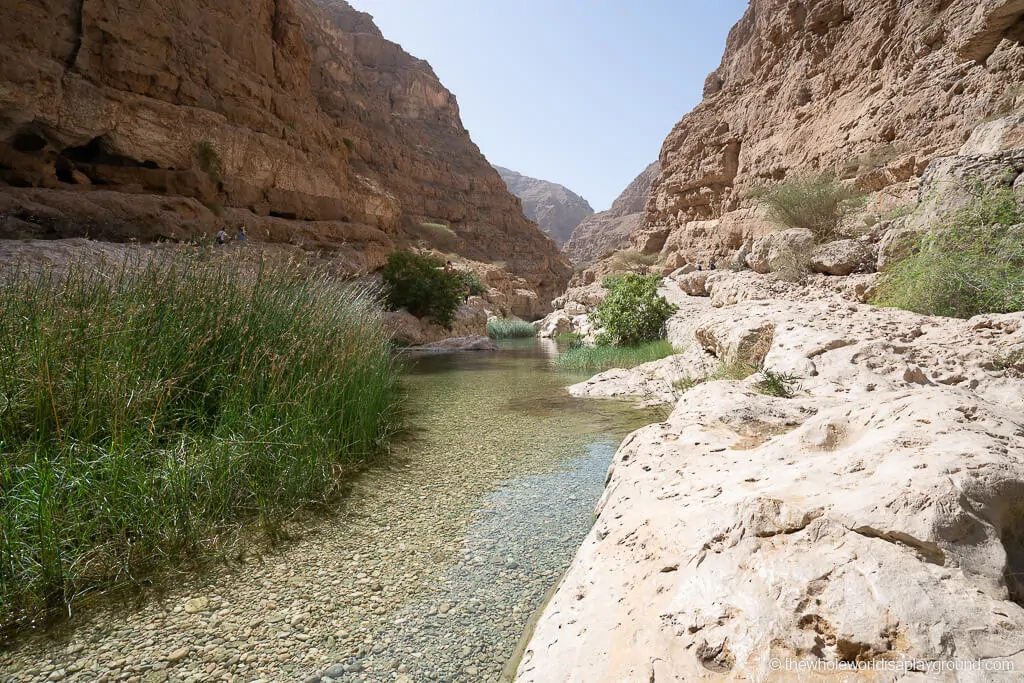 Relax at your hotel that evening.
Day 3: Old Muscat and the beach
This is a more relaxed day with time to explore Old Muscat and the iconic Al Alam Palace in the morning followed by a visit the Shatti Al Qurum beach in the afternoon/evening. If you enjoy a sunset stroll, wrap up day 3 with a visit to a local favourite, Yitti beach.
Old Muscat
Located on a bay at the end of the Muttrah Corniche, Old Muscat is the original historic centre of Muscat and home to the ceremonial palace of the Sultan Qaboos of Oman. The sleepy atmosphere of Old Muscat is interrupted only by the occasional group of tourists meandering through the streets. Highlights include three 16th Century forts built by the Portuguese, the old watchtower and the National Museum of Oman.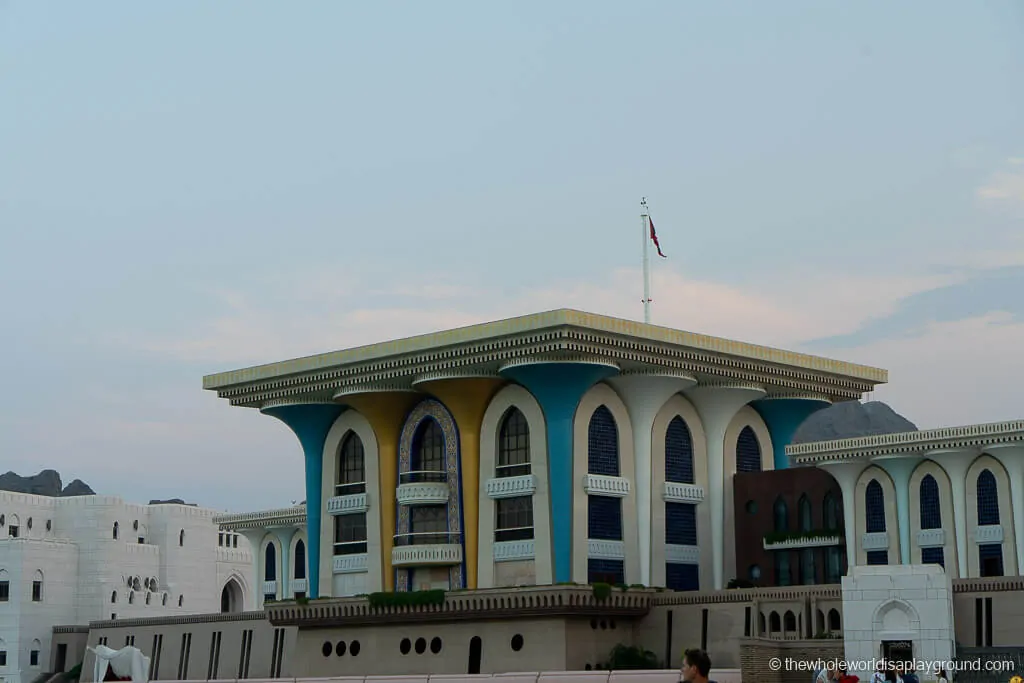 Shatti Al Qurum Beach
It's time to experience the Oman beach scene with a visit to one of the best beaches in Oman, Shatti Al Qurum. The lively beach is located in the centre of Muscat. It's a really popular spot with locals and a great place to relax in the evening.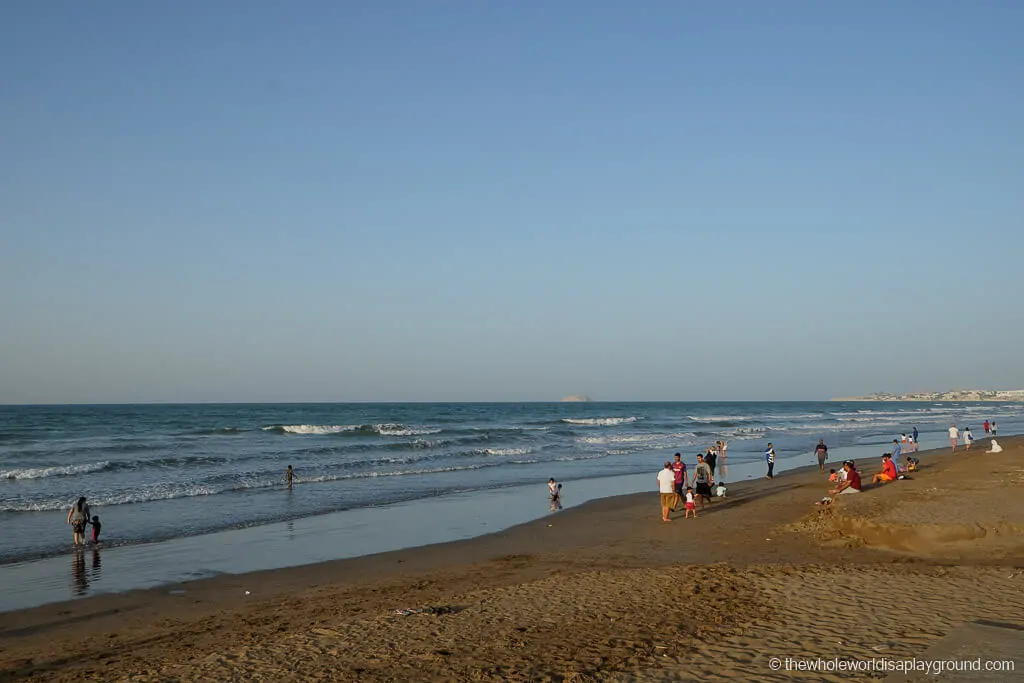 Sunset at Yitti Beach
We highly recommend an early evening trip to the scenic Yitti Beach which is around 25 minutes south of Muscat. The drive along the coastal road is beautiful and watching the sunset at Yitti beach is popular with locals and tourists alike.
Oman itinerary tip: Yitti is a popular camping and party spot at the weekends so we prefer to visit during the week.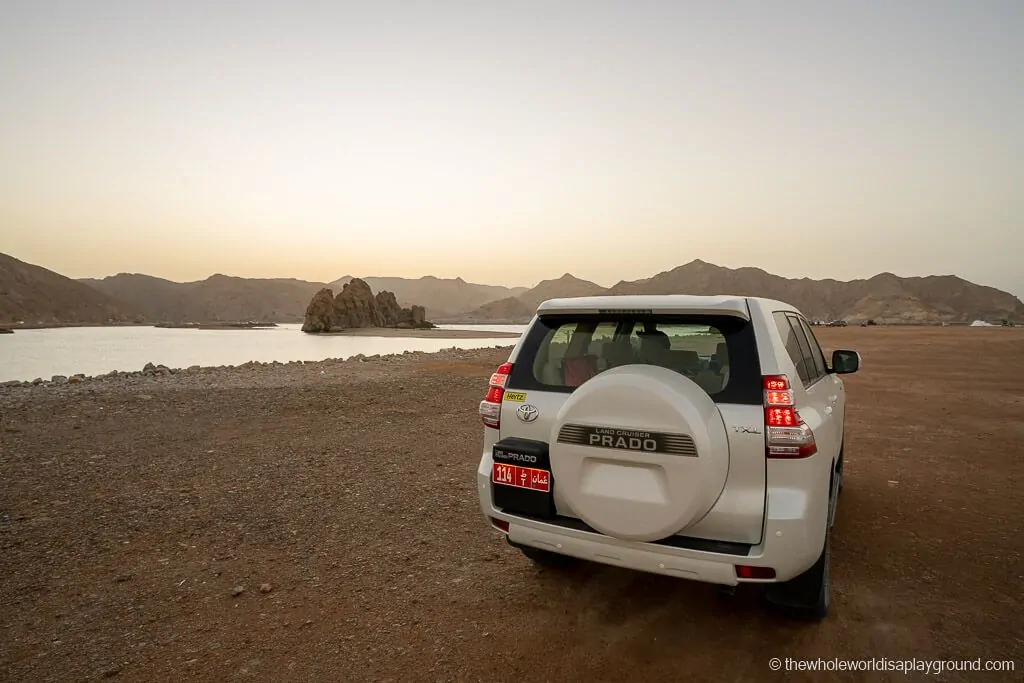 Days 4 and 5: Nizwa and the Mountains
After a few days of exploring Muscat, we head inland to the mountainous region of Oman, an area that is jam-packed beautiful sights. Two nights is optimal to see most of the major sights while also allowing some down time to relax and enjoy the surroundings. We recommend spending one night in Nizwa and a second in the stunning Al Hajar mountains.
Where to Stay in Nizwa
Click here for the best Nizwa Hotel prices
Nizwa
Nizwa is the perfect base for both Nizwa itself and the Jebel Akhdar mountain range and most sights are reachable in less than an hour. One of the highlights of the area is the Nizwa Fort, one of the most popular tourist attractions in Oman, and the adjoining souq. Nizwa Fort itself is huge and can take a few hours to explore. The souq shops have a huge range of random trinkets and souvenirs and enjoyable to browse.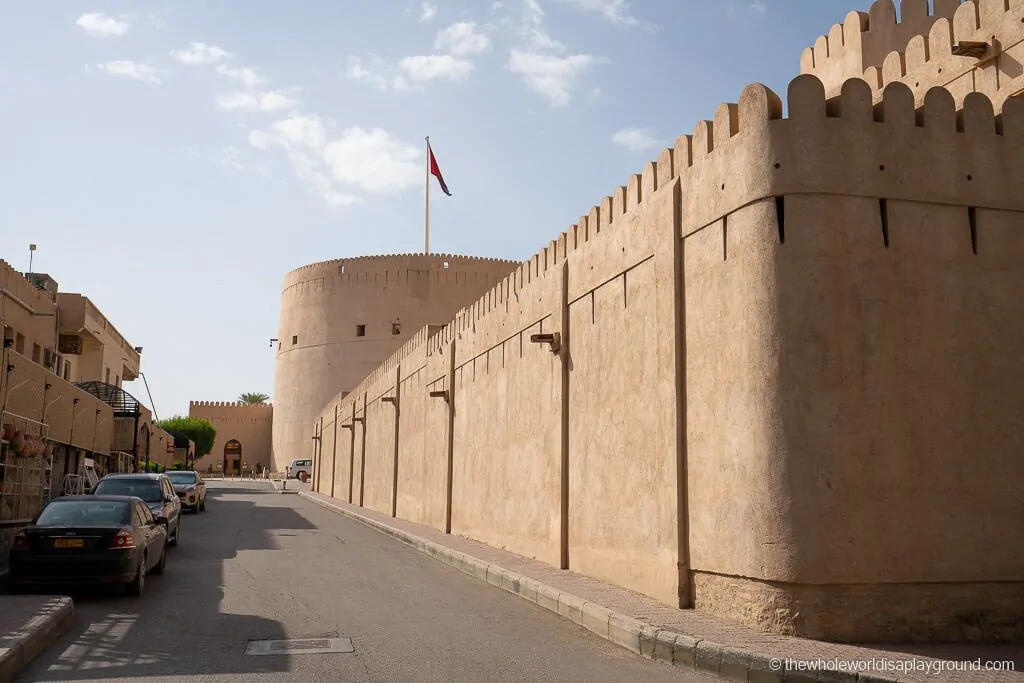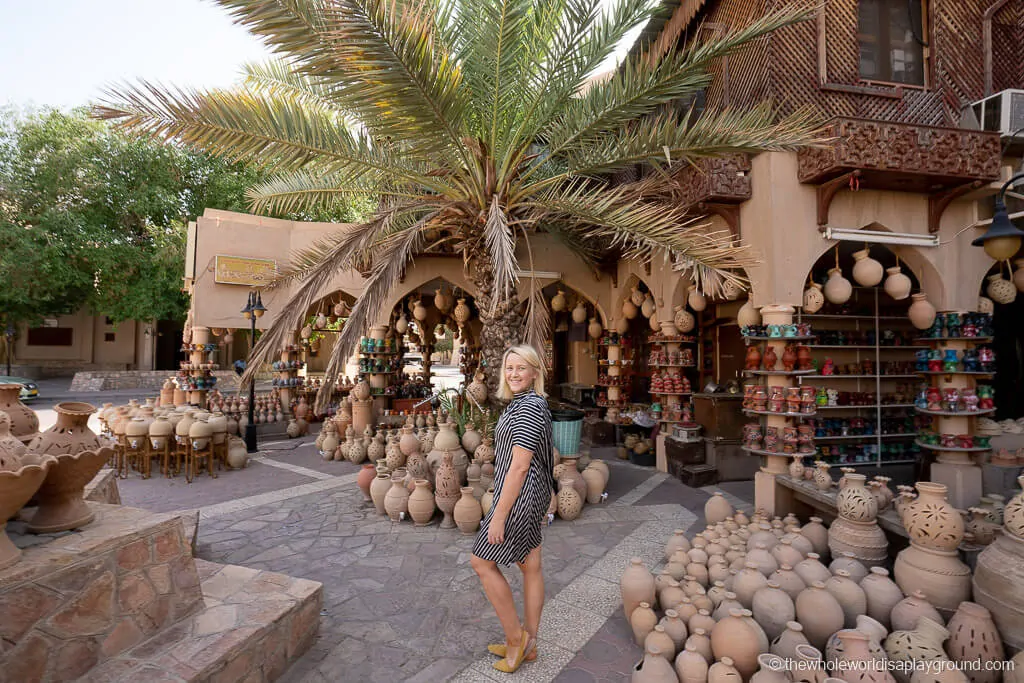 Jibreen Castle
Jibreen, or Jabreen, Castle is a beautifully restored castle located in the middle of a palm grove. The castle is definitely worth a stop when exploring around Nizwa.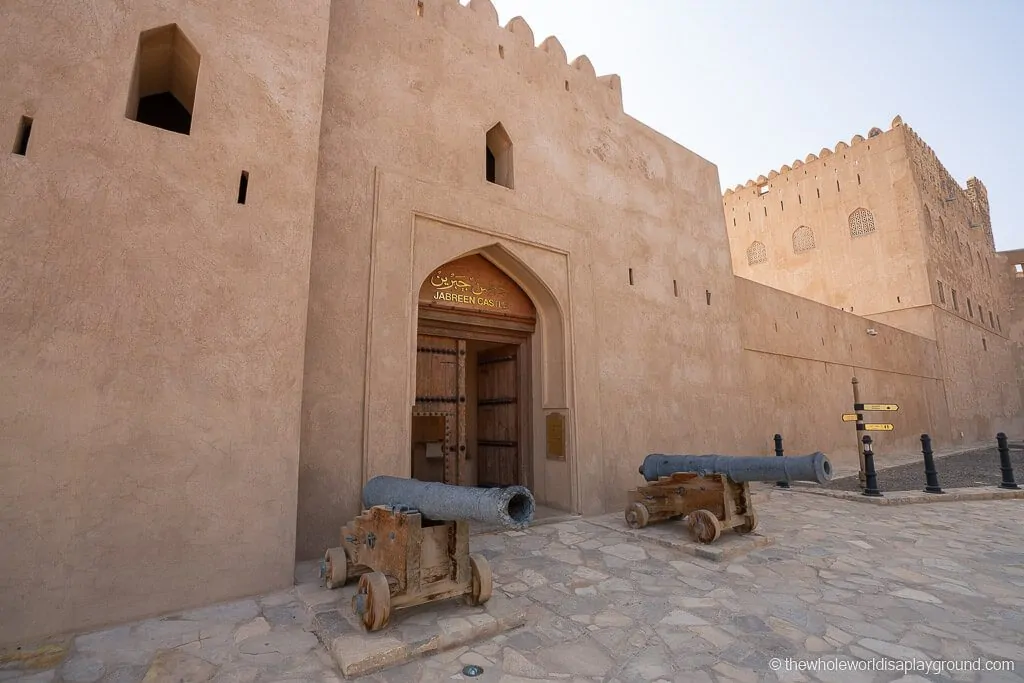 Bahla Fort
Bahla Fort is a UNESCO World Heritage site that was refurbished in 2012. There is limited information for visitors but the impressiveness of the site makes it worth a stop.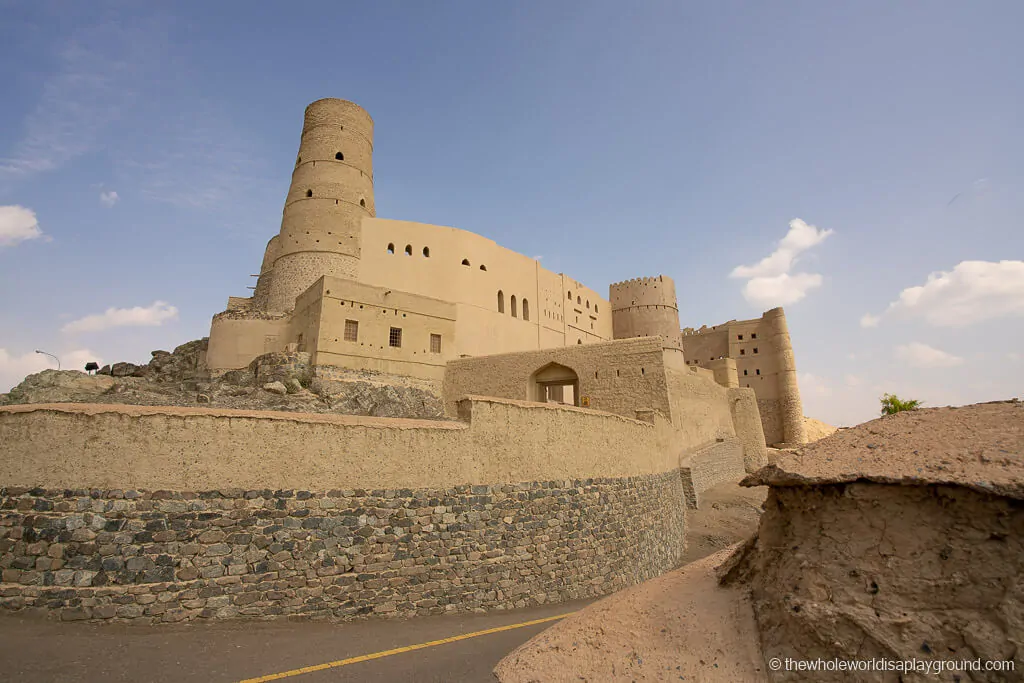 Al Ayn Beehive Huts
If you're feeling like a drive we highly recommend a trip to the Al Ayn Beehive Huts, a UNESCO World Heritage Site. The archaeological site of Al Ayn is part of a group of necropolises, alongside Bat and Al-Khutm, which form the UNESCO World Heritage site. Al Ayn is the closest to Nizwa and the most impressively preserved of the three. The Al Ayn Site is nestled on a hilltop in a stunning setting with a mountain range in the background. It was one of our favourite places in Oman.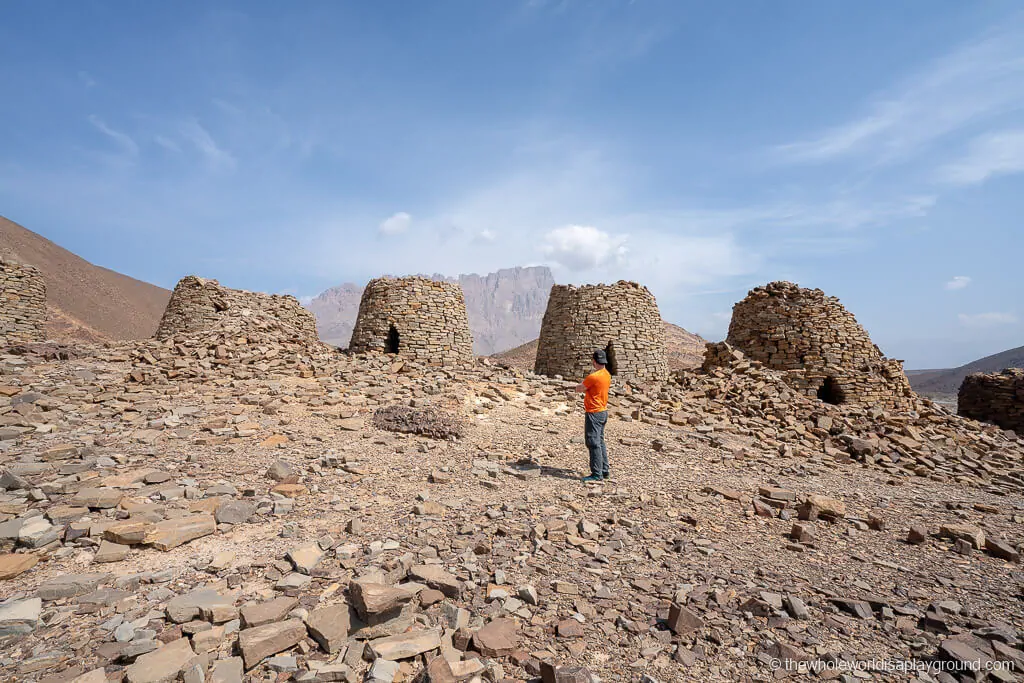 The Al Hajar mountains
There are two options for an overnight in the Al Hajar mountains: Jebel Shams and Jebel Akhdar.
Jebel Shams is for the most adventurous, with a 4×4 car recommended in order to climb the mountain road to the summit.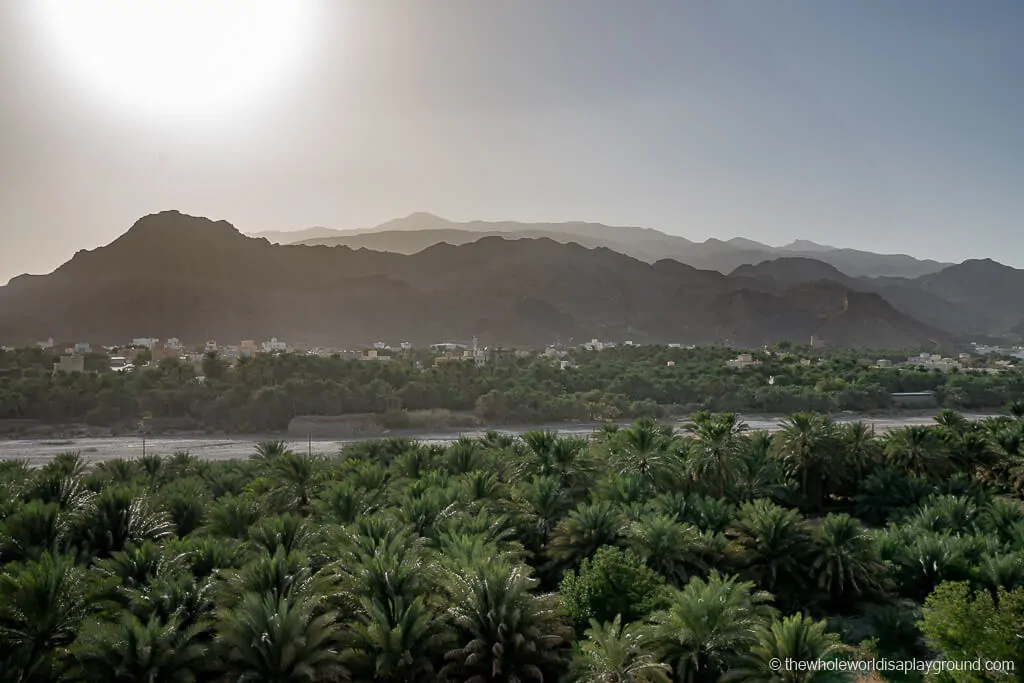 Jebel Akhdar is more easily reached and has better accommodation options, one of which is the spectacular Anantara Al Jabal Al Akhdar Resort. The views from this hotel are simply amazing and if you want to indulge on your night in the mountains, reserve a night in the resort!
Click here to book the Antara Al Jabal Al Akhdar Resort
Day 6: Wahiba Sands
Most visitors to Oman wish to spend at least one night in the desert. Wahiba Sands is the closest desert to Muscat and Nizwa. It's easily reached from Muscat or Nizwa in a few hours thanks to the new road that is almost fully complete.
Although there were many amazing places in Oman, the highlight of our trip was the night in the desert. The sunset dune experience is a real bucket list experience and one we'll never forget.
Oman itinerary tip: To make the most of your time in the desert aim to arrive at the camp at around lunchtime as this will allow you to explore camp and relax for a few hours before sunset.
Many of the camps offer additional activities such as camel riding, dune bashing, quad biking and dining experiences in the dunes. Dune bashing is one of the most fun, where expert guides take you on a rollercoaster drive through the dunes!
Oman Itinerary Tip: You will need a 4×4 vehicle with good road clearance to drive into Wahiba Sands. One you leave the main road and enter the desert the road is sand and is only accessible with a 4×4. We had a Toyota Landcruiser which was perfect when the sand got deep, however most hotels offer pickup from the main road if you don't have a 4×4.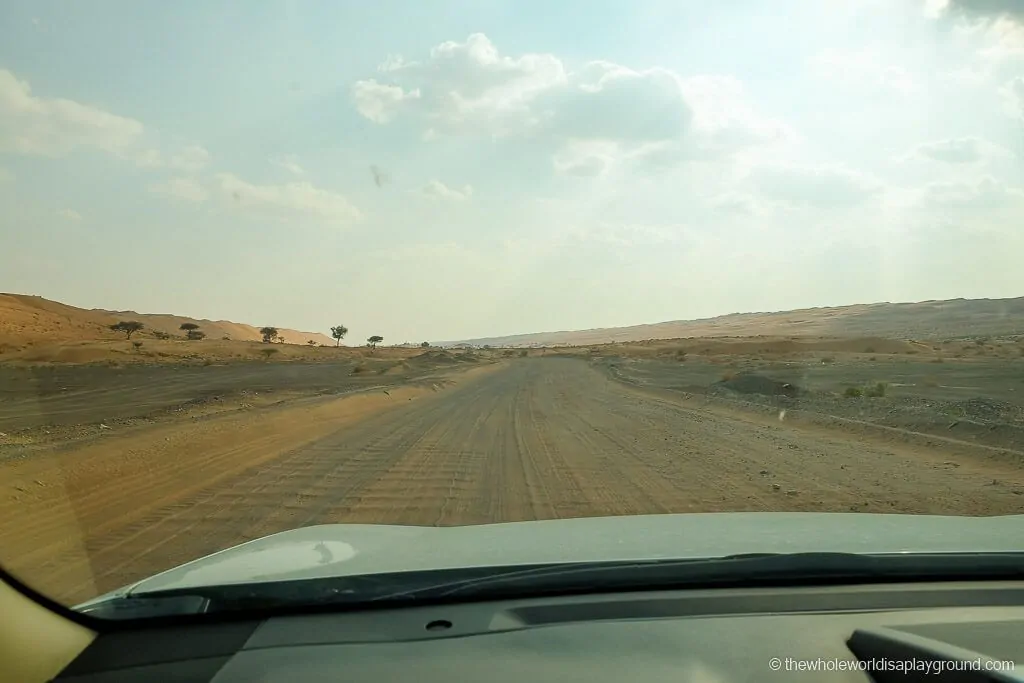 Where to Stay in Wahiba Sands
Accommodation in Wahiba Sands consists mostly of small boutique camps. They range from basic Bedouin tented camps to more luxury options. Desert nights tend to come at a premium price but the experience is more than worth the splurge. We opted for the luxurious Desert Nights Camp resort and loved every second. Watching the sunset over Wahiba Sands dunes was breath-taking and truly a once in a lifetime experience.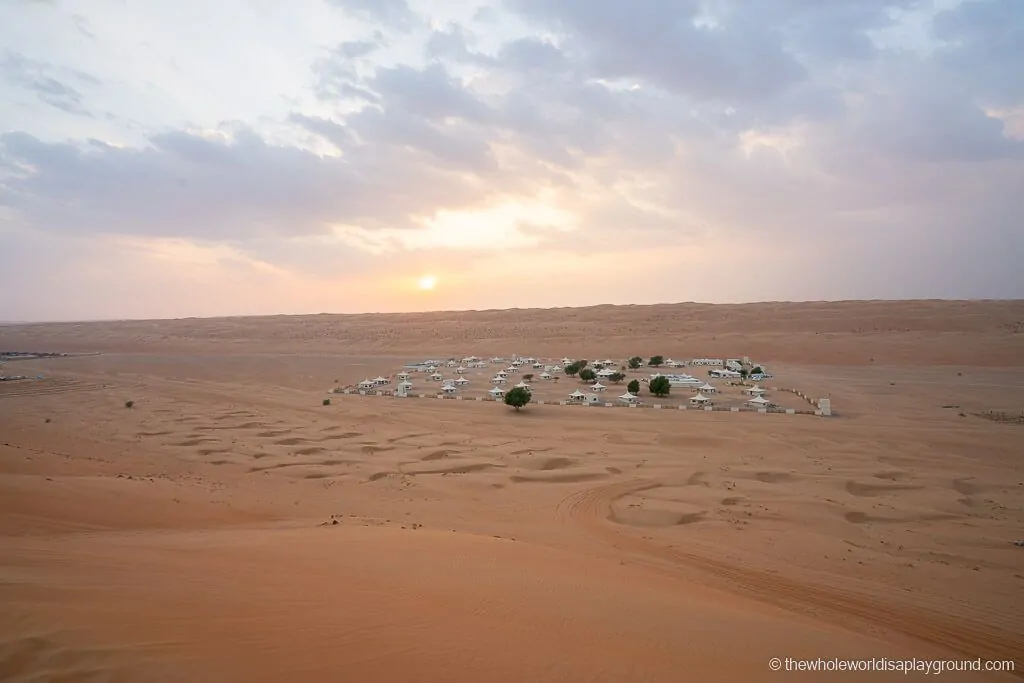 Desert Nights Camp – with 39 luxurious Bedouin-style tents and a fantastic on-site restaurant this was our pick for staying in Wahiba Sands.. Rates include a delicioius breakfast and an evening meal and the tents were beautiful  – check prices now!
Starwatching Private Camp – for those who want a truly authentic Bedouin experience try the Starwatching Private Camp. The camp comprises of just two tents and is set 25km from the road in the Wahiba Sands dunes – check prices now!
Arabian Oryx Camp – Located close to Desert Nights Camp, the Arabian Oryx is another great Wahiba Sands option  – check prices now!
Click here to book your stay in Wahiba Sands
Day 7: Sur and Wadi Bani Khalid
The drive from Whaiba Sands to Sur is relatively straight foward but make sure to allow time in the morning to visit one of Oman's best-known Wadis, the Wadi Bani Khalid. 
Wani Bani Khalid
Wadi Bani Khalid is one of the best wadis for swimming in Oman and is a short detour off the road from Wahiba Sands to Sur. The wadi itself is a 10-minute walk from the car park and is a great place to sit back, relax and enjoy a swim in the cool waters on a hot Omani day.
Oman itinerary tip: Wadi Bani Khalid is popular with locals and tourists alike and, as such, conservative swimwear is required – women should bring a top and shorts to cover swimsuits and bikinis.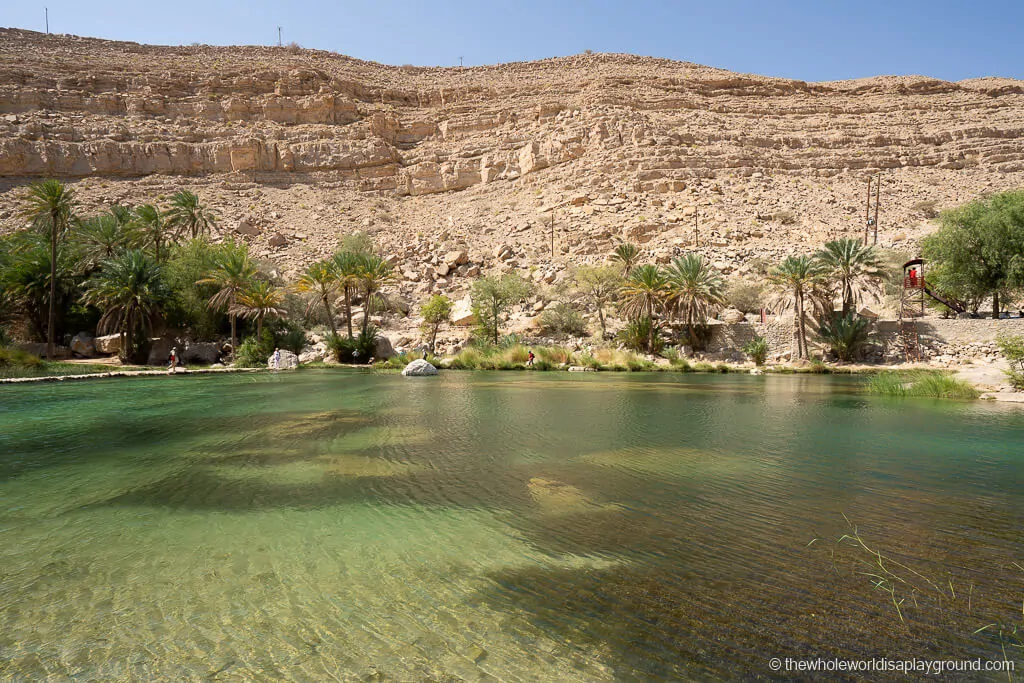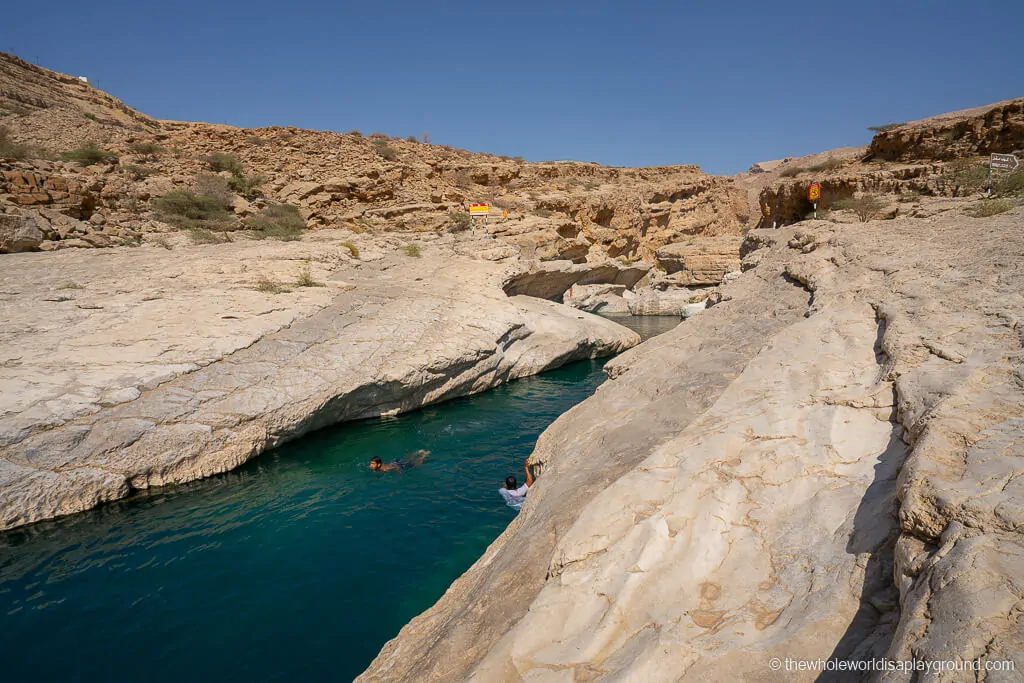 Sur
The coastal town of Sur is perfect for a stopover between the desert and the turtle reserve of Ras al Jinz. The town is still famous for its traditional dhow shipbuilding and the forts, corniche and Al Ayga Lighthouse are nice to see.
Where to Stay in Sur
Click here for the best Sur hotel prices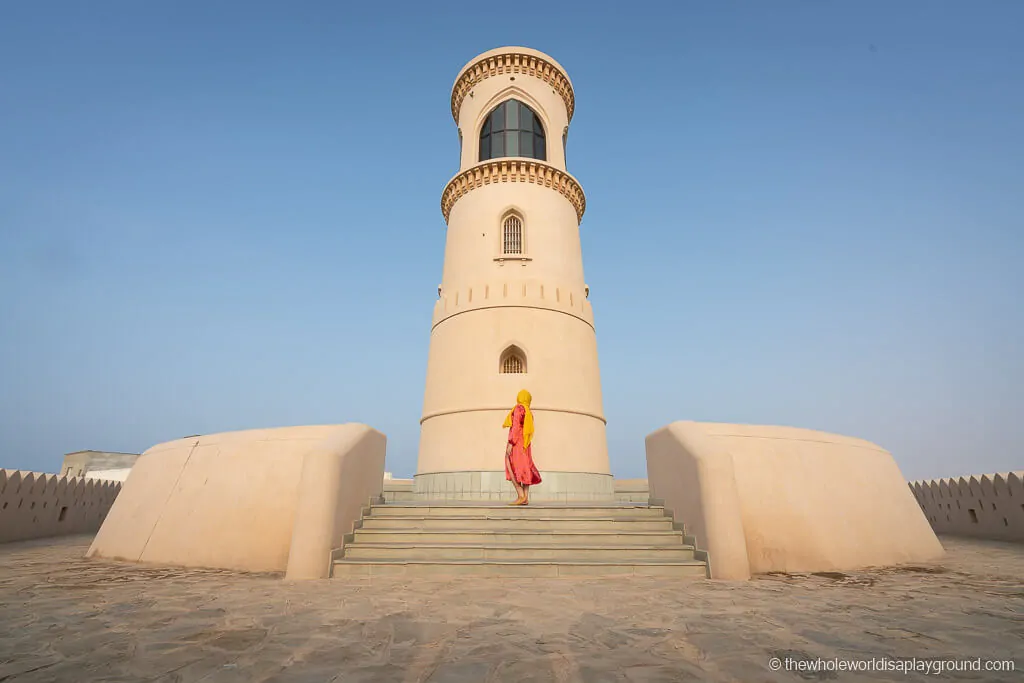 Day 8: Ras Al Jinz Turtle Reserve
Oman offers a once in a lifetime opportunity to witness the nesting of the endangered green turtle and Ras Al Jinz is world renowned. The reserve protects against human threats to the marine turtle population and has onsite accommodation with turtle viewing include in the rate.
Oman itinerary tip: The best time see the turtle hatching is during the summer months, between May and September. Non-guests are also able to reserve tickets for the turtle hatching if you prefer to stay elsewhere.
Where to stay in Ras al Jinz
There are 31 rooms onsite at Ras al Jinz and rooms comprise a mix of standard rooms and luxury eco-tents, both with private bathrooms – check prices now!
Day 9: Return to Muscat via Qalhat and the Bimmah Sinkhole
Having explored some of the best sights Oman has to offer, it's time to return to Muscat. Don't worry, with the UNESCO World Heritage site of Qalhat and Bimmah Sinkhole along the way, there are still some gems to explore en route!
Qalhat
A 2018 addition to the UNESCO World Heritage list, the Qalhat settlement is one of the oldest sites in Oman. When we visited in November 2018, the site was relatively undeveloped but the Mausoleum of Bibi Maryam is the stand out of Qalhat.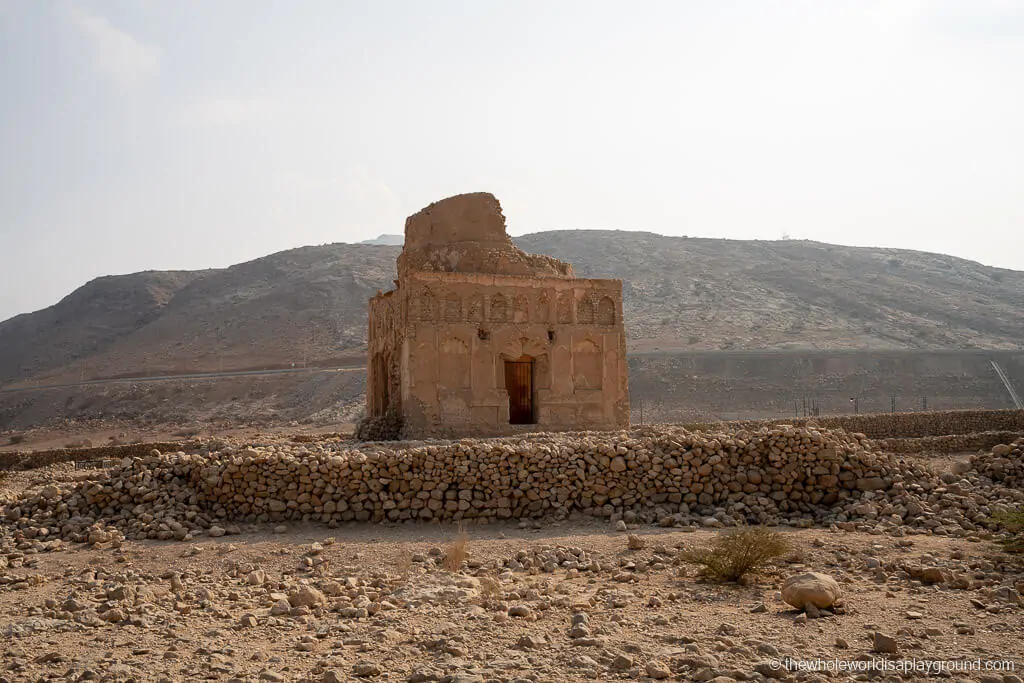 Bimmah Sinkhole
The 30-metre deep Bimmah Sinkhole, located between Dibab and Bimmah, is a stunning natural wonder and its emerald waters are impossible to resist. Our favourite explanation for this giant turquoise swimming pool is from the locals, who say it was created by a meteorite but water erosion is the more likely cause!
Oman itinerary tip: the sinkhole is accessible via a concrete staircase and we cooled down with a swim. There are nibbling fish in the water so expect a pedicure as you float!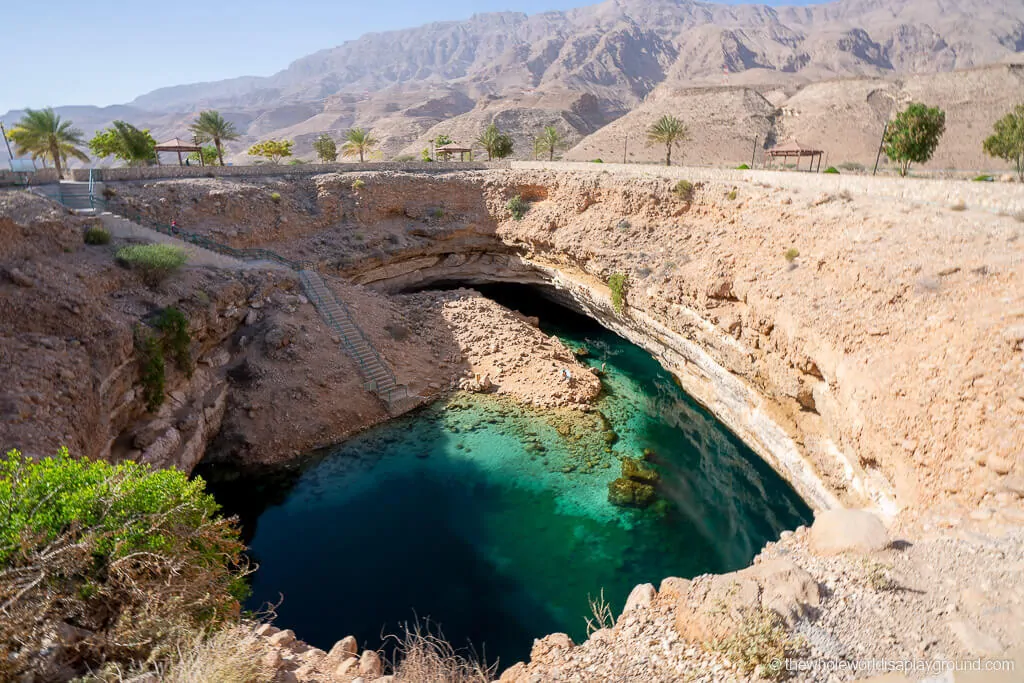 Day 10: Depart Muscat/ fly to Salalah
Day 10 is a day of leisure until it's time for your flight from Muscat. If you have extra time, we recommend extending your Oman itinerary to include Salalah and taking a flight to there from Muscat.