Dubai is one of the most unique cities in the world and a rental car makes it so easy to explore. Renting a car in Dubai gives you the freedom to both explore Dubai and travel to other parts of the UAE. You will also save a ton on taxis!
Here are our tips for renting a car in Dubai to help you make the most of your time in this incredible city.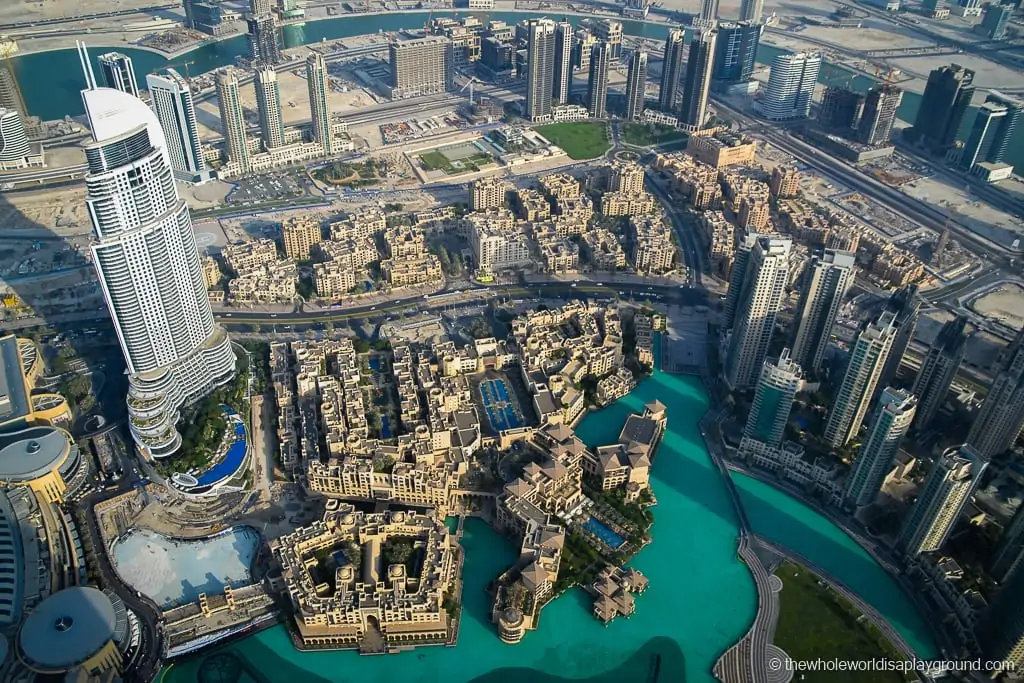 15 Tips for Renting a Car in Dubai
We've visited Dubai many times and have always rented a car, even if it's just a stopover for a few days.
Why Rent a Car in Dubai?
Dubai is very much a driving city and having your own car will allow you to make the most of your time in Dubai and can save you a lot of money on taxis and transport. There are lots of rental car companies in Dubai so prices are very reasonable by international standards and the quality of the cars is very good.
We've rented multiple cars in Dubai and found them really useful for visiting everything in the city. From afternoon tea at the Burj Al Arab, to shopping at the Dubai mall and visiting the Burj Khalifa, a rental car will help you make the most of your time in Dubai.
Renting a car in Dubai also means you can easily visit other places in the UAE such as Abu Dhabi and its Grand Mosque or the stunning UNESCO World Heritage Site Al Ain Oasis.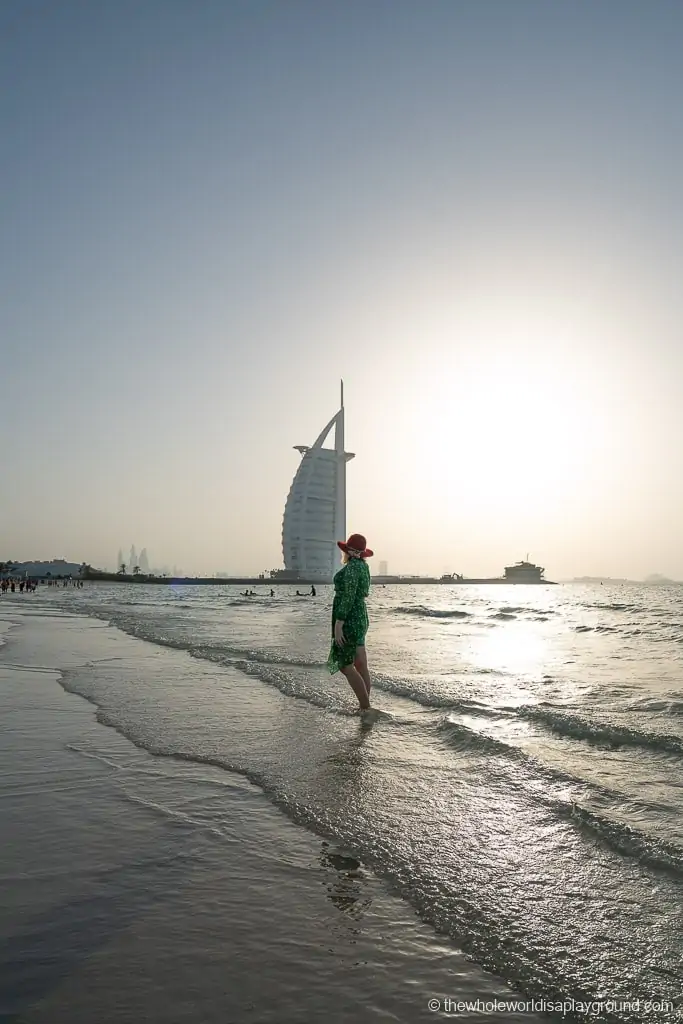 1 | Booking your rental car
Renting a car in Dubai is usually very affordable. This is especially true if you book your car well in advance to secure the best prices. Due to its size and infrastructure, the car is king in Dubai and you'll need to use a car for getting around the city – if you intend to explore the city, you will likely save a lot on taxis, private cars and tours to get around and these can add up quickly.
We're huge fans of road trips and have driven rental cars in almost 50 countries so we have a lot of experience renting cars in foreign countries. We recommend using RentalCars.com to reserve your car. We've found them to have a great selection of providers and offer very competitive rates – check prices here!
Renting a car in Dubai tip: The biggest benefit of having a rental car in Dubai is the freedom it gives – you can go where you want, when you want. . It also saves on the cost of airport transfers and taxis and opens up lots of accommodation options.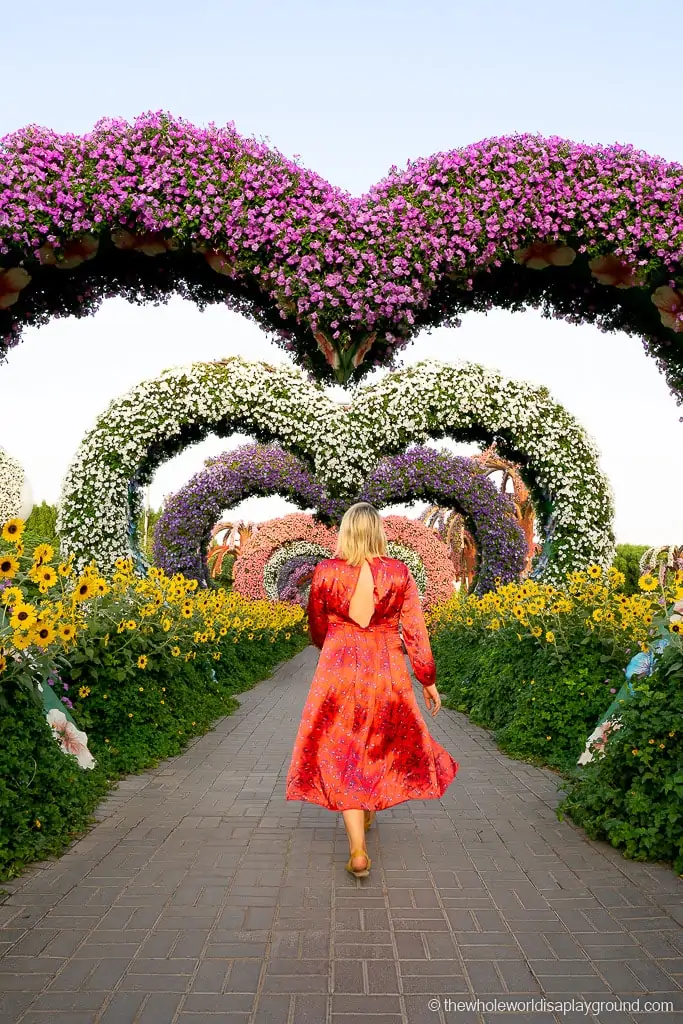 2 | What type of car should you choose
Dubai has excellent roads so you will be fine with any of the rental car offerings.
The size of your car largely depends on your party size and how much luggage you are travelling with. If you are only planning some light city driving around Dubai, a smaller economy car will work, however with the Dubai traffic you may have to spend longer in your car than you'd planned!
We've rented various cars in Dubai, from standard saloons to large 4×4 jeeps and found the larger cars much more comfortable. By international standards, Dubai has relatively cheap car rental and the larger, premium cars we rented were a lot more comfortable and had better air conditioning than the budget models. As they are only slightly more expensive we tend to always rent a larger vehicle as it's just so much more comfortable in the Dubai climate.
Renting a car in Dubai: Make sure you get a car with good air conditioning. During the summer months temperatures in Dubai usually average 41°C/100°F and even during the winter season temperatures are in the high 20's °C. Your comfort in a rental car will be increased dramatically if you have good AC!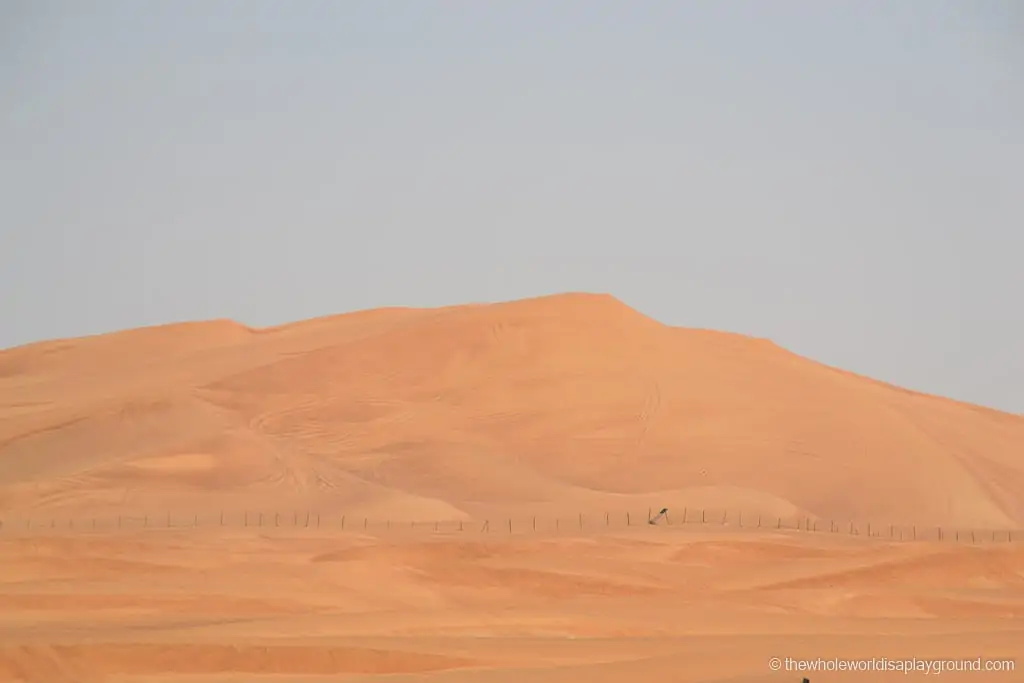 3 | Insurance, Excesses and CDW
Car rentals in Dubai will generally only cover third-party damage by default so you will need to consider adding an additional cover to reduce your liability in case of damage to your car. This usually takes the form of a daily cost for a CDW (collision damage waiver) to remove any excess that you will be liable for in case of an accident or accidental damage.
For peace of mind, we always make sure to have full insurance and factor this into the total price of the rental – if you have a credit card with travel benefits you may also find that optional car rental insurances are covered under these benefits. We recommend full coverage to anyone planning to rent as it removes the worry associated with extra charges, plus it's generally a lot quicker when you return your car!
You can add the full insurance to your car rental when you reserve your car on RentalCars.com. This is really useful as it avoids any price shock when you arrive to pick up your rental car.
Renting a Car in Dubai tip: Your credit card provider may cover the CDW so it's worth checking with your card before you travel. You'll need to make sure your card provider covers rentals in Dubai.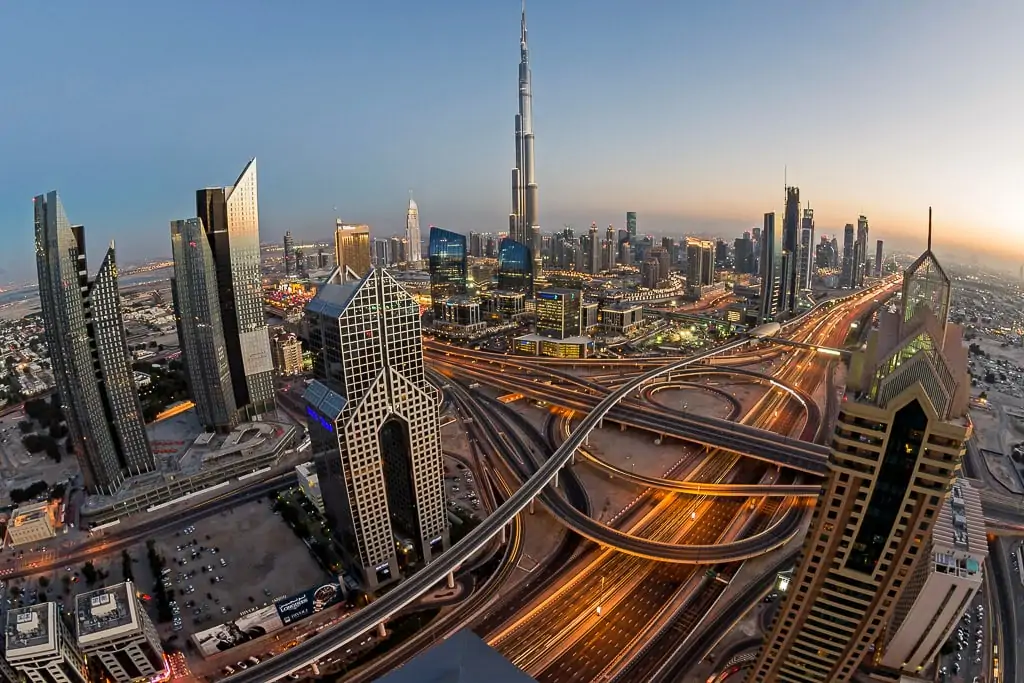 4 | Drive on the right-hand side of the road
Driving is on the right-hand side of the road in Dubai, similar to most of Europe and the USA.
5 | Renting Eligibility: Can foreigners rent cars in Dubai
Yes, international visitors can rent cars in Dubai. While anyone over 18 can drive a car in Dubai, international visitors must be at least aged 21 to rent a car in the UAE.
6 | Navigation
While the roads in Dubai are of good quality and directions are well signposted in Arabic and English, it can still be a little confusing getting where you want to go! We highly recommend using a navigation app when driving in Dubai.
Due to the road layouts and multiple lanes, it can be difficult to find the entrances to malls and sights. This can make following the roadsigns difficult as you might see the place you're going but the road will go in a different direction. However, it's relatively easy with a navigation app like Google Maps.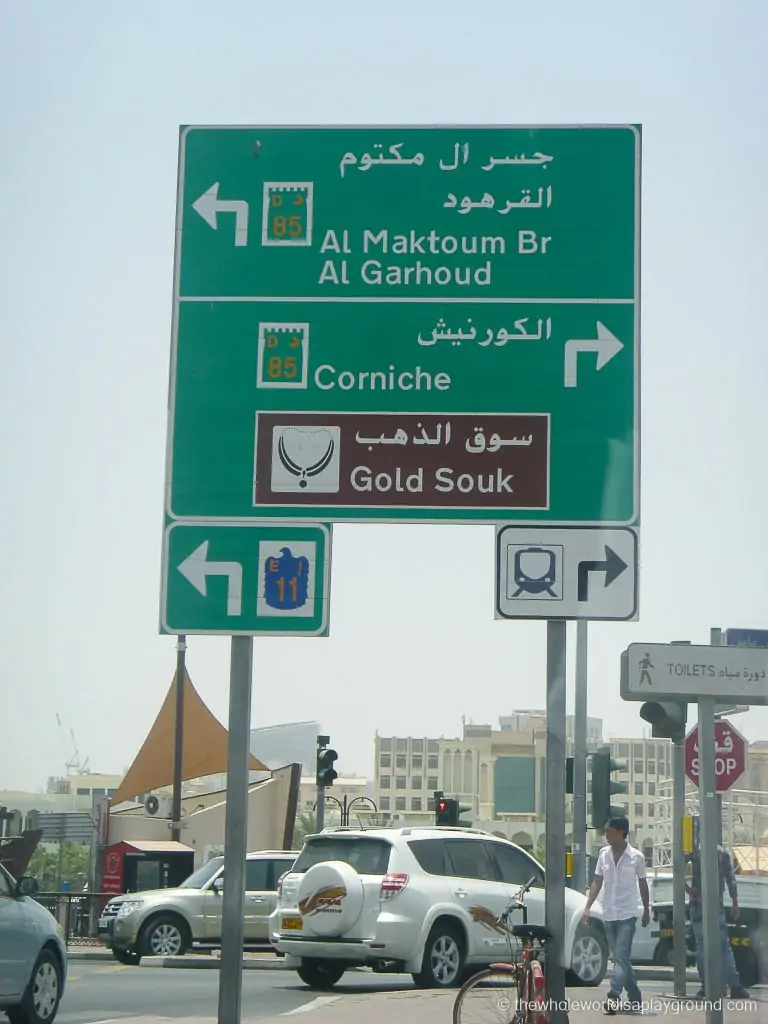 7 | Is Driving in Dubai easy and safe?
We've driven in Dubai a number of times and each time had a positive experience. We found driving to be very safe and, once you take your time at junctions and obey the rules, visitors should not have any issues.
Like every country in the world, however, Dubai drivers have their own driving style and habits that can surprise you at first but you will adjust quickly.
Similar to other middle-eastern countries, if you see a car approaching from behind and flash you it means you need to move lanes and let them past.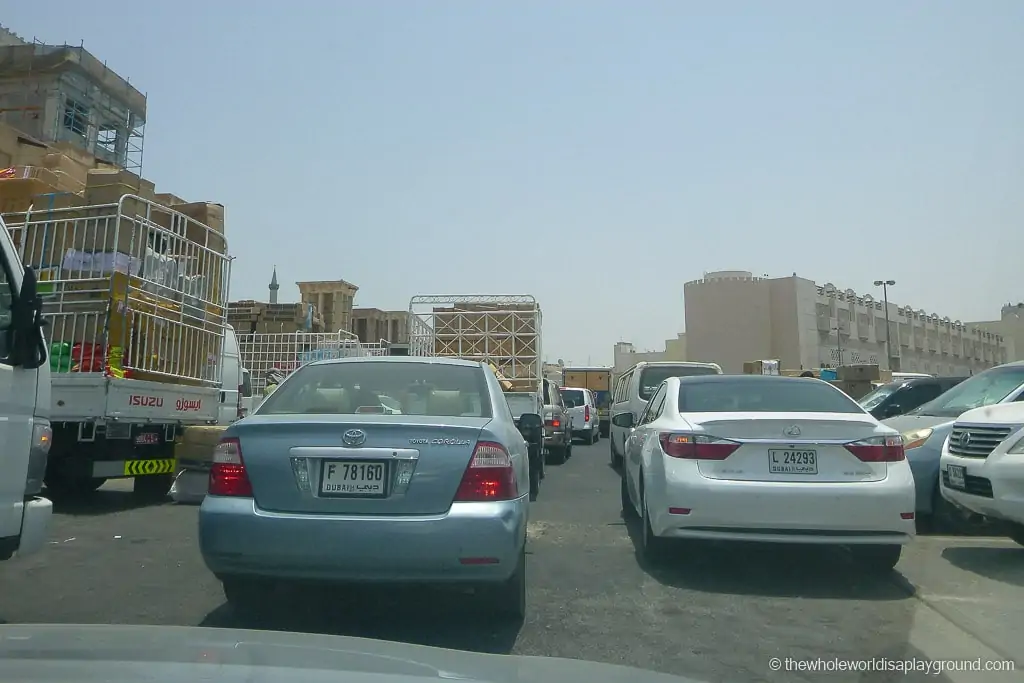 Another aspect of driving in Dubai is how heavy the traffic can get at peak times, especially along the motorway through Dubai city, the Sheikh Zayed Road. At peak times this area can get very congested so it's not very enjoyable to drive. Once you avoid the area at peak times driving is very straightforward.
Renting a car in Dubai tip: Regardless of what you experience or see while driving we recommend keeping your cool and bite your tongue. Avoid getting into any verbal arguments or making any obscene hand gestures as either can (and do) get visitors into trouble with the autorities.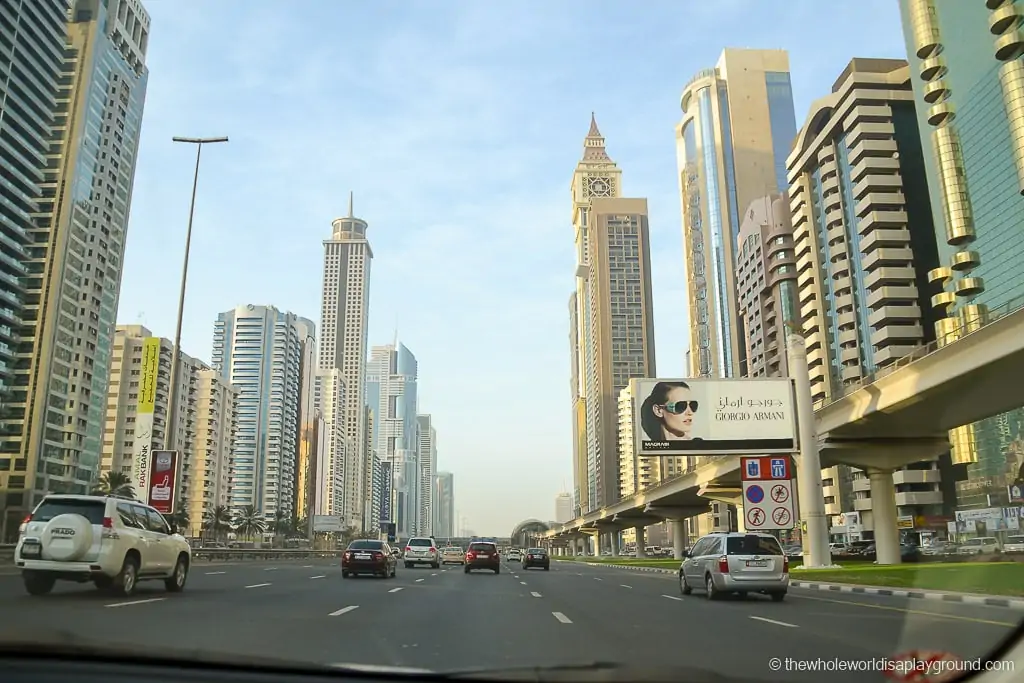 8 | Speed limits and cameras
Speed limits on the Dubai and UAE motorways range from 100-120 km/h although they are marked as slower in some areas. Urban road speed limits vary from 40-60 km/h. Speeds are enforced across the UAE by the police.
Renting a car in Dubai tip: Dubai police famously have a collection of police super cars (ranging from Ferraris to Audi R8's) which you may spot on the roads around Dubai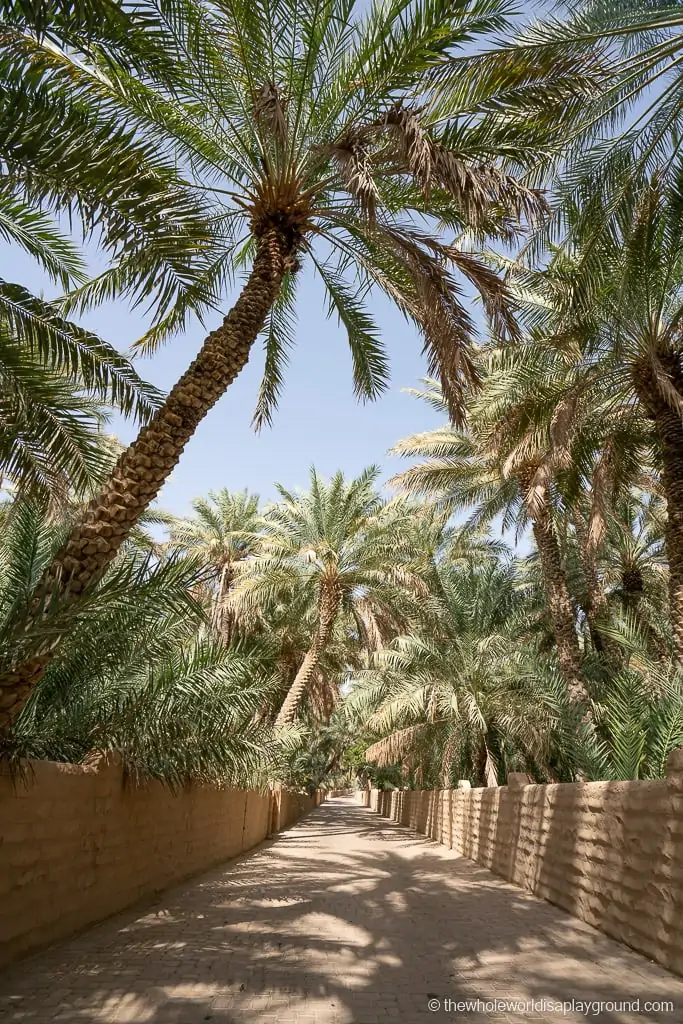 9 | Parking
Parking costs is a common question we get about renting a car in Dubai. Most hotels provide free parking and operate valet parking. We usually tipped the valets when collecting our cars.
Self-parking at the Dubai mall is free and there is a paid valet service too. We always used the free parking and found it very easy to use. Overnight parking is not allowed and there are fines for trying this. The other popular shopping mall, Mall of the Emirates is free for the first 4 hours, and around AED20 per hour after that.
For on-street parking, the Roads and Transportation Authority (RTA) in Dubai operates a pay as you go system. There are different parking prices depending on your location and while there are parking meters for tickets, the RTA parking app is much easier to use. Check out the official site for more information.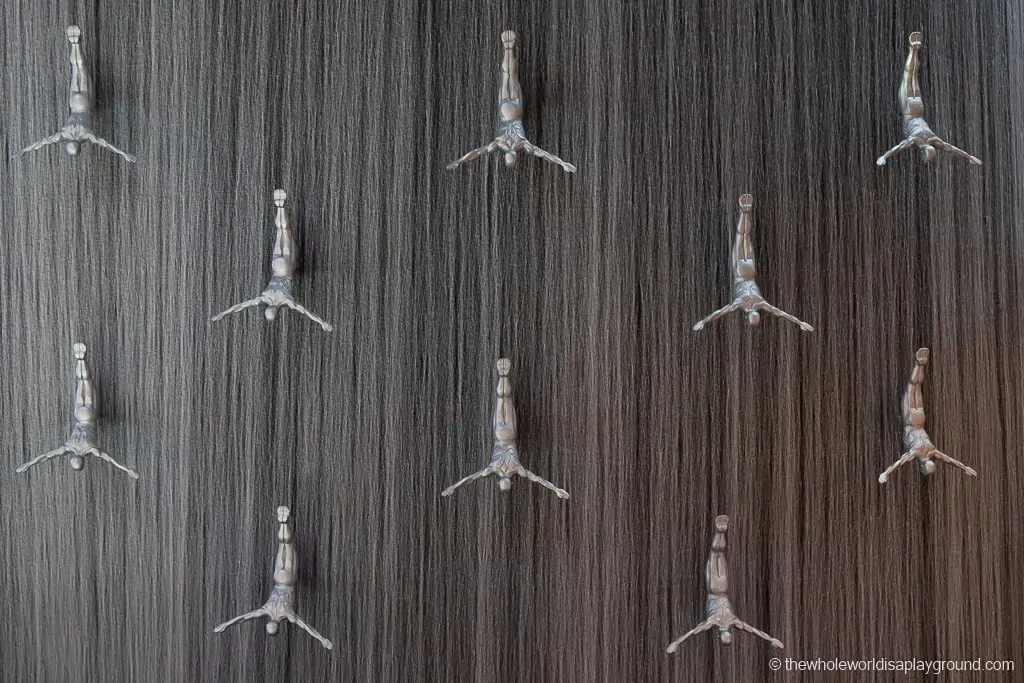 10 | Driving within the UAE
Most rentals allow driving within the entire UAE and it's an easy drive between the Emirates. We've loved previous day trips to Abu Dhabi to visit sights including the Grand Mosque, the Louvre and the theme parks on Yas Island as well as the UNESCO World Heritage Site, the Al Ain Oasis.
11 | Fuel Prices in Dubai
One of the best things about renting a car in Dubai is how cheap the fuel is. As of late 2021, petrol (Gas) is around AED 2.70 ($0.70 US) per litre, while diesel is slightly more expensive at AED 2.80 ($0.79 US) per litre. Most rental cars in Dubai are petrol-based so it's most likely you will be giving a petrol rental.
There are lots of fuel stations in Dubai, however make sure to fuel up if you are heading out of the city as fuel stations can be harder to find.
Renting a car in Dubai tip: There are attendants at all fuel stations who put fuel in the cars so you don't need to get out of your car. You can pay in cash but cards were accepted everywhere we've fueled up.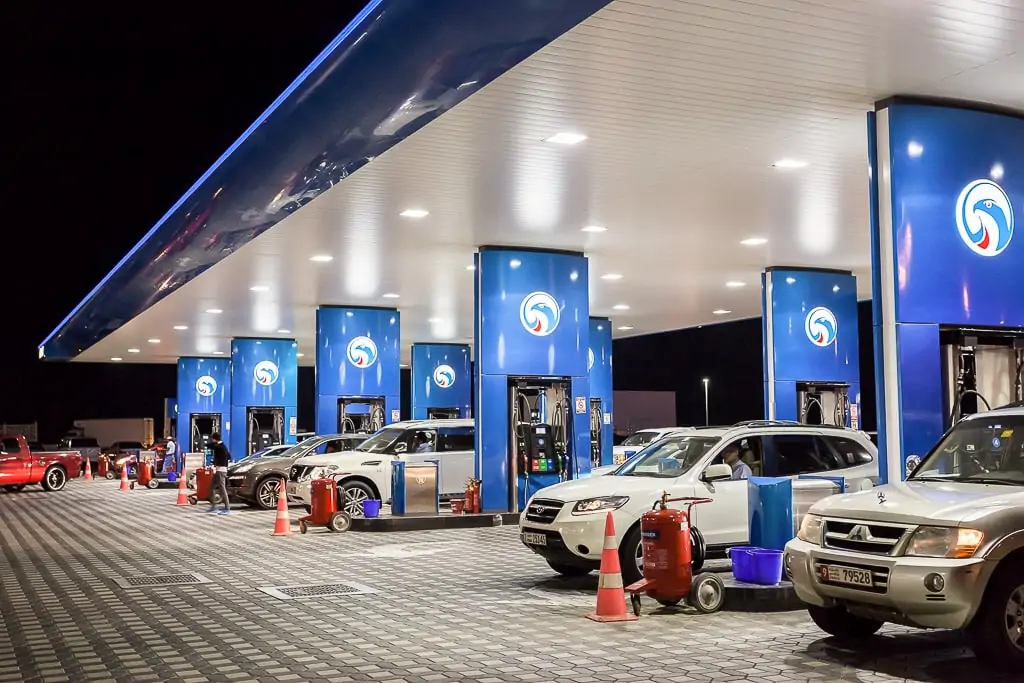 12 | Tolls
The toll system in Dubai is an electronic system called 'Salik' which applies to a number of the roads in and around Dubai. The system is automatic (i.e. there are no toll booths) and your rental car will have an RFID tag attached to its windshield. Each time you pass through the toll the system will register your rental car licence plate.
When you return your car the rental car company will provide you with a summary of all your tolls that is added to your rental cost. Each toll costs 4 AED (around $1 US) and, importantly, there is no cap on daily use. This can add up if you do lots of short journeys through the toll plazas so it's worth knowing where they are. You can check where all the toll locations are on the official site here.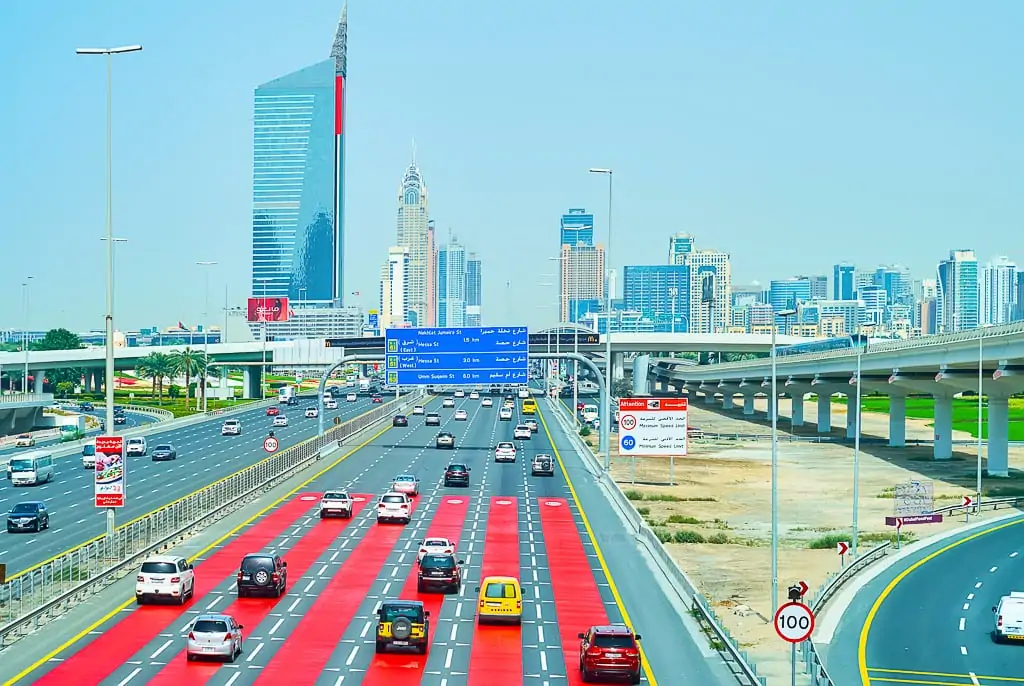 13 | Road Quality
The road quality in Dubai is excellent. The UAE has a very high-quality motorway system so and we found the secondary roads to be good quality too.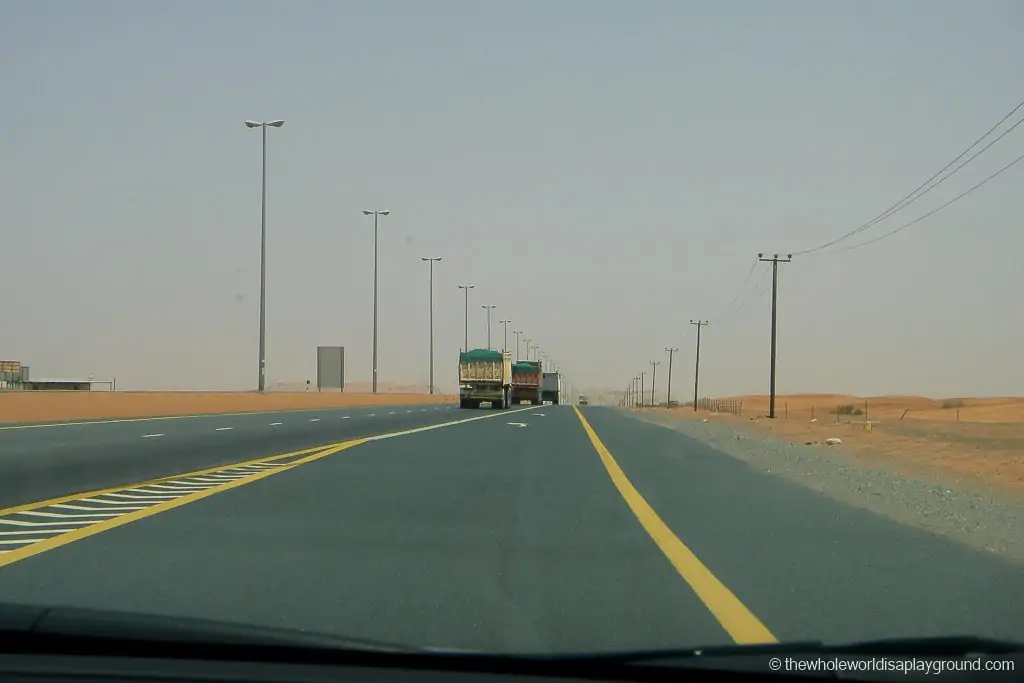 14 | Driving licences and International Drivers Permit (IDP)
Citizens with driving licences from certain countries can use their foreign licences when renting a car in Dubai. These visitors do not require an IDP to rent a car. The countries included on this list (at the time of writing) are as follows
Australia, Austria, Bahrain, Belgium, Bulgaria, Cyprus, Denmark, Finland, France, Germany, Greece, Holland, Hong Kong, Hungary, Iceland, Ireland, Italy, Japan, Kingdom of Saudi Arabia, Kuwait, Latvia, Lithuania, Luxemburg, Netherlands, New Zealand, Norway, Oman, People's Republic of China, Poland, Portugal, Qatar, Quebec State in Canada, Romania, Serbia, Singapore, Slovakia, South Africa, South Korea, Spain, Sweden, Switzerland, The Republic of Montenegro, Turkey, United Kingdom, United States of America.
Renting a car in Dubai tip: An International Drivers Permit (IDP) is an official document separate from your driving licence that is a translation of your actual driver's licence to a number of different languages. This allows authorities in the country you are visiting to understand your actual driving licence.
If your driver's licence is not from a country on the above list then you'll need to get an IDP in your home country before you travel to the UAE.
15 | Taking a rental car to Oman
It is possible to take a Dubai rental car to Oman and the drive time between Dubai and Muscat is 4.5 hours plus the time spent at the border crossing. Most of the rental companies, including Avis and Hertz, require an advance request and incur a mandatory Oman insurance fee (around 30 euro/35 USD per day). Rental vehicles are generally restricted to the Hatta border crossing but you should cross-check this with your rental company if you do plan to drive to Oman.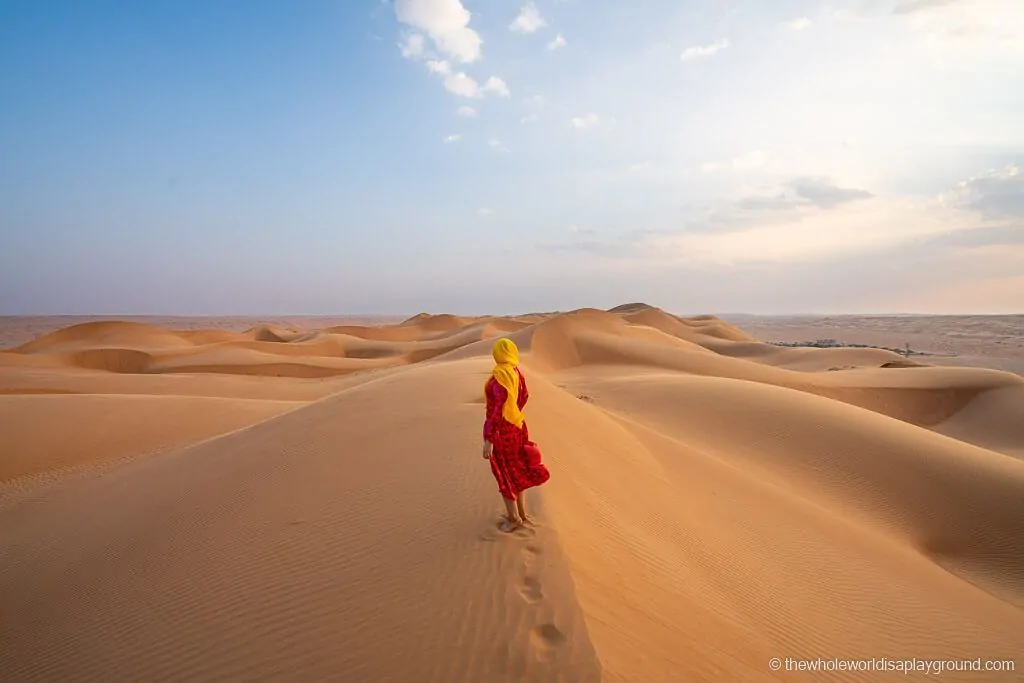 None of the rental companies permits cars to be taken outside of Oman/UAE as far as we are aware. Most explicitly state that the rental car cannot be driven to other GCC countries.
Renting a car in Dubai tip: We planned to hire a car in Dubai and drive into Oman for a road trip but found some inexpensive flights to Muscat so opted to fly instead. If you want to learn more about driving in Oman, check out our trips for renting a car in Oman.