Germany is one of the most beautiful countries in Europe and is world-renowned for its incredible road network. From exploring fairytale castles in the Rhineland to cruising the Bavarian countryside and exploring the many UNESCO World Heritage sites in Germany, we've had many memorable trips that were only possible with a rental car.
We've driven rental cars around most of Germany and found it a fun and easy country to explore by rental car. We've put together this guide for renting a car in Germany which includes all our tips for first-timers as well as advice for saving money on your trip.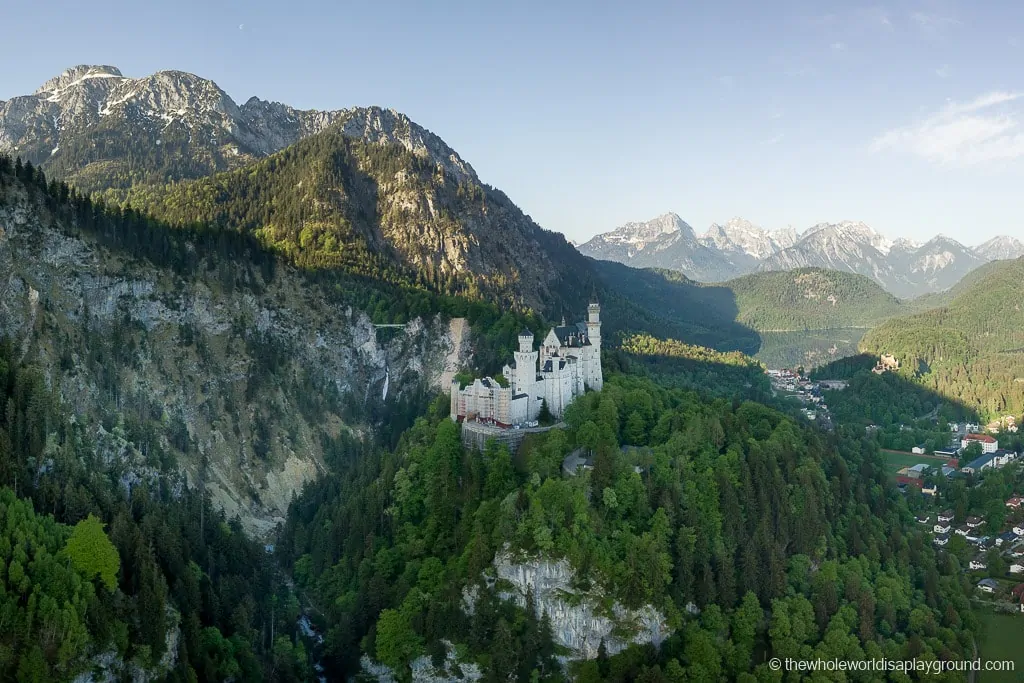 Tips for Renting a Car in Germany
We're rented cars in Germany a number of times over the years and each time we've had a positive and fun experience. Driving in Germany is very safe and easy and a rental car is the best way to explore the country.
Why Rent a Car in Germany?
Germany is an amazing country and packed with unique things to see and do. We believe the best way to experience Germany is by exploring it in a rental car. With a world-class road network and a vast array of historic and cultural cities and places to visit, Germany is one of the best places in the world to explore by rental car. We've had numerous road trips around Germany, including road trips from Berlin and Munich, and loved the flexibility that a rental car provides.
We have explored a lot of Germany by rental car, from its many incredible UNESCO Sites to beautiful castles like Neuschwanstein in the Bavarian Alps. Getting to these places is really only practical in a rental car, which is why we always recommend renting a car if you plan to explore Germany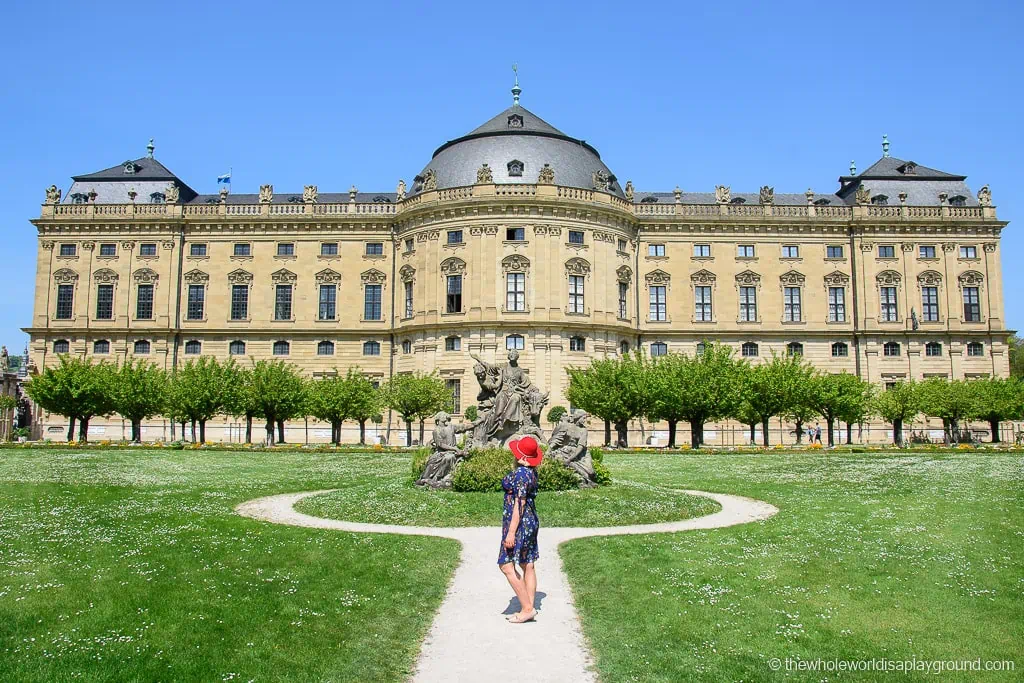 1 | Booking your rental car
Renting a car in Germany is competitively priced compared to the rest of Europe. Most pickup locations, especially the main airports, have numerous rental car agencies so there is compeition for good prices. Germany is a very popular European destination so demand for rental cars can be high. This is especially true in the summer months in Bavaria in southern Germany. We usually book our rental cars weeks or months in advance through Rentalcars.com and usually get a great price on the car we want.
We're huge fans of road trips and have driven rental cars in almost 50 countries so we have a lot of experience renting cars in foreign countries. We book all our rental cars on Rentalcars.com and find they have a wide selection of cars and rental car companies to choose from. Their prices are competitively priced and we've always secured the car we want at a good price – check prices now!
Book your German rental car now
2 | Choosing a Rental Car
We have rented various cars in Germany for our trips and generally have opted for a larger car than we needed each time. A larger car will make the drives in Germany a lot more comfortable, especially on the Autobahns. We've rented various cars, from standard saloons to our most recent rental, a Peugeot 5008.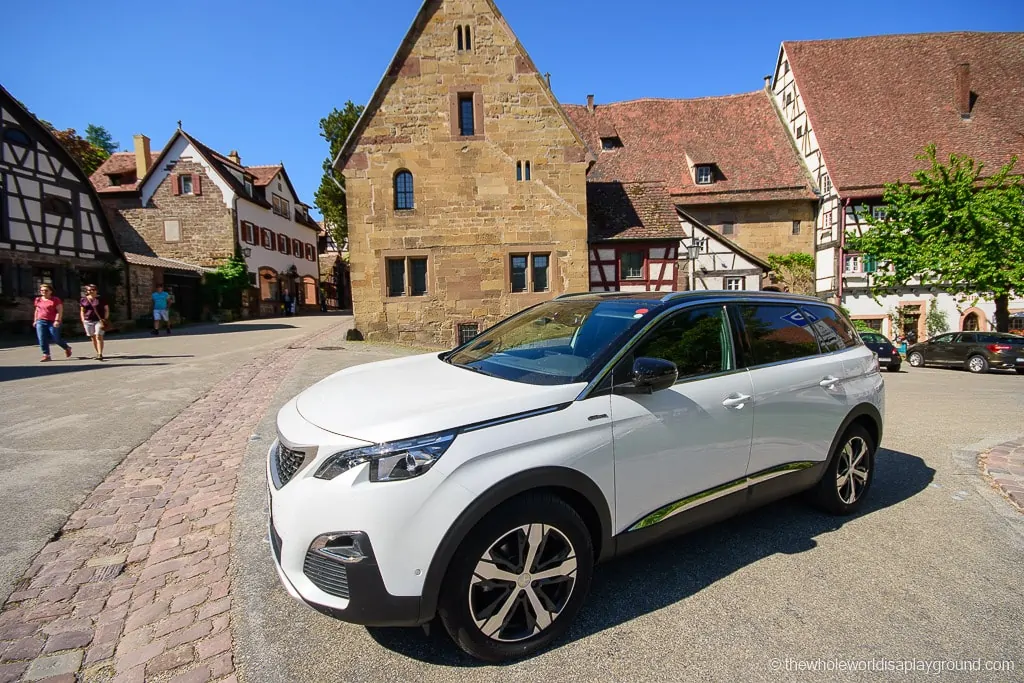 3 | Rental Car Insurance
In Germany, there is a mandatory minimum of unlimited third-party liability insurance required when you rent a car. This will be included in the base price of your rental agreement, however we highly recommend purchasing fully comprehensive cover with your rental car.
The basic cover usually includes third-party liability and a basic Collision Damage Waiver (CDW) that covers damage to the car in event of an accident or accidental damage. This basic CDW usually has an excess payable by you in the event of damage to the rental car. This excess varies by rental car agency, however they usually range from a few hundred Euros up to thousands.
You can reduce or remove this excess by paying an additional daily rate for full CDW cover. We always purchase this additional insurance and recommend it for two reasons:
it gives us peace of mind that any damage to the car is covered (i.e. less stress on your trip)
returning and picking up the rental car is a lot easier and quicker as the rental car agencies usually don't check the car for damage at pick up or return.
We were unlucky enough to have our car damaged in Berlin in a parking lot while we were away shopping. Luckily we had full insurance cover so there were no issues when returning the rental car and nothing to worry about during our trip.
While you can purchase the additional insurance when you pick up the car, we find it much easier to purchase it in advance when you book the car. You'll know exactly how much the rental costs in advance, so there shouldn't be any price shocks when you pick up your car
Most rental car companies on RentalCars.com allow you to add this full or super insurance in at the time of booking so you won't get any price shocks when you pick up your car – check prices now!
Book your German rental car now
Renting a Car in Germany tip: Some credit card companies (especially US issued cards) offer car rental insurance with full CDW (Collision Damage Waiver) cover – make sure to check with your credit card provider before you travel to Germany and make sure to tell your rental car agency of the cover when you pick up the car. This will avoid paying for insurance cover that you already have.
4 | Drive on the right
Similar to the US and most parts of Europe, cars drive on the right-hand side of the road in Germany and overtake on the left.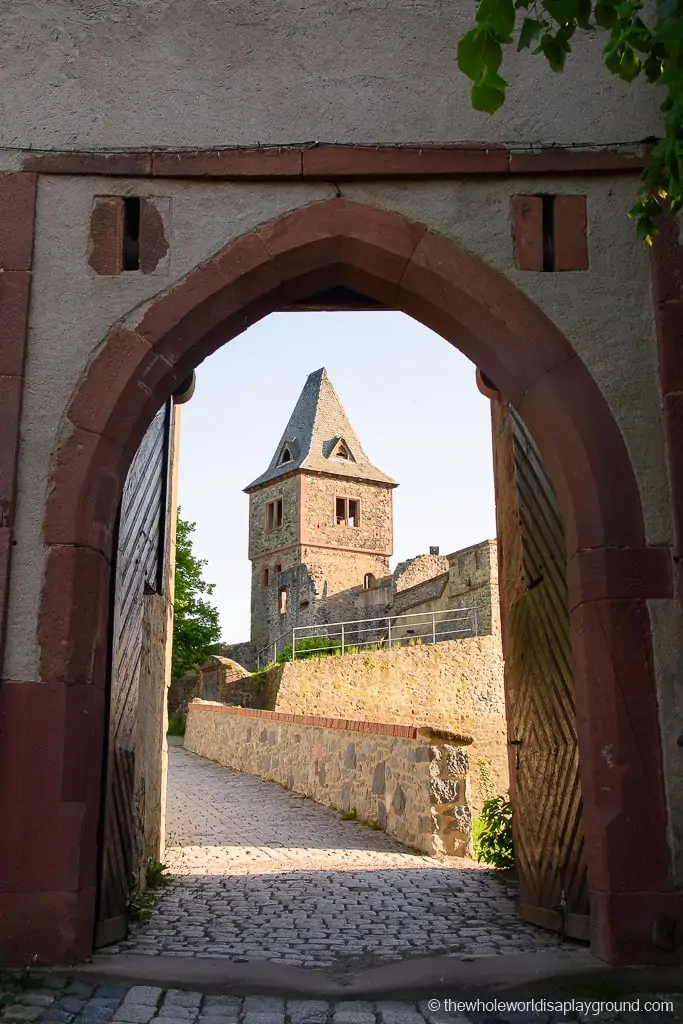 5 | Speed Limits
Germany is very strict on speed limits and speed fines are heavily enforced for anyone who is caught exceeding them. We have always found speed limits to be well signposted in Germany so it's generally clear what the limit is on the road you are driving. That being said German authorities have a very low tolerance for speeding, even breaking the limit by 3 km/h or above can be enough to secure a fine so you need to pay attention to the speed limits.
Renting a Car in Germany: We tried to use cruise control whenever possible when driving in Germany. It makes staying under the speed limit a lot easier!
The three general speed limits in Germany are 50km/h (31 mph) in urban area, 100 km/h (62 mph) outside of urban areas, and 130 km/h (80 mph) on motorways.
Autobahns in Germany
Germany is famous for its road quality and its high-speed motorways, called Autobahns. While some visitors may be apprehensive about driving on the high-speed German Autobahns, we have found driving on these roads very safe and easy. The autobahn network is a very high-quality road network and we've driven a number of them while traveling around Germany.
While Autobahns have a reputation as motorways with no speed limits, this is not completely true. Around 30% of the Autobahn network actually has permanent or temporary speed limits. These sections will have signage to reflect the speed limit (usually 130 km/h) however road conditions (rain, snow etc) may reduce the speed limits which will be indicated on electronic overhead signage.
The unrestricted sections of the Autobahn are usually located in rural sections of the countryside.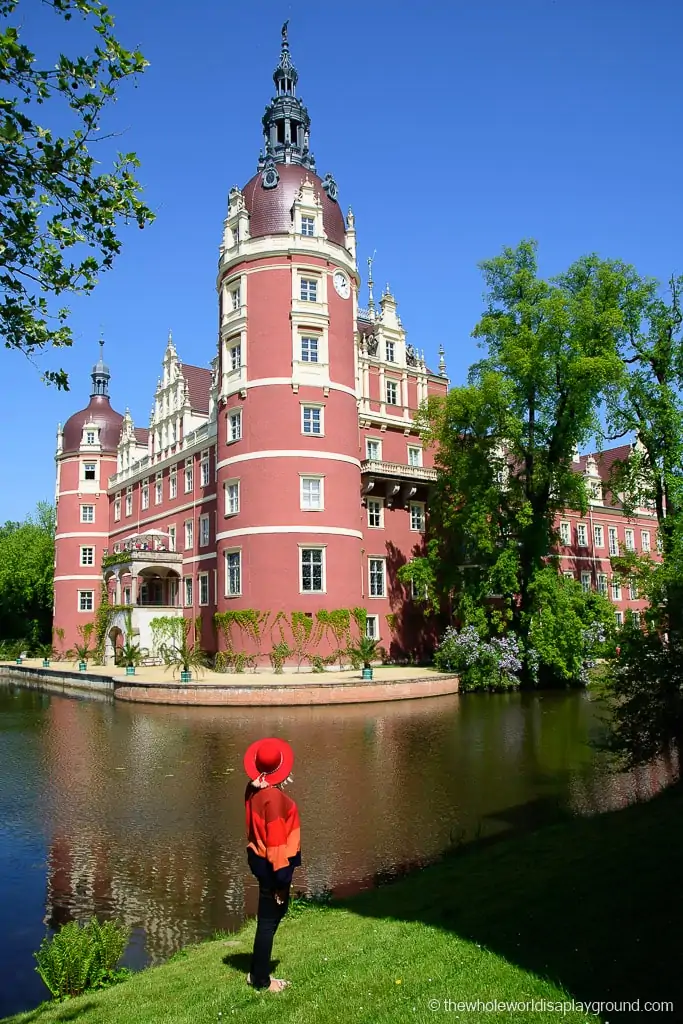 6 | Tips for Driving on the Germany AutoBahns
Stick to the advised speed limit – although parts of the Autobahn network has unrestricted speeds, we recommend staying under the advised 130km/h limit. You will likely encounter some cars travelling well in excess of this on some sections of the road, however for safety, we always stayed in the right lanes at lower speeds and avoided the faster lanes.
Stay in the right lane where possible – unless you are overtaking a slower-moving vehicle, we recommend staying in the right lane where possible. Some cars may be driving significantly above the advised 130km/h on unrestricted parts of the Autobahn, so they can approach your car quickly when you are in the outside (left) lane.
Renting a car in Germany tip: The Autobahn usually has 2 or three lanes, but some sections can have 4 lanes in each direction. We recommend avoiding the outside (leftmost lanes) in sections with unrestricted speed limits as these will have the fastest moving traffic
Always overtake on the left – never undertake a car on the Autobahn, i.e. never overtake on the right.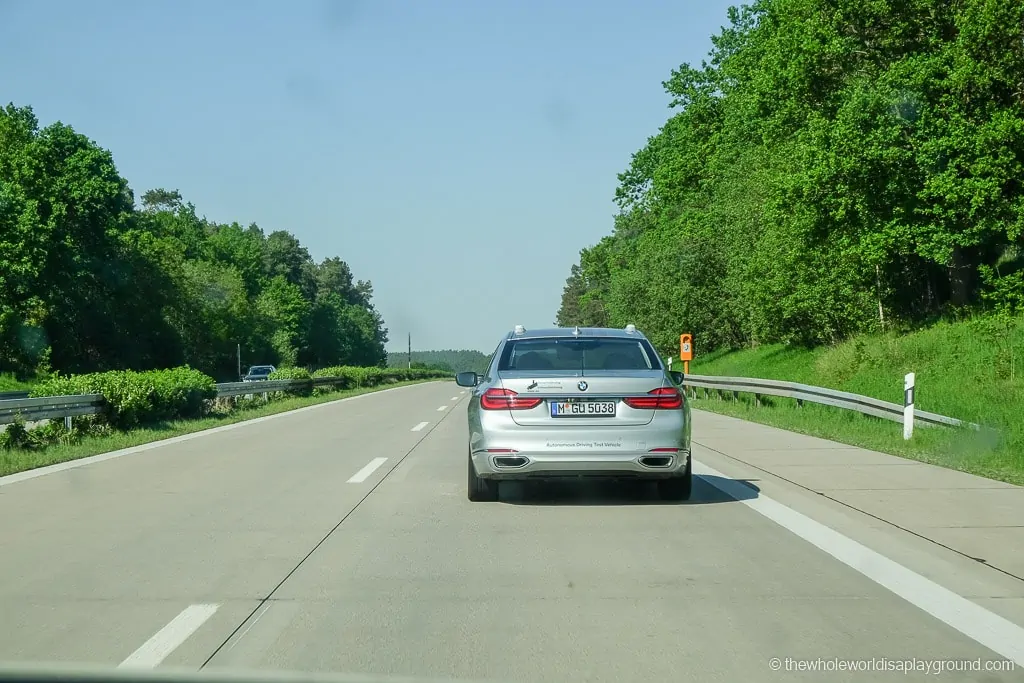 7 | Parking in Germany
We have always found parking to be very easy and affordable in Germany, even in cities like Berlin and Munich. Roadside parking is the most common form of parking and is always marked clearly with a P sign. Parking is only allowed in the direction of traffic, so you cannot park facing cars on the other side of the road.
We've visited lots of old towns and cities throughout Germany and rarely had any issues finding on-street parking. The parking areas are always well signposted with a blue sign with a white P.
Renting a car in Germany tip: In cities like Berlin and Munich we usually booked hotels that had parking included or available as it makes parking much easier in the cities
There may be other rules attached to the parking that will be clearly marked on the sign, e.g. sidewalk parking allowed, perpendicular parking on the sidewalk. We have usually found these additional requirements in the small old towns around Germany where the streets are old, and narrow and parking is limited.
Renting a Car in Germany: Parking in cycle lanes is strictly forbidden everywhere in Germany so make sure never to park in one.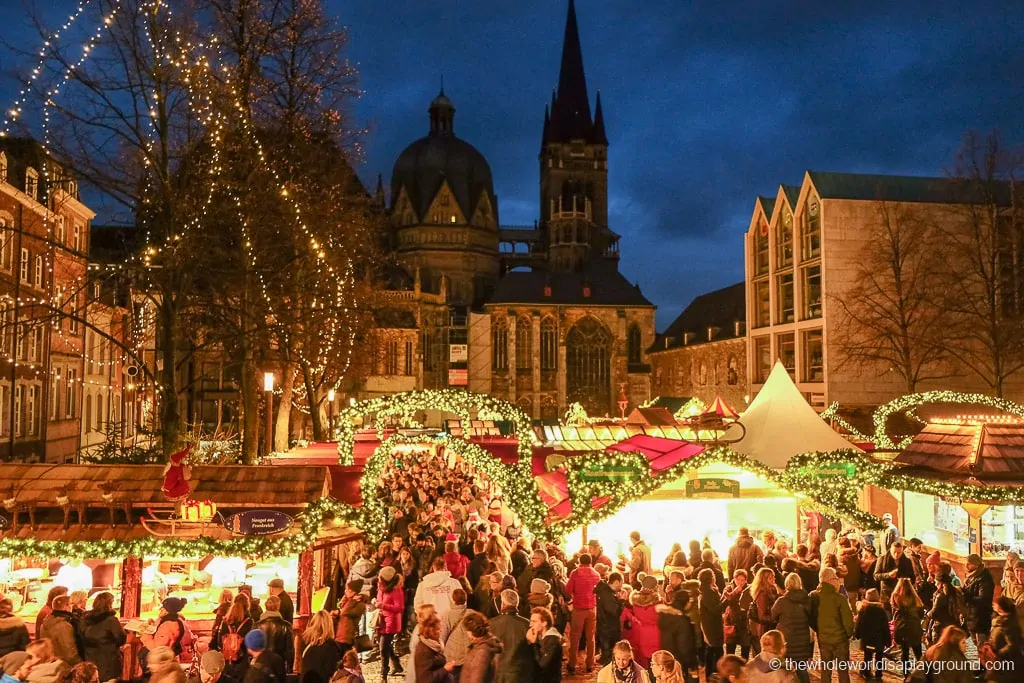 Parking Zones and Parking discs
Parking discs are widely used throughout Germany for the management of on-street parking. You will likely have one in your rental car and it's worth knowing how to use them.
When parking in a time parking area (there will be a smaller sign on the pole below the blue and white parking sign showing a parking disc), you set the parking disc arrival time (Ankunftszeit) to the current time and display it facing up on your dashboard.
The discs are split into 30-minute intervals, so set the time correctly or you may get a parking fine. We've used parking discs many times and they are super easy to use. The hardest thing is to remember to set them!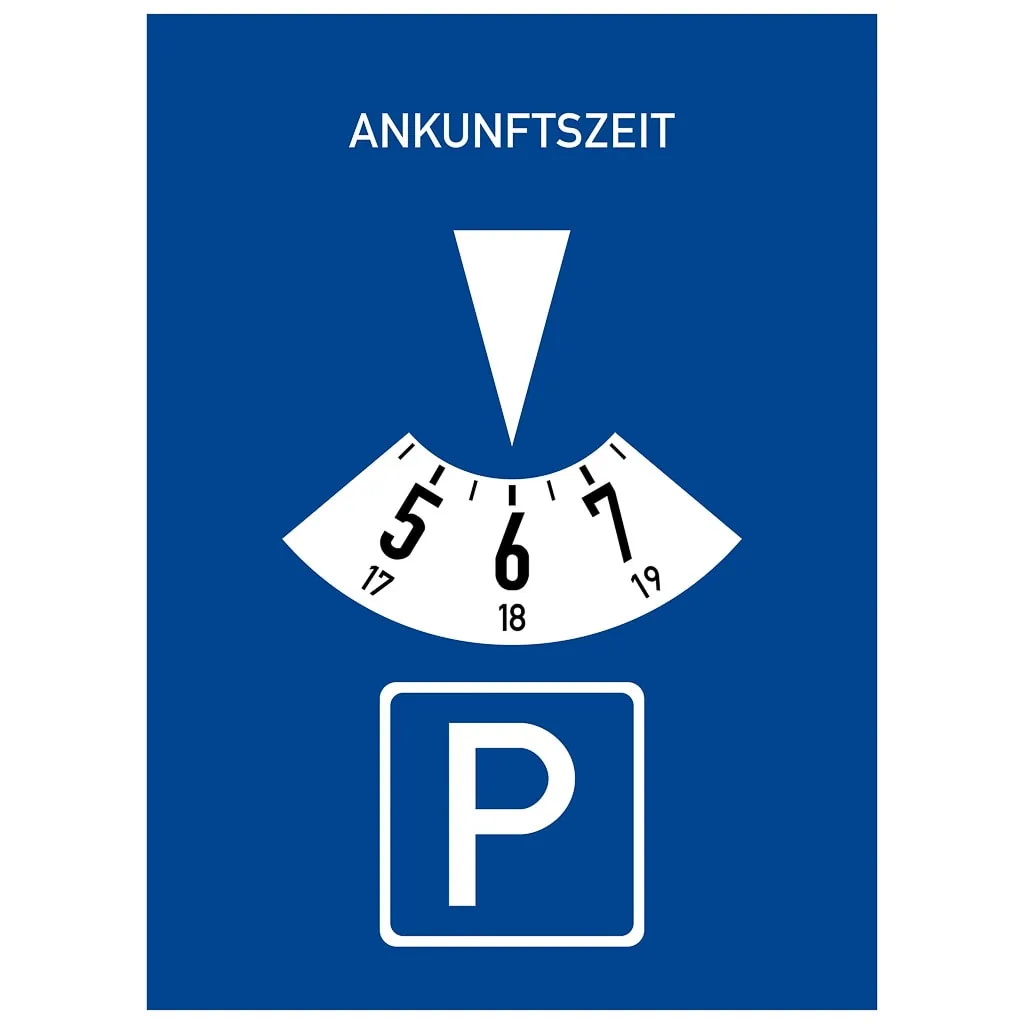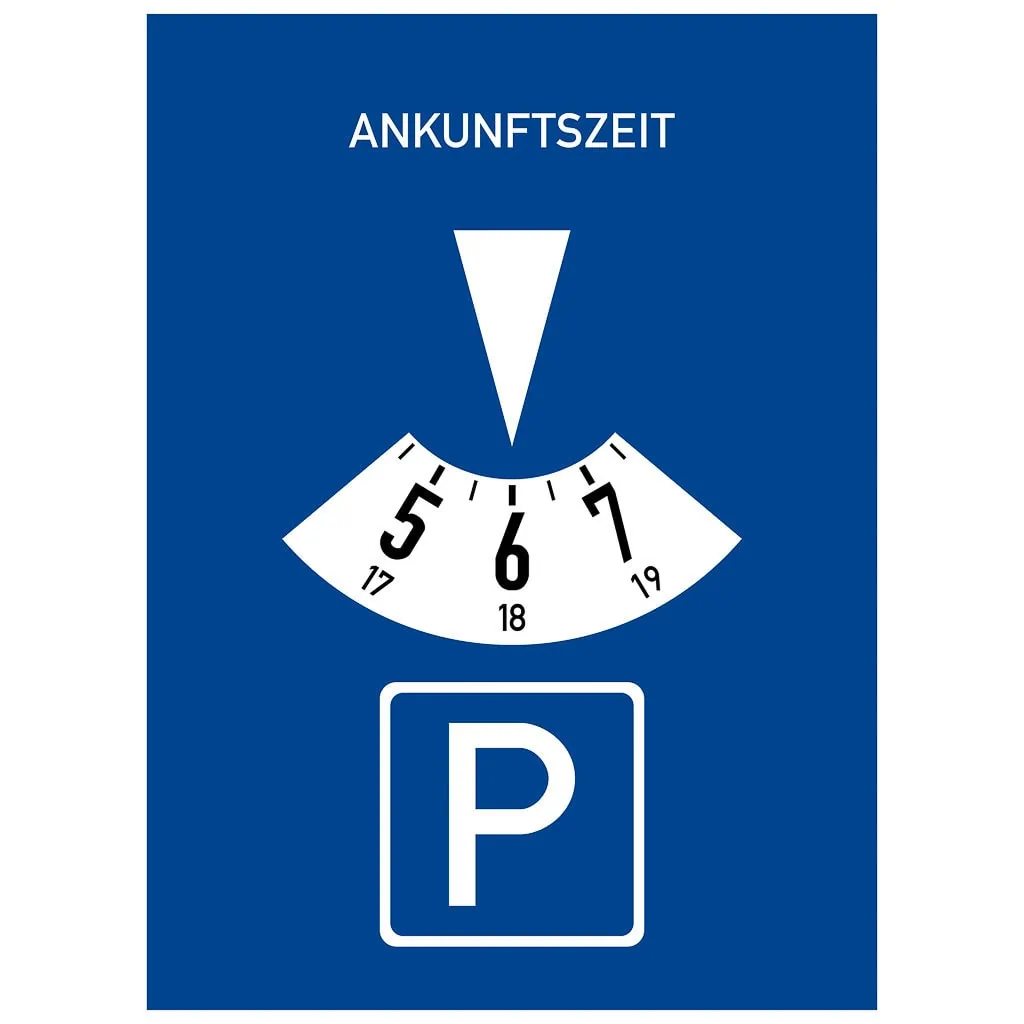 Other Parking Options
The other main options for parking are Parkplatz's (open parking lots) or Parkhaus's ( single or multistory parking lots). These are much better for longer or overnight stays and we've used them in various old towns and cities, including Berlin, Munich and Bamberg.
They operate like other countries, where you receive a ticket on entry and pay before leaving.
8 | Green Zones and Rental Cars
In 2016 Germany introduced an environmental sticker that cars need to display in order to drive into parts of most towns and cities. The Umweltplakette comes in three colors, green, yellow and red.
The color depends on the emissions level of the vehicle, however you should check that your rental car has one of these stickers if you wish to drive into any green zones in Germany. The vast majority of towns and cities in Germany now operate Green zones so it's important that your rental car has one.
Renting a car in Germany tip: All our rental cars have had one included when we picked up, but make sure to check at pickup. If you don't have one your rental car agency can provide it.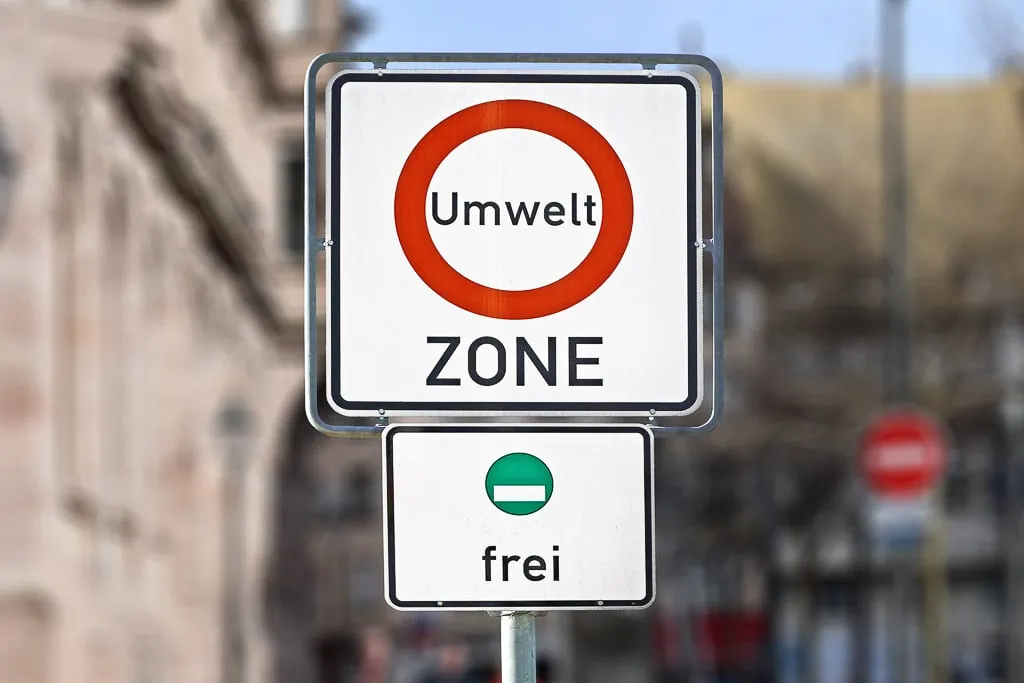 9 | Rental Requirements
The minimum driving age in Germany is 18, however you will need to be at least 21 to rent a car. A number of rental car agencies will charge a surcharge for those under 25 so it's worth checking with your rental car company before you book your car.
You will also need the usual documentation to rent a car in Germany, a credit card in the main driver's name, a valid license, your passport and if your license is from outside of Europe you may also need an International Drivers Permit.
International Drivers Permit (IDP)
An International Drivers Permit (IDP) is a document separate from your driving license that is simply a translation of your driving license to a number of different languages. Most rental car agencies will require an IDP from customers if you do not hold a European driver's license. You can easily pick up an IDP in your home country prior to traveling.
Renting a Car in Germany tip: It is usually not possible to obtain an IDP once you leave your home country so make sure to pick one up before you leave.
10 | Fuel and Rest Stops
Most cars in Germany are diesel so it's likely your rental car will also be diesel. Diesel is marked at gas stations as the black pump, while petrol (or gas) is marked with a green pump.
There are frequent fuel and rests stops dotted throughout the Autobahn network and we never had any issues finding fuel stations.
Fuel stations in Germany work on the basis that you fill your fuel and then pay in the store when finished. Paying at the pump is rare in Germany. Credits cards are widely accepted and you may also pay with cash. We've always paid by credit card and never had any issues.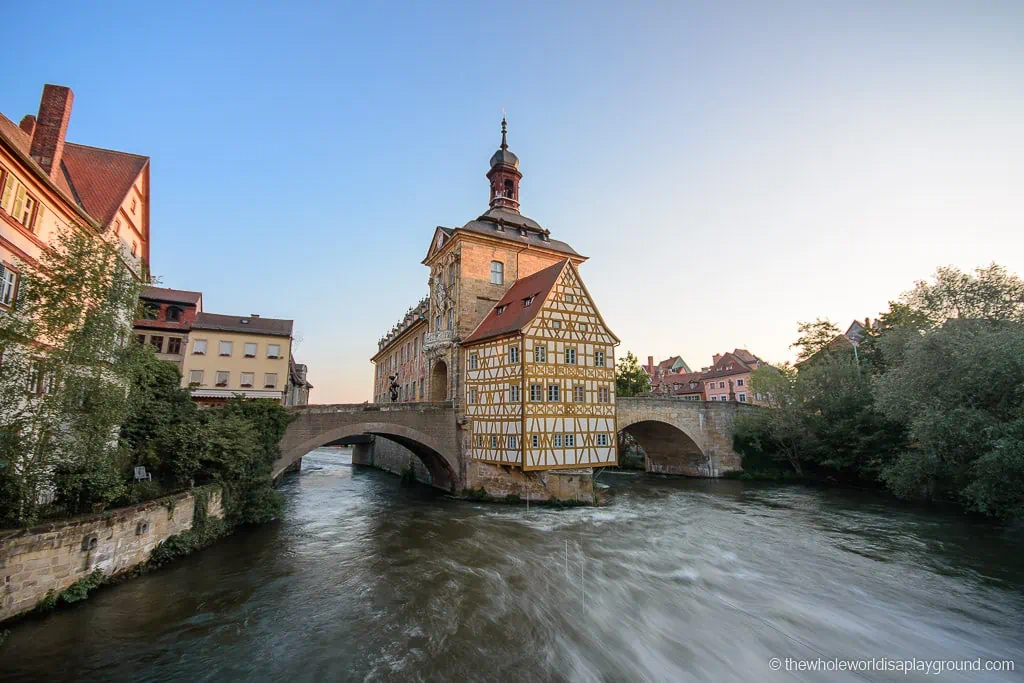 11 | Navigation and Drive times
We use Google maps for navigation on road trips in Germany and it's always worked great. If you want to save data on your cellphone it's also possible to use an offline navigation app on your phone. We recommend Maps.me (iOS and Android) or OsmAnd (Android) for offline navigation.
Renting a Car in Germany tip: If you are an avid user of Google Streetview then unfortunately you're out of luck in Germany. Due to strict data protection and privacy laws in Germany there is no Google Street view allowed in Germany.
Germany is known for it's efficiency and we've always found our drive times to be very close to the estimated drive times. Even in peak rush hour traffic in cities like Munich and Berlin we encountered very few delays on our trips.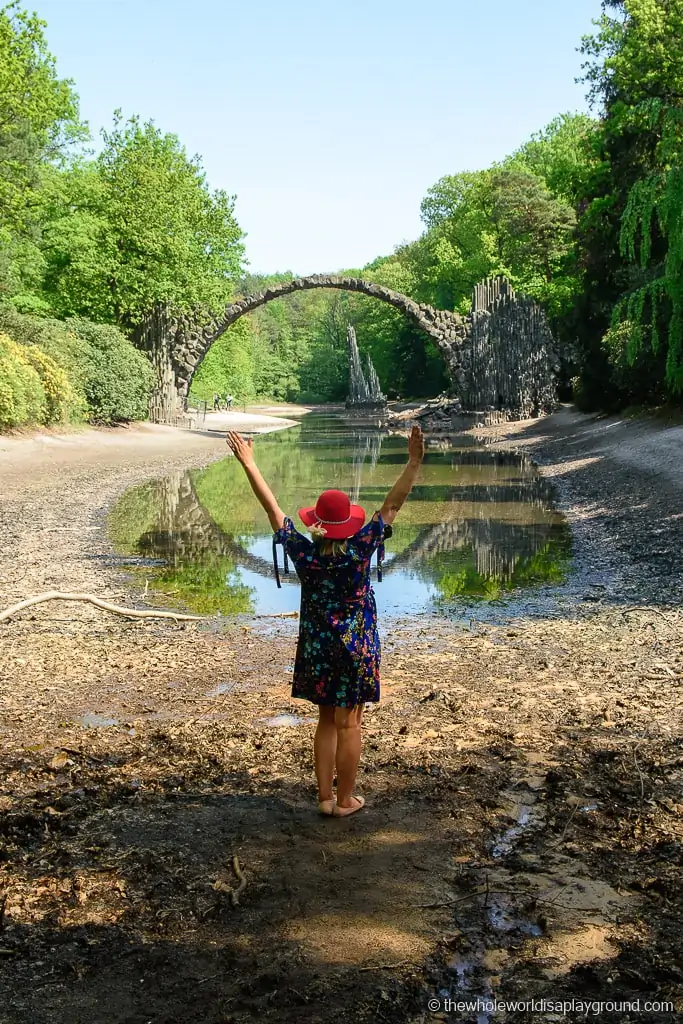 12 | Take frequent breaks on long drives
The German autobahns are great for exploring the country, however driving on them can get monotonous and we highly recommend taking frequent breaks on longer drives. There are many rest areas along the Autobahn that are great for a quick nap and most of them have food and drinks on sale for a quick snack.
13 | Toll Roads
The good news for rental car drivers in Germany is that the Autobahn network is not tolled for cars. There are only two tolls in the entire country, the Herren and Warnow Tunnels located in the north of the country.
The only other tolls to be aware of only apply if you are crossing the border into a country that requires a vignette, such as Switzerland or Austria. If you plan to visit these countries in your rental car you will need to purchase a vignette sticker for your car windshield.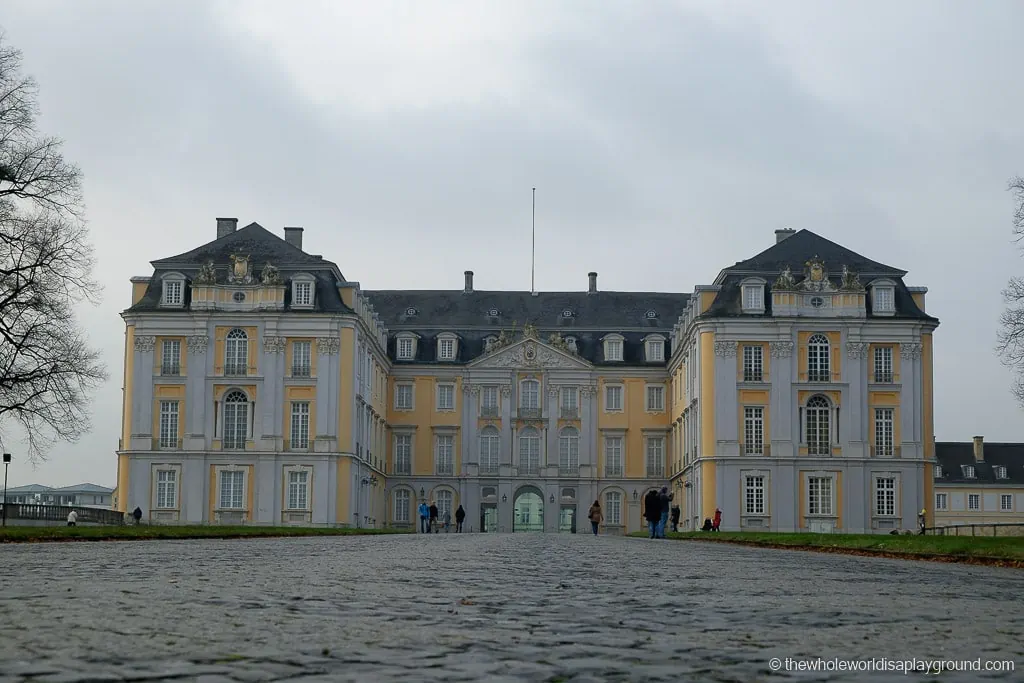 14 | Taking your rental car into other countries
Due to Germany's location in the centre of Europe, it is common for visitors to take rental cars across borders into neighboring countries. We've personally taken German rental cars into the Netherlands, Belgium, Switzerland and Austria and it was super easy.
If you plan to take your rental car we recommend checking your travel plans with your rental car company prior to collecting your car. Some rental car agencies may have restrictions on where you can take your rental car and some do have additional charges for taking the rental car into some countries bordering Germany, e.g. Austria or Switzerland.
Rental Cars and Vignettes
Some countries in Europe require private cars to display a vignette. Vignettes are like a toll cost for using the roads in these countries. Vignettes can be purchased at the border crossings or in fuel stations/shops close to the border. Vignettes are required for cars in Austria, Bulgaria, Czech Republic, Hungary, Romania, Slovakia, Slovenia and Switzerland. The most relevant for anyone renting a car in Germany are Switzerland, Austria and Czech Republic:
Switzerland: The Swiss vignette is the most expensive at 40CHF (approx 40 USD) and includes the use of the Gotthard and San Bernardino Tunnels. It is a fixed-price vignette that lasts up to a year, however you'll need to purchase one even if you are only driving into Switzerland for a few days.
Austria: Austrian vignette has three options, 10 day (€8.50, two months (€25) or annual (€83).
Czech Republic: Also has three options, 10 days (310 CZK), one month (440 CZK) or annual(1,500 CZK)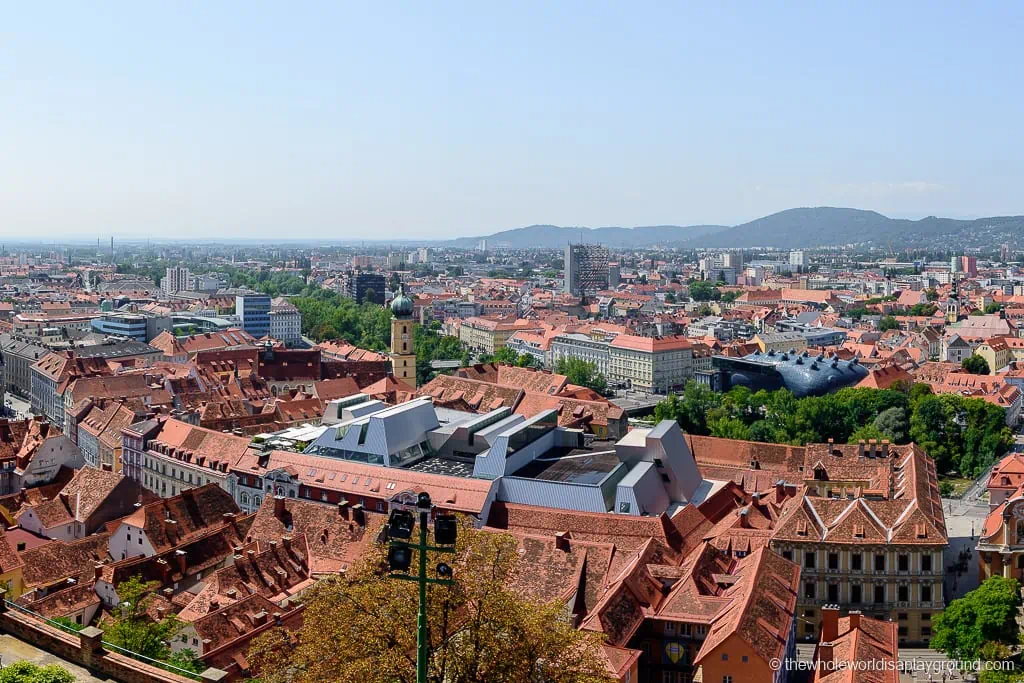 15 | Car Seats for Children and Babies
It is mandatory in Germany for kids over three years old to travel in the rear seats of the car. Any child under 12 and less than 150cm must be seated in a European standard child seat or restraint. If all restraints are in use by other children the child may sit in the rear seat using a seat belt.
Children under 3 are not allowed in a vehicle without a suitable car seat and no rear-facing child seats are allowed in the front of the car.
Renting a Car in Germany tip: If you are travelling with young children we highly recommend packing window blinds to protect them from the harsh sunlight. We have taken ours to Germany many times and they worked great.

We recommend getting the ones that stretch over the entire window as they are easier to use.
Sale