Ibiza is one of the most beautiful islands in the Mediterranean and is packed with so much to do. From relaxing on the many beautiful coves and beaches to partying through the night at one of the island's world-renowned nightclubs, Ibiza is an island packed with many things to see and do. The island is relatively small with a good road system which makes it perfect to explore by rental car. Having the freedom to explore the island of Ibiza on your own terms will make your trip a lot more enjoyable.
Having spent some time exploring the island by rental car, we've put together our best advice and tips for renting a car in Ibiza to help you make the most of your trip.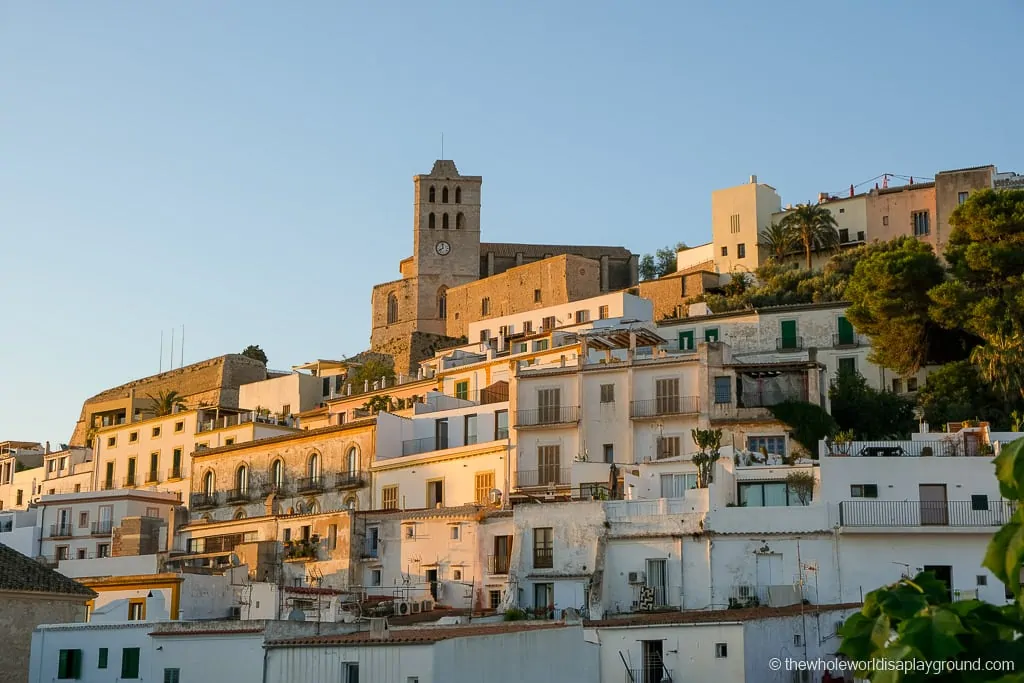 Tips for Renting a Car in Ibiza
We found driving our rental car very easy and fun in Ibiza. Based on our experience, driving was safe and our rental car was perfect for exploring everything Ibiza has to offer. We found our rental car more than worth the money and was extremely useful during our time in Ibiza!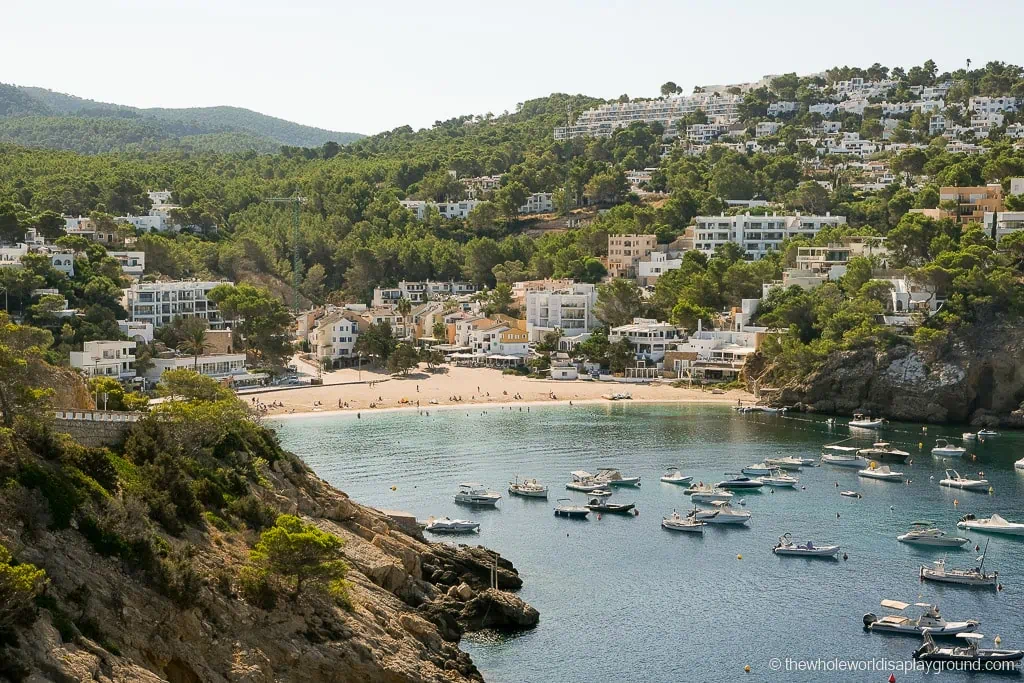 Why Rent a Car in Ibiza?
While it depends on your trip style, generally we would say that it's worth renting a car in Ibiza. While Ibiza is a relatively small island and taxi journeys are cheap, having your own car will make getting around the island a lot easier and give you a lot more flexibility. If you are planning to explore the island's beaches, smaller towns and coastal areas, a rental car will make your trip a lot easier compared with taxis or buses.
A rental car will help you make the most of your time in Ibiza and allow you to visit many places most visitors to the island never see. It's a 30-minute drive from Ibiza town on the east to San Antonio on the west coast. A drive from north to south will only take around 45 minutes.
Having a rental car will give you the flexibility to explore the island at your own pace and get to places that many visitors don't get to see. There is so much more to Ibiza than just the club scene and a rental car gives you the freedom to see it all!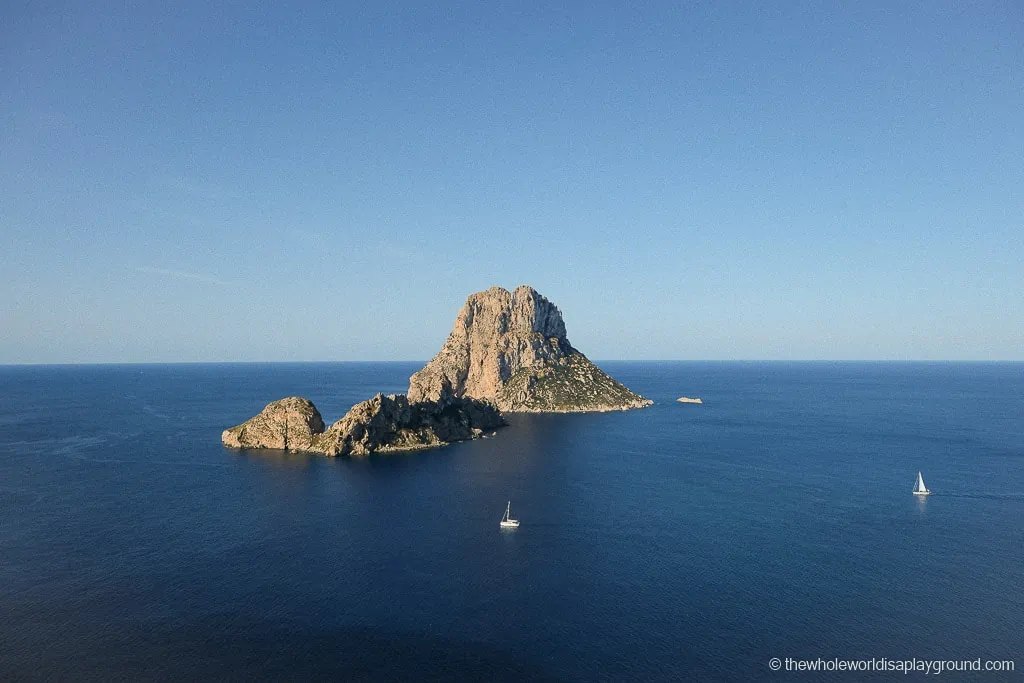 1 | Booking your rental car
We found rental cars to be relatively inexpensive in Ibiza. The airport has a good selection of all the popular rental car agencies. We rented with Hertz and found the quality and selection of their cars very good.
We're huge fans of road trips and have driven rental cars in almost 50 countries so we have a lot of experience renting cars in foreign countries. We recommend using RentalCars.com to reserve your car. Their prices are competitively priced and we've always secured the car we want at a good price.
Click here for Ibiza rental car prices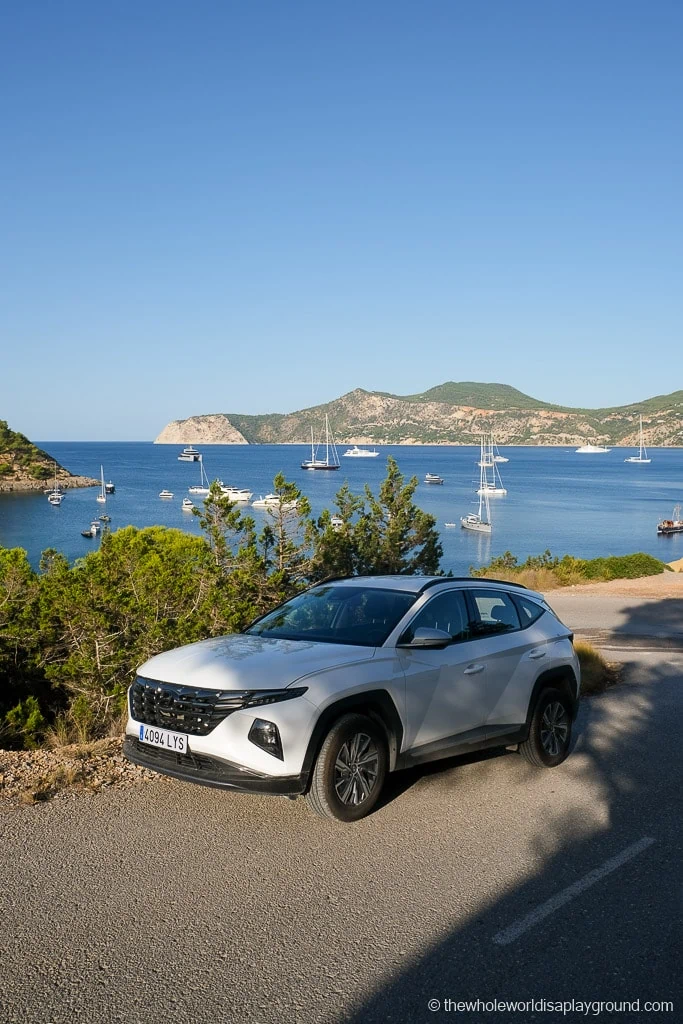 2 | Book your rental car early
Ibiza is popular throughout the year and is a popular sun destination during the winter months. The standard season in Ibiza runs from April to September making it one of the longer tourist seasons in Europe. Due to this, there is a constant demand for rental cars, especially during the peak summer months of June, July and August.
We recommend booking your rental car well in advance of your trip to Ibiza. This will allow you to lock in a good price and most importantly secure the rental car that suits your needs. This is especially important if you are looking for a larger car or an SUV, which seems to be in high demand in Ibiza.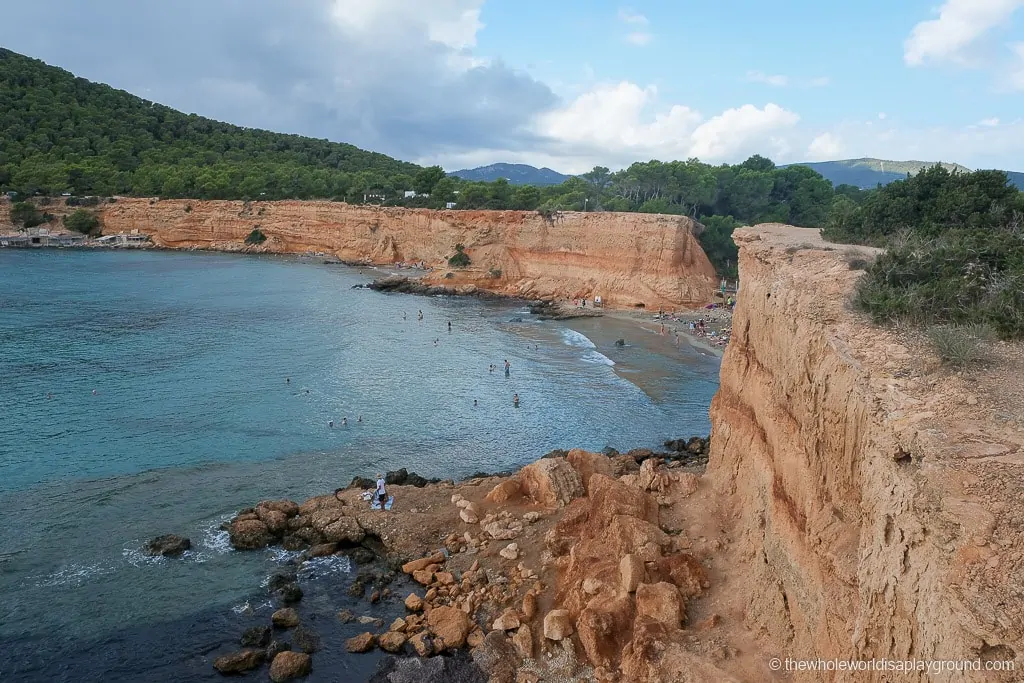 3 | Choosing your rental car
Generally, when renting a car on an island we would recommend hiring a smaller car as it can help with parking and driving on small island roads. A small car isn't really necessary in Ibiza. There is ample parking and space around the island and the road network is good. Ibiza old town has standard paid parking lots located just outside the town walls, while the beaches and restaurants around the island generally have ample free or reasonably priced parking with space for large cars.
We had a Hyundai Tucson in Ibiza and didn't have any problems with the larger car while exploring the island.
Check rental car availability in Ibiza here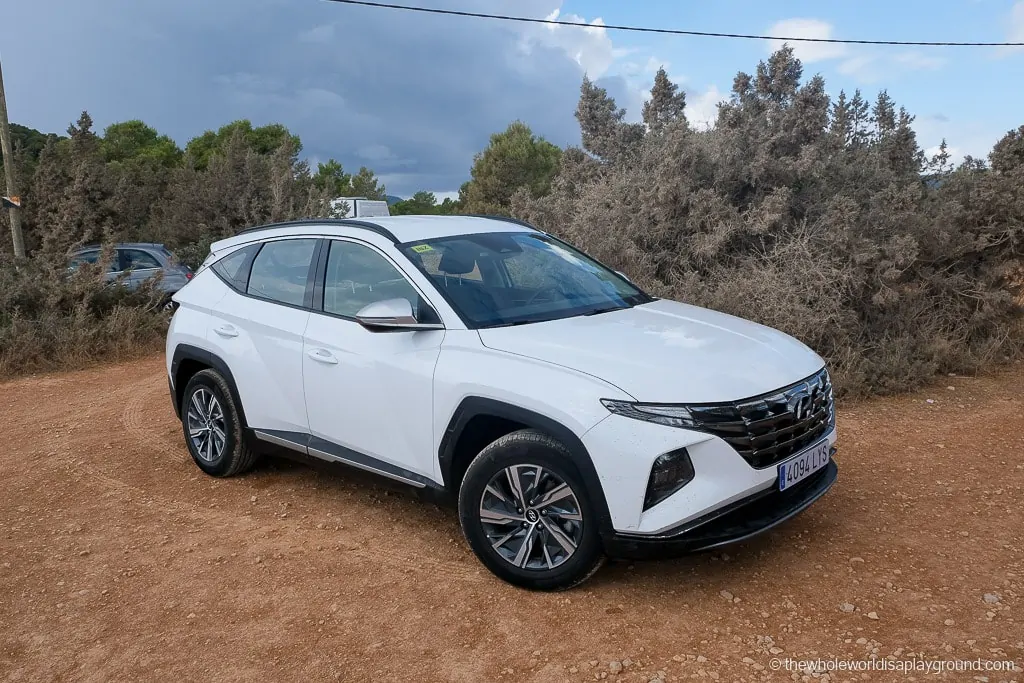 4 | Picking up your rental car
The rental car agencies based at Ibiza airport have offices located in the arrivals hall. These can be accessed from the arrivals hall at baggage claim and also from the other side outside the arrivals hall.
You'll need the standard documentation to rent a car in Ibiza: a valid driving licence, passport and credit card in the name of the primary driver. You may use a national id card in place of a passport but a passport is accepted more widely so it's easier to use. Drivers from outside the EU may also require an IDP (see the next tip)
Renting a car in Ibiza tip: if you are waiting on baggage it'll save some time by pickup up your rental car keys in the arrivals hall.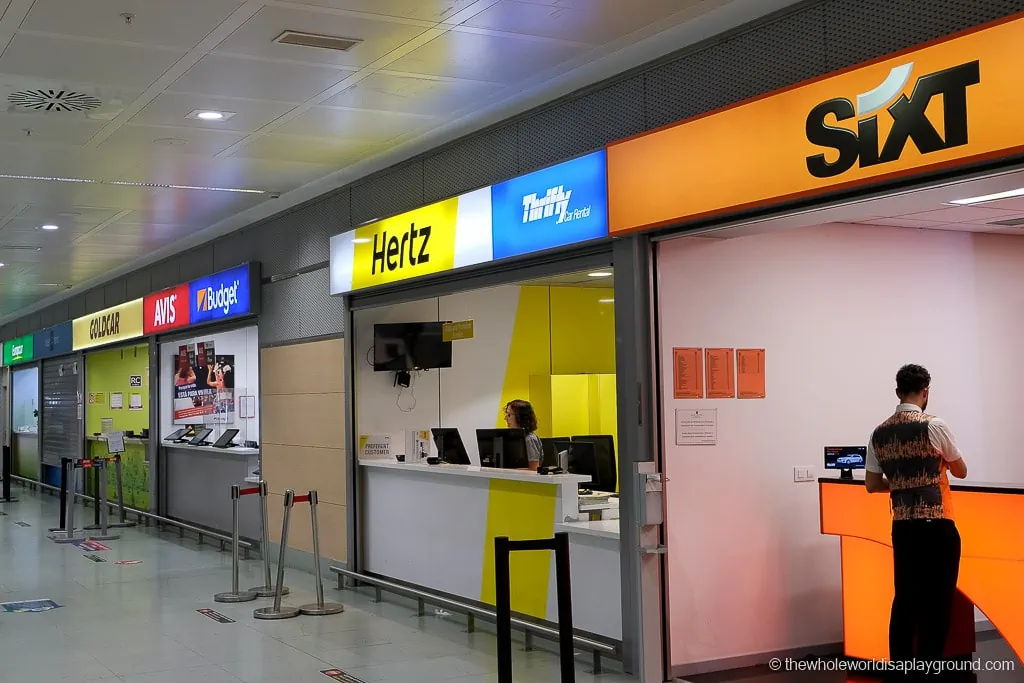 The actual rental cars are located in Parking lot 2 (P2) located across the road from the departures hall. It's a large multistorey parking lot dedicated to rental cars and makes pickup and drop-off very easy compared to other European airports.
Pickup and return for most of the popular rental car agencies (Sixt, Hertz, Avis etc) is located in this building.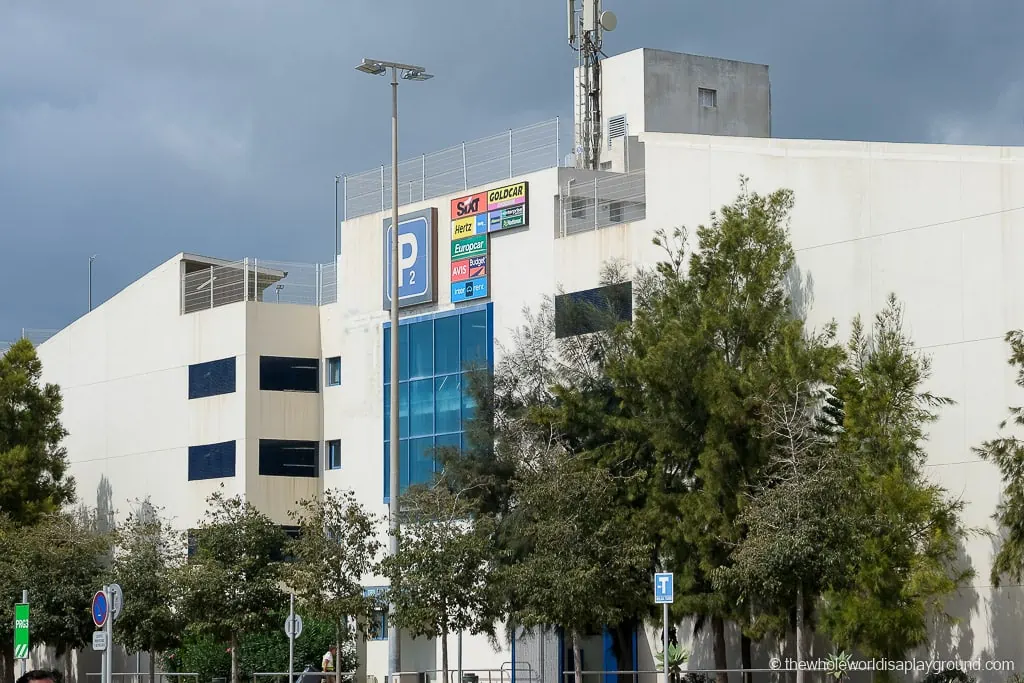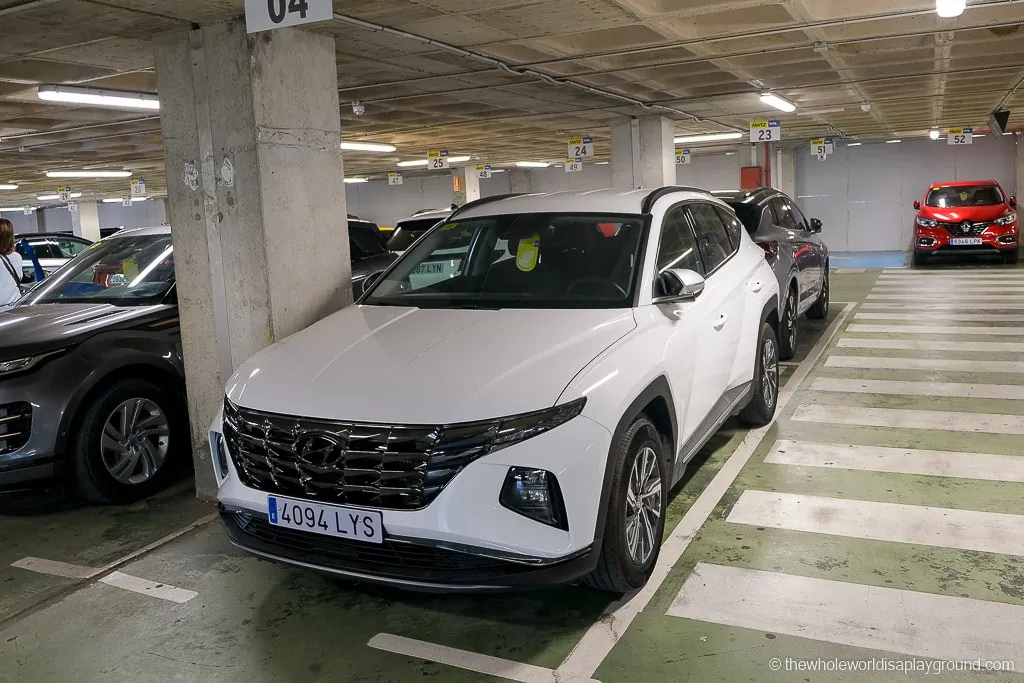 5 | Rental Car Insurance
We generally advise taking out full insurance on rental cars as it saves the headaches and stress of accidental damage to your car. We simply price the cost of the insurance into the rental price.
While the roads in Ibiza are generally very good quality, you will encounter some unpaved roads and some very rough terrain when parking at the beaches around the island. IN addition to this you will have an increased chance of getting bumps or scratches from other cars while you are parked. So we'd recommend getting the insurance for peace of mind.
With RentalCars.com you also have the option of purchasing the full insurance cover in advance when you reserve your car. This way you won't have any surprises on the cost of your rental as you'll know the full price in advance – check prices now!
6 | Rental Car Eligibility and IDPs
While you can drive in Ibiza at age 18, most rental companies require drivers to be at least 21 and to have held their license for more than one year. A number of companies may impose a surcharge for renters aged under 25 so it's worth checking this at the time of booking.
International Drivers Permits and Ibiza
If you hold an EU driving licence then an IDP is not required. Renters who do not hold an EU licence are required to show both an IDP and their original licence.
If you hold a driver's licence from outside the European Union then you will likely need an IDP to rent a car in Ibiza. We didn't require an International driving licence as we have a European driving licence but we both have an IDP which we renew every year to cover our travels.
Renting a car in Ibiza tip: An IDP is easily and cheaply obtained in your home country before you travel. You cannot get one after you leave your home country.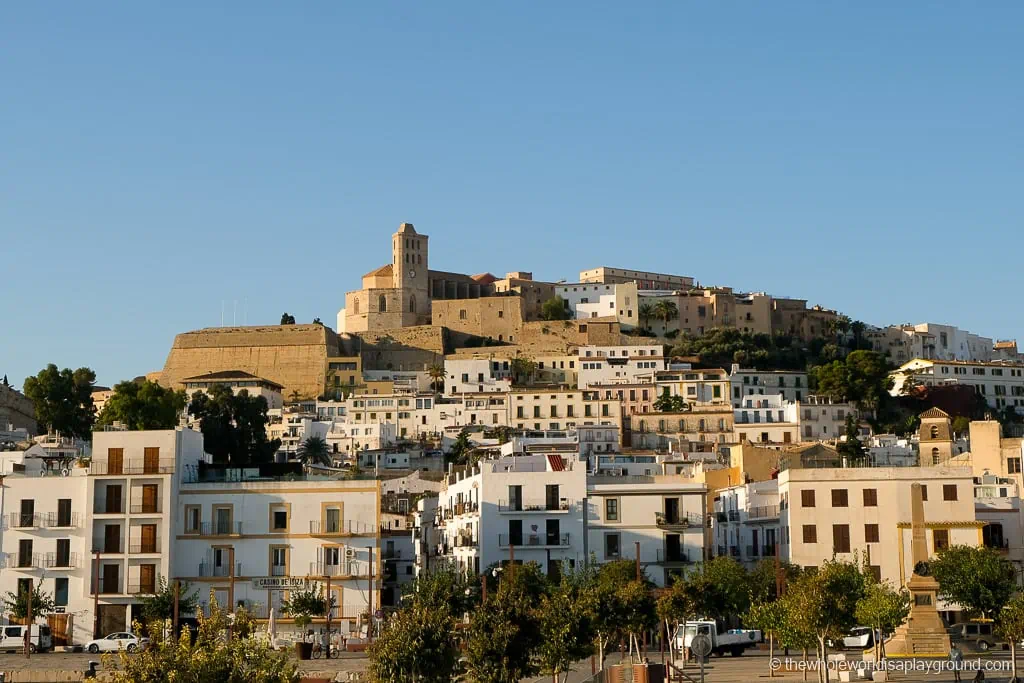 7 | Drive on the right!
Similar to most other European countries, vehicles drive on the right-hand side of the road in Ibiza, similar to mainland Spain. If you are visiting from a country that drives on the left it's worth remembering this at pickup!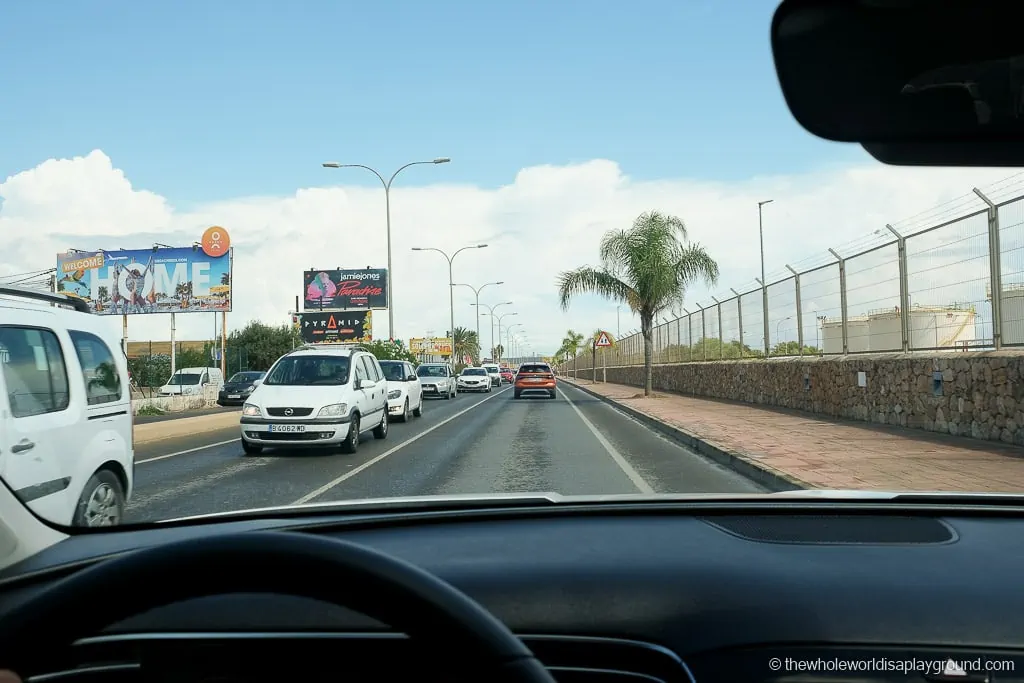 8 | Drive times in Ibiza
Ibiza is a relatively small island and getting to various places on the island is usually a short drive. For example, it's only a 30-minute drive from Ibiza town on the east of the island to San Antoni on the west coast.
Although the island is relatively small, you may encounter some longer drive times if you are visiting many of the beautiful beaches dotted around the coast. The access roads to many of the beaches tend to be winding coastal roads that you will have to slow down and take care on.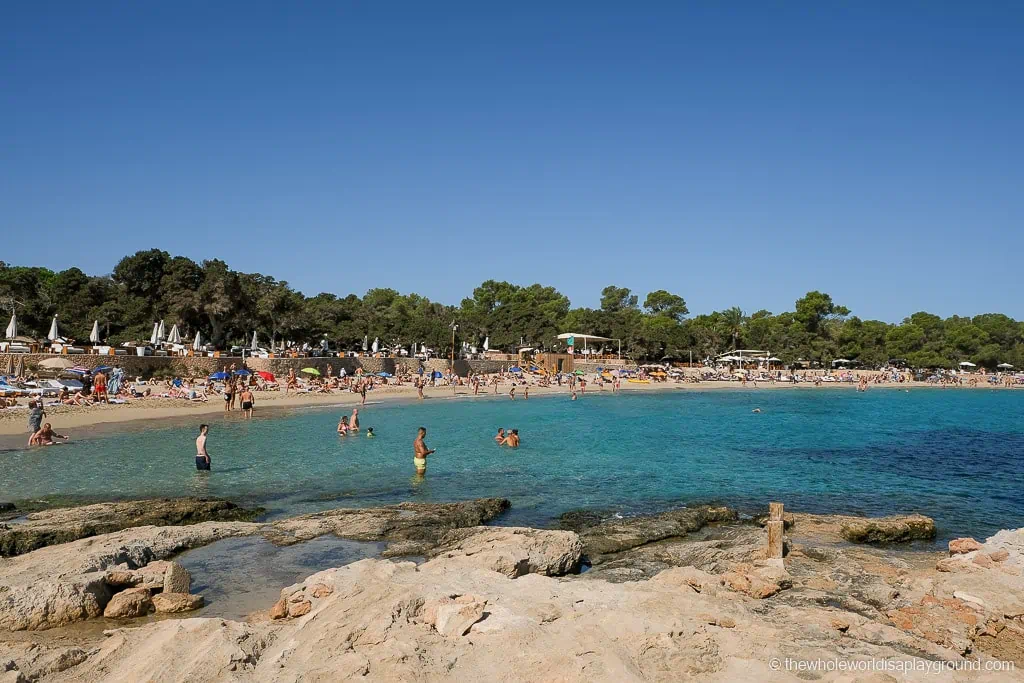 9 | Navigation
We used Google Maps for navigation on Ibiza and it worked great. If you are planning to visit some of the more remote beaches and areas on the island it's worth saving your maps for offline use as reception can be patchy on some of the more remote areas of the island. This is particularly the case on the north of the island.
Renting a Car in Ibiza tip: If you type ok maps and hit enter into Google Maps on your phone you can select an area to save for offline use. We use this regularly when visiting countries or areas with unreliable internet,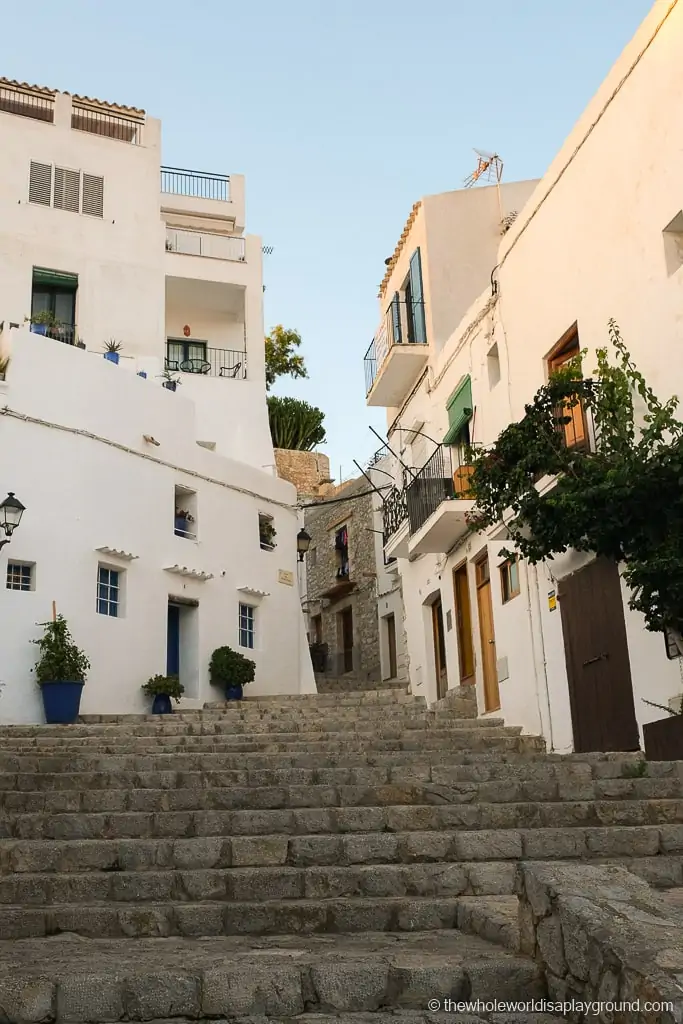 10 | Speed Limits and Fines
Speed limits are generally low in Ibiza, with most of the main roads being 80 km/h. Speed limits can vary quickly so you will need to pay attention to the signs. Speed limits in towns and urban areas are usually 50 km/h. There are two motorways on the island however due to the island's size you won't spend a lot of time on them. The motorway speed limit increases to 120 km/h, however, this only applies to short sections, otherwise, it is lowered to 100 km/h.
Renting a car in Ibiza tip: Speed limits can very quickly so it's important to pay attention to the signage on the road as you drive around the island for speed limit changes.
The Spanish police operate both fixed and mobile speed camera traps. While we didn't encounter any during our time on the island there is an obvious police presence on the roads.
11 | Manual or Automatic Car
Manual cars are by far the most popular cars to rent in Ibiza, however you can usually request an automatic car when reserving your car. If you do want to reserve an automatic car we highly recommend booking your car well in advance. Due to the limited number of them, automatic cars will generally sell out during peak periods, such as during the summer months.
If you choose to book with Rentalcars.com you can filter the available vehicles to only show automatic car options which can help with choosing a rental car – check prices now!
Check for automatic cars now on RentalCars.com
12 | Car Parking on Ibiza
One of the most common questions about renting a car in Ibiza is about parking your rental car. Most hotels on the island have free parking available for guests. This includes most of the popular hotels located along the popular Playa del Bosso beach. Most restaurants also offer free parking to patrons.
Parking at Ibiza Old Town
Civilian cars are not allowed to enter Ibiza's old town or marina area (only residents), so care is needed when you are visiting with your rental car. Drivers will need to park in one of the paid parking lots that are located close to the city. The most popular one and the one we used is located just outside the old town (View here in google maps)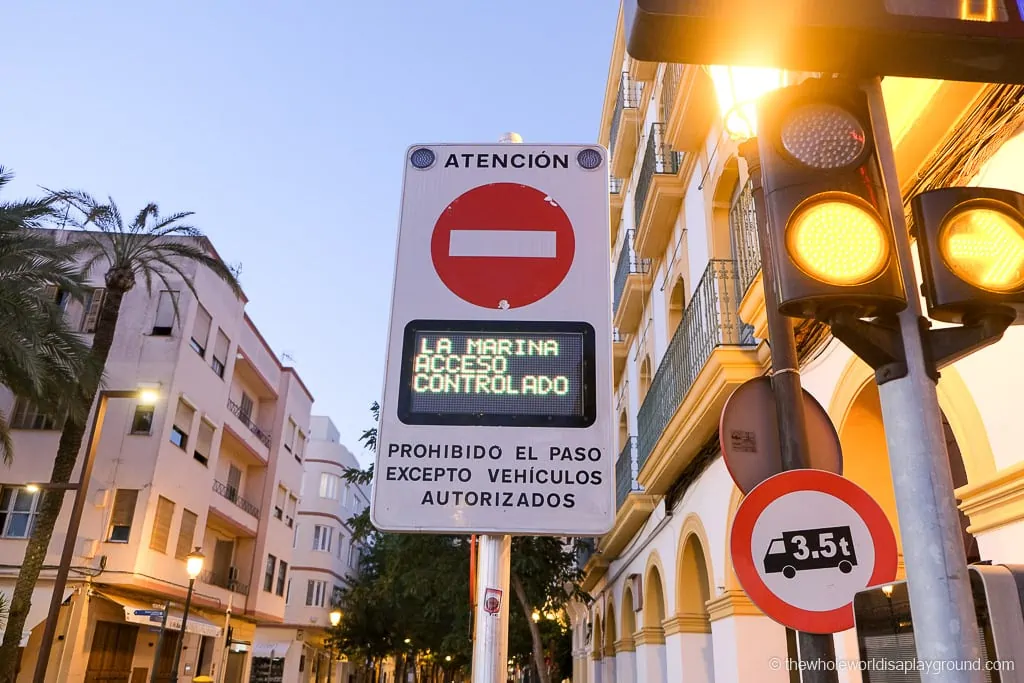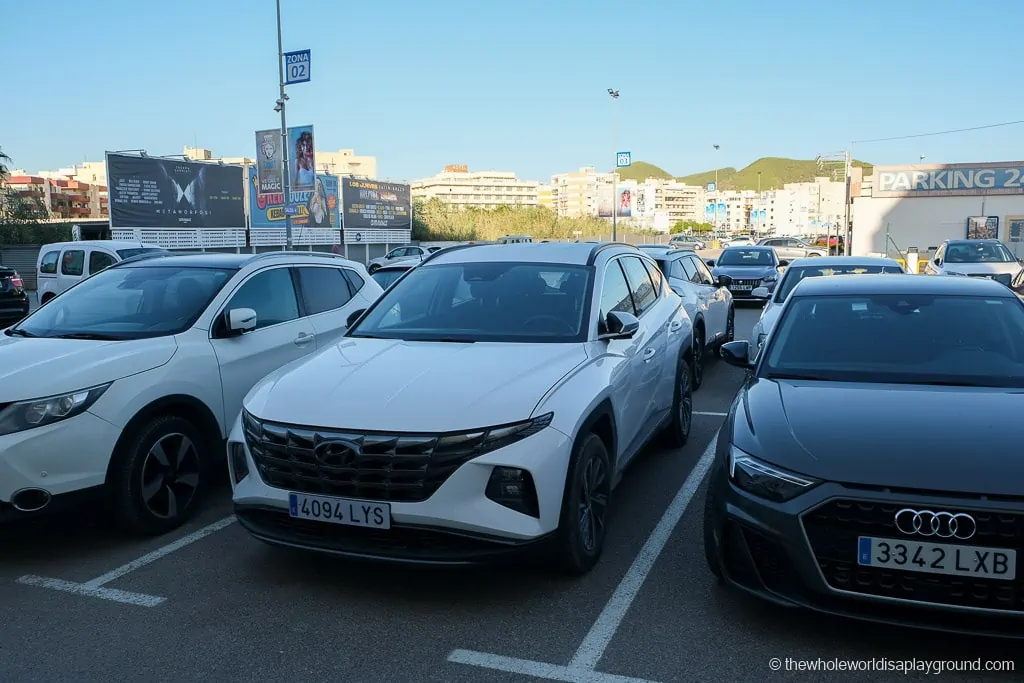 Parking at the beaches/hiking trailheads
Free parking is available at most of the popular beaches located around the island. The parking may be on assigned spots on the street or, as is more common public parking areas which are unmarked.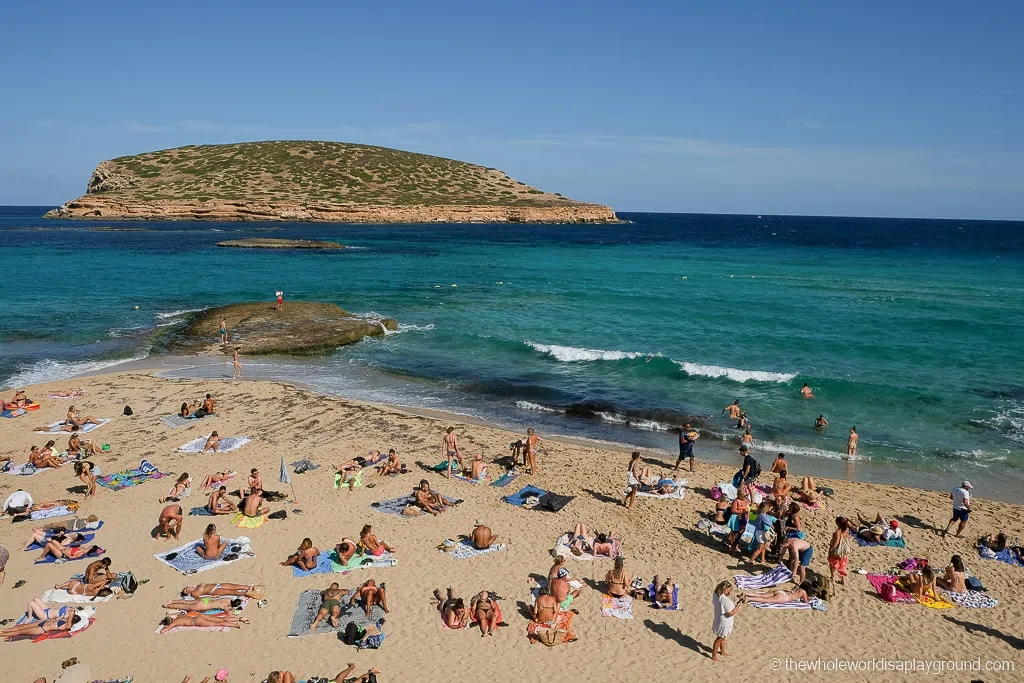 These unmarked car parks are dotted around the beaches on the island and while they are free, care is needed when navigating and parking in them. This was especially true at some places, such as the trailhead to Mirador de Es Vedrá where you could easily damage the car on uneven ground.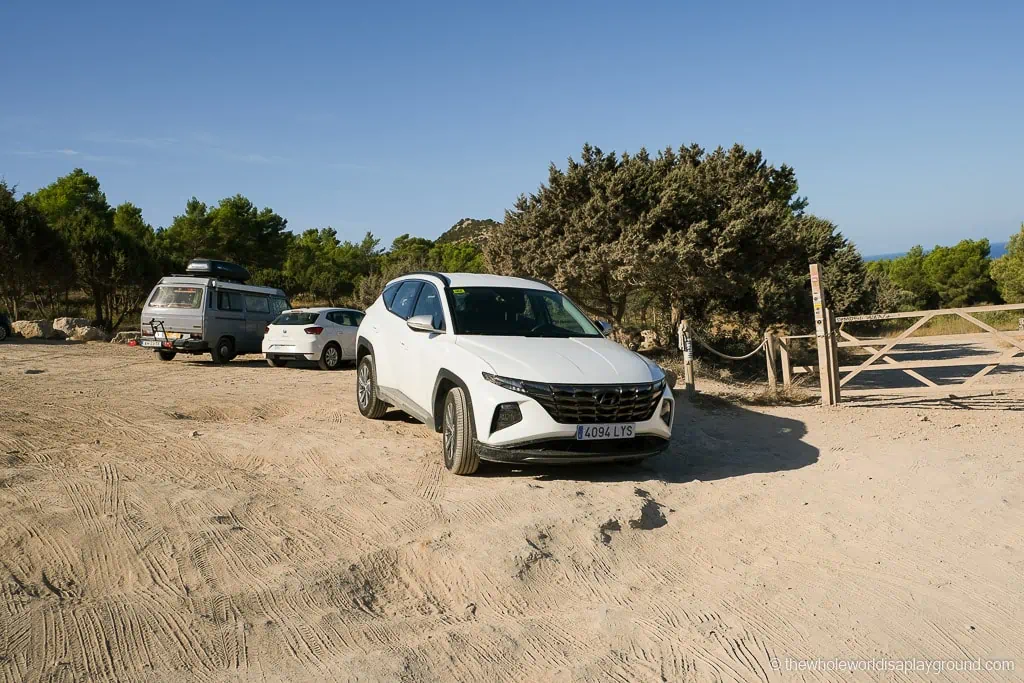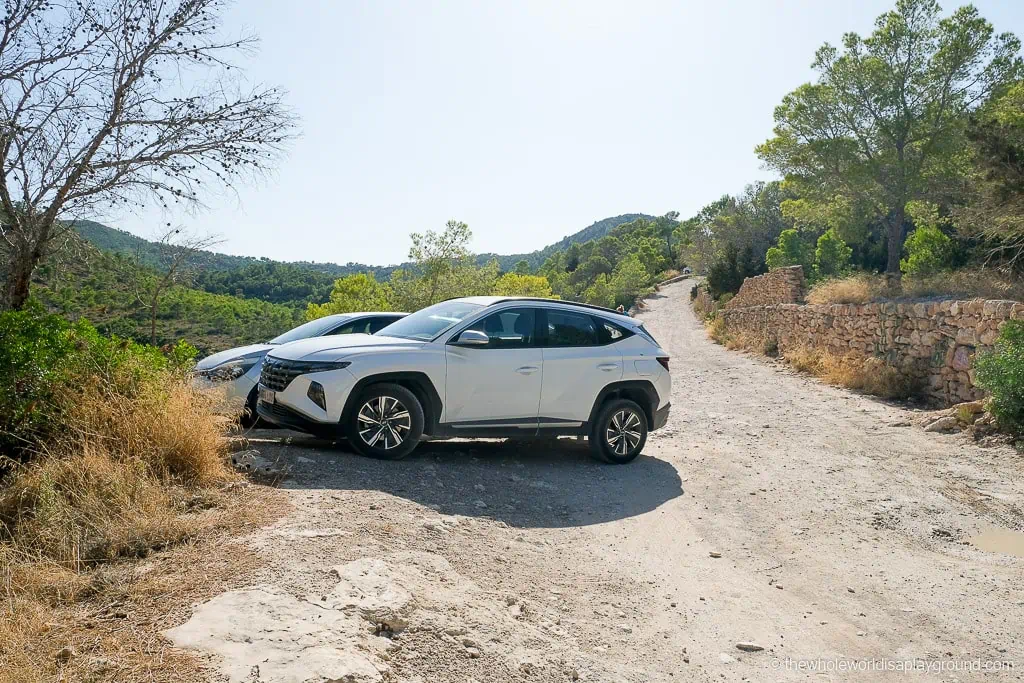 During busy times the traffic can get a little hectic at the beaches. This was the case when we visited the stunning Cala Comte and Sa Caleta beach (also known as Es Bol Nou).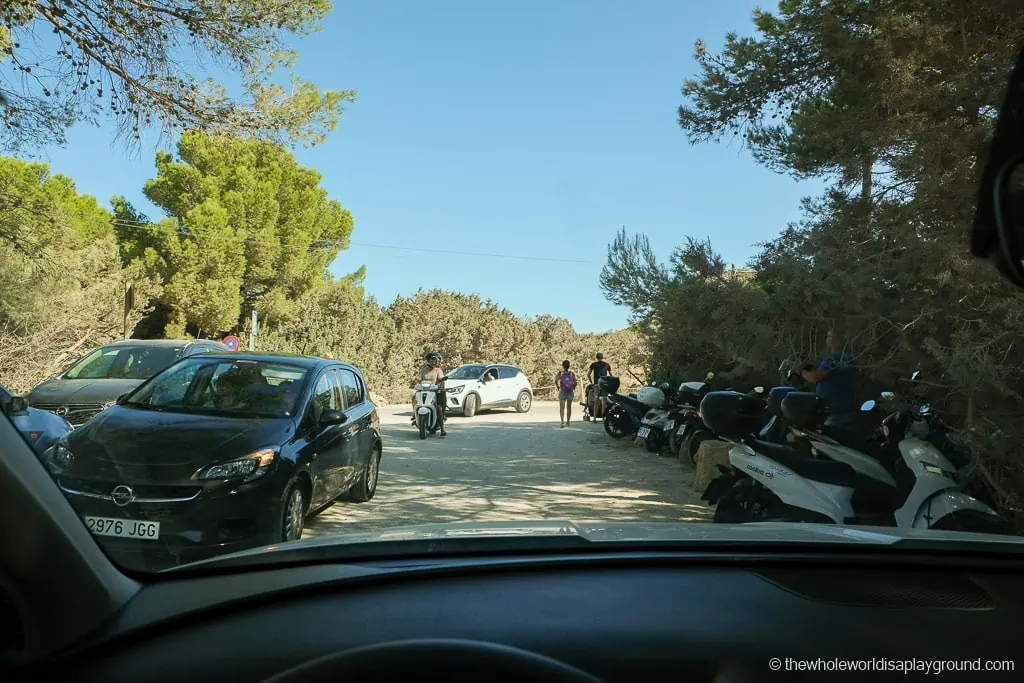 Notable beaches that only offer paid parking are Las Salinas and Cala Basaa Beaches which both offer only paid parking options for visitors. Both are fixed-price parking regardless of the duration of stay, with Las Salinas costing €7 and Cala Bassa €5. The parking is worth it if you're planning to stay for a while at the beach.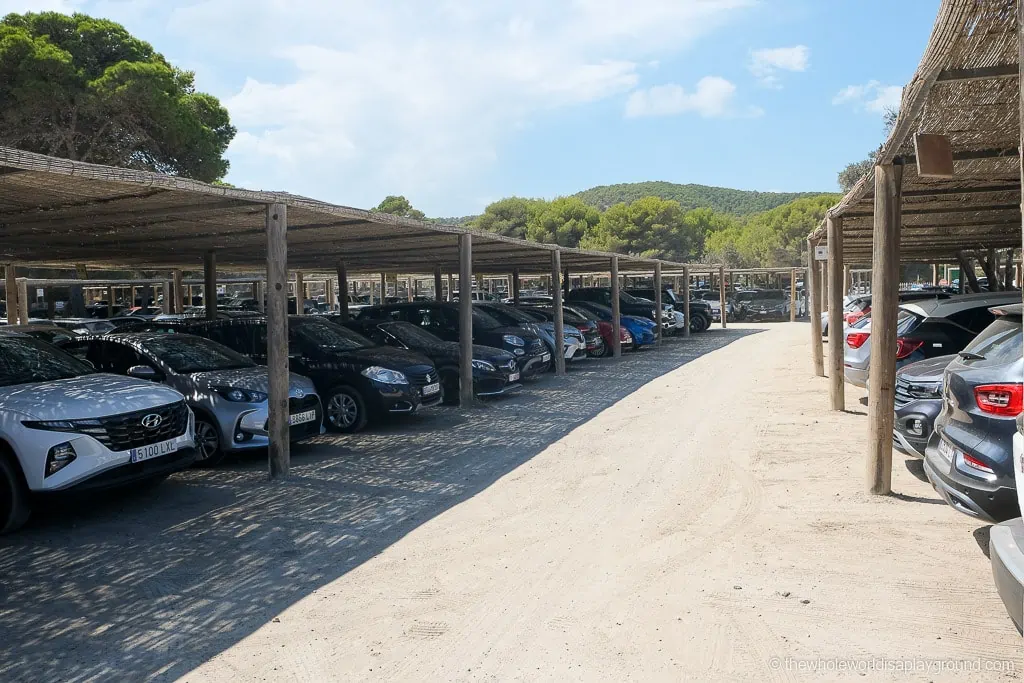 13 | Driving Style in Ibiza
As it's an island, rental car drivers can expect a more relaxed approach to driving in Ibiza. We found driving in Ibiza to be very easy and our experience with other drivers was overwhelmingly positive. Driving is pretty relaxed on the island and even during times of heavy traffic (which was rare), other drivers were patient and courteous.
14 | Mopeds in Ibiza
Mopeds are a very popular method of transport in Ibiza and they are literally all over the island. If you are not used to driving with lots of mopeds on the road it may take a little while to get used to their driving style.
Extra care is needed when turning or entering roundabouts (traffic circles for our American readers). Moped drivers tend to under or overtake frequently so make sure to double-check your mirrors and blind spots before turning!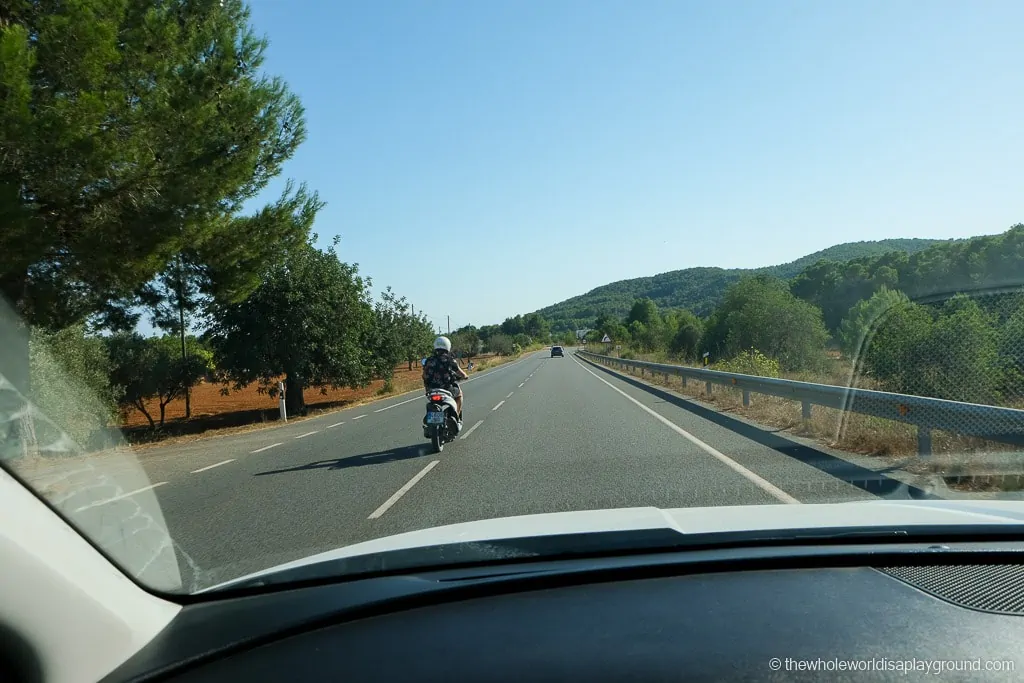 15 | Speed Bumps in Ibiza
Speed bumps are used to control speeds on many of the smaller roads in Ibiza. Most of the speed bumps are obvious and clearly marked on the road, however, some can vary in height or are not very easy to spot on the road. It would be very easy to accidentally hit one of these and damage your car so it's worth being vigilant on spotting them!
16 | Roads in Ibiza
The main roads connecting the major areas of Ibiza island are generally very good quality and of a similar high quality to mainland Spain.
There are two motorways in Ibiza, one from the airport to Ibiza town and a second from Ibiza town to San Antonio on the west coast. The secondary roads are generally very good quality, and connect the other main areas of the island. These are indicated by an EI in the title.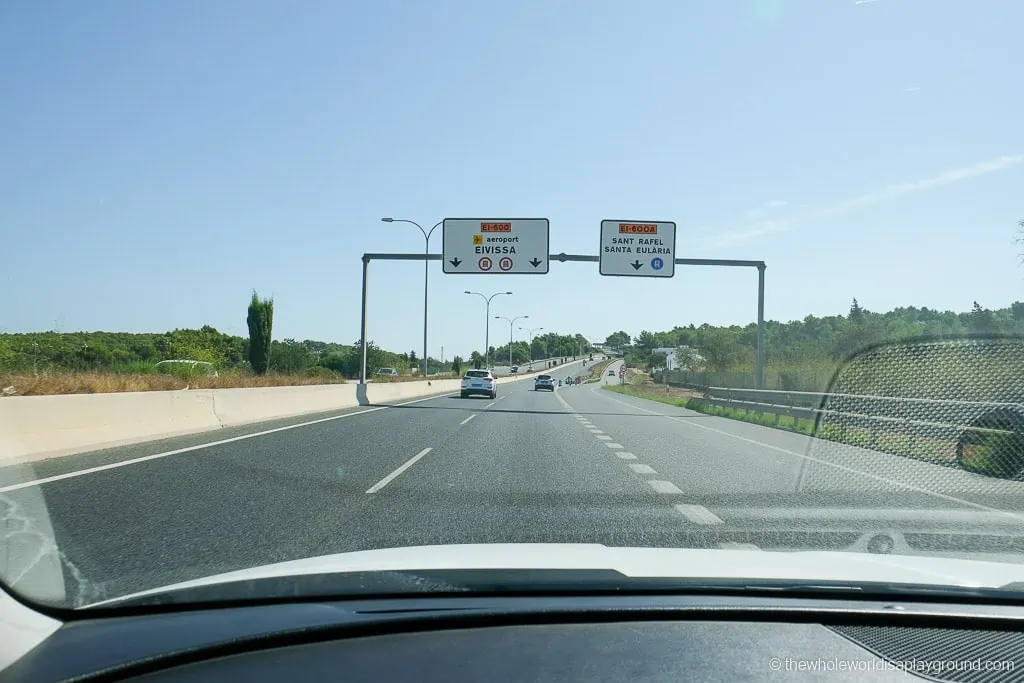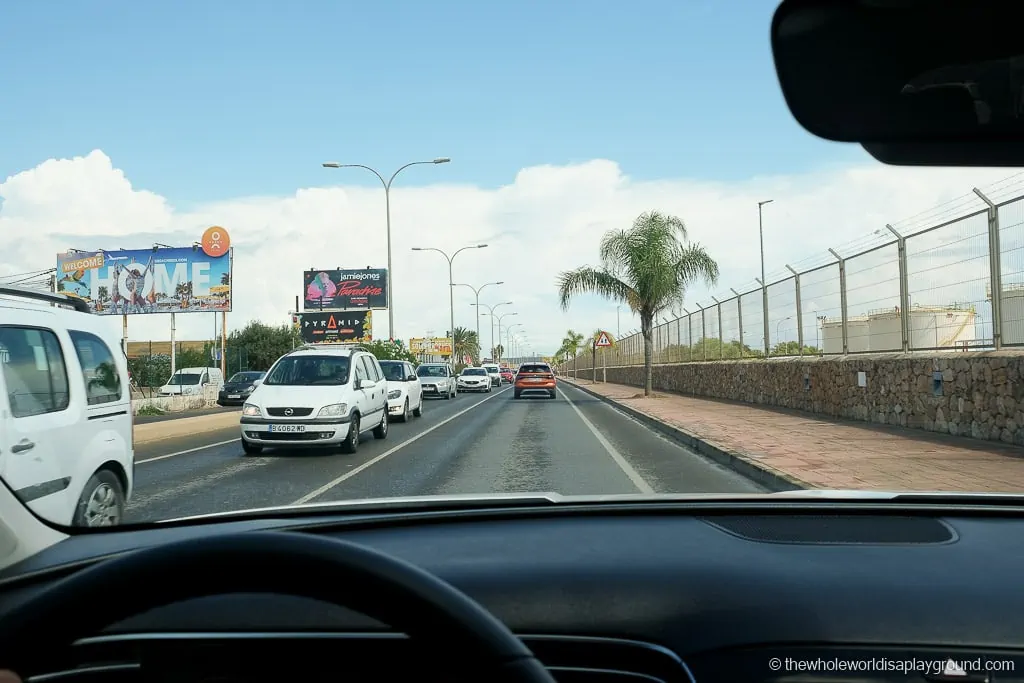 The remaining smaller main roads, while of good quality, tend to be very narrow, with sharp drops off the sides. Care is needed on these roads, especially when meeting oncoming traffic.
The small side roads on Ibiza island tend to vary wildly in quality and are generally rocky dirt tracks that can vary from narrow dirt roads to wide dusty areas. We drove on a number of these roads in Ibiza, in particular when visiting the popular beaches on the south and west of the Island.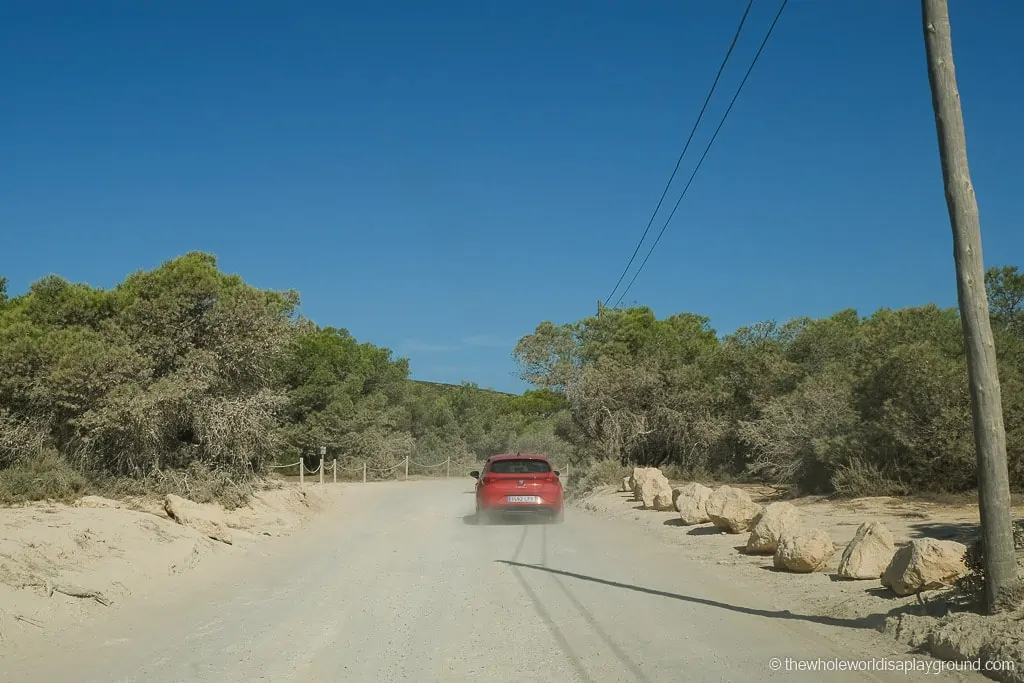 17 | Alcohol and driving
As with anywhere in the world, you should never drink alcohol and drive. Similar to most of Europe, Spain (and Ibiza) has a legal limit for blood alcohol of 50mg per 100ml of blood which means one drink can put you over the limit. So don't take any chances and don't have any alcohol if you plan to drive.
18 | Fuel
There are plenty of fuel stations dotted around the island and as the island is relatively small you'll likely not have to worry about getting fuel for your rental car.
Most rental car agencies (like Hertz who we rented from) operate on a full-full basis, so you pick up your car full and return it full.
The majority of rental cars in Ibiza are petrol based. Petrol fuel is marked as the green pump at the fuel stations and called "sin plomo 95/98" or unleaded 95/98.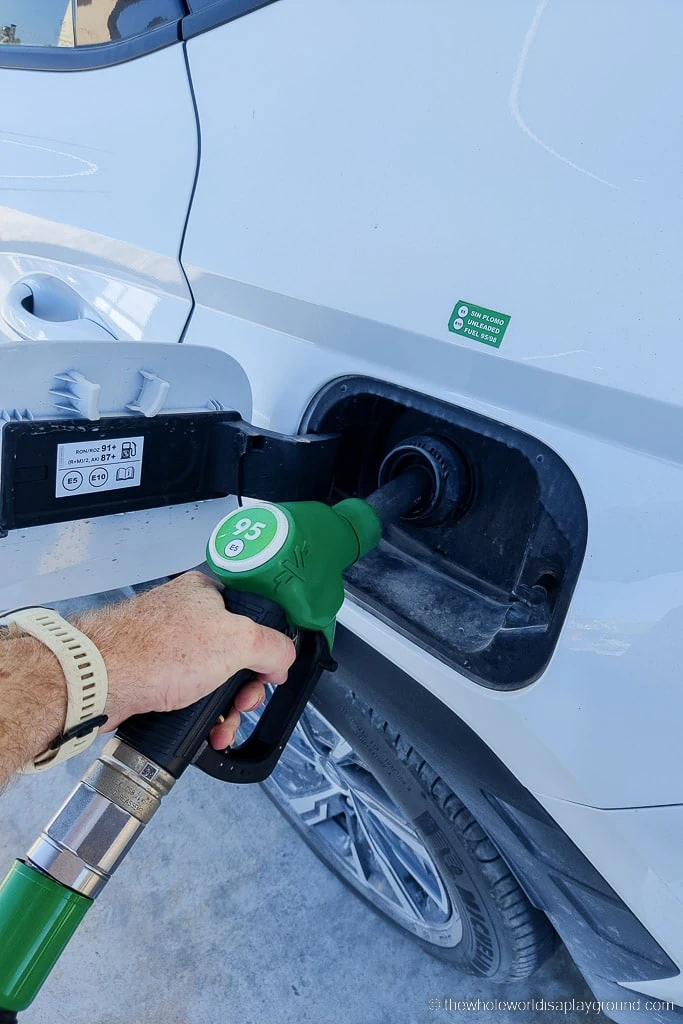 The only issue we encountered with fuel was filling up on the way to the airport. The closest fuel station to the airport is a BP station which had a long line of cars at it when we arrived. This is likely due to the fact that it's marketed as the closest station to the airport. There are a number of other stations located closed to Platja el Blasso that had no lines, which we went to instead.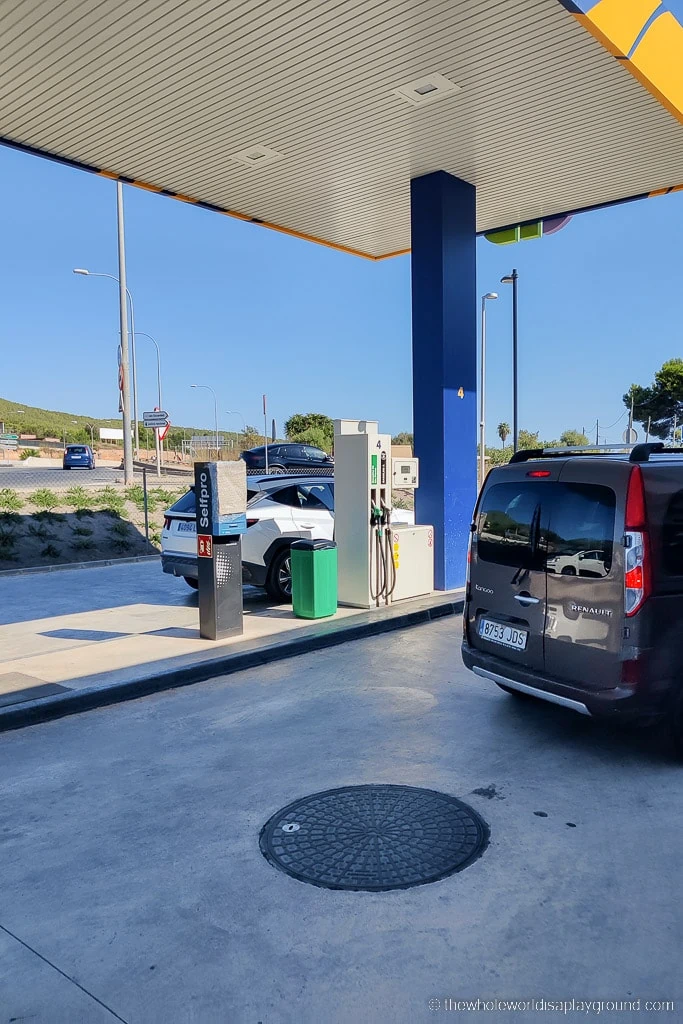 19 | Taking your rental car to other islands.
Most (if not all) of the rental car agencies do not allow you to take your rental car off the island. We rented from Hertz in Ibiza who had signs indicating that this was not allowed and the staff also reminded us when picking up the keys.