Georgia is one of the most beautiful countries we have visited and renting a car in Tbilisi is one of the best ways to explore the country. From strolling the historic capital city of Tbilisi to visiting its medieval monasteries and hiking the stunning mountains of the UNESCO inscribed Upper Svaneti region, Georgia is a diverse and incredible country that is easily accessible by rental car.
For anyone planning a Georgia itinerary and hoping to rent a car in Tbilisi, we've put together our list of tips for renting a car in Tbilisi and making the most of their time in this amazing country.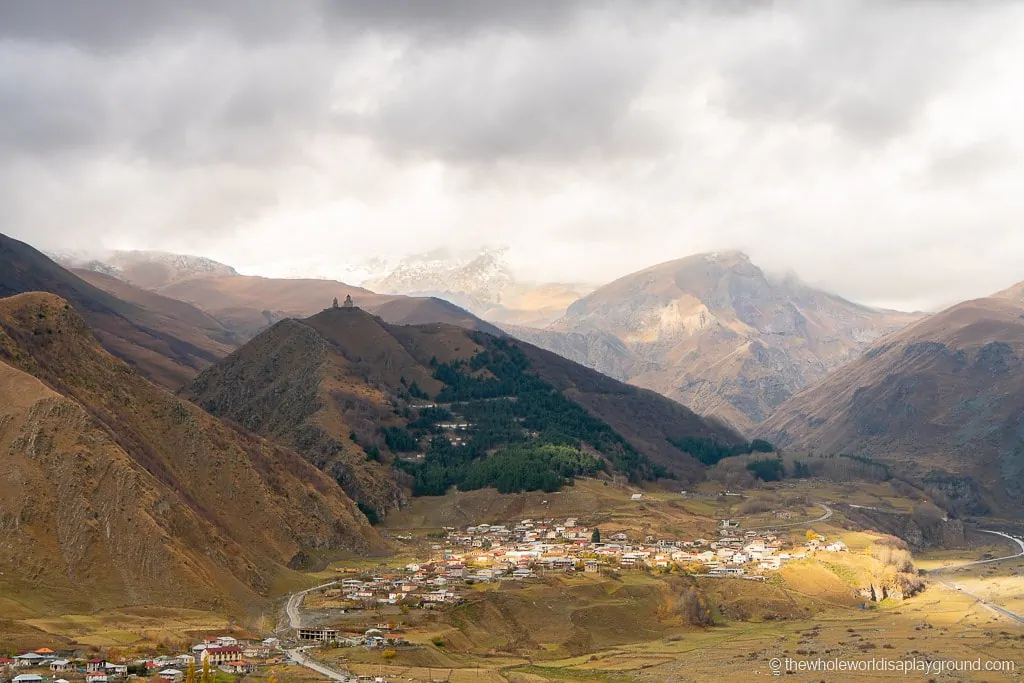 Tips for Renting a Car in Tbilisi Georgia
Georgia is one of the most beautiful countries that we've visited on our travel and renting a car in Georgia is the best way to explore outside of Tbilisi. We rented our car through Rentalcars.com and picked up our car at Tbilisi International Airport.
Overall we had a really positive experience and had a lot of fun exploring Georgia by rental car.
Why Rent a Car in Tbilisi
Outside of Tbilisi public transport is very limited so you will be relying on the local marshrutka minibusses to get. There is however a good road network connecting the major parts of the country so renting a car is a great way to explore the country.
1 | Booking your rental car in Tbilisi
We rented our car on arrival at Tbilisi International Airport which is around 20km outside of the city of Tbilisi.
We rented our car in Tbilisi with Hertz through Rentalcars.com and found the process at Tbilisi airport very easy and straightforward. The rental desks are located on the left as you exit passport control and the car park is located right beside the airport terminal. There is a good range of cars available which will suit all travel parties and budgets.
We've driven rental cars in almost 50 countries and find they have a great selection of cars and providers and offer competitive prices. The Rentalcars.com website site makes it easy to find and compare rental car rates among all the major car providers. – click here to book now!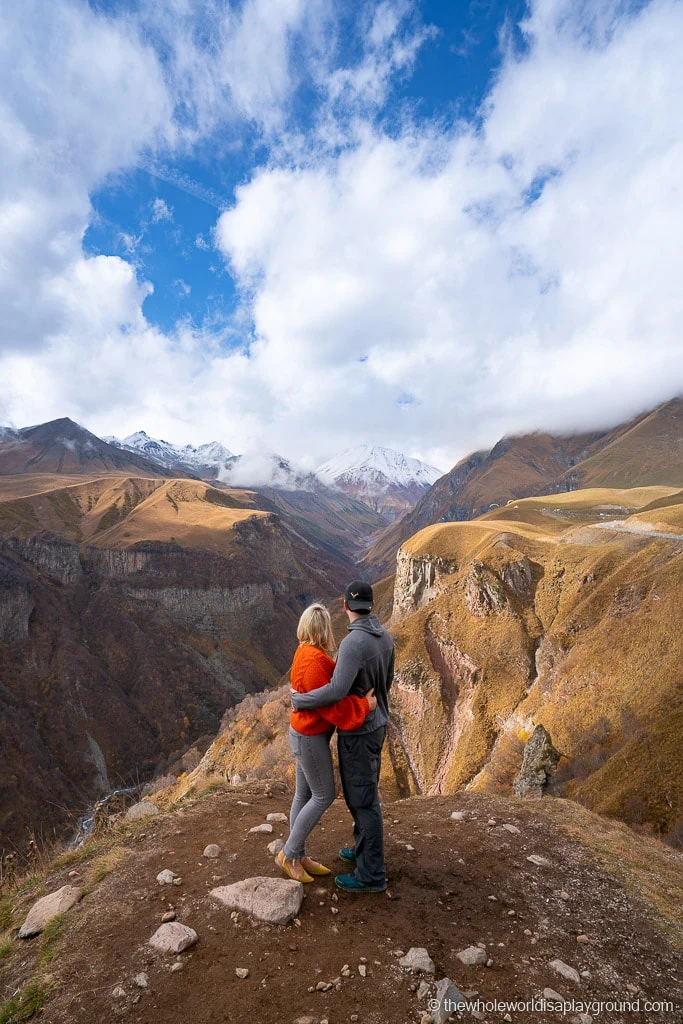 2 | Choosing your rental car
There is a good selection of cars available to rent at Tbilisi Airport, with everything from budget compacts to large 4×4 vehicles. Drive times in Georgia can be significant so we rented a bigger car as having the extra space makes the journeys a lot more comfortable.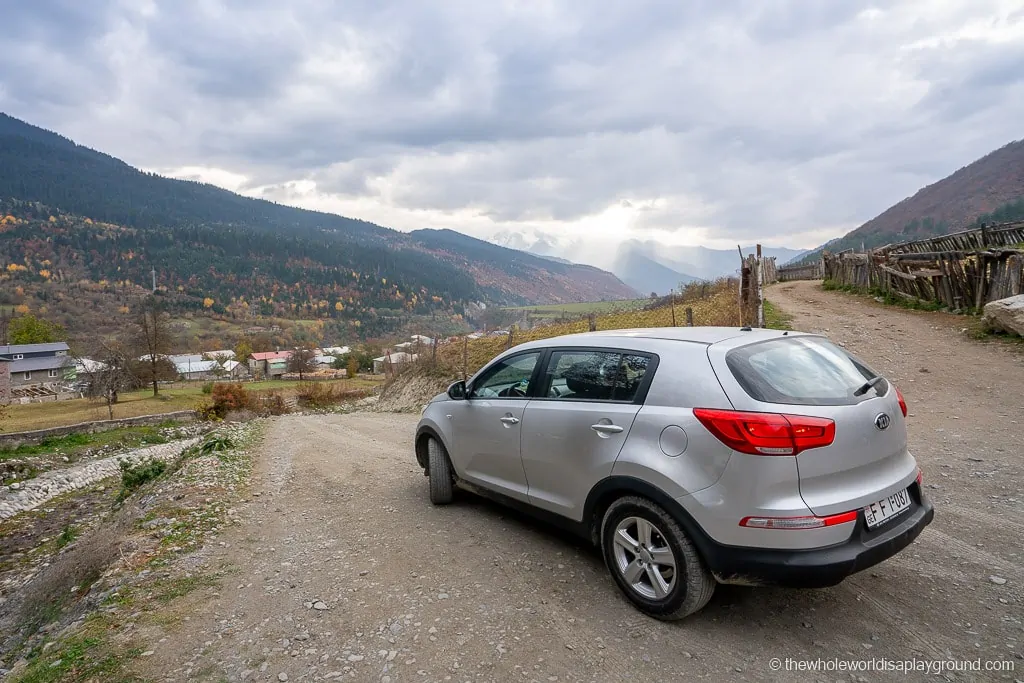 3 | Book your rental car early
We recommend booking your car early in most destinations especially if you want to secure a larger vehicle or a 4×4. These cars tend to sell out due to limited availability at busy times so it's worth booking early to avoid disappointment. We originally wanted to book a larger 4×4 for comfort driving in Georgia, however, as we booked our car at short notice none were available – check prices now!
4 | Do you need a 4×4 for driving in Georgia
No, a 4×4 car is not essential to drive around Georgia. However, if there is availability and you have the budget we recommend renting a 4×4 for the extra comfort that it would provide on bumpy Georgian roads.
We rented a Kia Sportage during our time in Georgia and while it was perfectly usable for the journeys, some of the roads were very bumpy. This was especially noticeable in the mountainous Upper Svaneti region and on the road to David Gereti Monastery from Tbilisi.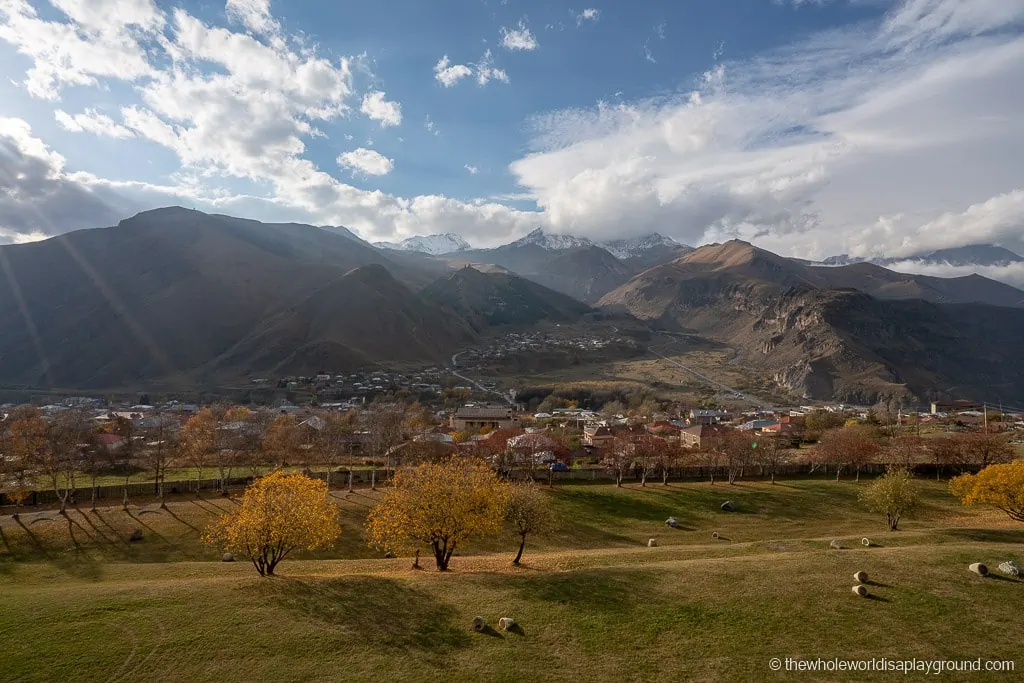 5 | Is driving in Georgia safe?
We spent two weeks exploring the popular tourist destinations in Georgia and found the driving experience to be relatively easy and our trip was a lot of fun. Driving in Georgia is safe and there is good road infrastructure, so it's easy to get to most of the main tourist destinations.
We explored the city of Tbilisi before heading to the mountainous Svaneti region and then visiting the epic Kazbegi with the iconic Gergeti Trinity Church. We also did lots of driving in and around Tbilisi as well as day trips out of the city.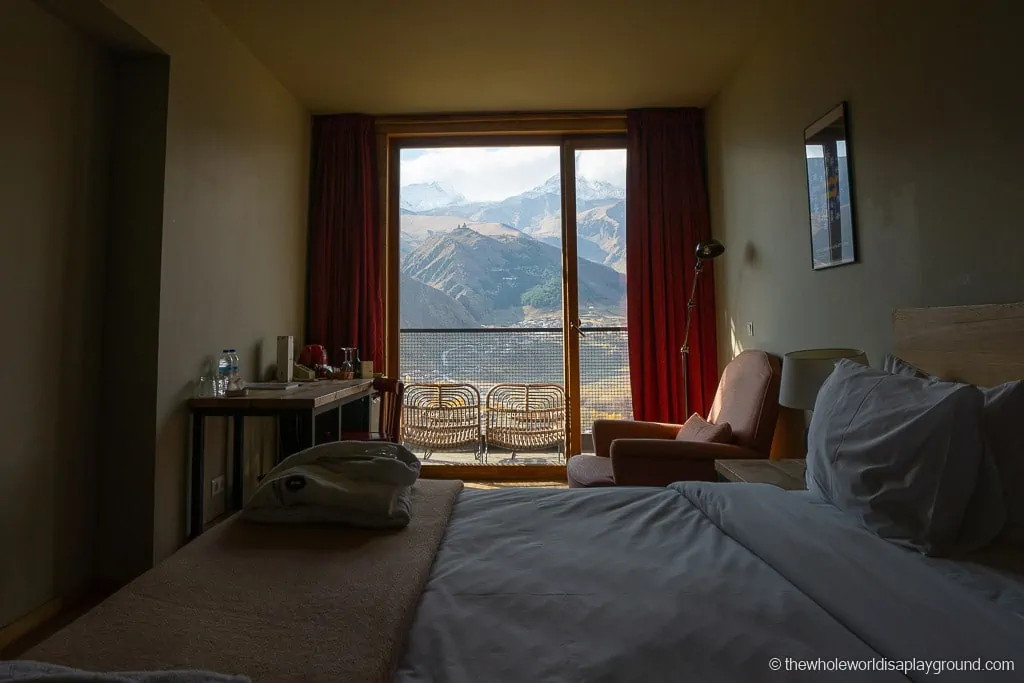 6 | Rental Car Eligibility and IDPs
The minimum age for renting a car in Georgia is 23 and all foreign license holders need an International Drivers Permit in order to rent a car in Georgia
International Drivers Permit (IDP)
An International Drivers Permit (IDP) is a document separate from your driving license that is simply a translation of your driving license to a number of different languages. If you don't have an IDP with you at pick up your rental car company may not give you a rental car in Tbilisi.
If you are stopped at any police checkpoints your IDP will make the interactions much easier as many of the police in Georgia do not speak any English and so your IDP will help a lot.
Renting a Car in Tbilisi tip: IDP's are not expensive and we highly recommend having one when renting a car, even if it's not a legal requirement to have it in a country. You must purchase your IDP in your original driving licence country before you travel as you cannot obtain one after you've left on your trip.
7 | Insurance
We recommend taking out full insurance when renting a car in Tbilisi. We found it was worth taking out the additional insurance to cover all damage to your car, i.e. don't have any excess remaining on your rental agreement.
Parking can be tight, especially in Tbilisi in the parking lots or the on-street parking so the chances of getting minor dents and dings to your car are relatively high. Also, due to the quality of some of the roads around Georgia, it can be very easy to get minor damage from debris kicked up by passing cars damage your rental car or damage a tire in a pothole.
With RentalCars.com you also have the option of purchasing the full insurance cover in advance when you reserve your car. This way you won't have any surprises about the cost of your rental as you'll know everything in advance – check prices now!
Picking up your car
Most visitors to Georgia will arrive via Tbilisi International Airport and it is here where most will choose to rent a car. We have some important tips for picking up your rental car in Tbilisi.
8 | Check your spare tire
We recommend checking your spare tire and tools whenever you pick up a rental car but this applies especially in Georgia. Due to the variety of roads that you may encounter while driving in the country, there is an increased chance that you might get a flat tire at some stage. So it's worth checking there is a spare tire in your car, that it's inflated and the tools are there to allow you to change it!
9 | Check the fuel level
It's also worth checking the fuel level in your car before you drive away from the airport. The rental cars at Tbilisi airport may not be completely full on pickup, so you'll need to note the level with the rental car rep. You will be expected to return the car with the same level of fuel on return. It's a minor thing to check but will avoid any issues when you return the car.
Renting a Car in Tbilisi Tip: The level of fuel should be noted on the documents you receive when you rent the car so make sure everything matched before you leave the airport. We usually just fill the car unless we get less than 2/3 of a tank on pick up.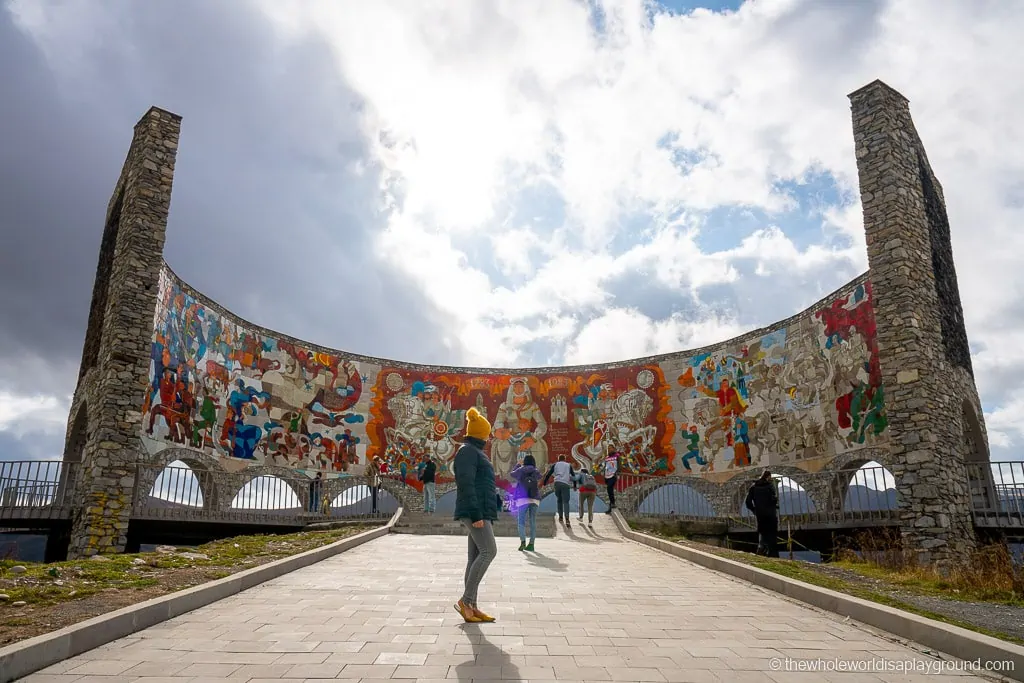 10 | Parking
Outside of the three main cities, Tbilisi, Batumi and Kutaisi, parking is free and relatively easy to find throughout Georgia. Most towns and villages have on-street parking that is free to use.
Parking in Tbilisi city can be trickier to find and most parking (on-street and garage parking) is paid. We parked our car in the hotel parking lots/garages for a small nightly fee and it worked out great. All of the hotels we stayed at outside of Tbilisi had free parking on site.
11 | Driving in Tbilisi city
We found that Tbilisi was the only part of Georgia where driving can be a little challenging. This is mainly due to the traffic and small congested streets of the city. The roads in the city centre get very busy at peak times and navigating around the old streets can be a little tricky, especially after dark. A lot of the small, older streets in the city are one-way only which can add to the difficulty.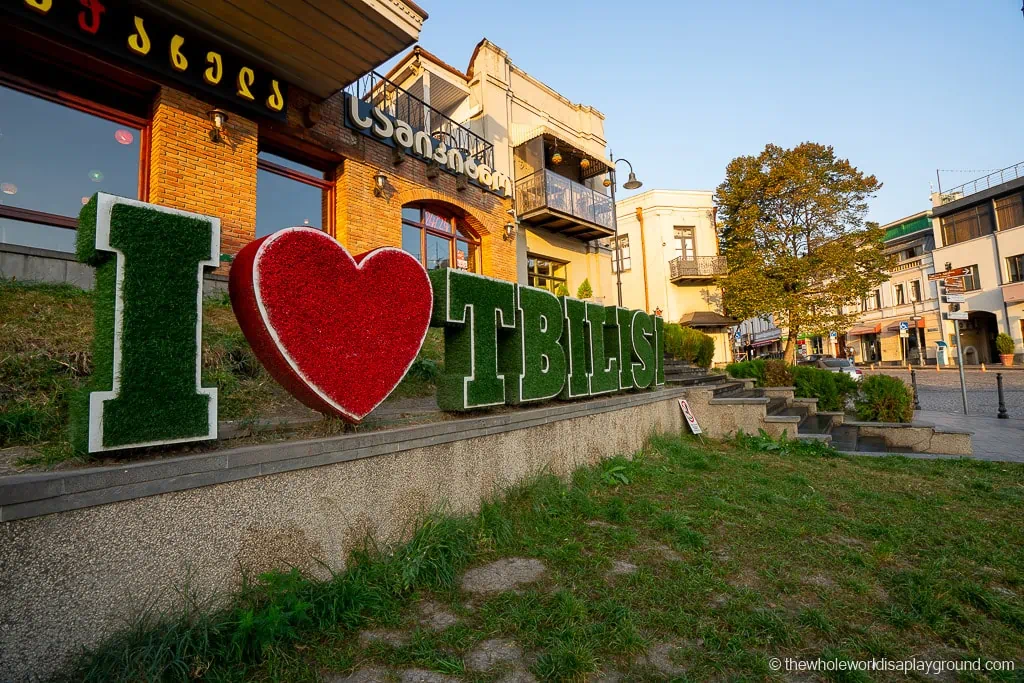 If you plan to drive into Tbilisi we recommend driving to a particular parking garage/lot, and exploring all the things to do in Tbilisi on foot. This avoids having to navigate around the city or get caught in traffic.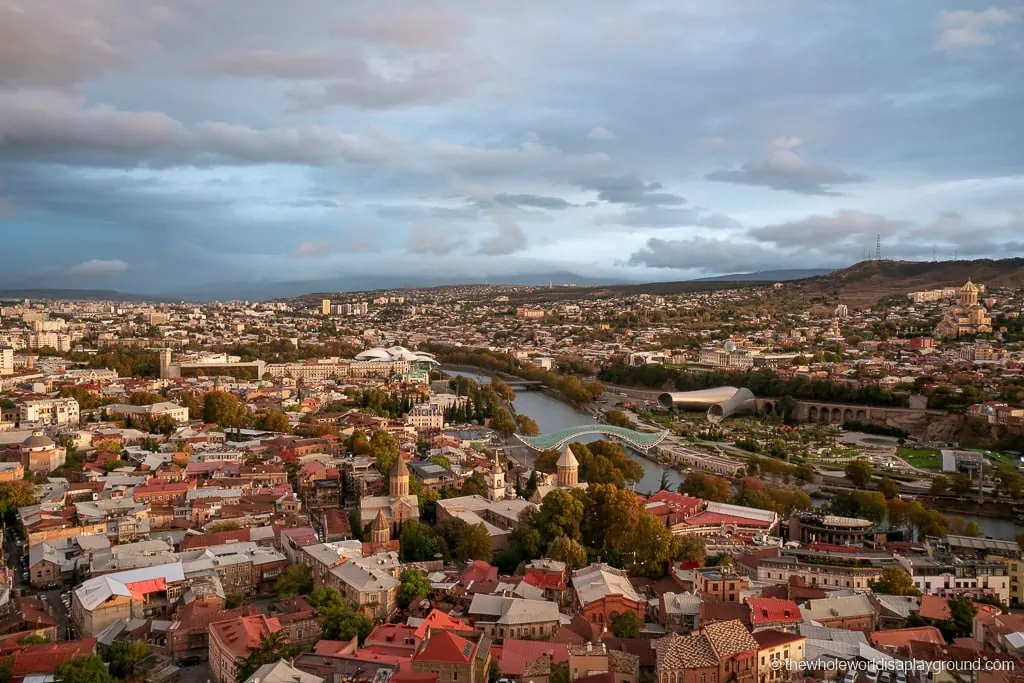 11 | Road Quality in Georgia
Overall the road quality of the main roads in Georgia is quite good. We drove across the country from Tbisili to Upper Svaneti and north to Kazbegi and generally the roads were in good condition.
There will be occasional places where the road quality will be poor by international standards, however we found most of the roads very good and easy to drive.
Renting a car in Tbilisi tip: The roads leading through the mountains to Mestia do suffer from damage each winter and spring due to mud-slides and ice/snow so expect poor road conditions on this route.
The main routes visitors will take will be the E60 highway west of Tbilisi that leads to Batumi, Kutaisi and Svaneti, the E117 north of Tbilisi to Kazbegi and the S7 highway east from Tbilisi to Sighnaghi. All of these roads are good-quality highways with lots of gas stations along the routes.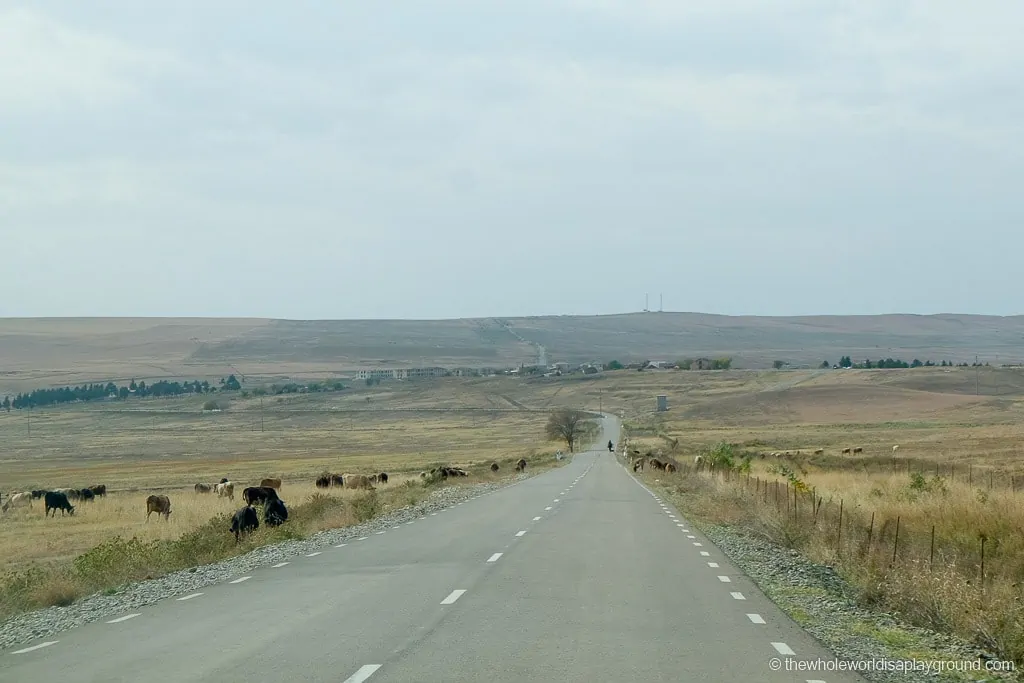 Once you leave these roads however the road quality can vary and this can slow down your drive times considerably.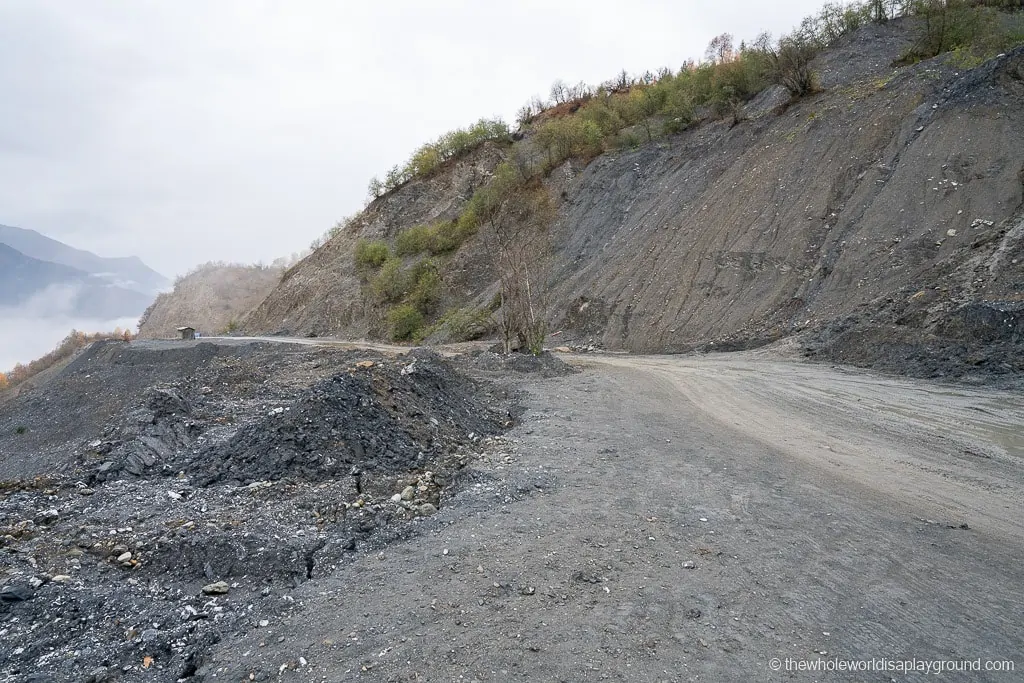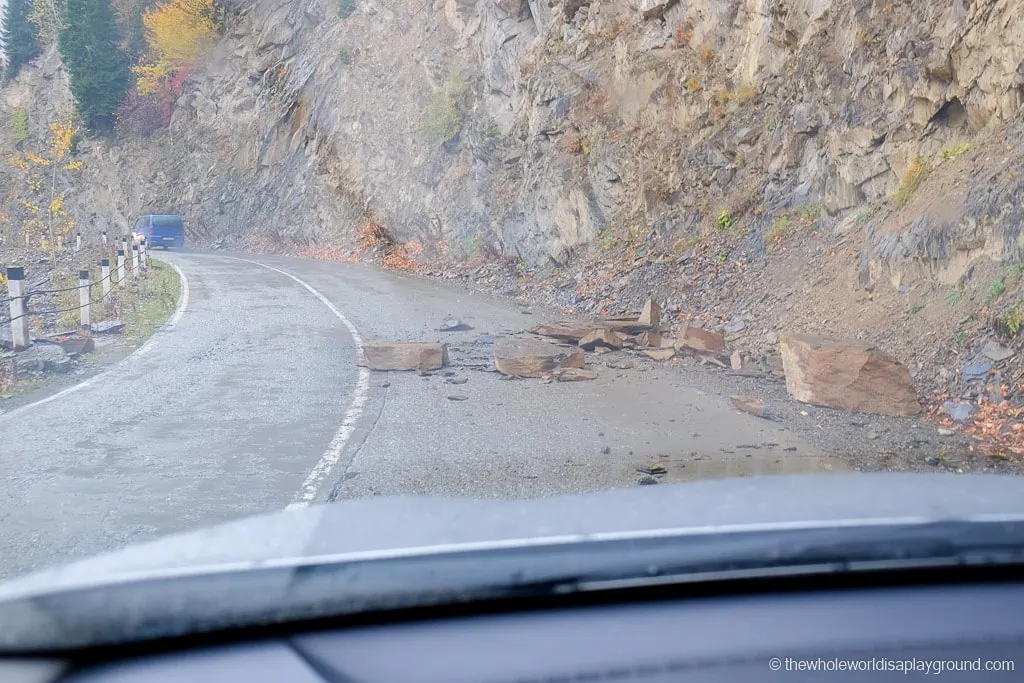 The roads across Georgia are frequently receiving upgrades so the standard of the road network is improving each year.
12 | Navigation
We used Google maps on our cellphone during our time in Georgia and it worked great.
Renting a car in Tbilisi tip: If you plan using Google maps or other online maps for navigation it's worth worth downloading your directions in advance of any drives to remote areas. Cell service can be patchy en route to places such as Kazbeghi or Svaneti so having the routes downloaded avoids any issues.
We recommend purchasing a sim card at the airport when you land in Tbilisi. We purchased a sim card from MagtiCom, Georgia's main phone network. It worked great throughout the country, however coverage will drop if you plan to visit the mountainous regions of Svaneti or Kazbegi.
13 | Avoid driving at night
We highly recommend avoiding driving in Georgia after dark. Most of the roads outside of the towns and cities are very poorly lit and it is also harder to spot potholes in the road at night. Livestock on rural roads is also very common so we don't recommend driving at night, especially in rural areas.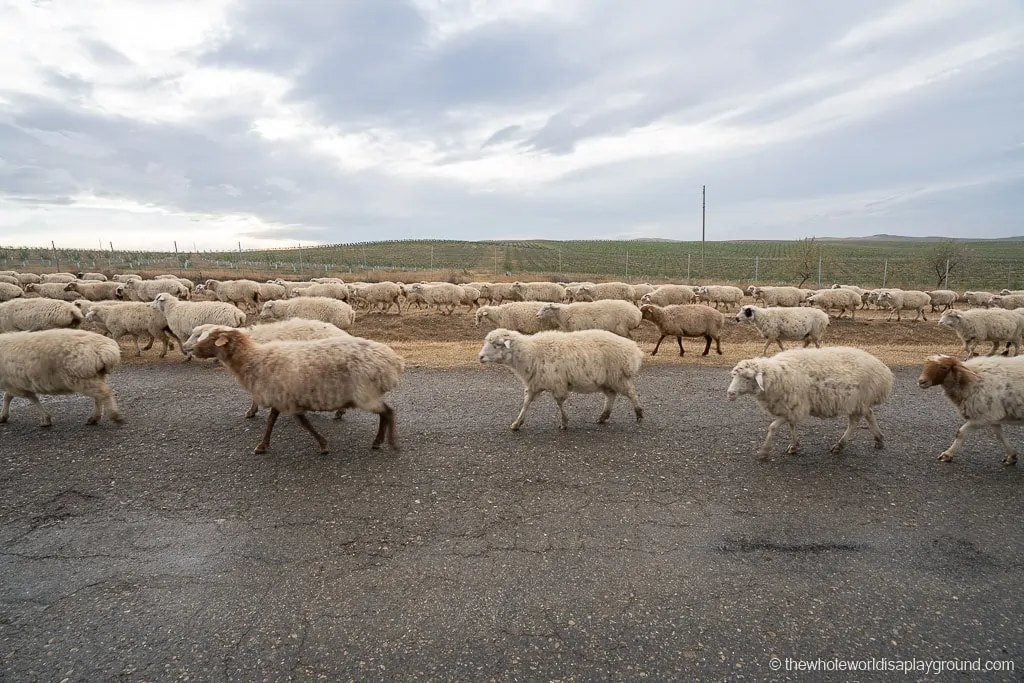 We avoided driving after dark by planning all our long drives early in the morning, allowing lots of time for stops and sightseeing along the way.
14 | Fuel
Most cars in Georgia are petrol so it's likely that your rental car will also be petrol. Pretty much all towns and cities have gas stations and the main roads across the country have regular stations.
Most stations are manned and the staff will fill your car for you, simply pull up to the pump and they will ask you what you need and how much. We usually just asked them to fill the tank with premium.
Renting a car in Tbilisi tip: we tended to purchase fuel at the larger stations to try and ensure good quality fuel. They usually have a store attached for snacks and drinks while on the road.
Historically gas has been relatively cheap in Georgia at less than $1 USD per litre (around 90 cents usually), however recent price increases now see gas at around $1.30 per litre. While it's still cheap by international standards it's worth factoring in your gas cost for your trip. You can check the current Gas prices in Georgia here.
At the larger stations, we had no issue using credit cards to pay for gas, however some of the smaller stations only took cash.
15 | Drive on the right-hand side
Like most countries in the world, driving in Georgia is on the right-hand side.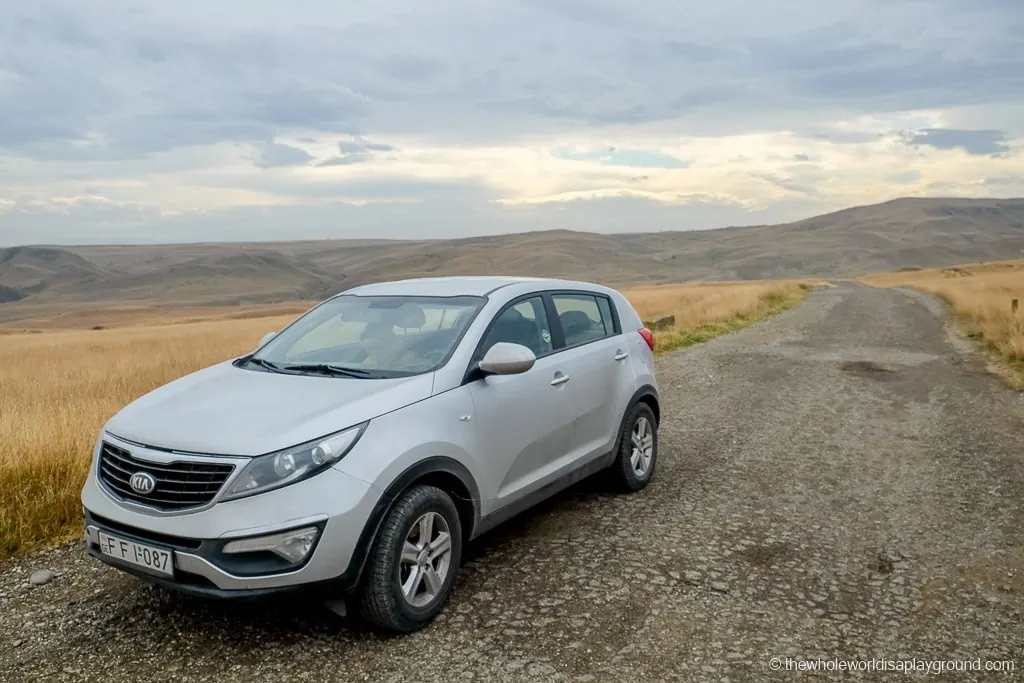 16 | Speed Limits and Cameras
Speeds in Georgia are signposts regularly in kilometres per hour and generally vary from 60 km/h in urban areas, to 90 km/h on rural roads and up to 110 km/h on motorways.
Although traffic moves quite fast, we highly recommend staying within the speed limits. We encountered many speed checkpoints and police checkpoints throughout Georgia, especially in Tbilisi. The police did not hesitate in pulling drivers over for speeding or other traffic offences so it's worth staying within the limits.
17 | Animals on the road
Many of the rural roads in Georgia are lined by unfenced fields which means animals can wander onto the road. In addition to this farmers move livestock between fields using the roads so it's likely you'll pass some on your travels.
We encountered a variety of animals and livestock on the roads throughout Georgia. This was especially common in the more rural areas. We met cows been moved on the main road to Mestia, sheep outside Tbilisi and herds of goats in many others!
Renting a Car in Tbilisi tip: Animals and livestock on the roads are another big reason no to drive after dark in Georgia. They can be difficult to spot after dark and greatly increase the chances of an accident.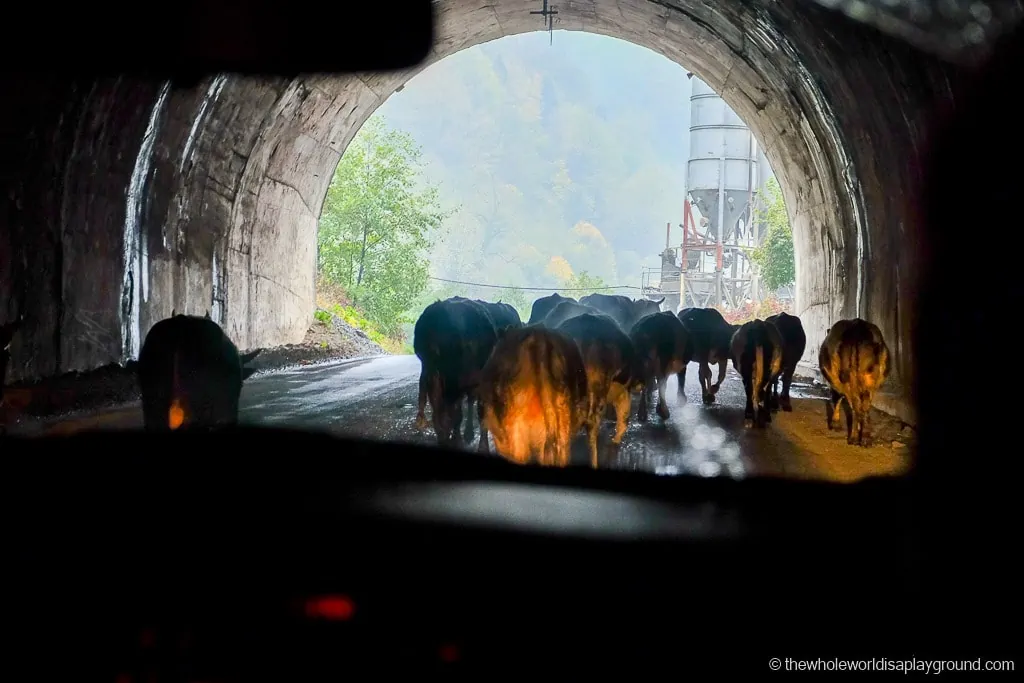 18 | Taking your car to other countries
While it is possible to take some rental cars in Georgia across the border into other countries it can require extra admin and charges.
If you do want to take your rental car across borders the countries allowed varies by rental car provider, however, generally you will not be allowed to take a rental car into Russia, Dagestan Republic, Iran and Turkey.
Some providers allow customers to take rental cars into Azerbaijan and Armenia, however, you will need to apply for permission in advance and some/all of your insurance will not apply when you cross the border. This means you will need to arrange insurance for your rental car. Due to the difficulties and risk of doing this, we don't recommend trying to take your rental car into other countries from Georgia.