Visitors to Tokyo have one experience high on their must do list: eating a sushi breakfast at Sushi Dai. Since dining at Sushi Dai we've been asked many times, 'What's it like to eat at Sushi Dai?' Simply put: it's incredible. So incredible that, after 5 hours of queuing in the middle of the night in a busy fish market, we sat down to a 45 minute meal of sushi at 8am and it was the best sushi we've ever eaten! The only downside to eating at Sushi Dai? As sushi lovers we can tell you that when you return home sushi will never taste as good again!
Sushi Dai tip: The delicious sushi at Sushi Dai is hard earned! It will cost you a nights sleep and hours of queuing. For all our tips and advice to securing a spot at Sushi Dai and how to manage the queue see our how guide for eating at Sushi Dai here!!
Best Hotels for Sushi Dai
We highly recommend staying in a hotel close to the Tsukiji Fish Market if you plan to eat at Sushi Dai. The Tokyo Metro does not run at night and to guarantee a place in the queue before 3am you'll need to stay close to the market. The best options are to stay either beside the market itself or in the nearby popular Ginza area. Demand is crazy for hotels in Tokyo and the best usually sell out months in advance to make sure to book in time. The best hotels that are a short walk from Sushi Dai and the Tsukiki Fish market are:
Courtyard by Marriott Tokyo Ginza An extremely central location and really comfortable and spacious rooms make this Marriott a perfect option for exploring the city and the Tsukiji market. Sushi Dai is less than a 10 minute walk from this hotel and the nearby Ginza metro station gives access to all the main parts of Tokyo. Check prices here!
Millennium Mitsui Garden Hotel: A great alternative to the Marriott and a solid modern hotel. It's also a 10 minute walk from the fish market but also really central for seeing the rest of the city. Check prices here!
Tokyu Stay Tsukiji: The closest hotel to the Tsukiji fish market and is a great option for visiting Tuna Auction and Sushi Dai. You are literally across the street! Check prices here!
Click here for the more hotels near Tsukiji Fish Market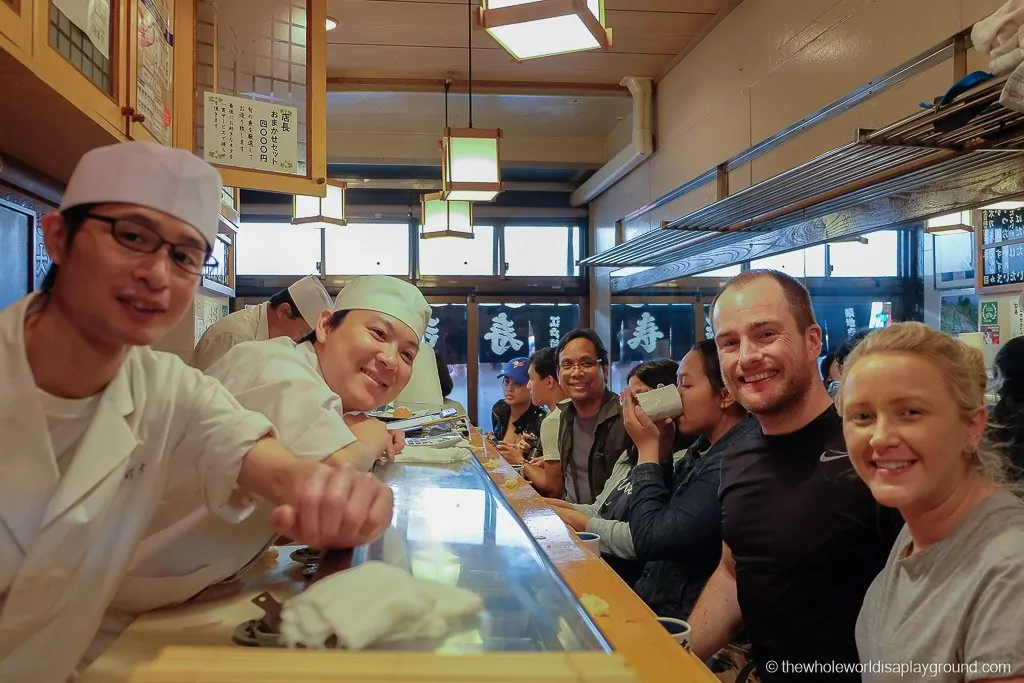 Sushi Dai
So what is Sushi Dai and why all the fuss? Sushi Dai is tucked between the numerous sushi restaurants within the inner market of the Tsukiji Fish Market and is widely regarded as one of the top and more reasonably priced sushi restaurants in Japan, at least if the long queues and international hype are to be believed! The restaurant is located on the end of a line of similar looking restaurants, the other most popular being Daiwa Sushi.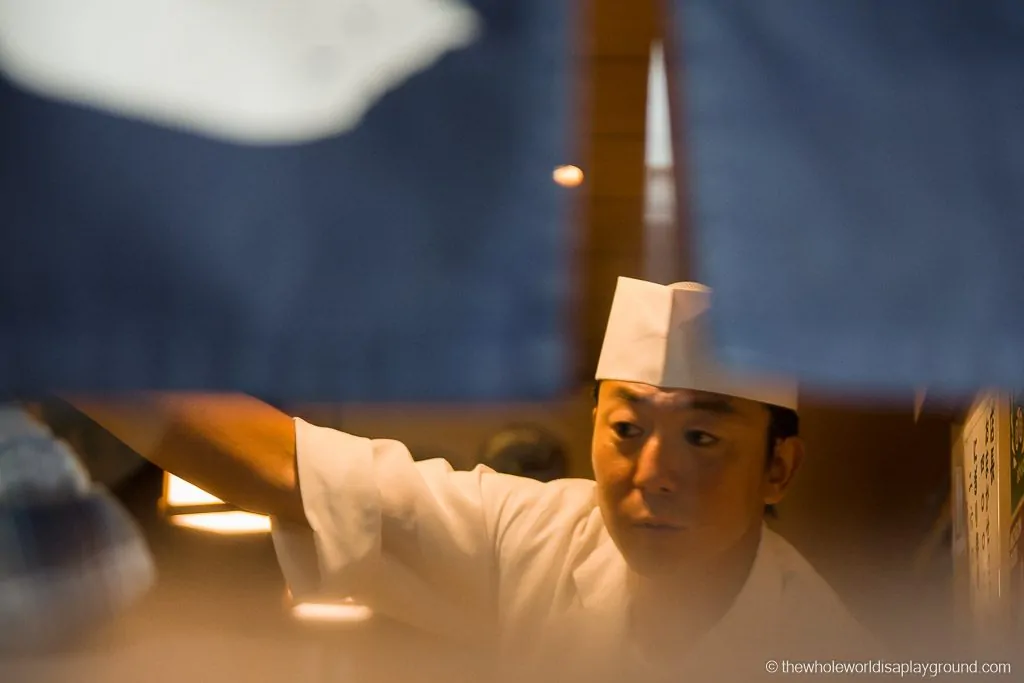 Sushi Dai Menu
There are two menus at Sushi Dai:
a standard Jyou menu costing ¥2,600 (around $25) and consisting of 6 pieces of nigiri sushi, sushi rolls and miso soup
a Omakase 'Trust the Chef' menu costing ¥4,000 (around $40). The chef will select his 9 best pieces of the day. In addition you also get to choose one extra nigiri sushi from the a la carte menu. All in, it is 9 + 1 pieces of nigiri sushi, sushi rolls, rolled egg and miso soup.
Either way you're getting some of the best sushi on the planet for less than $40 so it's a pretty good deal!
Sushi Dai tip: credit cards are not accepted at Sushi Dai so make sure you have enough cash with you!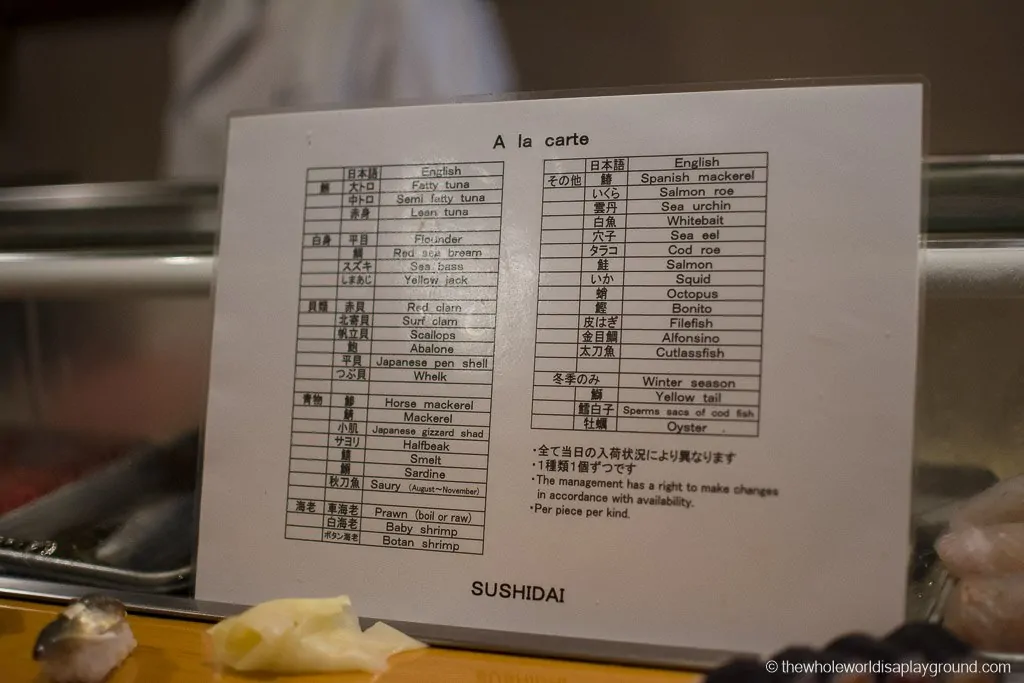 The Sushi Dai Meal
After an epic queue 4.5 hour we were definitely ready for a sushi feast and had completely forgotten that it was only 8am! Eventually we were shuffled into the extremely narrow Sushi Dai and took our seat at one of the small stools at the sushi counter. There are only 12 seats so it's an intimate dining experience!
We opted for the Trust the Chef option and the chefs, who spoke much better English than we speak Japanese, were really friendly and professional, asking if there was any type of sushi we didn't like or want. Elaine really valued this as she wasn't too keen on being super adventurous with her taste buds: I'm looking at you sea urchin and cod sperm sac!
Sushi Dai tip: even though it's a chef's choice menu don't be afraid to go for the Omaske if you are reluctant to try everything. The chef's are well aware that sea urchin isn't to everyone's taste and talk customers through each course!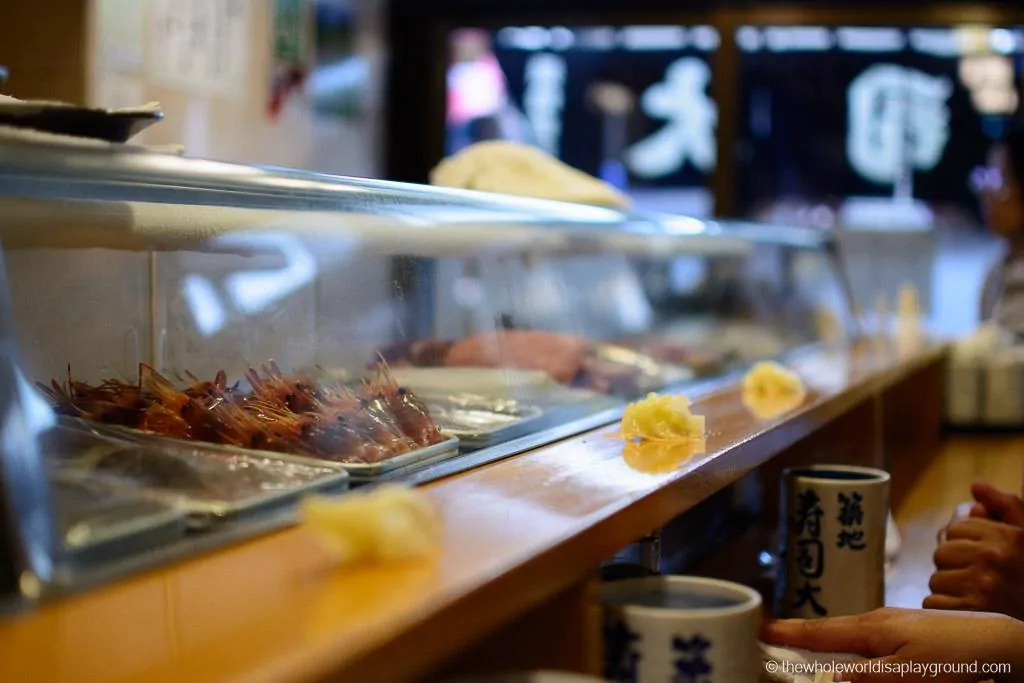 The atmosphere is refreshingly relaxed and friendly and the staff really helped us, and all the diners, to feel right at home from the moment we stepped through the door. We were served green tea and a bowl of hot and hearty miso soup to start the meal and, it has to be said that after such a long queue, green tea has rarely tasted so good! The sushi chefs immediately began preparing our sushi pieces and, in between the chit chat, we watched in awe at their sushi skills!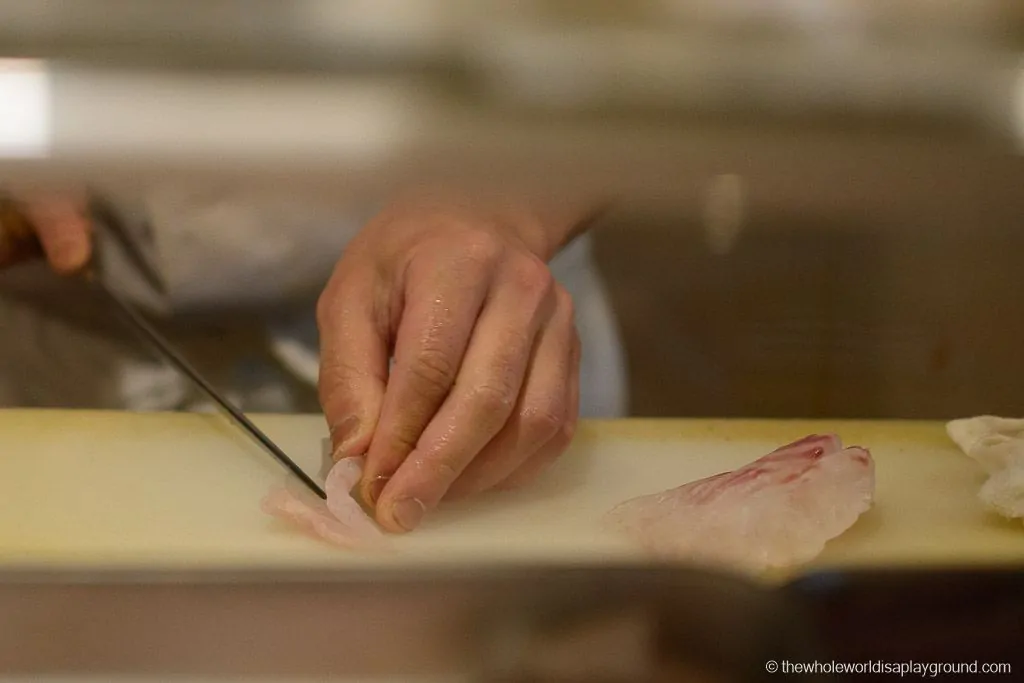 1. Rolled Egg or Omelette
A Japanese staple, the omelette was light and fluffy and the perfect appetizer.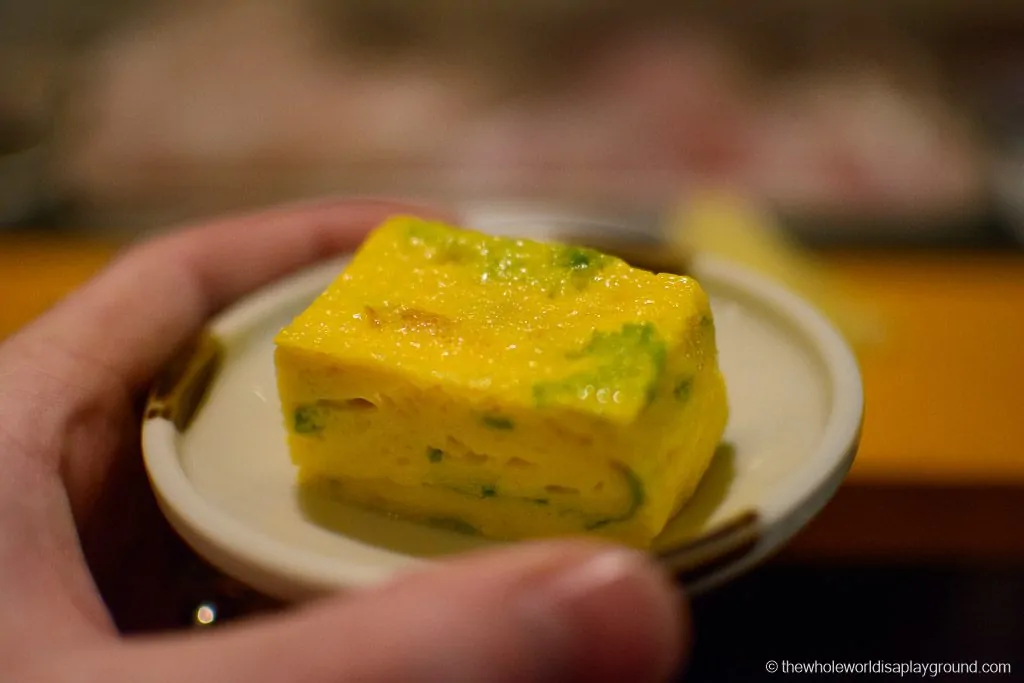 2 | Lean Tuna
Tuna is obviously one of the highlights of the Sushi Dai experience. After all, Japanese tuna is world renowned!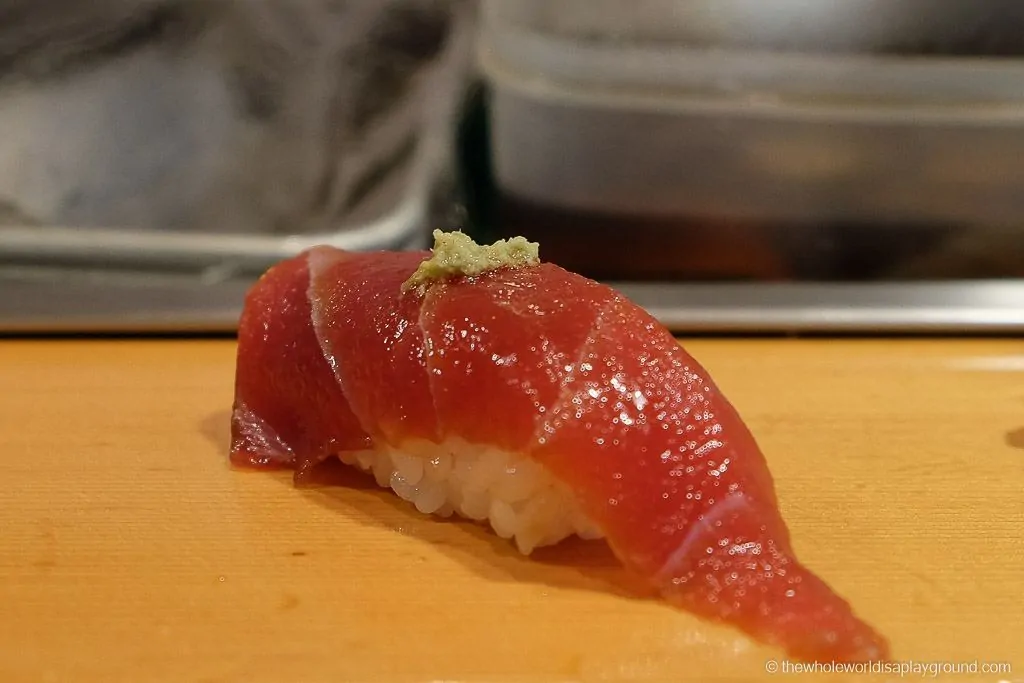 3 | Horse Mackerel
We were a little alarmed when the word 'horse' was touted but it's all fish! It had a unique but pleasant taste and was much better than we expected from raw mackerel!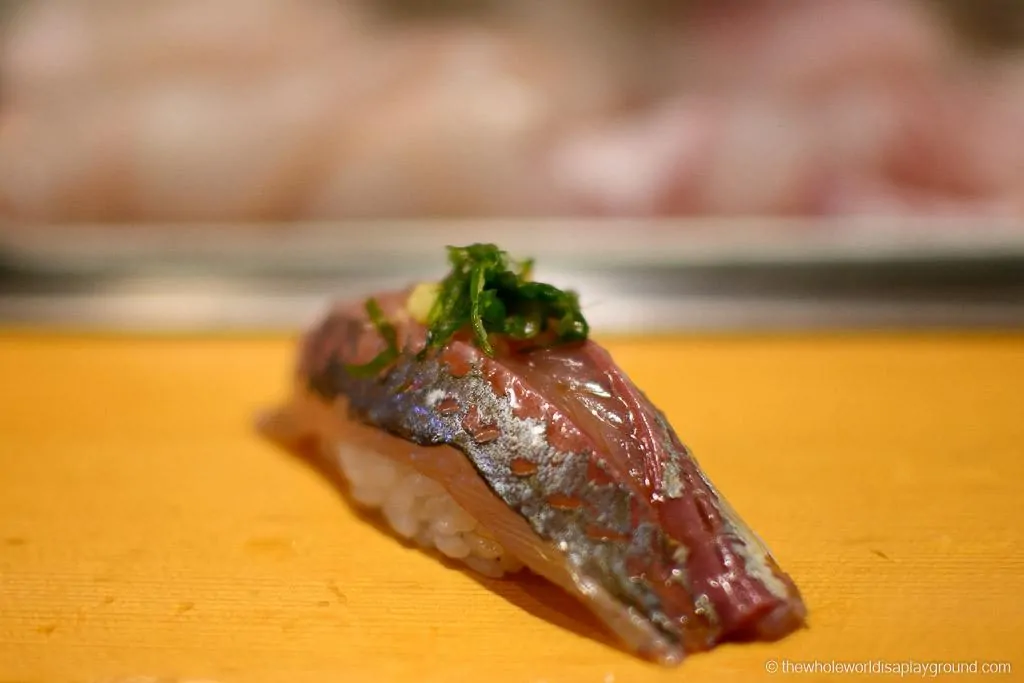 4 | Japanese Gizzard Shad
Our chef enjoyed making this piece almost as much as we enjoyed eating it! The intricately woven nigiri is a pure delight and had a lovely smooth consistency rather than the chewiness we expected.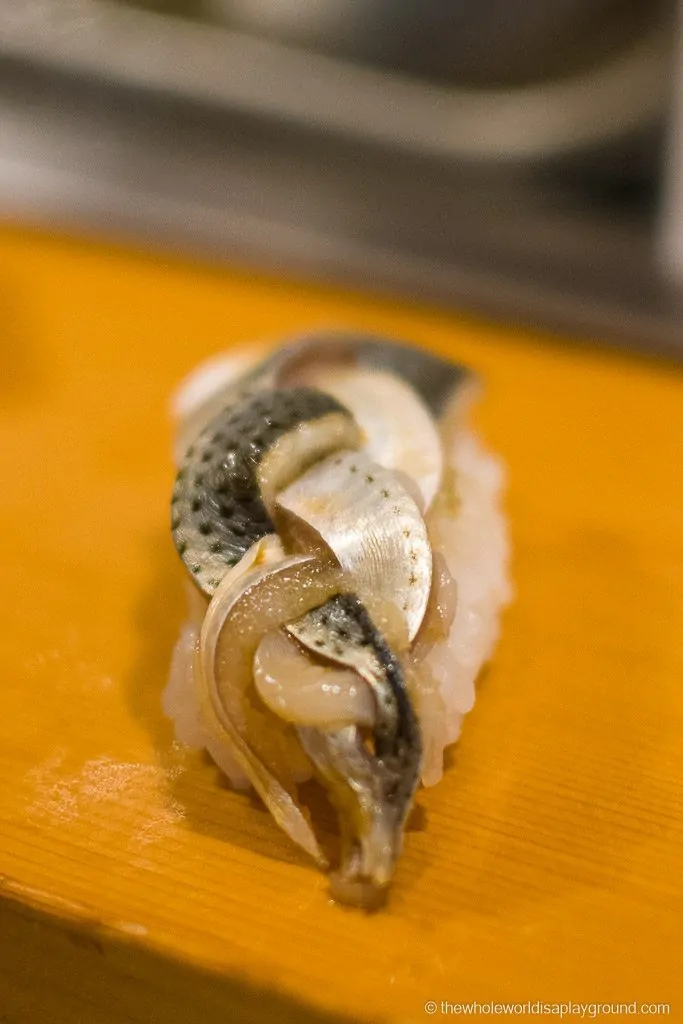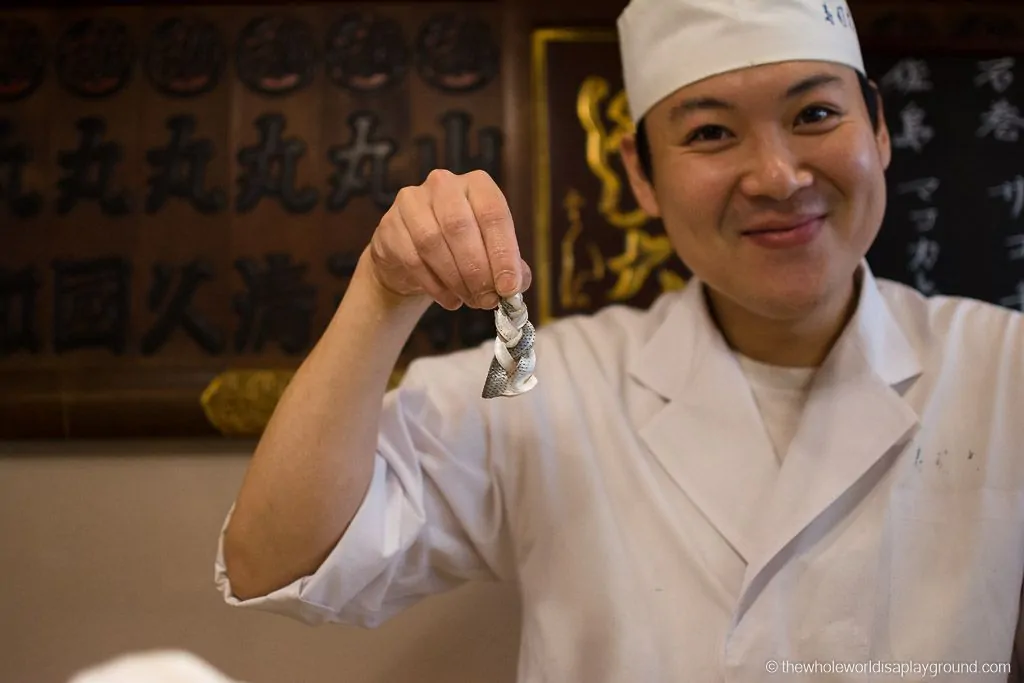 5 | Fatty Tuna
The undisputed king of tuna! This fatty tuna was by far the most amazing single piece of sushi we'd ever had. So much so that we both ordered a second piece as our additional nigiri choice. It was absolutely melt in the mouth delicious!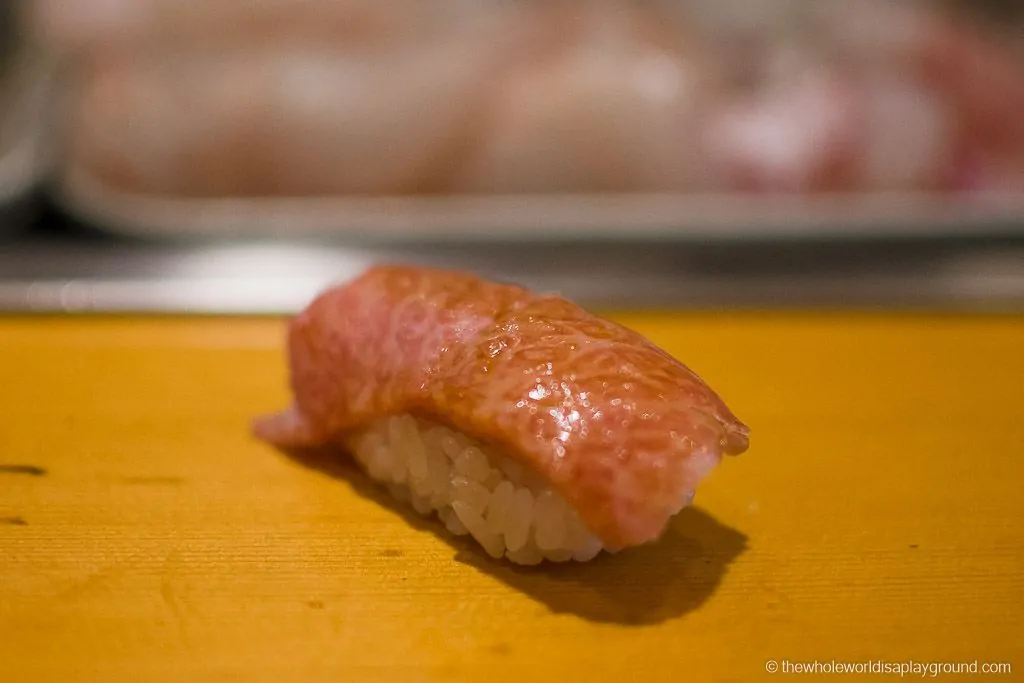 6 | Giant Scallop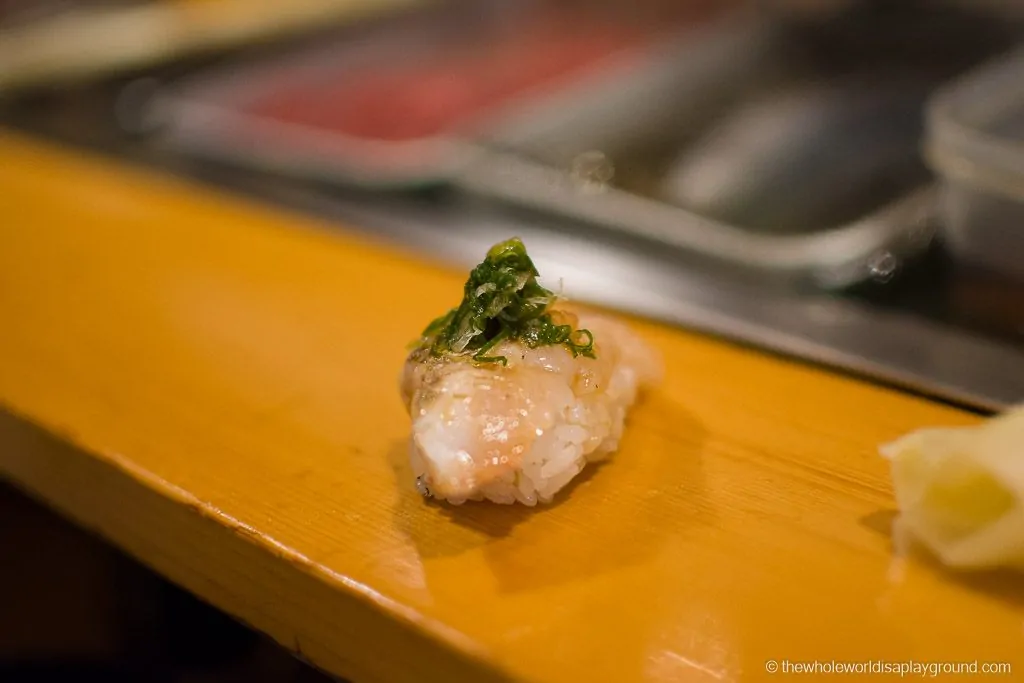 7 | Sea Urchin (Uni)
I was both excited and fearful of trying the sea urchin. In the past I've always avoided sea urchin as I knew how reliant it is on the quality of the fish and the preparation but the sea urchin at Sushi Dai was out of this world. It was literally like tasting the ocean. The saltiness of the sea urchin and the perfectly prepared rice make this it a real treat and I'd queue again just for this!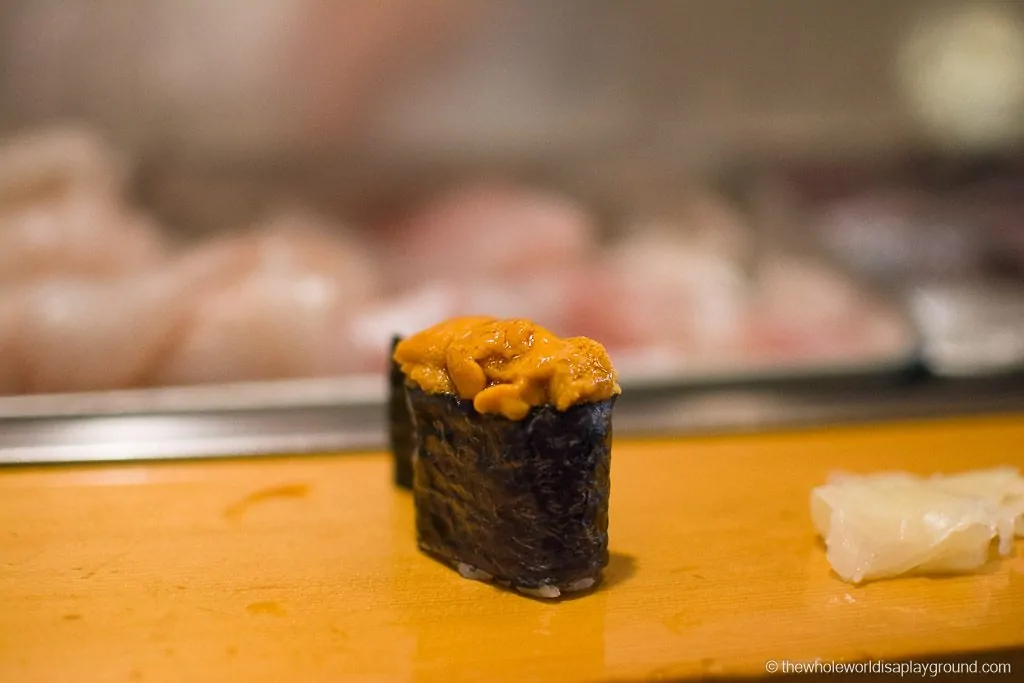 8 | Anago (Sea Water Eel)
The preparation of this Japanese specialty was a meticulous and well rehearsed process at Sushi Dai. The chef masterfully plucked the many small bones from the eel fillet before slicing and serving on rice. The saltiness of the eel with the sweet sauce made for a really nice combination.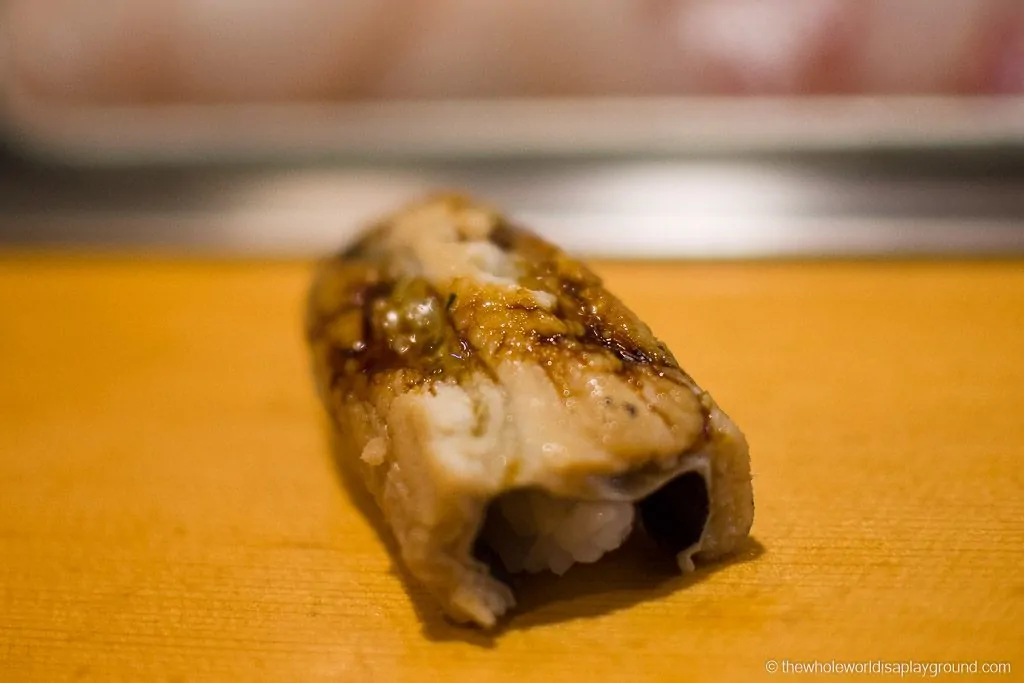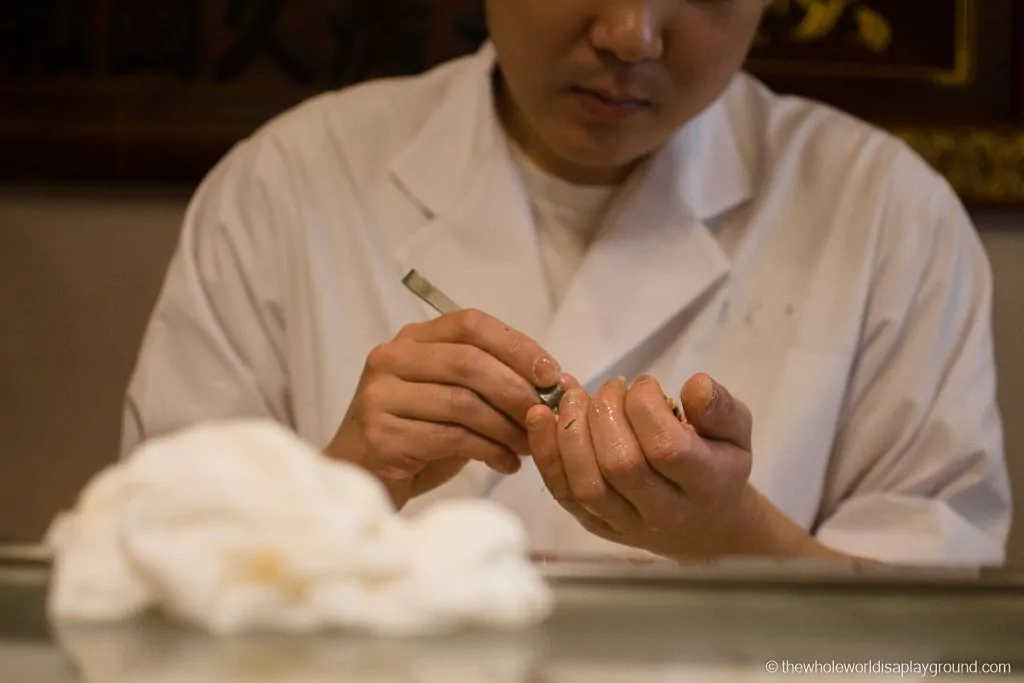 9 | Giant Clam
The giant clam was a first for me. I usually don't eat food that moves just before you eat it! As giant clam is usually served so fresh that it's still moving I waited a few seconds before popping it in my mouth! The texture and taste of the clam with the soy sauce and touch of wasabi was exquisite.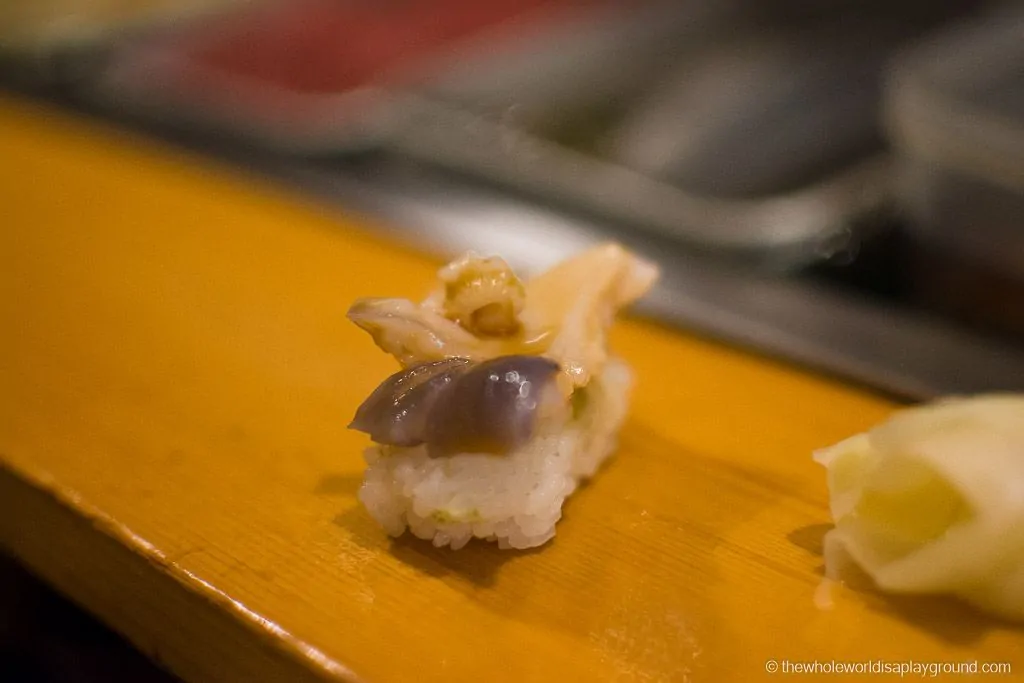 10 | Maki Roll
After a string of nigiri the maki were a nice switch up in both texture and taste!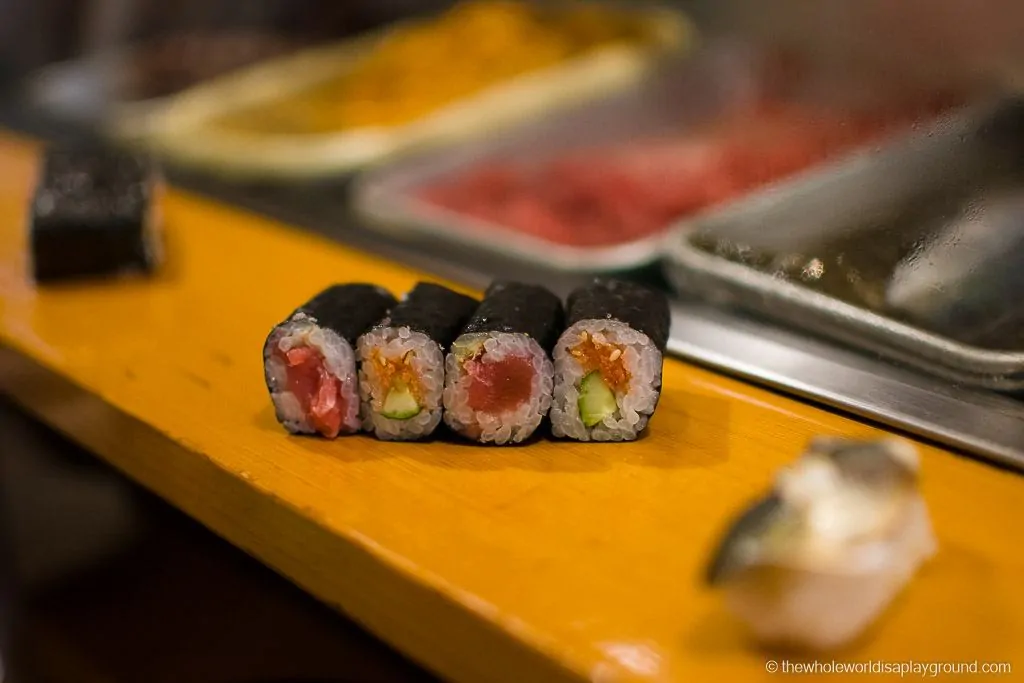 11 | Golden Eye Snapper

12 | Cutlass Fish
This was another new sushi for us. The white flesh of the cutlass fish had a light and soft cod like texture and the pairing with the rice and the topping worked really well.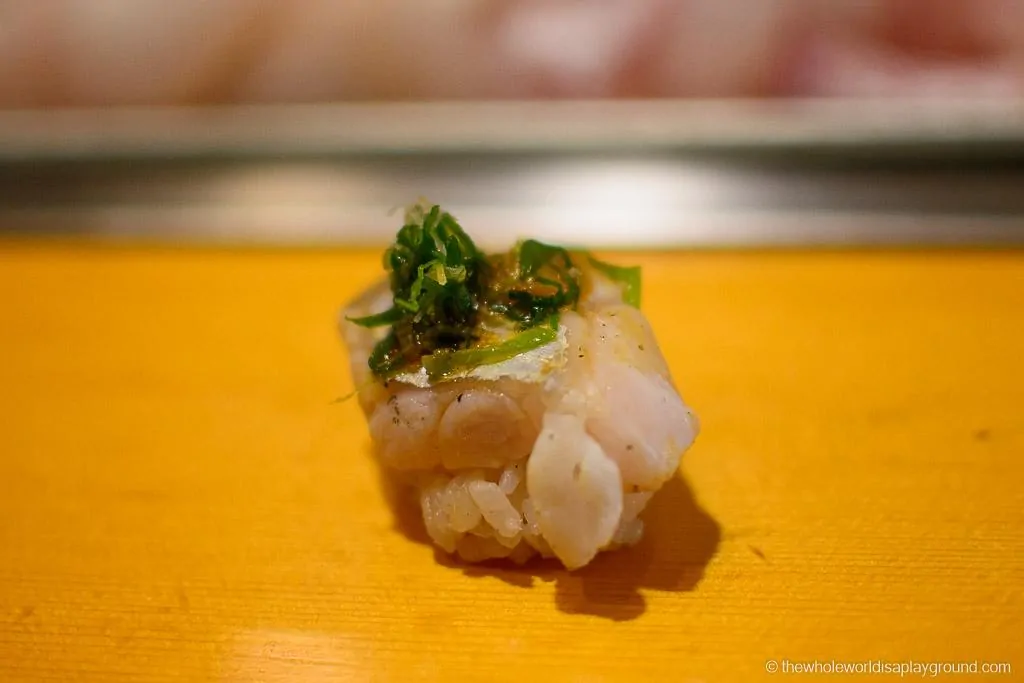 13 | Sea Bass
Sea bass is one of our favourite fish and it was amazing to taste it in the nigiri. We much prefer it as nature intended having savoured it at Sushi Dai!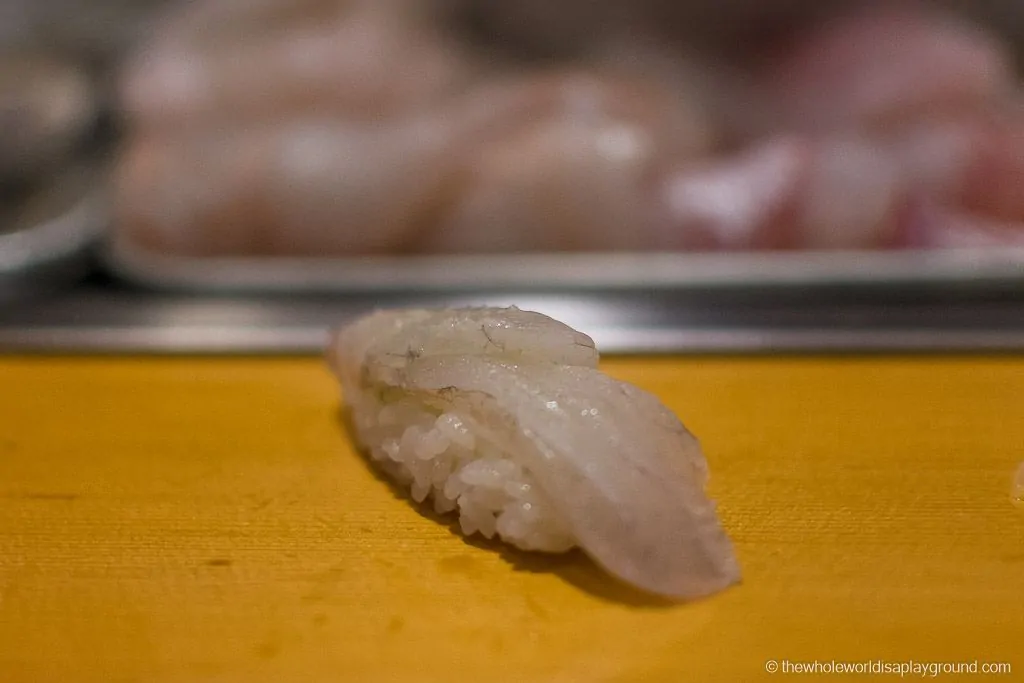 14 | Salmon
What is a sushi meal without salmon? I'll admit we were skeptical as to what Japanese salmon would taste like having been spoiled in Ireland with fantastic Atlantic salmon but Sushi Dai stepped up to the plate!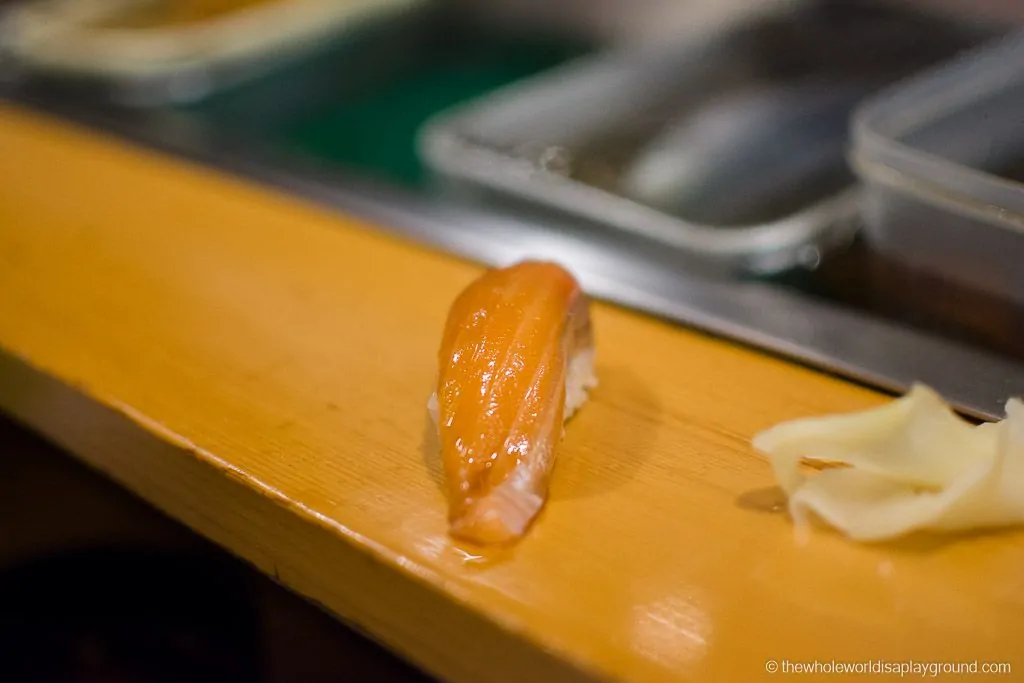 The Service
The food is usually the talking point at Sushi Dai and, while it's amazing, we felt that the staff really added to the entire experience and made it extra special. Despite the long queues the staff are happy to chat with the customers, are charming and funny and never rush anyone. The incredibly energetic hostess floats effortlessly back and forth, ensuring everyone is taken care off at the front of house while constantly monitoring the snaking queue outside with military precision. Sushi Dai really do take very good care of all the customers!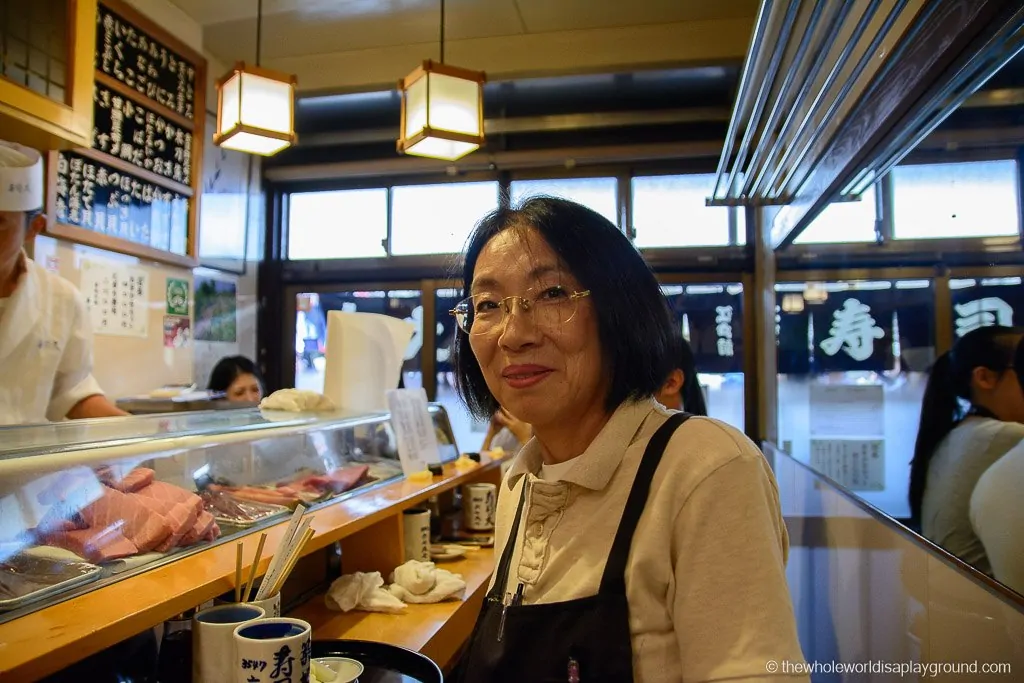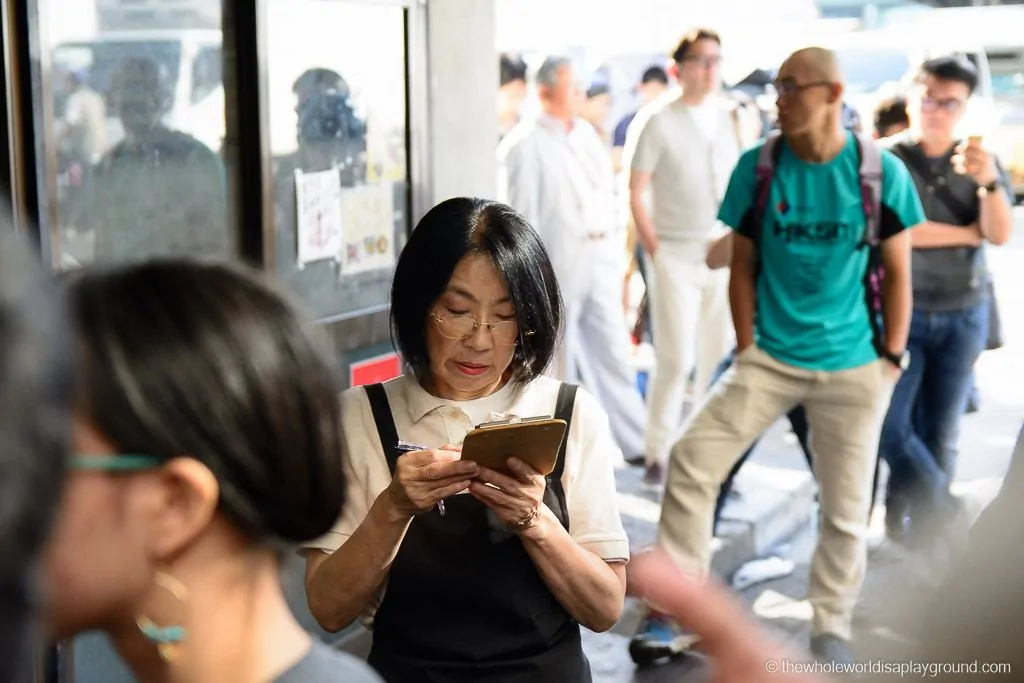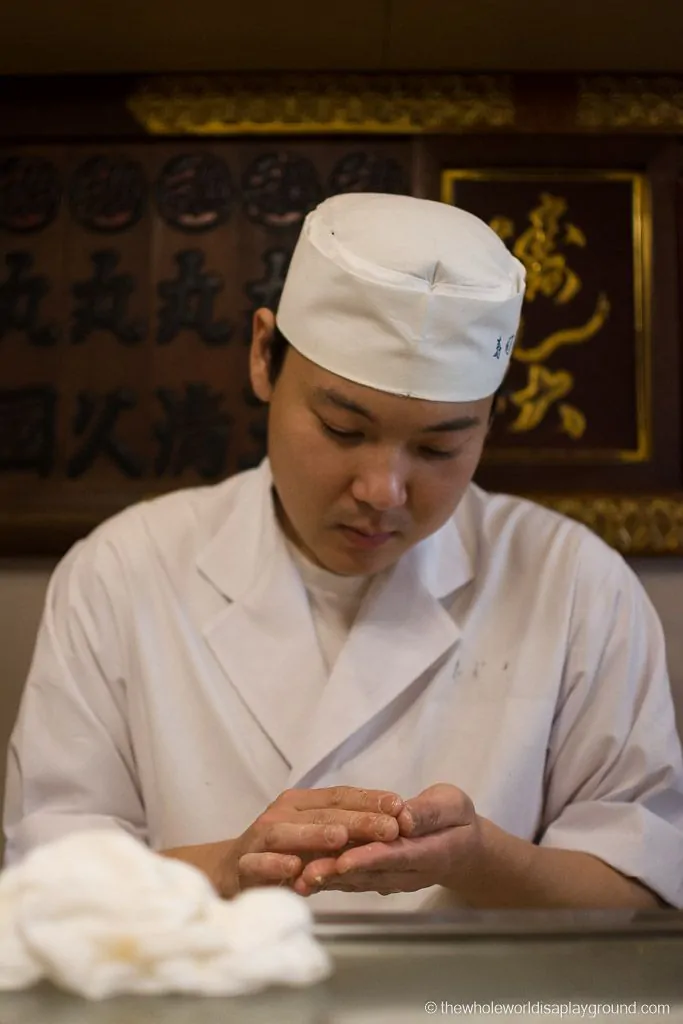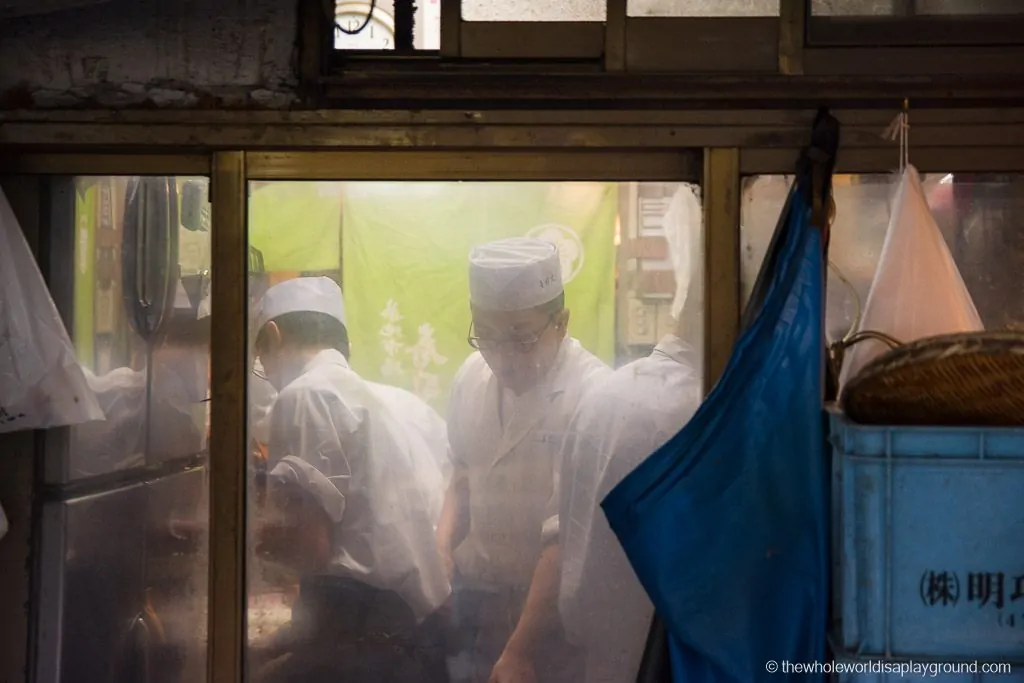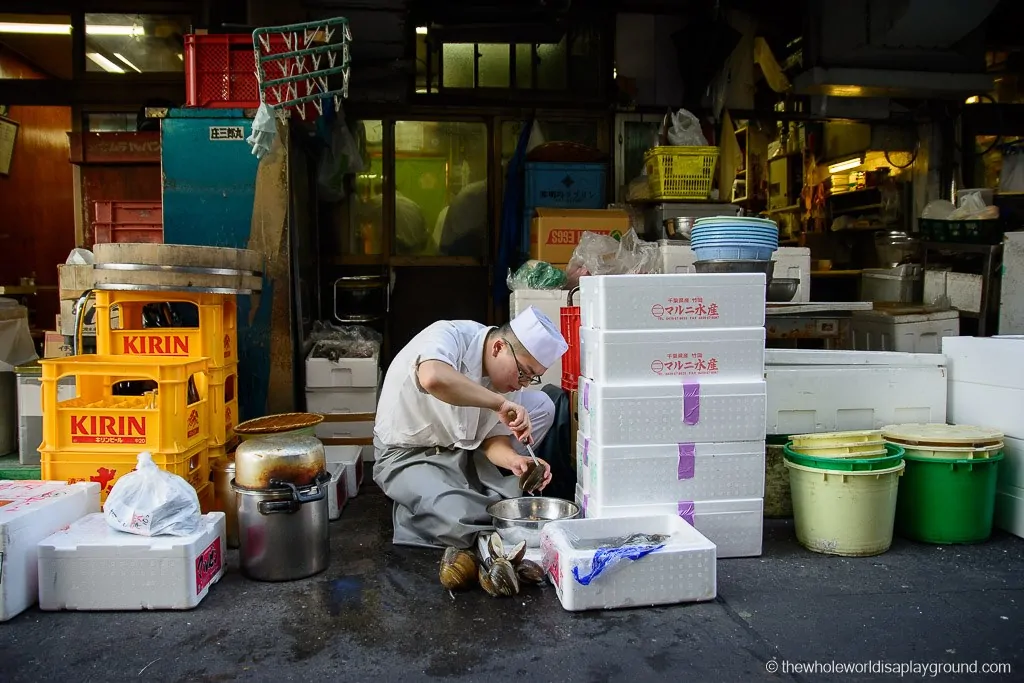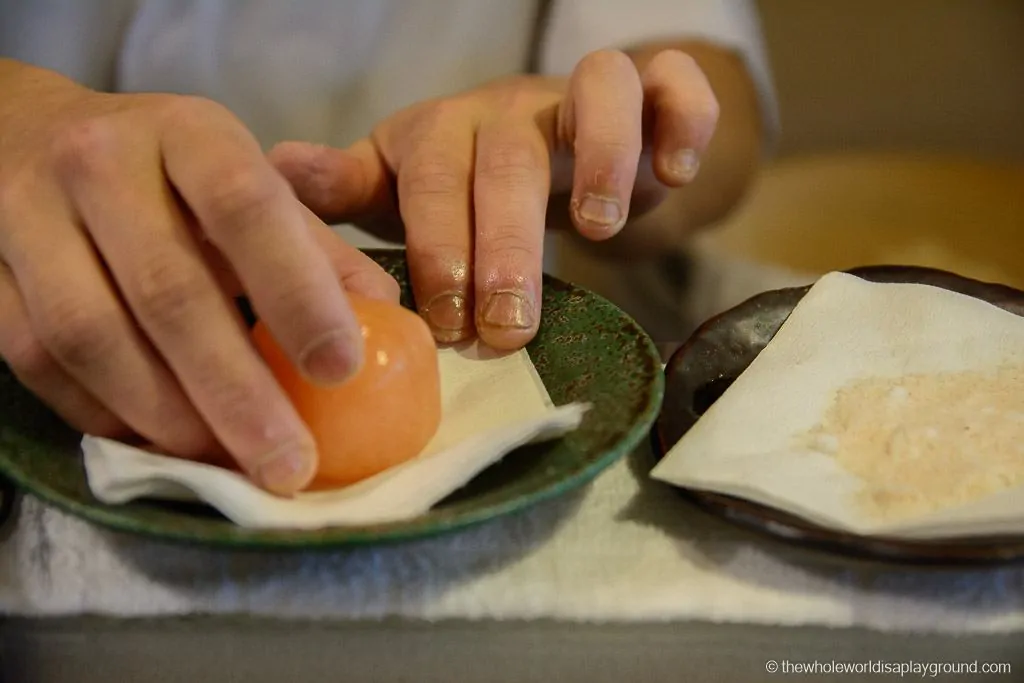 Overall
From the queue to the food to the overall fish market dining experience our Sushi Dai meal was as excellent as it was unforgettable. If you are tempted to skip out because of the long queues, don't! It's worth the time and effort, especially for international visitors for whom it's a great opportunity to try amazing sushi at a reasonable price! I'm sure there are better sushi restaurants in Tokyo but the simplicity, quality, price and service win out for us! For more information and our helpful tips for the queue and securing a seat at Sushi Dai see our dedicated post here.
Sushi Dai tip: The chefs and staff were more than happy for customers to take photos but do show respect and ask before taking any, after all its only good manners! It's a very small space and maneuvering for photos can be tricky, so be careful not to annoy your neighbours!
Have you or would you queue through the night for sushi or are we crazy?! Let us know in the comments!
Travel Guides
Here are some of the best travel guides for planning your Japan trip. We personally used the Lonely Planet Japan series for our trip planning. Click on the images below to buy yours now!