The most southern point in Florida and the United States, the endless summer days and relaxed island vibes make Key West the perfect escape. This quirky part of the Florida Keys has a rich history and culture and there are so many fun things to do in Key West. From following in the footsteps of Hemingway to wandering through the colorful streets lined with palm trees, we've put together this list of the best things to do in Key West to help you plan your own Key West fun!
Things to do in Key West tip: the journey itself to Key West is packed with with stunning sights. The Miami to Key West drive is one of the highlights of any trip to Key West and we love exploring all the stops along the way.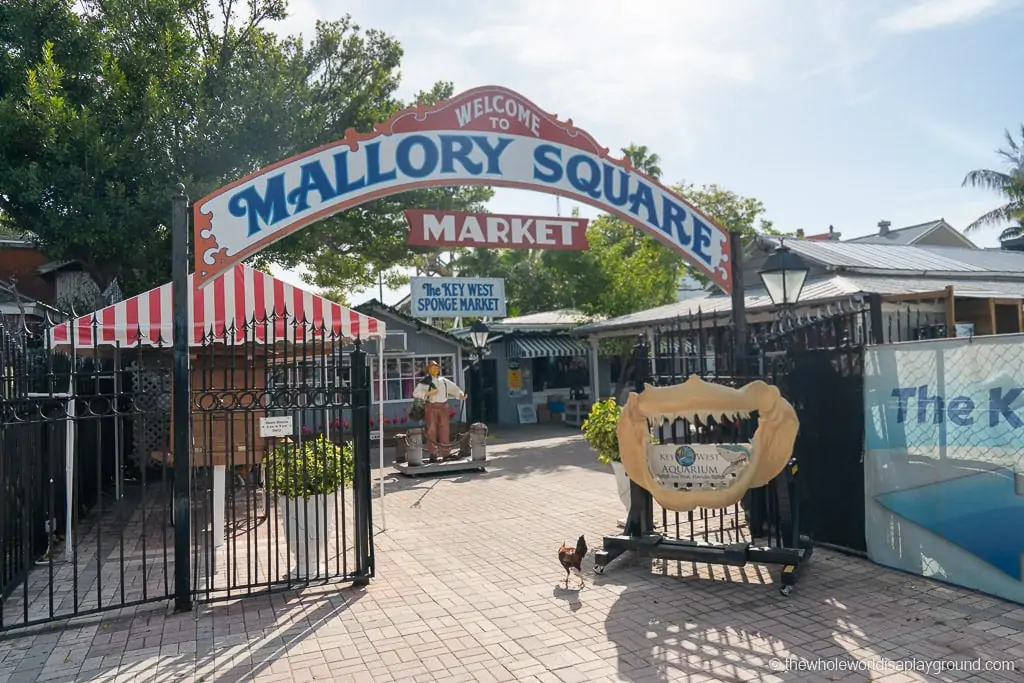 1 | Try the original Key Lime Pie
One of Key West's most delicious exports is, of course, the classic Key Lime Pie. The iconic dessert dish is made with key limes grown in Key West and there are plenty of places to grab a delicious slice. Two of the most popular places to get a really good slice in Key West are at Kermit's Key West Key Lime Shoppe and the Key Lime Pie Bakery, both located close to Mallory Square.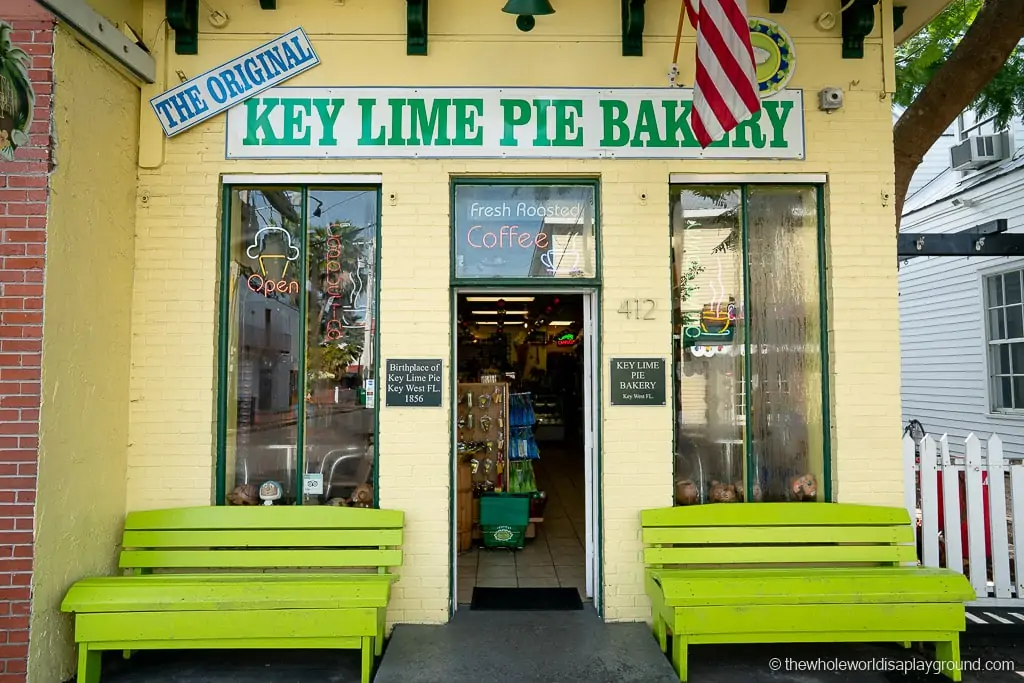 Both stores serve delicious key lime pie and have a great selection of Key West memorabilia to browse through so its worth stopping by both!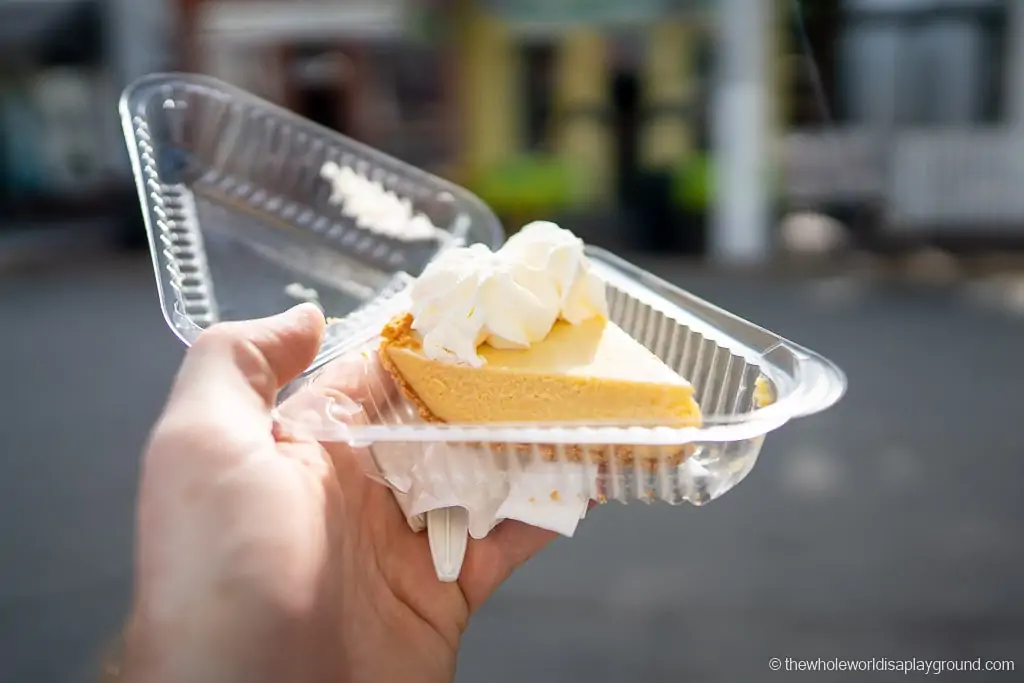 Where to Stay in Key West
We recommend staying in the heart of the action in downtown Key West so you are within walking distance of all the attractions.
Demand for Key West accommodation can get extremely high, especially during peak times like the winter holiday break, so we recommend booking your stay well in advance to avoid disappointment.
Things to do in Key West tip: Day parking is both limited and expensive in downtown Key West so, despite the higher hotel prices, you'll save on parking each day. We paid $40 for single entry parking on a recent visit where all the hourly lots were full.
Orchid Key Inn – luxury hotel located right on Duval Street making it perfectly located for exploring Key West. Guests are just steps from everything Key West has to offer and we loved relaxing by the pool in between exploring – check prices now!
Almond Tree Inn -located between Duval and Simonton Streets, the Almond Tree Inn is another fantastic option in downtown Key West – check prices now!
Barbary Beach House Key West – this is a great option for those looking for a resort style stay in Key West. Located at Smathers Beach just steps from the Old Town, this is a Key West gem – check prices now!
2 | Ernest Hemingway House and Museum
The famous American writer Ernest Hemingway purchased and lived at 907 Whitehead Street Key West during the 1930s. During this time he wrote the majority of his liftetime works including For Whom the Bell Tolls, Death in the Afternoon, The Green Hills of Africa, The Snows of Kilimanjaro, and To Have and Have Not.
A visit to the Ernest Hemingway House and Museum is one of the most popular things to see in Key West but despite it's popularity, the crowds move quickly so you shouldn't have to wait more than 15-20 minutes to get in. We highly recommend taking the time to take the guided tour as there is so much to learn about this incredible house.
One of the best things about Hemingway House is the resident cats! Hemingway had a love for cats and his first cat, Snowball, was a polydactyl which meant she had 6 toes on her front paws. Today dozens of Snowballs descendants live at the house, all sporting 6 paws on their front feet!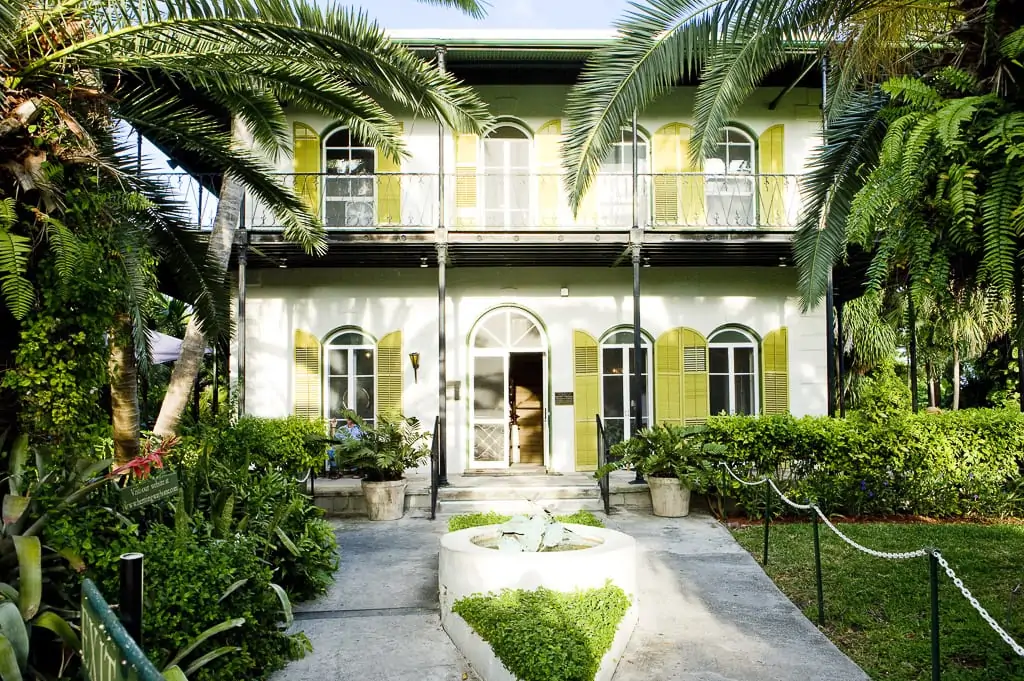 3 | Stand at the Southernmost Point in Continental USA
Visiting the monument marking the most southernmost point in the continental USA is one of the most popular things to do in Key West. The large multicolored monument is actually an anchored bouy and is located on the corner of South and Whitehead Street.
Things to do in Key West tip: there is pretty much always a long queue to take a photo with the buoy. It's best to go early or be prepared for some lengthy queues!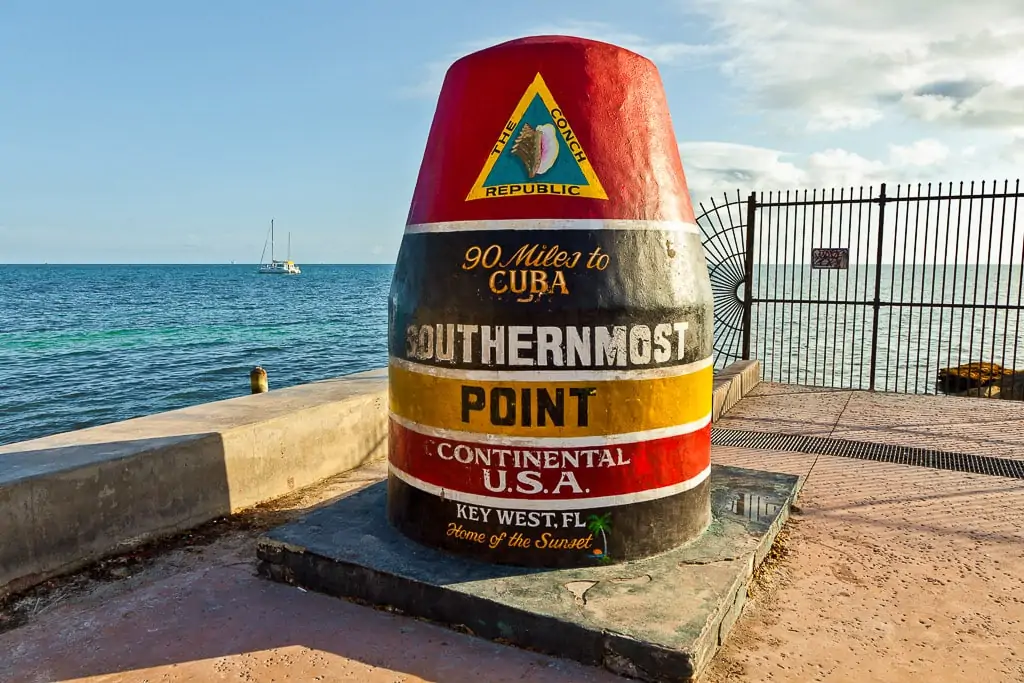 4 | Bar Hop on Duval Street
Duval Street is one of the most popular streets in Key West and is packed with bars, restaurants and shops to explore. The best way to explore Duval Street is simply to meander from Mallory Square and explore the many stores and bars dotted along it.
Things to do in Key West tips: if you want to hit the pubs then Duval Street is perfect for an evening adventure. Otherwise, we tend to stop by during the day.
Duval Street cuts straight across the southern tip of Key West from Mallory Square to Duval Street Pocket Park and stretches from the Gulf of Mexico to the Atlantic Ocean.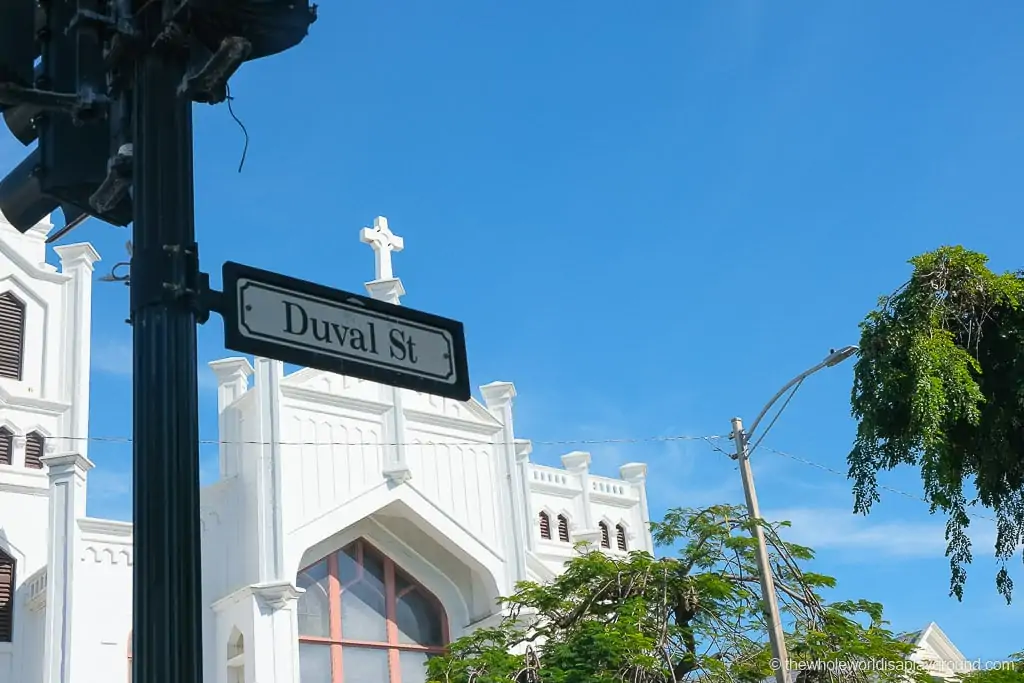 Sloppy Joe's is a Key West institution and one of the most fun and entertaining bars on Duval Street. Established the day Prohibition ended in 1933, Sloppy Joe's has been a hangout for Key West natives for decades. Some of it's most famous patrons include Ernest Hemingway (whose house is located just up the street) and his friends who built a legendary status for the bar over the years. The bar also hosts a Hemingway look-alike contest each July.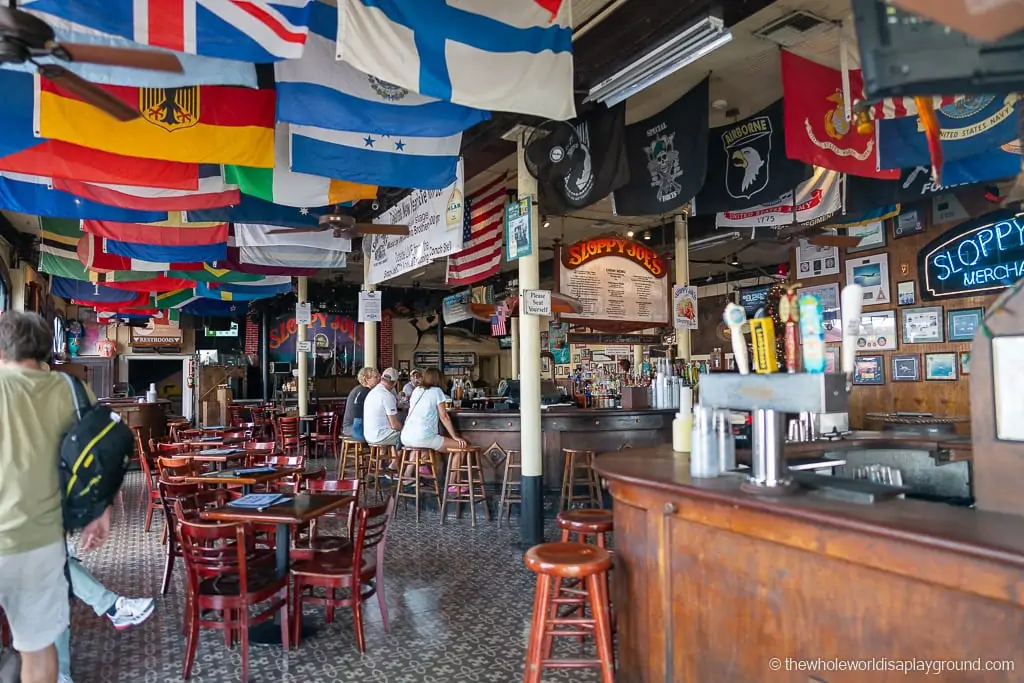 5 | Take a day trip to Dry Tortugas National Park
One of the best day trips from Key West is to Dry Tortugas National Park. Accessible by boat or seaplane, Dry Tortugas National Park is an island oasis located 70 miles off the coast of Key West. The park is a collection of 7 small islands and home to Fort Jefferson and stunning blue waters and coral reefs.
The majority of the National Park is actually underwater so swimming and snorkeling are must dos. The coral reef snorkeling at Dry Tortugas is arguably the best in the Florida Keys so anyone who enjoys swimming should definitely try to visit this stunning national park.
Most visitors take the boat to Dry Tortugas and one of the best tours is the catamaran day trip- check prices now!
This tour is an incredible day trip that departs Key West at 7 am aboard a luxurious high-speed catamaran and includes a tour of Fort Jefferson,, time for swimming and snorkelling around the coral reefs and dolphin spotting. There is a buffet lunch included, served either on the boat or ashore depending on time and weather conditions. The tour also includes time for exploring
Book your trip to Dry Tortugas here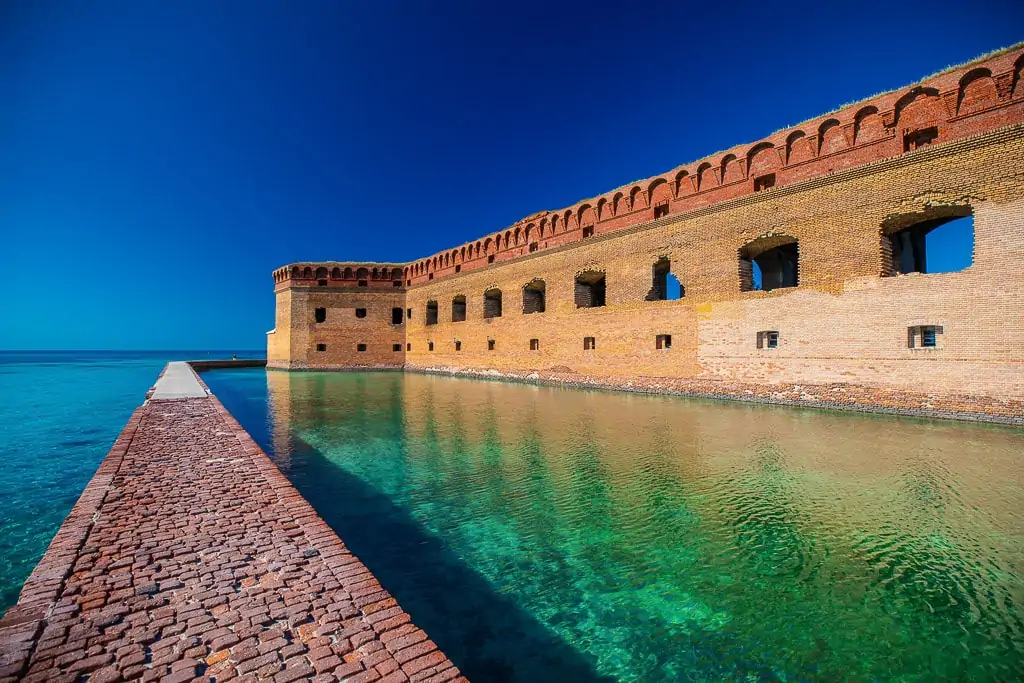 6 | Truman Little White House
After a doctor ordered him to take a vacation in the sun, President Truman chose Key West for some relaxation and recovery after more than 18 months in office in 1946. After the vacation at the Little White House, President Truman returned to the house at Key West numerous times to the point that he spent 175 days (most of the winter) of his term at the house. The property became known as the Little White House as President Truman conducted a lot of his presidential work from the house, flying staff in when needed from Washington.
Today the Little White House is one of the most striking properties in Key West and a beautiful place to visit. There are guided tours of the house which run throughout the day. Visitors can book tickets in advance here.
Book your tickets to the Little White House now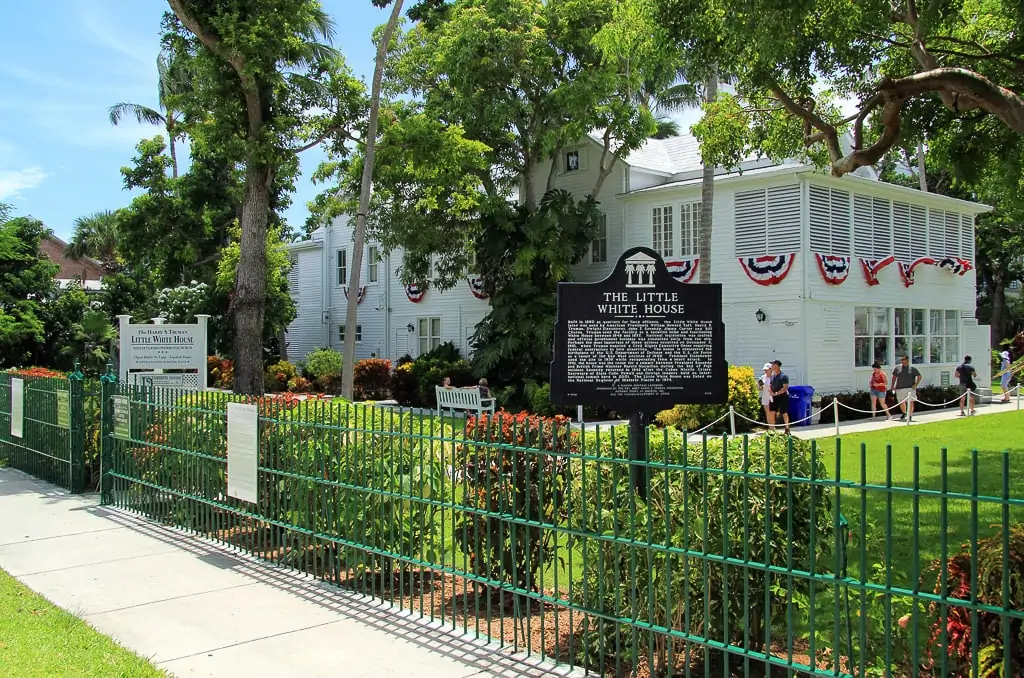 7 | Visit the Start of US Highway 1
US Highway 1 runs 2,369 miles along the east coast of the country from Florida in the South to Maine in the North. The Mile 0 marker, a sign marking the start of the highway in Key West, is a really popular photo spot in Key West.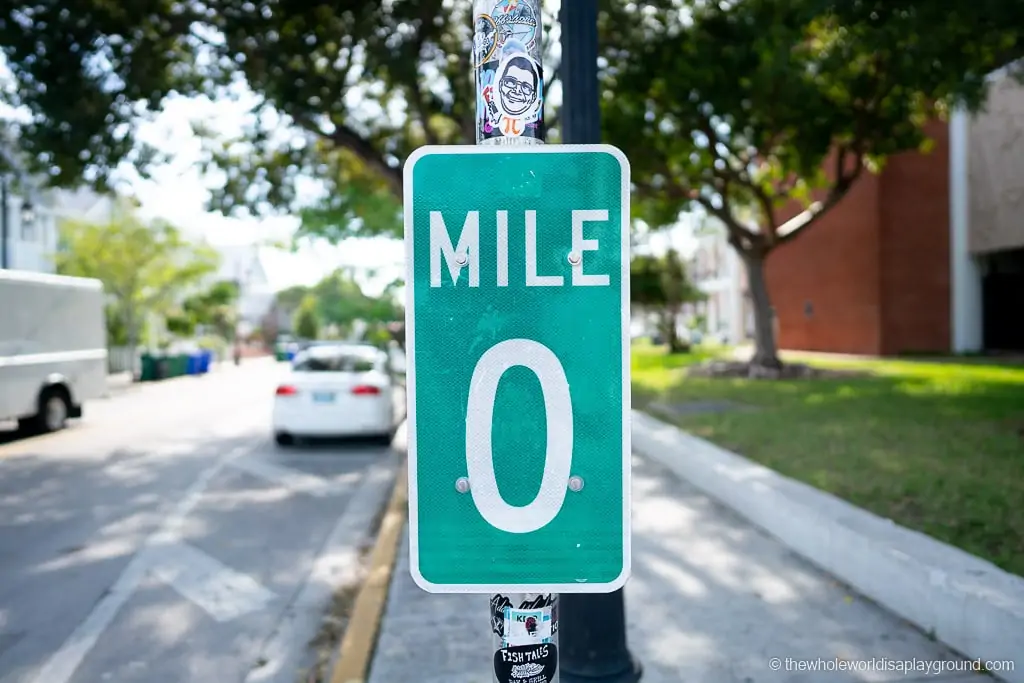 Part of the highway is known as the Overseas Highway, a 113-mile highway carrying U.S. Route 1 through the Florida Keys to Key West. It connects many of the islands in the Florida keys to the mainland providing essential transport and goods to the Keys.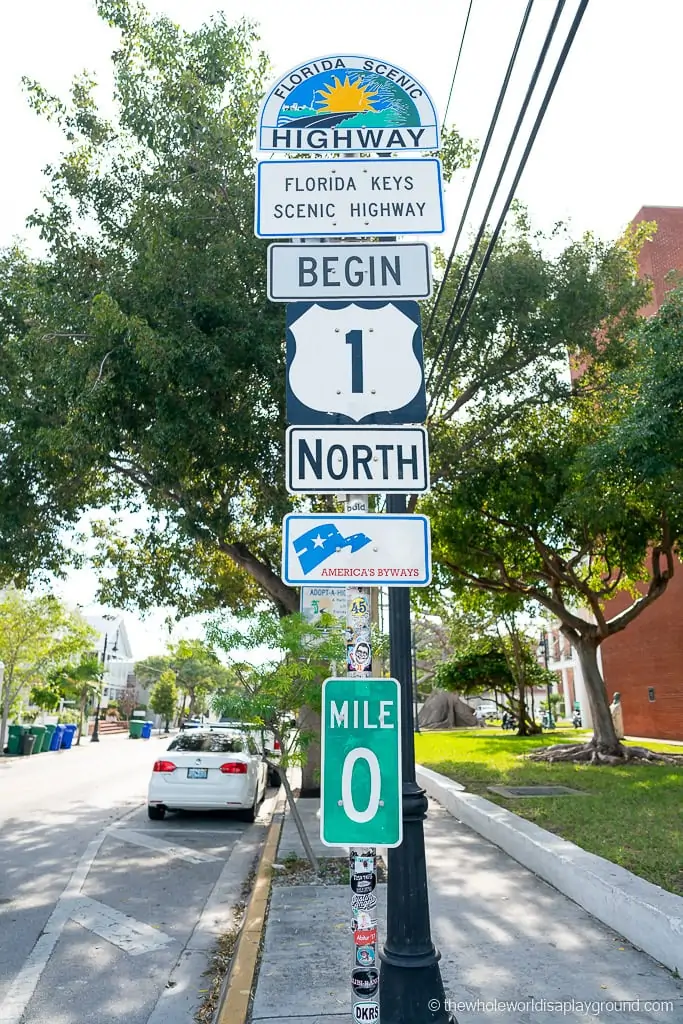 8 | Mallory Square
Located on the waterfront and close to where the cruise ships dock, Mallory Square is a hive of activity and packed with great places to eat, drink and shop with the added bonus of live entertainment.
It's one of the best places to enjoy the sunset and the atmosphere is incredible as visitors gather enjoy the brilliant colors of a Key West sunset.
A great option for food in Mallory Square is the popular Cuban restaurant, El Meson de Pepe, which serves delicious food and perfect after a long day of exploring Key West – it's Key Lime pie is also awesome! We also like to grab some food at Sunset Pier, a popular waterfront food restaurant where you can sit at table along the pier and enjoy the sunset.
The Conch Train tour also leaves from Mallory Square and is a great way to explore the island.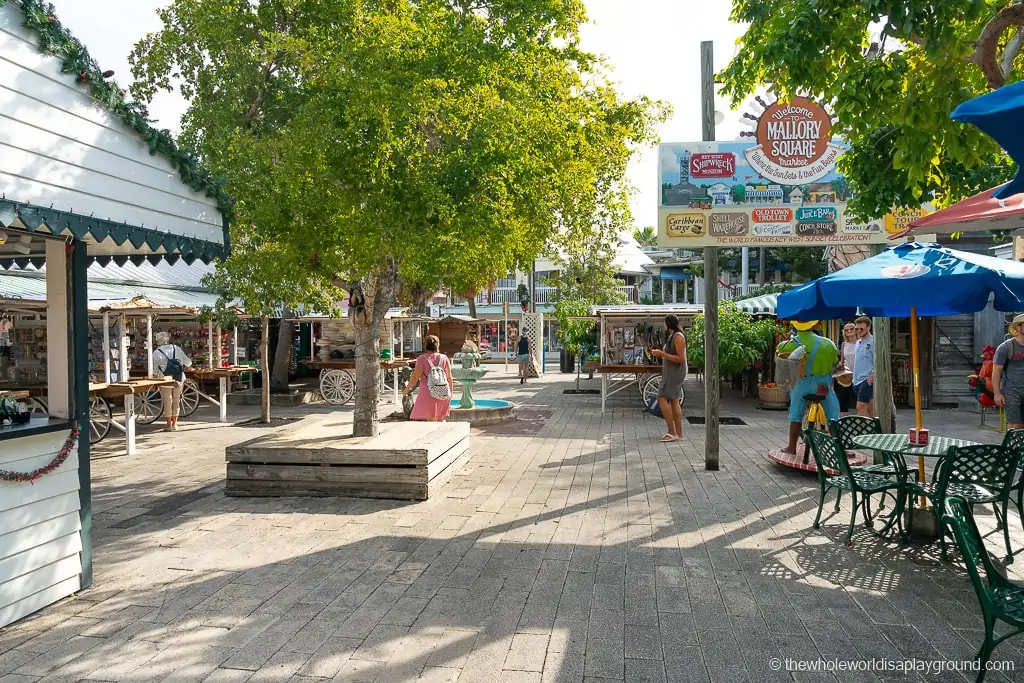 9 | Spot the Chickens
One of the most unique things about Key West is the resident chickens that roam the streets. Originally brought to the island as food from Cuba and the Caribbean Islands, the chickens roam freely around the island, scavenging food from tourists and insects.
Things to do in Key West Tip: Due to the increase in chicken numbers, from January 2021 it is illegal to feed the wild chickens in Key West. Don't worry they have lots of other food to eat!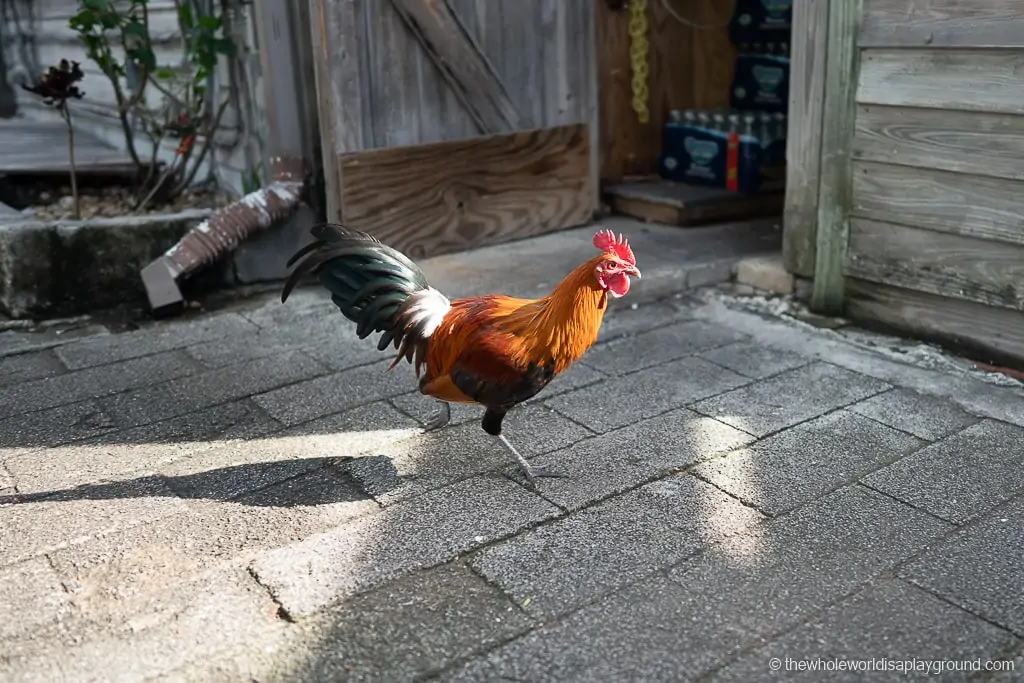 10 | Take a Sunset Sail
It's no secret that Key West is home to some of the most beautiful sunsets in the US andone of the best ways to experience them is on a sunset sail. There are lots of options for sunset sails ranging from large group cruises to intimate tiki bar trips.
Most cruises last around 2-3 hours and will leave the mainland around 90 minutes before sunset.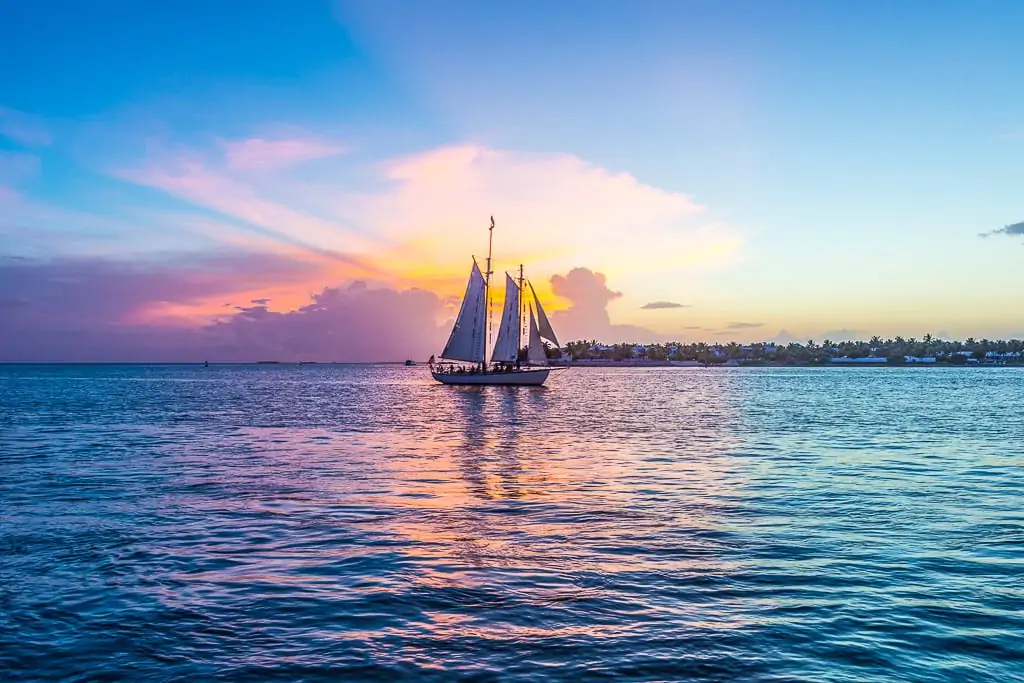 11 | Ride the Conch Train
The famous Key West Conch train has been running since 1958 and is a great way to see Key West. The guided train passes all of the best things to do in Key West and you'll learn about the history of the island and its famous inhabitants along the way. Our kids loved the novelty of the Conch train and we enjoyed it too as it was a nice relaxing way to explore Key West!
The Conch Train leaves every 20-30 minutes all day from it's starting point beside Mallory Square. The trip takes around 75 minutes and finishes back at Mallory Square. The tour has three stops, Station Depot, Truval Village and the Sails to Rails Museum. Guests have around 10 minutes at each to do some shopping or get refreshments. At busy times we'd recommend securing your ticket in advance as there can be a lengthy queue – check prices now!
Book your Conch Train tickets here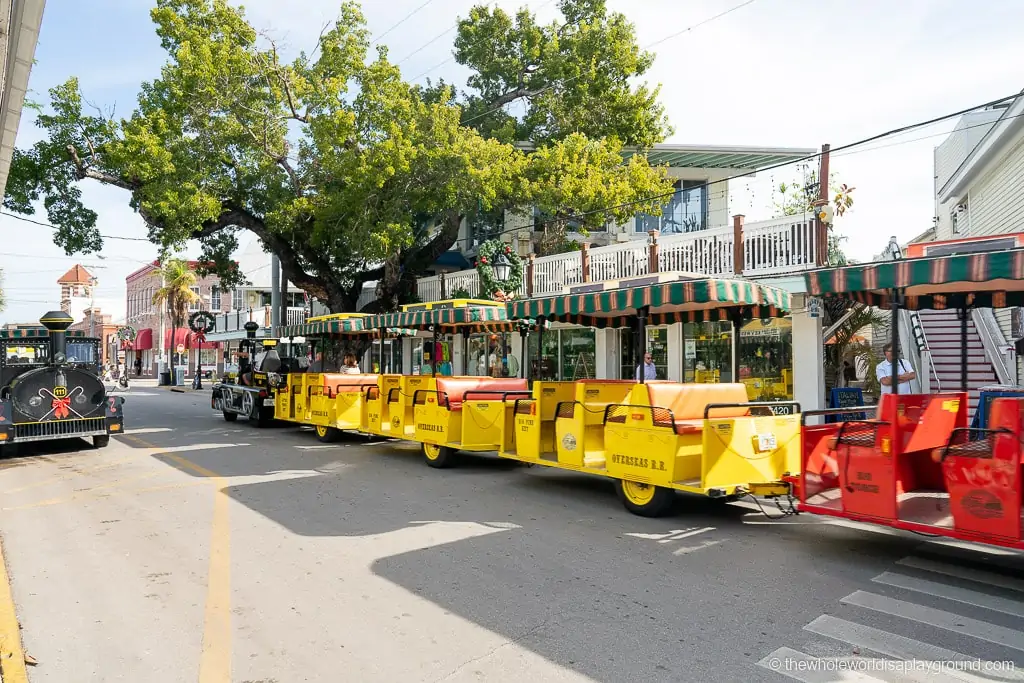 12 | Take a Fishing Trip
The waters of Key West are home to some of the best fishing in the USA and there are a host of charter options for visitors to the island. The carters vary from flats fishing and light tackle sportfishing to deep sea charters
Private Deep Sea Charter – this is one of the best deep sea charters in Key West and offers a full day of fishing for groups up to 6 people – check prices now!
Another great option is this charter which offers both bottom fishing for snapper, grouper, and sharks or troll fishing for Mahi Mahi, Wahoo ,Tuna and Marlin among others- check prices now!
Gulfstream Fishing – this fishing trip is great for everyone from beginner to advanced fishermen and hold sup to 60 people per trip. Departing every day from 10am – 6pm – check prices now!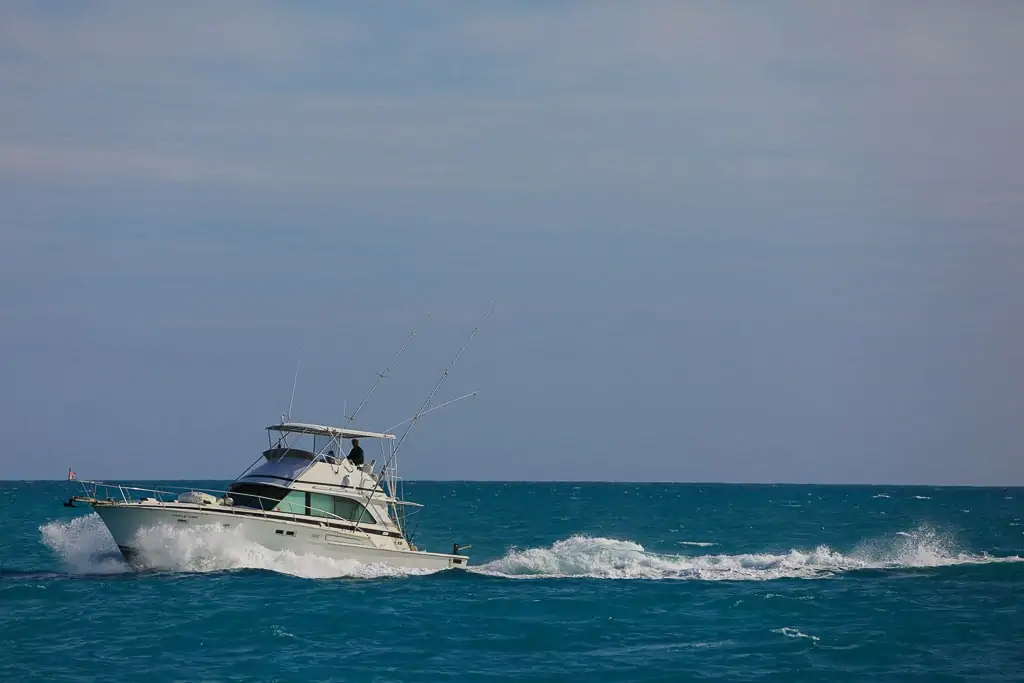 13 | Key West Lighthouse
Key West Lighthouse was built in 1825 to aid the ships entering the busy port avoid the many reefs located just off the coast of Key West. Today the lighthouse and lighthouse keepers house have been fully restored and a visit is a fun thing to do in Key West. Visitors can climb the lighthouse for stunning panoramic views of Key West and, as there are not many tall buildings in Key West, it's possible to see pretty much the entire island.
Admission is $17 for adults and $8 for kids 7-18, with under 7's free. The lighthouse is open for visits every day from 10am to 4 pm.
Things to do in Key West tip: on busier weekend days we'd advise visiting the Key West Lighthouse earlier in the morning as it tends to get very busy in the afternoons.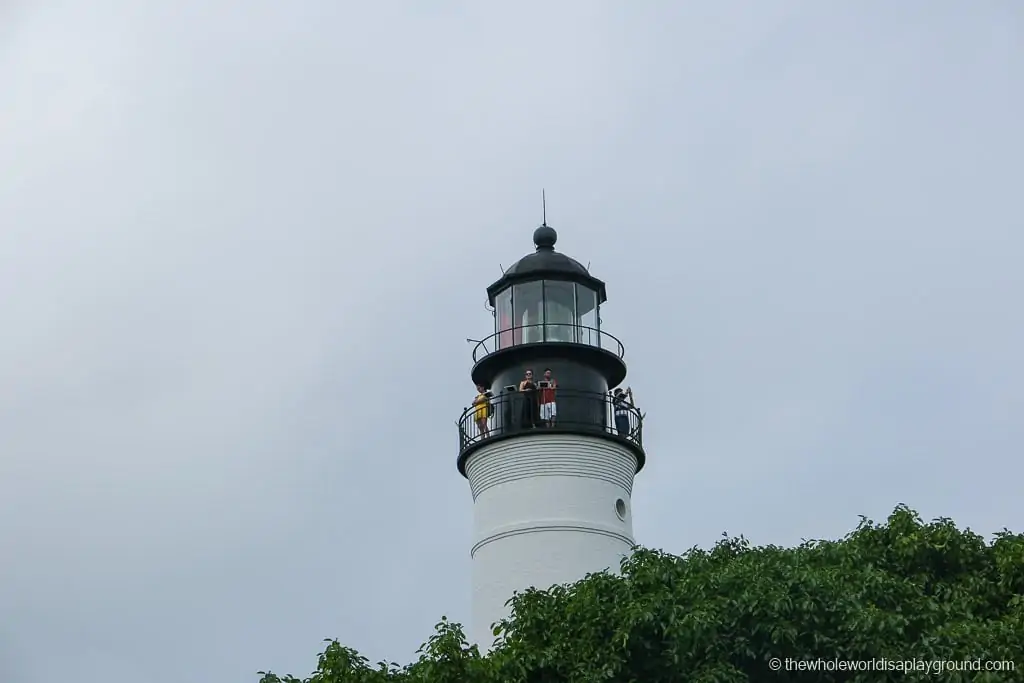 14 | Key West Museum of Art and History
The Key West Museum of Art and History is situated in the former Key West Custom House building close to Mallory Square. This imposing red brick building was built to handle the increasing volumes of trade through the old port. Today the building is listed as a national landmark and houses two floor of exhibitions on the history and culture of Key West.
Even if you're not a history buff it's definitely worth a stop and it's only a short walk from the Truman Little White House. Admission is $16 for adults, $8 for ages 7-18 and under 7's go free.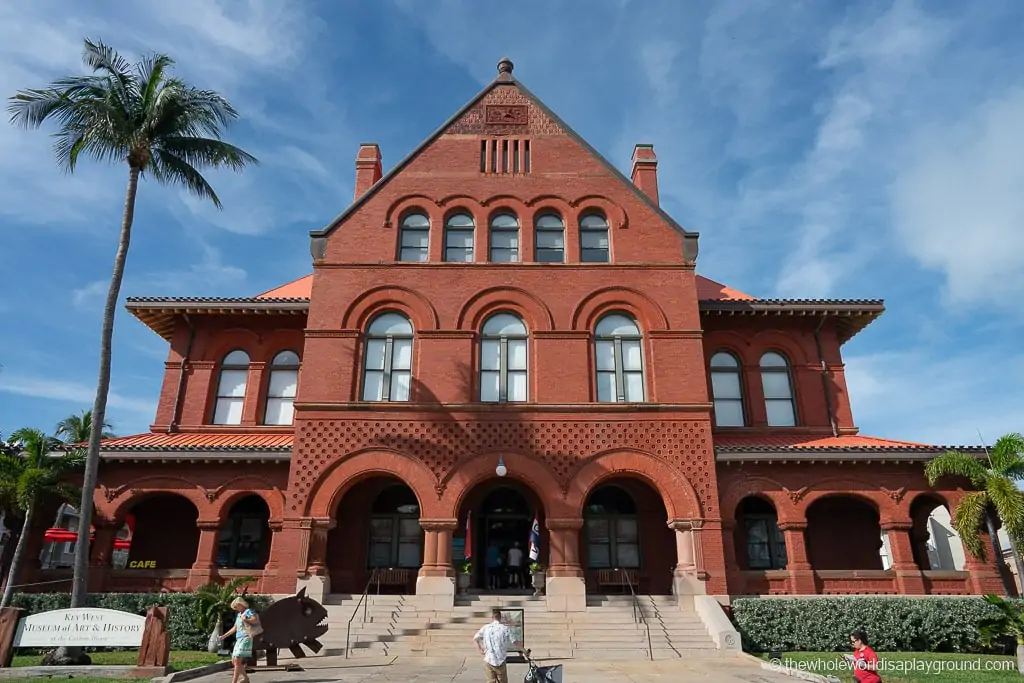 15 | Key West Aquarium
The Key West Aquarium is located just off Mallory Square and is worth checking out while exploring Key West especially if you have kids in tow. Although a relatively small aquarium, the Key Aquarium packs a lot in with over 100 species of fish, sea turtles and sharks. Kids will love the touch tank that the kids will love and the staff are really knowledgeable. It's definitely worth an hour if you have kids as ours loved it.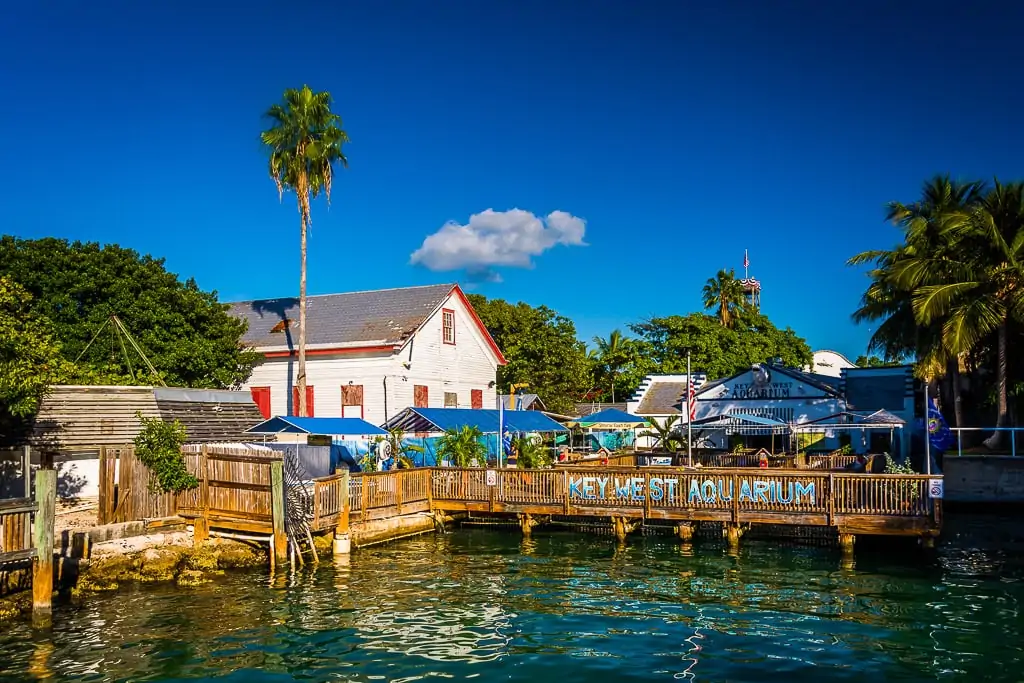 16 | Audubon House and Tropical Gardens
The picturesque facade of Audubon House at 205 Whitehead Street hides one of Key West's most beautiful treasures, the tropical gardens at Audubon House. A visit to the tranquil gardens is one of our favorite things to do in Key West.
The original house was built in the mid 19th century by Captain John Huling Geiger and was saved from destruction in 1958. It was fully restored to its former glory with furnishings and original hand-paintings by the ornithologist John James Audubon.
Today the 1-acre tropical gardens are packed with beautiful flowers including orchids, tropical palms and many other tropical flowers. Visitors are free to explore the many paved paths throughout the garden and there is an extensive herb garden on the grounds. Admission is $14 for adults and $10 for kids 6-12 (under 5 go free).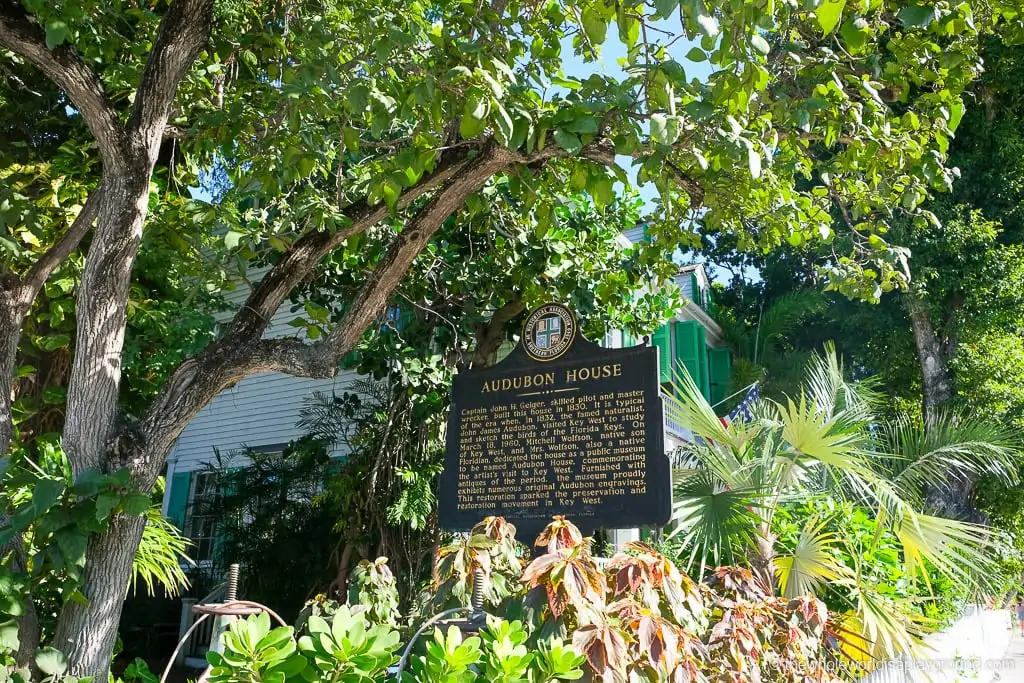 17 | Visit the Birthplace of Pan American Airways
We stumbled upon the first office of Pan American Airways, usually known as Pan Am, while taking a stroll off Duval Street. 301 Whitehead St was the office where the very first ticket for Pan American Airways was sold. The first Pan Am flights took place between Key West and Cuba but later expanded to become the largest US airline from the 1920's to its collapse in 1991.
Things to do in Key West tip: The building is now is home to a microbrewery, First Flight, which was set up by Kelly McGillis of Top Gun fame.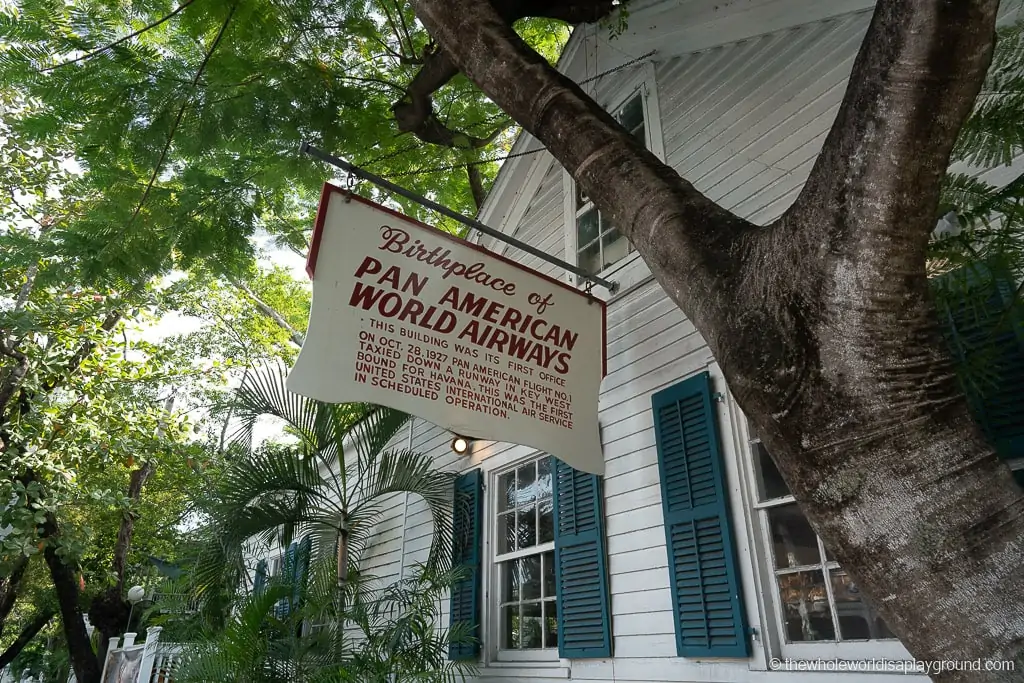 18 | Key West Cemetery
A cemetery may seem like a strange recommendation for things to do in Key West but the Key West cemetery is unique.
The cemetery itself is the resting place of over 100,000 people and is well known today for the unusual epitaphs which adorn some of its graves.
One of the most notable epitaphs in the cemetery belongs to the former Key West local B.P. Roberts which simply reads "I told you I was sick". Others include "I'm Just Resting My Eyes," and "If You're Reading This, You Desperately Need A Hobby"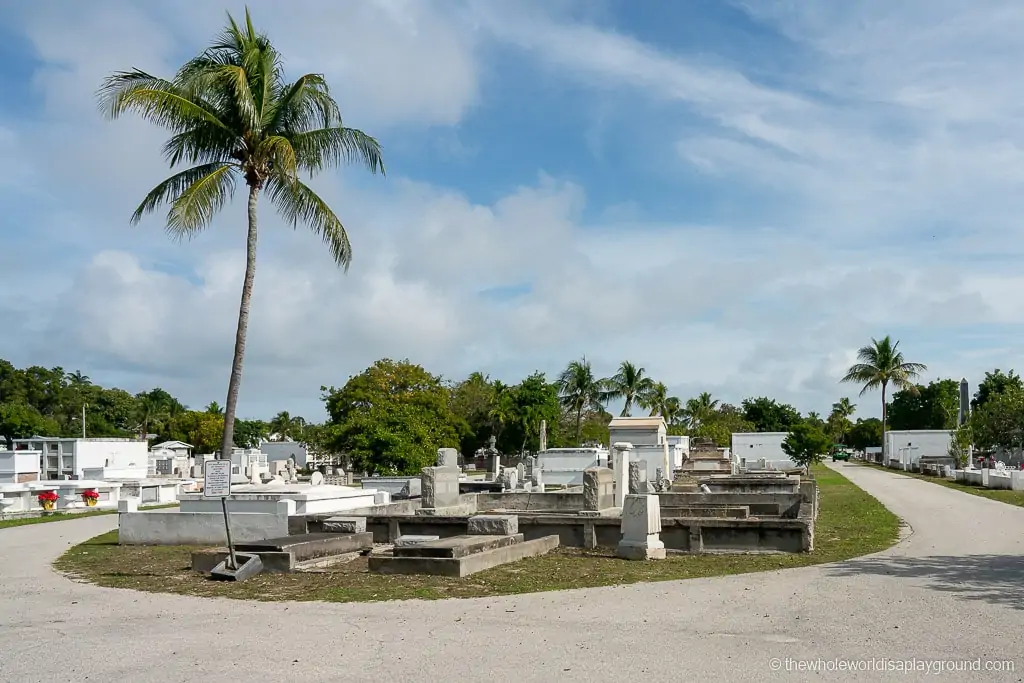 19 | Smathers Beach
Key West isn't renowned for it's beaches but Smathers Beach on the south of the island is definitely worth a visit for anyone seeking some beach time.
Things to do in Key West tip: Like most islands around the Carribean and Gulf of Mexico there can be accumulations of sargassum seaweed at Smathers Beach. While it is harmless, this seaweed also brings with it a very distinct smell. It's worth bearing this in mind before visiting Smathers Beach as during peak sargassum season there likely will be seaweed at the beach.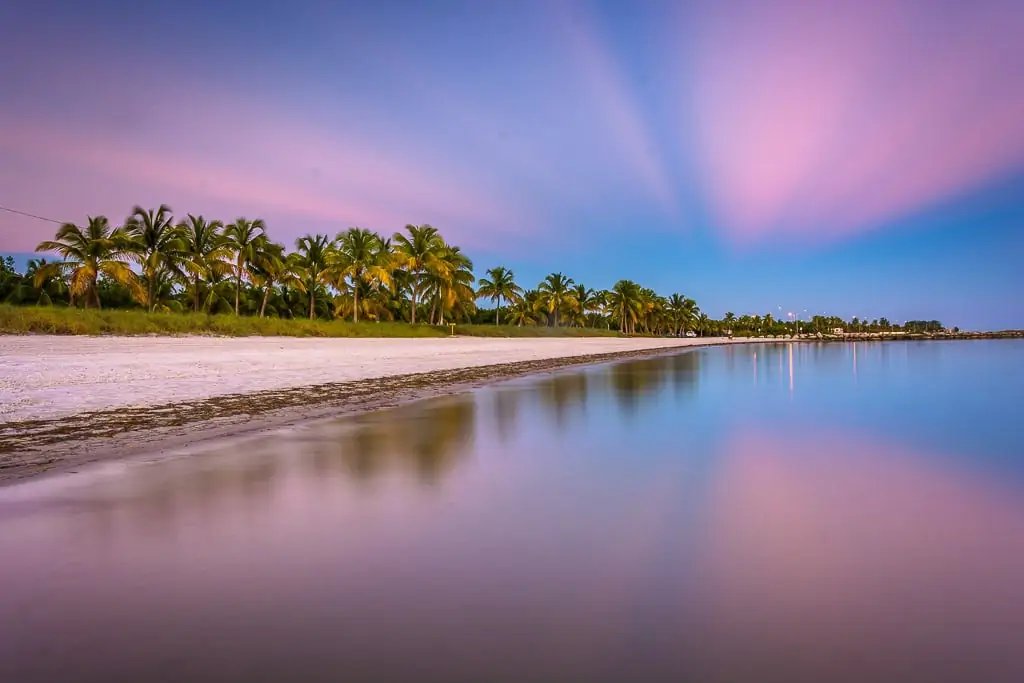 20| Fort Zachary Taylor State Beach Park
Fort Zachary Taylor State Park is a beautiful state park located at the southern tip of Key West. It's a great place to relax for a few hours and visitors can check out:
Fort Zachary Taylor Beach: one of the best beaches in Key West although do remember Key West isn't renowned for its beaches! It marks the point where the Atlantic Ocean and the Gulf of Mexico meet and, when conditions are good, it can be great for snorkeling.
The Civil War fort and cannons: a solitary fort overlooks the sea and the park houses the large collection of Civil War cannons in the US.
Magical Key West sunsets: Fort Zachary has incredible views of the Key West sunsets from both the beach and the fort.
Take a pic at the wooden sign: this iconic Key West sign provides distances to destinations across the US. It's located near the snack shop.
Admission is $6 per vehicle or $2.50 per pedestrian.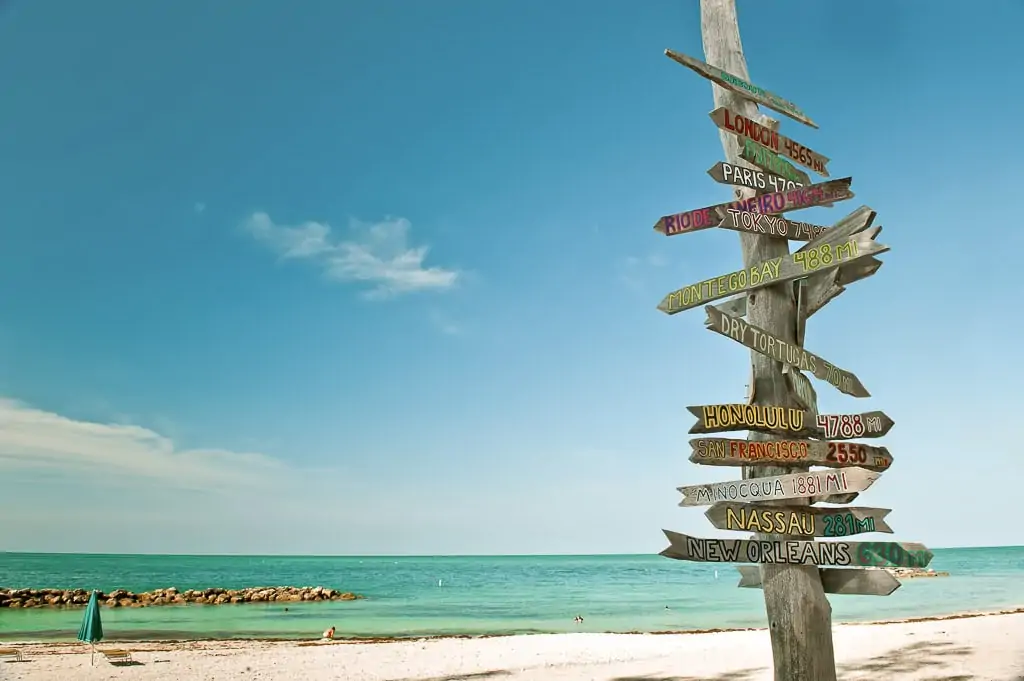 Things to do in Key West tip: the beach at Fort Zachary Taylor is rocky so make sure to bring water shoes.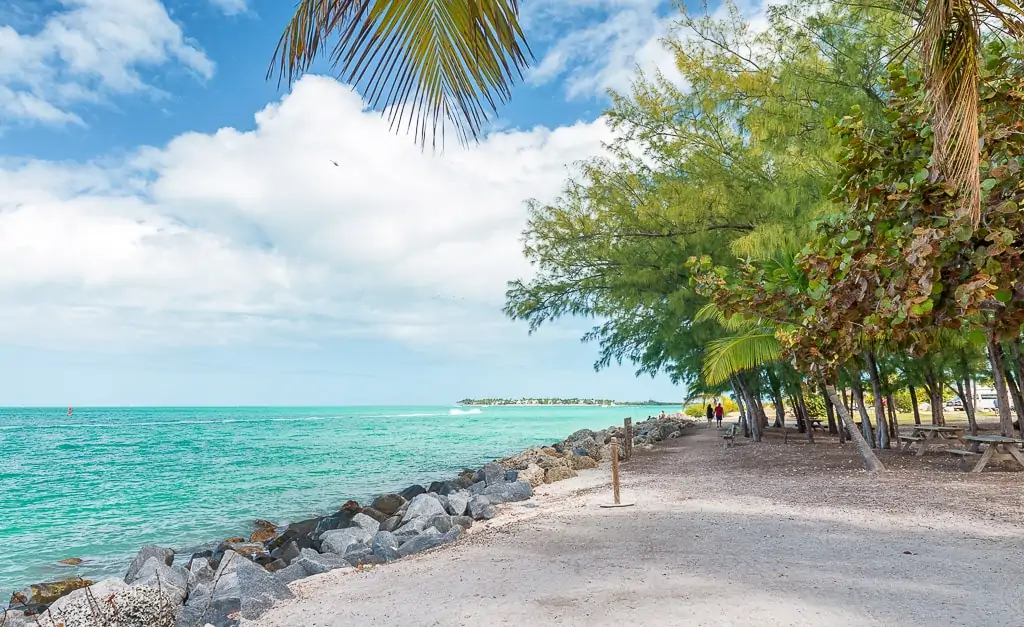 21 | Key West Butterfly and Nature Conservatory
Visit the Key West Butterfly and Nature Conservatory for a beautiful walk through the conservatory housing hundreds of butterflies, plants, birds and even some waterfalls. There are over 50 butterfly species from around the world and over 20 exotic birds.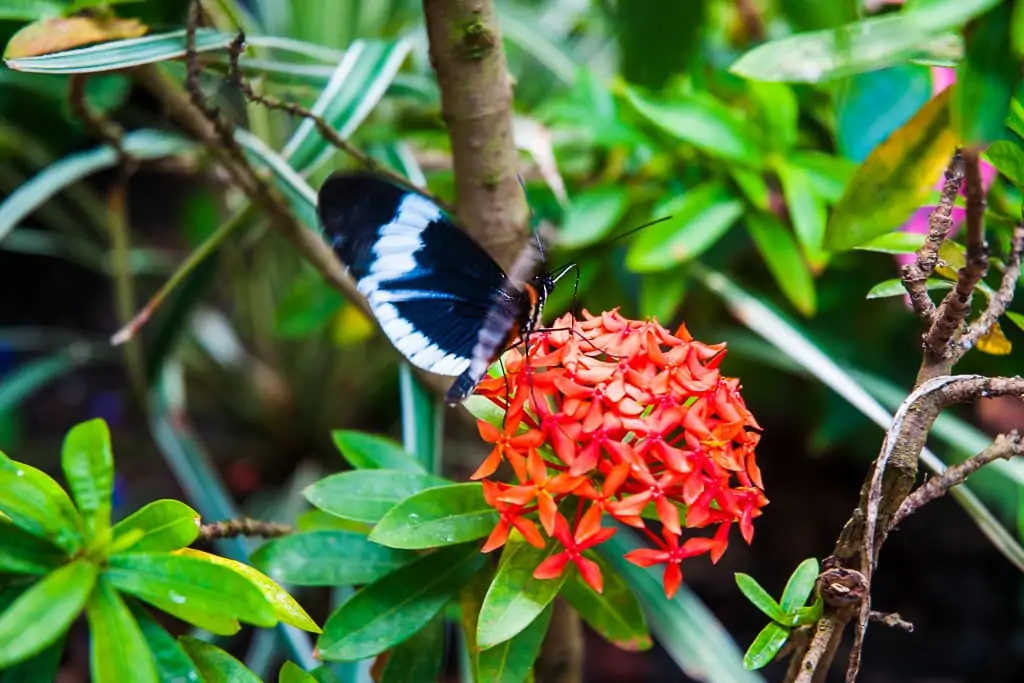 The Conservatory is open from 9am to 5pm. General admission is $15 and kids 3 and under are free.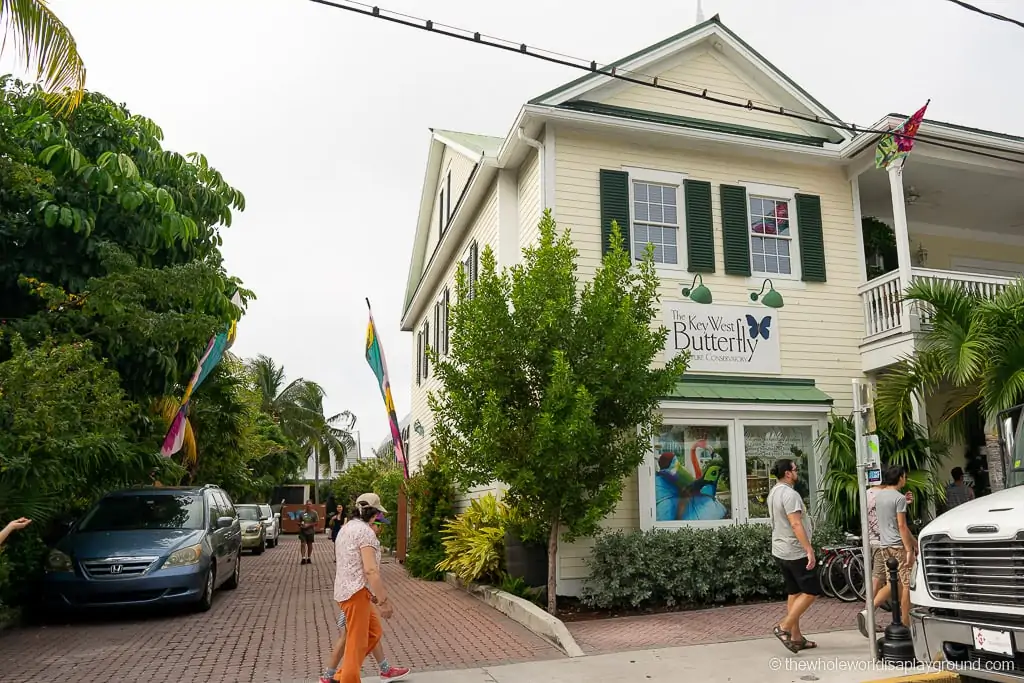 22 | Greetings from Key West Mural
An iconic Key West stop, Cuban Coffee Queen offers great coffee, great sandwiches and an amazing photo op at the Greetings from Key West Mural.
Cuban Coffee Queen is located at 284 Margaret Street.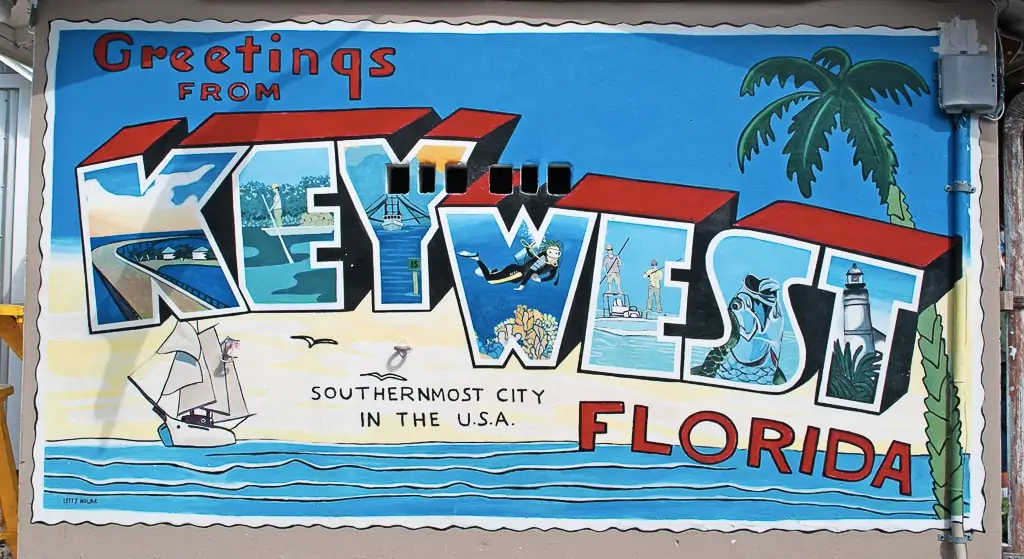 23 | Explore the Waters around Key West
Surrounded by clear blue waters the Florida Keys is home to the only living coral barrier reef in the United States, the Florida Reef with its colorful world of fish and reef.
Some of the most popular tours include: