From the quirky and kitsch Joshua Tree Town to the glamour of Palm Springs and the wild west vibes of Pioneertown, there are so many fun things to do near Joshua Tree National Park. We loved exploring the nearby sculpture parks, vintage shops and retro eateries and catching a movie under the stars. For those of you planning a trip to Joshua Tree, we wanted to share our favorite things to do in Joshua Tree Town and the surrounding area. We hope you have as much fun exploring as we did!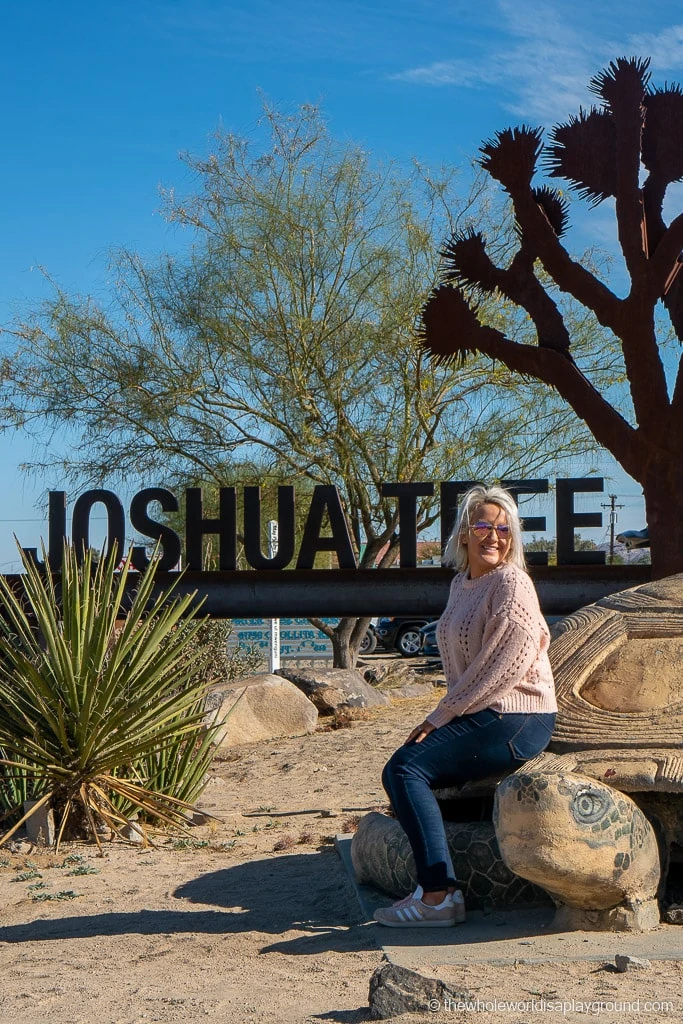 13 Best Things to do near Joshua Tree
After exploring the quirky rock formations and stunning trails in Joshua Tree National Park make sure to allow some time in the towns surrounding the park. Joshua Tree Town, Twentynine Palms, Pioneertown and Palm Springs all have unique and fun things to do in the Joshua Tree area. From a sound bath to a drive through movie theater and a desert art museum, these are our 13 best things to do near Joshua Tree.
Things to do near Joshua Tree tip: if you are planning a visit to the park check out our 20 best things to do in Joshua Tree National Park. If you love capturing photos, check out our best Instagram spots in Joshua Tree.
Where to Stay in Joshua Tree
The North Entrance (Twentynine Palms) and the West Entrance (Joshua Tree town) are the most convenient for visiting many of the Joshua Tree National Park highlights. We have a full guide on
where to stay in Joshua Tree
, but these are our top 3 places to stay in Joshua Tree and are perfect for couples, small groups and families:
M&L Desert Cottage: this beautiful 2 bedroom cottage is just 6 minutes drive from the north entrance to Joshua Tree. The cottage has been completely remodeled and is the definition of desert chic. The interior is gorgeous and there is a fire pit, BBQ and hammocks on the patio for stargazing and al fresco dining. – check prices now!
Location:
North Entrance/Twentynine Palms. We love this entrance as it's both close to many highlights of Joshua Tree National Park and is also a much quieter gate to enter the park by. M&L Desert Cottage is a 20 minute drive from Joshua Tree Town.
Castle House Estate: with the accommodation options including guard towers, yurt tents, a tiny container house (the perfect chance to experience tiny home living!) and a vintage RV, Castle House Estate perfectly encompasses the unique Joshua Tree vibe. It's the perfect mix of indoor and outdoor living and the accommodation is beautifully presented and incredibly unique. The hardest part is choosing which accommodation to reserve – check prices now!
Location:
West Entrance/Joshua Tree. Castle House Estate is a 10 minute drive from Joshua Tree Town and is 20 minutes north of the park entrance.
Fairfield Inn & Suites by Marriott Twentynine Palms – clean and well equipped, the Fairfield Inn is one of our go to hotels when we're exploring the park and want somewhere clean and quiet to rest up. The hotel has a small pool out back, free breakfast, laundry facilities and there's a grocery store just across the road for supplies – check prices now!
Location:
North Entrance/Twentynine Palms. We opt for the convenience of the Fairfield Inn when we have early starts and late evenings in the park.
1 | World Famous Crochet Museum
Housed in a neon green photo booth, the self-titled World Famous Crochet Museum is as adorable on the inside as it is on the outside!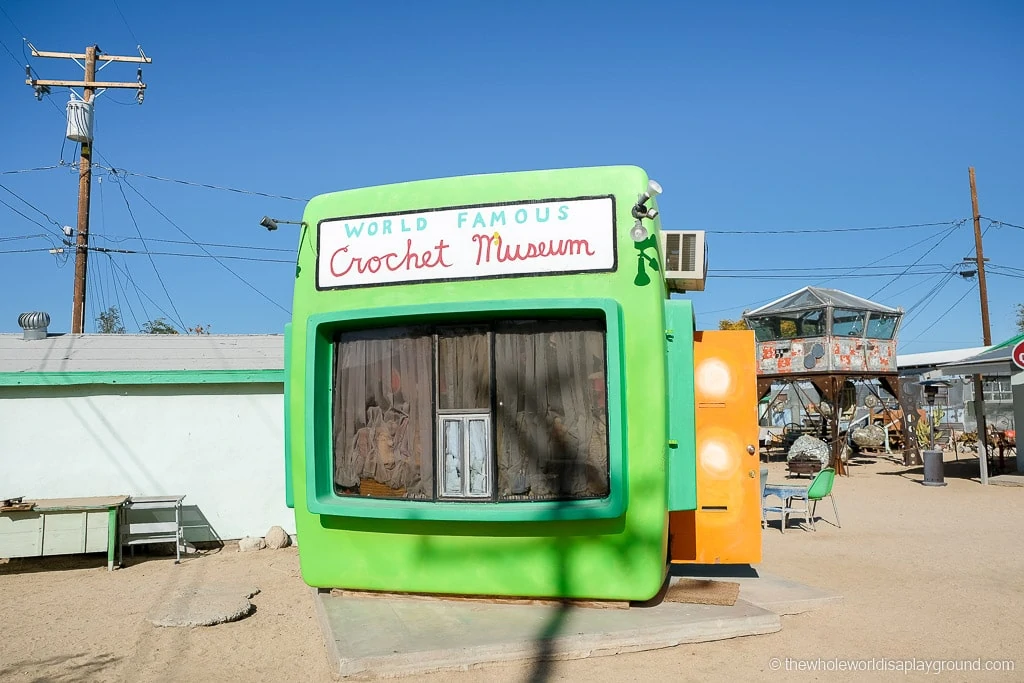 The tiny booth is full to the brim of cute and colorful crochet works. Crocheted superheroes sit alongside unicorns, bears and teapots in the museum's extensive collection.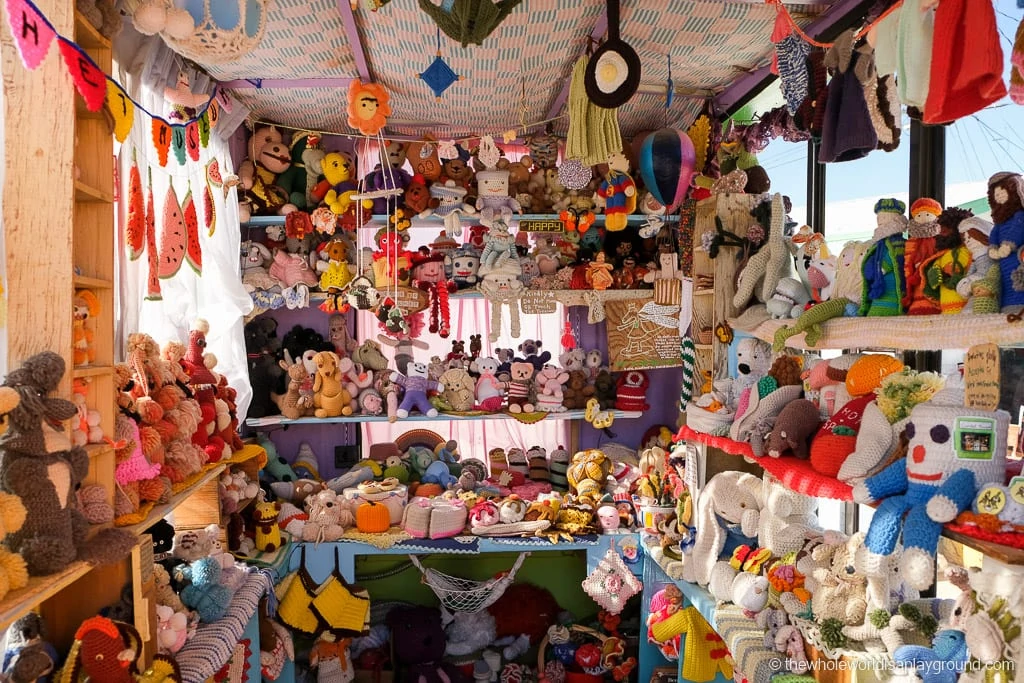 The World Famous Crochet Museum is part of Art Queen, a quirky art complex where recycled art is the overriding theme. There are some really cool installations and art pieces for sale dotted around the Crochet Museum.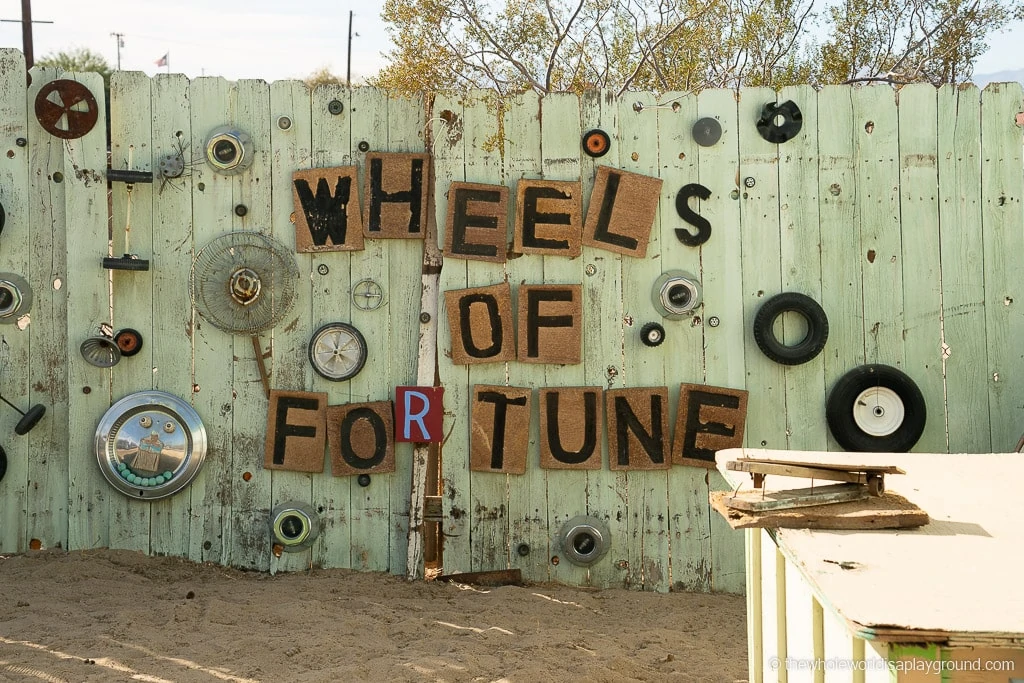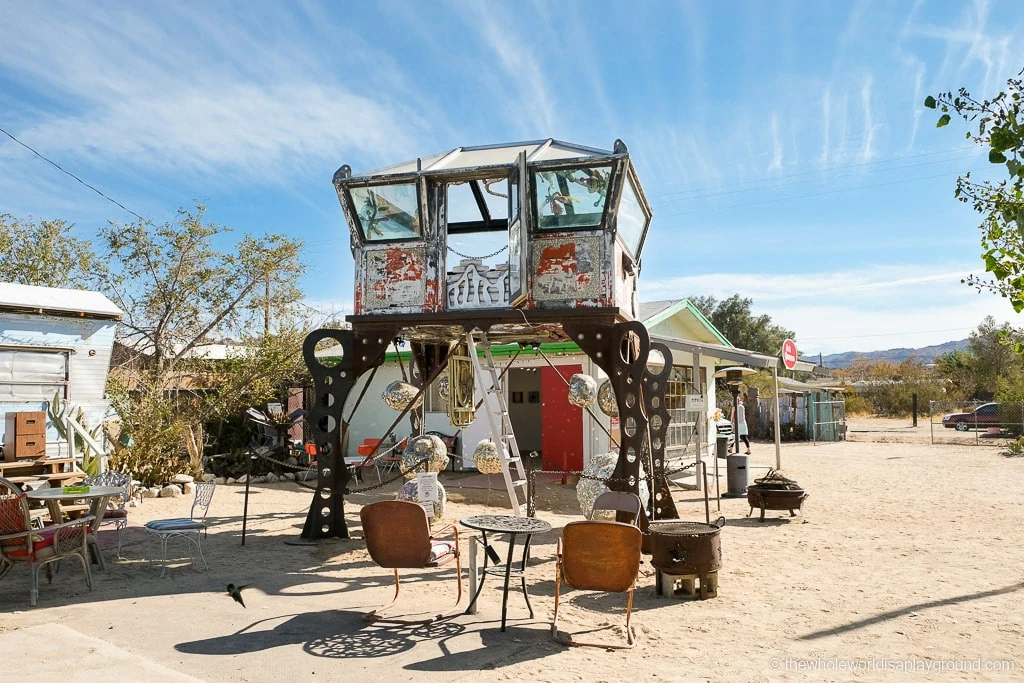 2 | Noah Purifoy Desert Art Museum
Bicycles, tires, retro computers, beer kegs and toilets are among the recycled items used in the art installations at the Noah Purifoy Desert Art Museum. The museum showcases works by Noah S Purifoy, a visual arts and sculptor, who lived in the Joshua Tree area. Located on a dirt track in the middle of Joshua Tree desert, the open air museum is a mix of quirky, creative and clever and many of the pieces convey compelling messages.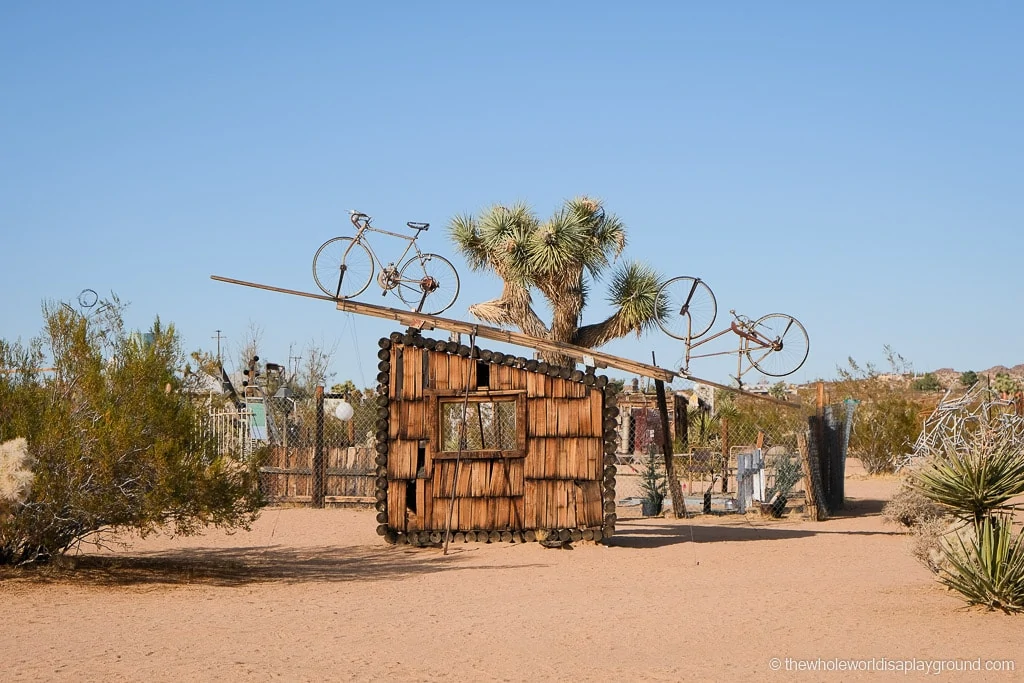 3 | Beauty Bubble Salon and Museum
Beauty Bubble Salon and Museum is an awesome hair salon come museum. The hair wash stations and styling chairs are surrounded by an amazing collection of vintage beauty tools, colorful wigs and old school drying machines.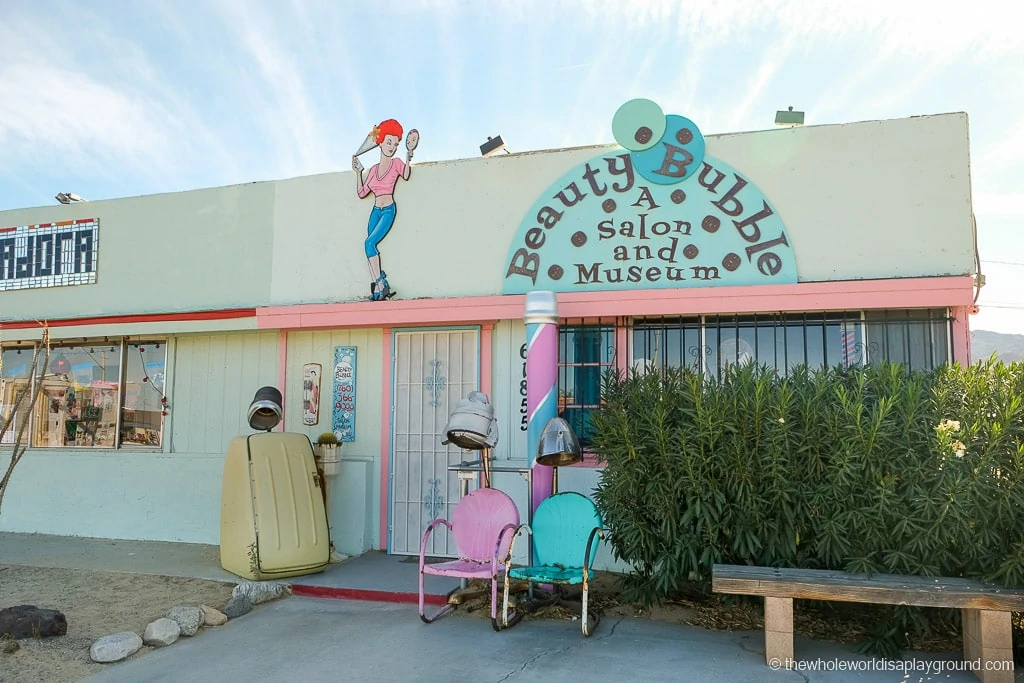 4 | Pioneertown
A walk along the Pioneertown main street feels like a scene from a wild west action movie! Once a 1940s wild west Hollywood film set, Pioneer Town is now filled with independent stores. Make sure to stop by Pappy and Harriet's Pioneertown Palace next door.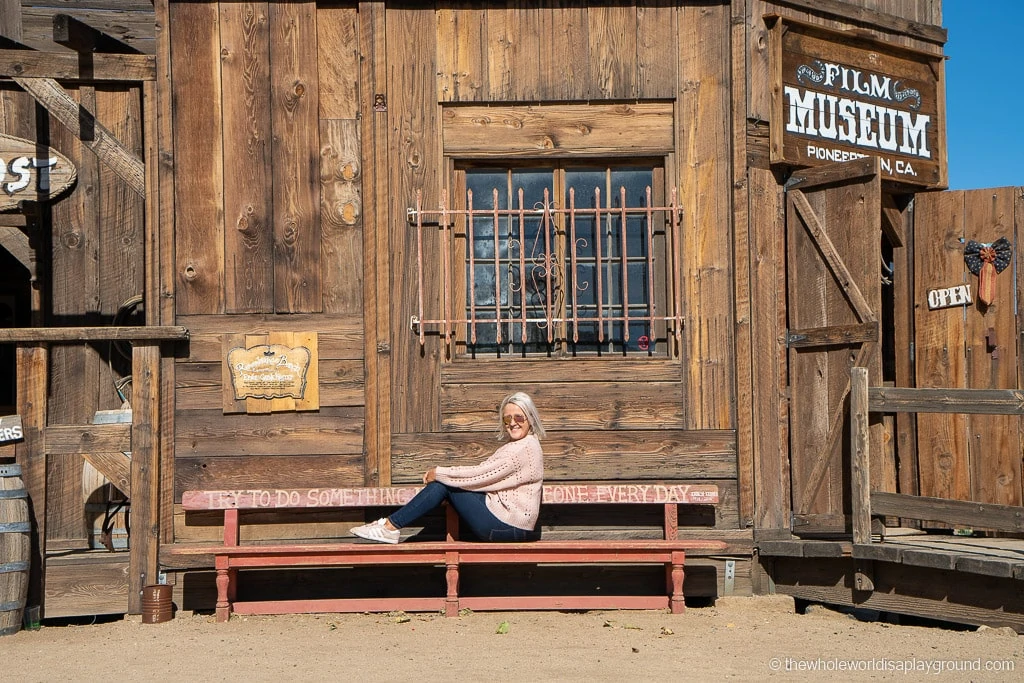 5 | Joshua Tree Saloon
Joshua Tree Town's old western style watering hole is one of the busiest stops in town. With its dark and rustic interior, the decor is great as are its food offering. After a long day in the park there is nothing better than a ice cold beer in the Joshua Tree Salon!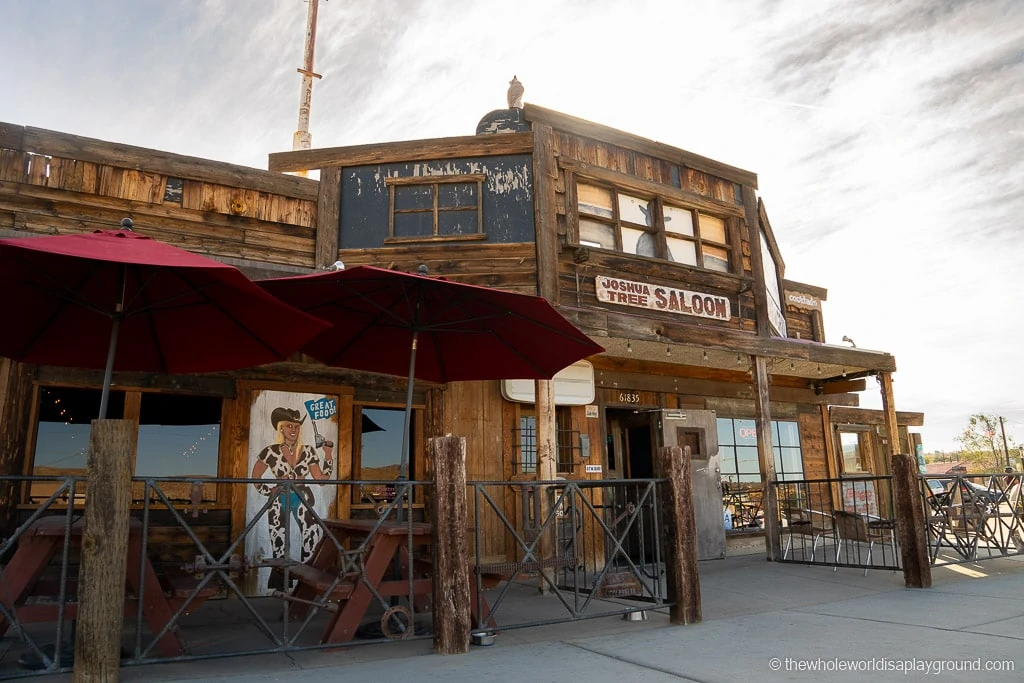 6 | Smith's Ranch Drive In
If you've always dreamed of watching a movie under the stars then make sure to stop by Smith's Ranch Drive in Theater during your time in Joshua tree. Open Thursday to Sunday, it costs $5 per person to watch the two movies on show that week. Just drive in, park up and tune in your radio to the Smiths Ranch audio channel!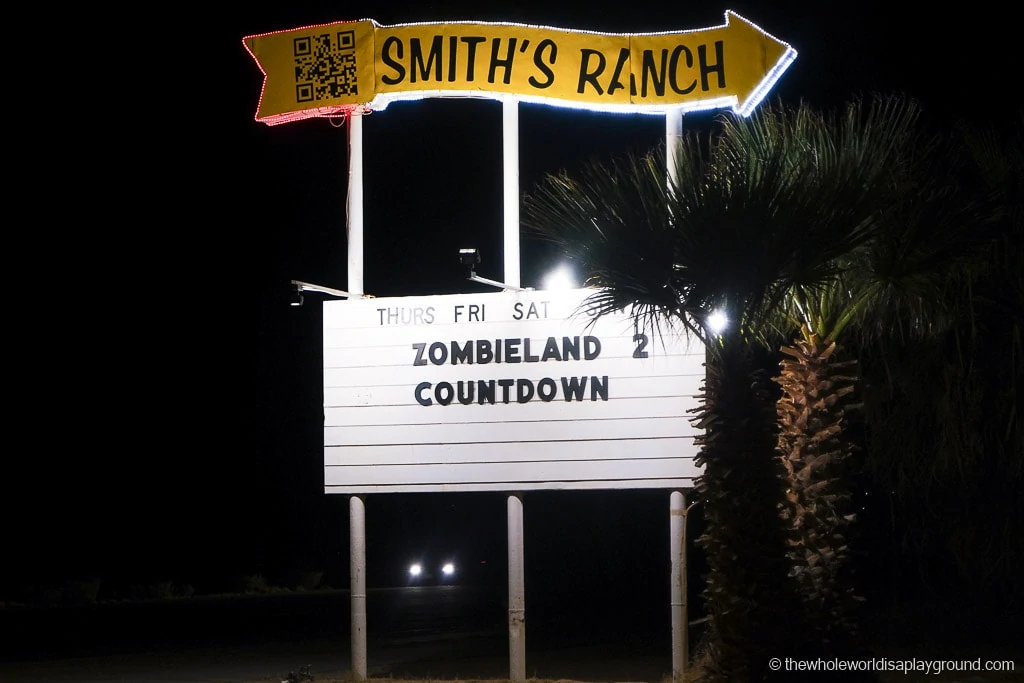 7 | Explore the Park
Allow plenty of time to explore the park itself. With its unique rock formations and distinctive Joshua Trees set against a barren desert landscape, Joshua Tree National Park is one of the most magical and enchanting places on the planet. From checking out the quirky rock formations to admiring the panoramic vistas at Keys View to exploring abandoned mines and ranches in the wilderness and stargazing in the crystal clear night skies, there is an amazing variety of things to do in Joshua Tree National Park. For our full guide on Joshua Tree National Park check out our 20 best
things to do in Joshua Tree.
8 | Desert Christ Park
Perched on a hillside in the Yucca Valley, the 40 stone white sculptures of the Desert Christ Park are a remarkable sight. The statutes depict the life of Christ and the park is a tranquil and serene spot.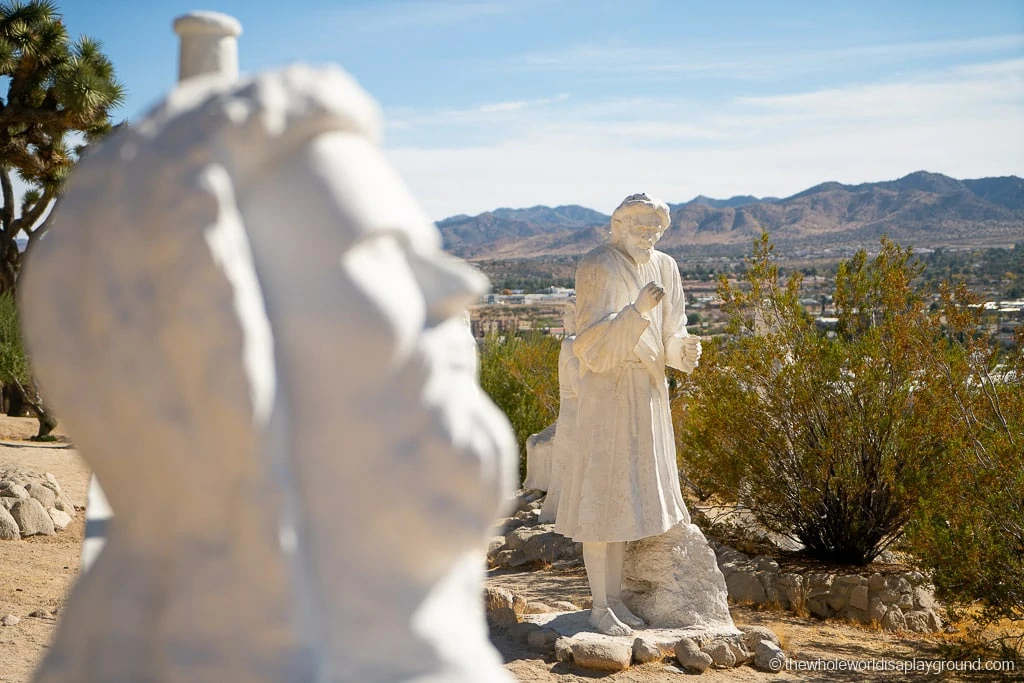 9 |Antique and Vintage Shopping
Joshua Tree has an amazing selection of antique and vintage shops. Our favorites included:
Pioneer Crossing Antiques: quirky homewares and vintage jewelery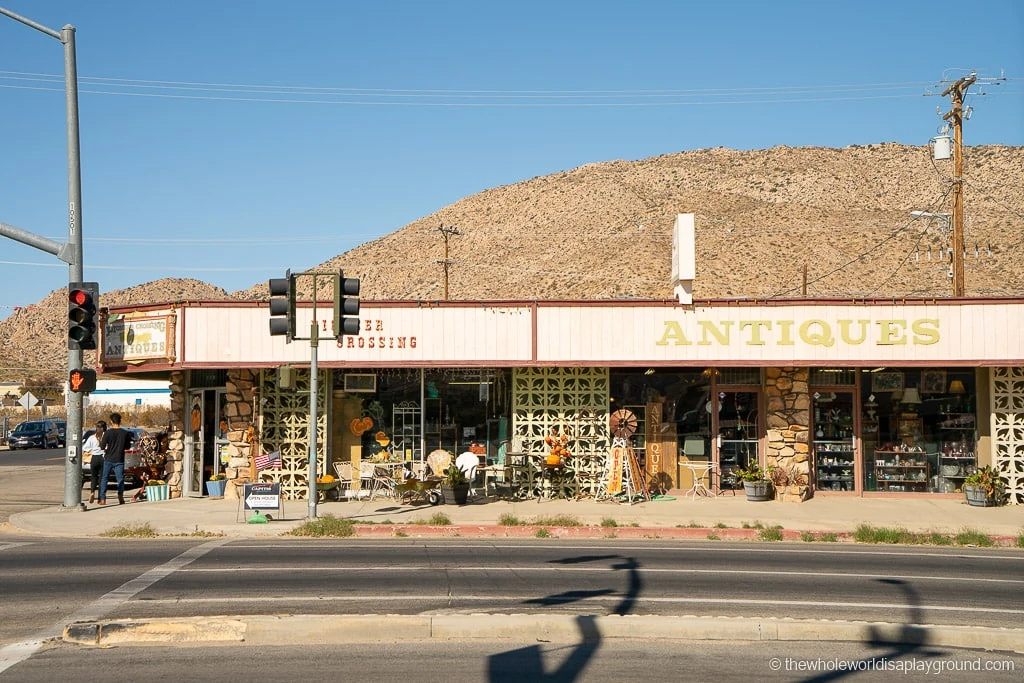 The End: designer resale boutique
Ricochet Vintage Wears: cowboy boots and vintage clothing and accessories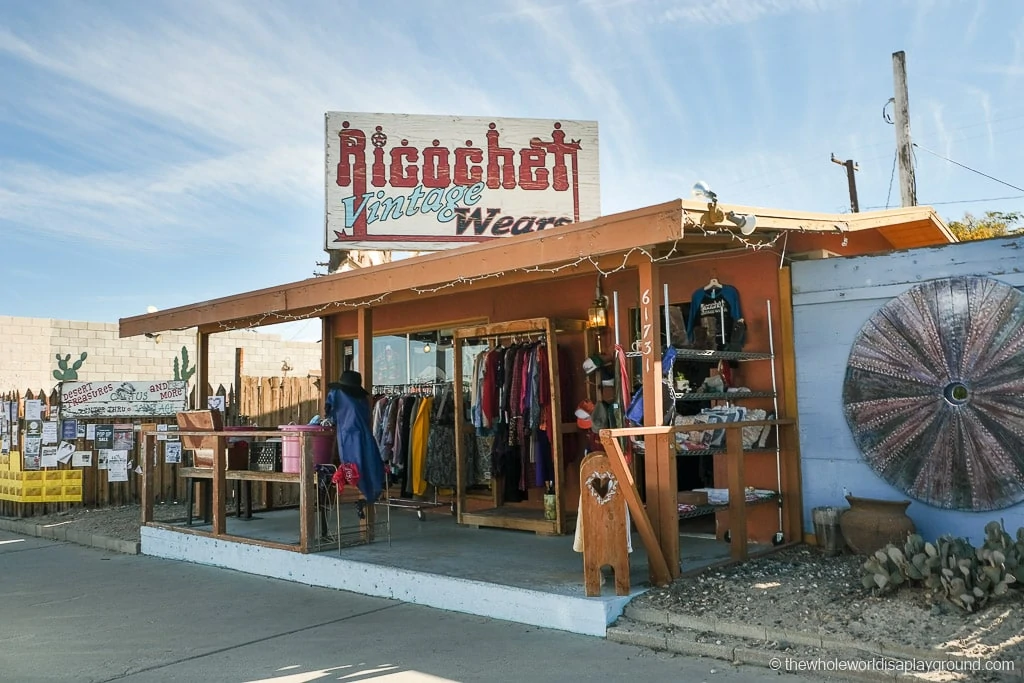 10 | The Station
At first glance it appears to be a gas station but the Station is actually a Joshua Tree souvenir store. Its offerings include custom souvenirs, potted cactus and great coffee. Outside, a giant desert cowboy towers over the station forecourt making it impossible not to stop for a closer look!
11 | Route 66
Get your kicks on Route 66! OK, the town of Amboy is 45 minutes from Joshua Tree but given how much I've always wanted to drive on Route 66 it had to make the list!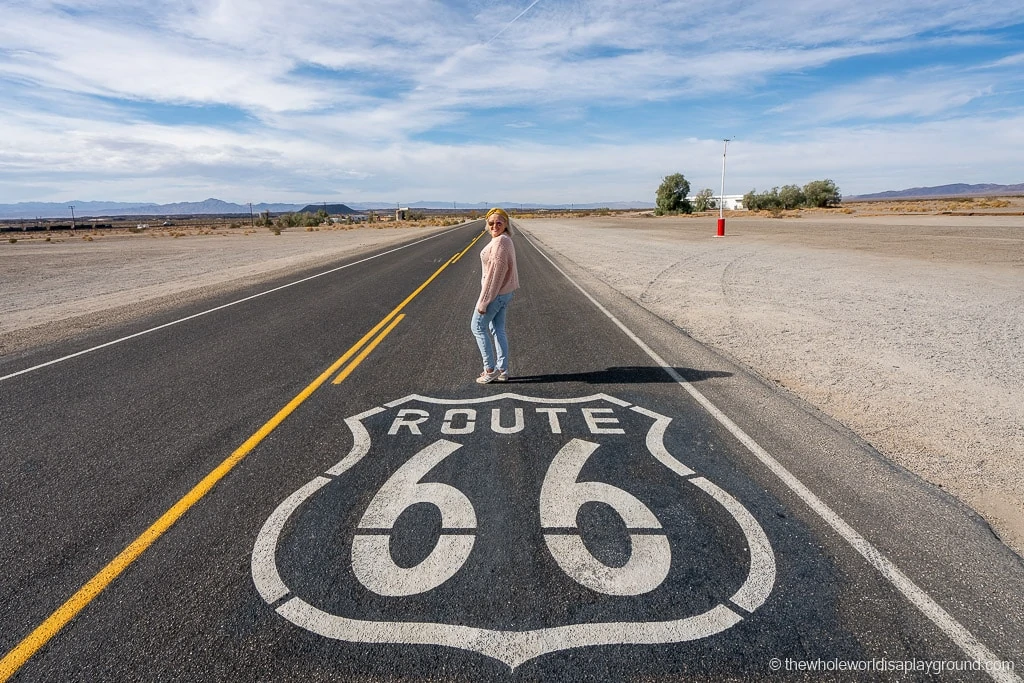 Route 66!
The tiny town is located en route from Joshua Tree to Las Vegas and is home to the famous Roy's Motel and Café. Everyone who passes grabs a Route 66 root beer and poses under Roy's iconic neon sign!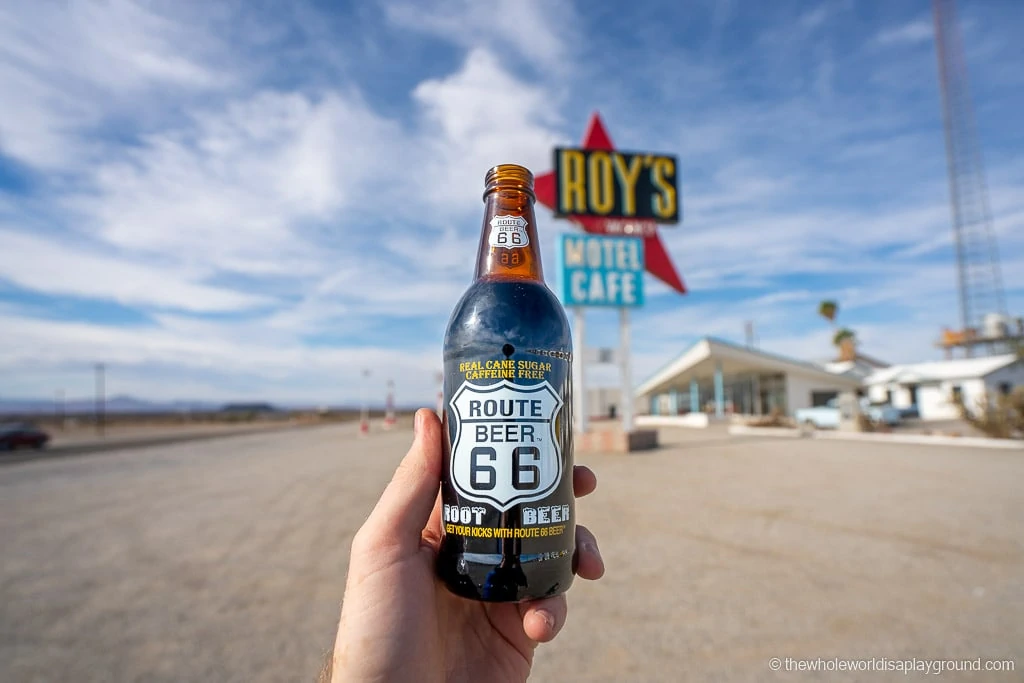 The must have pic!
12 | Crossroads Cafe
This all day diner is a Joshua Tree institution and a must stop for breakfast or lunch while in Joshua Tree Town.
13 | The Integration
The Integration is a unique white dome structure 20 miles North of Joshua Tree National Park. The Integration offers signature quartz signature Sound Baths in a 60 minute sonic healing session. The Integration is an incredibly unique experience in the middle of the desert and the Sound Bath was one of our Joshua Tree highlights.
14 | Palm Springs
Many Joshua Tree visitors stay in the nearby Palm Springs. If, like us, you stay near Joshua Tree itself, then Palm Springs makes for a great day trip and a glamorous escape from the trails of Joshua Tree National Park! Our Palm Spring favorites include:
Ride on the Palm Springs Aerial Tramway
Visit the Art Museum
Pose by the colorful doors in the Indian Canyons Neighborhood
Check out the San Gorgonio Pass wind farms.
15 | Desert X (February to April)
Desert X is an incredible contemporary art exhibition held in the Coachella Valley. Art works are installed across the Greater Palm Springs Area during the free public art festival. The installations are thought provoking and visually stunning and it is a must visit if you are close to Palm Springs when Desert X opens.
Things to do near Joshua Tree tip: the Coachella Valley is also home to the annual Coachella Valley Music and Arts Festival