With its beautiful hilltop location overlooking the Ionian Sea and the stunning views of Mount Etna, Taormina is known as the Pearl of the Meditteranean. It is one of the most popular towns in Sicily and we highly recommend that anyone visiting the island should spend at least one or two nights in Taormina.
We really love spending time in this Sicilian gem and we've put together this list of our best places to stay in Taormina – from stunning seaside resorts to quiet retreats right in the middle of the old town, here's our guide on where to stay in Taormina.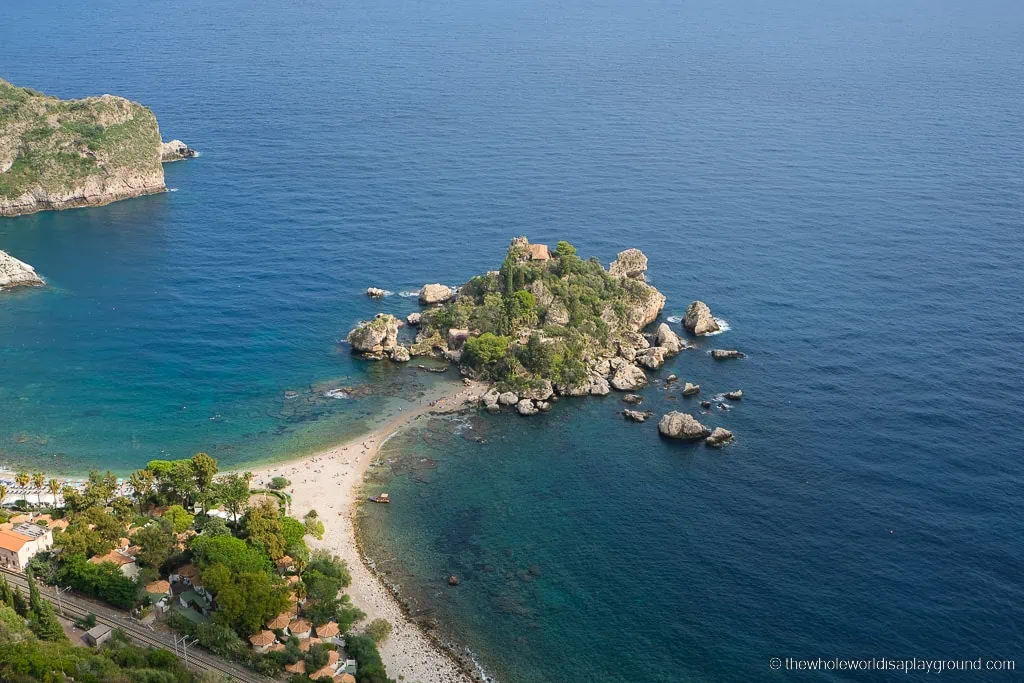 Where to Stay in Taormina
With its relaxed atmosphere, beautiful scenery and incredible food Taormina is one of our favorite places in Sicily. Although a relatively small town, Taormina is packed with accommodation options and we know firsthand how difficult is it to choose where to stay! From luxury hilltop hotels to stunning seafront properties, Taormina has something for everyone.
We've outlined each of our top places to stay in detail below but if you want to get straight to checking out our favorites they are: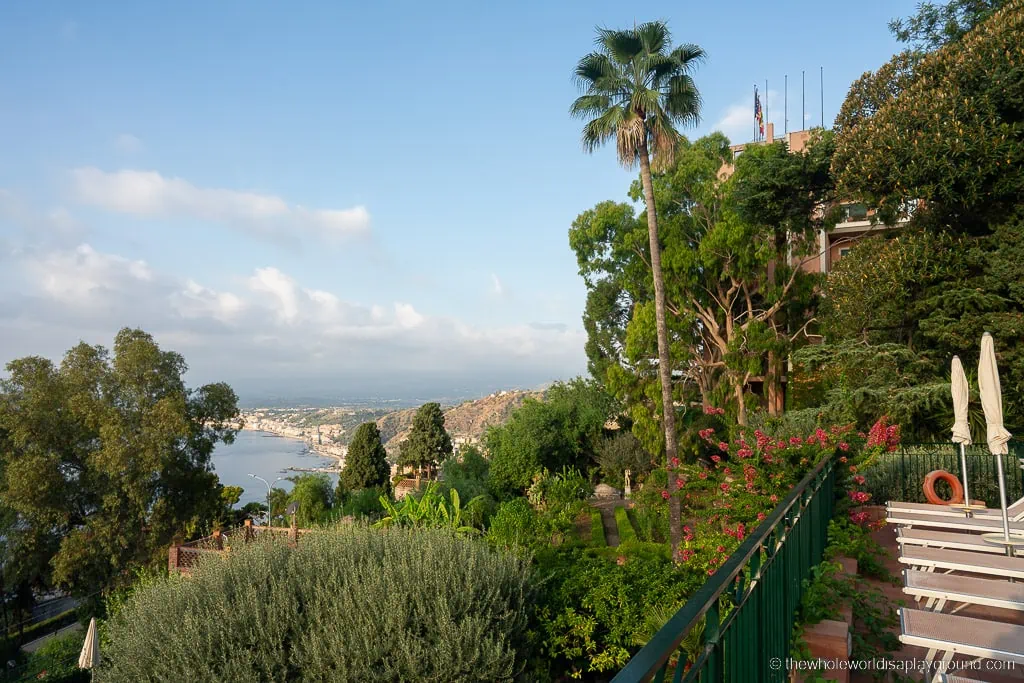 Is it worth staying in Taormina?
On our first trip to Sicily, we spent time in four or five towns across the Island. Taormina is one town we've returned to multiple times so we can say from experience that it is definitely worth staying there! It's a wonderful base for many of the wonderful sights on the east coast of the island and there are hotels to suit a range of tastes and budgets. Plus if you book well in advance you can get some great hotels at excellent prices.
The incredible hotels, delicious food and relaxed atmosphere in Taormina make a stay there absolutely worth it. We always find it hard to leave after a magical few days in this Sicilian gem.
Where to Stay in Taormina tip: While Taormina is a popular day trip destination, especially from Catania, it is also one of the most popular places to stay on the island. Due to this demand for hotels is high, especially during the summer months. We recomend booking your hotel well in advance to secure the hotel you want.
There is something truly special about this stunning Sicilian town that can only be really experienced by staying a few nights. A stay in Taormina will likely be the highlight of your time in Sicily, as it is for us!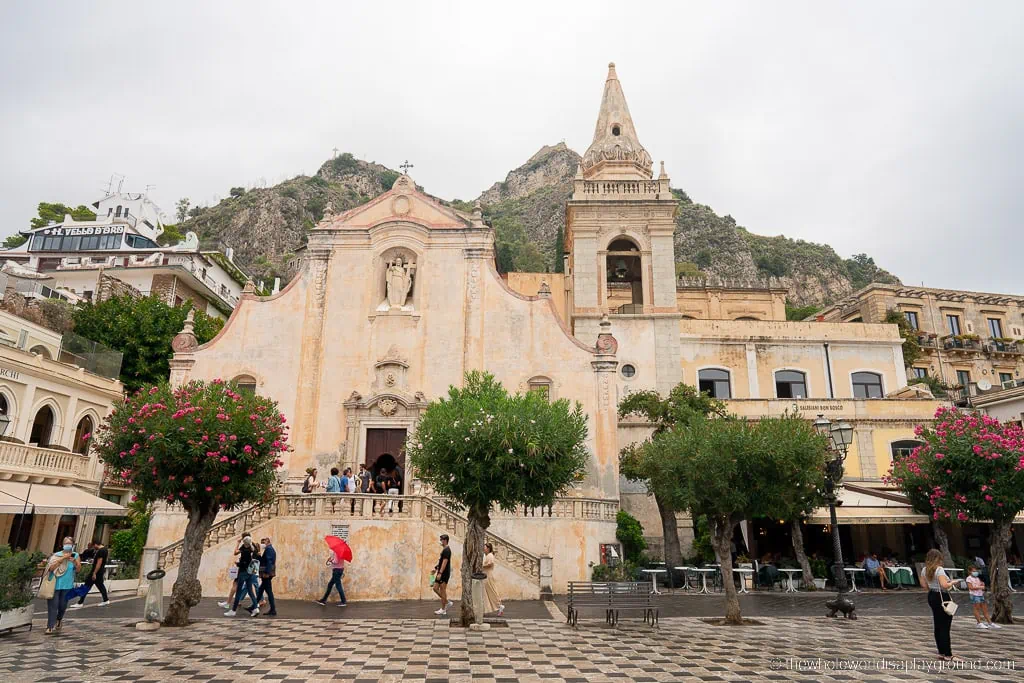 How Long to Stay in Taormina
You can easily spend the entire duration of your Sicily trip in Taormina. There are plenty of things to do in Taormina itself and it's a great base for the East of the Island.
We like to spend 3 or 4 nights in Taormina and find this to be the right amount of time to experience the area. It's enough time to enjoy the Old Town, eat some great food, explore Isola Bella and Castlemola and still have plenty of time to relax. If you plan on visiting
1 | Hotel Villa Belvedere
Best hotel for: Couples, families, views
Hotel Villa Belvedere is our top pick when we stay in Taormina – in fact, it's one of our favorite hotels in Sicily. It is located a short walk from the hustle and bustle of the Old Town and is next to the Communal Gardens (our kids love the playground in the Communal Gardens!). The service from the management and staff is wonderful.
One of the highlights of Hotel Villa Belvedere is the pool area which offers a great place to swim, grab a bite to eat or relax during the hottest part of the day. The dining room, where breakfast is served, has the most wonderful views. The Greek Theatre is a 5-minute stroll from the hotel and from there the centre of the Old Town is on your doorstep.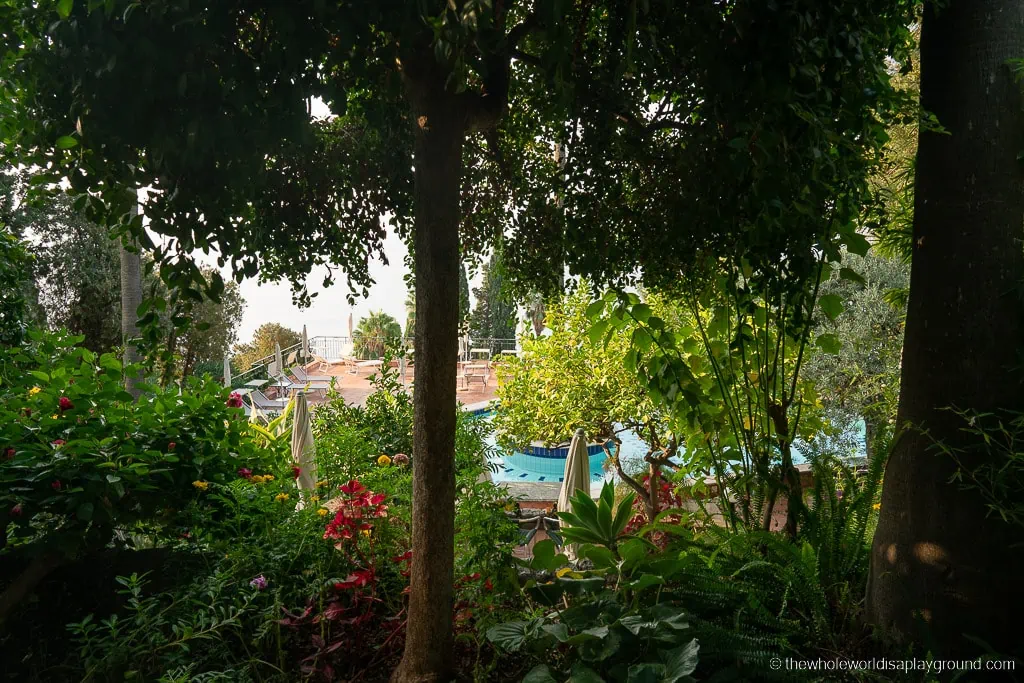 The best thing aboutHotel Villa Belvedere is that while it is perfectly located close to the centre of everything in Toarmina, once you step into the hotel it feels like an oasis away from the hustle and bustle of the busy streets – check prices now!
Book Hotel Villa Belvedere now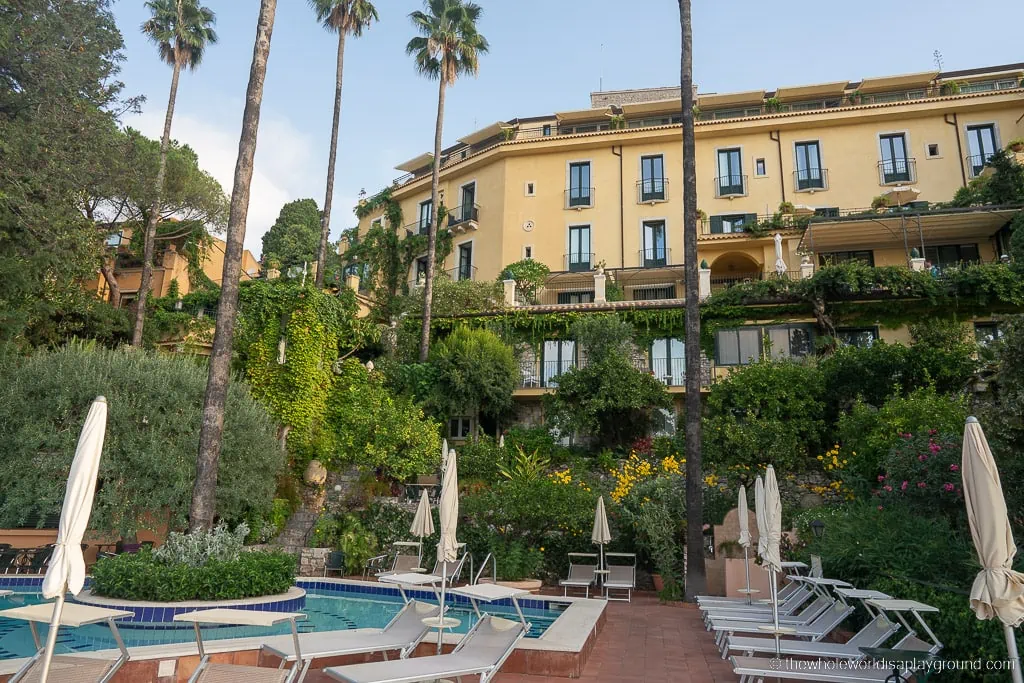 2 | Hotel Villa Taormina
Best for: Couples, Old Town
This stunning boutique hotel is one of the most highly rated in all of Sicilty and for good reason. Hotel Villa Taormina is perfectly located in the center of the historic Old Town, just a few steps above Piazza Duomo. The hotel itself is a historic residence and a number of the rooms offer sea and Mount Etna views – check prices now!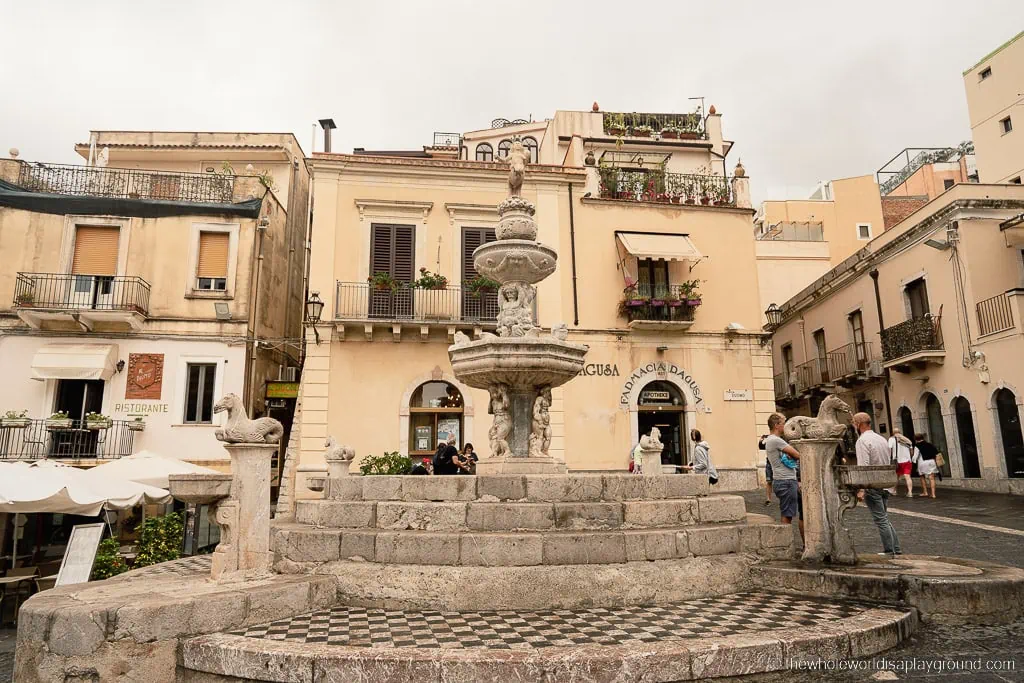 3 | Hotel Villa Ducale
Best for: Couples, Groups
Hotel Villa Ducale is a stunning boutique hotel located above Taormina's Old Town and has wonderful views. Guests can easily access the Old Town via the steps from Chiesa Madonna della Rocca located a short walk from the hotel. The hotel also operates a free shuttle service for guests to the town center or beach which means you will save a lot of time and money on taxis!
Each room is uniquely designed with its own terrace or balcony allowing all guests to soak in the incredible views.
Hotel Villa Ducale is perfect for those seeking a quiet hotel with incredible views of Taormina and Mount Etna. The hotel breakfast is beautiful and there is also an excellent restaurant on site. The hotel also has an on-site pool – check prices now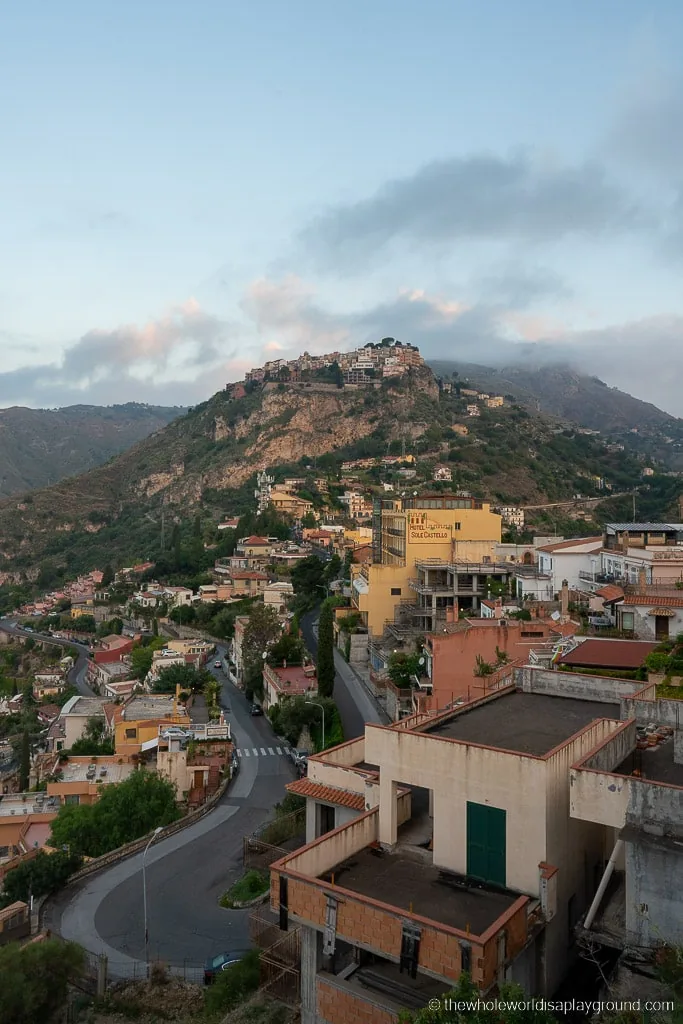 4 | Grand Hotel Timeo (Belmond Hotel)
Best for: Couples, Families
The Grand Hotel Timeo is one of the most stunning hotels in Taormina if not all of Sicily. This incredible 5-star hotel is located right at the entrance to the ancient Greek Theatre and oozes old-world charm with a modern twist. The hotel offers amazing service and incredible views of the Sicilian coast.
Some of the highlights of the Grand Hotel Timeo include the on-site swimming pool with its unrivaled views and the elevated dining terrace. If you are looking to spoil yourself during your time in Taormina then this should be top of your list! – check prices now!
Book the Grand Hotel Timeo now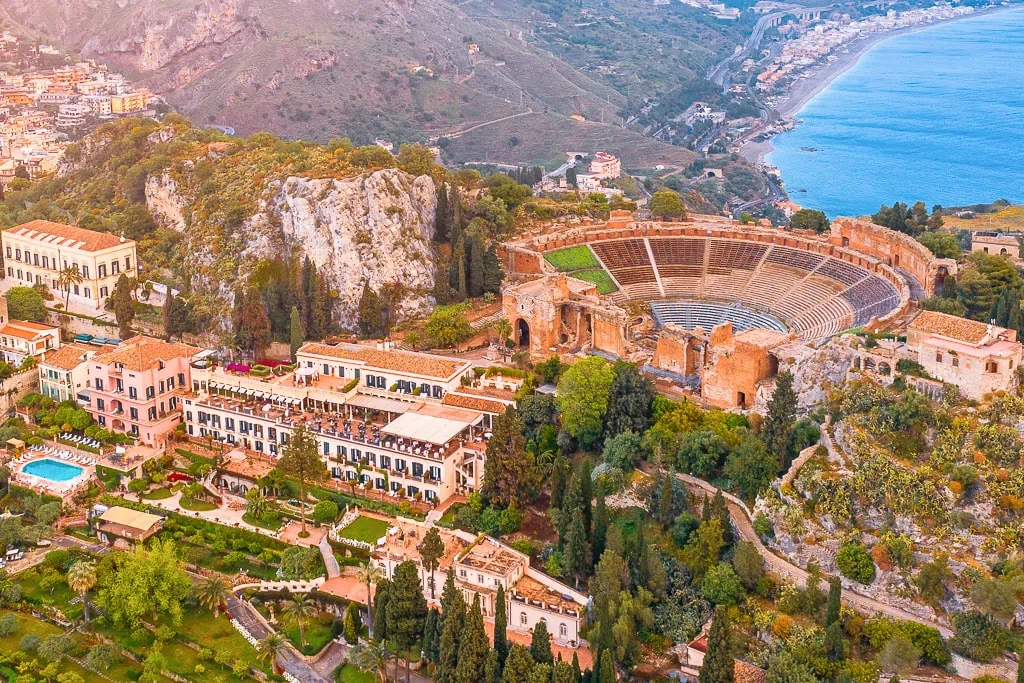 5 | UNAHOTELS Capotaormina
Best for: Beach lovers, families and couples
The picturesque UNAHOTELS Capotaormina is perfect for those who prefer the beach but also want easy access to Taormina's Old Town. With its very own private beach, stunning swimming pools (including an infinity pool and a seawater pool) and incredible views of the coastline and Mount Etna, this is the perfect hotel to kick back and relax in.
UNAHOTELS Capotaormina has a number of high-quality restaurants on-site and variety of bars dotted around the hotel complex.The hotel boasts large rooms with beautiful views and the option of dining alfresco.
There is ample parking on-site for guests arriving by car and the hotel also has regular shuttles to the Old Town – check prices now
Book the UNAHOTELS Capotaormina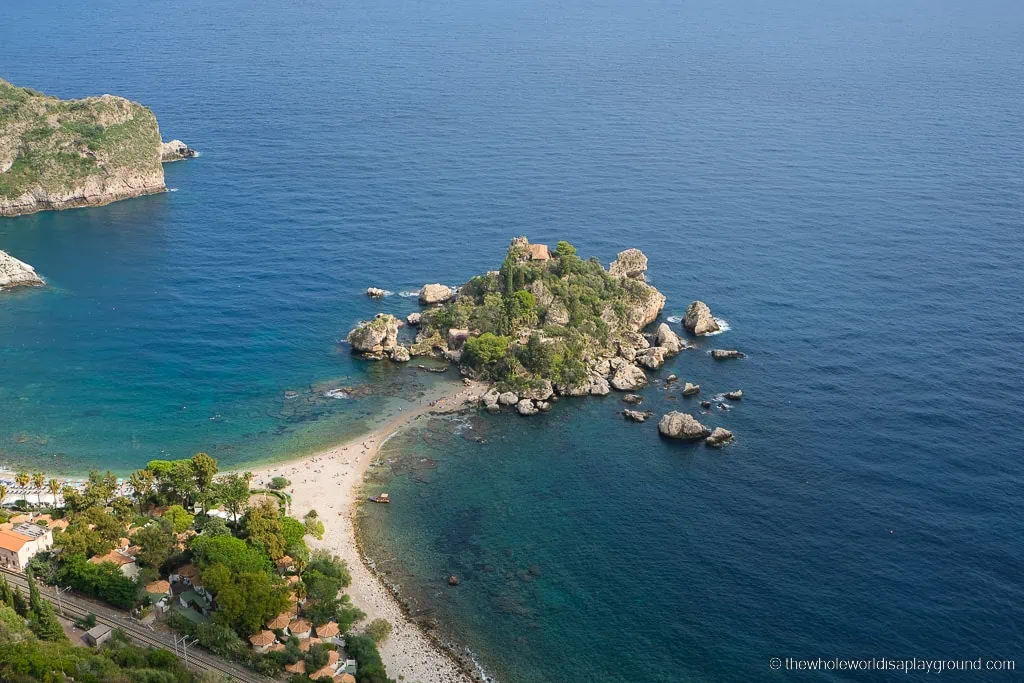 6 | Hotel Villa Schuler
Best for: boutique-style hotel
This former Sicilian mansion is now a stunning 4-star boutique hotel. Hotel Villa Schuler is perfectly located and just a 2-minute walk to the main artery of Taormina, the Corso Umberto.
Hotel Villa Schuler offers a number of exceptional and unique rooms to guests, from sea-view rooms and garden suites to entire garden villas – check prices now!