One of the best things about campervaning in New Zealand is discovering all the amazing nooks and crannies that the North and South Islands have to offer. Our day spent kayaking around the idyllic Abel Tasman coastline is one of our favourite travel memories and our little bit of paradise in New Zealand! Private beaches, blue skies and turquoise waters? Abel Tasman has it all and we were ready to find our sea legs!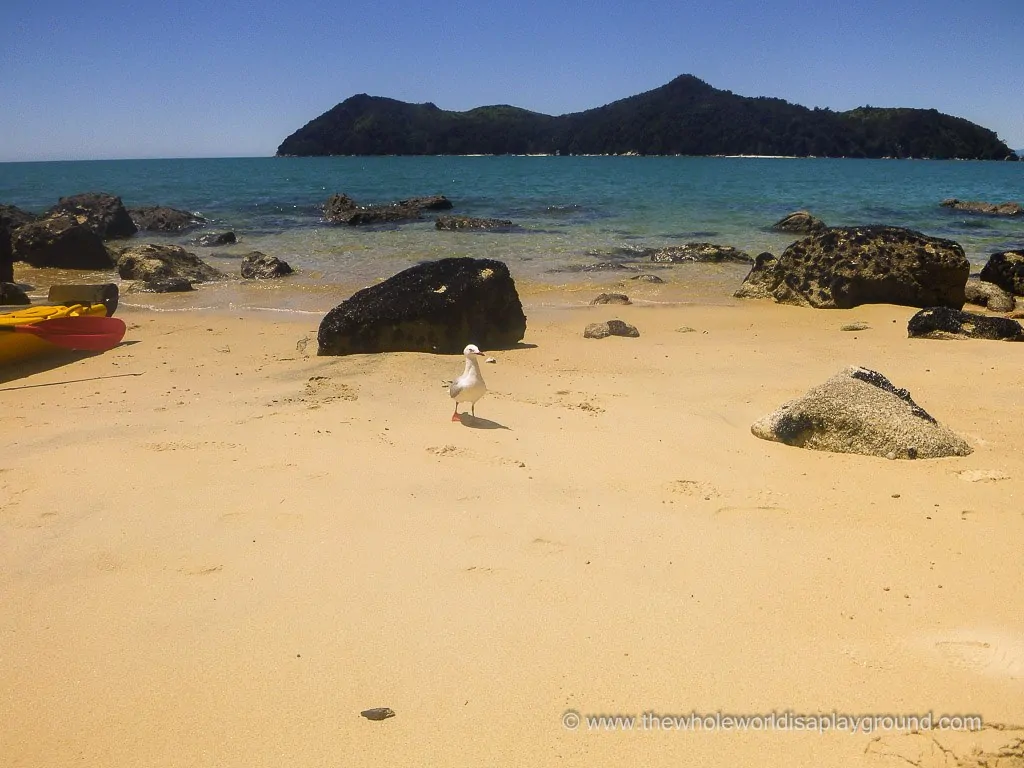 Kayaking in Abel Tasman
We woke up to blue skies and sunshine and set off on our kayaking expedition with the essentials – factor 50 suncreen, our swimming gear and a champagne picnic! We opted for a freedom rental so we could explore Abel Tasman independently and at our own pace. After picking up our gear and attending a safety session at the Abel Tasman Centre we were ready to set sail from Marahau beach.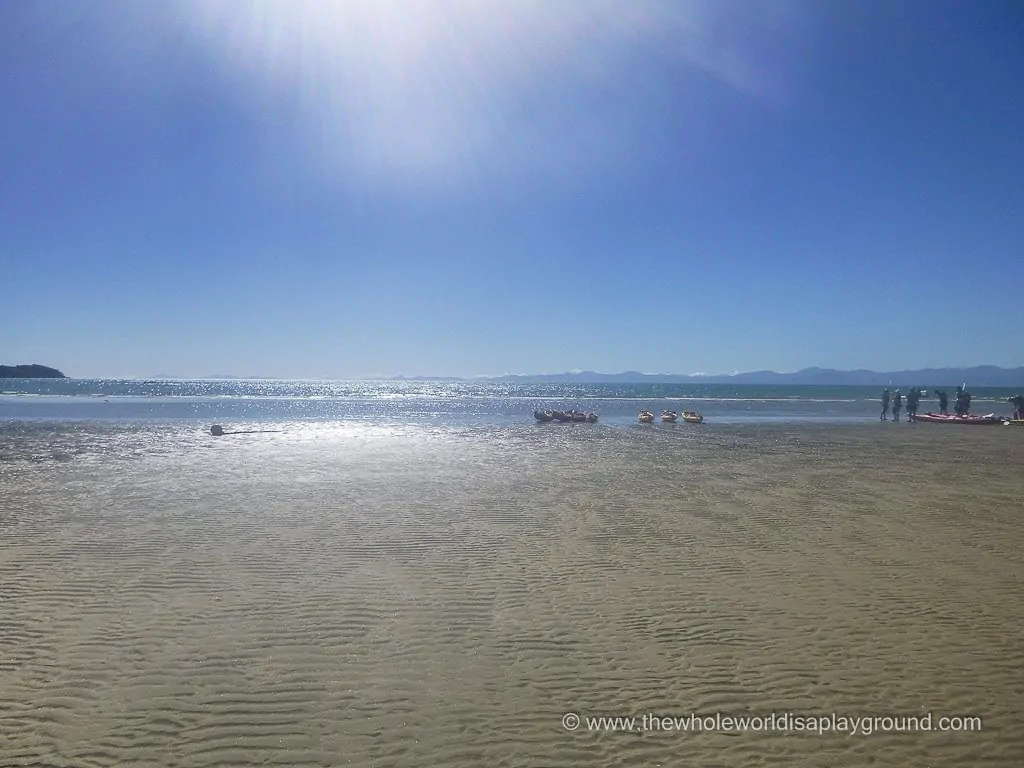 Action shot!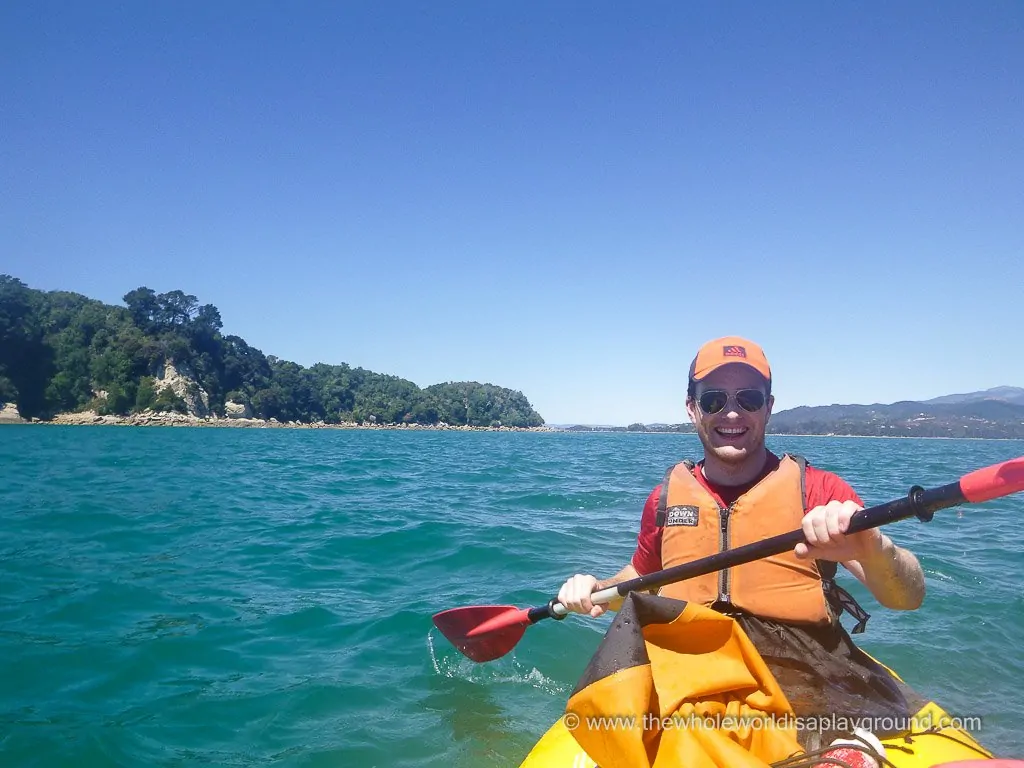 Fisherman Island
Our first stop was Fisherman Island which was visible in the distance from Marahau beach. It took us a while to get into a rhythm in our tandem kayak (OK, OK, it took me a while. I have a tendency to kayak in beautiful, perfectly formed circles but the husband managed to get me on the straight and narrow!) but we were soon power kayaking towards the island motivated by the prospect of a champagne lunch on arrival! We made it and were lucky enough to have the beach all to ourselves. It was perfect!
Parking up on Fisherman Island!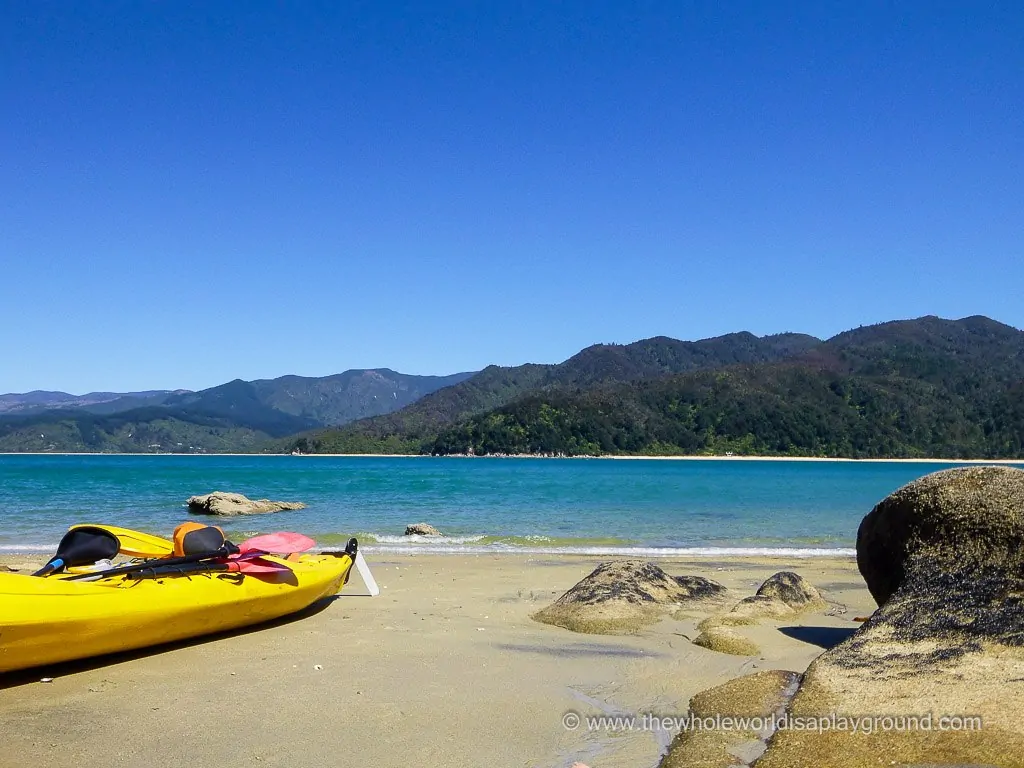 Crisp sandwiches for lunch, we must have been craving a little bit of home!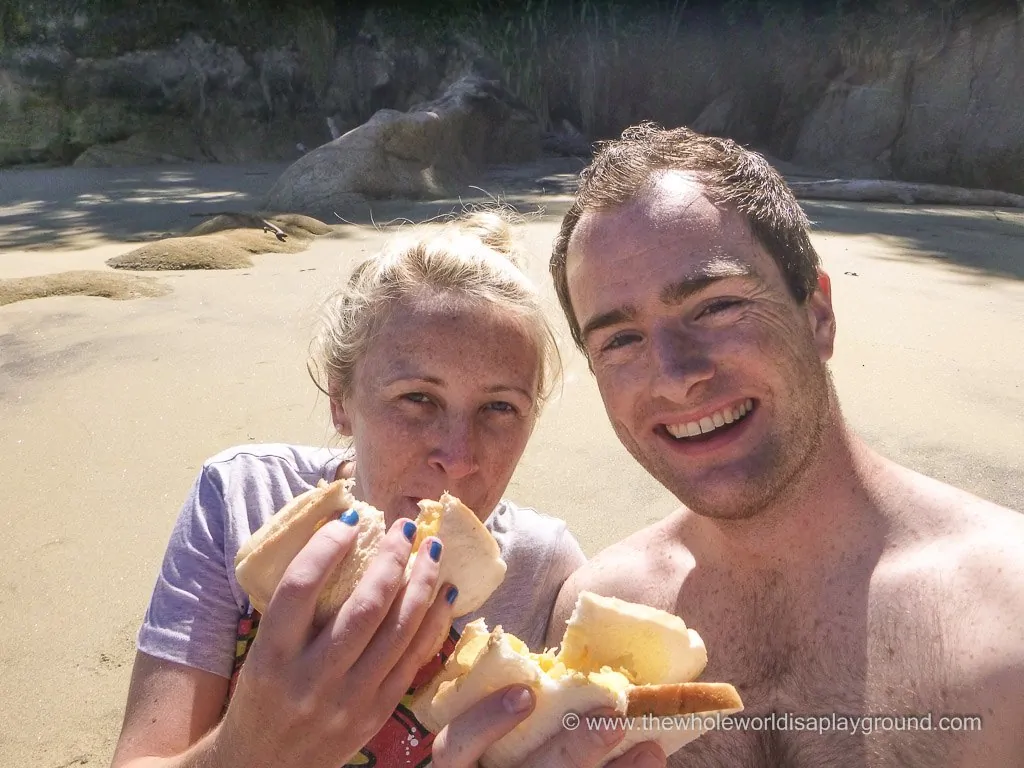 Adele Island
Adele Island was next on our list. I'm sure I've mentioned this before but I like to sing during long journeys and I provided the musical entertainment to motivate us to paddle strong! Not that I can sing but I do like to try! Adele Island is home to a host of bird life and my singing was accompanied by beautiful bird songs! We even spotted some very cute seals hanging out on our journey around the island.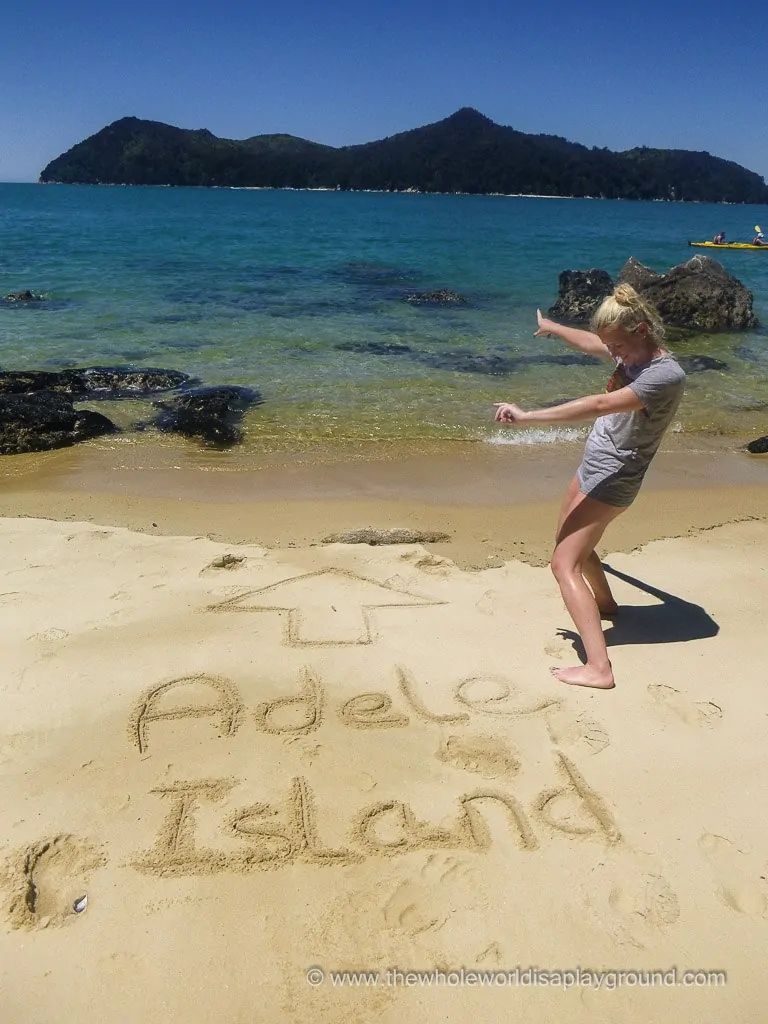 Appletree Bay, Watering Cove and Akersten Bay
It was time to cross back over the bay to explore the tidal inlets, rock formations and golden beaches that line the Abel Tasman coast. The views were outstanding in every direction and there was an abundance of blue skies, turquoise waters and stunning scenery.
Swimming in the turquoise waters: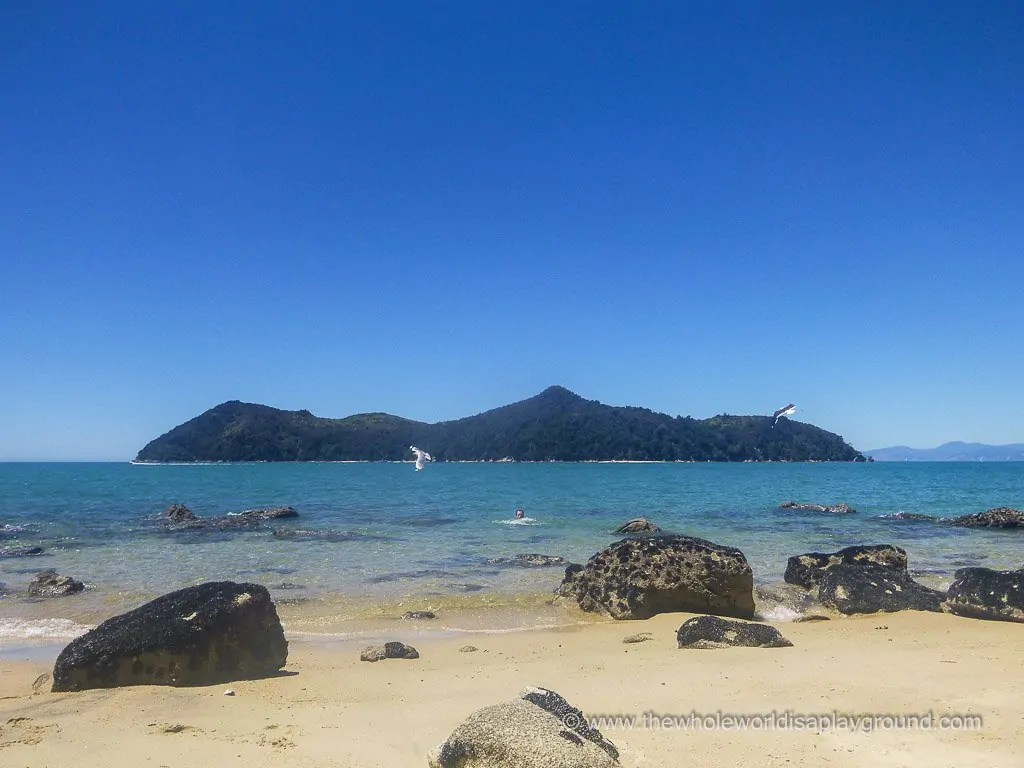 Loved up honeymoon beach art!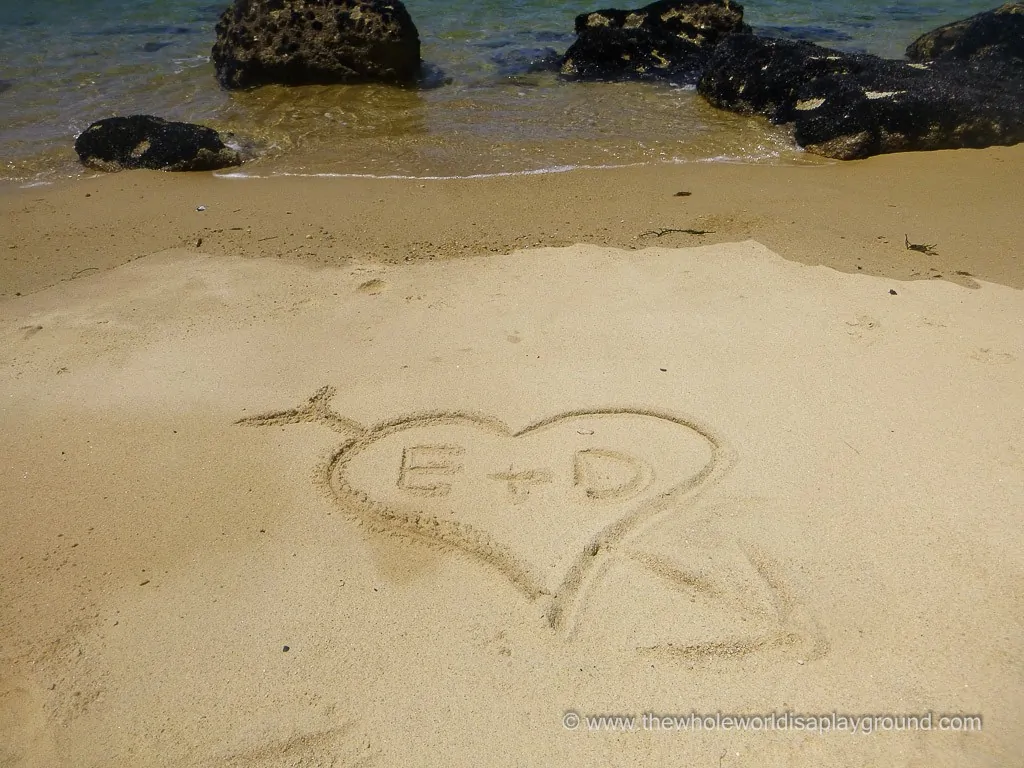 Back to Marahau Beach
Our incredible day on the water was coming to an end and we were ready to make our way to Marahau to return our kayaks. With our arms aching there was only thing to carry us home. Yep, you guessed it, more singing!
Aiming for dry land!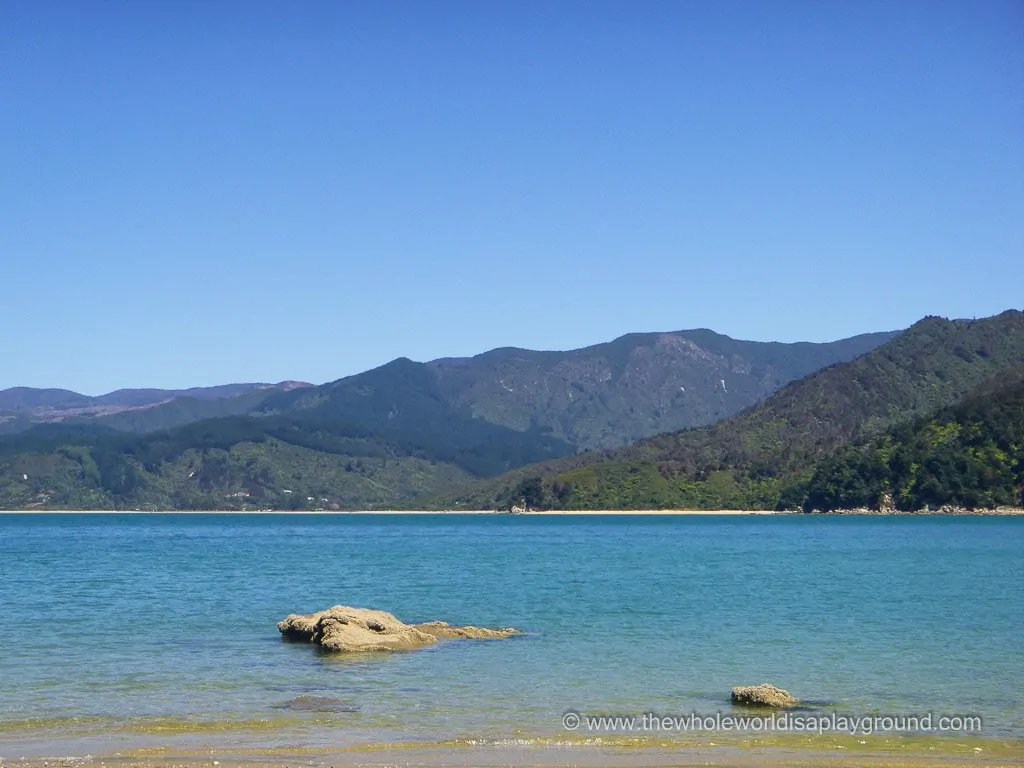 Homeward bound!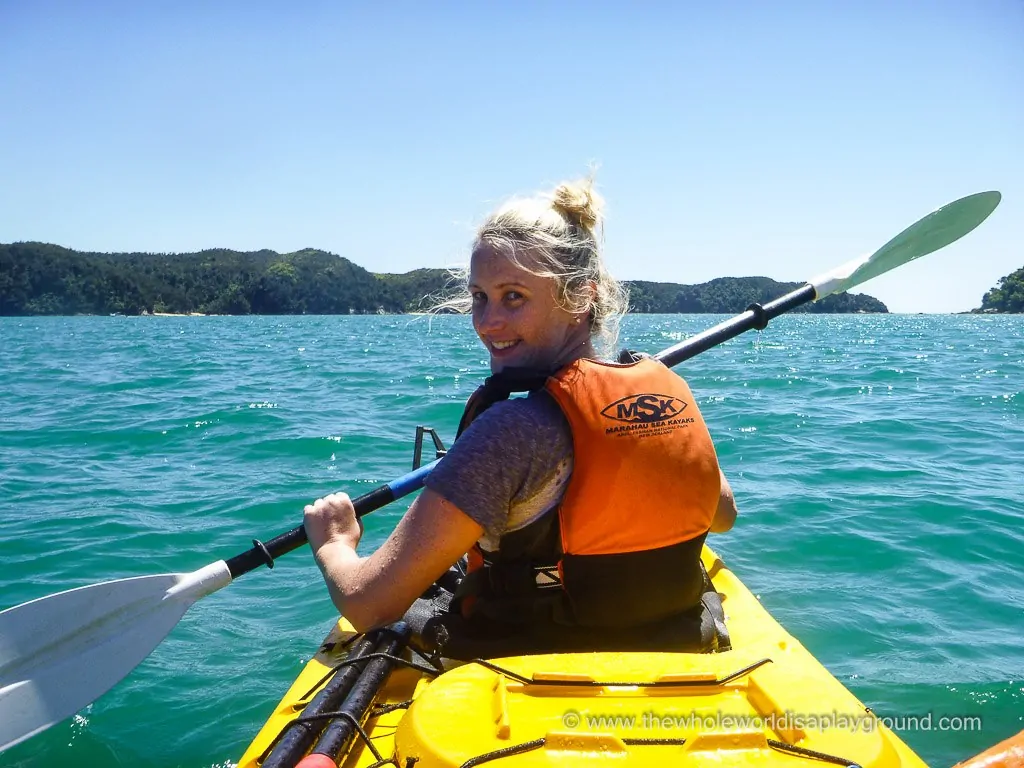 Overall
Abel Tasman is absolutely stunning and well worth the long journey and sometimes winding roads required to get there! We were lucky enough to wake up to perfect sea conditions and beautiful blue skies and it was a real treat to kayak through the bay. The kayaking was not easy and we definitely worked hard throughout the day but it was worth it to discover the secluded beaches and cute wildlife that make up the Abel Tasman coastline.  We had an incredible day and loved every second!