Prior to a recent flight to Dublin we stopped by the Aer Lingus Gold Circle Lounge in London Heathrow's Terminal 2. It was our first time trying out the Aer Lingus facilities in Terminal 2 and we were excited to check out what the new Gold Circle Lounge had to offer. After checking in at the lounge desk we made our way inside to explore and settled in for some pre flight rest and relaxation!
The Lounge
We were impressed by the lounge from the moment we walked inside. Aer Lingus moved their Heathrow operations to Terminal 2 in the summer of 2014 and the lounge is still relatively new and shiny being only a year old.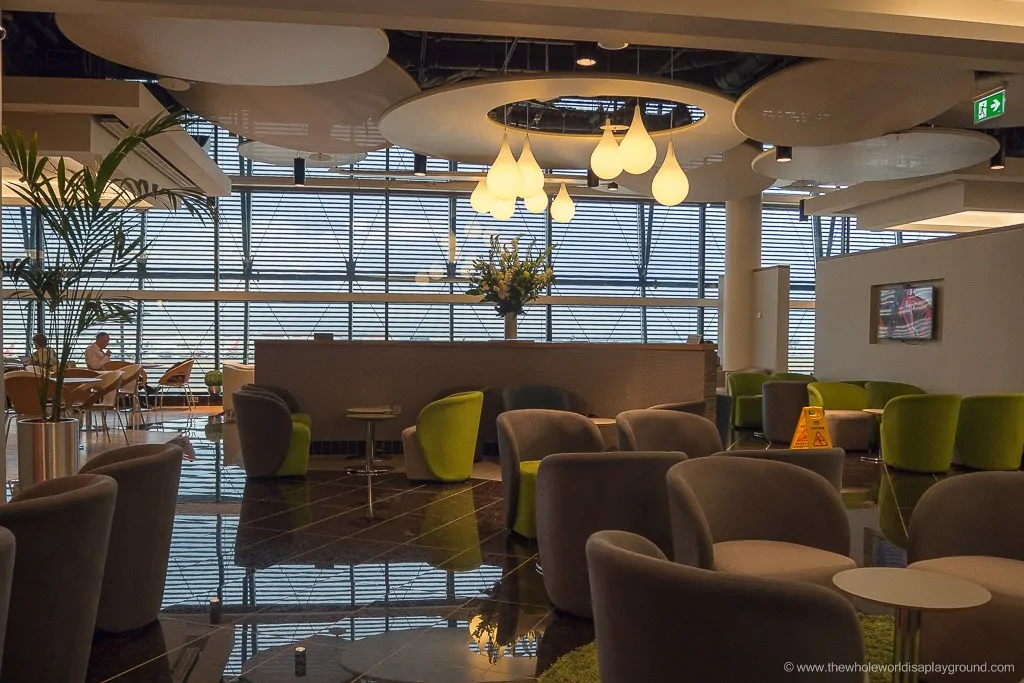 The lounge is split into a mix of dining, working and relaxation areas and the predominantly neutral decor gives a light and airy feel. It is beautifully decorated with lots of natural divisions and seating options and the floor to ceiling windows are a gorgeous addition. After lots of dark and windowless lounges it was such a treat to have the resulting natural light in an airline lounge that we almost forgot where we were!
Floor to ceiling windows: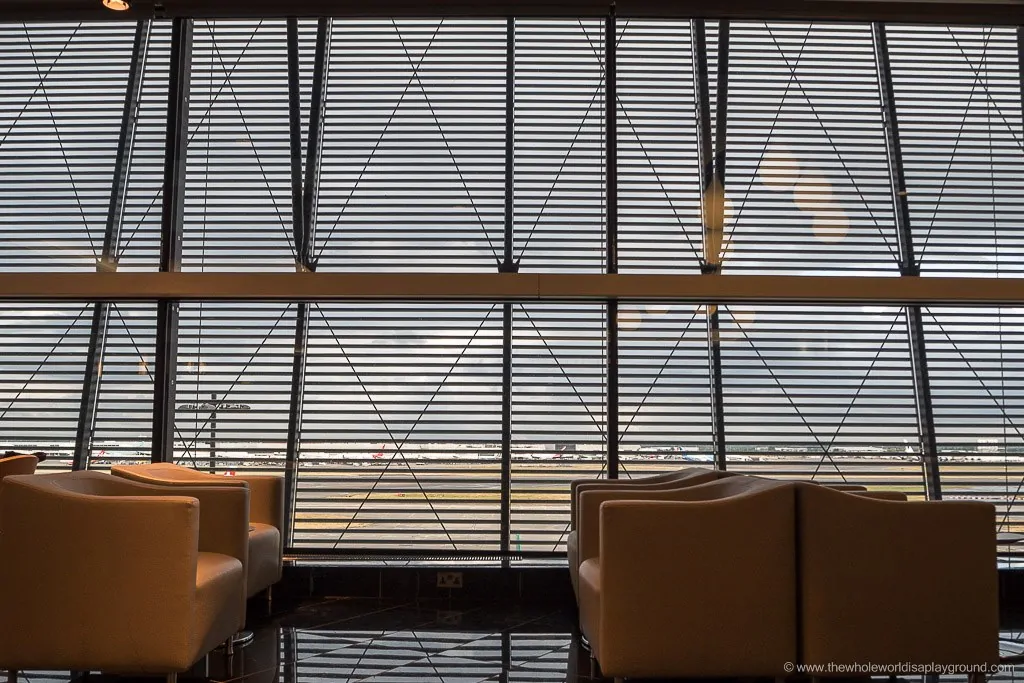 The Aer Lingus Heathrow lounge is very similar to their flagship Dublin offering and the beautiful stone wall of fame will be familiar to anyone who has passed through the Dublin airport lounge in recent years.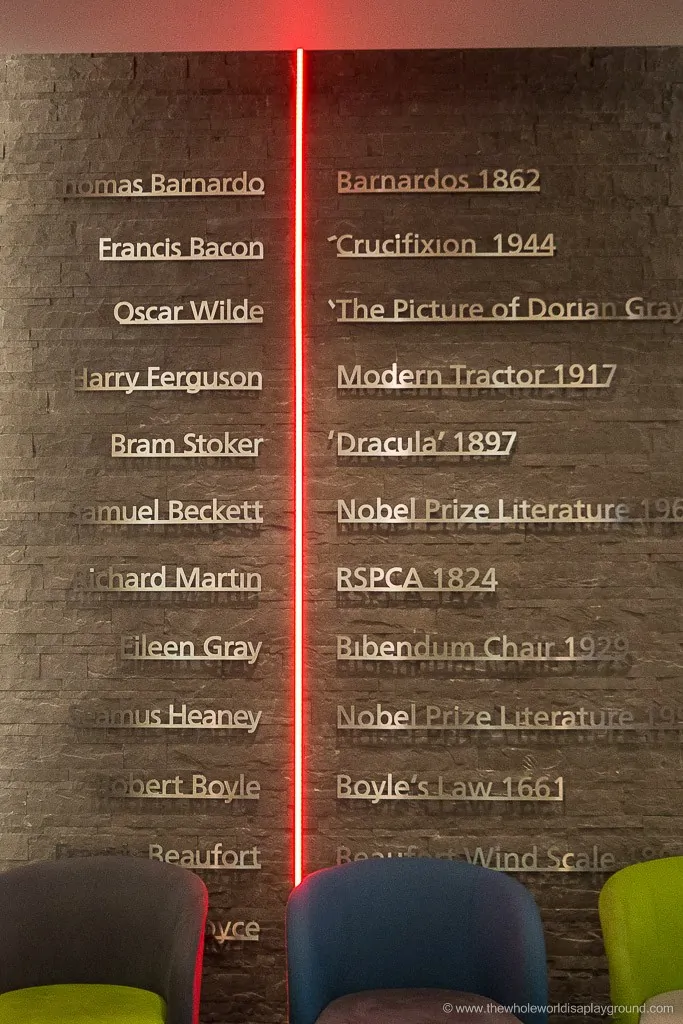 Priority Pass Lounges
A Priority Pass membership allows you to access Priority Pass lounges whoever you fly with no matter your class of travel. Anyone who flies regularly should seriously consider joining Priority Pass as their lounges significantly improve the travel experience. We love the app which allows you to check in at each lounge and overall the quality and availability of lounges around the world are very good. We've personally used Priority Pass for the past few years and highly recommend it.
There are three options available, standard, standard Plus and Prestige. We recommend the Prestige pass for frequent travellers (it's the one we use!) which offers unlimited visits throughout the year.
Click here to get your Priority Pass now!
Lounge Seating
There are a variety of seating options in the lounge ranging from comfortable leather armchairs, coloured bucket seats and dining chairs to relaxing chaise longues by the windows. We enjoyed a relaxing drink on the chaise longues watching the airplanes in the apron below. Bliss!
Dining area: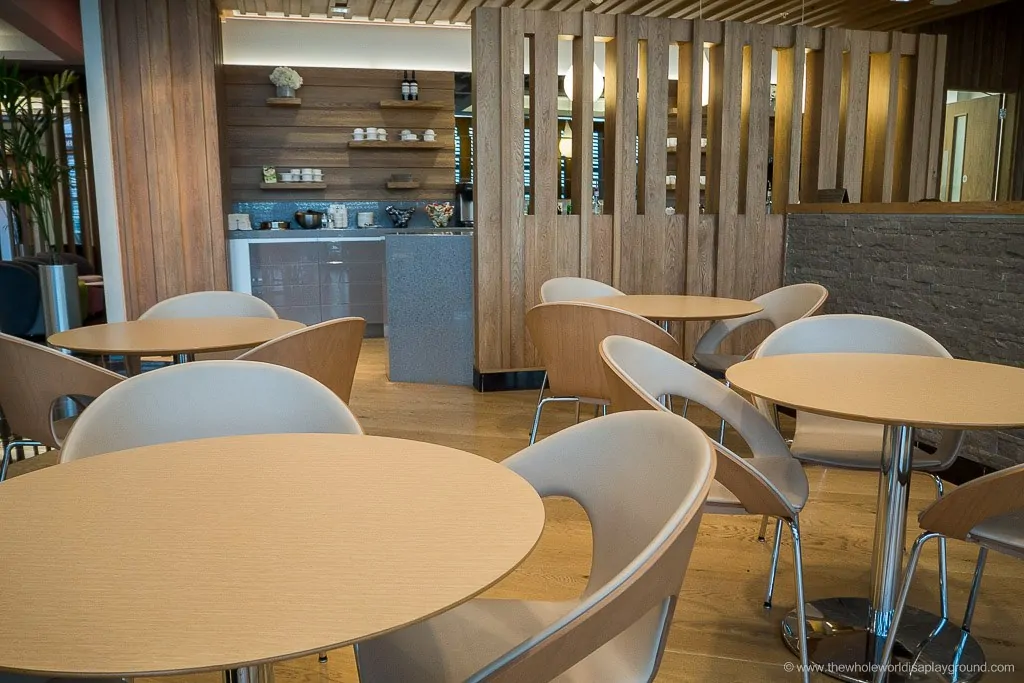 Aer Lingus coloured bucket seating:
Very comfortable leather armchairs: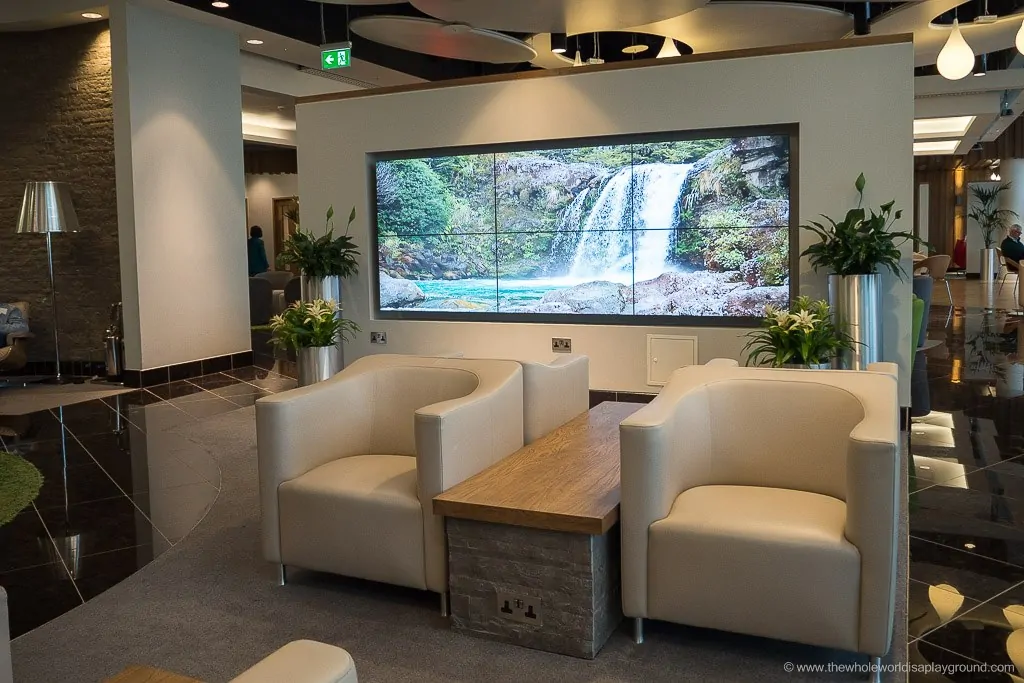 Food and Drinks
As impressive as the lounge is in appearances the food selection is slightly limited although it maintains a similar standard to the Dublin lounge offering. The warm food selection is a single soup and the cold choices are prepackaged crackers, cake, nuts, pretzels and bread rolls.
The flavour varies! Soup and rolls: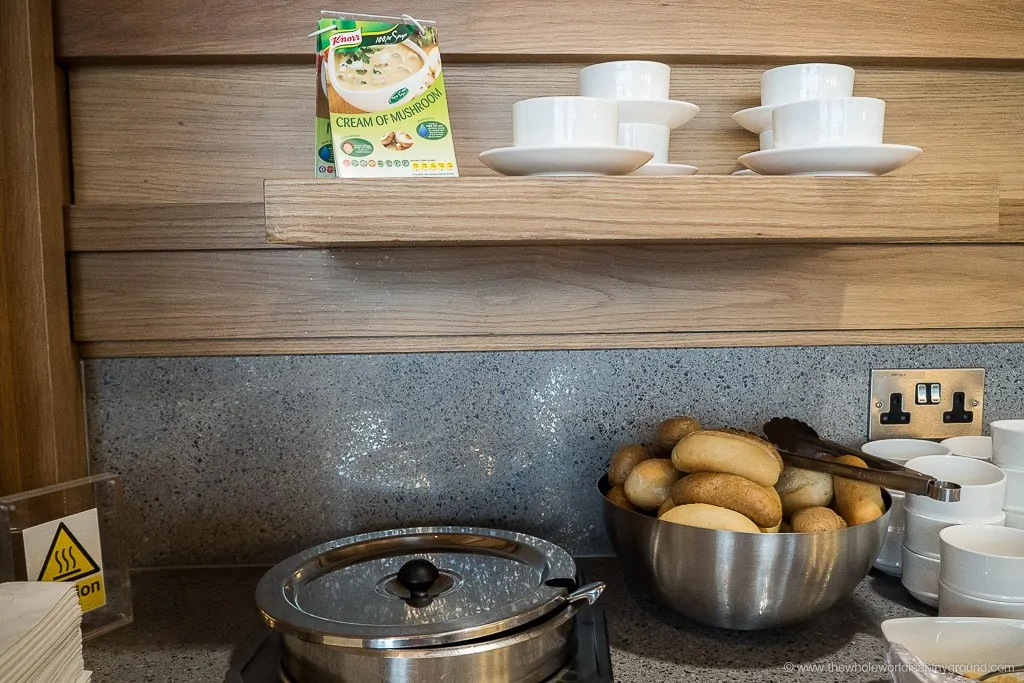 Crackers and cakes: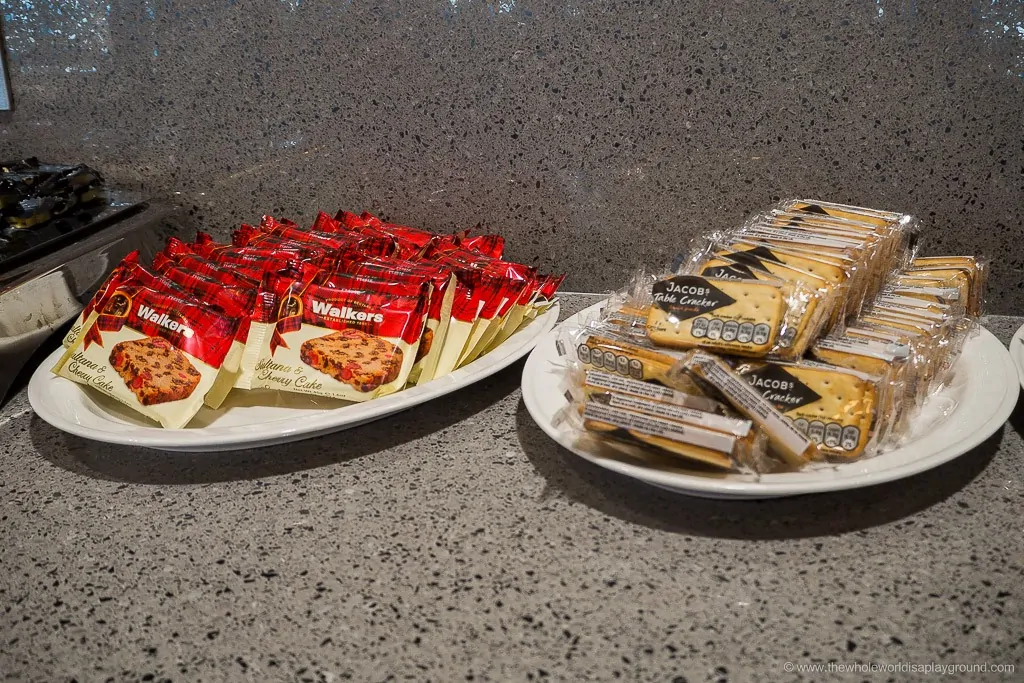 Dairy: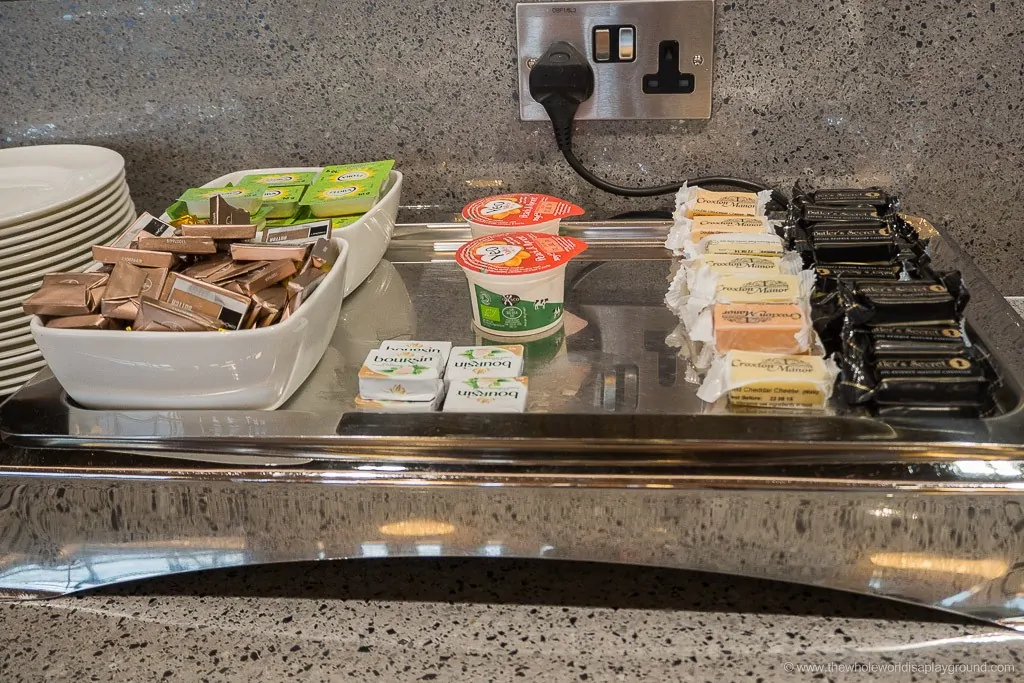 Nuts and pretzels: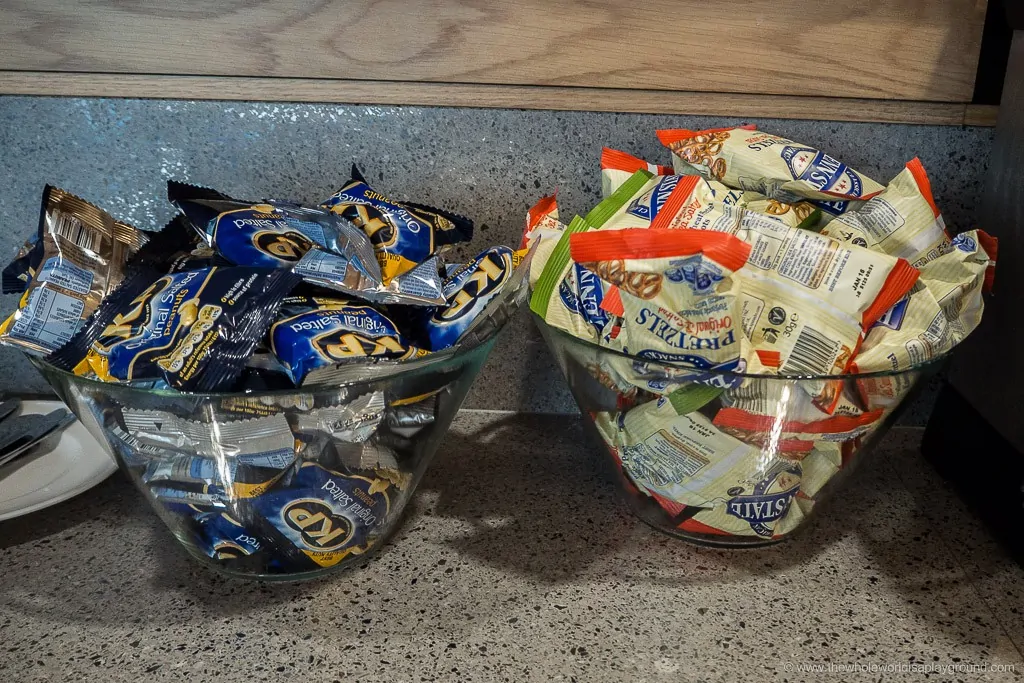 Drinks
The self service bar includes a selection of spirits, soft drinks, beer and red, white and sparkling wine. I was most impressed by the inclusion of a sparkling option and it's a first for my Irish lounge experiences. I know it's not technically an Irish lounge but it's a treat either way!
Spirits: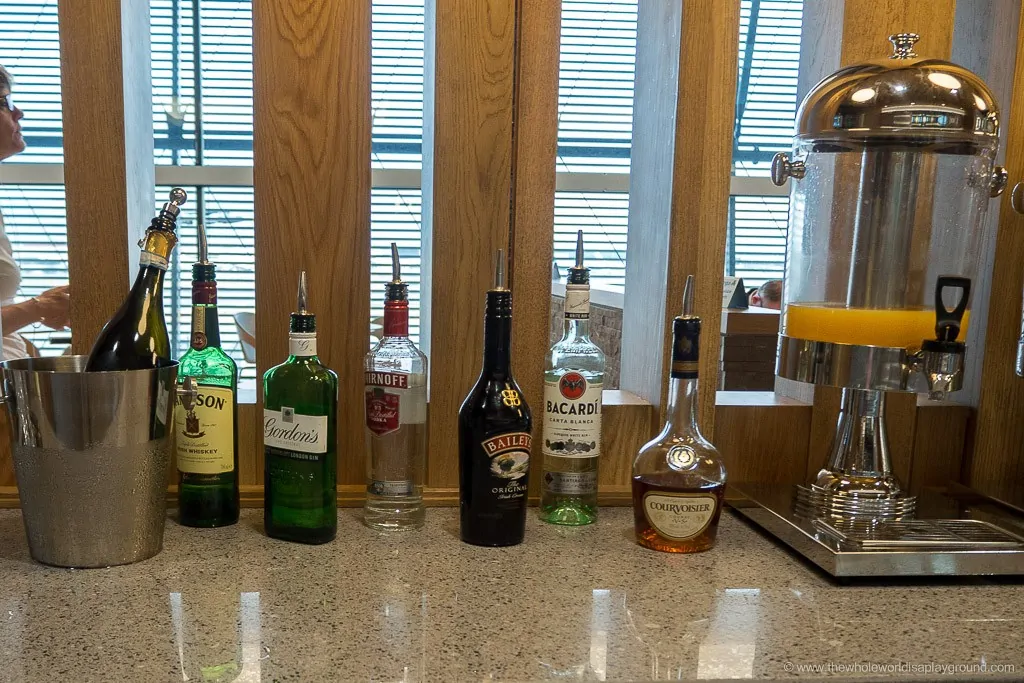 It pops! The sparkling wine: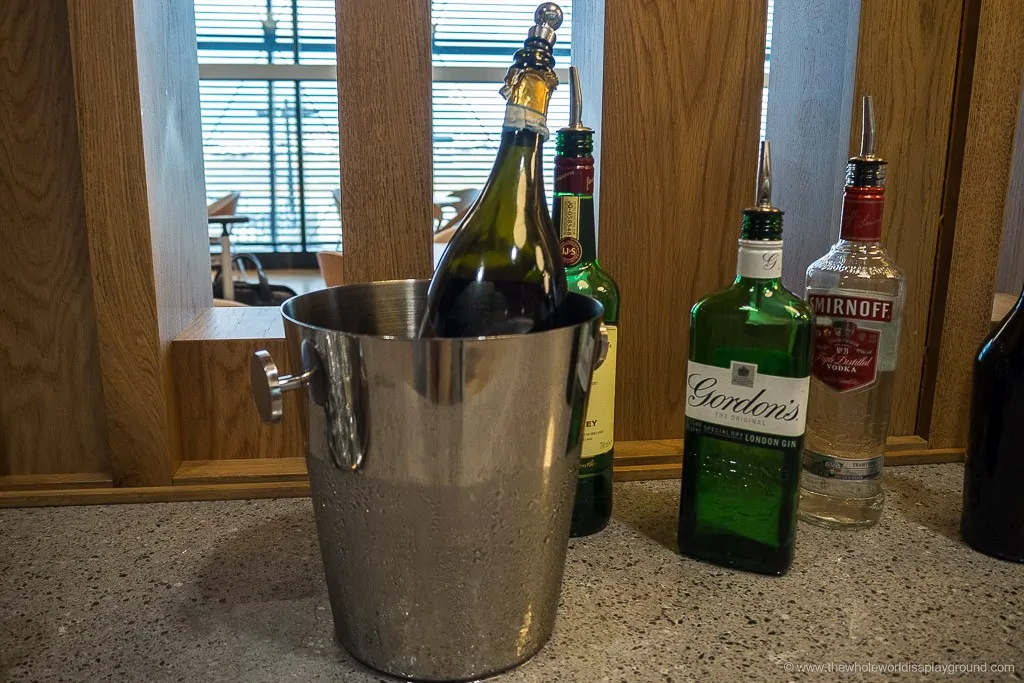 Facilities
Strong wi-fi is available throughout the lounge and there is a small work area with individual desks separated by glass screens. Computers are not provided. There are two small meeting rooms at one end of the lounge and these also make for good private seating areas.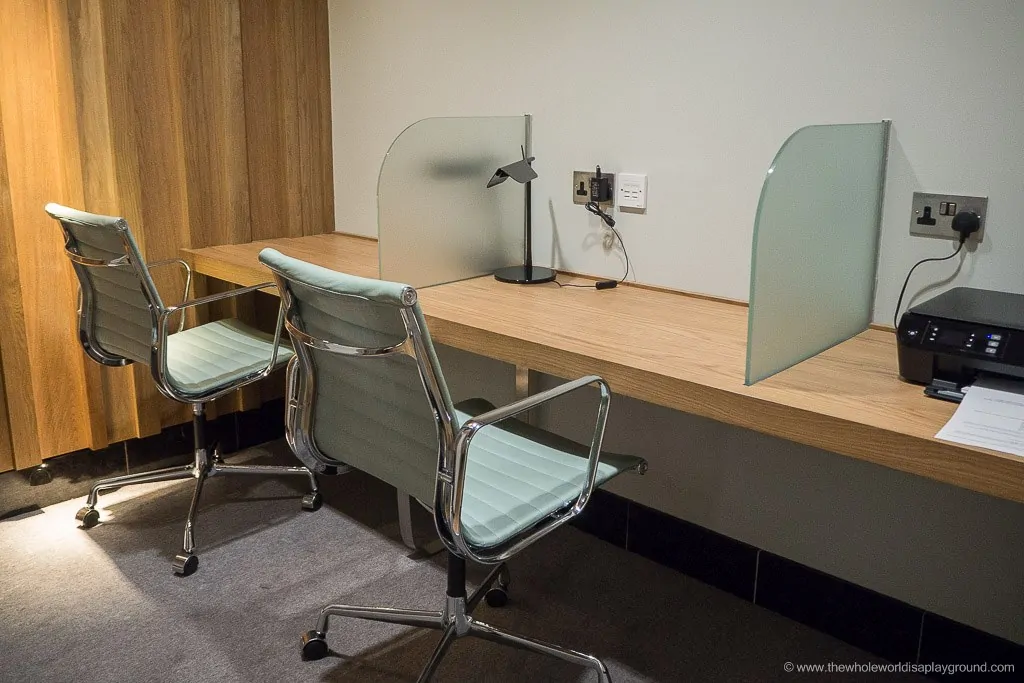 Board room style meeting area: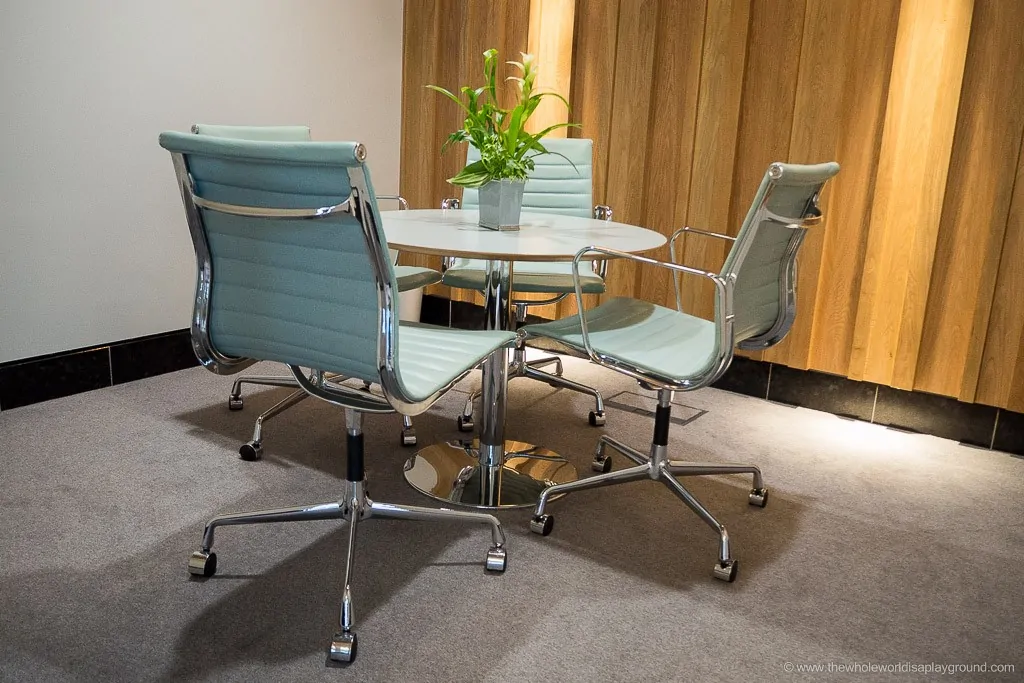 Showers were available inside the lounge and both the showers and the bathroom facilities were excellent: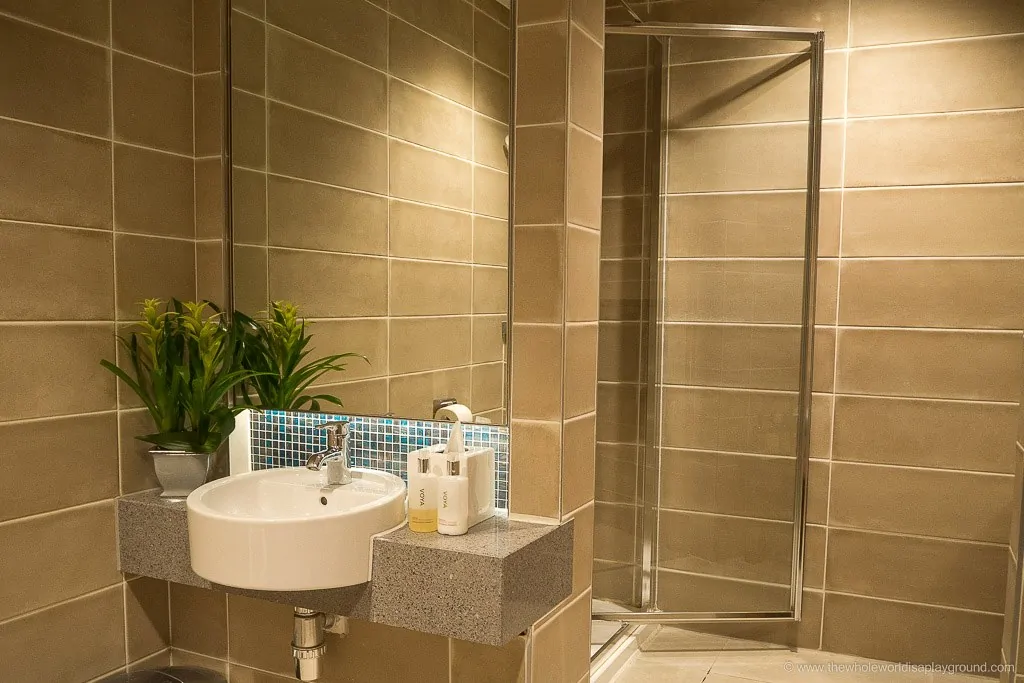 Location
The location of the lounge is excellent. We were travelling with hand luggage and were relaxing in the lounge within 20 minutes of arriving at the Terminal 2 entrance. The gate was a further 5 minutes walk. This is a fantastic perk and especially so for anyone who remembers the mile walk that led to the old Terminal 1 lounge! Being a big fan of airports I found the apron views immense for a spot of plane watching!
Is that my plane? I'll be right down!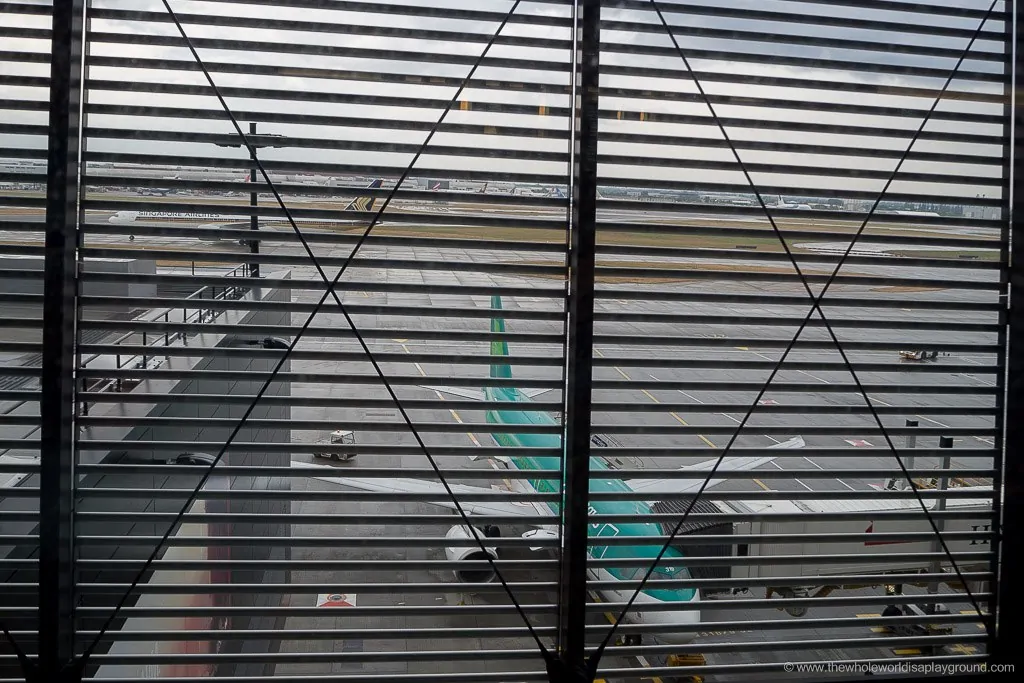 Access
We accessed the lounge with our Gold Circle membership status. Access to the Aer Lingus lounge in London Heathrow is provided to:
Gold Circle, Prestige and Elite cardholders in the Aer Lingus Gold Circle loyalty program (includes access for one guest).
British Airways Silver and Gold Executive Club members and those connecting from a long haul business or first class BA flight who are flying on an Aer Lingus flight
Gold Visa Business cardholders with Bank of Ireland (includes access for one guest)
Aer Lingus flexi fare passengers
Paid guests who purchase lounge access online or on entry (£23/€25)
Overall
The Aer Lingus lounge in London Heathrow is an excellent lounge serving domestic Aer Lingus flights. The decor and floor to ceiling windows are really impressive and the seating options make for a relaxing environment. The food is slightly limited but there's enough to get by and I was delighted with the sparkling wine option. The location is an absolute winner and my memories of the seemingly endless miles of Terminal 1 are almost faded! Well done Aer Lingus!
Cheers!