With some time to spare before a recent flight to London I made a quick visit to the Aer Lingus lounge in Terminal 2 for some pre flight relaxation.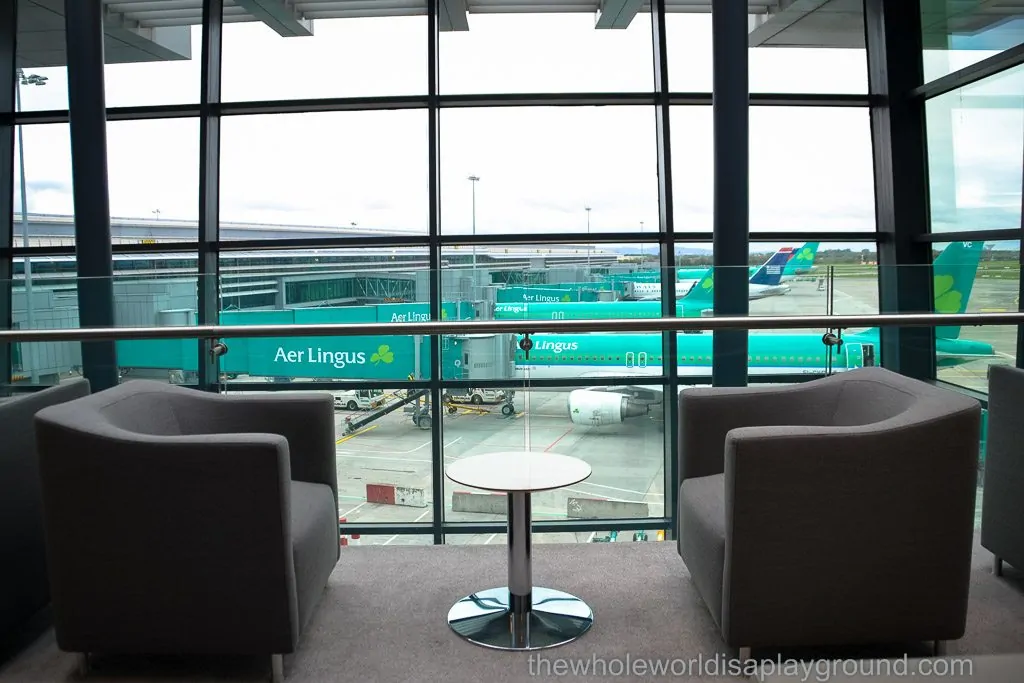 The Lounge
After successfully avoiding the temptation of the Terminal 2 shops both my wallet and I made it to the Aer Lingus lounge in tact! The Dublin flagship lounge is relatively new having opened in 2011 shortly after Terminal 2 came into operation.
The floor to ceiling windows result in a light and airy space. There is ample seating throughout and the split level layout adds to its spacious feel.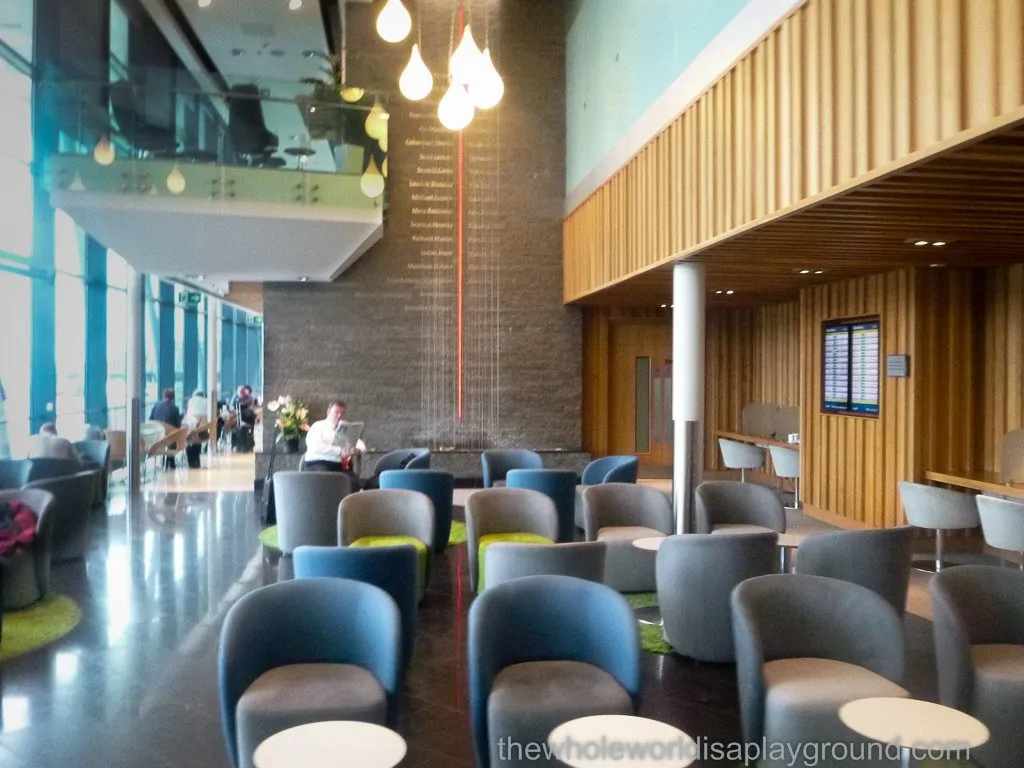 The main feature of the lounge is a beautiful stone wall of fame listing famous Irish events and which spans the two floors. It even incorporates a waterfall!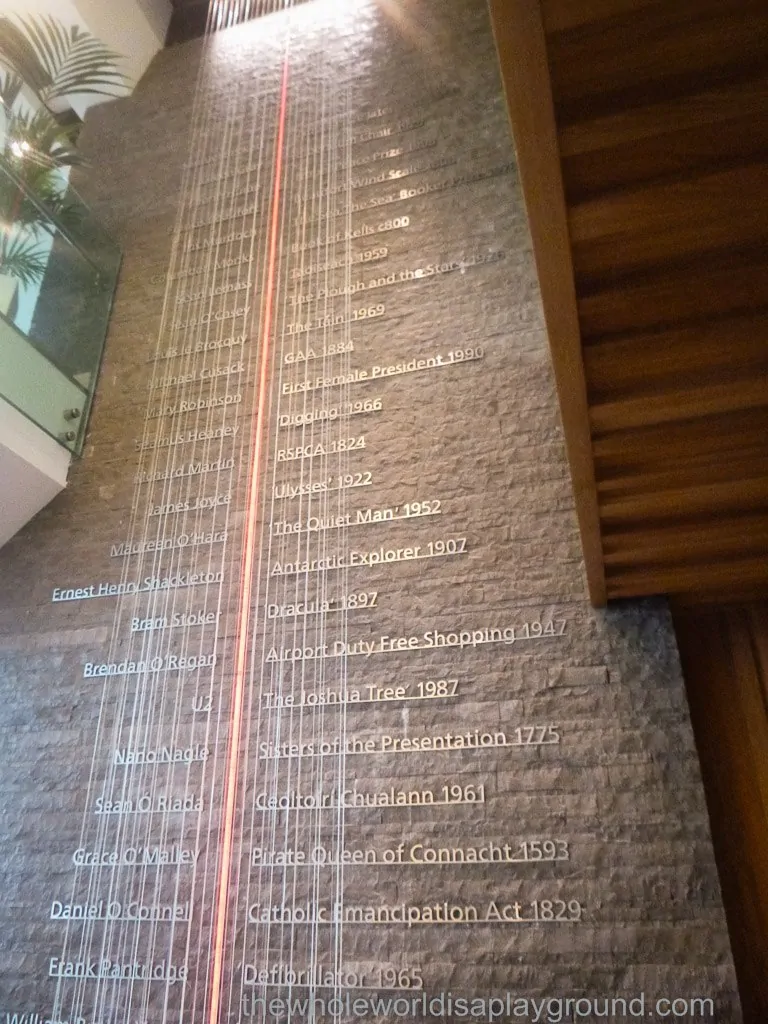 Priority Pass Lounges
A Priority Pass membership allows you to access Priority Pass lounges whoever you fly with no matter your class of travel. Anyone who flies regularly should seriously consider joining Priority Pass as their lounges significantly improve the travel experience. We love the app which allows you to check in at each lounge and overall the quality and availability of lounges around the world are very good. We've personally used Priority Pass for the past few years and highly recommend it.
There are three options available, standard, standard Plus and Prestige. We recommend the Prestige pass for frequent travellers (it's the one we use!) which offers unlimited visits throughout the year.
Click here to get your Priority Pass now!
Food and Drinks
Food and drinks are available at a self service dock downstairs.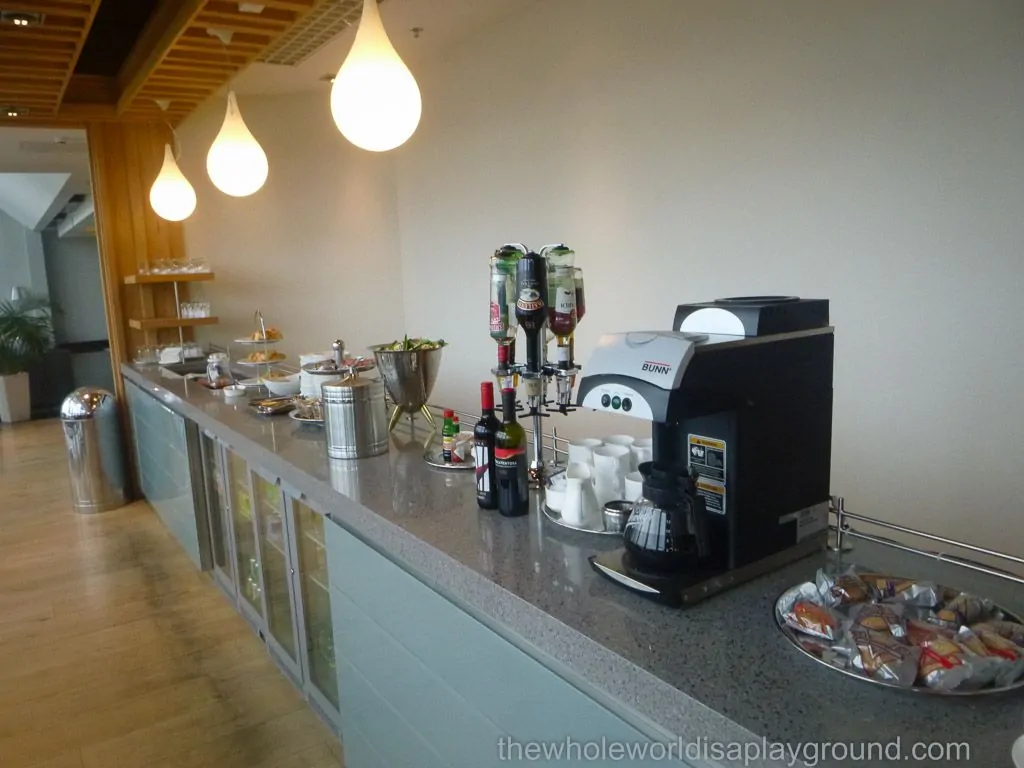 During breakfast a selection of fresh pastries and some pre-packaged brown bread, cheese and crackers were on offer.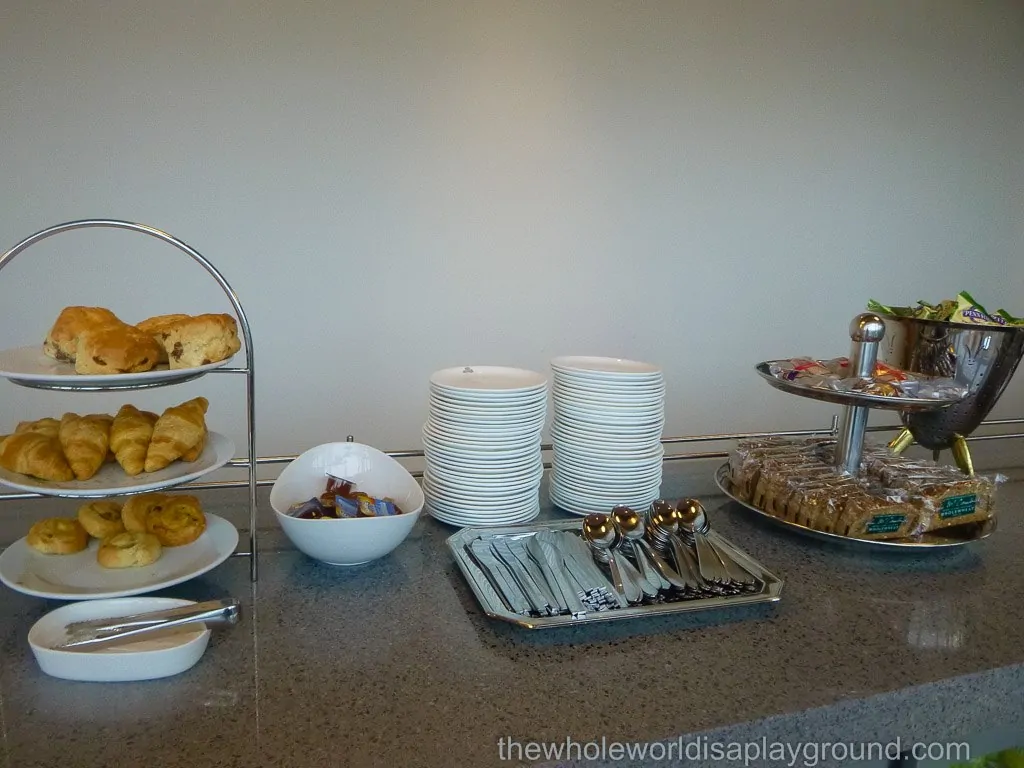 Cheese and crackers: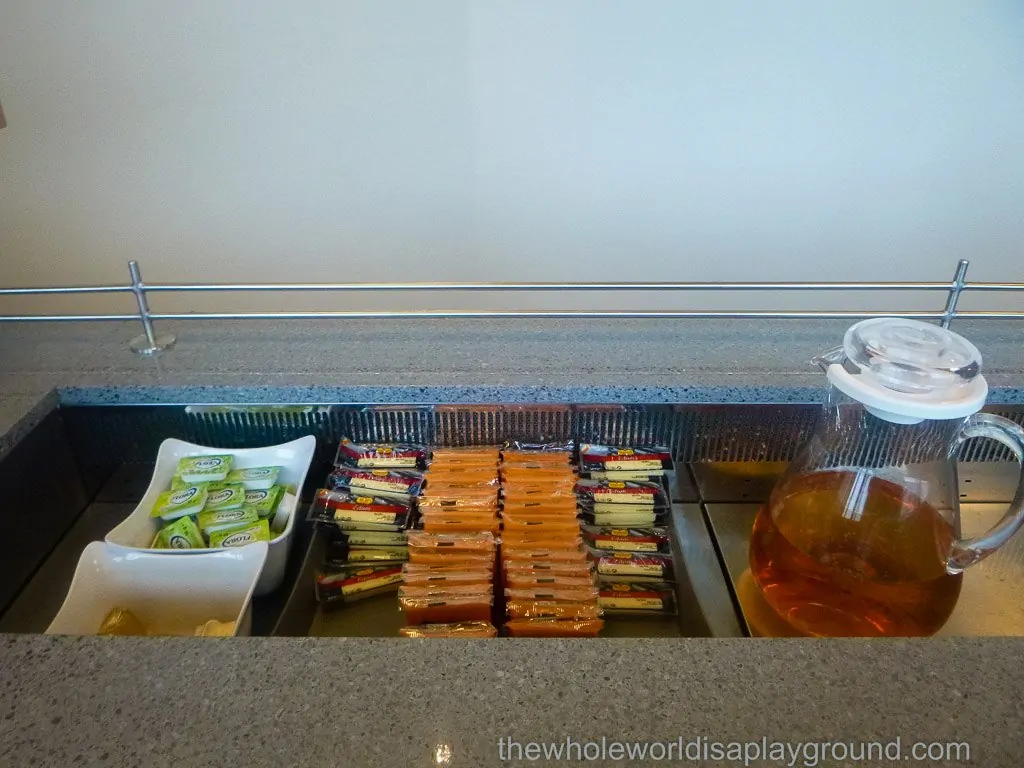 The drinks included small cans of soft drinks, breakfast juices, jugs of water, red and white wine and a selection of spirits.
Upstairs
The upper level of the lounge has additional seating along with a coffee dock and shower rooms and is designated as a 'quiet zone'.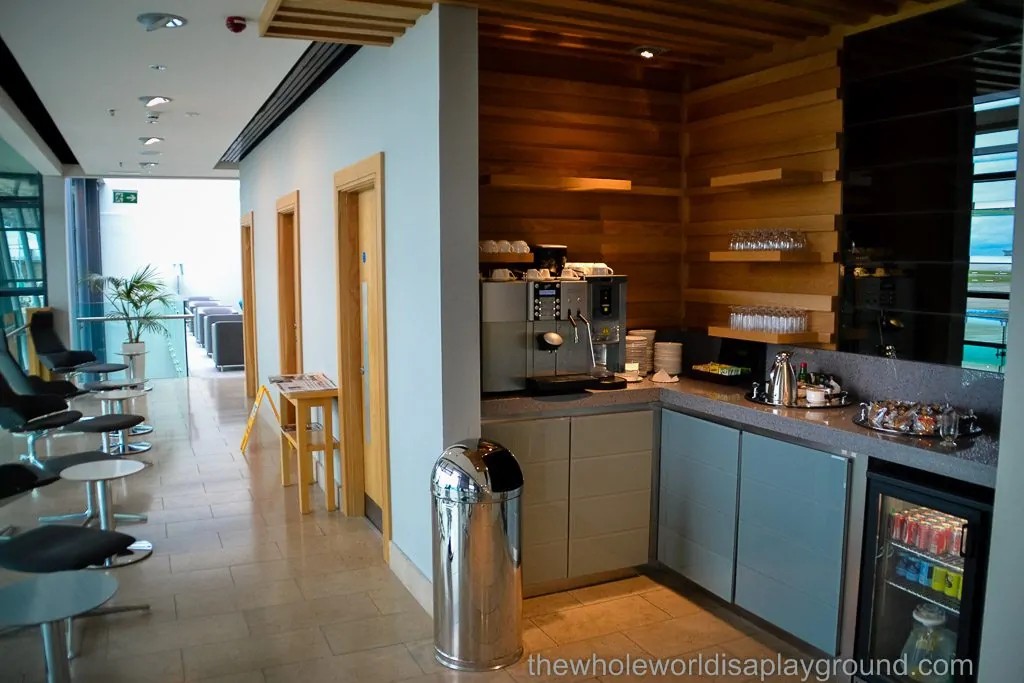 Upstairs seating: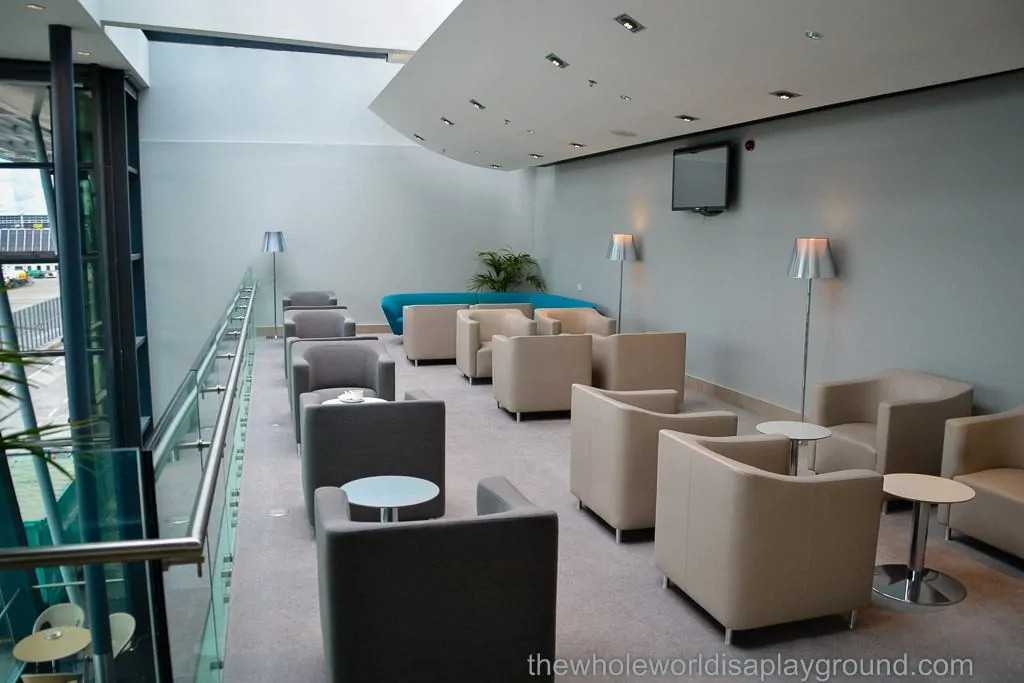 Facilities
Facilities include shower rooms, work stations, complementary newspapers and departure information screens. Wi-fi is provided in the lounge although Dublin airport offers free wi-fi throughout the airport to all passengers. For any plane spotters, the lounge has excellent views of the apron.
The lounge is located airside and is a short walk from the departure gates allowing maximum time in the lounge and minimal time at the gate. As it should be! The exception to this is US flights with pre clearance in Dublin as the lounge is located prior to customs and immigration and it's hard to predict how long it will take to make it through.
Overall
The Aer Lingus lounge is great for some pre flight relaxation in Terminal 2.
The lounge is bright and airy and the views of the planes on the tarmac keep things interesting. And a special mention must go to my favourite feature, the Irish wall of fame!
Aer Lingus Lounge, Terminal 2, Dublin Airport
Lounge: Aer Lingus Dublin lounge
Access: The Aer Lingus Dublin lounge can be accessed by:
Business and Flex Fare passengers
Aer Lingus Gold Circle, Prestige and Elite cardholders
Passengers who have purchased lounge access (€25)
Bank of Ireland Gold Visa Business cardholders
United Airlines codeshare passengers
Opening Hours: 5:15am to 9:00pm