We've been spending some time in Ireland recently and seem to have developed a slight obsession with afternoon tea. I love the indulgence of sitting down for cocktails and fancies in the middle of the day with some good company. It's my idea of a perfect afternoon.
So what better excuse to indulge in an afternoon tea outing than my lovely mum's birthday. When it comes to presents these days I'm all about the experiences and Dave and I wanted to take her somewhere special to celebrate. We'd heard excellent things about the 5* Merchant Hotel in Belfast and we decided this was the perfect place for a birthday afternoon.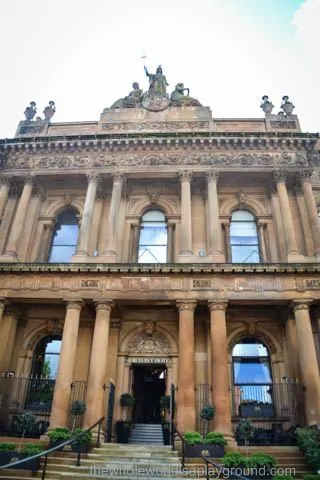 Afternoon Tea
After working up an appetite with a morning of sightseeing (check out our Belfast Black Cab tour here) we settled down in the beautiful Merchant Hotel for our afternoon tea. The Merchant is located in the former Ulster Bank headquarters, a stunning Grade A listed Victorian building in the historic Cathedral Quarter of Belfast.
The afternoon tea is normally served in the stunning Great Room Restaurant but, as the husband isn't really an afternoon tea kind of person, we decided to sit in the less formal Cocktail Bar. Which was perfect as we were craving some delicious cocktails and it's adjacent to the restaurant so we could still enjoy the live piano accompanying the afternoon tea sitting. The best of both worlds for us!
The Menu
The afternoon tea menu sounded delicious with the traditional offering of sandwiches, pastries and scones. The sandwich selection included cucumber, cream cheese and mint, chicken and rocket, smoked salmon and roast ham and mustard. These were served with banana bread and scones and an assortment of cakes and pastries accompanied by a a choice of tea from the comprehensive Merchant tea menu. We ordered a couple of sides of fries and lots of cocktails and mocktails.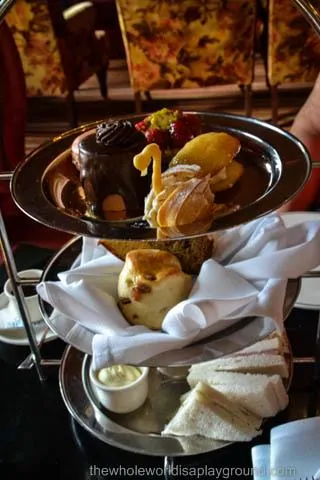 Afternoon Tea
The afternoon tea arrived beautifully presented on a silver cake stand and the tea in a matching silver tea pot. The scones and jam were melt in the mouth delicious and the sandwiches were delivered as ordered for our dietary requirements and were dainty and crustless. This was my first tasting of banana bread (I've obviously been living under a rock for the last 30 years) and I was sold. Weird considering I'm not a fan of bananas and bread together but there's something special about banana bread. Yep!
After we finished our sandwiches we were asked if we would like to have some more. This was surprising (in the sense that I don't remember ever being offered extra sandwiches at afternoon tea before) but really pleasing gesture. I had a little extra of my favourite salmon sandwich, sure why not!
We chose the FairTrade Merchant Tea Blend, described on the menu as 'a malty Assam blended with a light crisp Tanzanian tea to create a fresh, full flavoured cup'. All the teas are leaves rather than in a tea bag, and served through a silver strainer. We're not tea experts by any stretch but it tasted good and we enjoyed it.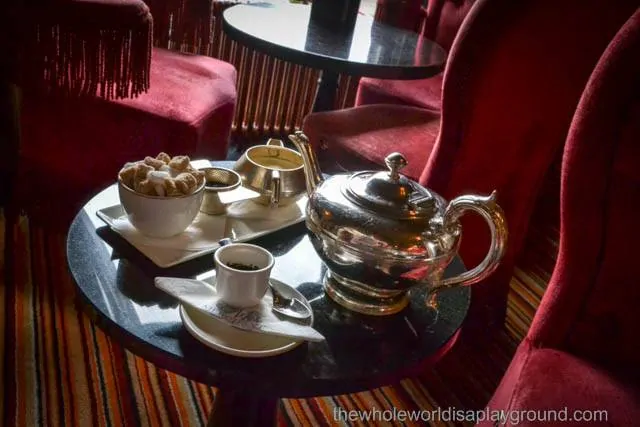 Everything was amazing with the deserts being the absolute highlight. The star attraction was the profiterole swan which was so beautiful we didn't want to eat it!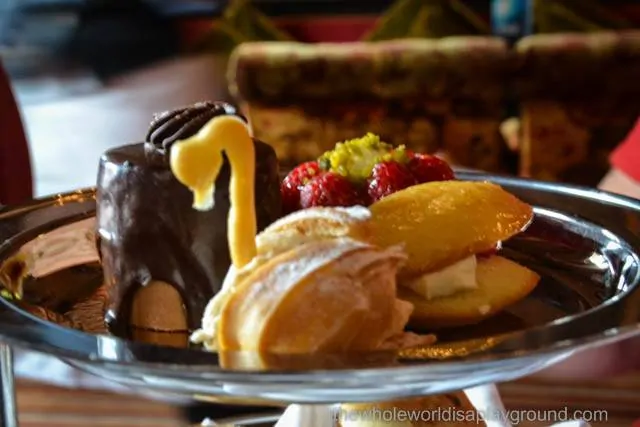 Our lovely waitress overheard us toasting the birthday girl and a few minutes later my mum was presented with a slice of birthday cake to the strains of Happy Birthday on the piano. The birthday girl loved it and we were delighted that they made the day extra special.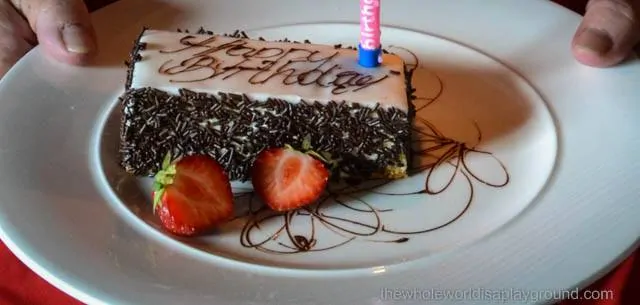 The afternoon tea servings were really generous and we couldn't finish everything. Our server kindly sent us home with some Merchant goody boxes to enjoy later that evening.
The cocktails
Given that the Merchant Hotel bar had previously won the accolade of World's Best Hotel Bar I was looking forward to trying some cocktails. The cocktail list was endless and we felt it was important to sample a good cross-section of the cocktail menu so we could make a fair assessment on their standard. In the interests of research obviously!
Even the menu itself is very cool and is actually a book filled with stories behind the cocktails, options for variations of each main cocktail and tempting pics to entice us. We tried a Dark and Stormy, a Manhattan, a Moscow Mule, a Fog Cutter and a Mojito. The cocktails were good, probably some of the best we've had in Ireland, but I'm still struggling to get anywhere close to my New York perfection.
The biggest disappointment was my Moscow Mule, pictured in the book with a copper mug and which I was ridiculously excited to be served, until it arrived in a clear glass. Then it became just any other vodka drink. And I don't normally order vodka unless I'm watching my figure and it's accompanied by a diet coke. It's the mug that makes a Moscow mule and the Merchant would do well to remember that.
My mum, a teetotaler (I can only hope I will inherit her teetotalness one day but for now I'll settle for a shared love of travel and treating ourselves to nice things), was very happy with her mocktail and it was probably the most beautifully presented drink of the day with its berry smattering.
The Cocktail Bar
We loved the setting of the cocktail bar. It's classic and plush in typical 5* decor. The atmosphere was relaxed and allowed for lingering conversations and the service was excellent. Complementary nibbles of olives and potato chips were provided to accompany our cocktails when we finished our afternoon tea.
The Great Room Restaurant
The Great Room is the former banking hall of the Ulster Bank headquarters where the tellers sat at windows. It is a grand and opulent space with plush red seating, an open dome ceiling and a stunning centre chandelier.
The Bathrooms
I've mentioned my bathroom test before: if the venue is bling the bathrooms have to have some bling too. I'm pleased to say that the Merchant didn't disappoint on the bathroom front, they were amazing! The men's urinals were incredible (not that I got to view them personally, I asked Dave to get me a shot when he visited!). How cool is the artwork?! The ladies were equally beautiful.
Overall
The afternoon tea was really beautiful and the hotel setting was spectacular. There were lots of afternoon tea goers and the atmosphere was fun and chatty, aided by the relaxing strains of the piano player in the background. The afternoon tea servings were generous, enough so that we came out with a box of goodies that we couldn't finish. Our server was helpful and gave us excellent service throughout the afternoon.
I'm still a little disappointed with my Moscow Mule cocktail and its lack of copper mug. Ok disappointed is an understatement but at £10 a pop I feel I had a right to be put out!
Overall we had a fantastic afternoon and the Merchant is the perfect place to linger over afternoon tea or a cocktail.  Best of all my wonderful mum thoroughly enjoyed her birthday afternoon and was delighted with her birthday cake and the piano rendition of Happy Birthday. We all left happy!
Check out the Merchant Hotel on booking.com here.