I appear to have developed an afternoon tea habit the Queen of England would be proud of. And I'm pretty sure she'd be pleased with the offerings in Ashford Castle.
We've visited a few times in the last couple of months and it has become one of my go to places to spend an afternoon when we're in the area. Our latest visit came after a tough half marathon in nearby Clonbur and we were in desperate need of some good food and cocktails to revive us. In other words, we totally deserved it!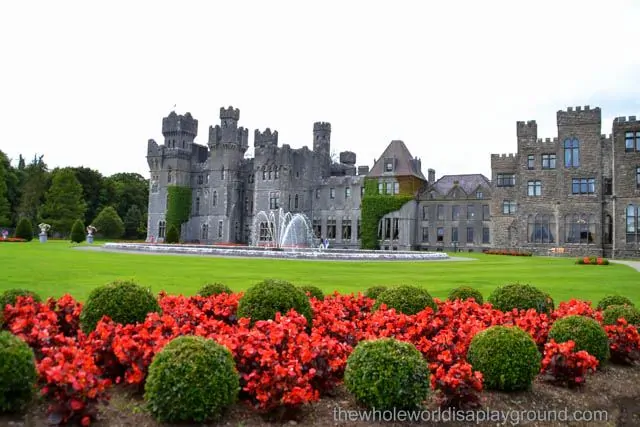 Afternoon Tea
Afternoon tea is served in the luxurious Drawing Room which has stunning views over the Castle gardens and Lough Corrib. The Drawing Room is a really nice space, it's reminds me of a posh aunt's living room (if she lived in a stately home, obviously!) but it's still cosy and relaxed. The window seats are perfect for curling up with a glass of wine and admiring the stunning views.
The Drawing Room menu offers a selection of sandwiches, soups, hot dishes and afternoon tea and I love having the flexibility to order a variety of dishes.  Sometimes with afternoon tea sittings there's a requirement for everyone in the party to order an afternoon tea.  This drives me crazy, not everyone wants afternoon tea and it makes me feel it's all about the revenue. Ashford Castle are stars in this respect.
We decided on one afternoon tea, a honey glazed Irish ham open sandwich, a goats cheese and pepper melt and some fries for good measure! For drinks we had a loose leaf English breakfast tea, a pint of Guinness and a Cosmopolitan cocktail.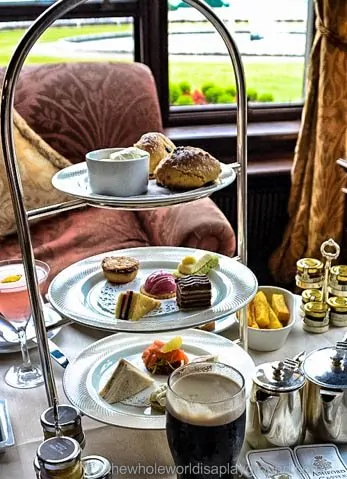 The afternoon tea was beautifully presented and complemented the old world charm of the Drawing Room perfectly. There were four types of sandwiches: smoked salmon on wheaten bread, a ham infused wrap, a chicken triangle and goats cheese on toast and they were all delicious.
We succumbed to the temptation of the fruit scones next and they were melt in the mouth goodness.
We finally made it to the sweet treats and the selection of flavours was lovely. Chocolate, raspberry, pistachio…they were all gorgeous.
The open sandwiches were equally as delicious and, as always, I was delighted the ingredients were locally sourced.  The Irish ham open sandwich was served with apple chutney and fresh horseradish cream on a seeded soda bread and the goats cheese melt was served with fresh goats cheese from Co. Clare,  melted peppers and reduced Pinot Noir vinegar on toasted olive ciabatta. Both came with a wonderful parmesan tuile basket with salad leaves and balsamic vinegar.
A special mention must go to the fries which were probably some of the best I've ever tasted. It's a pity there were only 6 of them in the serving so we could only manage an astounding 2 each!
We've sampled a few other dishes on previous visits and everything has been delicious.
Drinks
I think at this point my love of cocktails is well documented! And luckily for me Ashford Castle is home to the Prince of Wales Cocktail bar which was built for a visit from the Prince of Wales in 1905. Apparently he liked the Castle so much that he ended up staying for 3 weeks instead of his scheduled 6 days. A man of good taste obviously!
I opted for a Cosmopolitan and the husband, having missed a good pint of Guinness on our travels, went for the home grown favourite. The Cosmopolitan was well made and himself was happy with his Guinness which he described as 'very good'.
The hotel
From the moment you enter the Castle grounds it's evident that Ashford is very special. The long drive way winds along the golf course before the spectacular Castle comes into view across the drawbridge (yep, there's a drawbridge to cross!).  A reservation is required to enter the grounds and again to cross the drawbridge. It is possible to visit the gardens for a fee but then inside of the Castle is not accessible.
The entrance: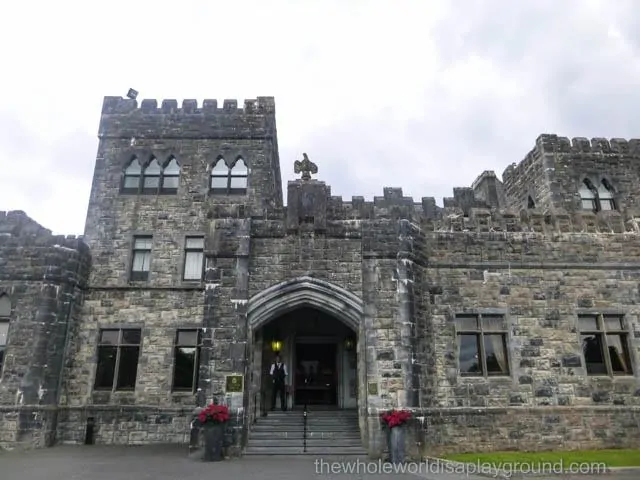 It's always lovely to take some time and for a walk around the communal halls to check out the decor.
The wall mountings:
The Bathrooms
The bathrooms weren't as blinging as other five star venues I've visited but the sinks are seriously cute. Love!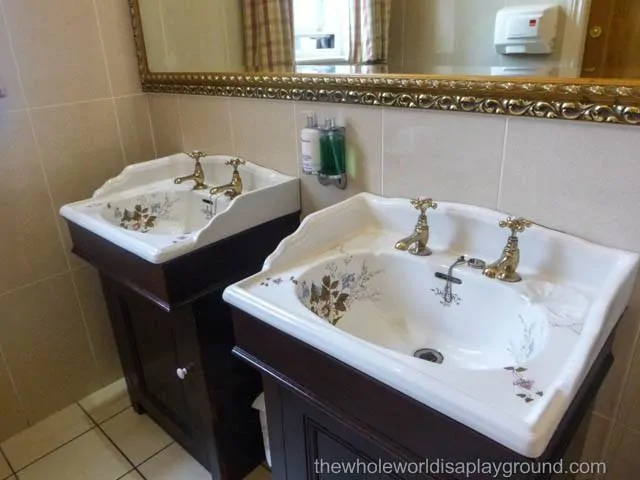 The Castle Grounds
The striking gardens surrounding the Castle provide a perfect opportunity for a post afternoon tea stroll. The gardens are beautifully manicured and have stunning views over Lough Corrib. An excellent way to round up a wonderful afternoon.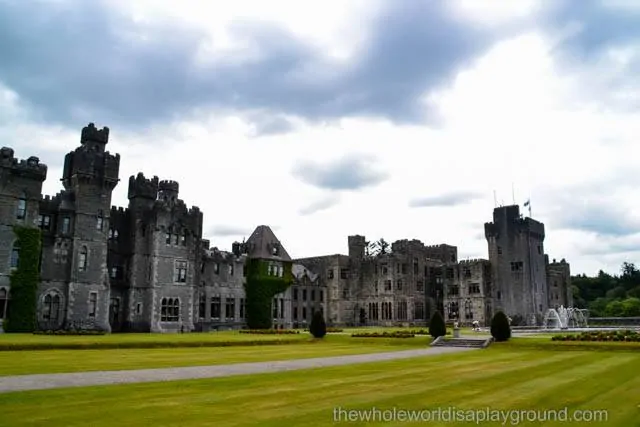 Lough Corrib: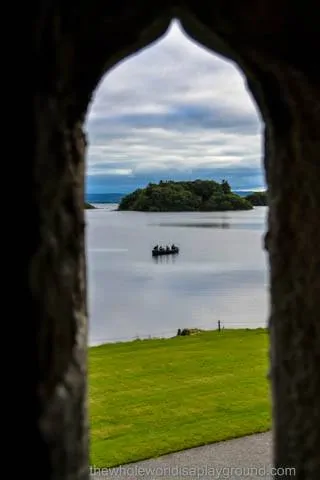 Overall
Everything about Ashford Castle is magnificent. The Castle, the decor, the gardens and the views are all wonderful. The atmosphere is relaxed and chatty and it's really easy to pass an indulgent afternoon there.
Dreaming of our afternoon tea date helped me get through about 6 miles of the 13 I was running that morning. And it is quite an achievement for something to distract me from a long run so it must be special! Now I just need to find an excuse to spend the night. I already have my eye on the food and wine pairing in the George V restaurant. Hint, hint lovely husband!
Address:   Cong, Co. Mayo, Ireland