I always imagined Father Ted's house to be on a remote island somewhere in the middle of the Irish Sea. Luckily for me it's actually bang smack in the middle of the Burren in Co Clare and, even better, they offer an afternoon tea package for visitors!
I was on my way to Clare for a weekend of running and fun and, being the afternoon tea addict that I am, I couldn't resist booking us into Father Ted's House! Afternoon tea at the Craggy Island Parochial House? You'll have some tea… are you sure you don't waant any? Aw go on, you'll have some. Go on, go on, go on, go on, go on, go on, go on, go on, GO ON!!
Afternoon Tea
Father Ted's House is the private home of the McCormack family and the owner, Cheryl, gave us the lowdown on the Father Ted story as she served the goodies.
The homemade afternoon tea is prepared with organic ingredients and include scones and jam, sponge cakes and copious amounts of organic tea and coffee. Delicious!

The craic
The real fun began when Cheryl gave us some Father Ted props and we recreated a few classic moments from the show! I played Mrs Doyle and spent my time exclaiming 'go on, go on, go on, GO ON'.
We recreated the infamous Father Ted and Bishop Brennan scene. I thoroughly enjoyed playing Ted in this one!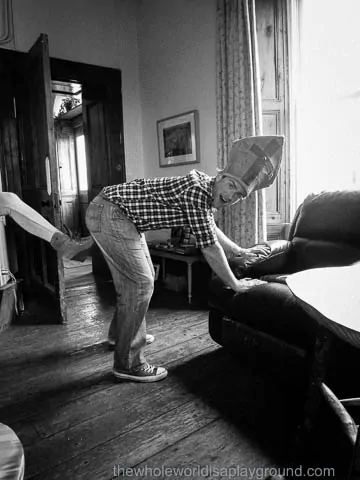 Overall
Afternoon tea at Father Ted's house is all good natured fun! It's not afternoon tea in the traditional sense (the 3 tiered sandwiches, scones and cake extravaganza) but the home made organic scones and sponge cakes were delicious and plentiful. The props were great and we had lots of laughs throughout the afternoon.
Cheryl and her family are very welcoming and the family dogs were milling around and playing. It is a family home first and foremost and it's a great chance to experience a traditional Irish farming home.
To borrow an old Irish saying, the craic was 90 all afternoon!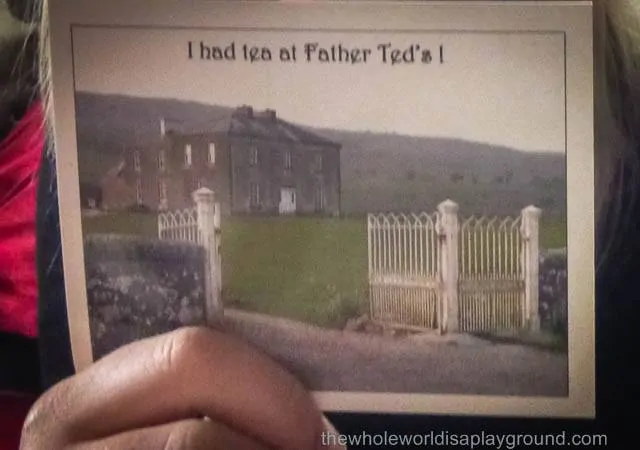 Reservations: All visits are by pre-booking only. This is strictly adhered to.
Prices:
Adults: €10
Senior Citizens: €8
Children aged 5-12: €5
Children under 5: free
Guided farm tours are provided at an additional cost.
Location: It's not the easiest place to find but we got there with some help from Google Maps