Among the giant rock piles and distinctive Joshua Trees the granite arch known as Arch Rock spans 30 foot over a boulder field in Joshua Tree National Park. It's an easy hike to the arch from its new trail head at Twin Tanks parking lot.
Arch Rock is one of our favorite rock formations in Joshua Tree and the hike itself a lovely. For those of you planning a trip to Joshua Tree National Park we wanted to share our experience and tips for hiking to Arch Rock.
What is Arch Rock in Joshua Tree
Arch Rock is located in California's Joshua Tree National Park. With its unique rock formations and distinctive Joshua Trees set against a barren desert landscape, Joshua Tree National Park is one of the most magical and enchanting places on the planet.
The 30 foot granite Arch Rock sits in the middle of a boulder field close to the White Tank Campground off the Pinto Basin Road. Hiking to Arch Rock is one of our favorite things to do in Joshua Tree National Park.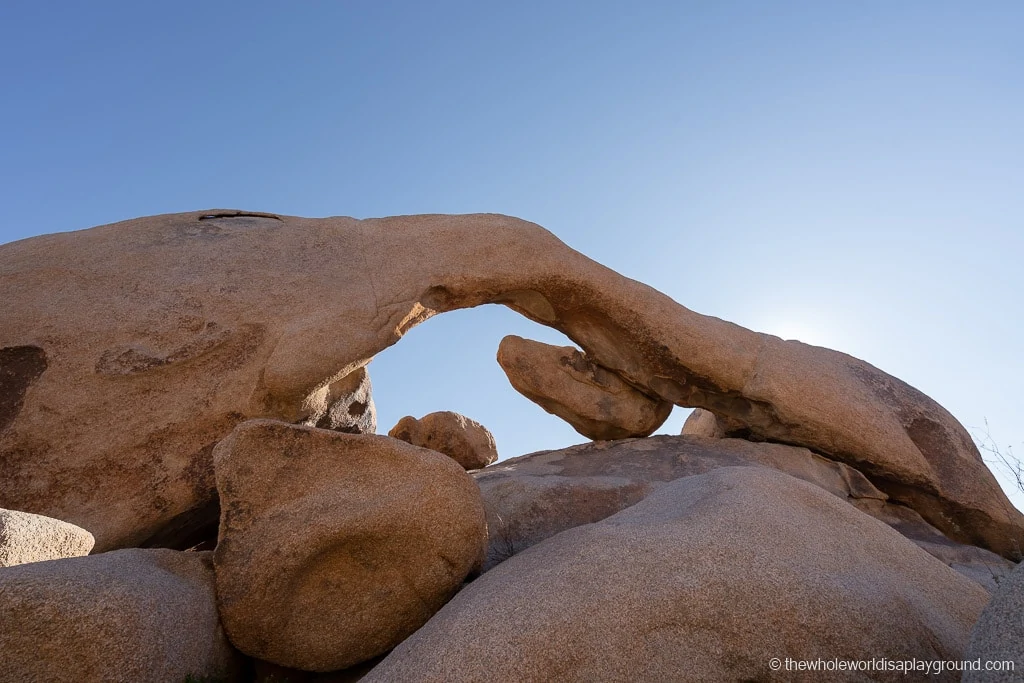 How to get to Arch Rock
Among the Joshua Trees and giant boulders, a 30-foot natural granite arch sits elevated above a Joshua Tree Boulder field a few miles from the junction of Park Boulevard and Pinto Basin Road. Arch Rock is accessed via an easy 1.2 mile total hike on an out and back trail which begins at the Twin Tanks/Arch Rock parking lot.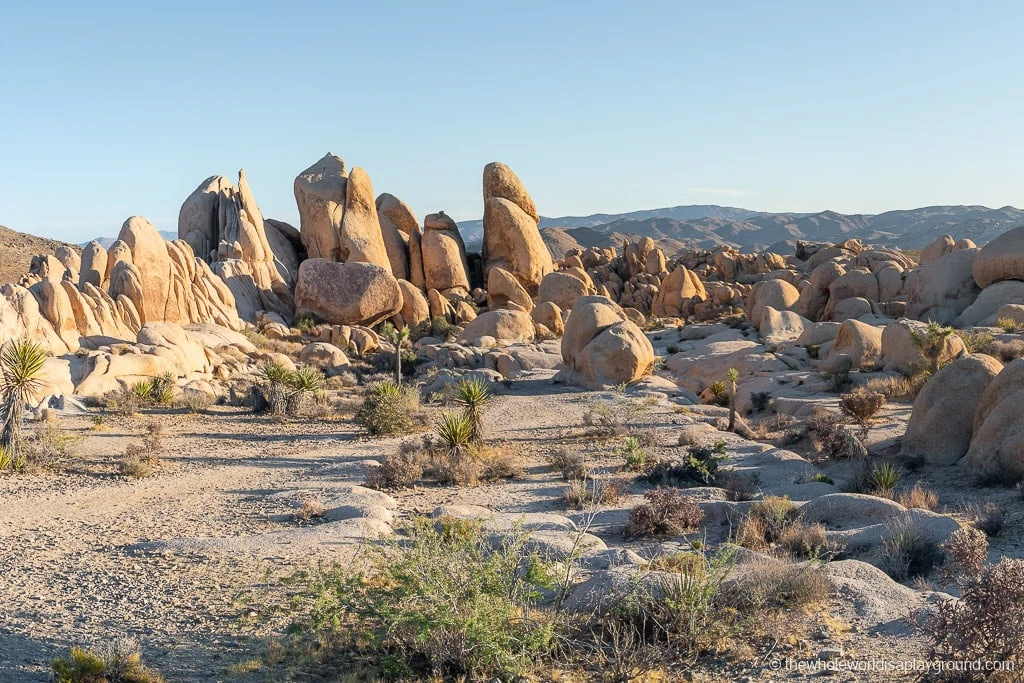 Visiting Arch Rock Joshua Tree tip: Arch Rock is close to Joshua Tree's beautiful Heart Rock, a unique rock formation shaped like a heart. The rock itself is around 10 feet tall and rises above a boulder field close to the Arch Rock trail deep in the Joshua Tree desert. Heart Rock is quite difficult to locate and is accessed via an unmarked trail – if you are in search of Heart Rock you can follow the directions in our guide to Heart Rock in Joshua Tree and combine both Heart Rock and Arch Rock in a single hike. Both Heart Rock and Arch Rock are among the best Instagram spots in Joshua Tree.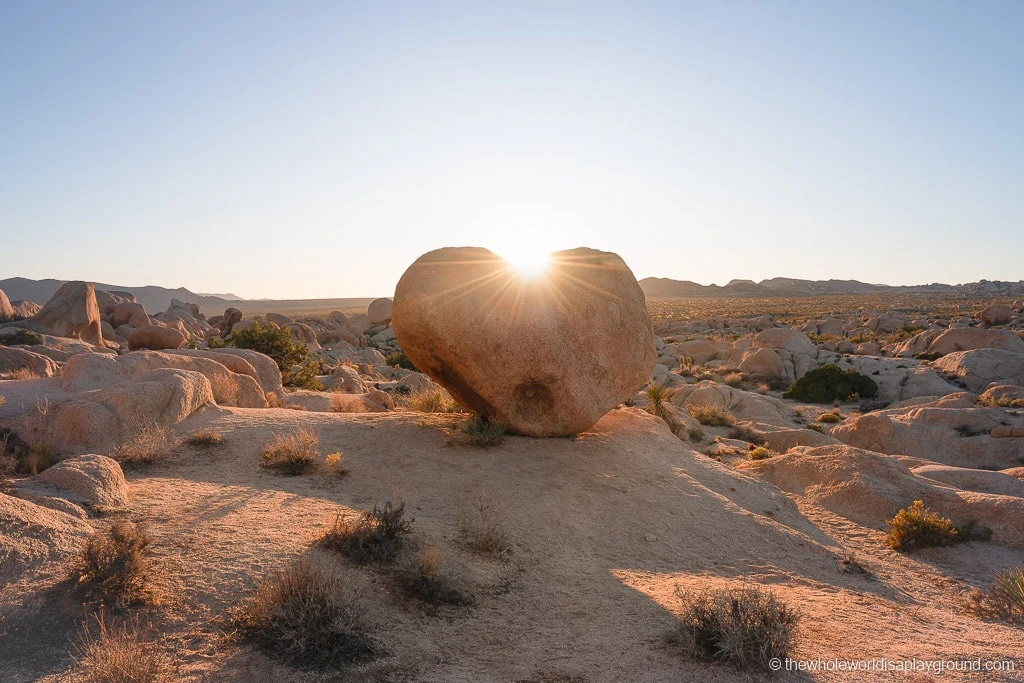 Where to Stay in Joshua Tree
The North Entrance (Twentynine Palms) and the West Entrance (Joshua Tree town) are the most convenient for visiting many of the Joshua Tree National Park highlights. We have a full guide on where to stay in Joshua Tree, but here are our top 3 places to stay in Joshua Tree and are perfect for couples, small groups and families:
M&L Desert Cottage: this beautiful 2 bedroom cottage is just 6 minutes drive from the north entrance to Joshua Tree. The cottage has been completely remodeled and is the definition of desert chic. The interior is gorgeous and there is a fire pit, BBQ and hammocks on the patio for stargazing and al fresco dining. – check prices now!
Location: North Entrance/Twentynine Palms. We love this entrance as it's both close to many highlights of Joshua Tree National Park and is also a much quieter gate to enter the park by. M&L Desert Cottage is a 20 minute drive from Joshua Tree Town.
Castle House Estate: with the accommodation options including guard towers, yurt tents, a tiny container house (the perfect chance to experience tiny home living!) and a vintage RV, Castle House Estate perfectly encompasses the unique Joshua Tree vibe. It's the perfect mix of indoor and outdoor living and the accommodation is beautifully presented and incredibly unique. The hardest part is choosing which accommodation to reserve – check prices now!
Location: West Entrance/Joshua Tree. Castle House Estate is a 10 minute drive from Joshua Tree Town and is 20 minutes north of the park entrance.
Fairfield Inn & Suites by Marriott Twentynine Palms – clean and well equipped, the Fairfield Inn is one of our go to hotels when we're exploring the park and want somewhere clean and quiet to rest up. The hotel has a small pool out back, free breakfast, laundry facilities and there's a grocery store just across the road for supplies – check prices now!
Location: North Entrance/Twentynine Palms. We opt for the convenience of the Fairfield Inn when we have early starts and late evenings in the park.
Tips for Visiting Arch Rock in Joshua Tree
Arrive early: The park gets extremely busy and the sun is unrelenting so the earlier the better! We started our mornings at sunrise and it was incredible to enjoy the almost empty roads and trails and the uninterrupted views.
Sunrise and Sunset: the soft evening light makes sunset a popular time to visit Arch Rock. For people shows, we preferred the soft light after sunrise.
Closed toe boots: cacti are abundant in the desert and closed toe shoes are useful.
The wildlife: outside of the winter months of November to February there is the possibility of encountering Joshua Tree's most hostile residents – the park is home to some venomous wildlife which includes rattlesnakes, scorpions, and black widow spiders. It shouldn't be a problem if you keep your feet and hands where you can see them and make sure kids do the same!
Snacks and Water: Bring lots of water on any hikes in Joshua Tree. There are water filling stations throughout the park. There are water filing stations at the Oasis Visitor Center in Twentynine Palms, West Entrance Station, Black Rock Campground, Cottonwood Campground, Indian Cove Ranger Station. Bring snacks and lunch if required.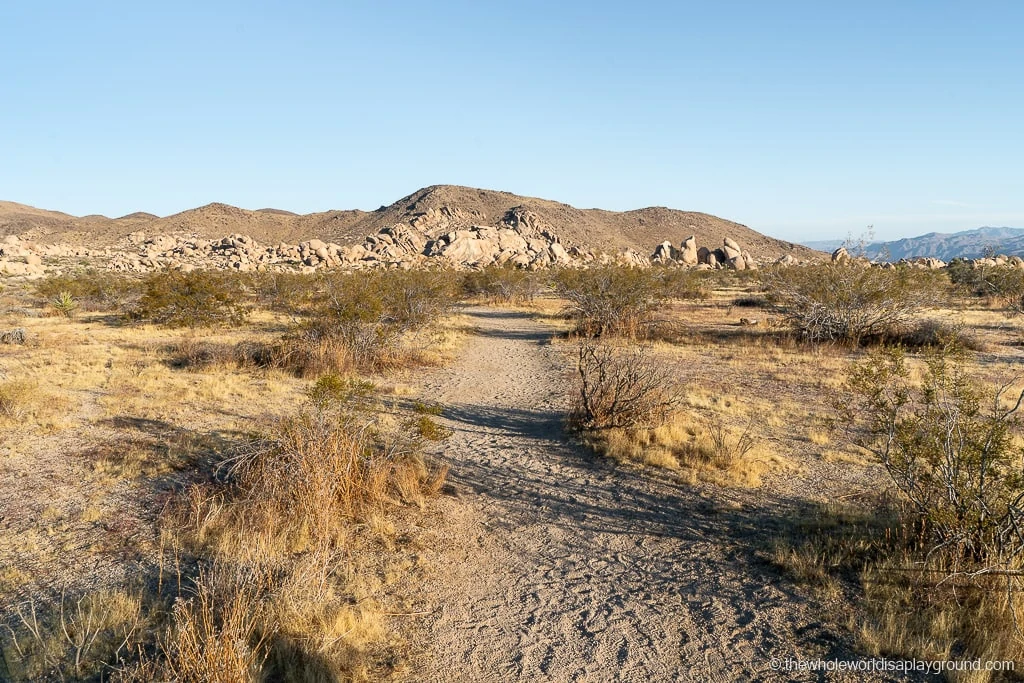 Cellphones: there is very little cellphone service once inside Joshua Tree National Park. Make sure to save your trails offline and bring a phone charger for the car.
Arch Rock Trail
The Arch Rock trail is a relatively easy hike, however care should be taken to follow the hiking trail. Due to the nature of the boulders and heat in the area it is easy to lose your bearings if you leave the trail.
Visiting Arch Rock tip: (2023 update) parking is no longer permitted at the original trail head at White Tank Campground unless camping there.
Hike Length:2 miles round trip
Hike Time: 1 hour – allow an extra 30 to 60 minutes if planning to visit Heart Rock
Hike Difficulty:easy hike across relatively flat terrain. Depending on when you hike, high temperatures increase the difficultly of all Joshua Tree hikes.
Parking Lot:Twin Tanks/Arch Rock Parking Lot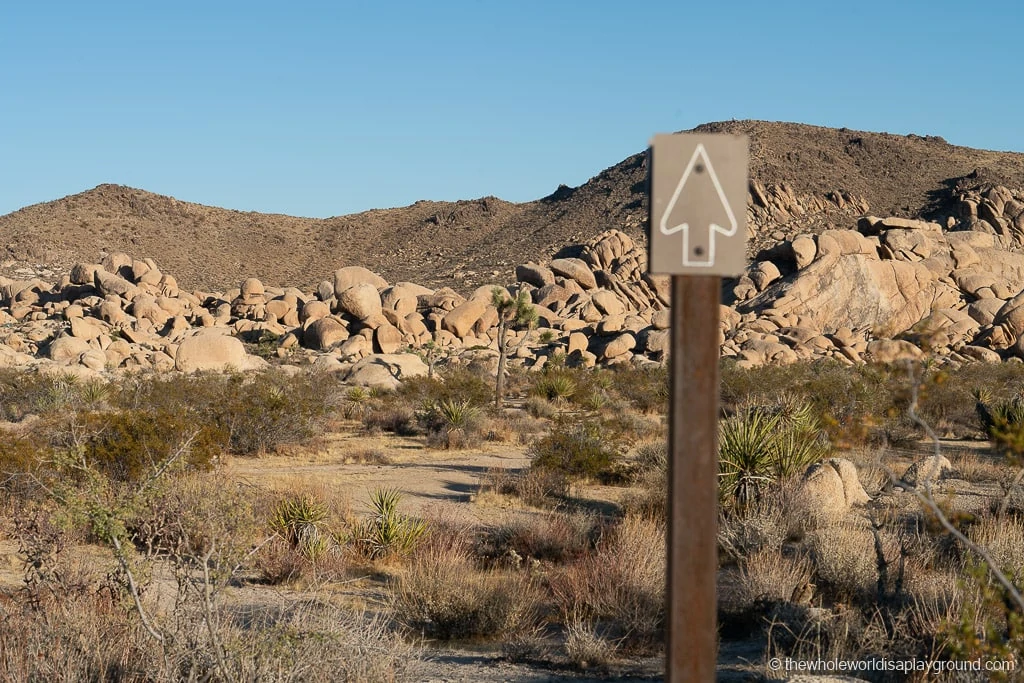 Getting to the Arch Rock Trail Head
The Arch Rock trailhead is located at the Twin Tanks/Arch Rock Parking Lot.
If you enter from the West or North Entrance then drive south on Park Boulevard until you reach the junction with Pinto Basin. Drive South on Pinto Basin for just over 2 miles until you reach the Twin Tanks/Arch Rock Parking Lot.
If you enter the Park from the South, drive north on Cottonwood Springs Road and continue North on Pinot Basin Road after reaching the junction of Pinto Basin Road and Cottonwood Springs Road close to the Cottonwood Springs Visitors Center. From there, it will take about 40 minutes to make the 28-mile trip north through the park to the Twin Tanks/Arch Rock Parking Lot.
Visiting Arch Rock Joshua Tree tip: While it is possible to hike to Arch Rock from the White Tank Campground, parking is extremely limited at the campground and has been restricted to those staying in White Tank. On our last visit to Joshua Tree the campground was closed to car access when we visited. It's much easier to get a parking spot at the larger designated parking lot further down the road and making the 1.2 mile round trip hike instead.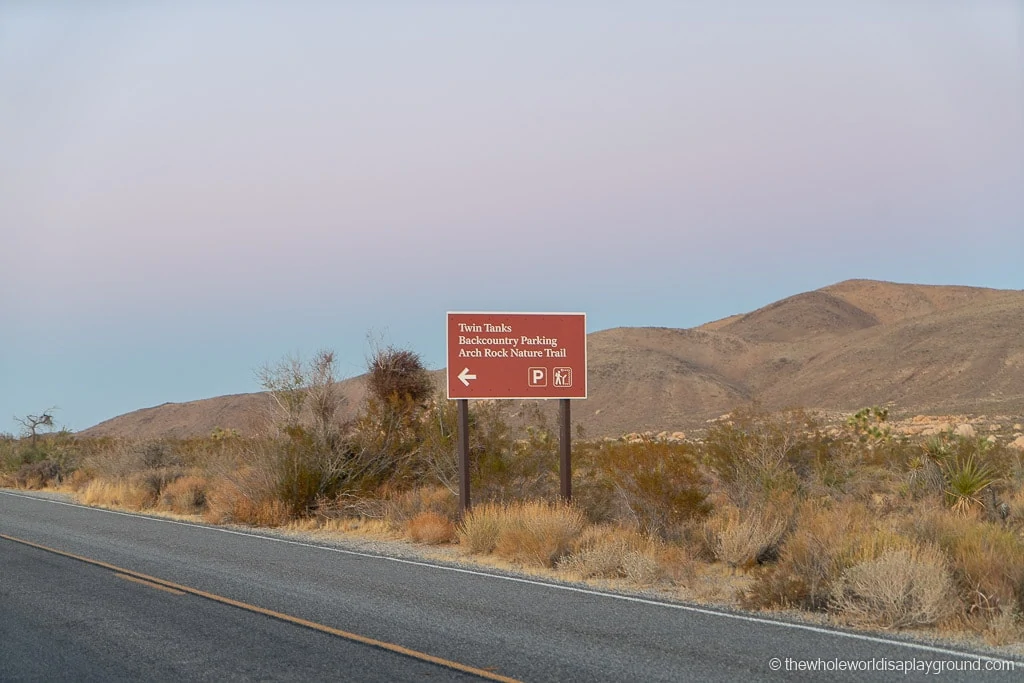 Map of Arch Rock Trail
We've put together the below map of the hiking route to Arch Rock. The Arch Rock trail is shown in Yellow, with the detour to Heart Rock in Orange.
We highly recommend saving the GPS location of the rock and the surrounding area on an offline map app before you visit Joshua Tree to avoid getting lost. There is almost no cell-phone reception in Joshua Tree National Park so make sure to save the location on Google Maps ahead of time.
Caching your Google Map: In case you didn't know, you can save a map area on Google Maps for offline use. This is really useful when visiting places like Joshua Tree National Park that don't have cell service. To do this using your cellphone, zoom to the area you'd like to save for offline use, and then in the Google Maps search box type "OK Maps". You'll then get a prompt to save your map.
How to Use this Google Map: Click on the grey star at the top of the map and this map will be added to your Google Maps account. You can then view it on your phone or computer in Google Maps by clicking on the menu button, going to "Your Places" and selecting this map. We use these maps all the time as you can set out your itinerary ahead of time and quickly reference the saved maps.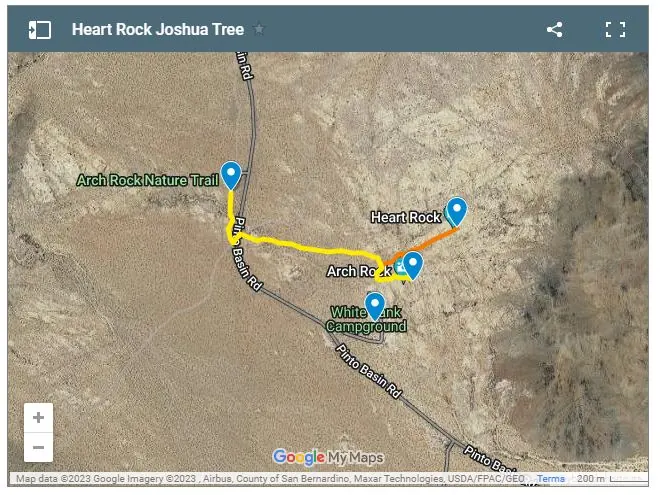 Hiking the Arch Rock Trail
Most hikers to Arch Rock will use the Twin Tanks/Arch Rock parking lot as this is the designated trail head as of 2020. However, we've included directions from the White Tank Campground for those who are staying at the campground and want to hike to Arch Rock.
From Twin Tanks/Arch Rock Parking Lot
Follow the trail from the parking lot and across the Pinto Basin Road (the parking lot is on the opposite side of the road to Arch Rock). Take the first right turn on the Arch Rock trail. After this turn, you'll be walking across open desert ground towards the rocky outcrop where Arch Rock is located.
As you reach the rocky area you will see a junction in the trail, with Arch Rock trail marked as straight on and to the right – the Arch Rock trail is a loop so there are two routes which lead to the rock.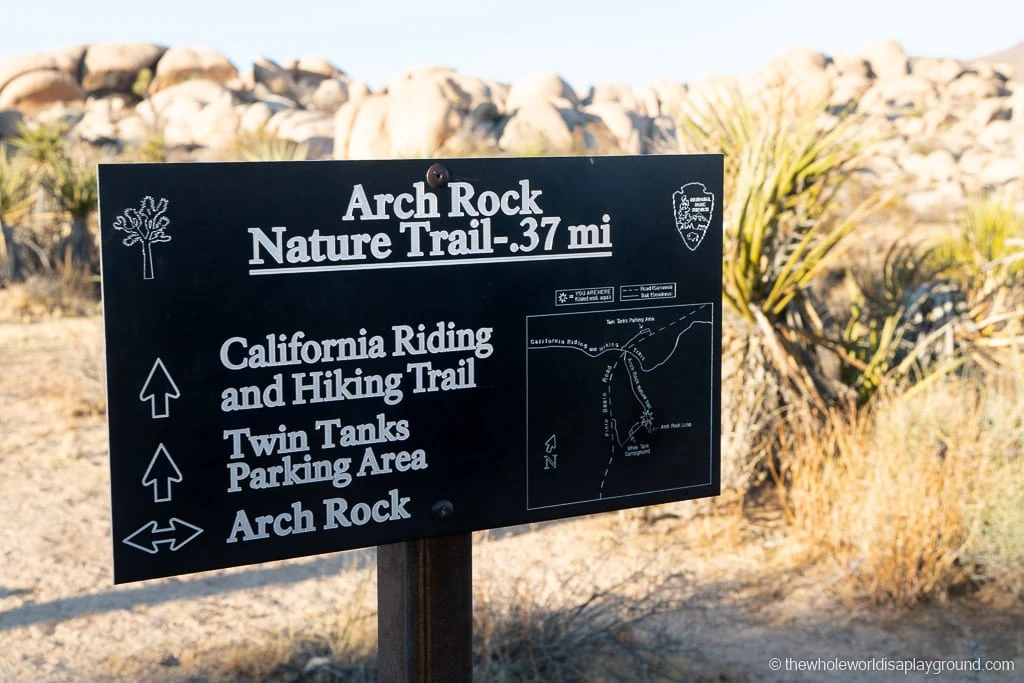 It's possible to climb on Arch Rock although it does require some scrambling over rocks!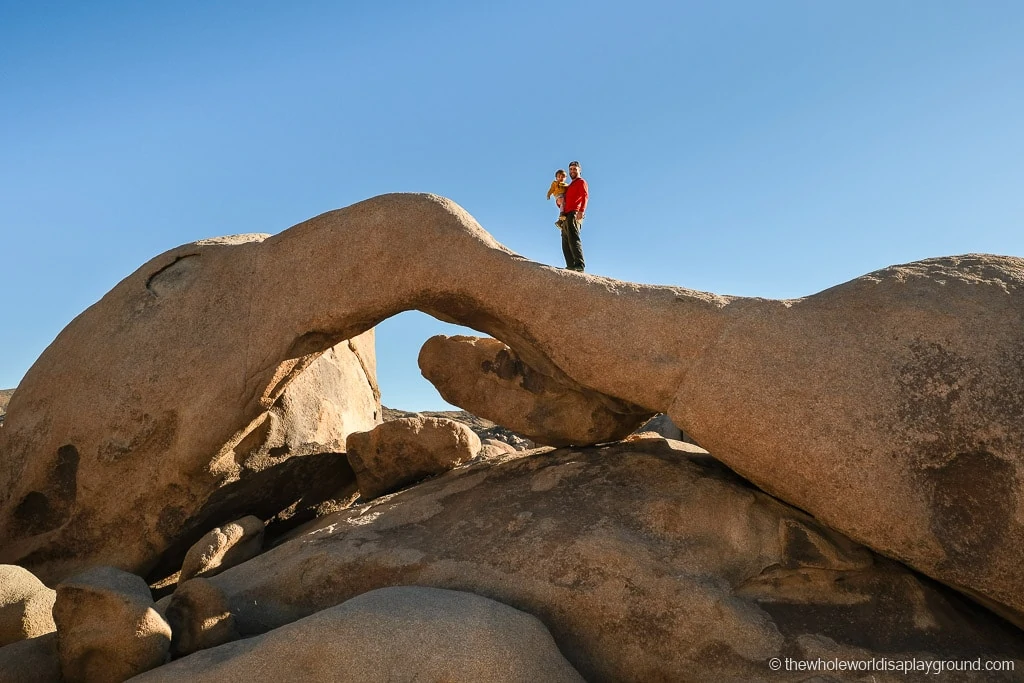 From White Tank Campground
If you are staying at White Tank Campground, the 0.5 mile hike to Arch Rock starts at campsite 9. Follow the trail and Arch Rock is on the right about a quarter of a mile down the trail.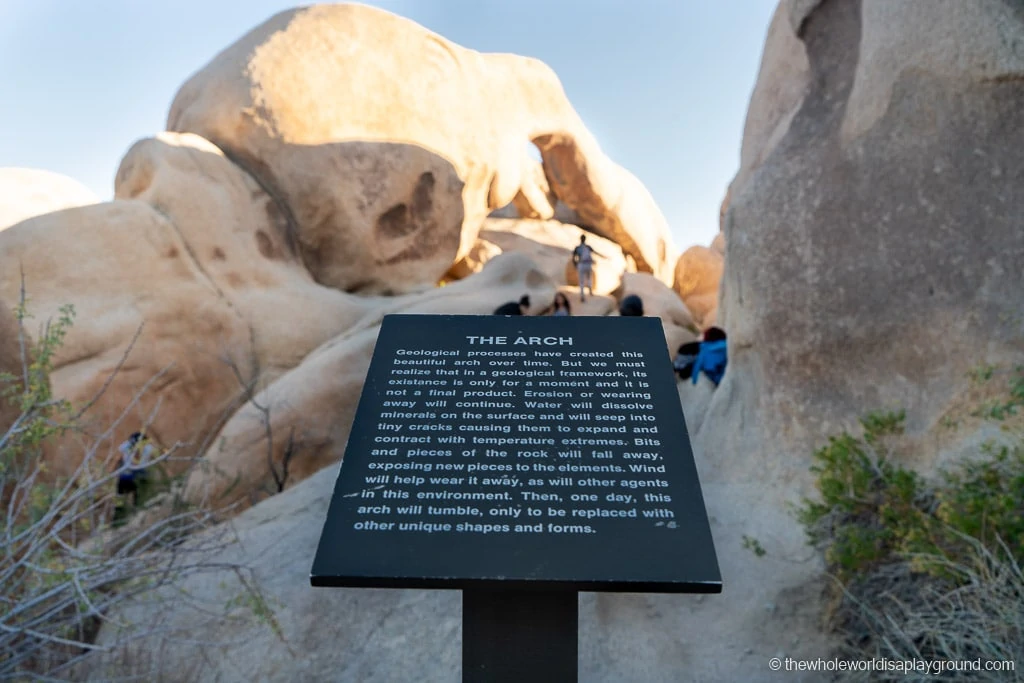 Hiking to Arch Rock with kids
Arch Rock is an easy and flat trail and a great hike with kids. On our most recent visit to Joshua Tree we did the hike with our 2-year-old and 9 month. Our 2 year old walked most of the way there and back but got tired when the temperatures rose on our return to the car.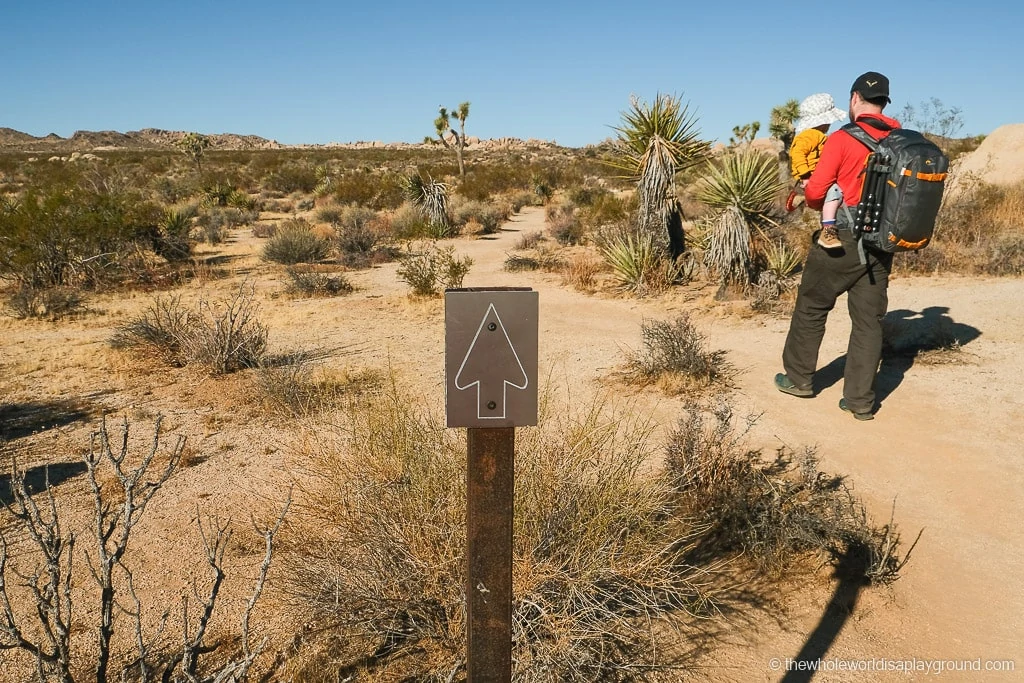 Visiting Arch Rock Joshua Tree tip: there are no drop offs along the trail but do be careful if kids are climbing on the rock.