Updated for 2017 minivan departure location
The ancient city of Ayutthaya, a UNESCO World Heritage Site, is just an hour away from Bangkok and the incredible old city ruins make it a Thailand must visit. It's an easy and inexpensive trip to Ayutthaya by minivan from Mo Chit bus station in Bangkok and a fun adventure!
Here's our step by step guide to getting to Ayutthaya from Bangkok. If you prefer an organised tour there are some great options from Bangkok which you can check out some great tours here.
1 | Get to Mo Chit Bus Station

Note: as of November 2016 minivans to Maeklong leave from Mo Chit Bus Station.

BTS: Take the BTS Skytrain to Mochit BTS. The bus and BTS station are around a 20 minute walk apart so either get a taxi (less than 50 bhat) or a local bus: buses 26, 77, 96, 104, 136, 145, 509 go to the bus terminal
Bus: buses depart from different places in Bangkok. Buses 3,16, 26,49, 77,96, 104, 134, 136, 138, 145, 170, 509, 517, 529, 536 all go to Mo Chit.
Finding the minivan: ask around for directions or head to one of the counters and ask where to wait.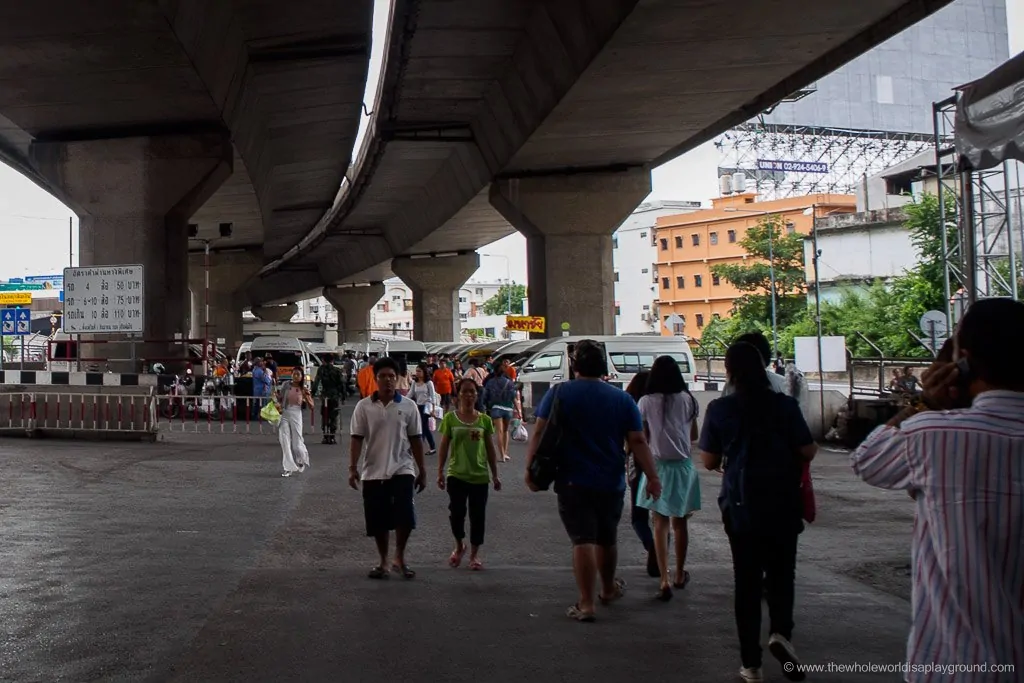 2 | Arrive in Ayutthaya
The minivan makes stops along the route to Ayutthaya so make sure you continue to the end of the route at Naresuan Alley, the main street which runs parallel to the Chao Phrom market and is close to Wat Mahathat.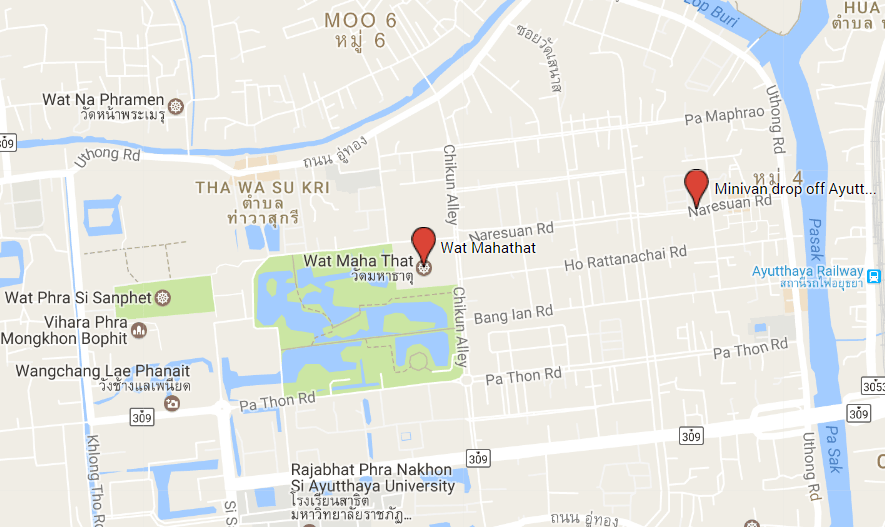 Where to stay in Bangkok
We've spent over two months in Bangkok and have had the opportunity to sample some amazing hotels across the city. Our favourites include:
Cubic Hostel: is an awesome choice and the perfect option for travelers who love the social side of travel – Check prices here
Aldephi forty nine: is fab value and perfectly located to hop on off the BTS Skytrain – Check prices here
Click here for the best Bangkok hotel prices
3| Getting Around Ayutthaya
The historical park Ayutthaya is quite spread out and, while it's possible to walk to some of the central temples, the outer ones will require some form of transport. It's also likely to be very hot and, I don't know about you, but I like to conserve my energy and not walk too far in high temperatures! Tuk tuks and bicycles are the most popular transport options.
Tuk tuk:
Tuk tuk drivers park around the bus and train stations waiting for passengers and it's possible to negotiate a fare of around 200 baht per hour for a tour of the temples. There were lots of six seater tuks tuks available for groups.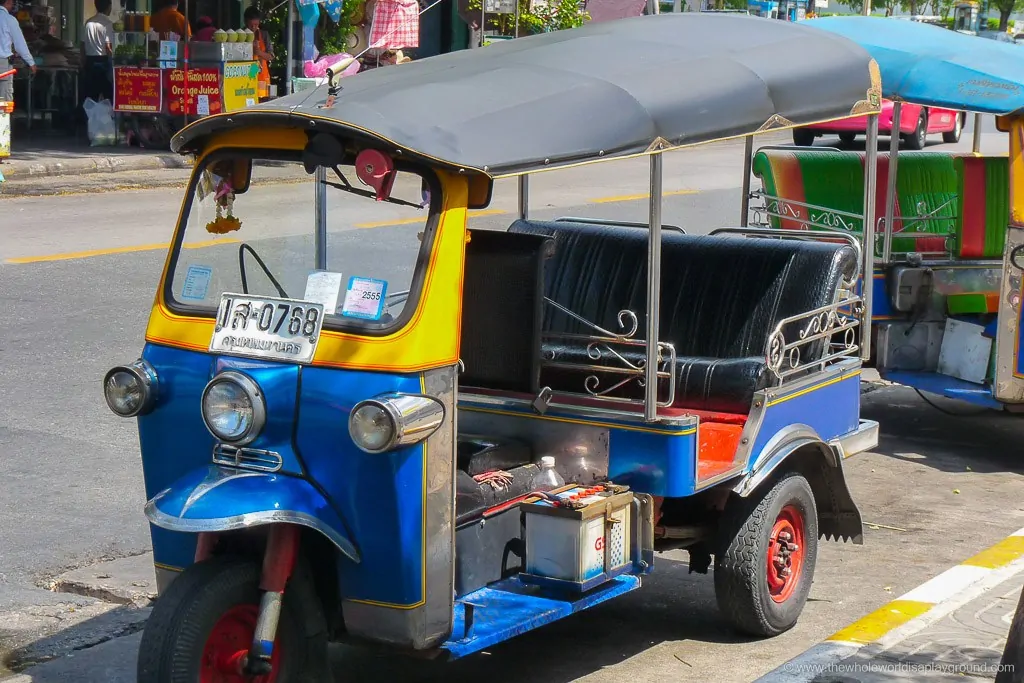 Bicycle:
Bicycles rent for between 50 and 100 baht per day. We spotted a place called Tour with Thai close to the minivan stop which had bicycles to rent. Just bring water!
4 | Enjoy the temples!
The tuk tuk drivers didn't speak much English but they had postcard pictures of the temples to understand where to drive to. We had a map of Ayutthaya marked with the temples we wanted to visit and this worked for us!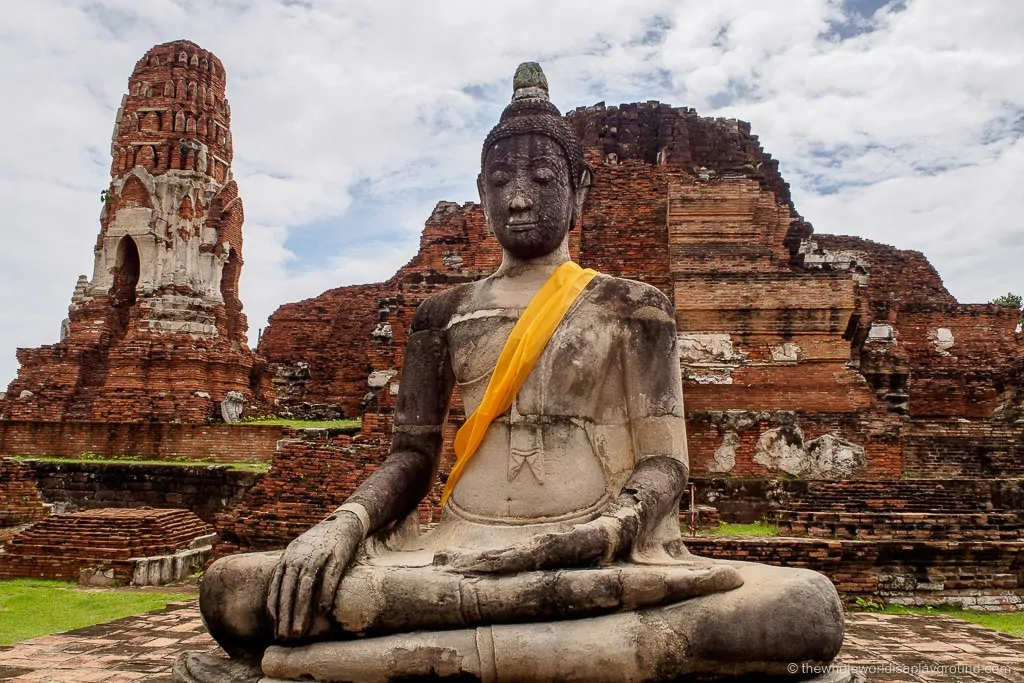 Our Route in Ayutthaya:
After arriving in Ayutthaya our first stop was Wat Yai Chai Mang Khon with its towering stupas and reclining Buddha. From there we went to Wat Phra Mahathat to see the Buddha head in the tree roots. We continued on to Wat Phra Si Sanphet and the Phra Mongkhon Bophit chapel and finished up at Wat Chaiwattanarm.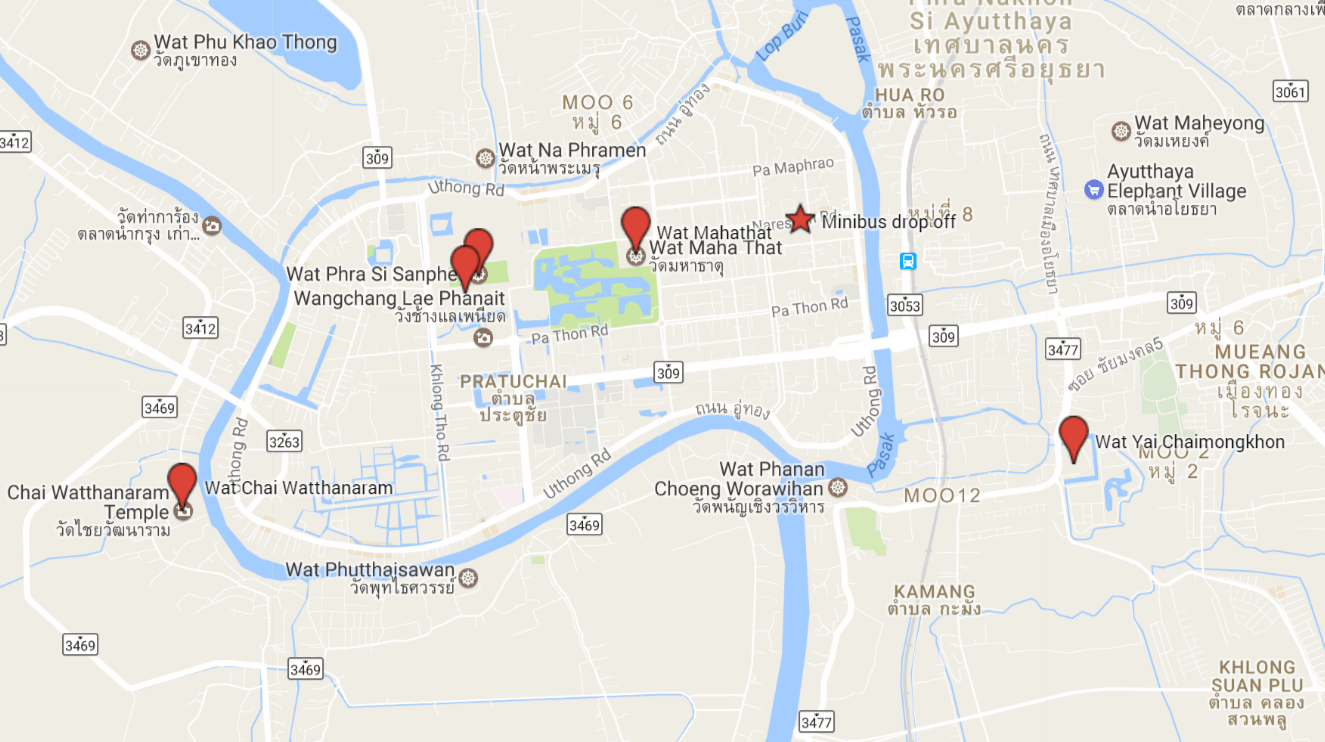 5 | Take the minivan back to Bangkok
The minivans back to Bangkok leave from the drop off point at the minivan terminal close to the market. The journey back to Bangkok was slightly longer with traffic.
Cost: 60 to 70 baht per person each way
We arrived back in Bangkok after an incredibly fun day at Ayutthaya where we managed to see all the temples on our list. The total cost was around 500 baht plus our BTS fares to Mo Chit.