Having moved to a Sony A7rii body, probably the best camera I've owned to date, I've also invested in what I consider to be some of the best accessories for Sony A7II cameras. Having travelled with the Sony A7rII to over 10 countries and captured some of my favourite shots I wanted to share our experience and recommendations for the best accessories for the Sony A7II camera. These are the key accessories which any new A7II owner should consider.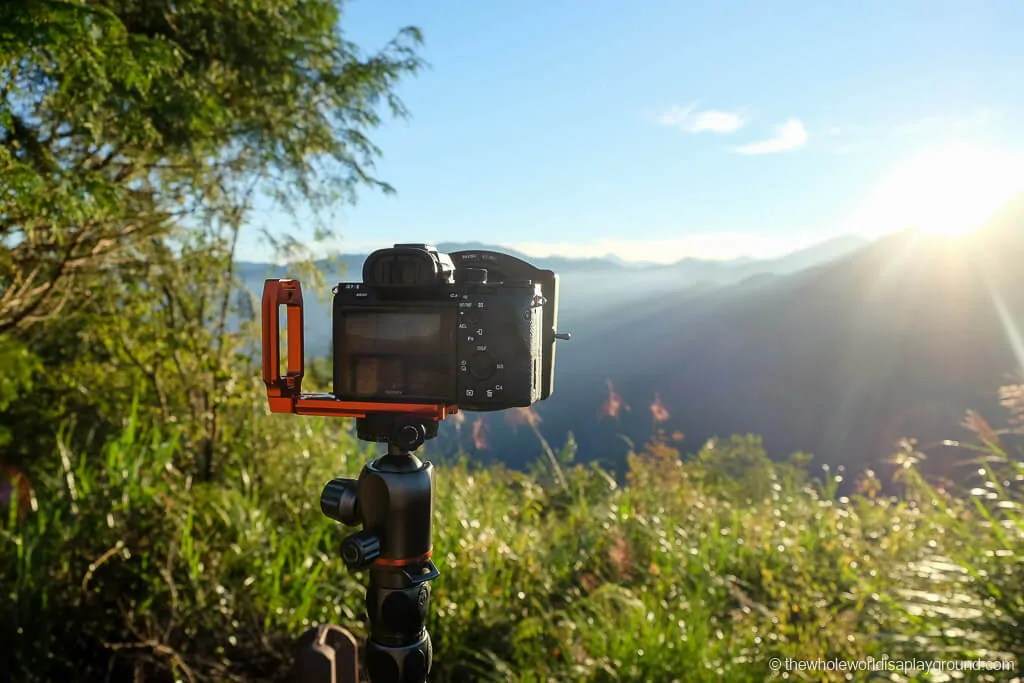 The Best Accessories for the Sony A7ii camera range
As a travel photographer space and weight is always important so these accessories are recommended with this in mind.
1 | Spare batteries
Mirrorless cameras don't have a great reputation when it comes to battery life and the Sony A7II line is no exception. Through real-world use I've found that in a single day of travel photography I need 2 batteries, and up to 3 batteries on long shooting days. This covers images and occasional video shooting. If you are primarily capturing video you will need to add some additional batteries for those heavy days of video shooting.
The original Sony batteries tend to be very expensive. I use these spare generic batteries and they work great. While they don't offer the full battery time of the Sony's they come pretty close and are a fraction of the price – check prices now!
2 | USB Battery charger
All those batteries are going to need charging and the single battery charger that came with the A7rII isn't sufficeint for my needs. I use one of these portable USB battery chargers with the A7RII and it works great. If you have a Sony A7II camera this is a really important piece of kit. I love this for a number of reasons:
It can charge 2 batteries at a time, unlike the Sony which only does one.
It includes 2 batteries (giving me 4 batteries in total including the 2 batteries that come with the A7rII)
It's super light and more compact than the original Sony charger so its easy to pack
It charges over USB so you can easily charge it on the go. I actually use it with the Anker battery pack below so I can charge on the go
If you have a Sony A7ii camera, do yourself a massive favor and pick up one of these – check prices now!
3 | Battery pack
Being able to charge my Sony camera batteries on the go is extremely useful. I use this compact Anker Powercore battery pack. It's rated at 13,000 mAh and on a full charge, it charges around 7-8 of my A7rII batteries. Anker makes larger battery packs but they are significantly heavier and in my opinion, the extra power / additional weight isn't worth it.
This model allows me to throw batteries in my bag and have them charge while I'm out exploring. –
No products found.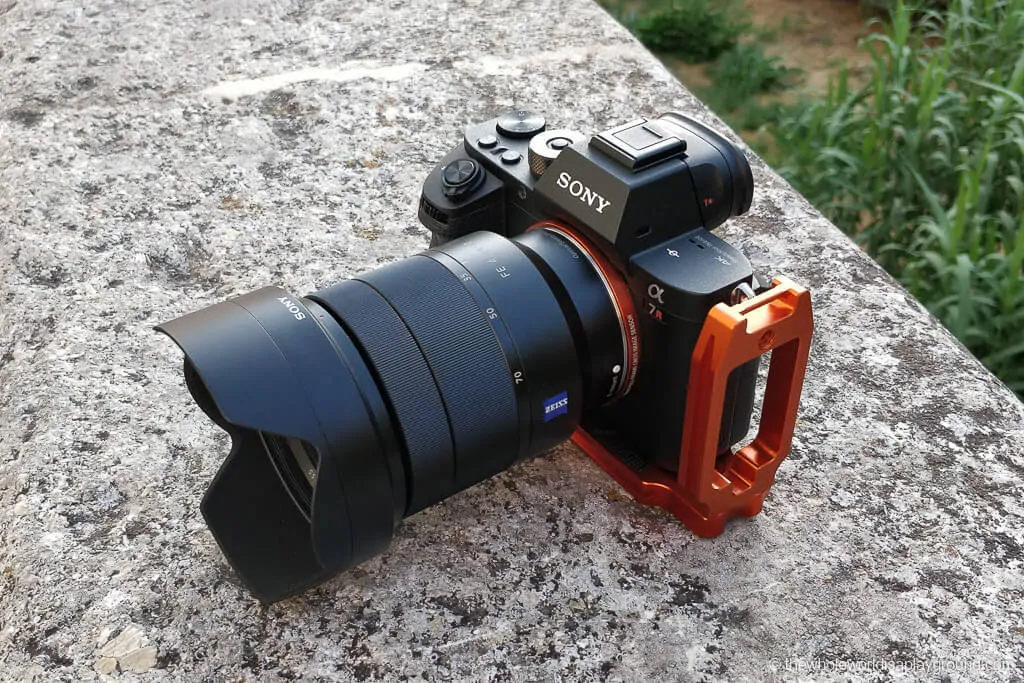 4 | Screen protector
The reticulating screen on the A7II cameras is amazing. The only flaw with the Sony screens is that they are relatively fragile and are easily scratched. To protect against this I purchased a good quality tempered glass screen protector to provide some extra protection against bumps and knocks where a plastic protector would fail. This tempered glass saved my A7rII screen in South Korea when I bumped it against another camera: the tempered glass screen protector cracked, saving my camera screen much to my relief! – check prices now!
5 | Remote Camera Release
There are a number of options for remote release with the A7ii cameras. I personally don't like the built-in smartphone app for regular use. The main reasons are the drain on battery life and the additional work to set up the camera and app in order to get remote to work. I find a physical camera release much easier to use.
Remote Camera Release
This is the option we use and it also happens to be the cheapest. It works great and is really durable after a lot of use and abuse. – check prices now!

The best Sony A7rII Accessories tip: One addon for the remote release thats worth considering is a right angle micro USB adapter. It makes it neater to connect to the camera and easier to use with an L bracket –check prices now!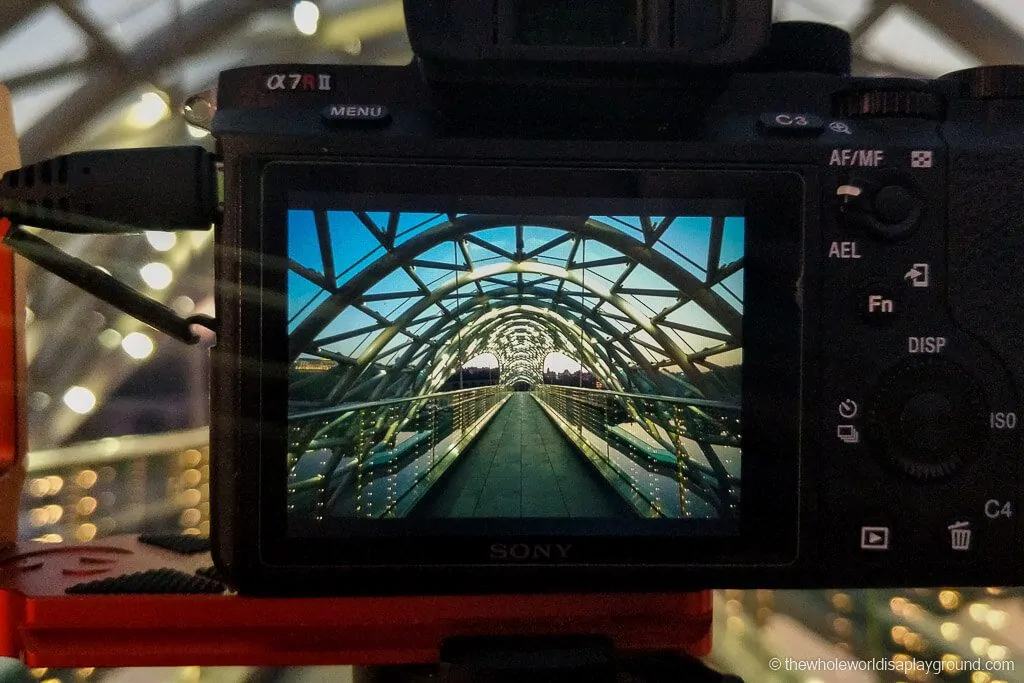 Hahnel Captur Remote Controls
If you are looking for a more advanced remote control pick up a Hanel Captur remote control. They operate off 2AA batteries. The basic version allows autofocus and shutter release with continuous shooting and bulb mode with the Sony A7ii line – check prices now!

The more advanced Hahnel Captur Pro allows advanced time-lapse functionality which is invaluable if you take frequent time-lapses – check prices now!

5 | SD Cards and Backup drives
The incredible 42MP sensor in the A7rII captures stunning images, however, this extra detail comes at the price of larger file sizes: the RAW files out of the camera are 80mb (40mb compressed) which quickly eat up memory cards. In addition, the extra data needs to be copied to the card quickly or you will hit bottlenecks as the camera buffer attempts to dump shots onto the card. As a result, regular SD cards will leave you with long wait times if you're shooting in burst mode.
The best Sony A7rII Accessories tip: when the camera buffer is writing to the memory card you cannot use the system menu or settings – essentially you have to wait for the buffer to clear. A good quality SD card will reduce this time significantly. Due to a known issue with the Sony A7rii buffer, we shoot in compressed RAW format (there is almost no difference in end photo quality). If you shoot in uncompressed RAW you will not see speed improvements with the higher end SD cards!
I personally use Sandisk Extreme Pro 64GB U3 memory cards in my A7rII and they work great. While they are expensive, I've never had any data issues or data loss and even when shooting bursts of shots the camera buffer clears quickly – check prices now!

Other memory cards that are reported to work well are:
6 | Air Blower
I've always used an air blower with my DSLR cameras. As there is no mirror protecting the sensor and the fact that the sensor is closer to the outside of the camera, A7II cameras easily get a lot of dust and dirt on the sensor. Due to this, I use the air blower a lot more frequently. The Giottos Rocket air-blower is easily the best on the market. I've had mine for over 5 years and it has never let me down. It's been through heavy use across more than 40 countries and still looks good as new. We highly recommend it. – check prices now!

7 | Camera Straps
Peak Design Slide
Peak Design make some of the best straps available. and have a large range of straps depending on your needs. I've had a used the Slide camera strap for the last few years and its one of the best made products I've ever owned. Its been everywhere with me and still looks as good as the day I bought it – check prices now!

Peak Design Captur Clip
Another invaluable accessory for A7II cameras is the Peak design Captur pro camera clip. I use this extensively when hiking and doing landscape photography as it allows me to easily carry the A7rII on my front attached to my camera bag strap. It's super easy to detach and reattach and can be locked in place with a twist of a small button.
Having quick, direct access to your camera while hiking or walking is invaluable and anyone who uses their A7II camera for outdoors shooting should seriously consider it! – check prices now!

9 | Good quality tripod
A good quality tripod will ensure your shots are the best possible quality by avoiding unnecessary shaking while taking shots. Better quality tripods are also more lightweight as they are made from carbon fiber and are more rugged due to better quality construction.
I use the Three Legged Thing Albert carbon fibre tripod and honestly, it's the best tripod I've ever used. It's made extremely well, has handled lots of abuse while travelling and unlike many travel tripod, the Albert extends easily and quickly to over 6 feet. It's the tallest, smallest tripod in the world and I love it – check prices now!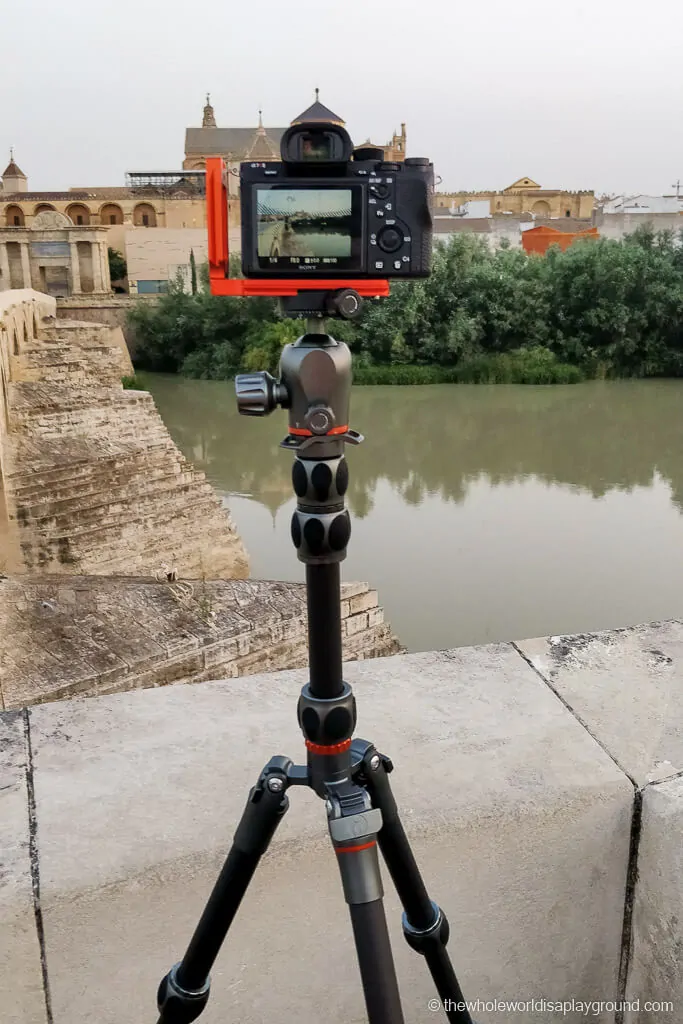 10 | L Bracket
This may only appeal to the landscape photographers reading! I've actually found myself leaving the L bracket on my A7rII as it makes the camera much easier to hold and generally more ergonomic. I use the L bracket made by 3Legged Thing, mainly due to it being great value, having a good build quality and also due to the fact that it looks great on the camera! –
The best Sony A7rII Accessories tip:: L brackets are extremely useful and allow you to quickly swap between shooting landscape to portait and back again.
No products found.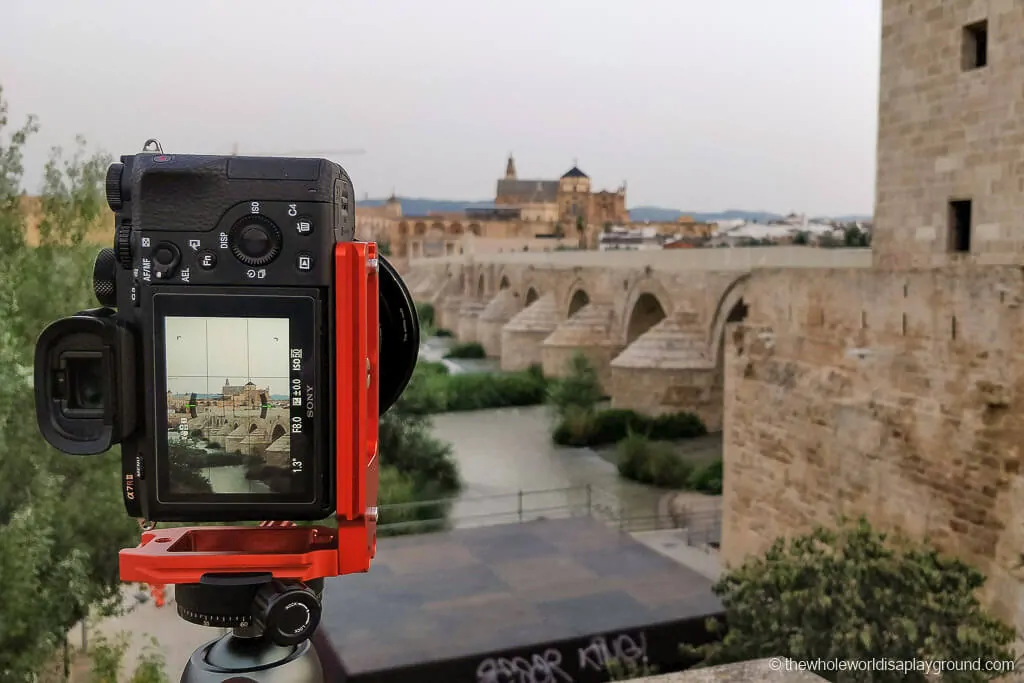 11 | Filters
For landscape photography, I use and highly recommend the NiSi line of filters. Check out our in-depth review of the NiSi filter system here. I've been using the NiSi filters for years and continue to do so with the Sony A7rII and it's a perfect combination. –check prices now!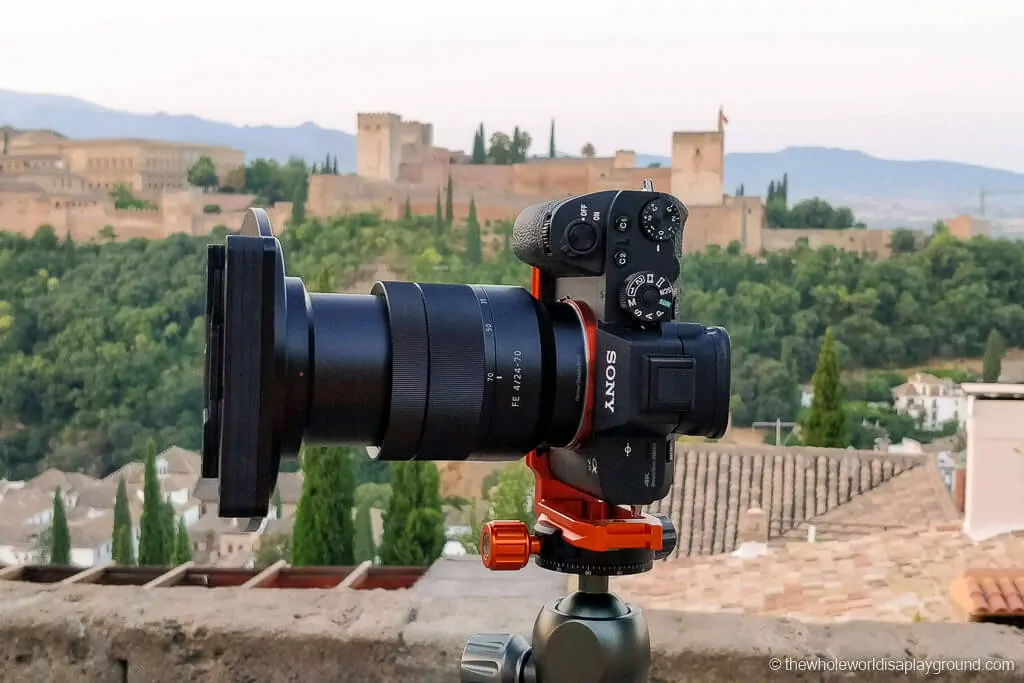 Using our NiSi filter system in Granada, SpainFor video you're going to need a good quality variable ND filter. This will allow you to vary the light easily during the day when shooting to ensure you get high-quality cinematic footage out of our A7II camera. You'll need a filter ring size that matches your lenses, or you can purchase a large 82mm filter and use step down rings for your lenses to fit – check prices now!

12 | Camera Bag
The best camera bag is subjective, however as a travel photographer needing to carry all my gear everywhere, I use the LowePro Protactic 450AW. I've has this bag for over 3 years and, despite extremely heavy use, it still looks and works like new.
It is well padded, has a detachable waist strap, hold tripods via the exterior webbing and holds a huge amount of gear. I can carry a DSLR/mirrorless camera, 70-200 lens,2-3 other lenses, a drone, laptop, tripod and all my smaller accessories easily in this bag. Plus it looks discreet and opens only from the back strap side which is great for security. – check prices now!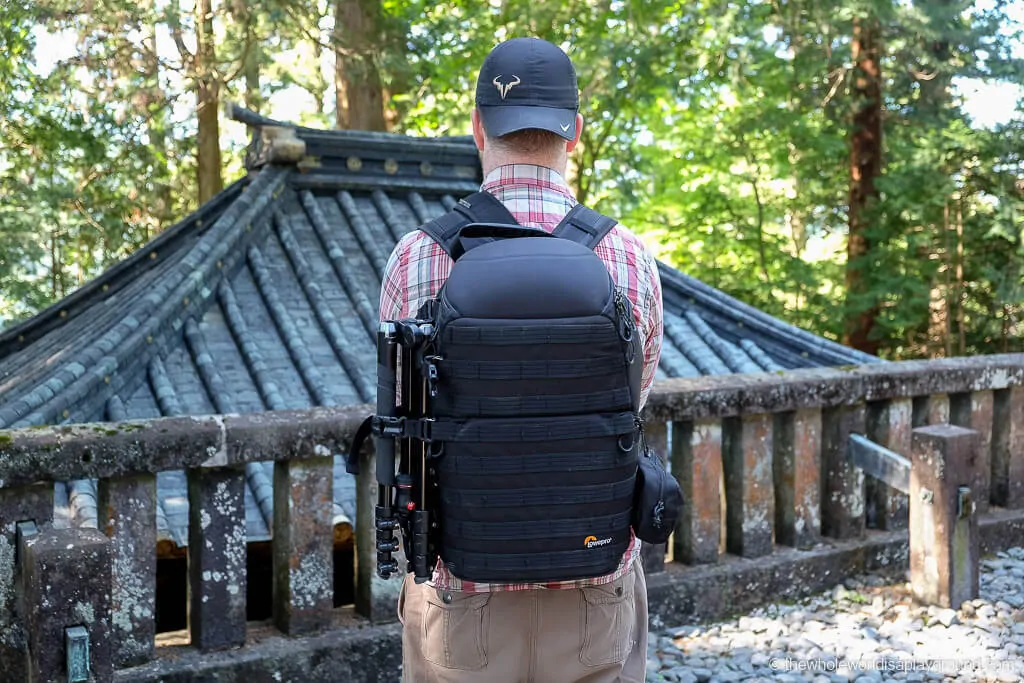 So there you have it, our list of the best accessories for the Sony A7ii / A7rii ad A7sii cameras. If we've missed any that you think should be included above please let us know in the comments.