The Greek island of Rhodes is a beautiful mix of stunning beaches, historical sights and lush forests. Located just off the Anatolian coast of Turkey and surrounded by the clear waters of the Mediterranean, Rhodes is home to some of the best beaches in Europe. On a recent visit, we explored the island in search of the best beaches in Rhodes – there are over 40 beaches on the island so, to help you choose, we've put together this list of our best beaches in Rhodes!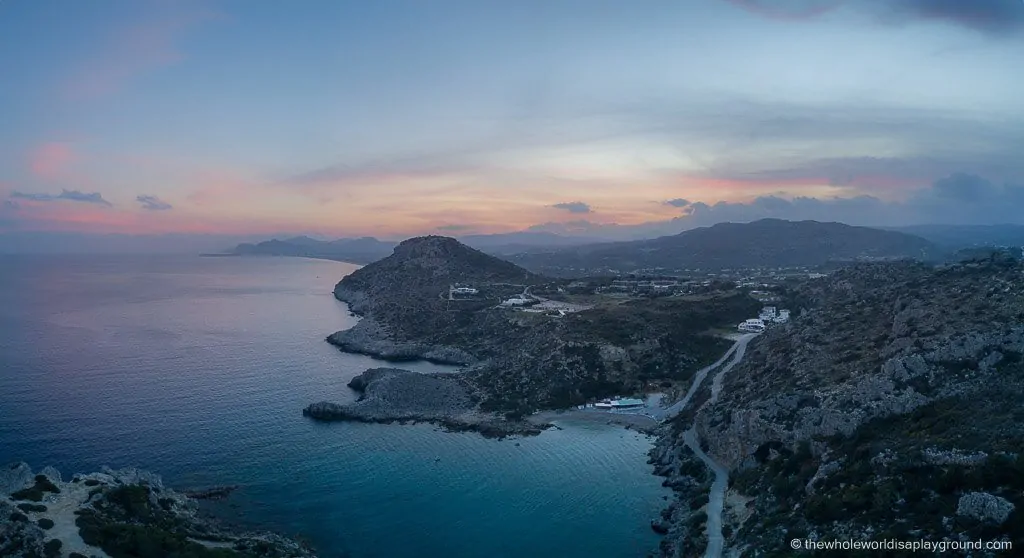 Best Beaches in Rhodes
Most of the best beaches in Rhodes are located on the relatively sheltered eastern side of the Island. Most are very easy to get to and have parking and facilities on site, such as bathrooms and showers.
Renting a Car in Rhodes
Renting a car in Rhodes is the best way to explore Rhodes plus driving is relatively easy on the island. Having your own car gives you the flexibility to travel at your own pace a see place that are simply not possible on group tours or public transport, such as some of the secluded beaches and more remote areas of the island.
We're huge fans of road trips and have driven rental cars in almost 50 countries so we have a lot of experience renting cars in foreign countries. Book your car now with RentalCars.com, where you will find the best rental car prices
Click here for the best rental car prices
Map of Best Beaches in Rhodes
We've made a map of all the best beaches in Rhodes on our list so you can easily find them when you visit.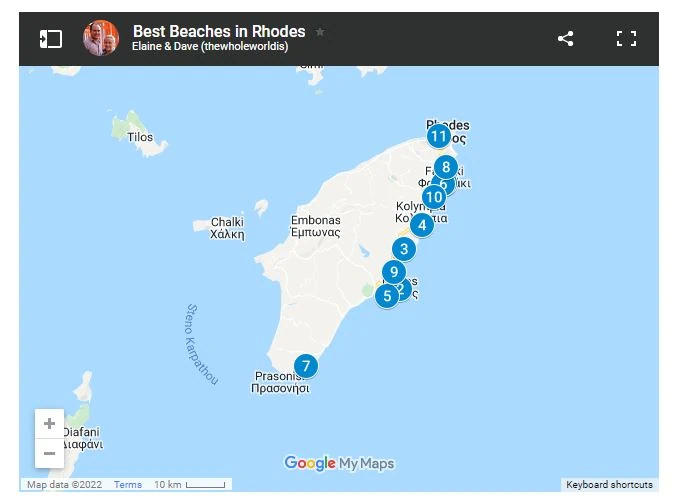 How to Use This Google Map: Click on the grey star at the top of the map and this map will be added to your Google Maps account. You can then view it on your phone or computer in Google Maps by clicking on the menu button, going to "Your Places" and selecting this map. We use these maps all the time as you can set out your itinerary ahead of time and quickly reference the saved maps.
1 | Anthony Quinn Bay
Best for: adults, chilling out and sunset Anthony Quinn Bay, named after the Guns of Navarone actor who tried to buy the bay, Anthony Quinn beach was our favourite in Rhodes. The beach is a 20-minute drive from Rhodes Old Town and is one of the easiest beaches to reach from Rhodes. This secluded bay is beautiful at any time of the day but watching the sunrise here was our favourite time in Rhodes.
While not a sandy beach, Anthony Quinn bay is brilliant for swimming and there are lots of beach chairs for rent. We loved chilling out on the rocks that jut out over the water The only downside of the beach is that it gets very busy during high season so you'll need to get there early to avoid the crowds!
Best Rhodes Beaches tip: Anthony Quinn Bay is not as child friendly as some of Rhodes best beaches due to the rocks surrounding the bay and in its waters.
Where to Stay in Rhodes
Rhodes has an incredible selection of hotels and there are options for every budget and taste. From boutique hotels in the heart of the old town to stunning ocean view resorts, choosing where to stay in Rhodes isn't an easy task. Here are our favourite hotels in Rhodes. We chose to stay in the old town as we feel it's best for exploring the island during the day and relaxing in the old town in the evening.
Evdokia Boutique – where we chose to stay in Rhodes and the location couldn't be better. Located right in the heart of the old town, this chilled boutique hotel is a perfect base for exploring the island. Everything in the old town is a short walk, and with free on-site parking the rest of the island is a short drive away. We really enjoyed this hotel and highly recommend it – check prices now!
In Camera Art Boutique Hotel – another great option for staying a medieval old town. Similar to the Evdokia the In Camera Art Boutique Hotel is located inside the old city walls. With great food, comfortable historic room and stunning views of the city from the roof this is a great option for the old town – check prices now!
Atrium Platinum Luxury Resort Hotel & Spa – for those who prefer a luxury resort the best one on the island is probably the Atrium Platinum. With panoramic sea views, multiple pools and a location close to the old town, the Atrium Platinum is a great option for those looking for a more traditional luxury hotel – check prices now!
2 | St Paul's Beach, Lindos
Best for: swimming, sunsets and an amazing backdrop The medieval village of Lindos boasts three beaches, namely Megalos Yialos, Mikros Yialos and St Paul's. Nestled under the shadow of the stunning Lindos acropolis, St Paul's is one of the best beaches in Rhodes. St Paul's is a beautiful sandy beach and is great for relaxing, swimming and grabbing a drink at the beach front bar!
Rhodes best beaches tip: The far end of Lindos Beach, known as Palace Beach, has shallow waters which are perfect for kids to paddle in.
3 | Agathi Beach
Best for: families, swimming and warm waters With a view of Feraklos Castle, Agathi is great for families due to the open strand and warm, calm and shallow waters. While there are a few refreshment stands you'll need to take food and snacks as there are no restaurants close to the beach.
4 | Tsambika Beach
Best for: swimming and families Sitting under the Tsambika Monastery, the Tsambika Beach is a lovely sandy beach. It's crystal clear waters are great for swimming. Tsambika boasts one of the most stunning shorelines in Rhodes.
5 | Pefki Beach
Best for: a relaxed vibe With only a sprinkling of small hotels and holiday rentals nearby, Pefki is a low key beach which draws a relaxed crowd. The beach is narrow with soft sand and pebbles and there are lots of rocky coves with shallow waters to swim in.
6 | Ladiko Beach
Ladiko Beach is close to Faliraki and Anthony Quinn Bay. The clear waters of Ladiko attract a lot of snorkelers and scuba divers.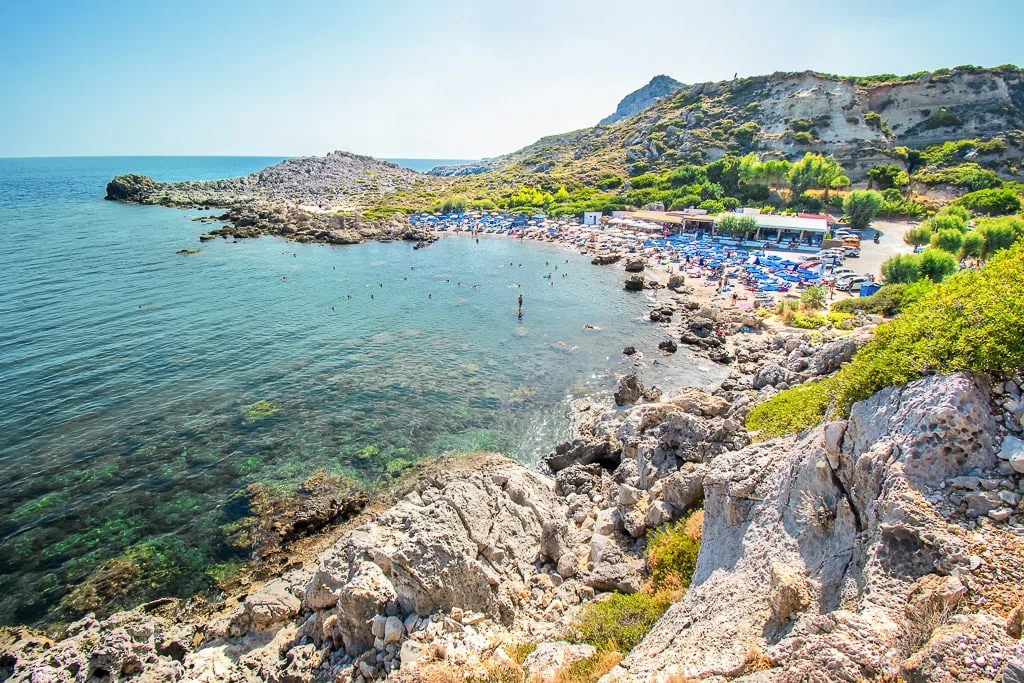 7 | Agios Georgios Beach
One of the most secluded and off the beaten track beaches in Rhodes. It's the perfect escape from the crowds. It's a little thicker to get to but well worth it to avoid the crowds!
9 | Faliraki Beach
Faliraki boasts three fine beaches offering family-friendly sandy shores, a nudist retreat and a pebbly bay. Faliraki continues to draw crowds and the beaches are well equipped as a result.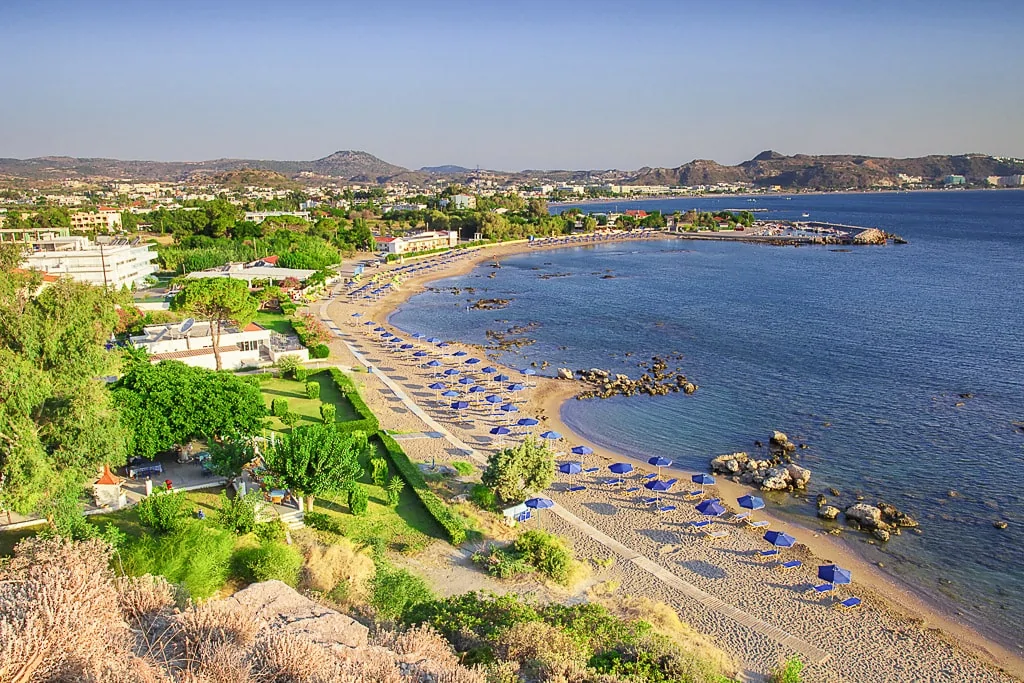 8

|

Kalathos

Beach

Kalathos Beach is stunning withgolden sands, crystal clear waters and a beach bar on site
10 | Afandou Beach
One of the most popular beaches in Rhodes, Afandou is a huge sandy beach with plenty of facilities.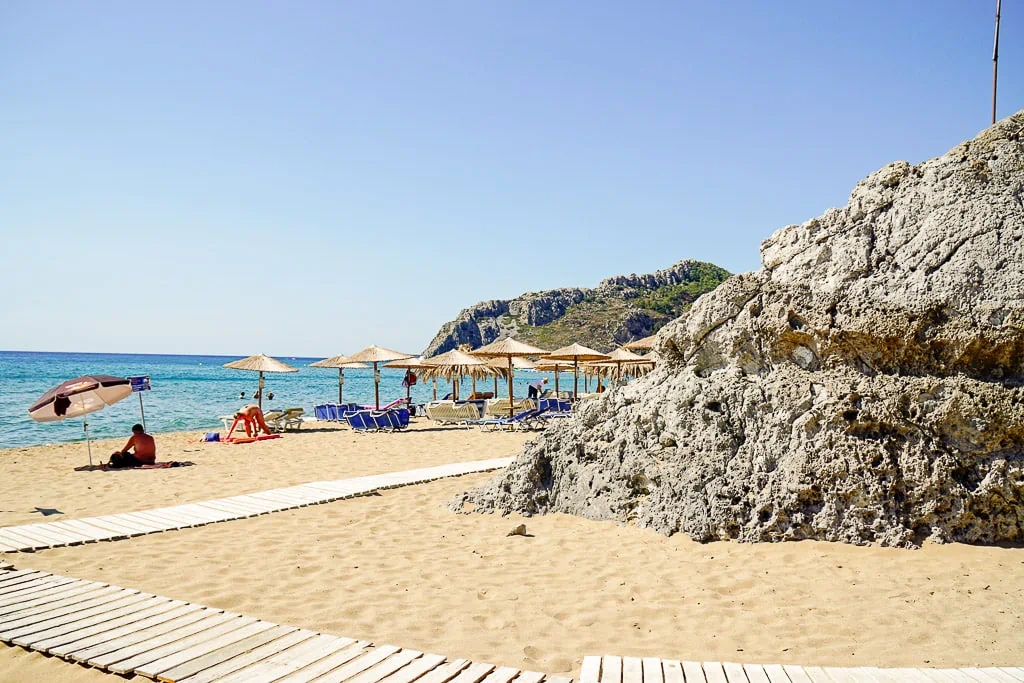 11 | Ixia Beach
Strong winds on the west coasts make this a wind and kite surfing paradise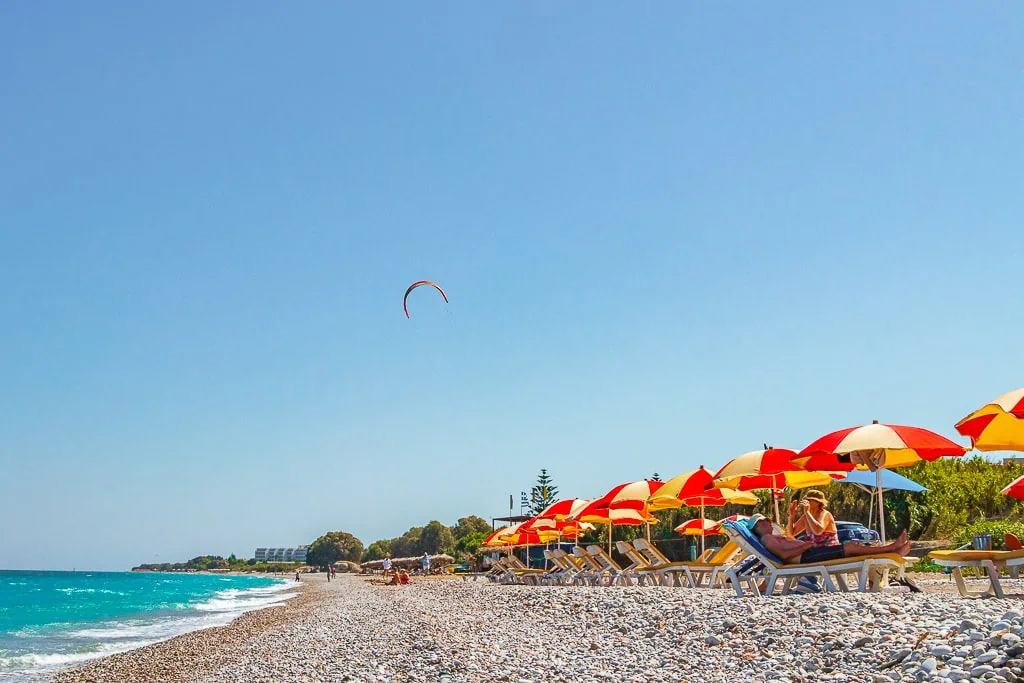 For more Greece inspiration check out: