We spent a lot of time researching the best campsites to stay at during our New Zealand Road trip – there are a massive selection of campsites catering to a range of budgets and requirements and, in popular tourist areas, the choice is sometimes overwhelming.  A good campsite can really add to the enjoyment of an area, especially if you plan to hang out there for a few days. After our journey throughout the North Island we've put together this list of our favourite New Zealand North Island campsites.
As a young couple travelling around (I say young couple but we just hit 30, maybe less of the young depending on how you look at it!), there were few things we looked for when choosing a place to park up for the night:
A smallish holiday park.  We always looked for a smallish campsite and often these were the independent parks.
Near water.  During our trip we developed a bit of an obsession with staying in holiday parks with a lake or sea view.  There is something incredibly calming about looking out the back of the campervan and having a beautiful water view.
Clean facilities.  Some of the parks were sparkling and really well looked after.  If you can't go to your own bathroom then the next best alternative is surely someone else's gleaming bathroom!  The same goes for kitchens, laundry rooms…
Cost. Most of the parks we stayed in were around NZD 40.  We weren't really that budget conscious  and usually just picked our favourite but still, its always nice to grab a bargain!
Here's where we stayed in the North Island:
Beachside Holiday Park, Paihia, Bay of Islands
We used this holiday park as our base for exploring Bay of Islands.  Beachside Holiday Park is a secluded park in its own bay with stunning views.  The facilities were perfectly fine.  Hot showers were included and there was unlimited free wifi which was a rarity.  I wish other parks would take note!  There were non powered waterfront sites and powered sites a row back and the views were good from both.   So good, we extended our stay!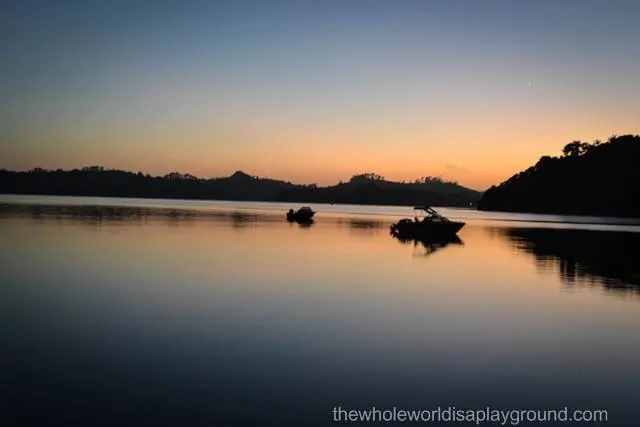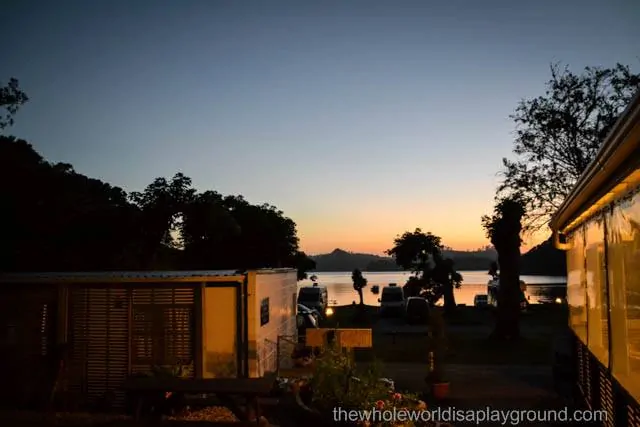 Opal hot springs and holiday park, Matamata 
Hobbiton, where else?! This was the only camp site we could find near Matamata.  It was ok, a bit dated and while I believe it was clean, wear and tear and old age seemed to have taken their toll on the facilities.
The best part was that the rate included access to three pools, an outdoor heated pool and two outdoor mineral pools.  Although the pool area could do with some updating it was an amazing addition to the park.  There was even a slide on one of the pools.  SOLD!
The park was fine and served its purpose of allowing us to park up close to Hobbiton for an early morning tour but it would benefit from some updating.
Waitomo Top 10 holiday Park, Waitomo
This park was just down the road from the Waitomo caves.  I'm pretty sure it was the most expensive holiday park we stayed in but at least the facilities reflected the price.  The bathroom was modern and spotless, definitely a contender for my favourite bathroom of the trip!   It was wet and cold the night we stayed there but we managed a quick dip in the pool.  There was a kiddies play area on site (I may have had a little go on the trampoline).  The powered sites were sectioned off nicely and we had our own picnic table.
Turangi Holiday Park, Turangi 
After calling into a few holiday parks on the way through Lake Taupo we couldn't find any we really liked and so ended up driving a bit further.  I swear we arrived in the middle of a monsoon.  I was reluctant to leave the camper van so I didn't see too much of this campsite.  It got muddy and waterlogged around our van so we ended up with lovely wet feet on toilet trips.  The bathrooms were fine but it was literally a fly by when absolutely necessary.  Other than that we were holed up in the van hoping it would stop raining.  I don't think it did before we left.
Wellington Top 10 Holiday Park, Wellington 
Our ferry was booked for 8:35 a.m. so we wanted to stay close to the ferry terminal for the early start.  The Wellington Top 10 was the perfect choice.  Pricey, like all the Top 10s we stayed at, but the sun shone on us from the moment we arrived and the facilities were top notch.  We were allocated a site close to the bathrooms and laundry but with a fence between us so we weren't faced with a facility view but still perfectly located for bathroom trips and doing the laundry before we hit the South Island.  We enjoyed the company of a lovely gaggle of ducks who provided entertainment for us during lunch!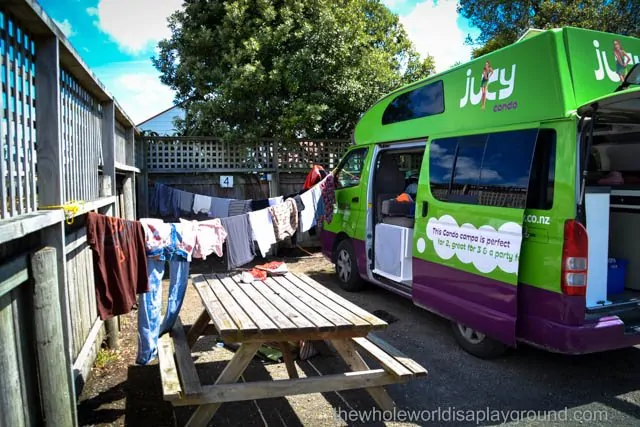 And our favourite is…
And our favourite on the North Island?  Drum roll please…. it has to be the Beachside Holiday Park in Paihia!
Read more about our New Zealand adventures