New York always tops our wish list when we plan a trip to the US and we've spent many incredible days and nights living in and exploring the Big Apple. Even in a city as amazing as New York wanderlust still rules and we've made it our mission to discover the best day trips from New York to escape the city. New York lovers at the ready, here's a round up of the best day trips from New York City!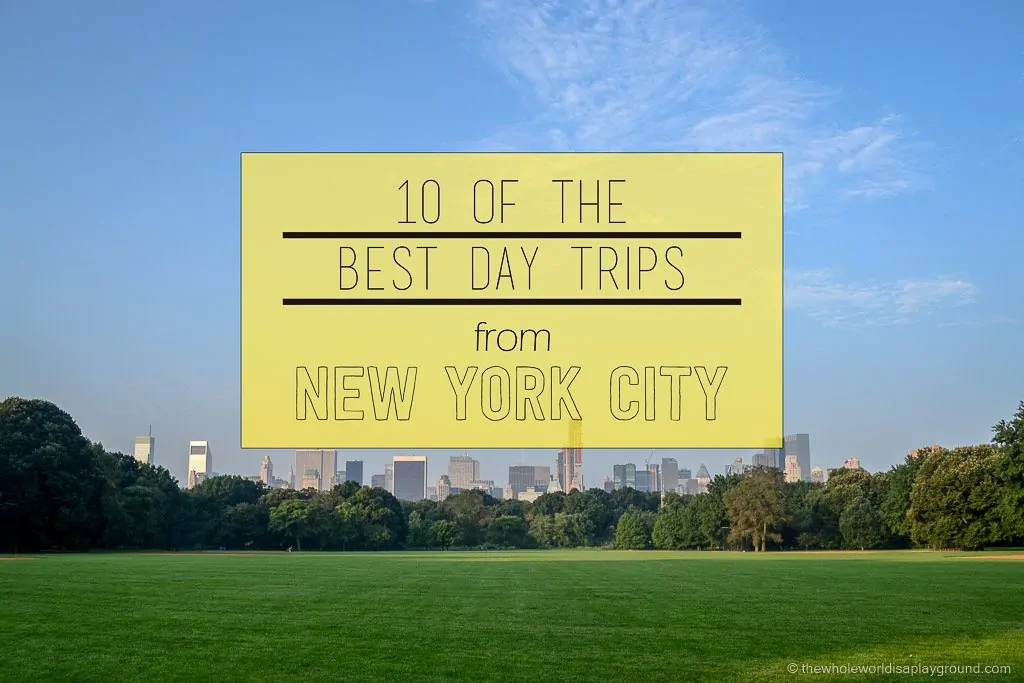 1 | The Natural Wonder: Niagara Falls
It's hard to believe the awe inspiring Niagara Falls are so close to the chaotic and crazy New York City! The power and noise of the majestic Falls have to be experienced to be believed and we were mesmerised by the force of the turquoise water plummeting over the edge. The Horseshoe Falls on the Canadian side boast the prettiest views and it's worth the short trip over the Rainbow Bridge for the postcard perfect panorama.
How to do a day trip from New York to Niagara Falls: Most of the US airlines offer flights between New York and Buffalo. Pick up a rental car at Buffalo Airport and, from there, it's less than an hours drive to Rainbow Bridge and over to the Canadian side of the Falls. Make sure the car rental company allows travel into Canada and don't forget your passport! We opted for an organised day trip on our visit – check out the day trip options here!
Click here to book a day trip to Niagara Falls
Where to stay in New York
We've stayed all over the city during our trips to NYC. Here's some of our faves:
Click here for the best NYC hotel prices
2 | The Ski Slopes: Hunter Mountain
Snow, snow, snow! It's a secret every New Yorker is privy to: a ski slope just two hours outside the city and, after a good snow fall, the dreaded icy runs are a distant memory replaced with lots of white fluffy powder! Hunter Mountain in upstate New York is amazing fun and the perfect place to hit the slopes close to the city! Check out day trip options here!
How to do a day trip from New York to Hunter Mountain: jump on an early bus from Manhattan and arrive at Hunter by 9am. Some companies offer day trips for around $150 for the bus, a ski pass and board rental.
Click here to book a day trip to Hunter Mountain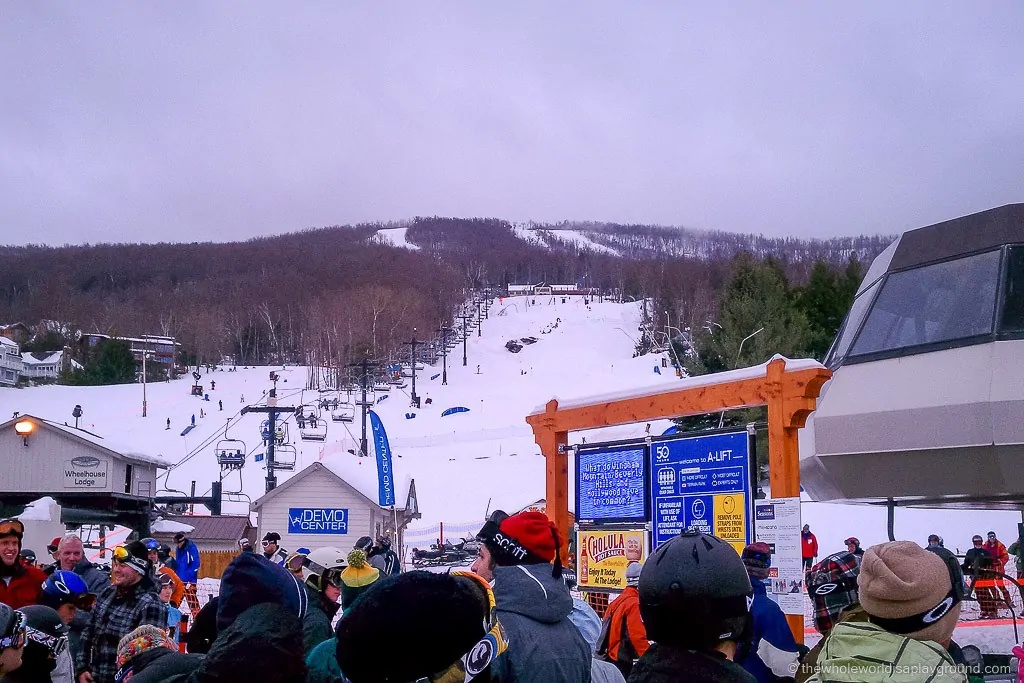 3 | The Capital City: Washington DC
The White House! Three words which should have you jumping on a train from New York to check out the home of American politics, Washington DC. Capitol Hill, The Mall, Arlington Cemetery, the memorials, the monuments and the museums all make for an awesome capital city and an abundance of things to do in Washington DC. Check out day trip options here!
How to do a day trip from New York to Washington: take the early train from Penn Station in Manhattan to Union Station and it's a 3 hour 20 minute journey each way or jump on a one of the many flights servicing the city.
Click here to book a day trip to Washington DC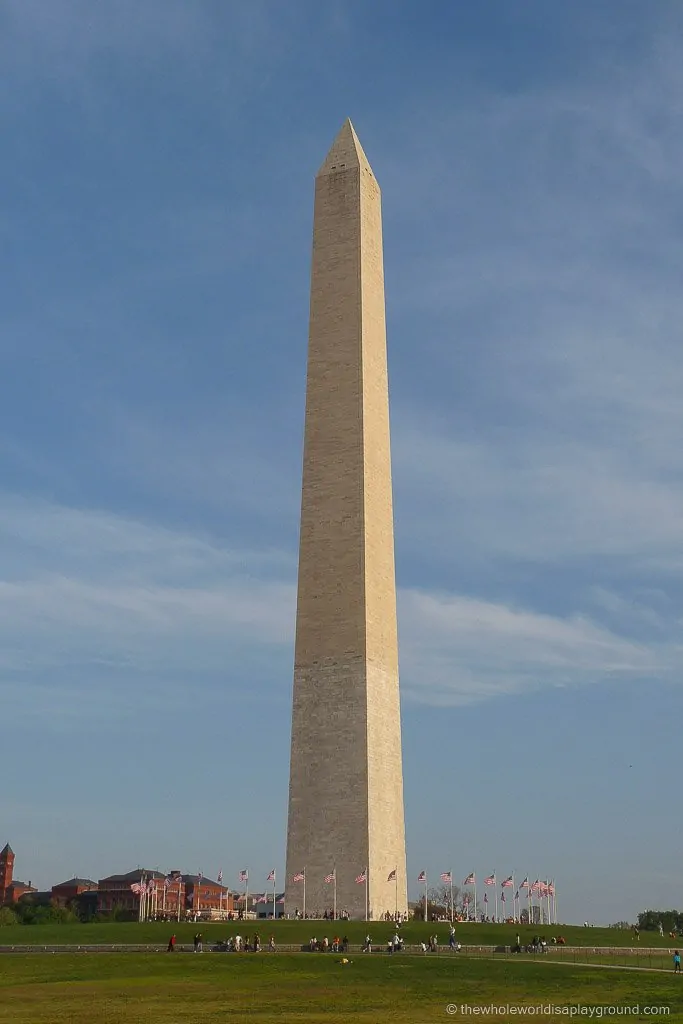 4 | The Quaint Island: Martha's Vineyard
The tiny island of Martha's Vineyard just off Cape Cod is a playground for the rich and famous and it's easy to understand why as soon as you step onto the Island. 'The Vineyard' as it's affectionately known is a gorgeous mix of cute little towns and gorgeous beaches and is like stepping back in time. Jaws fans at the ready: Martha's Vineyard acted as the fictional island of Amity in the movie and there's lots of familiar sights! We have fabulous memories from our day spent on the Island and loved every second of our trip!
How to do a day trip to Martha's Vineyard from New York: It's a quick 70 minute flight from JFK to Martha's Vineyard with Jet Blue and, from there, the Island is well served by the local bus system.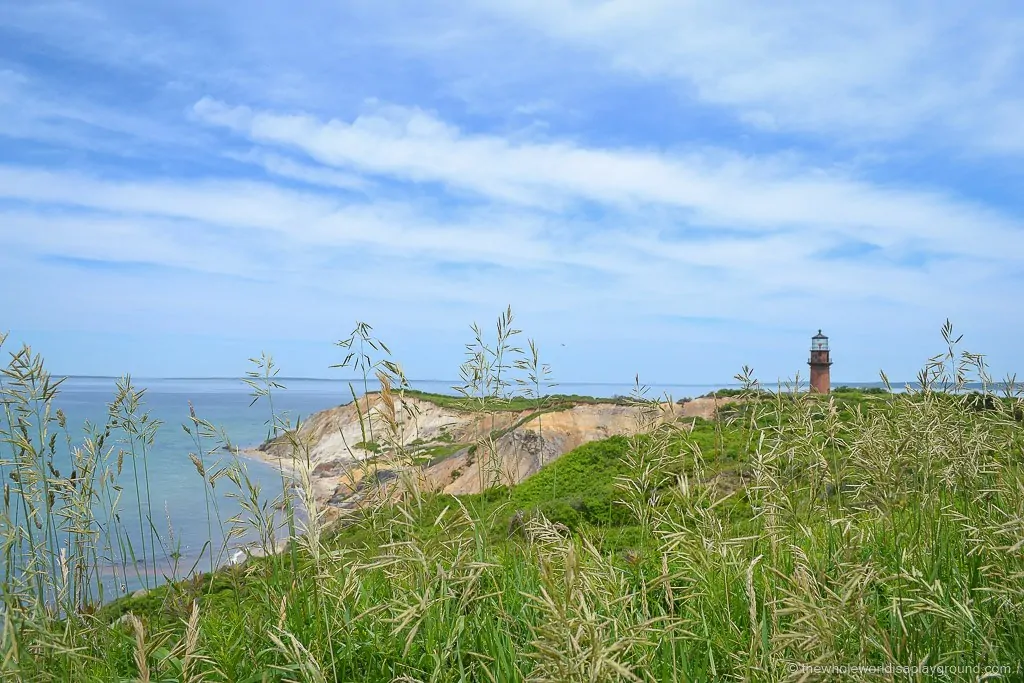 Jaws!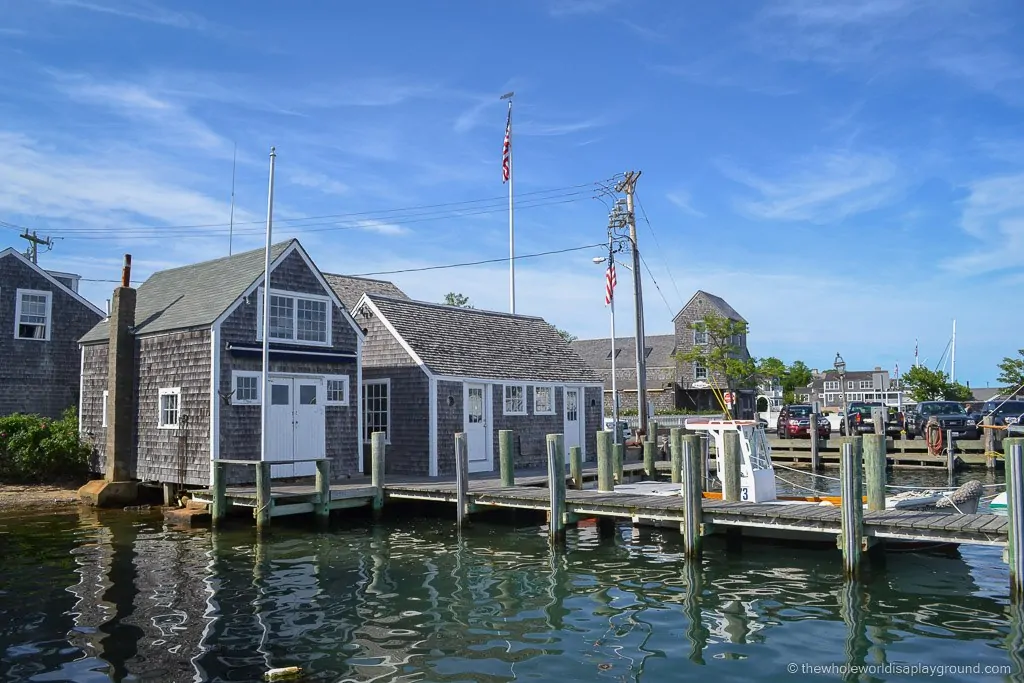 5 | The Beach: Fire Island
New York is surrounded by water so it's to be expected that there are lots of awesome beaches in the neighbouring area. Sandy Hook, Coney Island and the Jersey Shore are three excellent options but all the cool kids (i.e. us!!) hit up Fire Island for those memorable long summer days. There's no cars or roads on Fire Island and the beaches are gorgeous. Bliss!
How to do a day trip to Fire Island from New York: Take the LIRR from Penn Station in Manhattan to Bay Shore on Long Island and catch a cab or mini bus for the mile long journey to the marina to catch the ferry to Fire Island.  The journey takes around 90 minutes each way.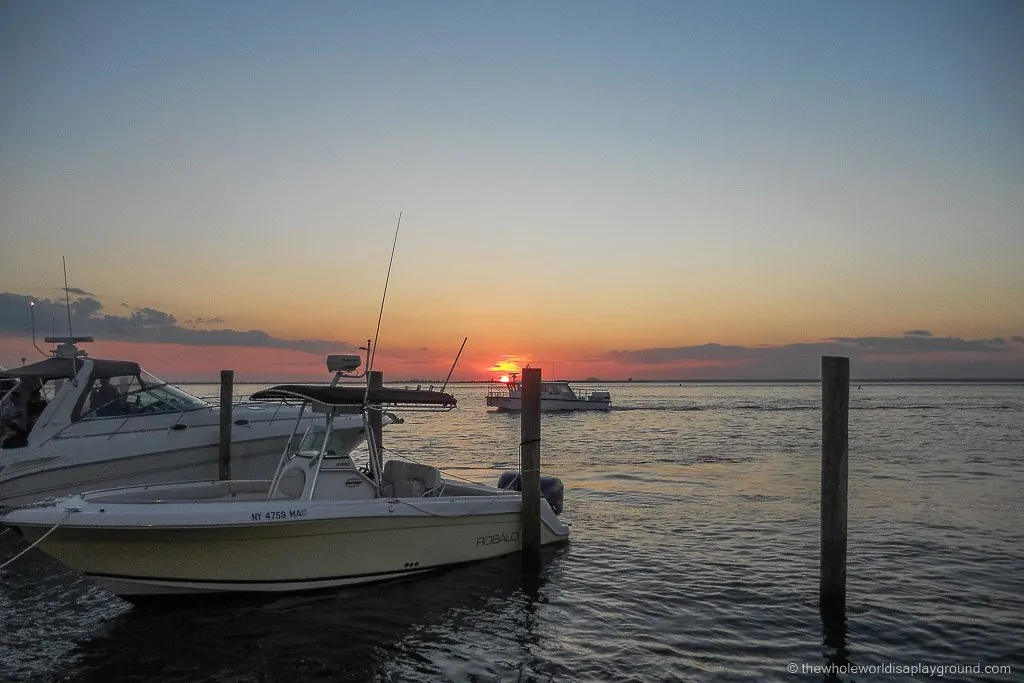 6 | The Casino Boardwalk: Atlantic City
Vegas is a step too far for a day trip so in New York we flock to Atlantic City when we want to play hard, party hard and enjoy some fresh seaside air! The boardwalk is charming with its carnival style amusements and great food options and there's lots of opportunities for some Casino hopping fun when you fancy a flutter. It's also the perfect spot to indulge in some people watching and you're bound to see some weird and wonderful things in Atlantic City!
How to do a day trip to Atlantic City from New York: Buses leave frequently from the Port Authority and take about 2.5 hours to reach Atlantic City.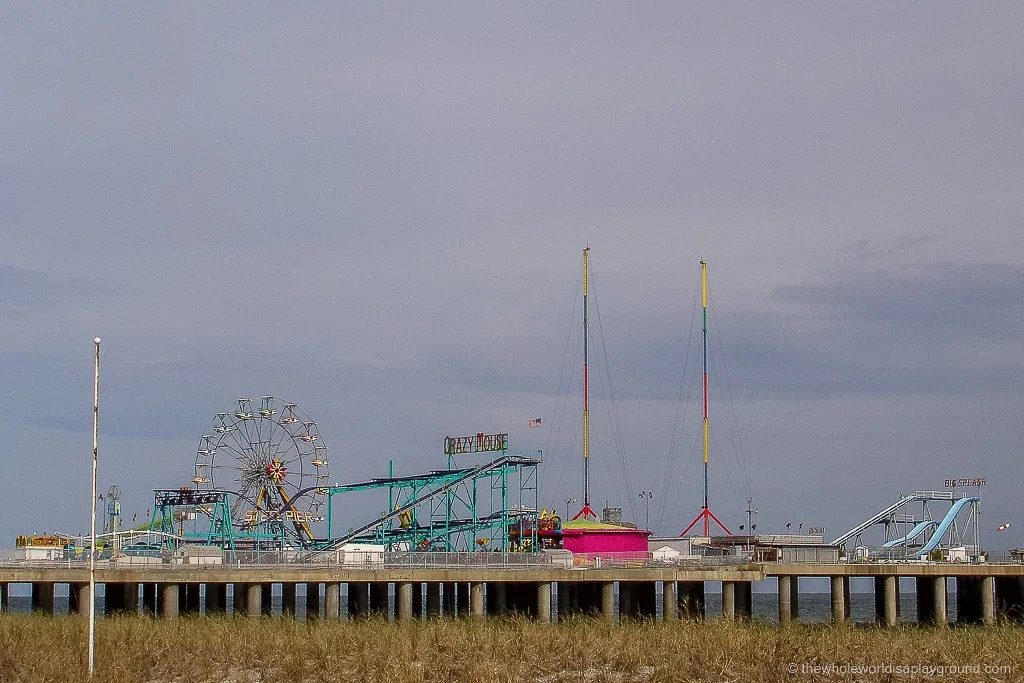 7 | The Theme Park: Six Flags Great Adventure
We're absolute thrill seekers at heart and a theme park full to the brim with rollercoasters is our idea of an awesome day out! Six Flags in New Jersey is a 90 minute jaunt from the city and an afternoon of screaming, laughter and more screaming is guaranteed. I'm not sure I've gotten over the shock of the awesomeness of riding Kingda Ka, the world's tallest and second fastest rollercoaster, three times in a row!
How to do a day trip from New York to Six Flags: New Jersey Transit run weekend buses to Six Flags from New York's Port Authority on 34th and 8th and have package options with tickets included. We usually opt for a Fast Pass in the park to minimise queuing  and maximise roller coaster time!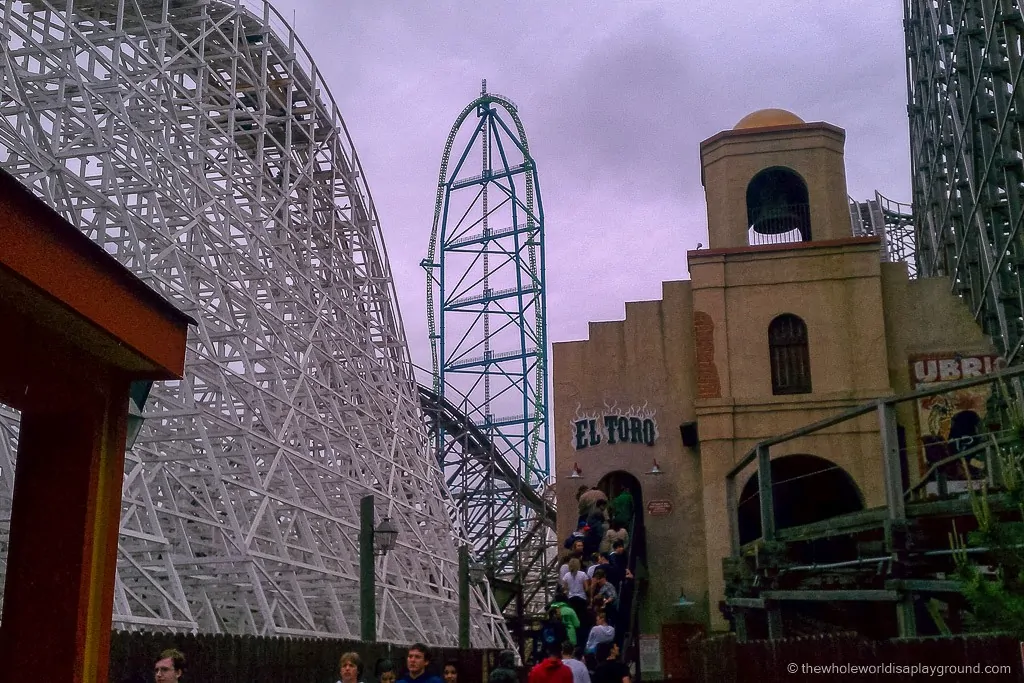 8 | The Historical City: Philadelphia
Philadelphia is an awesome city with incredible food options, an abundance of history and, drumroll please, the Rocky steps in front of the Museum of Art! We finished an 11 mile run in the city with a scene straight from the movie and we still giggle at the memory. Other famous landmarks include the Liberty Bell at Independence Hall. One of our favourites! Check out day trips here!
How to do a day trip from New York to Philadelphia: it's a 90 minute train journey trains from Penn Station in Manhattan to Philadelphia and there's a number of bus options taking around 2 hours and 30 minutes each way.
Click here to book a day trip to Philadelphia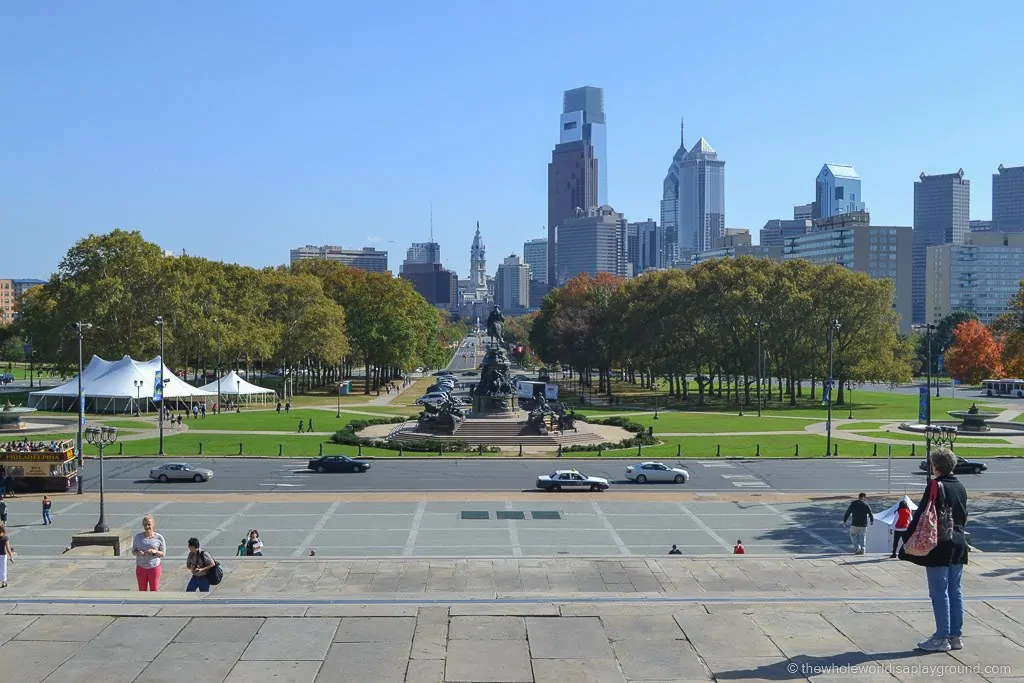 9 |The Outlet Shops: Woodbury Common
Because there's not enough shops in Manhattan, right?! Woodbury Common is a shopper's paradise with hundreds of brand names at heavily discounted prices. It's huge, often crazy busy and always exhausting but we're guaranteed to return to the city with enough work clothes and sports gear to last us for a long, long time! Check out Woodbury Common trips here!
How to do a day trip from New York to Woodbury Common: with all the shopping bags we're bound to accumulate we prefer making the trip to Woodbury Common by car. It's a 90 minute drive and car rental options are in abundance in NYC. Various bus companies run trips from Manhattan if you prefer to sit back and relax for the journey.
Click here to book a day trip to Woodbury Common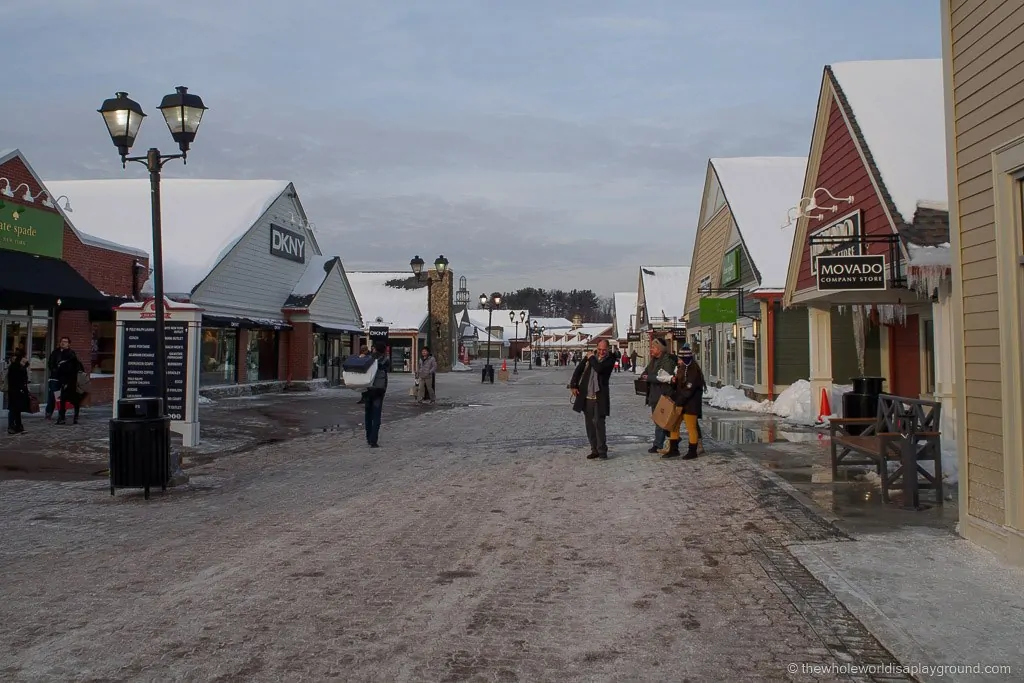 10 | The Walking City: Boston
Boston is an incredible city filled with history, colleges and beautiful neighbourhoods. Famous sights include Boston Common, the Freedom Trail and Fenway Park and the shop and tree lined Newbury Street is enchanting and endearing in equal measures. The city is also home to the world renowned Harvard University and an afternoon of people watching in Harvard Square is a real treat. Check out day trips here!
How to do a day trip from New York to Boston: trains from Penn Station in Manhattan take around 3 hours and 30 minutes to reach Back Bay in Boston. There's a variety of bus options servicing the city with a 4 hour journey time and many airlines offer direct flights from the various New York airports.
Click here to book a day trip to Boston
So there you have it, our 10 best day trips from New York City for when you only have a day to spare and, like us, are crazy wanderlusters who want to see everything near and far! Some of these day trips are also awesome two day or weekend trips from the city with the added bonus of an extra day to explore!
PIN IT: Save this article for future travels!