With its dramatic coastline, colourful streets and stunning unsets Cape Town is an Instagram dream and there are some incredible Instagram shots to We've put together this list of our favourite Instagram worthy spots in Cape Town to help you find some of the most photogenic and Instagrammable locations in the city. From dawn hikes to retro beach huts, we hope you have as much fun as we did visiting some of the best Instagram spots in Cape Town!
1 | Bo-Kaap
The colourful houses of Bo Kaap in the Malay Quarter draw lots of visitors and Instagrammers in search of the rainbow coloured backdrop of one of the oldest residental neighbourhoods in Cape Town. The multi-coloured houses dotted around the cobbled streets of Bo Kaap area are really unique against the stunning backdrop of Table Mountain.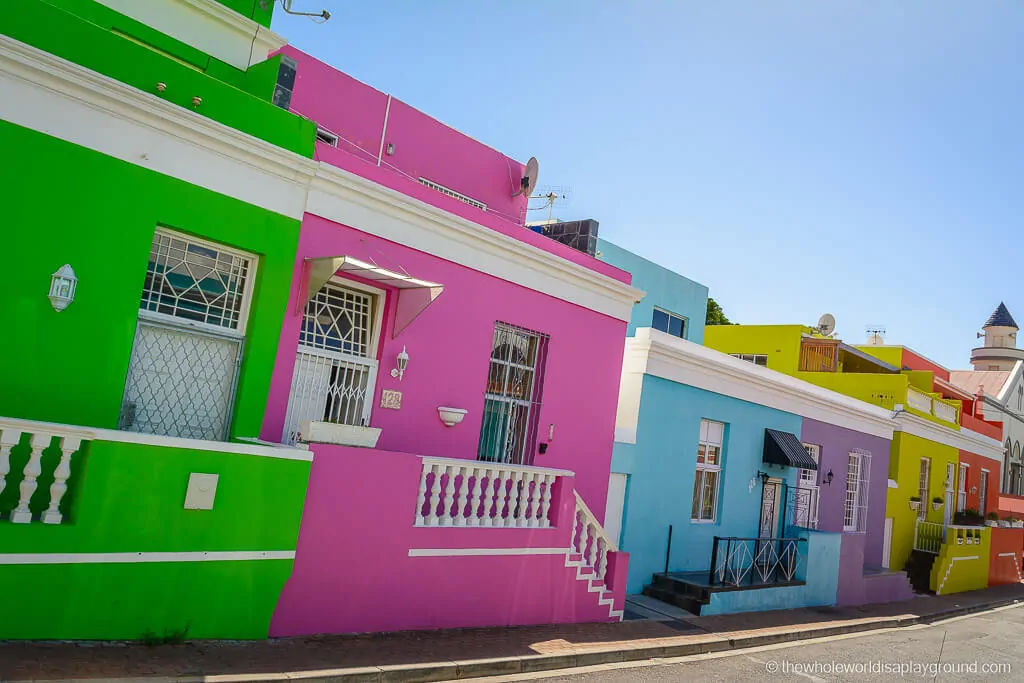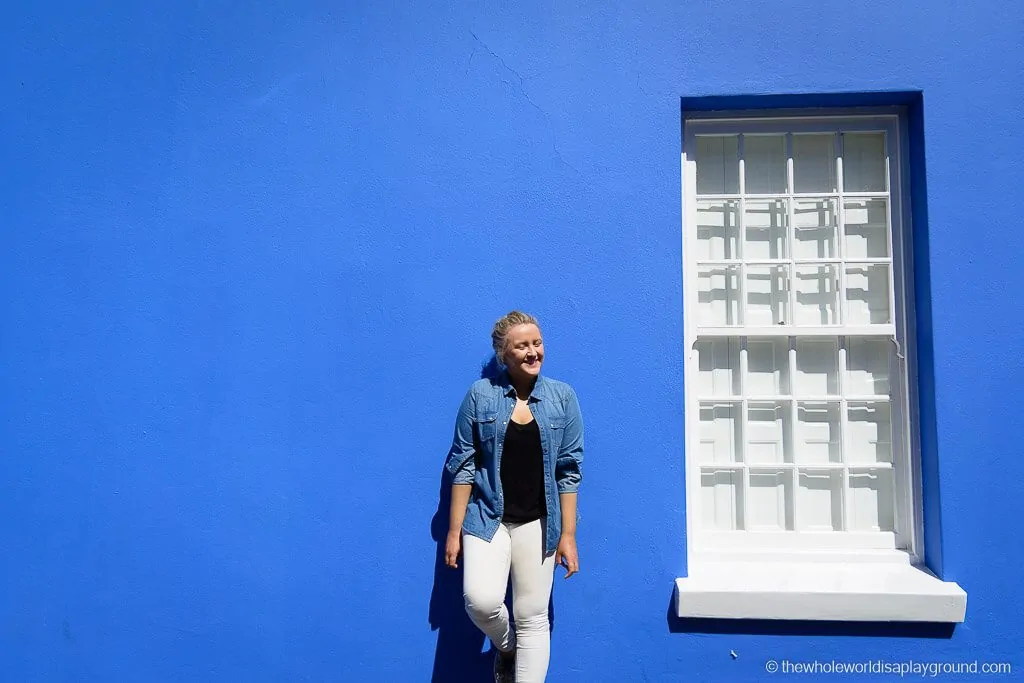 2 | Kloof Corner
Kloof Corner is a super easy 30 minute hike which will reward with one of the best spots to get shots of Lion's Head and Camps Bay as well as the highly sought after rocky ledges (be careful where you step) which make for epic Instagram shots! Kloof Corner is accessed via a stepped gravel path and is one of our favourite viewpoints in Cape Town.
Cape Town best Instagram spots tip: as will all the best Instagram stops that involve hikes and ledges please be careful and mind your step! Instagram photos are not worth an injury.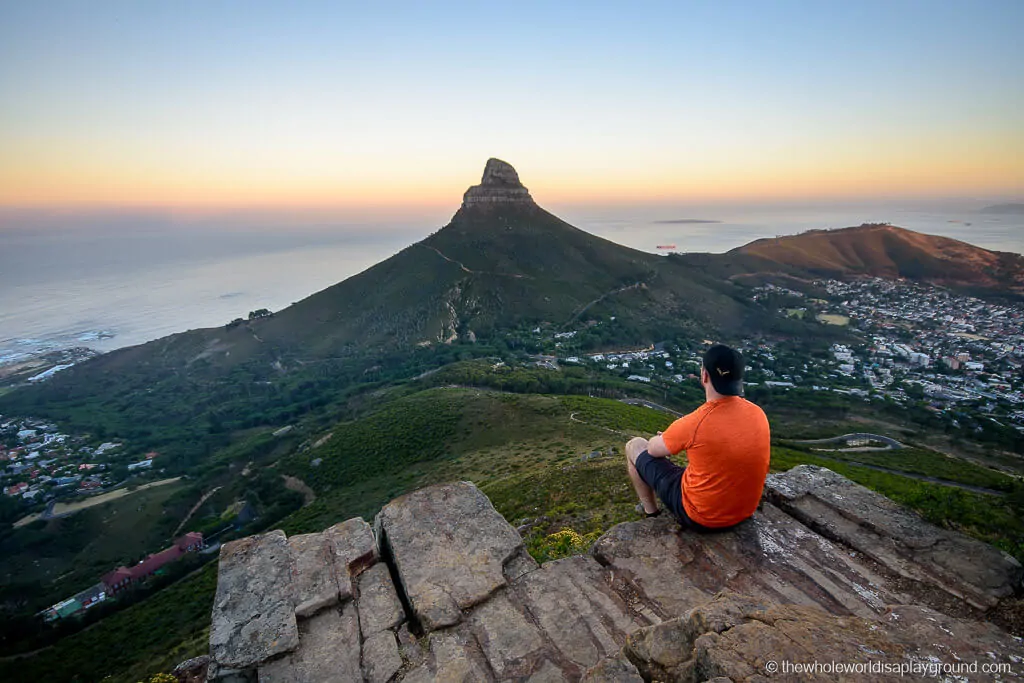 3 | Muizenberg Beach
Colourful? Check! Retro beach huts? Check! Vast blue ocean and pristine white sands sands? Check! Muizenberg is undoubtably one Cape Town's best beaches but it's also home to the iconic colourful beach huts which adorn it's sands and give a retro feel to images. Muizenberg is an Instagram dream!
Cape Town best Instagram spots tip: Muizenberg is a super popular Cape Town beach. Visit early or late to capture the beach huts without crowds.

4 | Lion's Head
No visit to Cape Town is complete without a hike up Lion's Head and there are some amazing Instagram spots dotted along the trail. bLion's Head is one of the most iconic Cape Town landmarks and its spectacular Table Mountain views make a Lion's Head hike an essential addition to any Cape Town itinerary! It's an awesome spot to enjoy a Cape Town sun downer with magnificent views of Table Mountain, Camp's Bay and the Ocean.
Cape Town best Instagram spots tip: Lion's Head is a fun but sometimes challenging hike especially towards the top when some of the routes require navigating chains and ladders. Make sure to leave before it gets completely dark as the route back to the main hiking path would not be fun in the dark, especially if you don't know the way well and don't have a torch.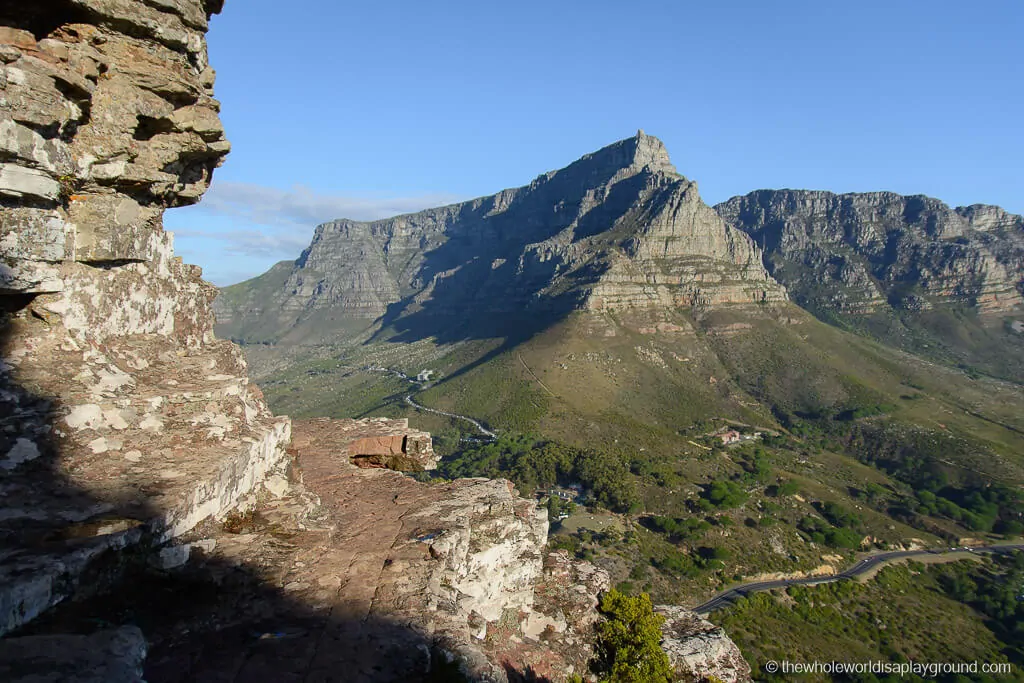 5 | Wally's Cave
There are a number of hidden caves on Lion's Head which have spectacular views of Table Mountain and make for great Instagram images. Wally's Cave was our favourite and has a perfect view of Table Mountain – plus there's opportunities for some awesome Instagram poses!
2019 update: the route to Wally's Cave is now closed due to erosion and safety issues. Please respect the rules indicated by the signage along the hike.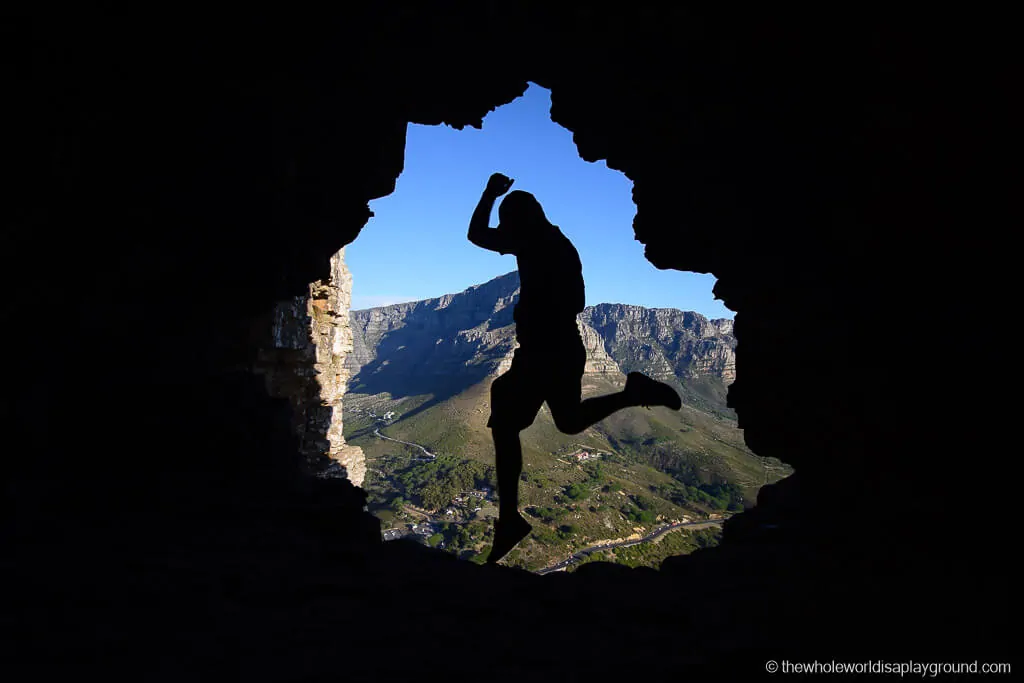 6 | Woodstock Street Art
Woodstock is a hip and gritty Cape Town neighbourhood where the tiny side streets hide colourful murals and fascinating street art. From wild animals to cartoon heroes you can take your pick of Instagrammable street art in Woodstock!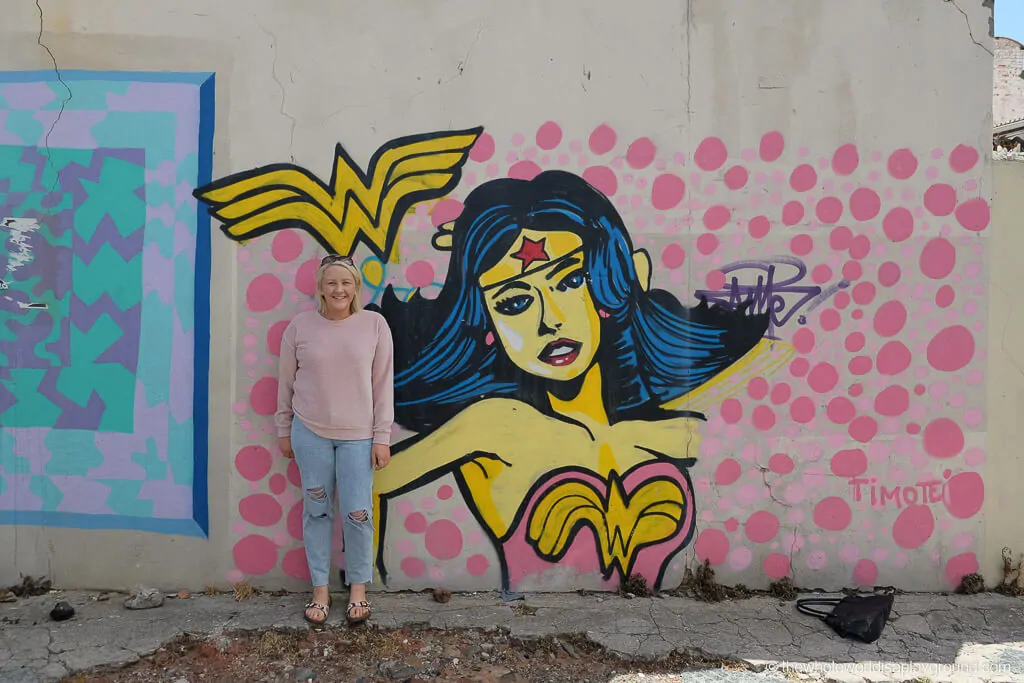 7 | Boulder's Beach
Cape Town's beaches are extremely photogenic but Boulder's Beach is extra special as it is home to one of the largest African Penguin colonies in the world. Turquoise water, white sands, dramatic boulders and thousands of cute penguins – Instagram perfection!
Cape Town best Instagram spots tips: Boulder's Beach has two parts, a boardwalk overlooking the penguin filled beach and a popular Cape Town alcove beach. The best opportunity to get close to the penguins is on the beach itself but please remain respectful to the penguins at all times.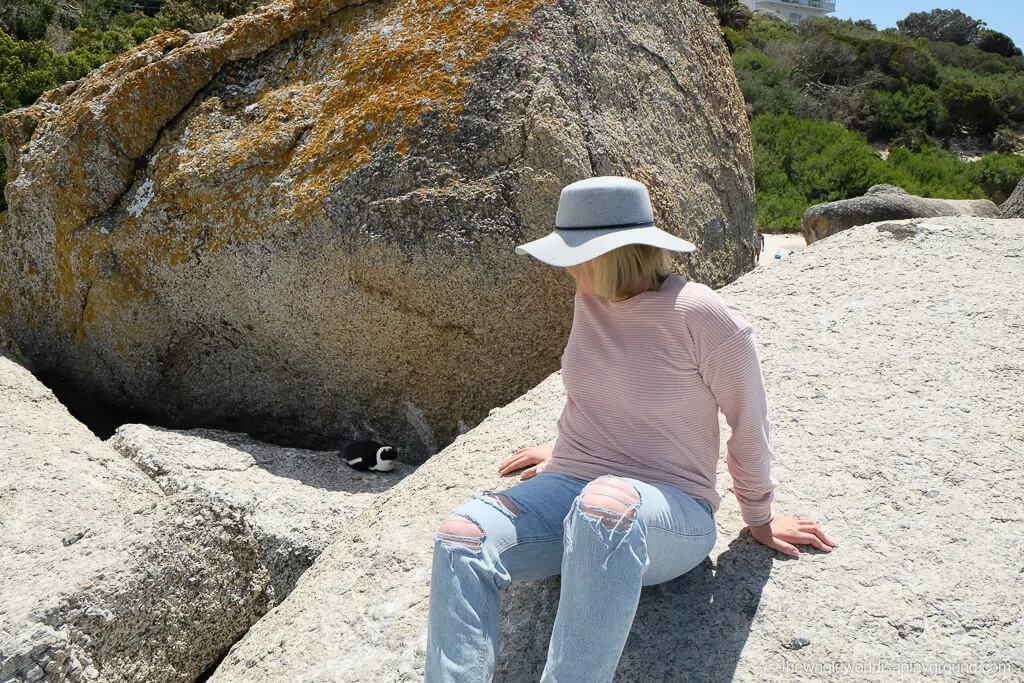 8 | Chapman's Peak Drive
Chapman's Peak is one of the most beautiful drives on the Western Cape, the ocean views are beautiful along the entire route but the best are from Chapman's Point, the highest point of the drive!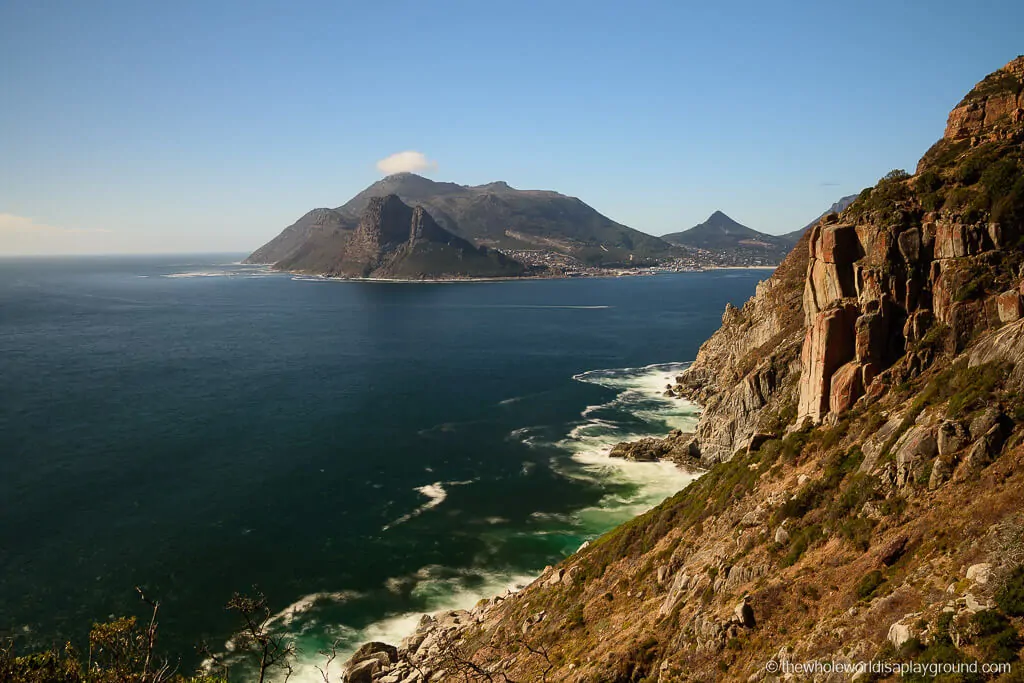 9 | Table Mountain
The iconic Table Mountain is synonymous with Cape Town and #tablemountain is one of the city's most used hastags on Instagram. It's an incredible backdrop to any Cape Town pic and the photos from its summit are also worthy of a spot on any Instagram feed.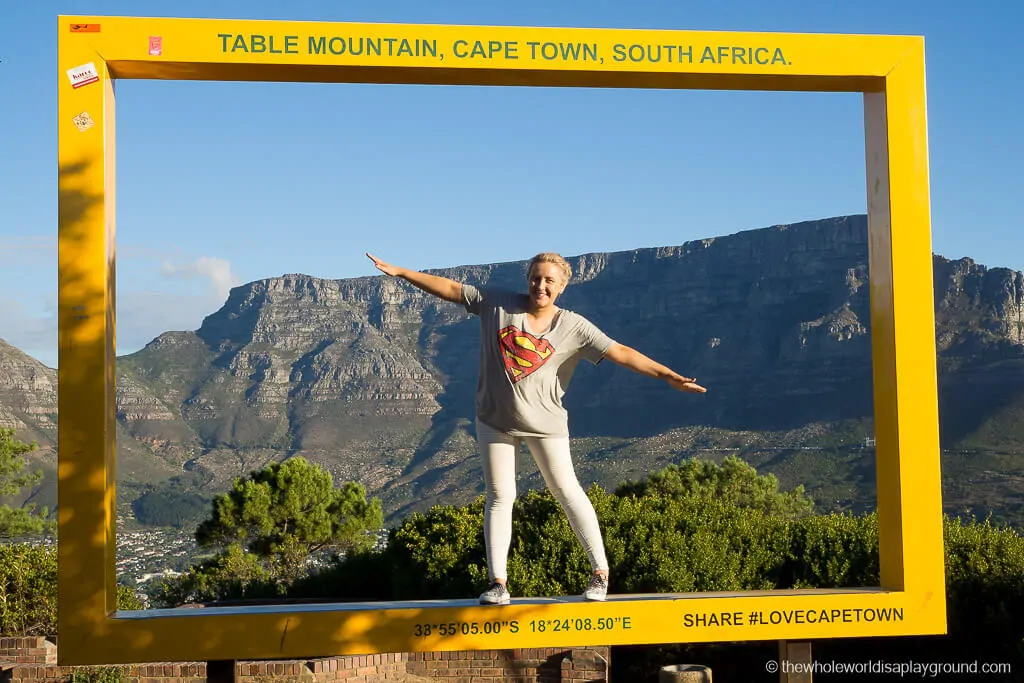 10 | Maiden Cove Tidal Pools
Located between Clifton and Camps Bay beaches Maiden's Cove Tidal Pool is the perfect spot to capture Instagram worthy spots against the backdrop of the Twelve Apostles.
Cape Town best Instagram spots tip: The tidal pools are an Instagram dream on a calm day when the waters of the tidal pool are still and perfectly reflect the incredible backdrop.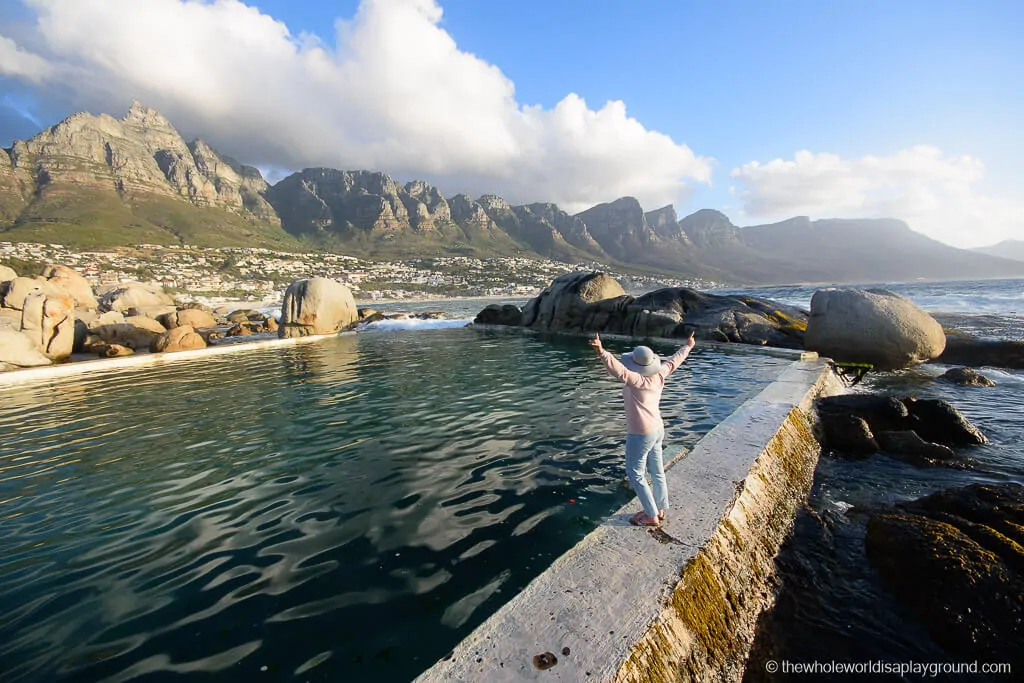 11 | The Yellow Photo Frames
The giant yellow photo frames dotted around Cape Town are synonymous with the city and are located to perfectly frame the spectacular Table Mountain. They offer some fun Instagram opportunities! Keep a look out for the frames at Signal Hill, V&A Waterfront and in the car park of Charly's Bakery, another of our favourite Instagram spots.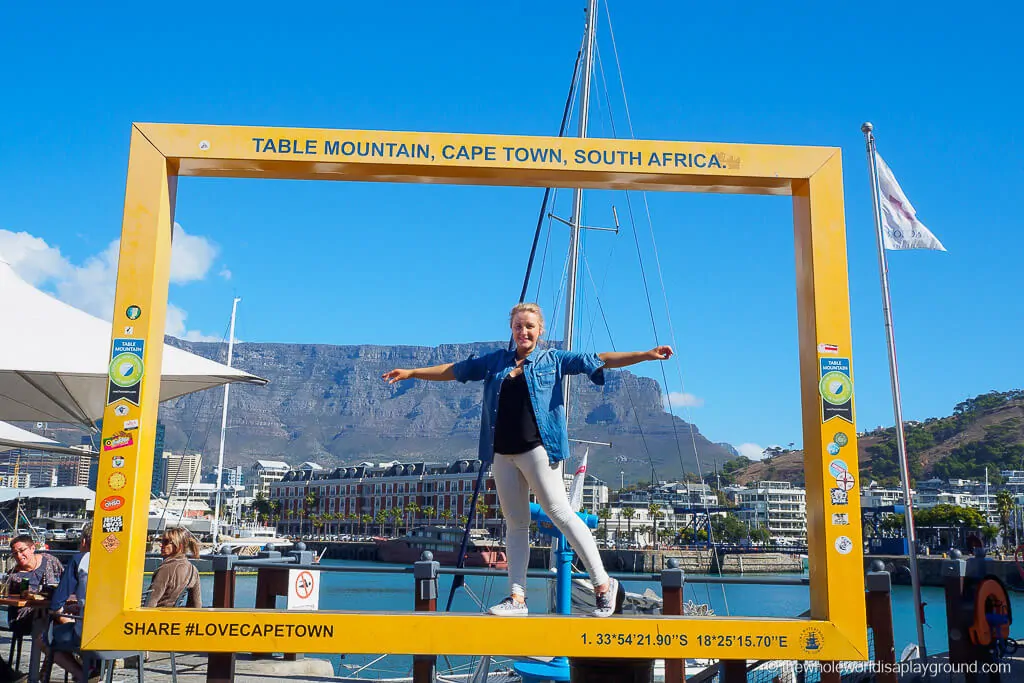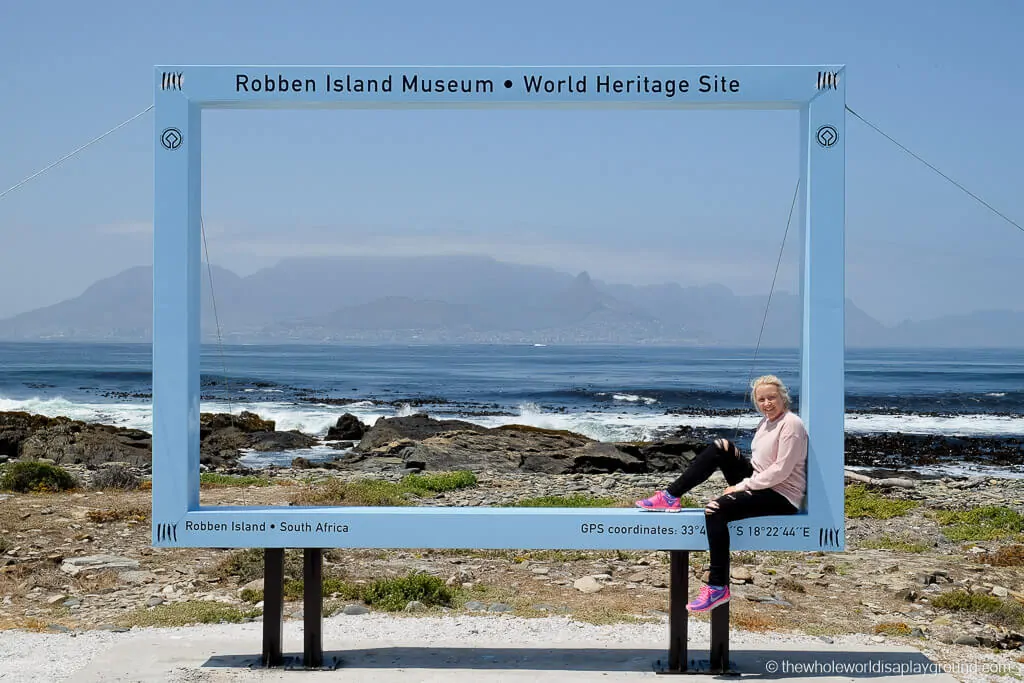 12 | Bloubergstrand
Bloubergstrand is a seaside area 20 minutes north of Cape Town and the views back to the city are incredible. It's possible to capture some beautiful images of the iconic Cape Town peaks of Table Mountain and Lions Head with the waves crashing against the rocks in the foreground.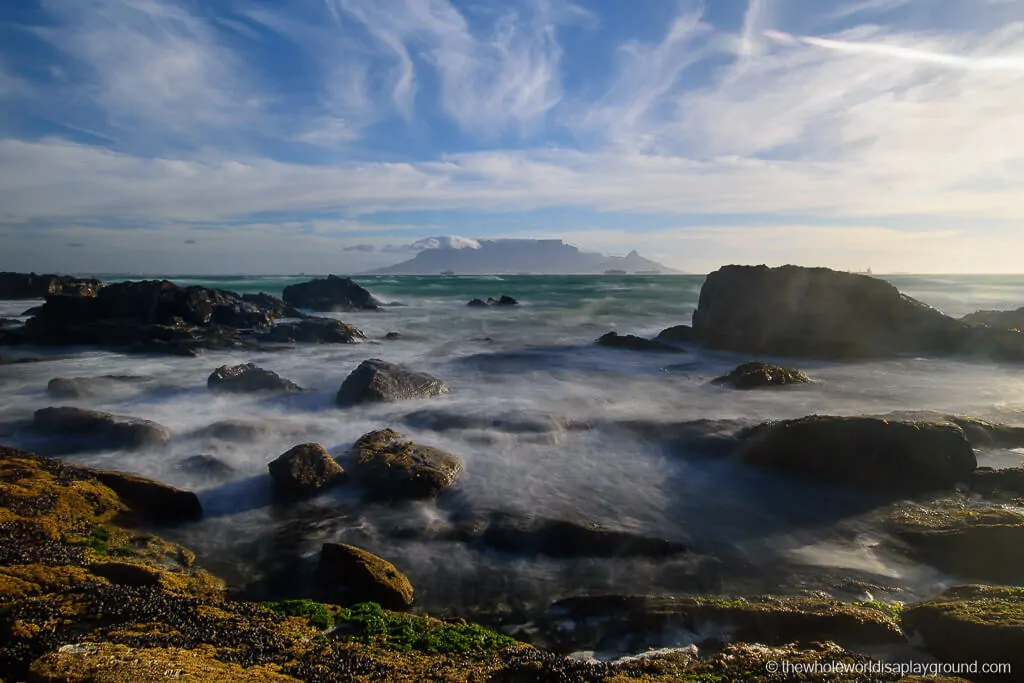 13 | Old Biscuit Mill
The Old Biscuit Mill is the setting for an unmissable Saturday morning food market but it's the angel wings street art on one of its walls which got our Instagram heart beating!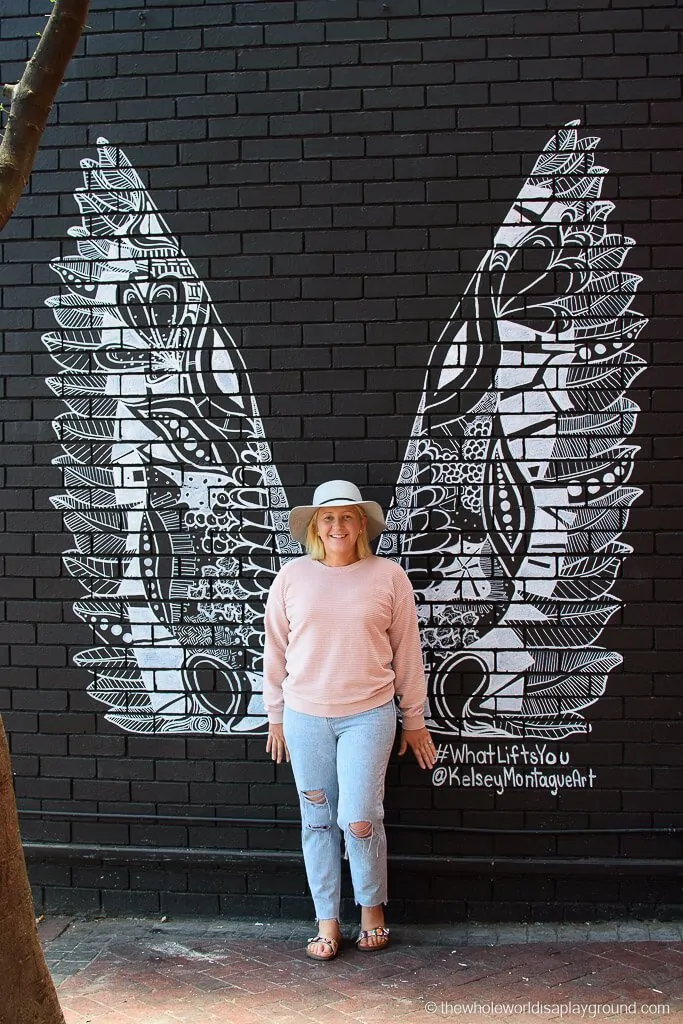 14 | Charly's Bakery
Charly's Bakery produces quirky, fun and beautifully decorated cakes and biscuits and its shelves are filled with sweet treats adorned with colofurful icing and Instagram worthy slogans.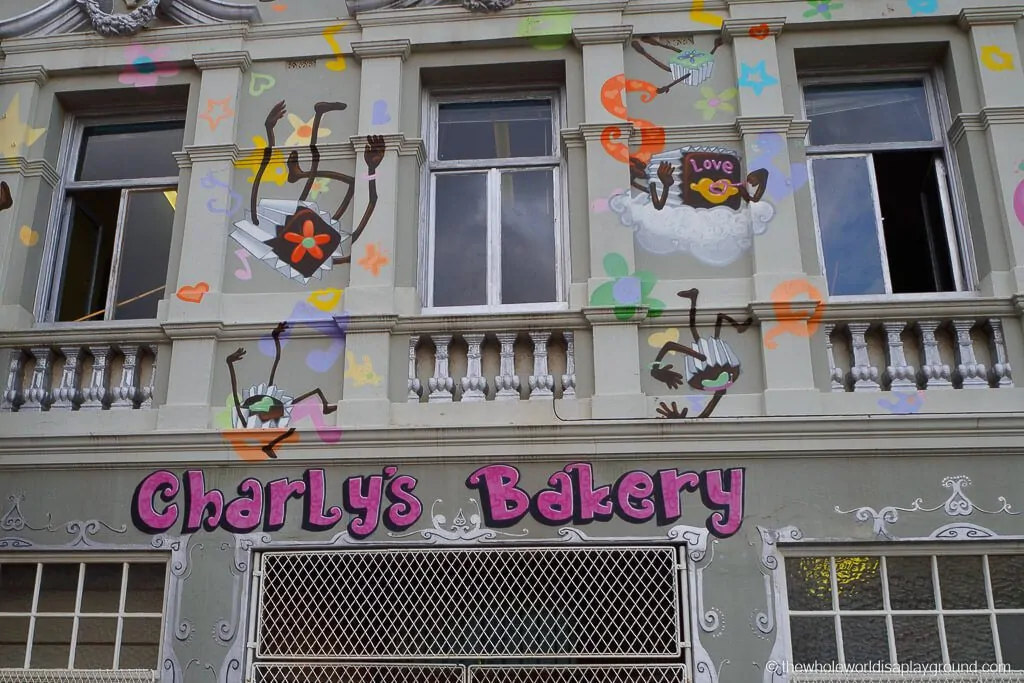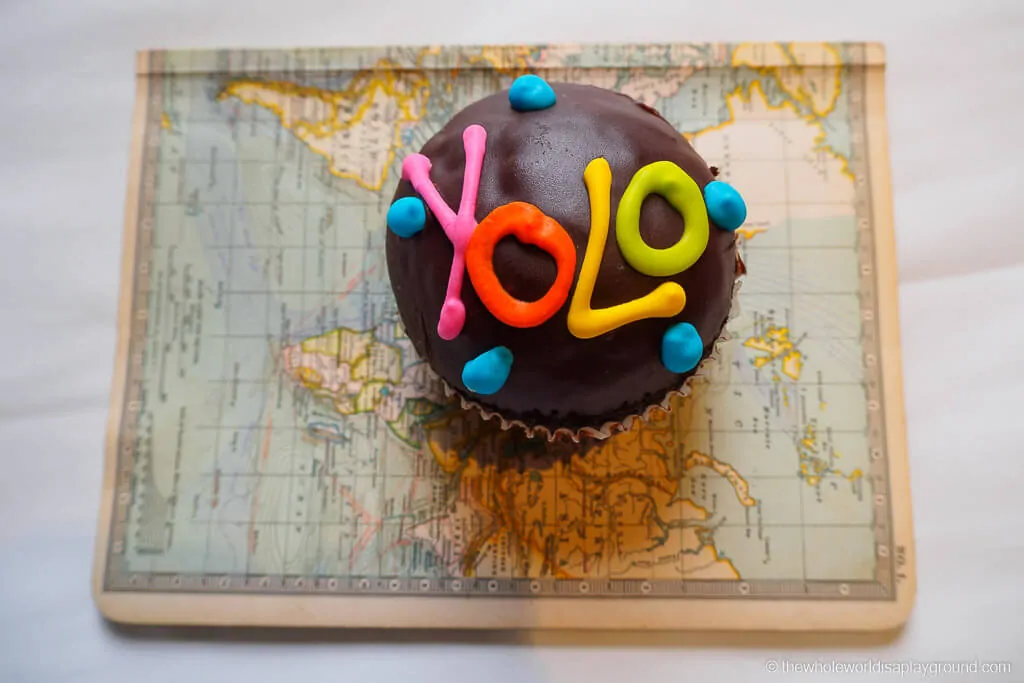 15 | Signal Hill
Cape Town boasts other wordly sunsets and Signal Hill is one of the best spots for capturing the sun going down on another Cape Town day. Instagrammers are abundant on the crowded hill top but its still possible to find some amazing vantage points for a sundowner Instagram shot.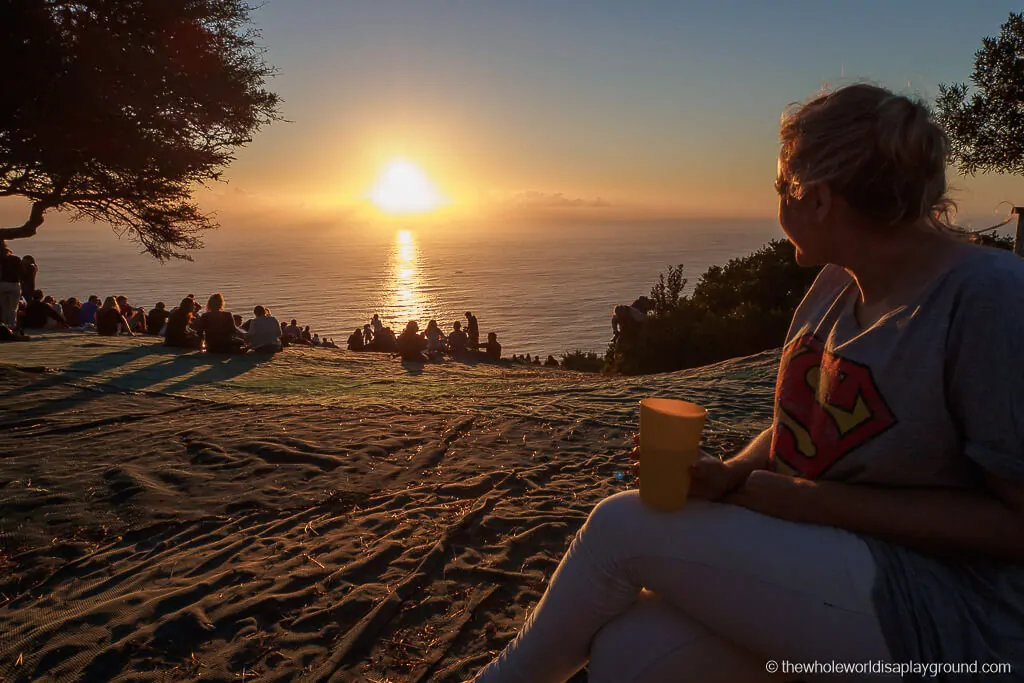 16 | Kirstenbosch
Nestled at the base of the Table Mountain, Kirstenbosch is one of the great botanical gardens of the world and is also part of the UNESCO World Heritage Cape Floral Region. The scenery varies depending on the time of year and what's in bloom but our favourite spot is the Centenary Tree Canopy Walkway.