With the iconic Shibuya Crossing at its center and the endless food, drinks and shopping options there are lots of fun and quirky things to do in Shibuya. An entertainment mecca, Shibuya is always heaving with Tokyo's fashionable youth, workers from the surrounding offices and tourists keen to experience the neon lights and crowded streets that Tokyo is famous for. We've had a lot of fun exploring its streets and entertainment and have put together our guide to the 13 best things to do in Shibuya!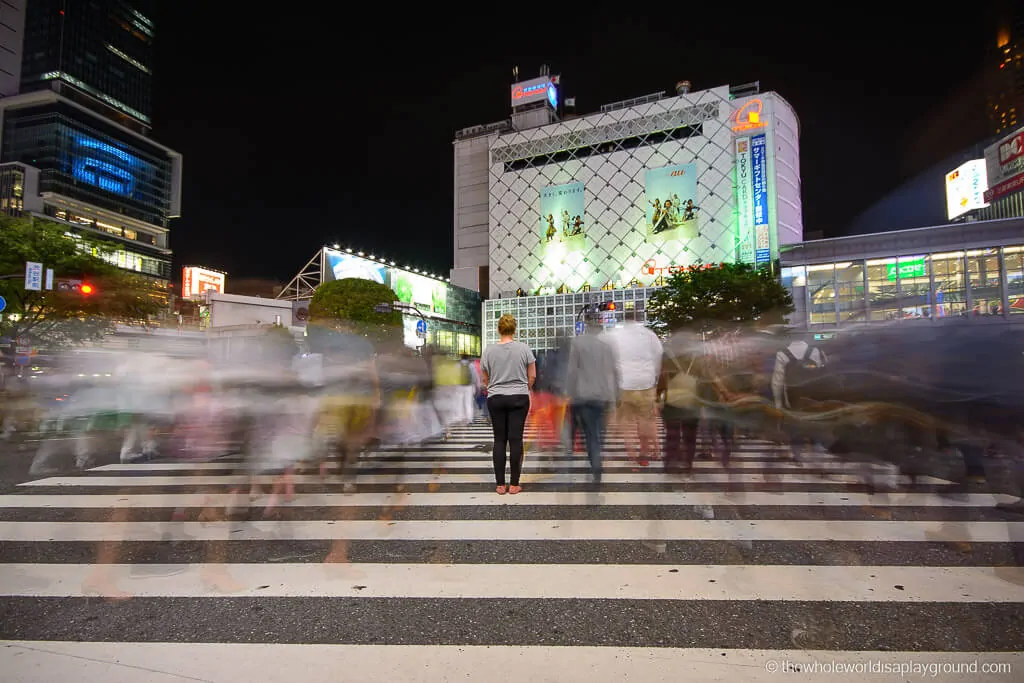 Tokyo Essentials
Where to stay in Tokyo
Mitsui Garden Hotel Koyobashi: close to both Tokyo Station and Koyobashi Metro Station, this is a great base for exploring the city – check prices here!
Shibuya Excel Hotel, Tokyu: close to Shibuya Station the hotel's 25th-floor restaurant level offers the best views of Shibuya and the location is excellent for exploring the city – check prices here!
Keio Plaza Hotel: a 5 minute walk from Shinjuku Station, Keio Plaza has comfortable rooms and awesome views of Shinjuku – check prices here!
Click here for the best Tokyo hotel prices
Sim Cards and Internet
One of the best investments for a Japan trip is a sim card or 4G hotspot for internet access while on the go. A sim card is perfect if you just have your phone while 4G hotspots are great if you have multiple devices or if you're travelling in a group.
We used the Klook app to order our sim cards. The app is great as you can order in advance, pick up on arrival or from various departure cities and the price is usually discounted.
Click here to order your sim card or 4G hotspot now
Tokyo Transport
From Narita airport take either:
Depending on the duration of your stay, a 24, 48 or 72 hour subway pass is invaluable for navigating Tokyo. We saved so much money using our 3 day subway pass. The passes can be picked up at one of the designated arrival airports in Japan and work for unlimited rides on Tokyo Metro and Toei Subway lines – check prices now!
Click here to order your Tokyo subway pass
Things to do in Shibuya tip: After we'd used our unlimited passes we switched to a rechargeable Suica or a Pasmo card. The cards are swiped at the ticket barriers to pay for the train fare instead of buying individual tickets for each train ride and are quicker and more convenient than individual journey tickets –check prices now!
13 Best Things to do in Shibuya
From the iconic Shibuya Crossing to the famous Tokyo maid cafes, here our guide to the 13 best things to do in Shibuya.
1 | Shibuya Crossing
Many visitors are drawn to Shibuya to experience Shibuya Crossing, the iconic Tokyo intersection with a maze of pedestrian crossings. With 3,000 people crossing at peak times, Shibuya Crossing is amazing sight to behold.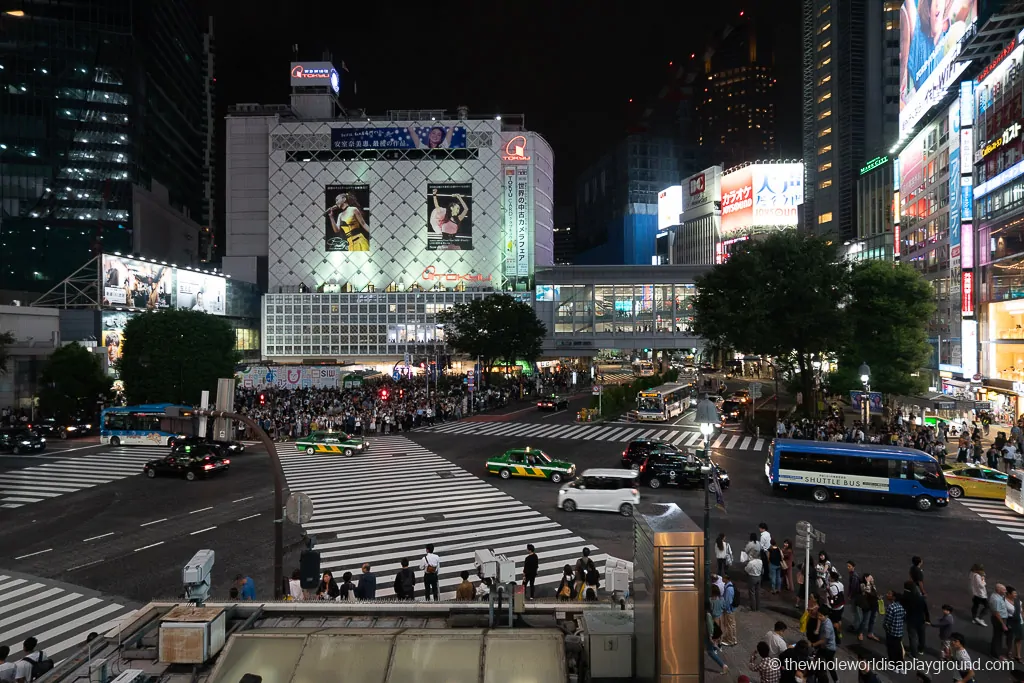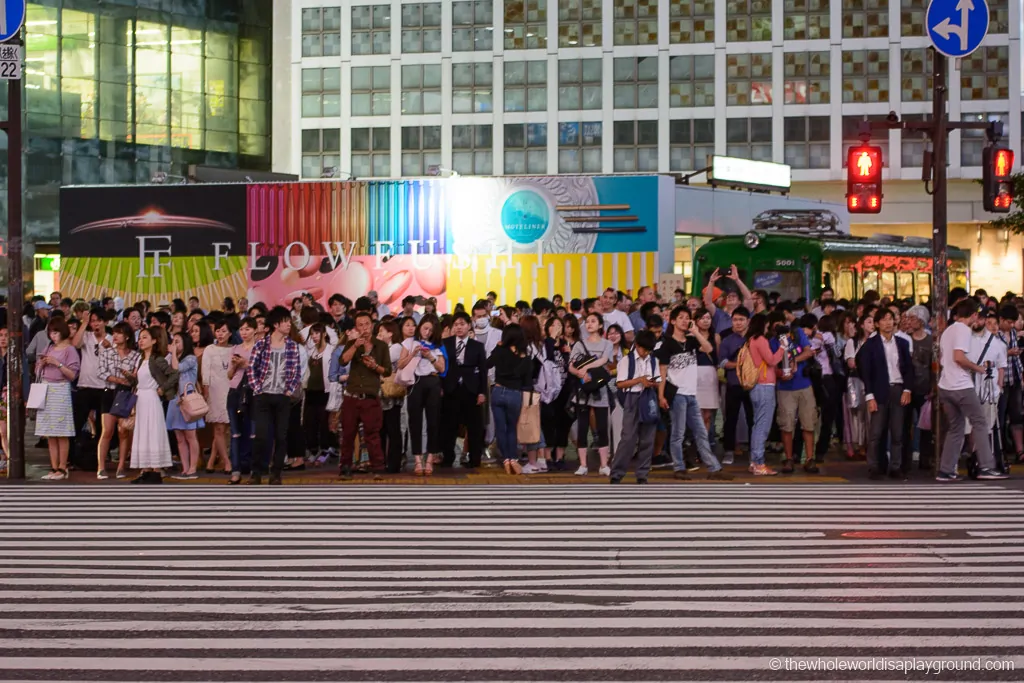 Zigzagging across the intersection with thousands of other pedestrians is an amazing experience.
Things to do in Shibuya tip: Shibuya Crossing is amazing at night, when the intersection comes alive with neon lights, traffic and crowds!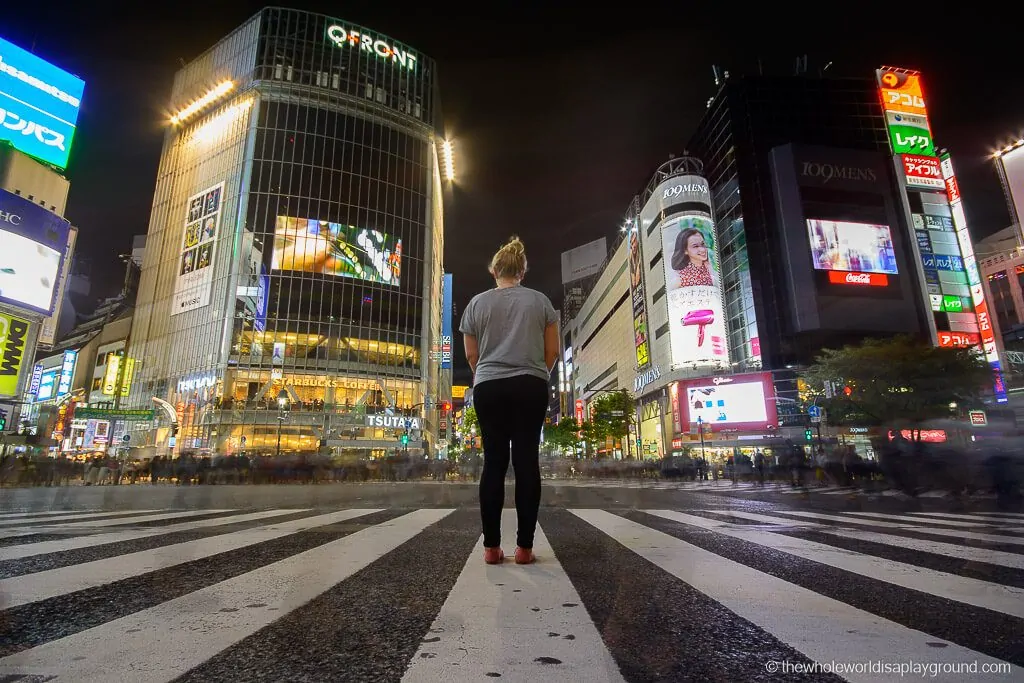 2 | Shibuya Crossing from above
Watching the crowds is a truly unique experience and there are a few places to catch a fantastic view of Shibuya crossing.
The Starbucks Shibuya Tsutaya is no ordinary Starbucks! It is one of the best spots for a birds eye view of the action at Shibuya Crossing. Grab an iced-coffee or a snack at the ground floor of the cafe and make a beeline for a window seat on the first floor for one of the best views of the crossing.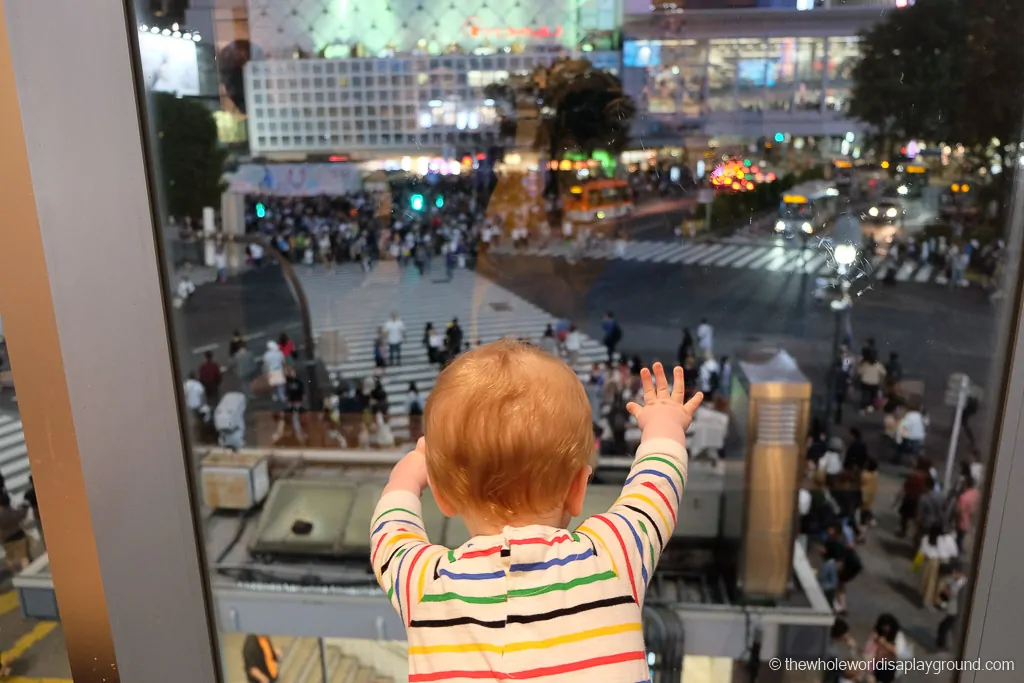 On the west side of the crossing, the 3rd floor cafe of the flagship L'Occitane store also offers great views. A host allocates seating in the cafe resulting in a more relaxed atmosphere and the flavored iced teas are a real treat.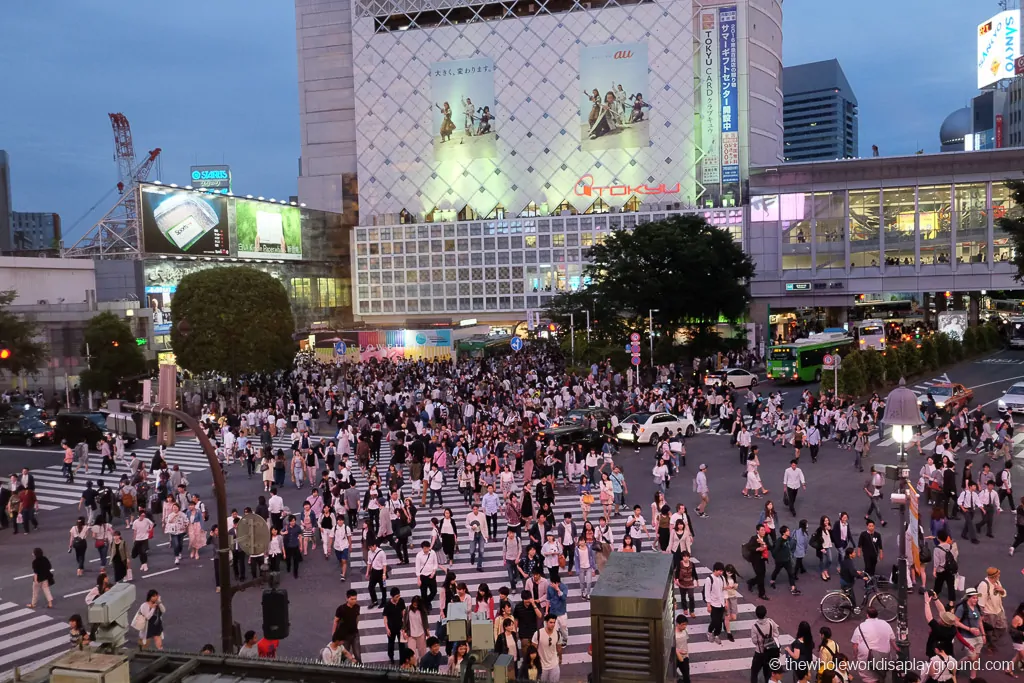 Things to do in Shibuya tip: The Shibuya Starbucks gets really busy. It's a popular coffee stop as well as attracting Shibuya sightseers eager to experience its incredible views. Make sure to budget some time to wait for one of the highly coveted and limited window seats as there's likely to be a queue.
3 | Maid Cafe
Maid Cafes are a bizarre, quirky and crazy Japanese tradition inspired the obsession with manga and anime and the Maidreamin Maid Cafe, is a must visit in Shibuya. Prepare for a cuteness overload as the maids, adorned with frilly maid costumes, do everything they can to make sure the masters and princesses (that's you!) have a fun time. They sing, they dance and make quirky characters in the food and drinks. Chances are, like us, you'll leave just as baffled as when you arrived! – check prices now!
Click here to for Maid Cafe tickets
Things to do in Tokyo tip: language isn't a problem at Maidreaming in Shibuya as some of the servers speak fluent English. Make sure to check the cafe rules before you visit as there are often set rules around interaction with maids and photography in the cafe.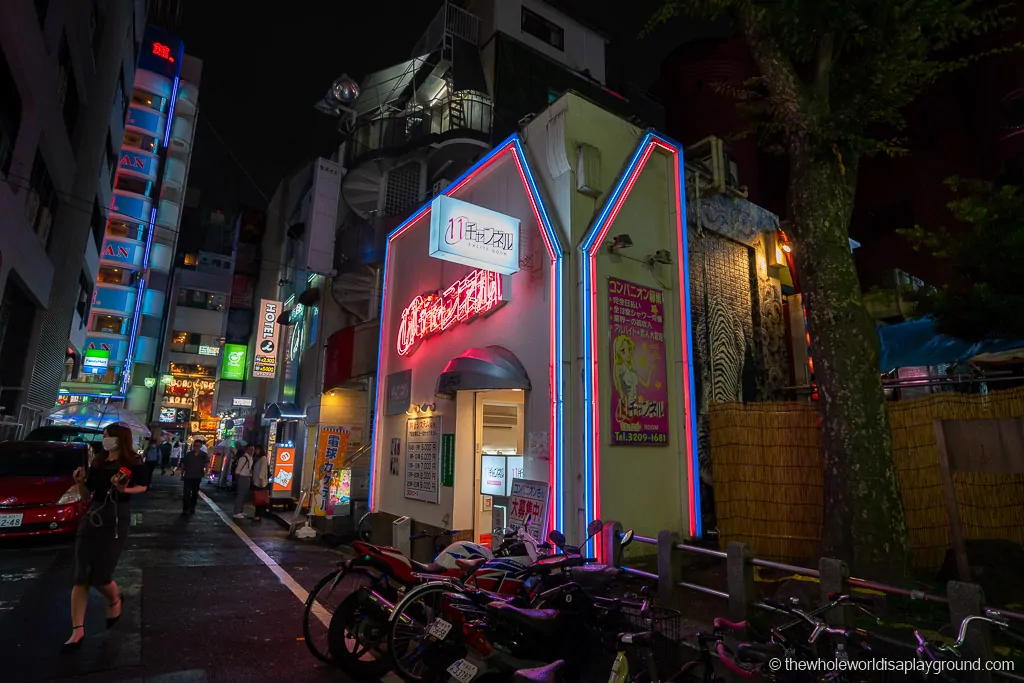 4 | Hachikō
The story of Hachikō the dog is one of the most beautiful tales we've come across on our travels. The ever loyal Hachikō would meet his owner at the Shibuya train station each day on his return from work. His owner Ueno passed away while at work and, for more than 9 years after his death, Hachikō continued to wait at the train station for his the owner. A statue was erected outside the Shibuya train station dedicated to the loyal and faithful Hachikō!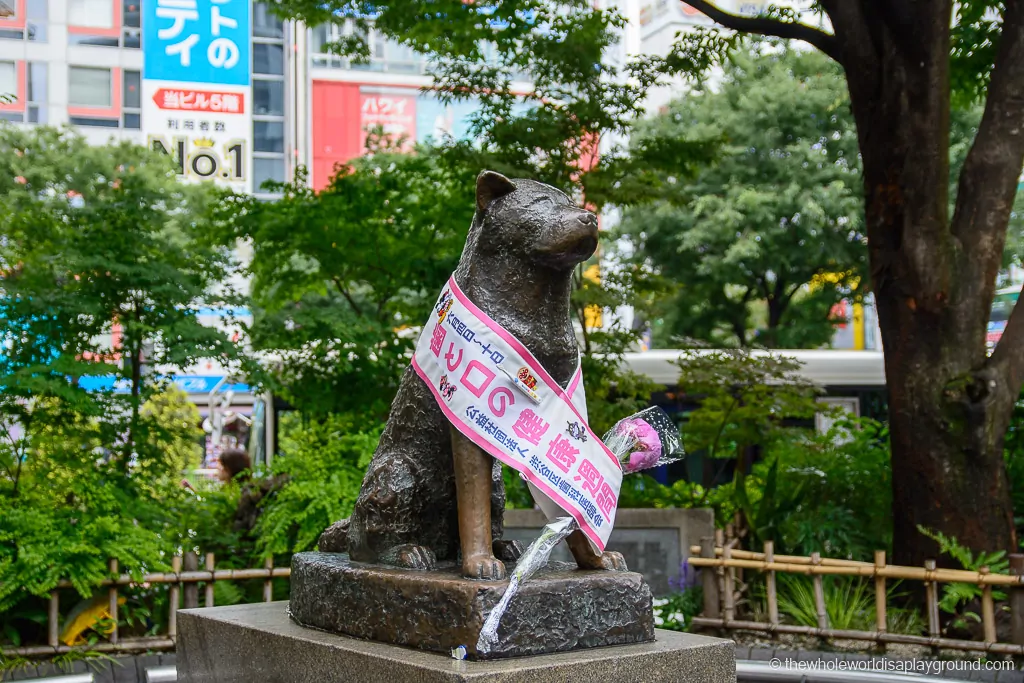 A wall mural, also in memory of Hachiko, depicting an extended family of Akita dogs is located close by.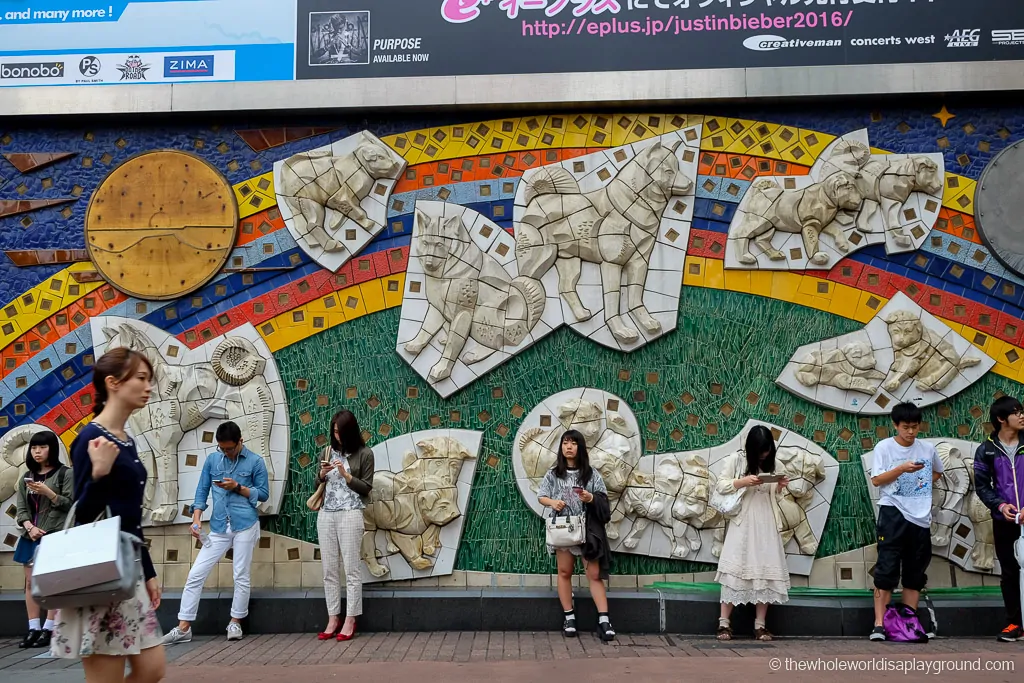 5 | Genki sushi
Genki Sushi is a popular Shibuya sushi spot due to a combination of affordable prices and the sushi train delivery! In Genki, orders are placed through a multi-language tablet and food is then sent directly to the table by conveyor belt. Unless you order drinks, you don't actually interact with the serving staff as everything happens automatically. It's quite a novelty and a fun place to visit!
Best things to do in Shibuya tip: Genki is well known for its salmon with green onion and chili oil dish and it tastes delicious!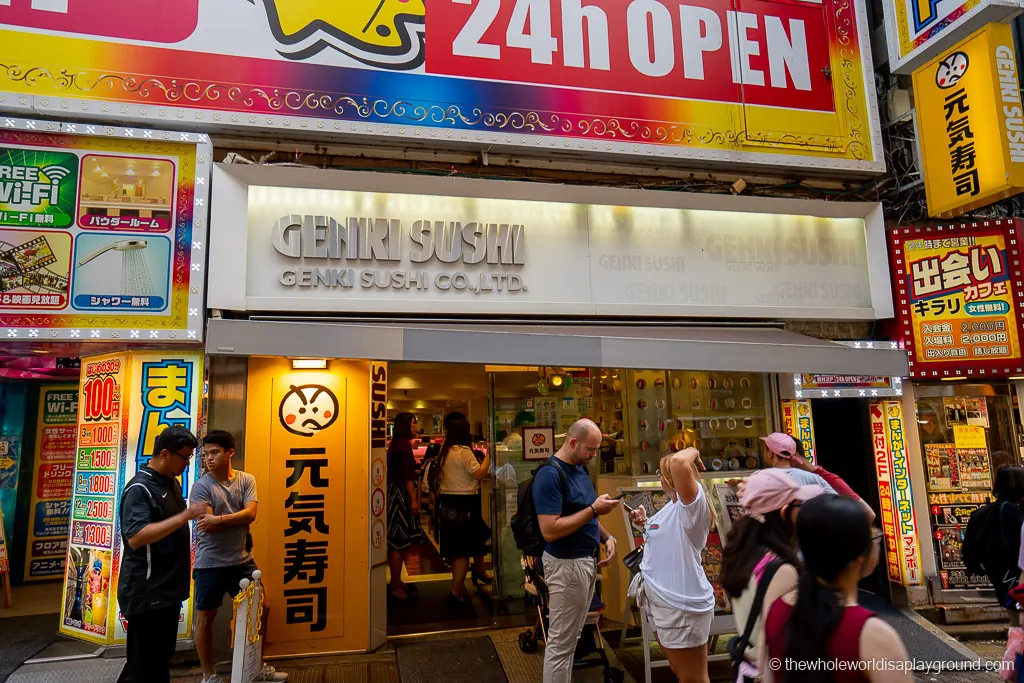 6 | Nonbei Yokocho, Drunkards' Alley
Similar to Shinjuku's Piss Alley, Nonbei Yokocho is a quiet lane filled with tiny bars running under a train track close to Shibuya Crossing. Drunkards' Alley is a favorite hangout of Japanese salary men and the atmosphere is dark and moody with lanterns lighting up the alley and yakitori smoke filling the air. It's a world away from the hustle and bustle of Shibuya's neon lights and a great place to spend an evening in Tokyo.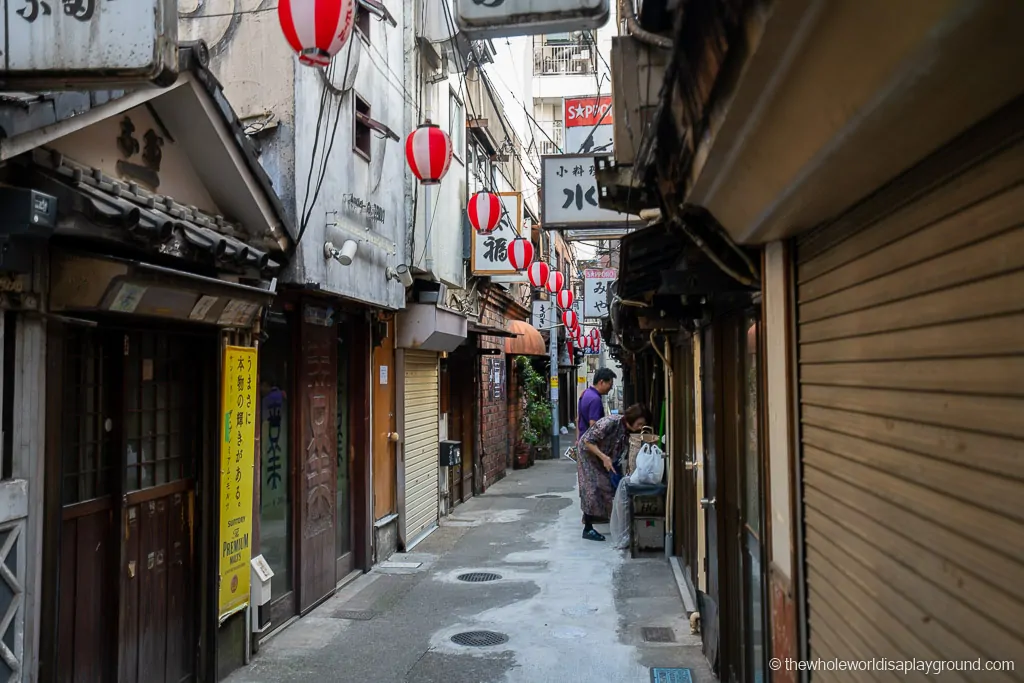 7 | Love Hotel Hill
A collection of Tokyo's famous love hotels are found on a hill in Shibuya known as Love Hotel Hill. The love hotels, where one can stay overnight or 'rest' for a few hours, were originally aimed at couples who want some privacy in the name of love!
Discretion is key at the love hotels! Room rates, room pictures and availability are usually displayed outside the hotel or in the lobby. Some of the reception desks even use curtained windows so the check in agent doesn't make eye contact with customers directly!
More recently, love hotels are also a good source of cheap accommodation.
Best things to do in Shibuya tip: many love hotels do not accept reservations in advance and, some of the less expensive, do not accept credit card. Some love hotels do not accept non Japanese speaking couples.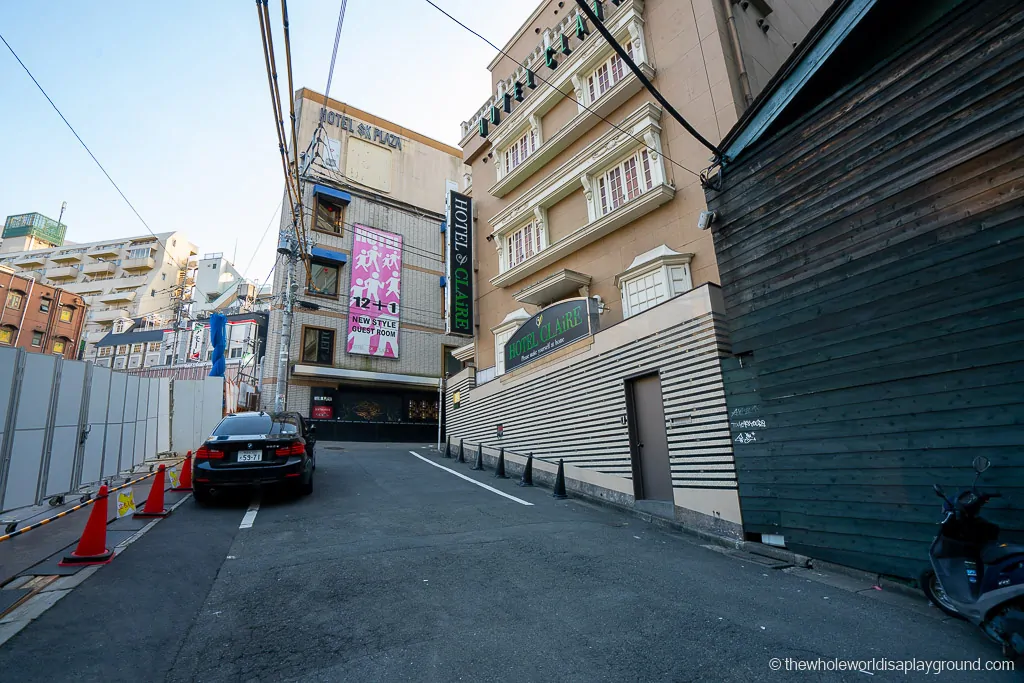 8 | Yoyogi Park
Located between Harajuku and Shibuya, the bustling Yoyogi Park is a hangout for locals and tourists alike. Yoyogi is one of Tokyo's largest parks and it is perfect for a stroll after the craziness of Harajuku or Shibuya. We loved spotting the adorable dogs, the street artists and the fun atmosphere at the weekends!
Best things to do in Shibuya tip: our favorite part of a Yoyogi visit is chancing upon the rockabilly dancers who often perform on Sunday's in the park. They are easy to spot as crowds quickly gather when they perform and the 1950's style denim and leather jackets and slicked back hair are a giveaway!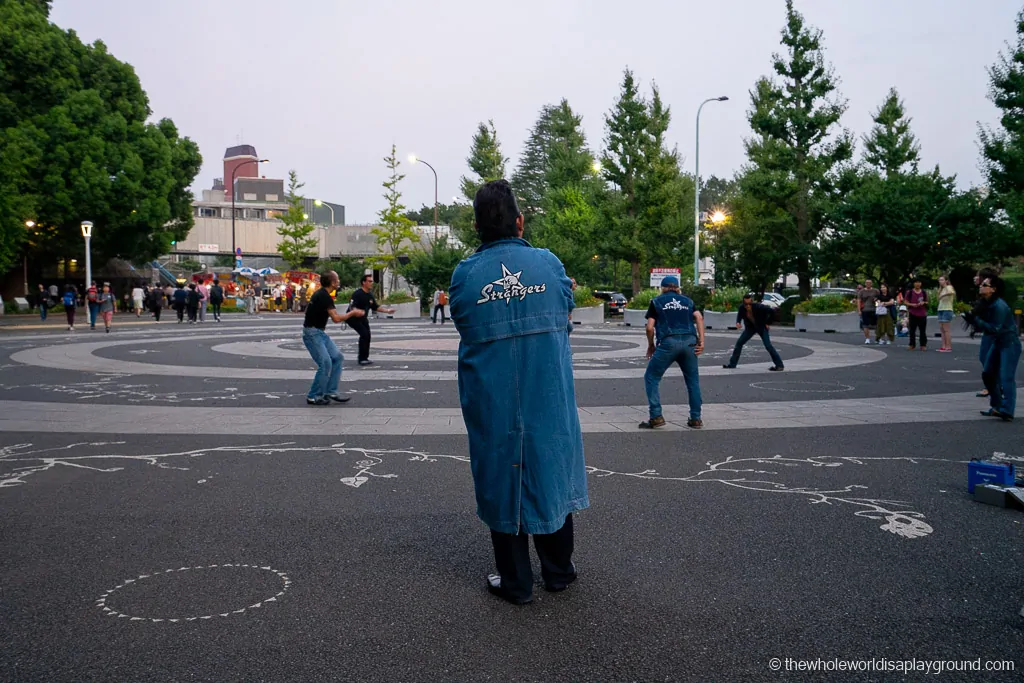 9 | Meiji Shrine
One of Tokyo's most famous shrines, the Meiji shrine is dedicated to Emperor Meiji, the first emperor of modern Japan. It's an incredible experience to move from the chaotic streets of Shibuya and Harajuku to the serenity and tranquility of the shrine.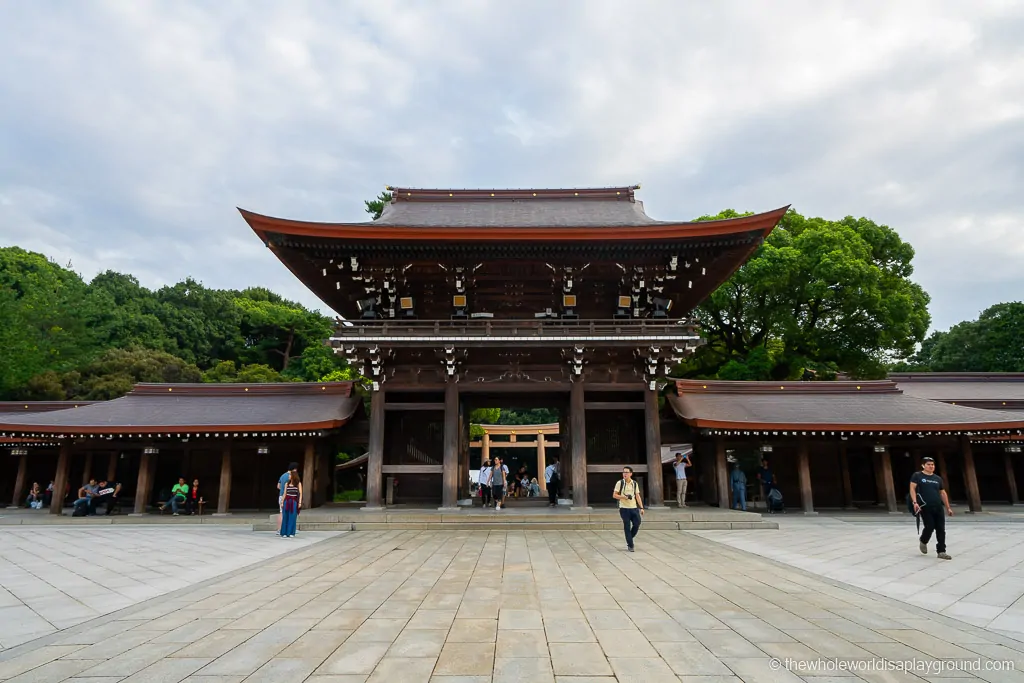 Meiji Shrine is accessed via two huge torii gates which lead to a forest with over 100,000 trees. A huge display of sake barrels along the entrance path are one of its most notable sights and signify a gift to the gods.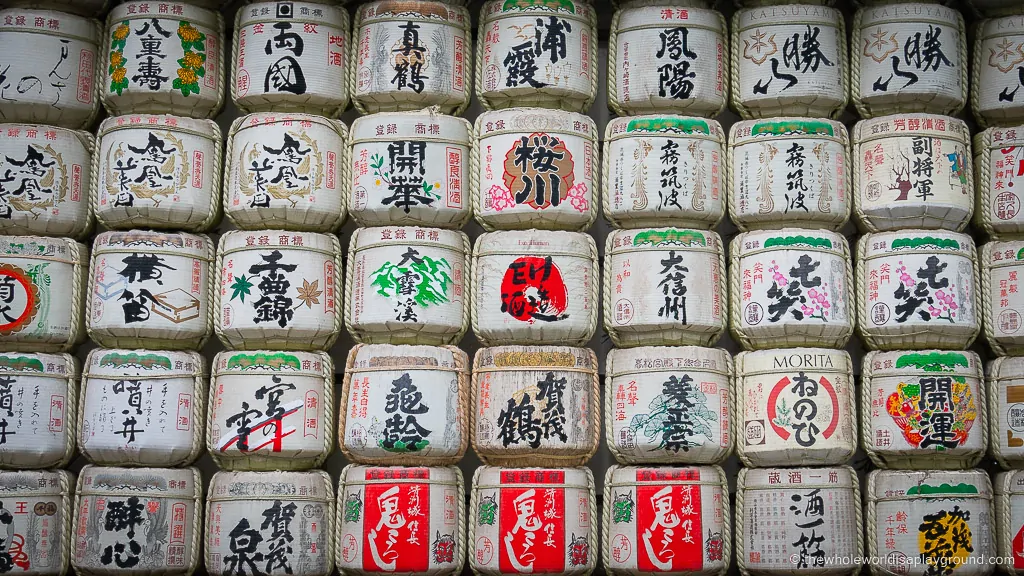 In late June, the Shrine's Inner Garden is a spectacular sight with 150 species of irises in full bloom. The Treasure House hosts portraits and kimonos of previous Japanese Emperors as well as personal items of the Emperor and Empress.
Visitors can wander through the rest of the shrine complex and make offerings in the main hall or write their hopes and prayers on an ema.
Best things to do in Shibuya tip: Meiji Shrine is one of the most popular shrines in Japan and welcomes millions of visitors every year. Admission to Meiji Shrine is free but both the Inner Garden and the Treasure House require the purchase of a ticket which each cost 500 yen.
9 | Harajuku
Located between Shinjuku and Shibuya, Harajuku is one of the most fun places to spend time in Tokyo. A colourful part of Tokyo, it is traditionally the centre of Japan teenage culture and fashion styles and there are lots of quirky and unique things to do in Harajuku.
From Robot Restaurants to rainbow food and Samurai Museums, Harajuku is an excellent accompaniment to a day in Shibuya!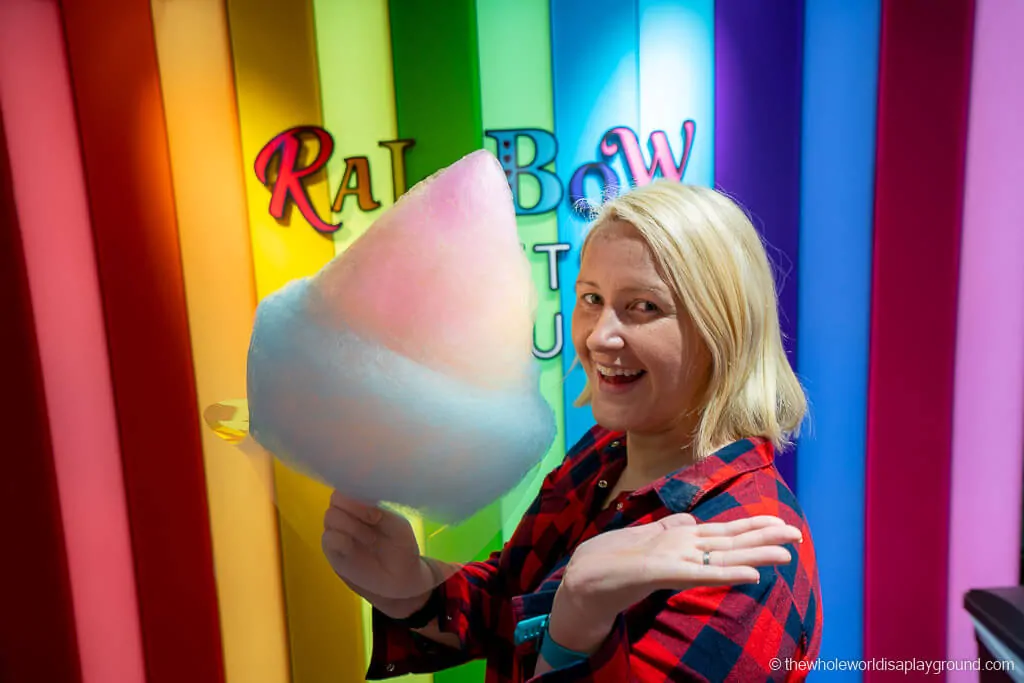 10 | Shibuya Station
Eight train and subway lines pass through Shibuya Station but, amid the chaos of passing through, make sure to look up.
On the second floor of the station there is a giant mural, the 'Myth of Tomorrow' created by the Japanese artist Taro Okamato. It depicts an atomic bomb explosion alluding to the Second World War bombings of Hiroshima and Nagasaki.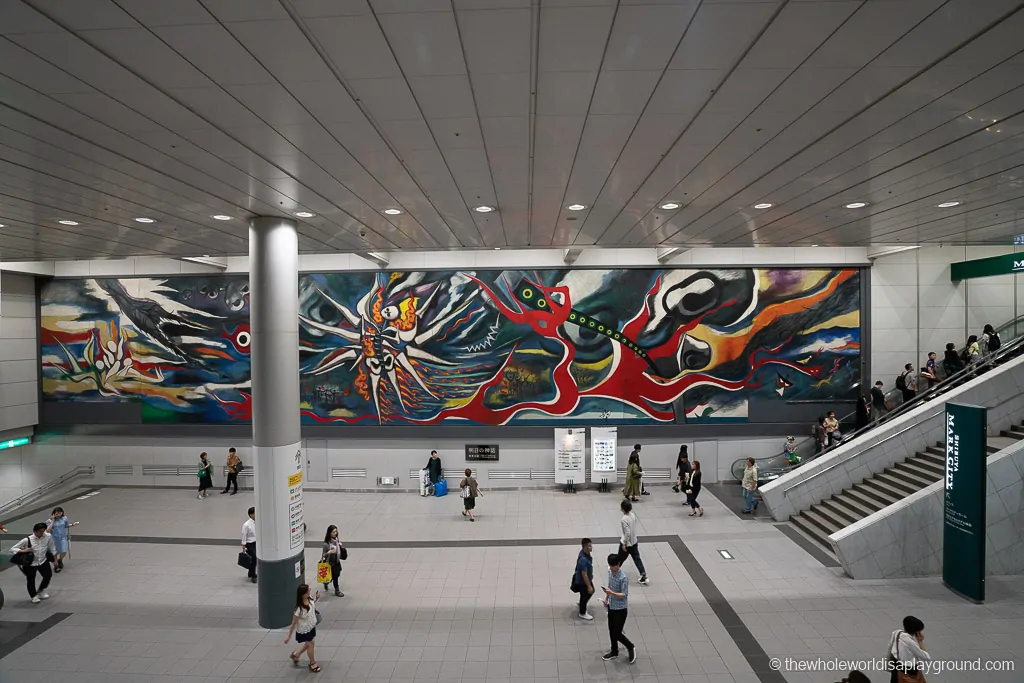 The station also offers excellent views of Shibuya Crossing from its indoor walkway between the Yamanote Line Tamagawa exit and the Keio Inokashira Line exit.
Best things to do in Shibuya tip: Shibuya is a busy station so be careful not to get in the way of commuters while admiring the mural and the views!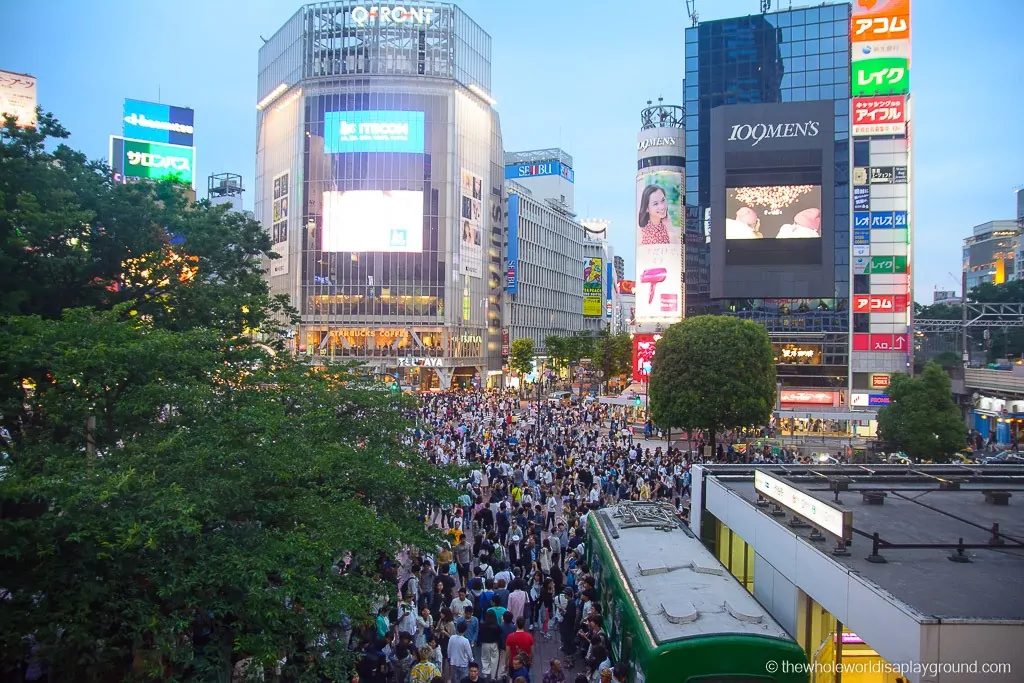 11 | Shopping in Shibuya
Shibuya is a shopping mecca and its streets are lined with fashion, home, lifestyle, electronic and souvenir shops.
For fashion lovers there are huge UNIQLO, Zara, Forever 21 and H&M stores.
Tokyo Hands, one of our personal favourites, offers a huge collection of cute and quirky items that will require hours of browsing. We spent a crazy amount of time on the stationary floors!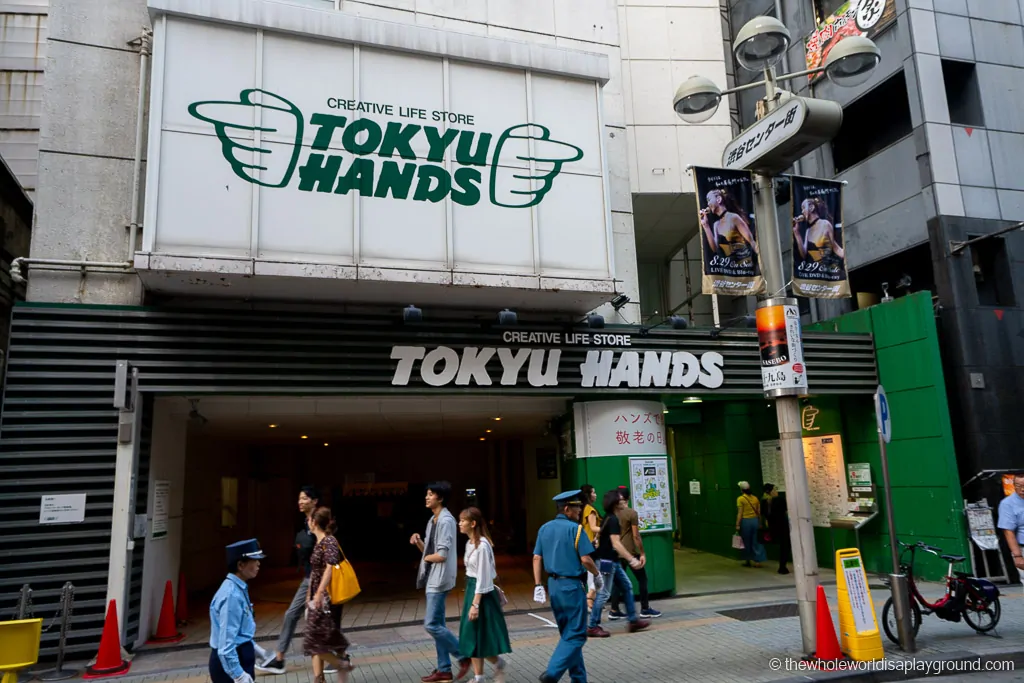 The shopping malls include Shibuya 109 and Shibuya Modi and both have a great mix of stores.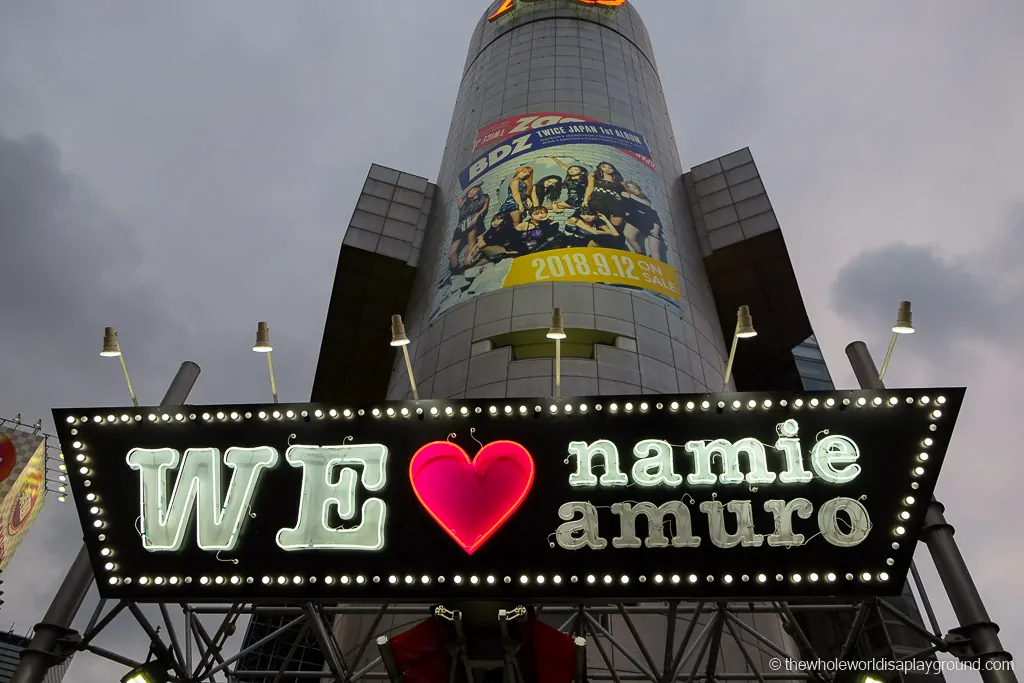 Daiso and Can-Do are Japanese discount stores stocking a fun range of products for 100 yen or less and both have branches in Shibuya.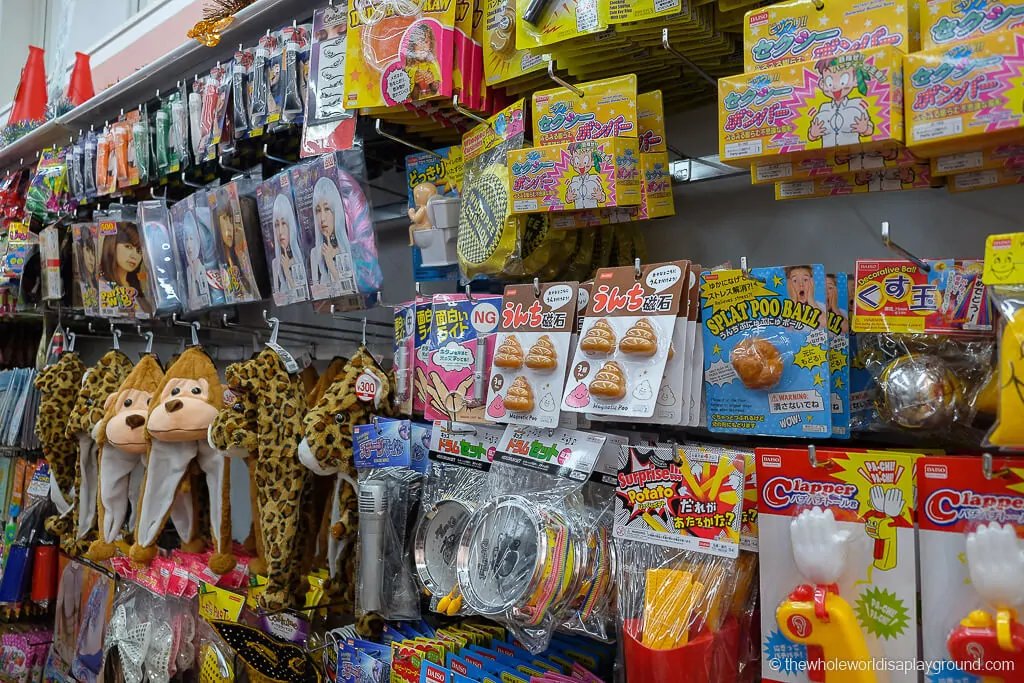 12 | Tourist Information Center
Shibuya's Tourist Information Center is housed in an old train car which was used on the Tokyu Tokyo Line until March 1970. Located outside Shibuya Station beside the Hachicko Statue, it is charming, helpful and totally photogenic!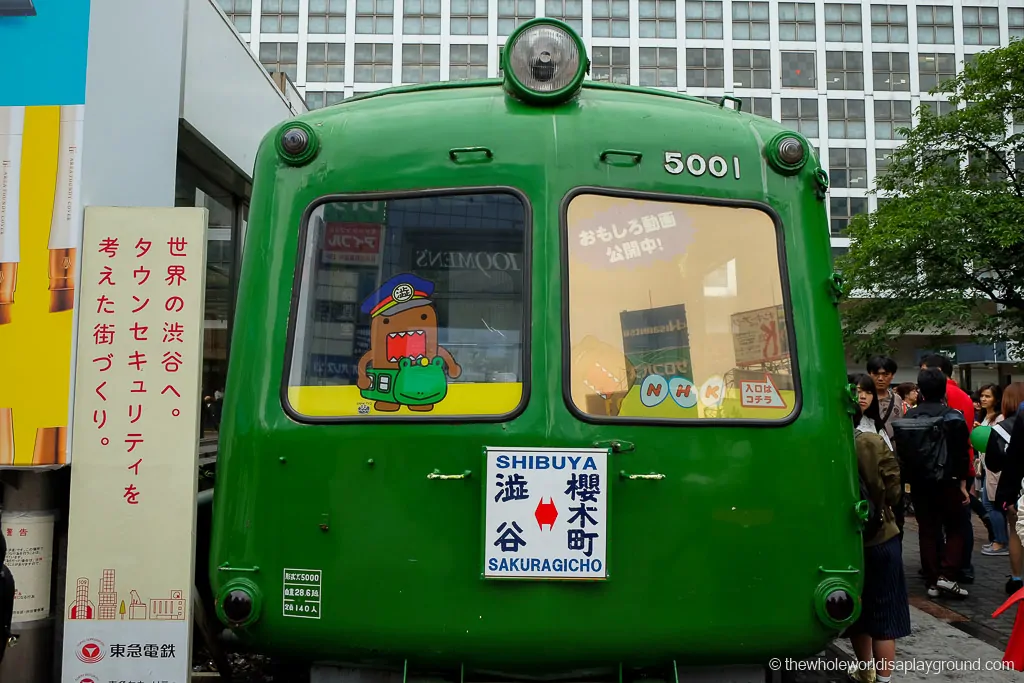 13 | Shibuya Nightlife
Always buzzing with activity, Shibuya is a great neighborhood in which to experience Tokyo nightlife. Shibuya is a popular place with everyone from college students to salary men and attracts a mix of both locals and tourists. There's a huge selection of night time entertainment from the quaint izakaya, or Japanese taverns, to karaoke joints, cheap restaurants, busy nightclubs and modern cocktail bars.