Halong Bay was our first ever cruise and we were incredibly excited at the prospect of staying on a boat for 3 days! But I had the fear. When we were booking our cruise there were an overwhelming number of companies to choose from and we wanted to pick the best cruise for us. What if the boat was really basic? I need my luxuries! Or worse, what if we ended up on a crazy party boat? We're old souls at heart after all!
Choosing our Halong Bay Cruise
After a huge amount of research into the various cruises, we opted to go on a 3 day cruise with Bhaya cruises, a luxury cruise operator on Halong Bay. Check them out on Agoda here (seriously, being able to book the Halong Bay cruises through Agoda is amazing, it used to be such a closed loop of emails and it took forever to organise!). This post focuses on our Bhaya cruise experience: for all the details on what we did during our 3 day cruise read Halong Bay Cruise, Vietnam: cruising through the mythical waters of Halong Bay!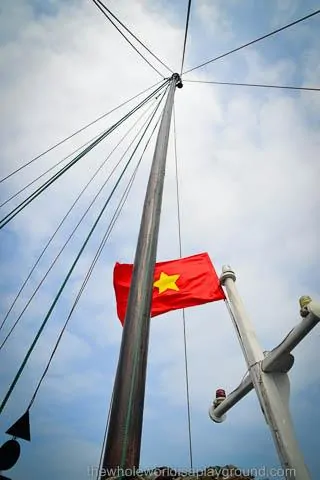 The Marina
After a three and a half hour ride from Hanoi on the Bhaya minibus we arrived at the Tuan Chau Marina to check in for our cruise. The Bhaya crew took our bags and we relaxed on the marina with our welcome tea and chatted to the other passengers while we waited to embark our junk.
Eventually our boat (the Bhaya Classic I, one of the four Bhaya Classic junks) was called and we made the short transfer over to the junk.
Boat transfers at the marina: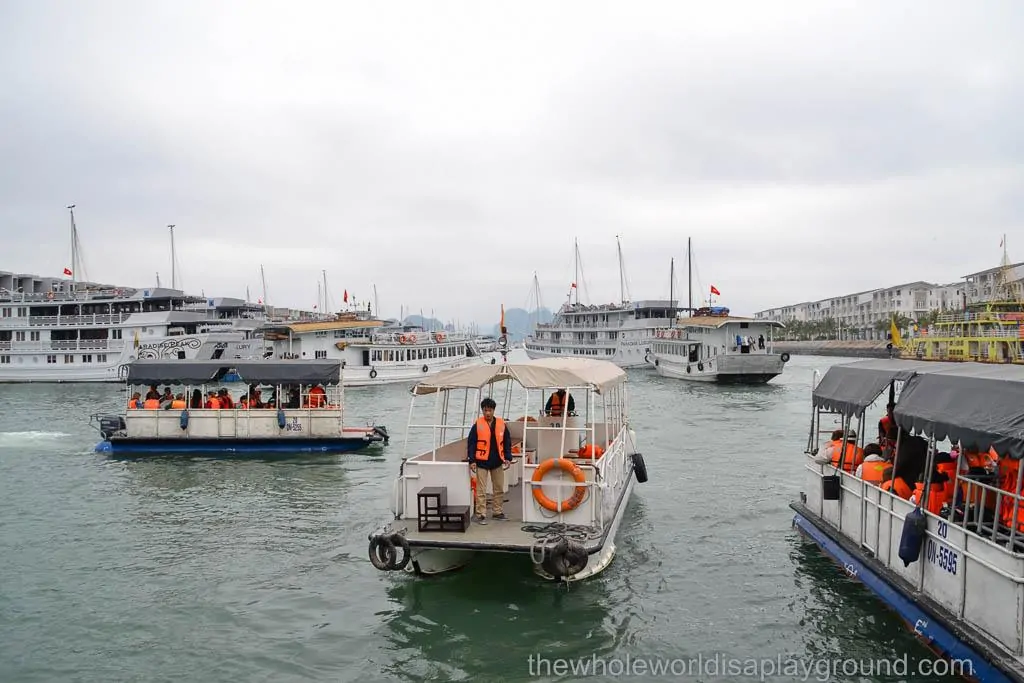 The Junk
The crew welcomed us on board with warm tea and cold towels and we were allocated our cabins where our luggage was waiting for us. A buffet lunch was being served in the dining room on the top deck but I was so excited about having a cabin that I had to go and check it out immediately!
Arriving on board: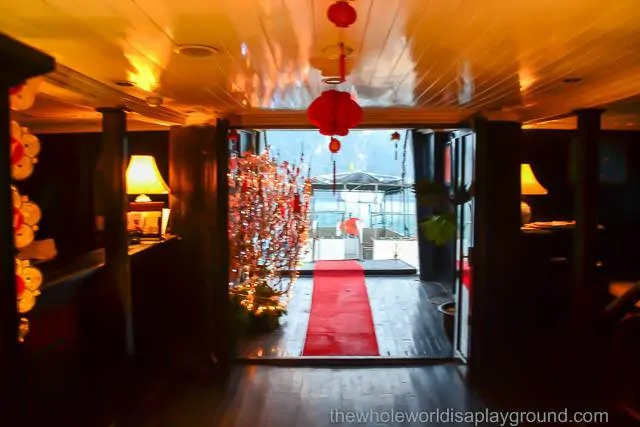 Our cabin was gorgeous. It was small but that's not really an issue for a two night stay. There was a large double bed which was much bigger than I was expecting, a mini bar, air con and the tiniest bathroom I'd ever seen.  Luckily I'd brought my dry shampoo and didn't have to worry too much about beautifying myself so I didn't mind! The husband was strangely impressed with the Crocs in the bedroom, I practically had to wrestle them from him when we were leaving the boat!
Our honeymoon surprise in the cabin: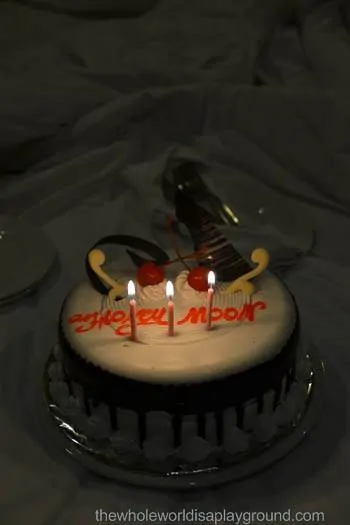 The views from our cabin were spectacular with our double windows opening onto the water. It was amazing to wake up in the morning, open the windows and enjoy the sea breeze and panoramic views of Halong Bay.
View from our cabin: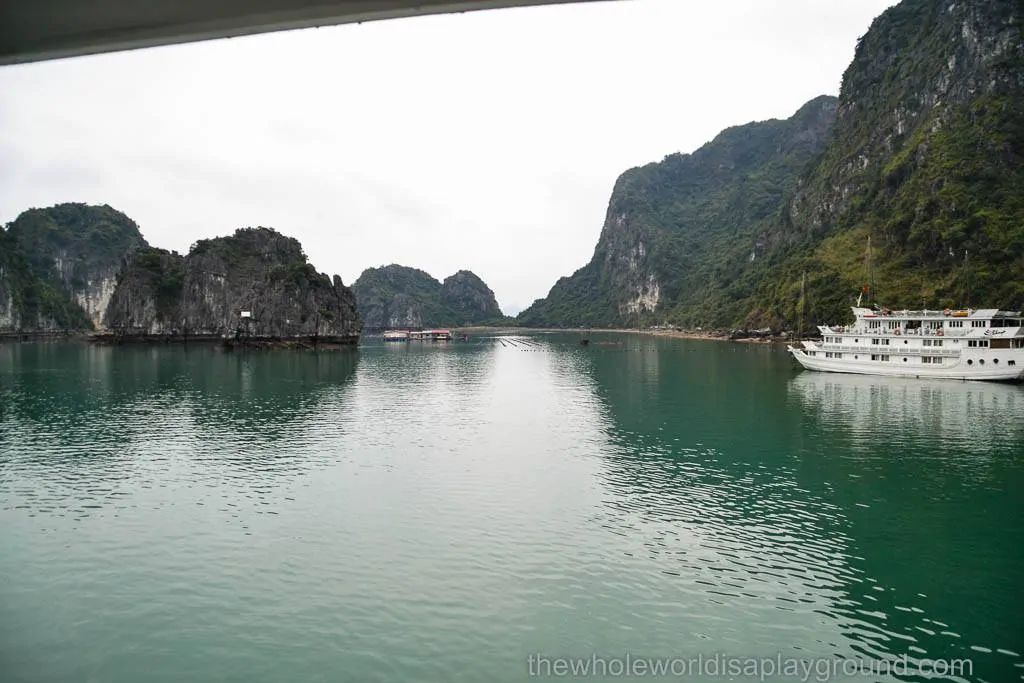 The Bhaya Junks: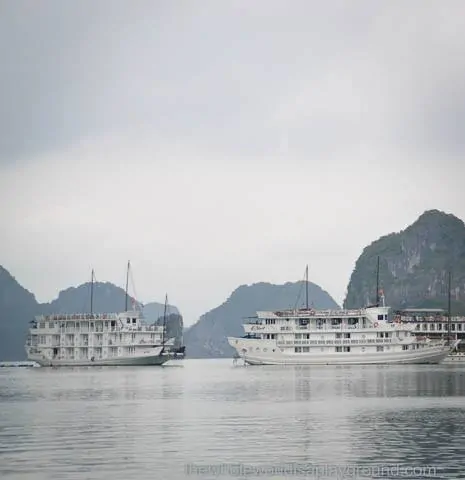 The Food
The Bhaya cruise includes food and we had a buffet lunch on arrival, 2 set menu dinners and 2 breakfasts. The food was plentiful and we enjoyed the vast quantities of fresh fish that were served up to us. There was lots of meat and veg and the dinners had many, many courses. I was worried we'd be starving but we could barely finish all the food that we were served!
Lunch buffet: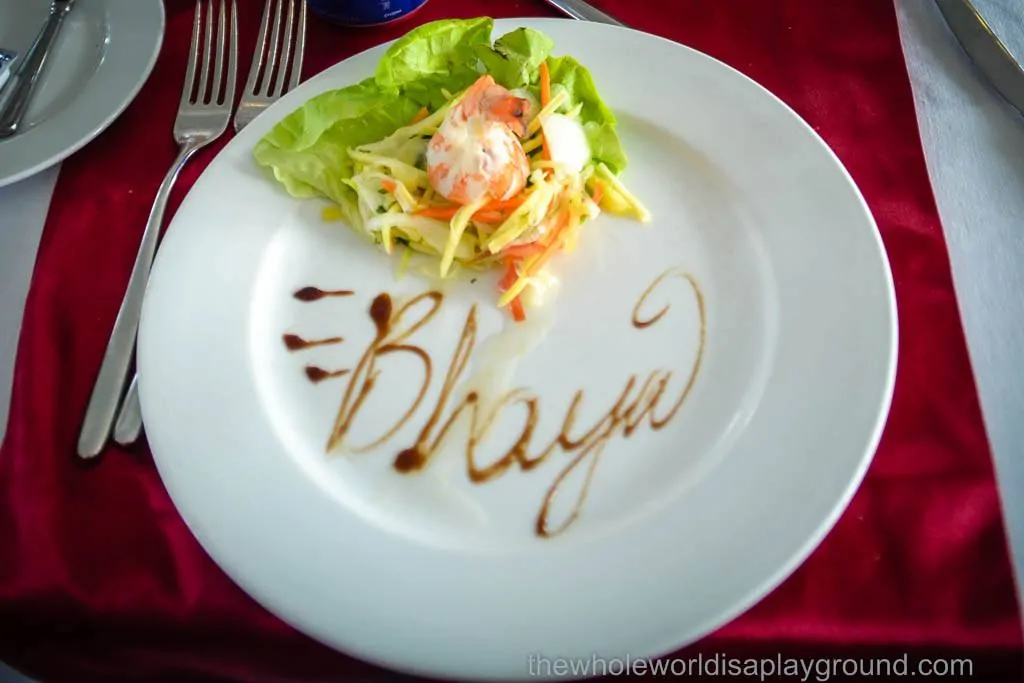 The dining room: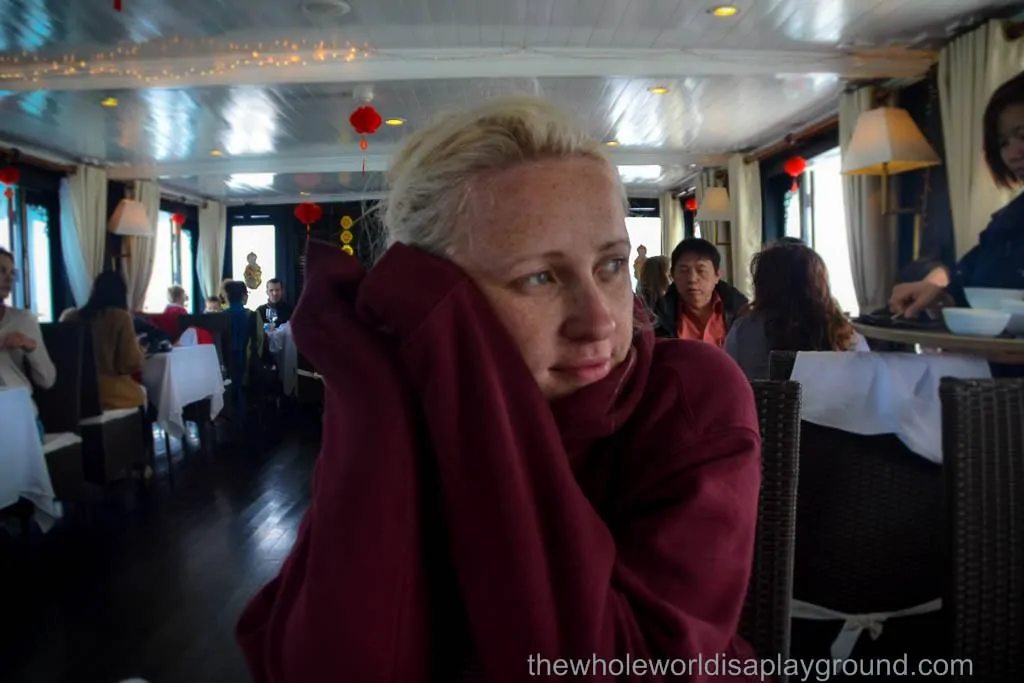 Dinner Time: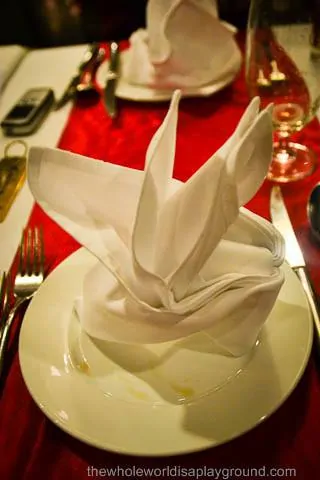 Drinks:
All drinks were at an additional cost and they were the most expensive we came across in Vietnam. The ship had a happy hour for a few hours each evening and during this time all drinks were 2 for 1. The staff were generous in letting guests buy a few extra drinks for later in the evening.
The Activities
The day started with 6am Tai Chai on the deck (yep, I actually made it one morning!). After the day's excursions were complete we had the chance to relax on board the junk. We filled our evenings with cooking classes, drinks on the sun deck, kayaking, jumping off deck and late night movies before bed!
The sun deck: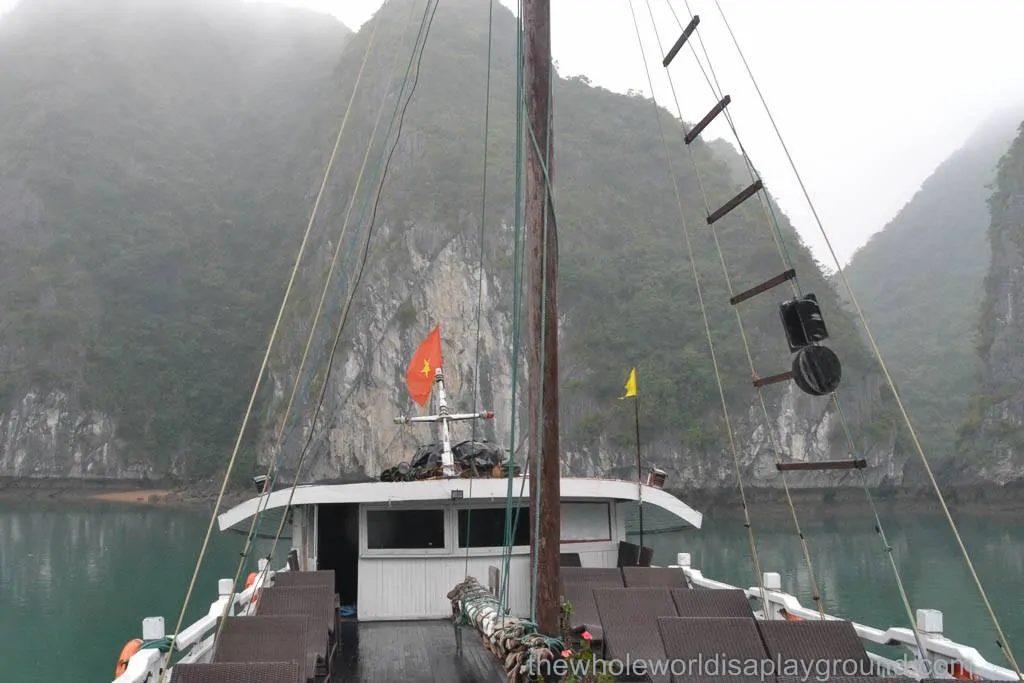 Man overboard!
One or two nights?
Bhaya offers both one and two night cruises of Halong Bay. Guests on the 2 night cruise spend the additional day visiting Cat Ba Island for a cycling tour followed by an afternoon of kayaking. We chose the 2 night cruise as we wanted to have time to relax on the boat and see as much as possible of Halong Bay. We also didn't fancy the prospect of the three and a half hour journey between Hanoi and Halong on two consecutive days.
On our boat, Bhaya Classic I, there was a mix of one and two night guests. This meant that we had to transfer to a day boat on the first morning for our excursion to Cat Ba and our overnight boat would return to the marina to disembark the one night guests and pick up new arrivals. As a result, we didn't have access to our cabins during the day.
Overall
The good:
The boat was beautiful and our cabin was cosy and comfortable and we loved throwing open the windows and enjoying the stunning views of Halong Bay. The food was magnificent and the activities and excursions were well organized and fun. We met lots of great people on our boat and many were on year long career breaks similar to us. Also in the mix were a few very cool retired travellers and some young ex-pat families enjoying the Vietnamese New Year.
Bhaya markets itself as one of the high-end tour operators in Halong Bay and I have no doubt it is. Standards were very high and the boat was lovely. However, if you're planning on a Halong Bay Cruise, it's important to realize that none of the boats are the QE2 but they are luxurious by Vietnamese standards!
Overall Bhaya was the perfect choice for us to cruise Halong Bay and I wouldn't hesitate to cruise with Bhaya again. For all the details on what we did during our 3 day cruise read Halong Bay Cruise, Vietnam: cruising through the mythical waters of Halong Bay!
 Bhaya Cruises Halong Bay
Reservations: Agoda has a range of Halong Bay cruises and it's so much easier to use a recognised website with a range of options and it's actually cheaper than the prices our Hanoi hotel quoted us.
3 day/2 night cruise:
Price USD 299 per person
The cost included: shared transfers to and from Hanoi, 3 days/2 nights on board the Bhaya Classic junk, meals (2 breakfasts, 2 set menu dinners and a buffet lunch), excursions (row boat to Vung Vieng fishing village, cycling around Cat Ba Island and entry to the Sung Sot Cave) and activities (Tai Chi and kayaking).
For all the details on what we did during our 3 day cruise read Halong Bay Cruise, Vietnam: cruising through the mythical waters of Halong Bay!
Tips for cruising in Halong Bay
There are an overwhelming number of Halong Bay cruises on offer and the quality and pricing varies widely. We decided we wanted a luxury cruise and, after an incredible amount of research, narrowed it down to Bhaya Cruises and Indochina Junk.
We stored our rucksacks in our Hanoi hotel while we went to Halong Bay. The cabins are compact and we were glad to only have our day packs on the cruise.
Check the weather and bring some warm clothes. It was much cooler in Halong Bay than in Hanoi and we were glad to have extra layers in the evenings.
Tips for cruising with Bhaya Cruises
There are four Bhaya Classic junks and all cabins on Bhaya 3 have balconies. On Bhaya Classics I, II and IV only the two Royal Suites have balconies and they come at an extra cost. While Bhaya do not guarantee requests for individual boats it is worth a request at the time of booking.
Our cruise included shared transfers from our Hanoi hotel and we were transported in a 12 seater minibus which was comfortable and air conditioned. There is a rest stop half way into the journey with a half hour stop at a bazaar store