A visit to Bryce Canyon National Park in Winter can be a magical experience with the winter months bring a unique opportunity to see the signature hoodoo rock columns covered in snow. The trade-off is freezing temperatures and the prospect of weather-related trail closures.
So is a trip to Bryce Canyon National Park in Winter worth it? Having recently visited Bryce Canyon National Park in Winter we wanted to share our experience and our tips for visiting Bryce Canyon in Winter.
Where to Stay in Bryce Canyon in Winter
Most visitors to Bryce Canyon stay in Bryce. Bryce is located close to the park entrance and is only a short drive to the park.
Best Western Plus Bryce Canyon: one of the newer options in Bryce, just a few minutes drive from the park entrance. Rooms are spacious and there is an outdoor pool. We've stayed multiple times – check prices here!
Vacation Rentals: One of our favorites, Under the Rim, is cosy, clean and has incredible views – check prices here!
The Lodge at Bryce Canyon: operates in limited capacity during winter. The lodge is within walking distance of the trails and viewpoints. Accommodation is a mix of cabins, lodge and hotel rooms. Rustic but comfortable – check prices here
Camping: there are two campsites in the park, North Campground and Sunset Camping. Only loop A of North Campground is open in the winter months.
Weather in Bryce Canyon in Winter
Due to its higher elevation, the weather in Bryce is quite different to the other Utah National Parks. During the winter months, Bryce Canyon is generally sunny with great visibility but temperatures tend to be very low — in winter, temperatures typically reach highs of 40°F (4.4°C) and lows of 15.4°F (-9.2°C).
Located on the Paunsaugunt Plateau, snow is always a possibility in Bryce Canyon in winter and, depending on the year, varies from a sprinkling to a few feet. The paths to the viewpoints can be icy so make sure to wear shoes/boots with a good grip.
It is also highly likely that you will encounter snow at some stage during your journey to/from or in Bryce Canyon at this time of year so make sure to check the weather in the run-up to your winter visit. We last visited Bryce Canyon National Park in late November and, with snow on the horizon, we checked the forecast repeatedly until it was the day we left for Bryce. We set out really early in order to avoid a snowstorm that was forecast to roll in our first night – it hit shortly after we arrived and we would not have wanted to have been driving through it!
Bryce Canyon in Winter tips: make sure you top up the antifreeze/coolant in your windscreen wipers before you set out for Bryce Canyon.
Bryce Canyon National Park Trails in Winter
Some of the Bryce Canyon trails are closed during the winter months due to safety concerns:
Rim trail from Bryce Point to Inspiration Point: closed to all traffic during the winter months
Wall Street Section of the Navajo Loop Trail: closed in winter, and often early spring, due to rockfall risk.
Peekaboo Loop connector trail from Bryce Point: can also be closed if conditions are poor due to slipping risk.
All trails: dependent on weather, closed as necessary
Bryce Canyon in Winter tip: snow is cleared only from the paths at the overlooks and the paved section of the Rim Trail between Sunset and Sunrise Point.
It is still possible to do some great hikes in winter:
Rim Trail: open from Fairyland Point to Inspiration Point
Queen's Garden Trail: one of the easiest trails descending from the rim, it starts at Sunrise Point and descends 320 feet
Navajo Trail: begins at Sunset Point and descends 550 feet from the rim. The Wall Street Section is closed in Winter due to rockfall risk.
For visitors who are new to hiking in snowy conditions, there are lots of ranger-led hiking tours into Bryce Canyon that are worth checking out. Snowshoeing and cross-country skiing are also popular in Bryce Canyon in Winter. Check with the Visitors Center when you arrive for full details on what guided hikes are available.
Visiting Bryce Canyon National Park in Winter
Some things to consider about visiting Bryce Canyon in Winter:
The park is less crowded in Winter
With the exception of Thanksgiving and Christmas week, the crowds are significantly lower in Bryce Canyon National Park during the winter months. As a result, accommodation tends to be less expensive.
Winter Clothing and Gear
In order to really enjoy Bryce and stay warm in the winter months you are going to need to pack some additional gear. Lots of layered clothing, gloves, a hat and a warm jacket for hikes are a must.
If you plan to hike in Bryce Canyon in winter you will definitely need waterproof hiking boots and traction devices at a minimum. We highly recommend throwing a pair of YakTrax in your day bag. Yak Trax are hiking spikes that you clip onto your hiking trainers or boots and give you extra grip on wet or icy ground. You can pop them in your pocket and quickly attach them to your shoes or boots when you come across ice or packed snow. They were invaluable for avoiding slips or falls at the viewpoints where the ice made the areas extremely dangerous and slippy. We used ours on all our winter hikes in Utah – check prices now!
With the shorter days its also worth having a head torch in your bag in case you get caught out after dark. We use this USB rechargeable one and it comes everywhere with us – check prices now!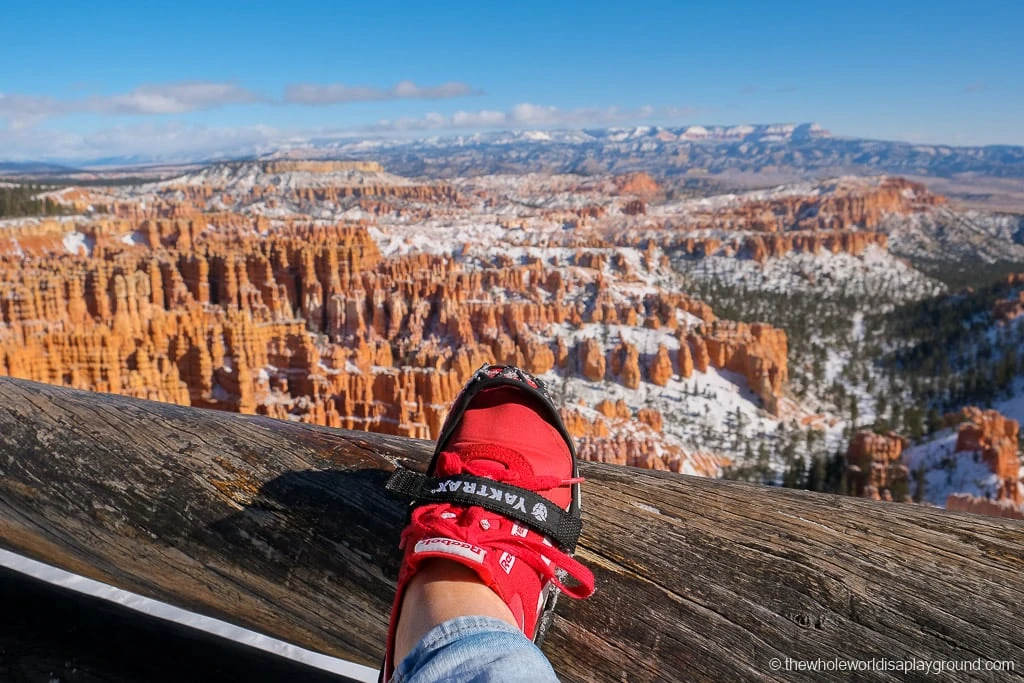 Shorter days
The shorter daylight hours of the winter months mean that park days are shorter so make sure to plan ahead.
Photography
Winter is one of the best times of the year for photography in Bryce Canyon National Park. If you're lucky enough to visit when Bryce Canyon gets snow the images of the white snow covering the signature hoodoo rock columns makes for amazing images.
Tips for visiting Bryce Canyon National Park in Winter
Dress appropriately: layer up and stay warm on the trails. If you don't own a pair, consider purchasing some Yaktrax which make it so much easier to navigate the icy trails.
Start and finish early: make the most of the shorter days and grab the best parking spots by getting out on the trails as early as possible.
Keep your plans flexible: the weather and snow are unpredictable in this part of Utah and snowstorms can roll in quickly. It's worth keeping plans flexible and having the option of a lower elevation park as a backup.
Bring a flask of hot water: we found warming up with a hot drink to be a post hike and post viewpoint lifesaver when the temperatures were freezing.
Bring storage for muddy boots: some of the trails are muddy in Winter and having something to put your boots in post hike is essential to protect the inside of your car.
Camping: the North Campground is open in the winter months.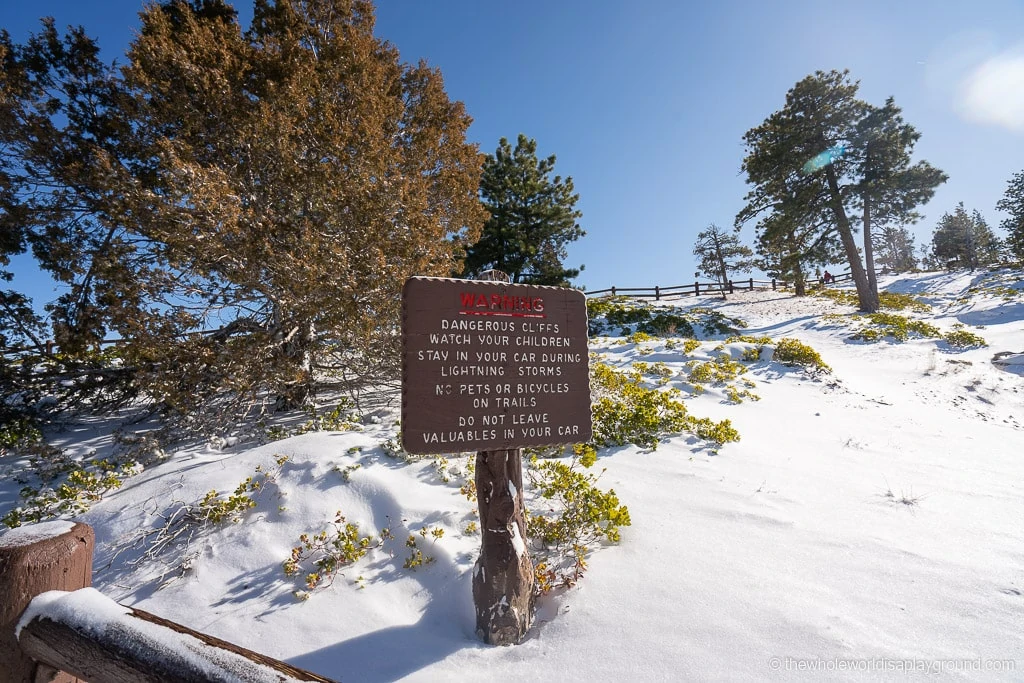 Is it worth visiting Bryce Canyon National park in Winter?
In a word, yes! Although there is a trade off of closed trails and freezing temperatures, winter in Bryce is one of the most beautiful times to experience the park. Low visitor numbers and the chance of seeing the stunning red hoodoos of Bryce Canyon capped in white snow is an unforgettable sight.
Bryce Canyon in Winter tip: Ruby's Inn, a hotel in Bryce, hosts a winter festival over President's weekend.
Is it safe to visit Bryce Canyon in Winter?
We visited Bryce Canyon in late November just as a cold front was approaching the park and we felt perfectly safe visiting the park. Once you are aware of how cold it can get and pack lots of warm clothes Bryce is both safe and spectacular in the winter. You may have to work around snow or poor driving conditions but once you drive safely and stay off the road when the weather gets bad it's a great experience.
Bryce Canyon in Winter tip: make sure to follow the traffic and weather advice when planning your trip to Bryce Canyon to stay safe during the winter months. If the traffic reports advise that roads are closed or unsafe then you should heed them and make alternative arrangements.
Driving in/to Bryce Canyon in Winter
Cold fronts are common in the Bryce area during the winter months and snow storms can dramatically change the road conditions. We highly recommend keeping a close eye on the weather forecast in the weeks and days leading up to your trip. There is a great app, UDOT Traffic, available on Android and Apple devices that gives up-to-date traffic and road conditions throughout Utah. We used this app extensively during our time in Utah in winter. It is especially useful for showing closed roads or roads affected by snow or ice.
The main roads and parking lots within Bryce Canyon National Park are regularly maintained and are plowed throughout the winter and after heavy snowstorms. This allows access to the four main lookout points (Bryce, Inspiration, Sunset and Sunrise Points) regardless of the weather. Fairyland Road and Paria View Road are not plowed to allow for snowshoeing.
Despite the regular road maintenance, the roads can get very slippy, especially in cold snowy weather so drive slow and allow lots of distance between cars.