To take your DJI Phantom 4 drone footage to the next level and capture even better shots it's worth considering investing in a few of the best DJI Phantom 4 accessories. Having travelled around the world with our Phantom 4 drone for almost a year we've put together a list of the best Phantom 4 accessories which we won't leave home without: they will allow you to fly longer and capture better footage with your drone. If you have any must have items that we've missed please let us know in the comments!
1 | Spare batteries
When you're shooting with your DJI Phantom 4 drone you will need a constant supply of fresh batteries. Drones are amazing pieces of equipment but they race through batteries. In real-world conditions we get around 22-23 minutes from a Phantom 4 battery, which means you're going to need multiple if you're planning a reasonable amount of shooting each day. Plus there's the cost – they aren't cheap! We find that the sweetspot is 3 batteries as you can fit them easily within the standard Phantom 4 case for easy transportation and it won't cost you a fortune. The batteries are also the heaviest part of the drone so hiking with more than three can really add to the weight of our bag. Make sure to have the batteries fully charged and take every opportunity to charge them. See our mobile charging options below.
Three batteries should give you 1- 1.25 hours of flying time in the most taxing of conditions – check prices now!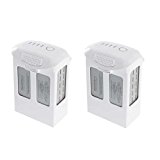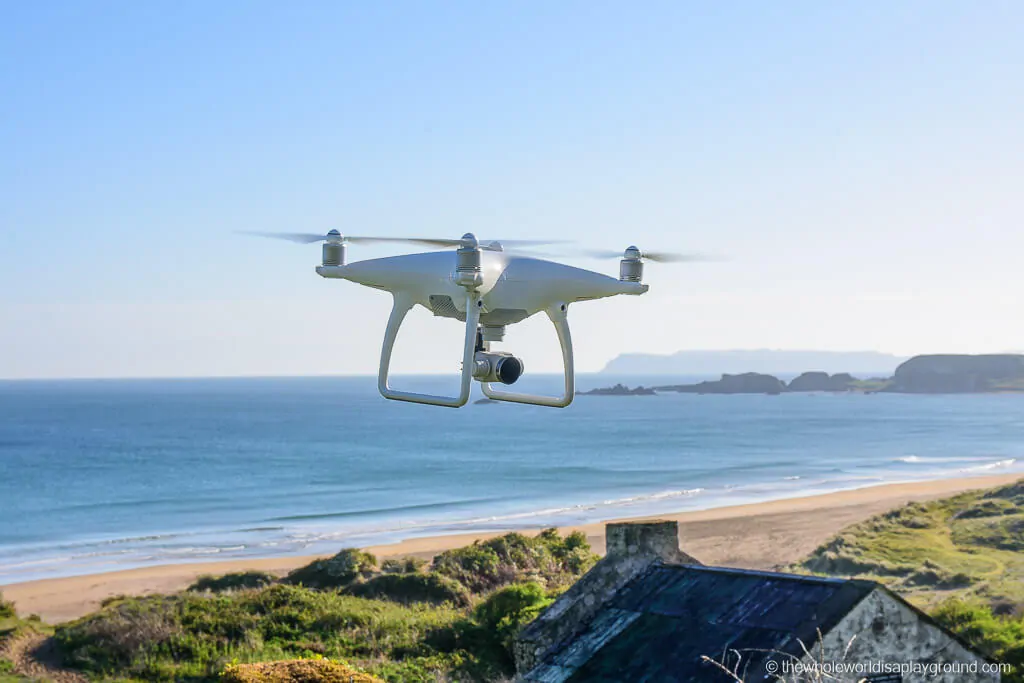 2 | Neutral Density (ND) Filters
Neutral density filters are extremely important when shooting video on a drone and should be your first purchase after getting spare batteries. ND filters limit the amount of light hitting the camera sensor on the drone. ND filters allow you to maintain a fixed shutter speed in bright light conditions. This allows for much easier colour grading an editing in post production. The general rule is that when shooting video is that the shutter speed should always remain at 2 times the frame rate. So if you're shooting at 30fps at 4k on the Phantom 4 your shutter speed should remain as close to 60 as possible. The ND filters allow you to fix the shutter speed at 60, allow for buttery smooth cinematic footage.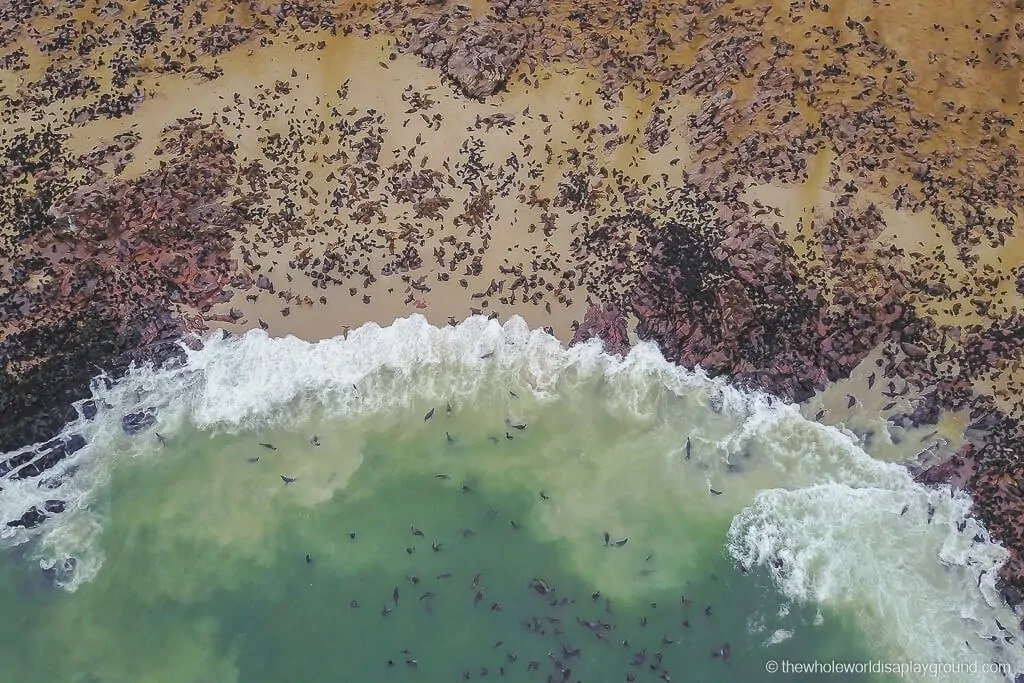 The best ND filters for the DJI Phantom 4 are screw on style filters which rep lace the existing clear glass filter on the drone camera. This ensures they will not fall off during flight. They come in three main variations. Polar Pro make some of the best ND filters sets for the DJI Phantom 4.
3 pack gunmetal (4/8/CP) This is the particular set we use and includes a circular polariser The ND8 effectively lives on the drone, however we could really do with a 16 and 32 for shooting in the middle of the day when light is at its brightest. The circular polarise is great for making the sky pop – check prices now!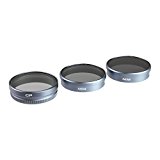 Cinema Shutter Series (16/32/64): The cinema series is a great complement to the first set. Where the gunmetal set are great for morning and evening shooting, the shuter series allows for cinematic footage during the day, when bright light makes keeping the shutter speed in check difficult – check prices now!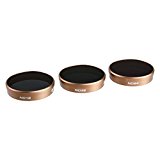 Vivid (4/18/16 all with CP): While the vivid series is not as strong as the cinema series, it includes a built in polariser in each which also add an extra stop of light so they're a little stronger than the listed strength. This pack is great for shooting over water or we surfaces as it reduces the glare from the sun and makes colours really pop – check prices now!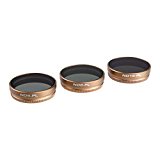 3 | Gimbal Clamp
The stock gimbal lock for the Phantom 4 is good, however you will find it very annoying using ND filters with the stock clamp as you need to remove the ND filter in order to affix the clamp for transport. We usually leave the ND8 permanently on the Phantom 4. That's where this gimbal clamp comes in. It can fit on over the top of your ND filter. Plus it can be attached with one hand for quick installation and removal – unlike the stock lock which can be fiddly to attach – check prices now!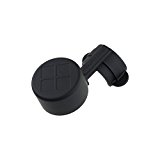 4 | Spare propellers
As you get more experienced with the Phantom 4 you will inevitably have crashes – it's simply part of flying a drone. That said, most crashes are minor and will simply damage or break the propellors. So pick up at least one extra set of propellors. Just make sure to bring them with you as I've forgotten them a few times!!
Phantom 4 Tip: even if a propeller is slightly damaged you should replace it immediately. Damaged propellors are compromised and can lead to further failures/crashes or unstable flying – check prices now!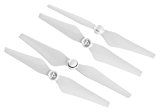 5 | Apple iPad Mini
In terms of cost vs benefit the iPad mini is the best controller/screen out there for the Phantom 4. The fantastic battery life, super bright screen and all round reliability with the DJI software make this a really sound investment for your drone. Plus you can use it if you decide to upgrade to another DJI drone in the future – check prices now!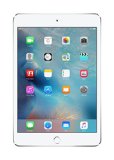 6 | Car Charger / Inverter
In reality you will likely be out for a day of shooting with your drone with no access to a wall charger to top up your batteries. A useful addition to your bag is either a dedicated car charger a versatile car inverter. A car inverter allows you to charge your drone via the standard wall charger while in your car. The inverter plugs into your car cigarette lighter and your three/two pin wall adapter plugs into the inverter. We never leave home without ours – it lives permanently in our car. It also allows you to charge laptops, phones etc quickly from your car – check prices now!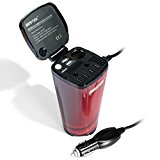 If you need to charge multiple batteries at once it's worth considering getting the DJI charging hub which allows you to charge three batteries at a time. This can be used with the inverter above for charging on the go – check prices now!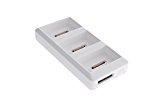 7 | Drone Bag / Backpack
The standard case that comes with the Phantom 4 is actually great. Most of the time it's perfect and can be carried easily to locations for flights. However if you're going to be carrying the drone any distance or hiking with it you're going to want a bag which makes carrying the drone more comfortable, with easy access for quick flights. The standard DJI case is simply too bulky to fit into any bag smaller than a 60 liter rucksack.
LowePro Protactic 450AW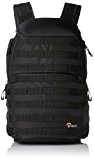 I personally use the LowePro Pro tactic 450 camera bag for all my drone / camera equipment. The sheer amount of stuff that you can fit in it is incredible and it's modular design mean you can customise it to carry all your gear. By adjusting the internal compartments this bag can be easily modified to carry the Phantom 4 with 3 batteries, controller and a DSLR with a mid-range lens attached – check prices now!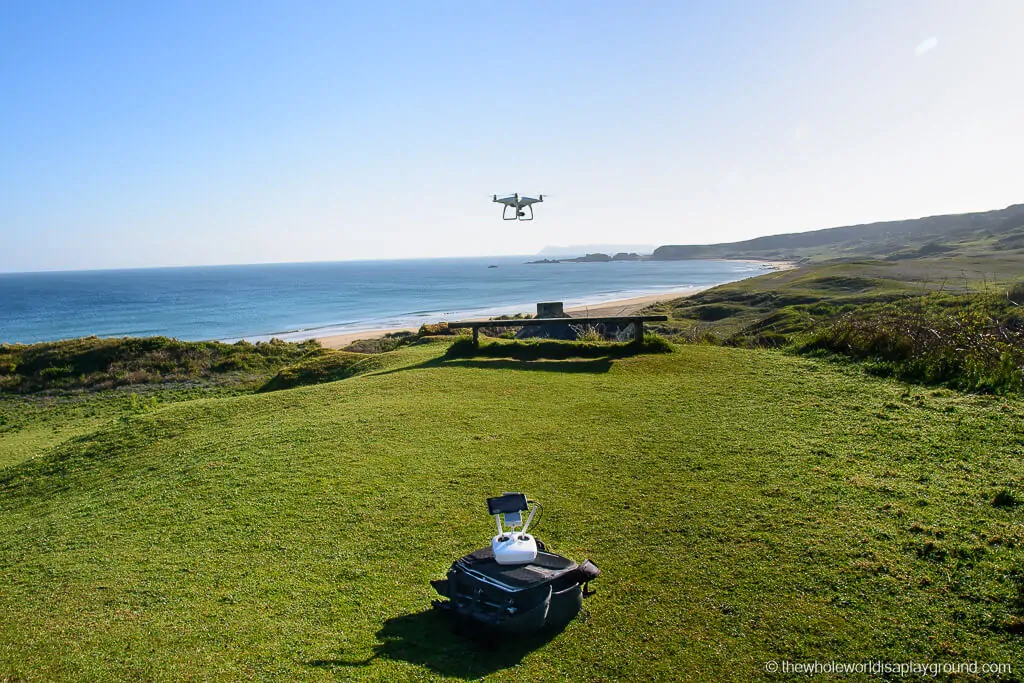 Drone Bag tip: If you are using a bag with your drone it's worth getting from protective caps for the motors. This protects the motors during transit and also your bag. I managed to put some holes in my Manfrotto lining when I didn't have these caps – check prices now!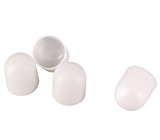 Buy now on Amazon
Drone bags: If you need a dedicated bag for carrying your drone you should definitely consider these great options:
Manfrotto MB BP-D1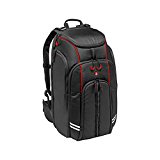 The Manfrotto MB BP-D1 is one of the best dedicated drone backpacks you can get. It's got a huge storage capacity (think drone, 6 batteries, DSLR camera with a media range lens, tripod and accessories. It has a top loading section for easy camera/accessory access and can easily carry a tripod, dslr with lenses and your DJI Phantom 4 drone. A really useful part of this bag is the expandable front section which allows you to attach the phantom 4 with propellors attached for quick storage and access for those times when you need to move around but maintain quick access to your drone with the propellors attached for flights – check prices now!
PolarPro Dronetrekker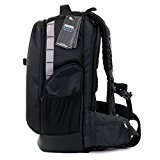 The Dronetrekker bag from PolarPro is a more budget option compared with the Manfrotto, however its a great carry-all solution that will fit your Phantom 4 and all its accessories. While it doesn't have the option to carry the drone externally for quick use like the Manfrotto, it has lots of storage space and access pocket for the various accessories that you'll be carrying with you Phantom 4 – check prices now!
8 | Spare USB Cables
The DJI Phantom 4 controller requires a cable in order to connect your phone or tablet. As this extra part lives in your bag / case it's really easy to forget them – so do yourself a favour and pick up a few spares. There's been at least 1 instance where I've turned up a location only to realise I forgot this pesky cable! Keep a spare in your bag/case/car.
9 | Lanyard for controller
The Phantom 4 controller is a beast of a controller. While this gives you lots of extra reach for flying your drone, handling it isn't the easiest as DJI don't include a lanyard for your neck. These are invaluable as if you need to have your hands free while the drone is in the air you can let it swing from your neck, allowing you to grab something from your bag etc – check prices now!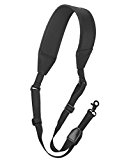 10 | Sun hood
Initially I thought sun hoods were a novelty item that you don't really need. One trip to Namibia later and constantly seeking shade in order to see the controller screen needless to say I'm converted. This one is great as it collapses flat for travelling with. if you're going to be flying in sunny conditions seriously consider getting one of these – check prices now!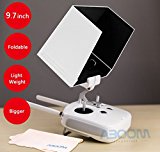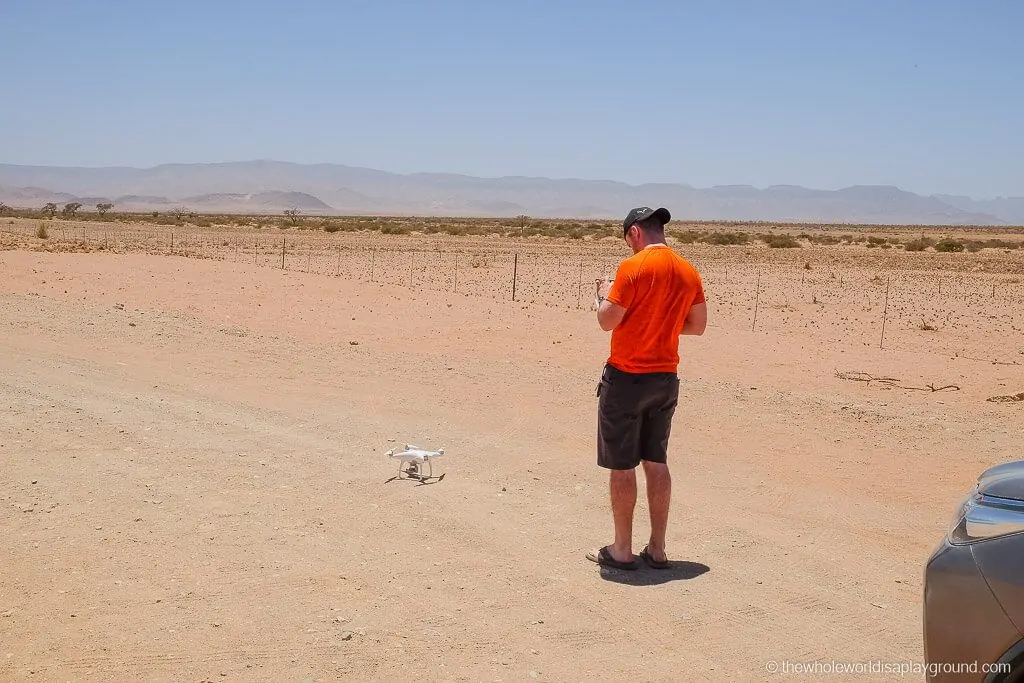 11

|

SD Cards and Hard Drives
The DJI Phantom 4 uses micro SD cards and, when shooting 4k footage, this means lots high capacity cards and a method of backing up that footage. We find these 32gb Sandisk cards work best – it forces you to backup your footage regularly and you can carry multiple in your pocket – check prices now!
DJI Phantom 4 Tip: Make sure to throw some spare micro sd cards in your bag, your car and even your wallet. There is literally nothing worse than turning up at a stunning location for a flight only to find you left your sd card at home. Trust us, a few cheap spares will save you at some stage
For backing up footage we use the rule of three – three copies, in three different locations. We keep a copy on a micro SD, and two more copies on separate hard drives. These each live in separate bags so the chances of all three bags getting stolen is hopefully unlikely! Our personal choice for hard drives are these Seagate passport drives. They're cheap and reliable and come with us everywhere – check prices now!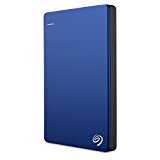 12

|

Video Editing Software
So you've got the fantastic footage on your Phantom 4 – now it's time to make that into a great video! We use Adobe Premiere Pro for our video editing – it's very easy to use and is one of the best video editors out there. It's well worth the subscription.
So there you have it, the must-have accessories for your DJI Phantom 4 drone. Let us know if we've missed any must-have accessories and happy flying!