Northern California is home to magnificent redwood trees towering hundreds of feet above the forest floor. Having walked among these splendid giants there was another redwood experience on our bucket list – we wanted to drive through a Redwood Tree and capture it on camera! There are 3 remaining drive through Redwood Trees in California and each one of them is worth visiting: they are Shrine Tree, Chandelier Tree and the Tour Through Klamath Tree and we visited them all on our journey through Northern California.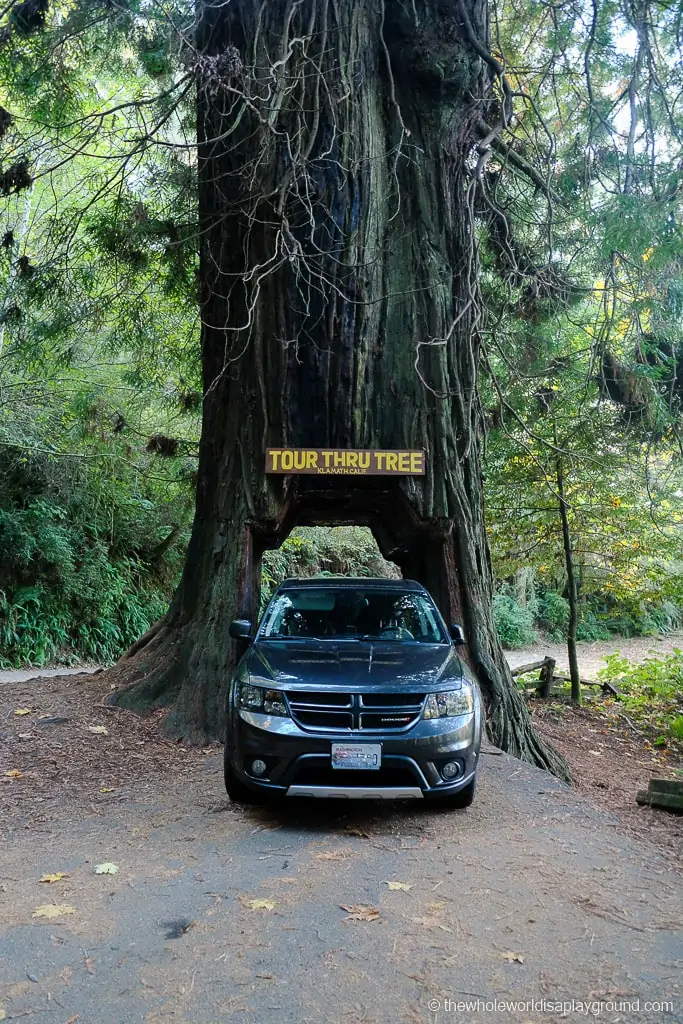 Drive Through Redwoods: The History
Once upon a time in the not so distant past, there was a trend to cut tunnels through giant redwoods and sequoias to allow visitors to experience driving and walking through their huge trunks and capturing the moment on camera.
The idea behind this was to increase the popularity and support of the National Parks in the USA. Thankfully today, much of the redwood and sequoia tree population is protected in National Parks, forests and reserves throughout the country and there are strict laws in place protecting those on privately owned land.
It is no longer acceptable to interfere with these incredible trees so there will be no new drive-through trees in the future.
Only three drive-through Redwood Trees remain today: the Shrine Tree, Chandelier Tree and the Tour Through Klamath Tree, all of which are privately owned attractions on the Redwood Coast. These drive-through trees are hugely popular and an awesome photo stop while passing through Northern California!
The 3 Drive through Redwoods in California
There are 3 drive through redwood trees remaining in California today. All three are privately owned and charge a small entrance fee for visiting and driving through the mighty trees.
Travelling north from California to Oregon you will come across three drive through redwood trees:
Drive Through Redwood Tree tip: We had no issue driving through all the drive through trees we visited in California in our rental car, which was a mid-sized SUV. WE highly recommend making sure how wide and high your vehicle is before attempting to drive into the tunnel under each tree. There are measurements at each location but it's worth having a second person outside the vehicle to make sure there is space!
1 | Chandelier Drive Thru Tree
Surrounded by woods, the still living and growing Chandelier Drive Thru Tree is our favorite of the 3 drive through redwoods in California.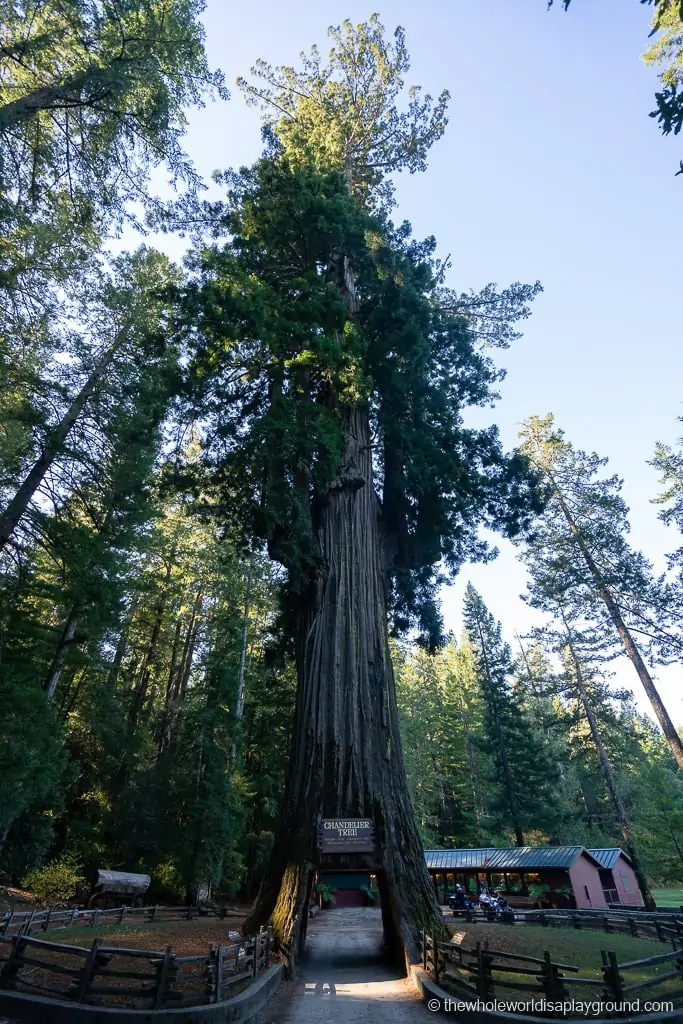 Located in Leggett, California, the Chandelier Drive-Thru Tree is named for its chandelier-like appearance with its sprawling branches resembling the dangling arms of a chandelier. In 1937, a 6 foot wide and 7-foot tall tunnel was carved into the base of the now 2,400-year-old tree. The tree is cut in such a way that the shallow root system of the redwood continues to keep the tree alive today.
Chandelier Tree was also our kids' favorite drive-through tree too: it is part of a 200 acre park with some lovely trails, fun wooden sculptures carved by chainsaw, a duck pond and an old school gift shop.
A postcard of the Chandelier Tree appeared in the opening credits of National Lampoon's Vacation and it's still a popular spot for filming commercials!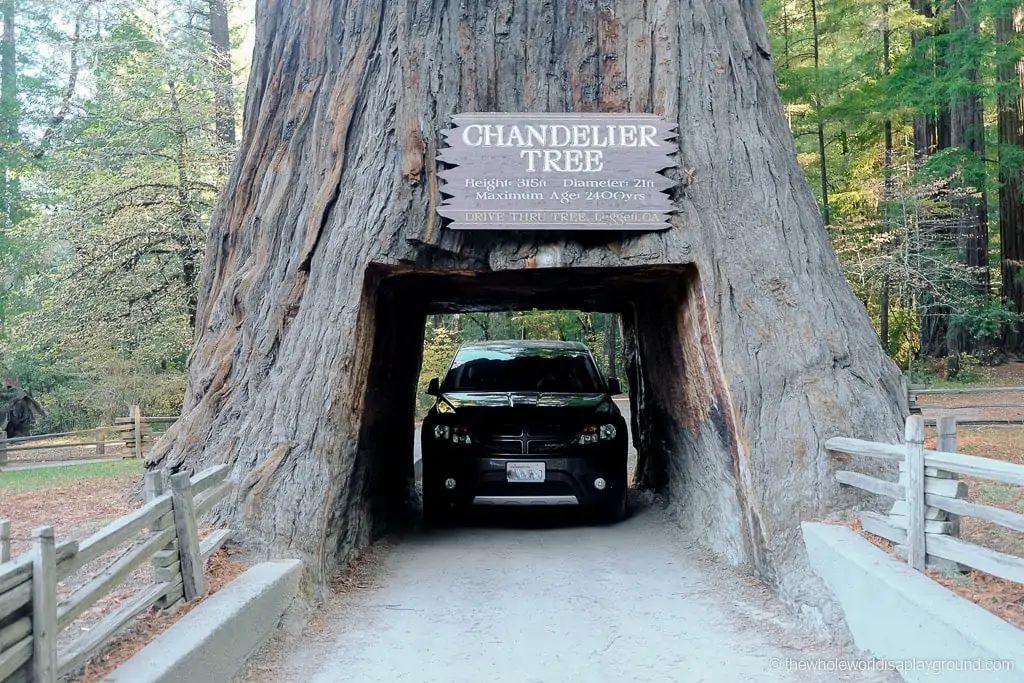 Drive Through Redwood Tree tip: the Chandelier Tree has a rectangular tunnel cut out and fits a good range of vehicles. You'll likely need to take your sideview mirrors in before you drive through the tree.
Entrance: $10 for autos, $5 for bikes, motorcycles and walk ins. Closed Thanksgiving and Christmas Day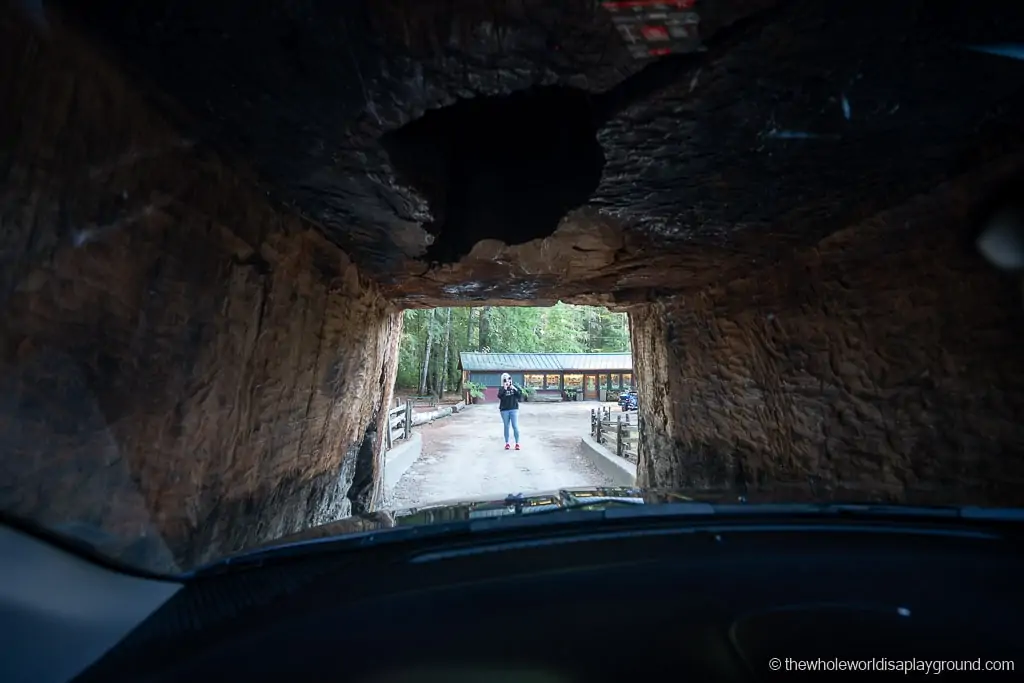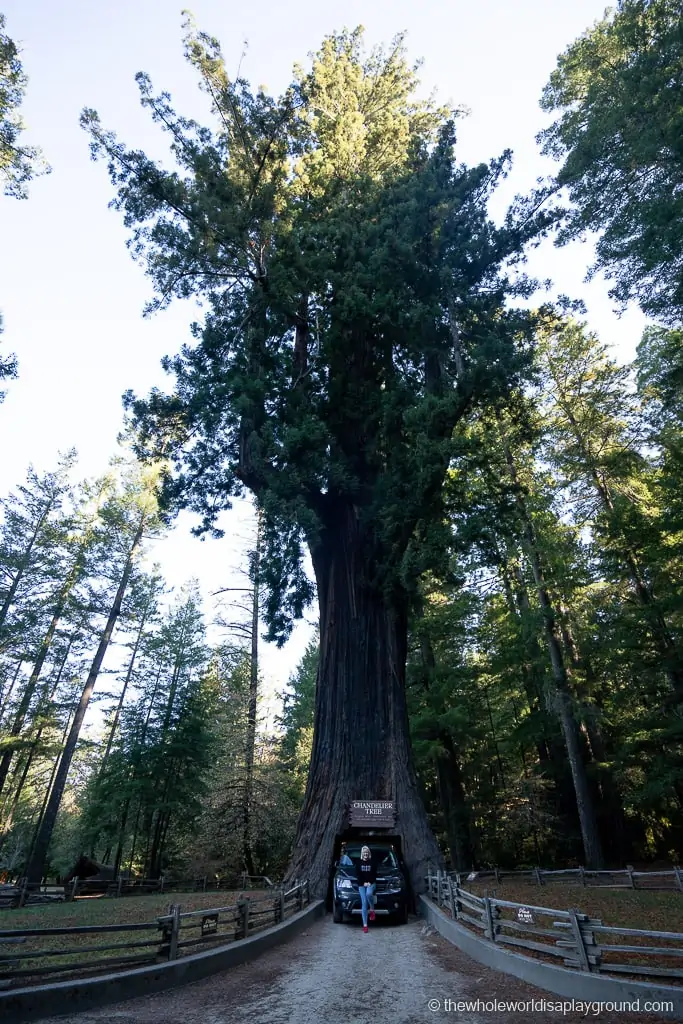 2 | Shrine Drive Thru Tree
The Shine Drive Through Tree is a 3,000 year old redwood in Myers Flat, California. The gap in the tree developed naturally and there is an angled 7 foot wide x 7 foot tall clearing for vehicles to drive through. It is the oldest of the three drive-through trees and, with its condition deteriorating, the tree has been anchored with metal cables.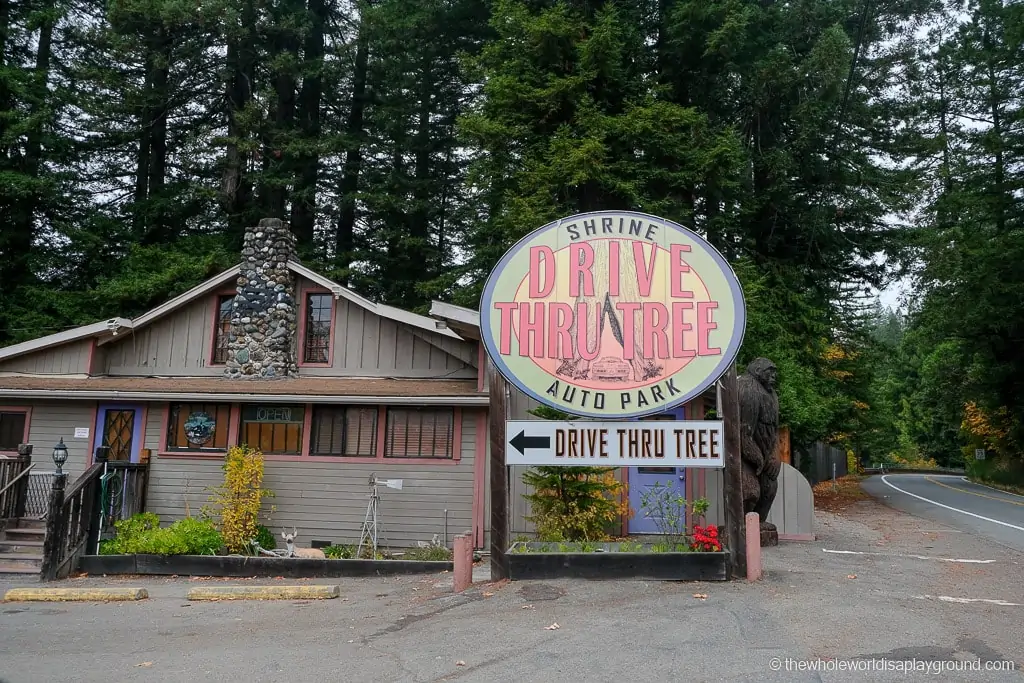 The Shrine Drive Thru Tree was the narrowed tree to drive through and larger vehicles may have trouble fitting due to how the tree is sitting and the downward sloping road that goes through it.
As well as the drive through tree there is a 3,000-year-old fallen redwood, a walk through stump for kids, a cathedral tree where several redwoods have grown together to create an altar-like structure, a drive on redwood ramp and some lovely tree houses.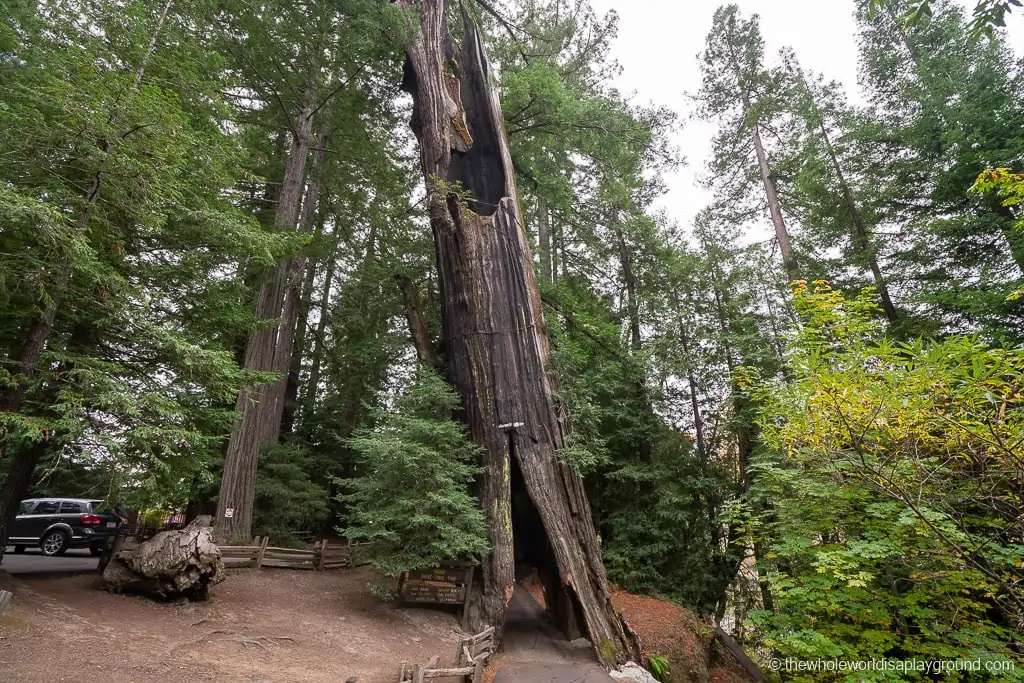 Drive Through Redwood Tree tip: the angled tunnel of the Shrine Tree makes it better suited more to compact vehicles. The Shrine Drive Thru Tree was the narrowest drive thru tree we visited. Driving through can be a tight squeeze so make sure you have clearance and remember to put your sideview mirrors in if you need an extra couple of few inches!
Entrance: entrance to the Shrine Tree is $10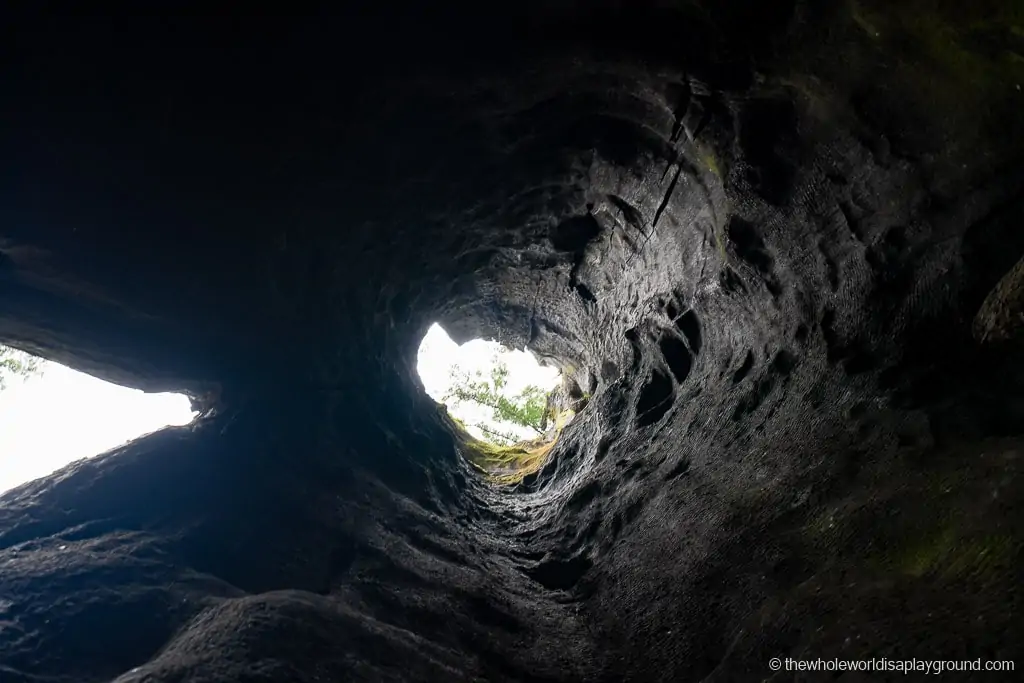 3 | Tour Through Tree Klamath
Perched atop a hill close to Redwoods National Park, a drive through tunnel for vehicles was carved in the Klamath Tree in 1976 using a chainsaw. The tree was carved in such a way that it survived and continues to grow and live today.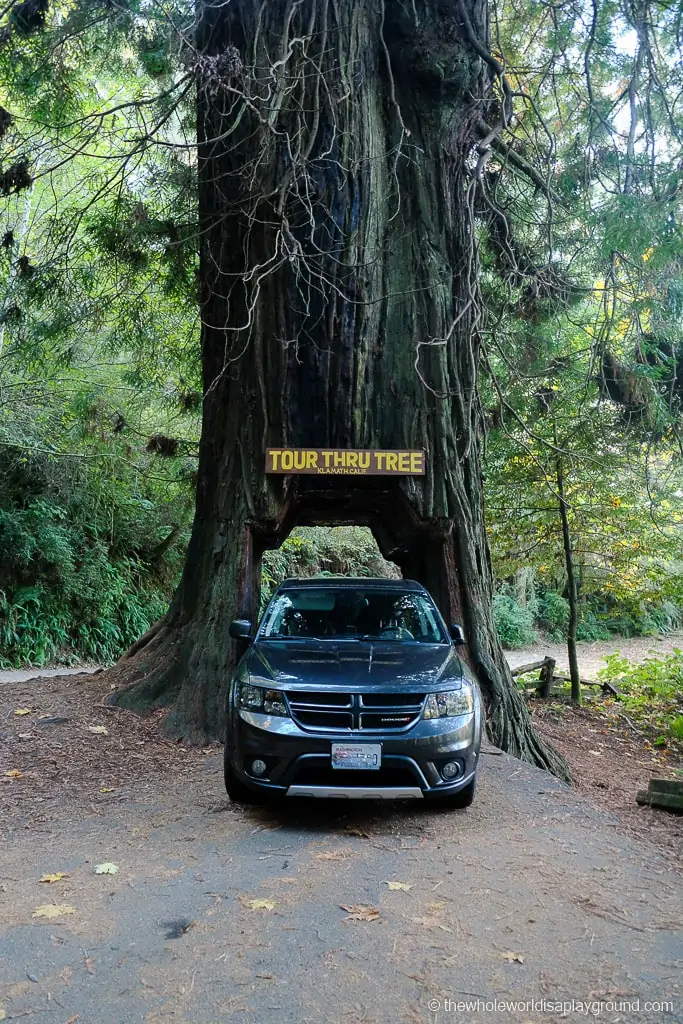 This stop is all about the drive through redwood and it's just a case of driving up the hill and through the tree before leaving! the tunnel is a regular rectangular shape and we were able to drive through with ease.
Entrance: entrance to the Tour Through Tree is $5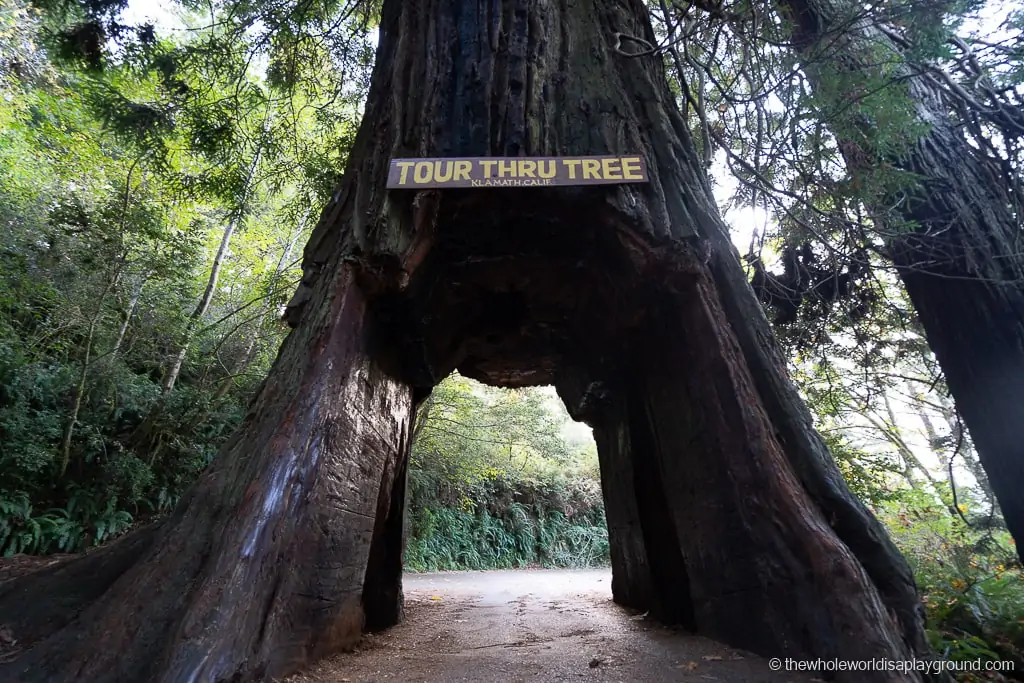 Other famous Drive Through Trees in California
The most famous drive-through tree was the Wawona giant sequoia in Mariposa Grove in Yosemite National Park. However, the tree, weakened by the damage of cutting the car tunnel, fell under heavy snowfall in 1969. It is thought to have been over 2,000 years old at the time it fell and the tree still remains in the same spot – it is referred to as the Fallen Tunnel Tree.
You can still walk through the nearby California Tunnel Tree in Mariposa Grove in Yosemite. The tunnel was carved 1895 and the sequoia tree is still living and growing. Another tunnel tree still remains in Tuolumne Grove but this tree is no longer living.
The Pioneer Cabin Tree, also known as the Tunnel Tree, stood in Calaveras Big Trees State Park for over 1,000 years until it was felled by storms in 2017. It's hollowed out trunk had been closed to vehicles in recent years but walkers were still allowed to pass through.
There is also the Tunnel Log in Sequoia National Park, a felled sequoia that remains open today. It resulted from a sequoia falling across the Crescent Meadow Road in 1937. A tunnel was cut through the tree to allow vehicles to pass along the road and this fallen sequoia became a tourist attraction.
Other spots to check out the Redwoods and Sequoias
If you want to visit one of the Redwood forests to walk among the towering giants, we loved the Peterson Memorial Trail and the Simpson Reed Grove Trail in the Jedediah Smith Redwoods State Park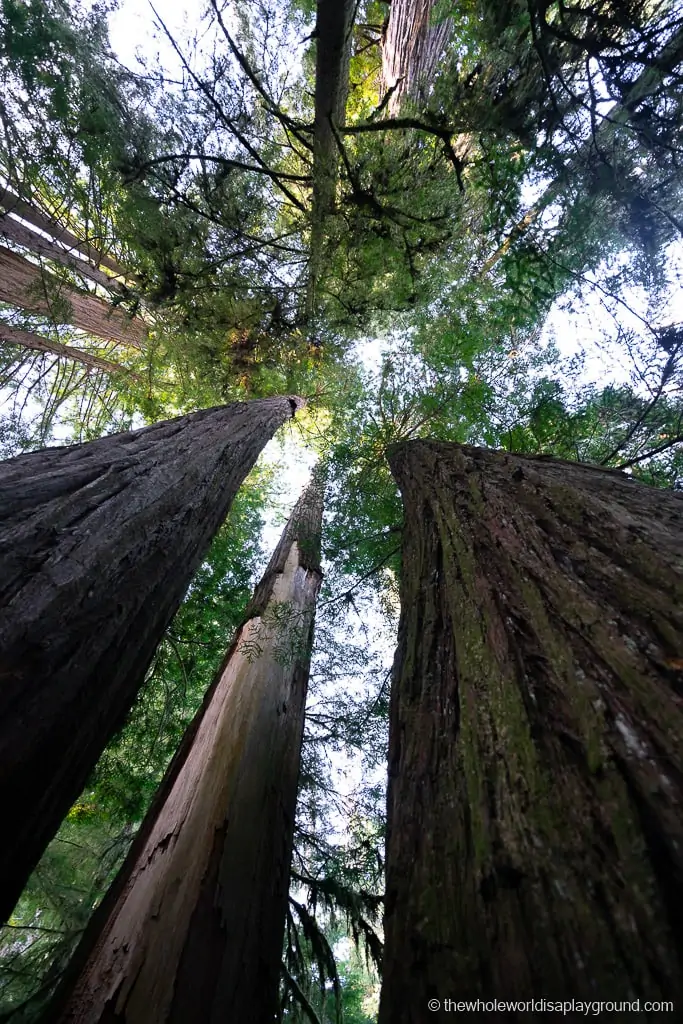 The Avenue of the Giants Scenic Highway is also magnificent. It's a short drive that we took after our Oregon roadtrip and it's amazing to see just how huge these trees are from your car.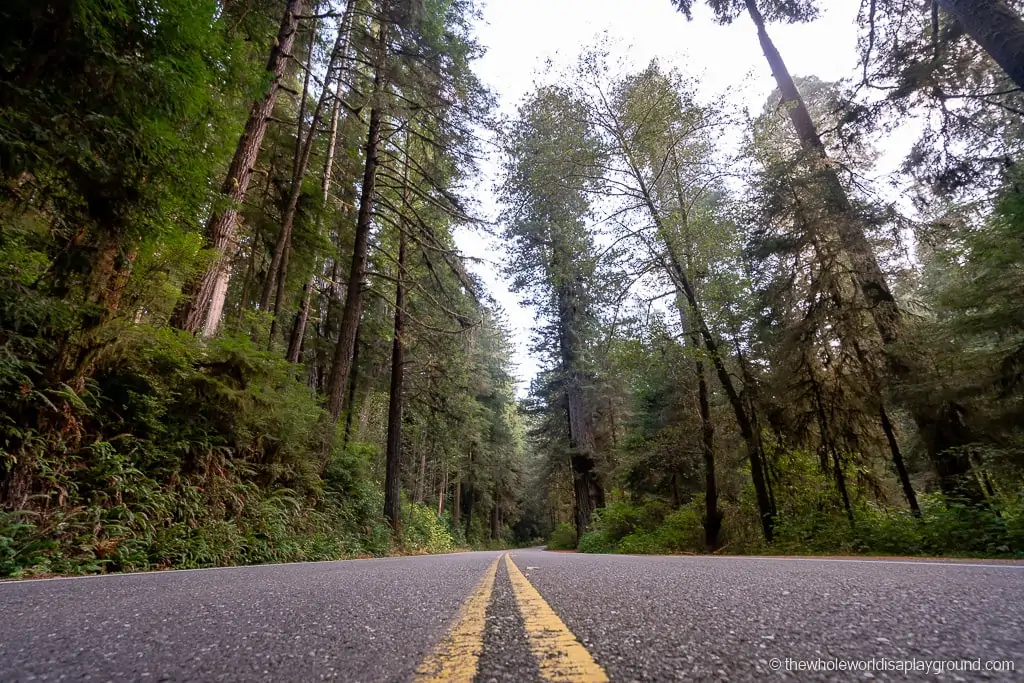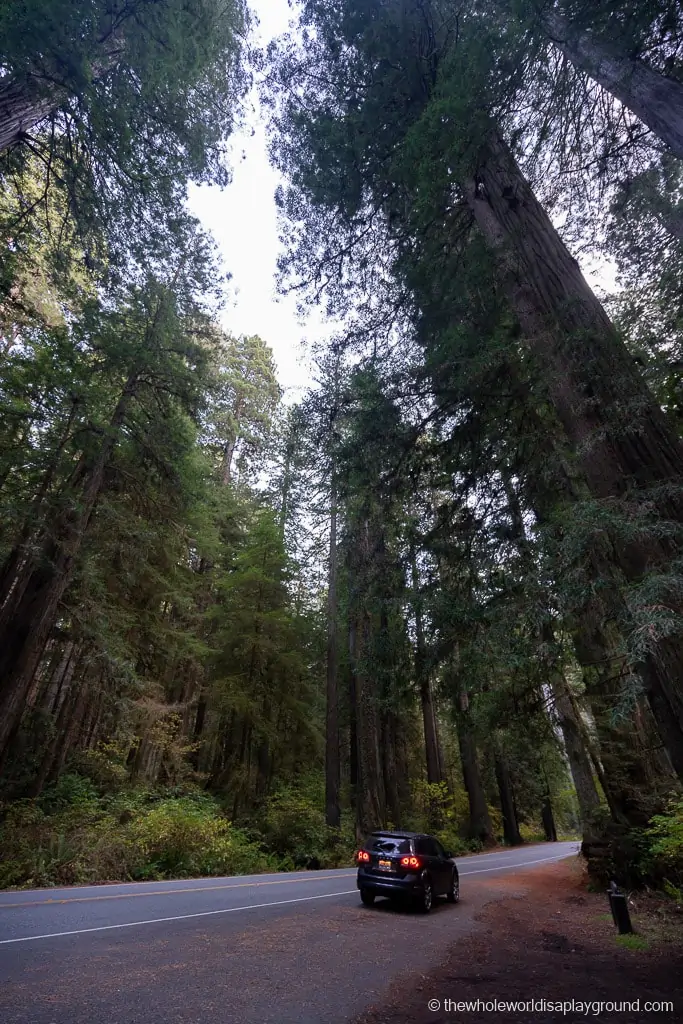 The sequoias in the Giant Forest of Sequoia National Park in Tulare County are another fantastic stop and home to General Sherman, the world's tallest tree.