While booking a flight from Hong Kong to Bangkok and back we realised Emirates were operating private suites on the A380 on the route and snapped up two seats to sample the Emirates first class experience. Here's how we got on!
The first class cabin
The first class cabin was located on the upper deck of the plane and had a 1-2-1 configuration with 4 rows of private suites. The middle suites have a privacy divider which can be lowered if travelling with a companion. The cabin was immaculate and decked out in a soft beige, wood panel and gold decor and emanated a luxurious and opulent air.
Where to stay in Hong Kong

Click here for the best Hong Kong Hotel Prices
The Suites
A member of the flight crew led us to our suites and demonstrated how to lower the middle privacy divider so we could have a chat and discretely oh and ah at our surroundings! As I settled into my suite I was in complete awe of the space and privacy offered. I have never had so much personal space on a flight, it was such a massive treat.
The first class suites are equipped with a personal mini bar, a widescreen tv, a vanity table and a mirror. There's a lot to take in for such a small space with the seat controls, ICE in flight entertainment system, mood lighting and sliding doors. Emirates very helpfully provide a 20 page first class suite guide to help with all the gadgets. I usually prefer just to press the buttons and hope I don't accidentally call the crew but it is interesting reading material
With the button pressing, the suite guide and the assistance of the helpful and friendly crew it didn't take long to get the hang of all the gadgets and sit back and relax!
There was plenty of storage under the vanity table for any hand luggage, complete with its own seat belt to keep it safe during the flight. As the luggage is secured to the side of the suite, in front of the table and mini bar counter, it didn't infringe on the leg room. The suite also boasts a private wardrobe (which is really just some hanging space behind the tv panel!) for hanging jackets and there were some compartments for smaller items hidden in the panelling. There are no overhead bins to store luggage in the cabin.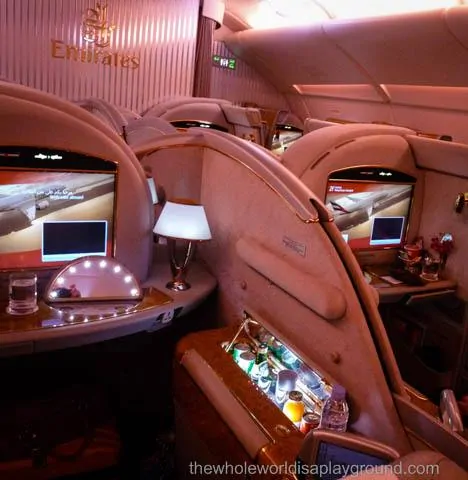 The seat was very comfortable both when upright and reclined. The controller is locked into an upright position during take off and landing so there wasn't long to experiment but I tried out all the buttons and tested the lie flat bed. There seemed to be an excessive amount of bedding and I had no idea what to do with it all so, after placing a call to the crew, I had my lie flat bed in place on return from a short trip to the bathroom. They'd even left a flower and chocolate on the pillow. Too cute!
With an anti slip mattress, down feather duvet and a blanket I was certainly cosy for my short lie down (yes, I did feel a little guilty getting my bed converted 90 minutes into a 2 hour flight but needs must!). The fully flat bed measures in at 6″5 so, as a short little mid 5 footer, I felt like I had acres of space to stretch out in. The seat rests can be lowered for maximum comfort and it was such a novelty not to have an arm rest poking into my back. The bed was very comfortable, not exactly hotel standard, but exceptional for an airplane.
The 23 inch touch screen television is so large it felt like I was in my own personal movie theatre. There was a massive selection to chose from and I opted for the flight camera to watch take off and landing (it's interesting to watch the noticeably long take off for the A380, it felt like we taxied for ages) followed by a few tears during Marley and Me (it gets me every time!). Emirates offer some nice noise cancelling ear phones although the A380 is a very quiet ride anyway.
The outside cameras were one of my favourite features, allowing me to watch the live take off and landing. I felt a bit displaced in the middle of the aisle when I normally chose a window seat on flights (someones got to keep an eye out to help the pilot!) but it was just as good watching the live show.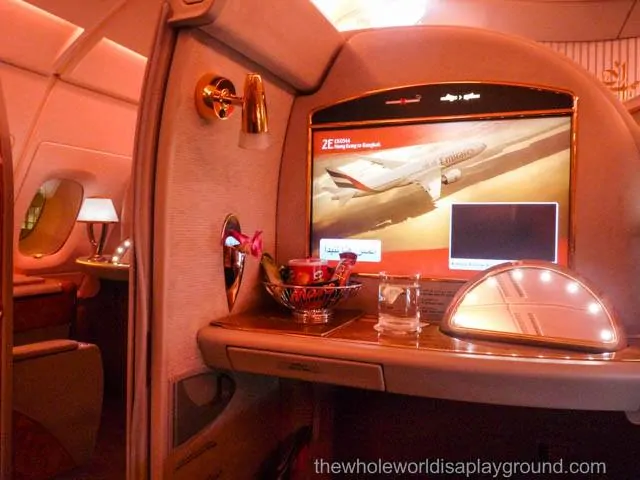 Where to stay in Bangkok
We've spent over two months in Bangkok and have had the opportunity to sample some amazing hotels across the city. Our favourites include:
Click here for the best Bangkok hotel prices
Privacy
The sliding suite doors give the feeling of complete privacy but they are positioned at a height that the crew can still check in on passengers during the flight. The window seats appeared to be more private as they are enclosed to the side of the plane while in the middle seats there is the privacy divider between two suites and a sliding outer door. The middle seats are perfect when travelling with a companion but if flying alone I would definitely prefer the window suites as they offer more privacy for a solo traveller.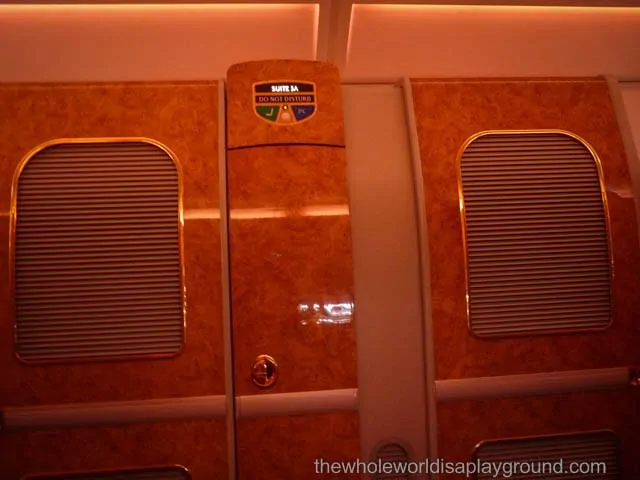 Food and Beverages
Each suite has a personal mini bar stocked with soft drinks and water. It's a nice touch but the drinks aren't cool so asking for ice cubes mostly defeats the purpose of not having to ask for a drink! I'm not a room temperature kind of girl I'm afraid!
A basket of goodies (Pringles and Mars Bars and the like) was in our suite on arrival and was topped up whenever we indulged in any of the treats. The crew removed the basket for both take off and landing.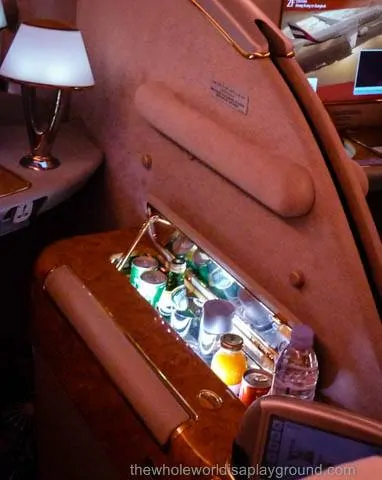 I was welcomed with a pre flight glass of Dom Pérignon champagne (what's not to love?). I had to press the call bell for top ups as there were no crew around but they arrived promptly. The food and drinks were hand delivered, it was strange yet wonderful not having a trolley in sight during the entire flight.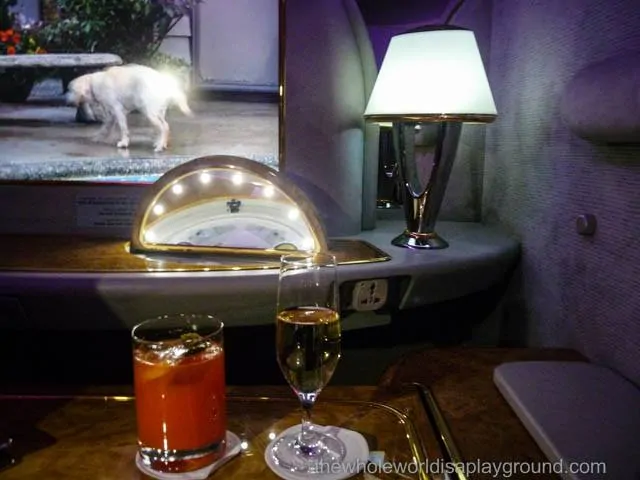 We were presented with a menu containing a 'light' meal option. The menu was leather bound giving the illusion we were dining in an upmarket restaurant. Which I suppose we were! Emirates' definition of a light meal differs significantly to mine and offered appetisers, salads, mains, a bread basket, desserts, fruit and a cheese board. I call this a special occasion but I'm not complaining! I wasn't really hungry as I'd already visited three lounges and, being on my third flight of the day, it was way past my bedtime! Everything I ate was faultless and served exactly as I'd requested.

The Amenity Kit

I was a little disappointed not to receive a traditional airline amenity bag but there were still some goodies up for grabs. Slippers and eye masks were provided at the start of the flight and a trip to the bathroom yielded some additional treats including a dental kit, exfoliating pad and some nail files. Timeless Spa lotions were provided in a moon shaped package under the vanity mirror.
Passengers on longer flights receive Emirates pajamas and their own personal amenity kit but I guess this is the trade off I had to make for my shorter and less expensive fare – for another great short haul option check out this Aukland to Sydney Emirates first class review.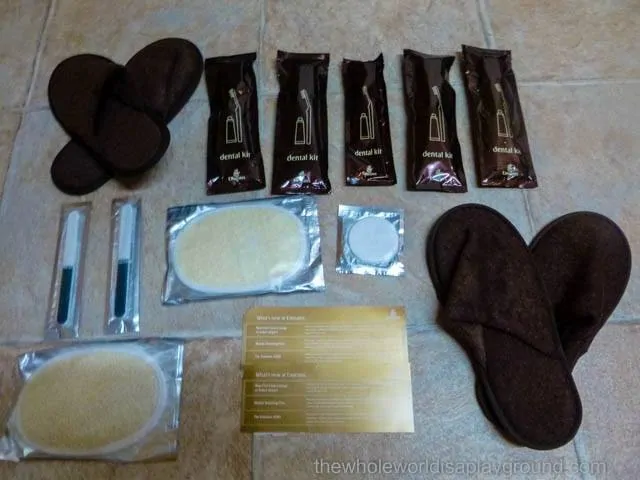 Onboard Amenities
Among the wood panelling and gold decor there are two bars on the upper deck and, exclusive to the first class lounge, two shower spas.
The Bars
The 'Social Area' is located at the front of the first class cabin and is exclusively for first class passengers. Now I think I got a bad deal here as all I saw of the Social Area was a water feature. Striking as that water feature may have been I was disappointed to miss out. The load was very light on both legs of my Hong Kong-Bangkok route (4 passengers in total in first class on both flights), so I'm assuming they didn't bother to open the first class only bar on such a short flight and with such a light load.
The second bar, 'the lounge', located in the business class cabin and accessible to both first and business class passengers, offered hot and cold canapes, an excellent drinks selection and soft leather couches on which to relax.
The Shower Spas
Another on board indulgence is the two shower spas in the first class cabin, with a state of the art shower system, marble sinks, Timeless Spa shower kits and fine linens. The option to take a shower was not mentioned to us on either flight, presumably due to the short flight time. I assume, that if pressed on the issue, the shower attendant (yes, really!) will allow a passenger to have a shower during the short flights but I didn't ask so can't confirm this. Normally, shower times are reserved at the beginning of the flight and passengers have the use of the shower during their allocated time slot of 30 minutes.
The shower spas were accessible during the flights and we were able to use them for bathroom trips. The bathrooms were actually beautiful, not a description I would normally reserve for airplane bathrooms! They were spacious and spotless with walnut and marble decor, a full size mirror on one wall and a bench seat. A selection of toiletries and bathroom essentials were on display and there was even a little fresh flower to remind me where I was!
The shower itself is compact with a timer which provided 5 minutes of water per shower. There's even a bench if you fancy a sit down.
If I had been on the flight longer I would have loved the opportunity to take a shower and arrive at my destination refreshed. As it was, I didn't want to use one third of my flying time getting lathered up when there was so much else to do!
Service
With only 4 passengers in first class on both legs we had a high ratio of flight crew to passengers. The crew, while nice when they were around, were mostly absent outside of the meal service. I always feel a bit uncomfortable ringing the call bell but I had no choice during these flights for drink top ups and a turn down.
The Airport
Flying in Emirates first class allows access to the premium check in counters, express routes through immigration and security, priority boarding lanes and baggage (don't underestimate the convenience of this with 500 passengers on the aircraft!) and use of the Emirates lounge in Bangkok and Hong Kong. There are complementary chauffeur services for business and first class passengers but the Hong Kong – Bangkok route is excluded from this perk (only itineraries exclusively between Bangkok and Hong Kong are excluded).
The Lounge:
Emirates have relatively few flights from Hong Kong and Bangkok so access to the lounge is restricted to opening hours around the flights. I'm assuming it's open for a three hour period prior to the flights but it is best to check before rocking up at the airport hours in advance with the intention of relaxing in the lounge.
Presumably because of the limited flights there is a single lounge for first and business passengers and eligible Skywards members. First class passengers therefore miss out on the typical special touches like a la carte dining or complimentary spa treatments that result from having a segregated lounge. However, credit must be given to Emirates for actually providing their own airline lounge and not offloading their passengers to another airport lounge.
I absolutely love my time in the airline lounge when I'm travelling for leisure and consider it an extension of my trip. There's no rushing through the airport 45 minutes before departure when I'm on my holidays, I always try to budget a few hours for sitting backing and relaxing in the lounge! Both the lounges in Hong Kong and Bangkok are nice and relaxing and have a very traditional Emirates feel. I wasn't massively impressed or inspired by either lounge but the quality of the food and drinks was excellent in the Hong Kong lounge and the Emirates staff were professional and welcoming as always. The lounges did get busy as the flight time approached but they never felt overcrowded.
Hong Kong
Similar to other lounges I've been in Hong Kong airport, Emirates is on the mezzanine level and is open roofed. There's some background noise and it lacks the exclusiveness and privacy lounges offered in other airports. The lounge is well maintained and slightly preferable to the Bangkok lounge. The food and drink selection was wide with a good choice of hot and cold dishes and beers, wines and champagne. The highlight was the club sandwiches which were made to order. And the champagne. I'm partial to a nice glass of bubbly!
The presence of a very efficient bathroom attendant ensured the toilets and showers were spotless at all times and the staff provided drink top ups and offered magazines and adapters for our electronics.
Bangkok
There was really nothing of note in the Bangkok lounge. It was quiet and had the standard Emirate decor. The food offerings were more canteen style than Hong Kong and not all that enticing. Overall, definitely more sedate and low key than the Hong Kong offering.
Overall
The six hours I spent in the Emirates first class suites were, without a doubt, the most extravagant and luxurious six hours I have ever spent on a plane. It was so good I was wishing that I was on a 13 hour flight instead of three. Really!
There are some sacrifices from flying on the short haul Hong Kong-Bangkok route which probably accounts, in part, for the lower price point offered on this route. Firstly, there is the lack of chauffeur service for itineraries exclusively between the two cities. The lounges in both airports, while good in the sense that there is a standalone Emirates offering, can definitely be described as average for a first class fare on a major airline. On neither of my flights did the crew make any reference to the shower or ask if I would like one and the first class bar, 'The Lounge', was closed on both legs. Finally, the absence of an amenity bag, while obviously not a huge deal, did make me a little sad.
However, the first class product is outstanding in itself. The suite concept is magnificent and sometimes it was easy to forget I was on an airplane and not my own little hotel room. It was wonderful to shut the door and settle in my own private space, it really allows for complete relaxation. The small touches such as the goody basket, fresh flowers and a chocolate on my pillow, were noticeable and made me feel at home. Ok, a hotel room. It's not like I get chocolates on my pillow at home!
The problem is Emirates have set an impossibly high bar for air travel and when I left the Emirates flight in Hong Kong for my onward flight to London with Air New Zealand I felt a bit hard done by in my business class seat! It's ok though, I quickly got over it though when the champagne arrived so I don't need too much sympathy!
Read more about our premium flights and airline lounge experiences!