It's not always easy to find the perfect hotel in countries like Cambodia and Vietnam but we hit the jackpot with our stay at the Moon Boutique Hotel in Siem Reap. Beautiful rooms, good food, lovely staff and a fantastic little spa all resulted in us not wanting to leave! Read on to see why!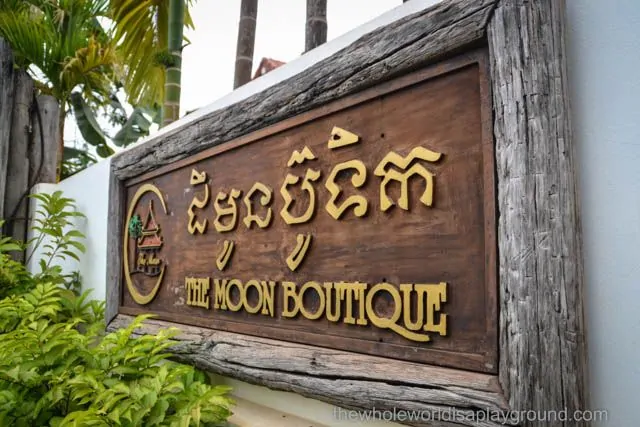 Moon Boutique Hotel
The Moon Boutique Hotel is an intimate 17 guest room hotel arranged in a bungalow style setting around a tranquil swimming pool. Rooms have individual terraces leading to the swimming pool and the facilities include a restaurant and bar, an outdoor swimming pool, a 24 reception and an onsite spa. The hotel provides complementary wi-fi (kudos to the hotels in Vietnam and Cambodia for including quality internet access in the room rate) and round trip transfers to the airport.
The Rooms
The room was equipped with everything we needed for our stay. Amenities included a kettle with tea and coffee, a refrigerator/mini-bar, a flat screen television and an in room safe. We were provided with a fruit basket on our arrival and two complementary bottles of water which were replaced daily. The air conditioning was excellent and we were able to adjust it to a comfortable temperature even for sleeping. Bathrobes and slippers were a lovely extra touch and I was delighted to be reunited with a hairdryer. My hair was looking good!
Housekeeping came in daily and our room was always sparkling when we returned each day.
Terrace
Each room had a small terrace with a table and chairs and it was lovely to relax in the evenings. There's lots of trees and flowers between each balcony and around the pool so it felt quite private despite all the rooms being in close proximity. Just bring the bug spray for the outside areas in the evenings and early in the morning. Did someone say mosquito?!
Bathroom
The bathroom was massive and beautifully decorated with a separate marble bath tub and rain shower. I was totally won over by the petals in the sink when we arrived and might even admit to washing my hands in the bathtub to prolong their stay!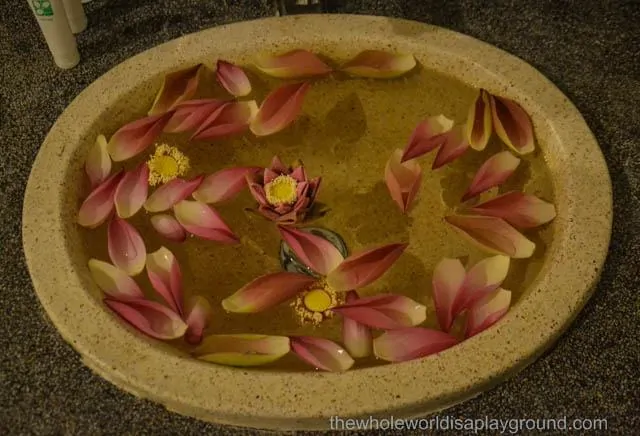 Food and Drink
There is an open air bar and restaurant and food and drinks are also available at the pool.
Breakfast
Breakfast was included in our room rate and there was a choice of continental, American or local. The offerings included eggs to order, bread and pastries, juices, fruit, yoghurt, pho, and tea and coffee.
Lunch/Dinner
The quality and cost of the hotel food was a welcome surprise. The menu had a selection of both Western and local food and prices were on a par with the restaurants on Pub Street. We ate a few lunches at the pool and had dinner in the hotel restaurant one evening. The food was nicely prepared and we enjoyed everything we had. We were going through a curry phase (probably due to the presence of potatoes and our Irishness coming through!) and it was our favourite dish.
Drinks
We loved the daily happy hour from 5 p.m to 8 p.m when Angkor beer was 2 for the price of 1! There was a good selection of cocktails and bottled wines available.
The Swimming Pool
The pool is situated in a courtyard enclosed by the guest rooms and the open air restaurant and feels secluded and private. We spent a considerable amount of time by the pool as our routine went something like this: return from temple tour drenched in sweat and dust, dive into swimming pool (after changing into a bikini and showering obviously!). Instantly feel amazing!
The atmosphere at the pool was very relaxed and we met a lot of interesting travellers, something that doesn't always happen in the bigger hotels. Guests were a mix of of the career year out travellers, couples and a few pretty hip round the world retirees who I hope I can have a fraction of their coolness when I hit retirement.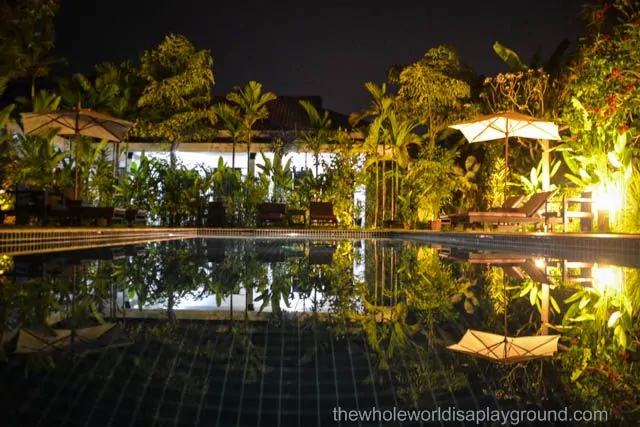 The grounds were beautifully manicured and well maintained with lovely details such as Buddhas and wooden statues. We even had a little frog friend join us one evening in the bushes!
The Spa
I want to go back. We had a perfect little ritual going on. When we returned from our days of sightseeing it was usually around happy hour time at the bar. The husband would order the 2 for 1 giant bottles of Angkor beer and settle by the pool to read while I would relocate to the spa for some rest and relaxation. The hotel had a promotion offering 50% off spa treatments for hotel guests and, with the discount, the massages were around US $6 an hour.
The spa was small and, while not luxury in the sense of US or UK spas, was much nicer and plusher than I was expected.  I had my feet, back, neck and head rubbed repeatedly throughout our stay and enjoyed it immensely every time. I reckon I clocked up more spa hours in a few weeks than during the previous 12 months in New York. Not an easy task but I struggled on.
Location
The Moon Boutique Hotel is located in the historical land of Cambodia Kingdom of Wonder.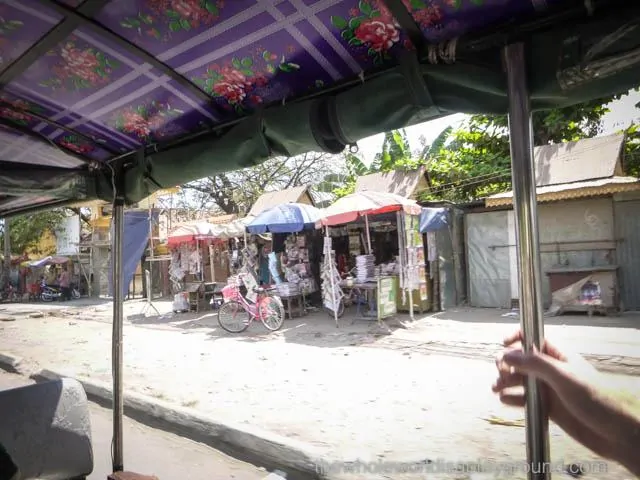 It's a bit off the beaten track and we were slightly hesitant as we bumped along a dirt road on our way to the hotel after a long journey from Bangkok. As it turned out, we loved being a bit away from the hustle and bustle of the main tourist area.  The hotel provides free tuk tuks to Pub Street (the main food and drink street and about a 5 minute trip) and even gave us a cell phone with the hotel number programmed. This allowed for easy pick up and saved the hassle of bargaining with a tuk tuk driver. We did tip a dollar or so for the journey as the service was quick and efficient.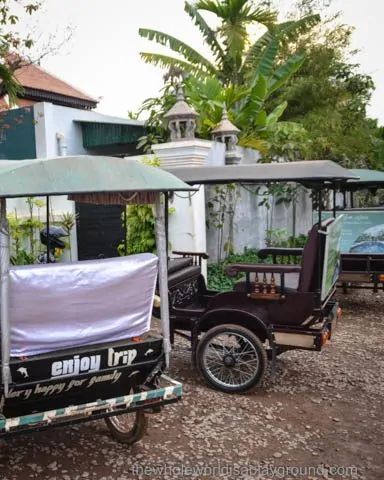 Service
The staff went out of their way to accommodate us and were friendly and warm. It's nice to see the same faces every day passing through the communal areas. They arranged our tuk tuk drivers for our temple tours (day tours were around US $15), dropped us off and picked us up on Pub street nearly every day, took us to the bike rental shop and took care of booking our bus to Phnom Penh and even sorted our seats beside each other!
Overall
It's hard to know what you are going to get when booking a boutique hotel but The Moon Boutique exceeded all expectations.
We arrived exhausted and dirty after a 12 hour journey from Bangkok and were greeted by staff with some cool cloths and a smile and instantly felt relaxed.
The standard of the rooms and communal areas was excellent. It's great to see a hotel providing free wi-fi and breakfast and little extra touches like bathrobes and slippers. Having food available at prices comparable to the local eateries was really convenient, sometimes you just want to laze around the hotel and relax without worrying about where to go to dinner.
Because of the size there's the opportunity to chat to the other guests and we met a lot of really interesting fellow travellers.
However, it's important to remember that the hotel is in Siem Reap and not in the heart of a major developed city and expectations have to be adjusted accordingly. English is not the first language of the staff and while it can be a bit frustrating if you are trying to communicate something a bit out of the ordinary, but the staff did their best to understand.  Being a small hotel it obviously can't offer all the facilities and staff numbers of the bigger chains but that's all part of the charm.
For us the hotel was a perfect little oasis of calm in the middle of Siem Reap and we both have no hesitation in returning for our next visit.
We booked The Moon Boutique Hotel through the hotel booking site Agoda which we find the cheapest and most reliable hotel booking site for South East Asia.