Having endured our fair share of cross country Myanmar bus adventures we decided to mix it up and travel by boat from Bagan to Mandalay. The anticipation of fresh air, the opportunity to witness Myanmar river life and the prospect of an entire boat (WITH TOILETS!) to wander around during our 12 hour trip meant that, despite a 4am wake up call, we were excited for the day ahead! For any Myanmar trip planners, here's our guide on how to travel between Bagan and Mandalay by boat!
Book Bagan to Mandalay cruises here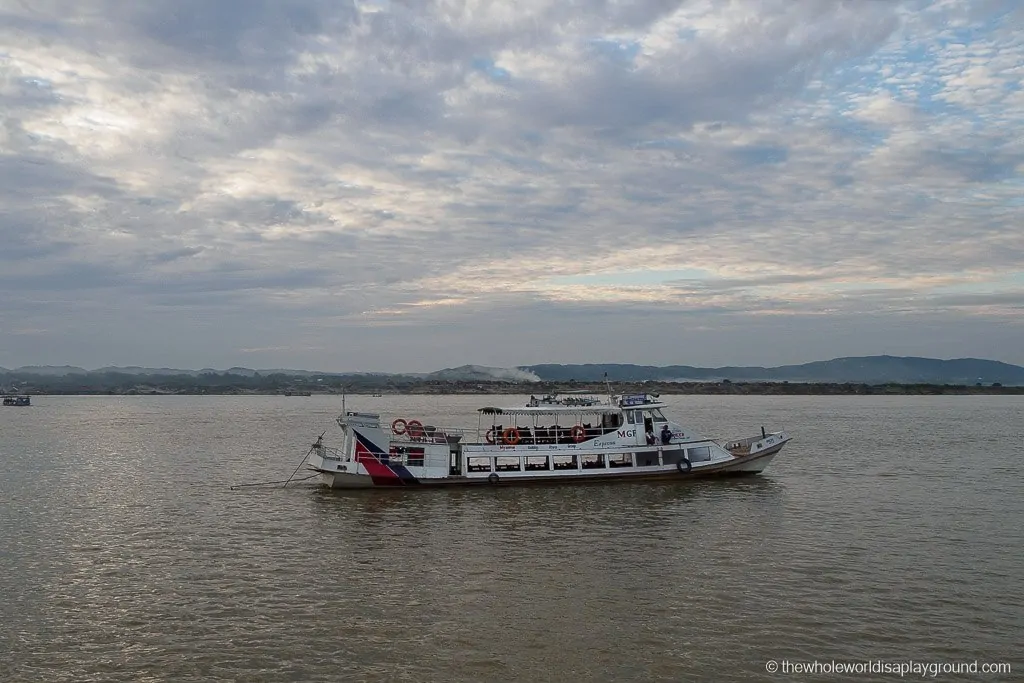 Bagan to Mandalay by boat
We travelled from Bagan to Mandalay on the MGRG Express.
Booking the boat: We booked the boat trip through our hotel (we stayed in ) and paid US $32 per person for the tickets.
Top tip: MGRG express only accept USD when paying in cash.
Boarding the boat in Bagan
The Bagan to Mandalay MGRG Express boat departs from Nyaung Oo Jetty in Bagan at 5:30am with check in opening at 5am. Our hotel in Bagan (the Zfreeti hotel in Nyaung U organised a taxi to pick us up at 4:45am for the short journey to the pier at a cost of 5,000kyat (around US $4).
Top tip: ask your hotel/guest house to prepare a breakfast box as it's a long day and food helps!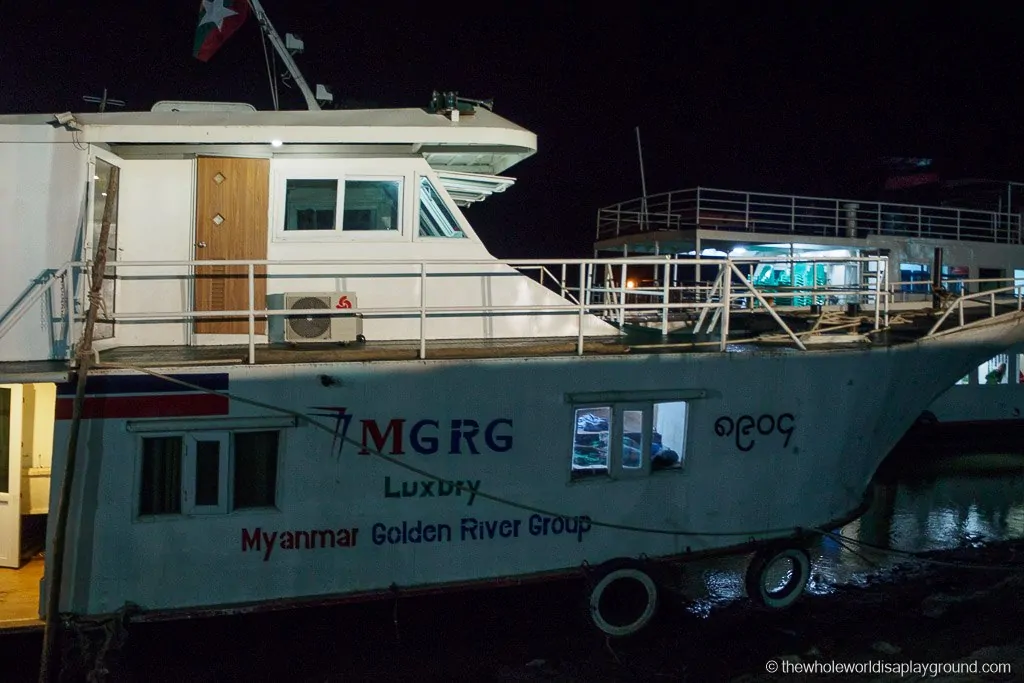 We arrived at the pier shortly after 5am and it was a hive of activity with passengers being dropped off for the boat to Mandalay.
Top tip: bring some locks for your baggage as it is stored in an accessible room during the journey.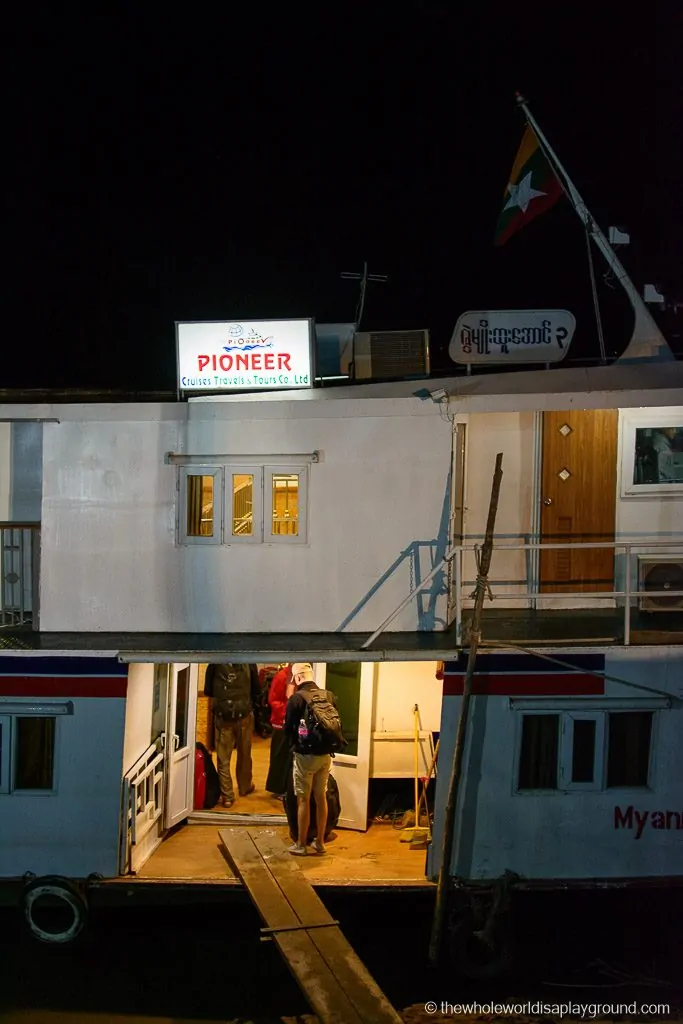 It was cold and dark when we boarded the MGRG Express and we were fortunate to grab the last 2 remaining seats indoors. There are around 20 seats inside and some late arrivals had to sit out on deck which was chilly pre sunrise.
Top tip: arrive with plenty of time before the boat departs to secure a seat inside the boat and bring a blanket for the early morning part of the journey to cosy up for some extra sleep time!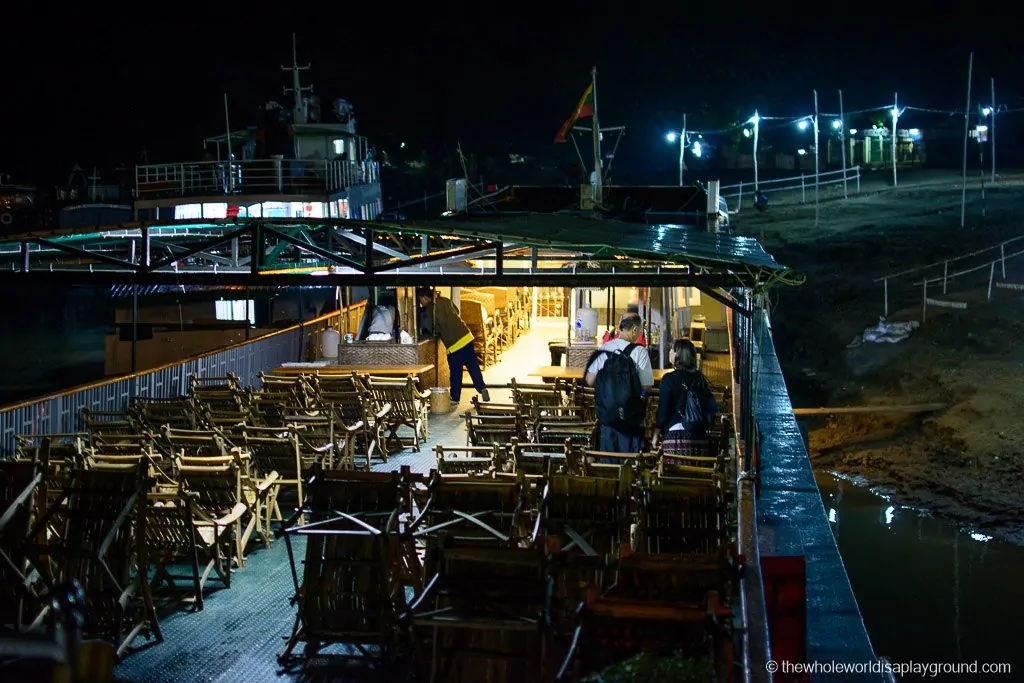 Our best Bagan hotels for visiting the temples
Bagan hotels tend to book up fast so book your hotel as far in advance of your travels as you can. Hotels in Bagan are located across three areas: Old and New Bagan and Nyaung-U. Nyaung-U, a mix of boutique hotels and local residents about 3km from the temples, is our favourite. Old Bagan, in the heart of the temples, houses many of Bagan's luxury hotels while New Bagan is home to larger hotels and new builds.
Nguang-U
ZFreeti Hotel: we stayed in the Zfreeti, a small hotel with lots of great restaurant options in the surrounding streets and an inviting swimming pool! We rented electric bikes from the store across the street to get around – Check for lowest prices here
Other good options in Nguang-U include the Sky View Hotel and Hotel Zein.
Old Bagan
Aureum Palace Hotel and Resort: located within the actual Bagan Archaeological Preservation Zone amongst the ancient temples themselves, this hotel give you the very best views of the Bagan plains. It's definitely one of the most unique hotels we've ever seen – Check for lowest prices here
Other good luxury options in Old Bagan include The Hotel @ Tharabar Gate and the Bagan Thande Hotel
New Bagan
Click here for the best Bagan hotel prices
Departing Bagan
Bagan sunrises are spellbinding and we were treated to another epic sunrise as we began our trip up the Irrawaddy River towards Mandalay. The gorgeous sunrise was one of the highlights of our journey.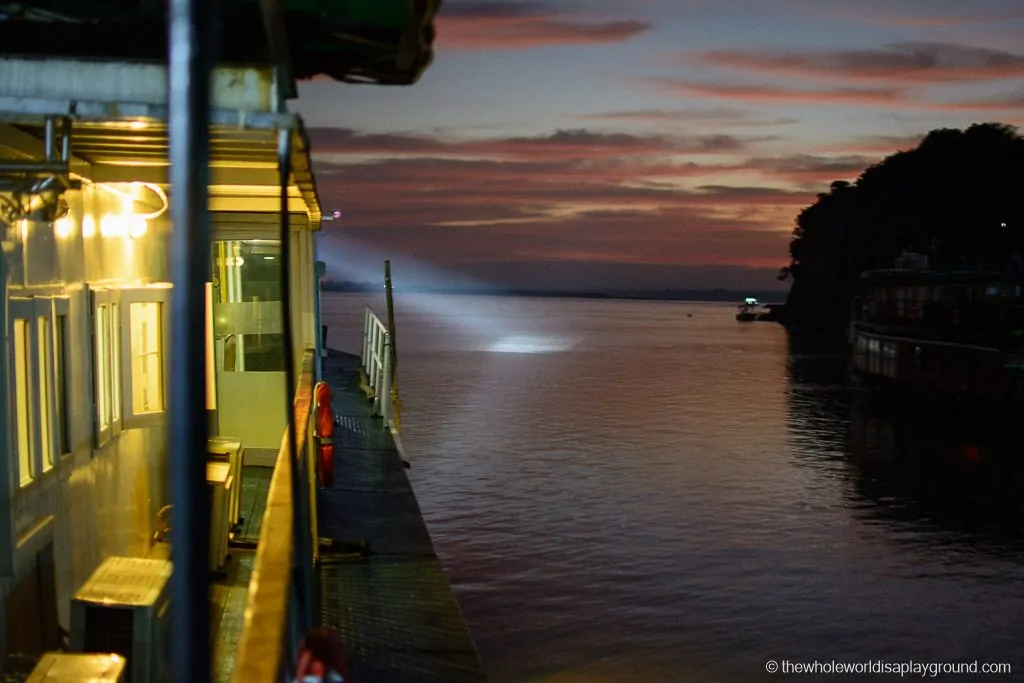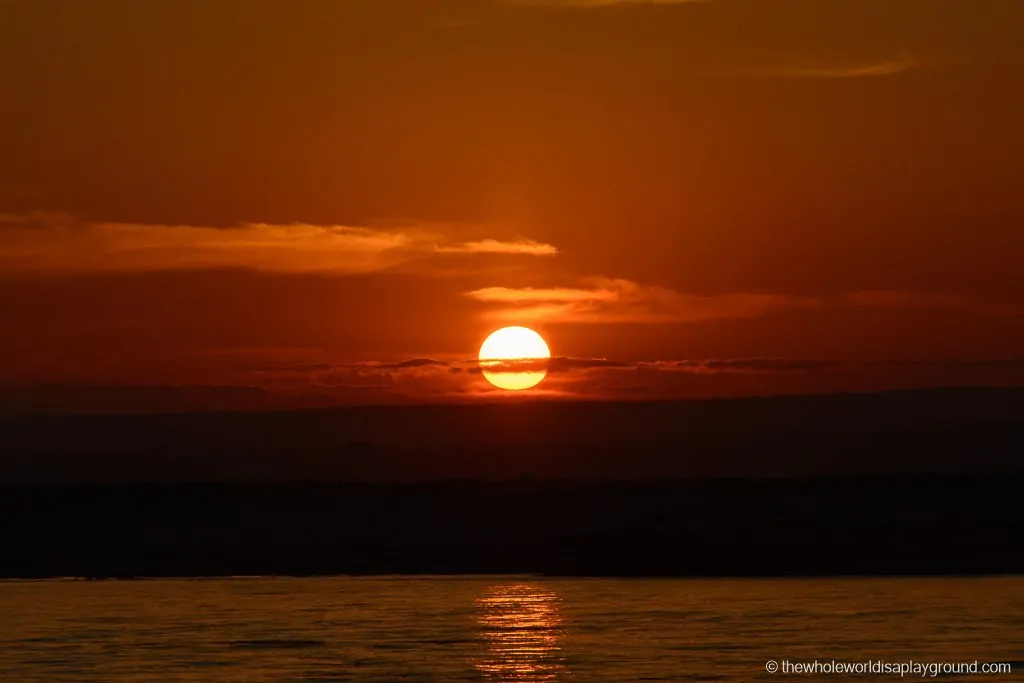 Food and Drinks on board
A breakfast box was provided as we boarded the boat and consisted of a banana, a croissant, a jam pastry and a boiled egg. 5am is a little early for breakfast for us so we saved the boxes for later when we'd woken up and were properly hungry! Tea and coffee were plentiful throughout the morning.
The crew came around and took our lunch orders with a choice of chicken fried rice or noodles. Lunch was served around 12pm and the food was good. Afraid of starving at sea, we'd also brought breakfast boxes from our hotels and snacks from the supermarket. Do this!
Top tip: bring snacks as there are none available to purchase on board. It's a long day and there's nothing worse than being hungry in the middle of a river!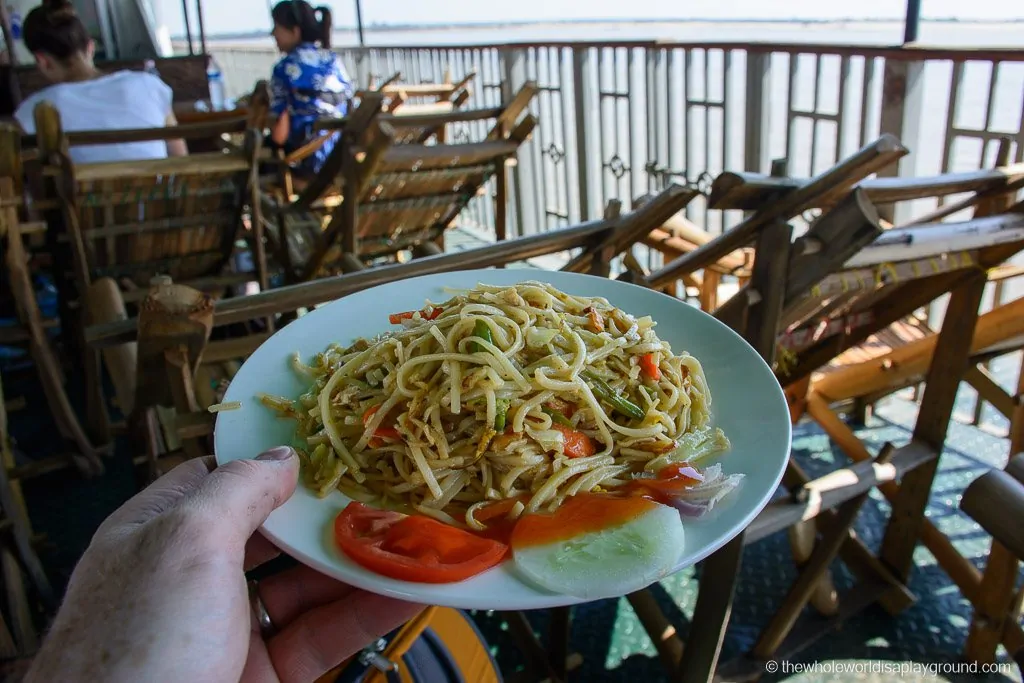 As the boat approached Mandalay we were served sandwiches with tea and coffee.
Tea, coffee and bottled water were served regularly on the boat. Beer and soft drinks were available to purchase on board with a large Myanmar beer costing around USD $3.
Seating
Seating is available both indoors and outdoors. Bagan and the Irrawaddy are dark and chilly at 5am and we opted to start the day with a pre sunrise nap inside where the seats are padded and very comfortable to curl up on and relax. On deck the seating is a mix of cane seats and padded benches and both are perfect for chilling out on during the day.
Top tip: use sunscreen! It doesn't seem super sunny on the river but it is!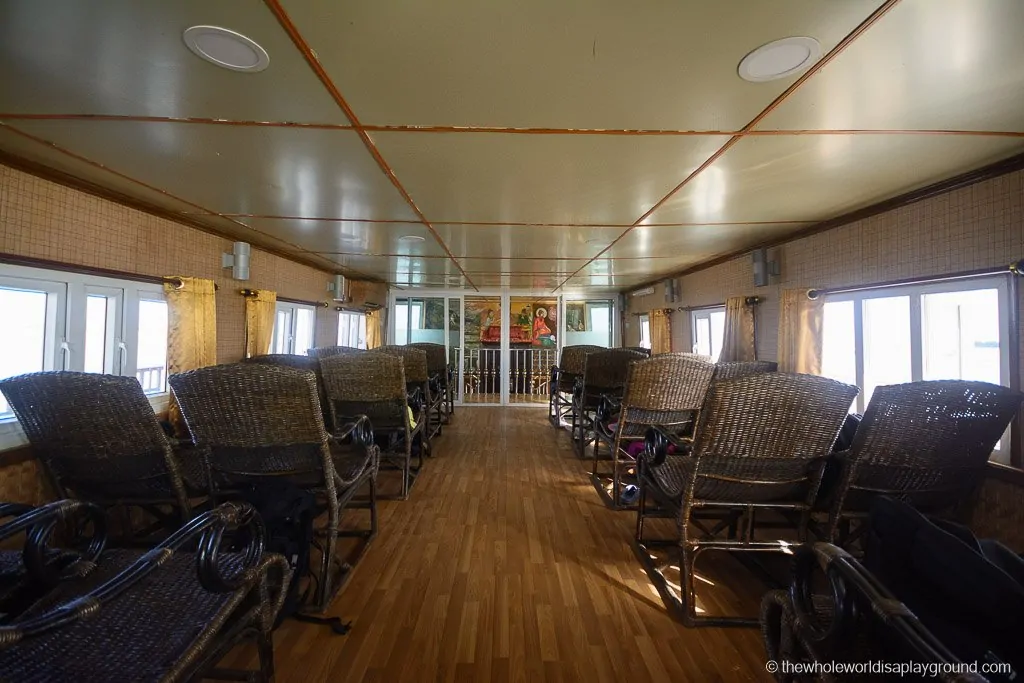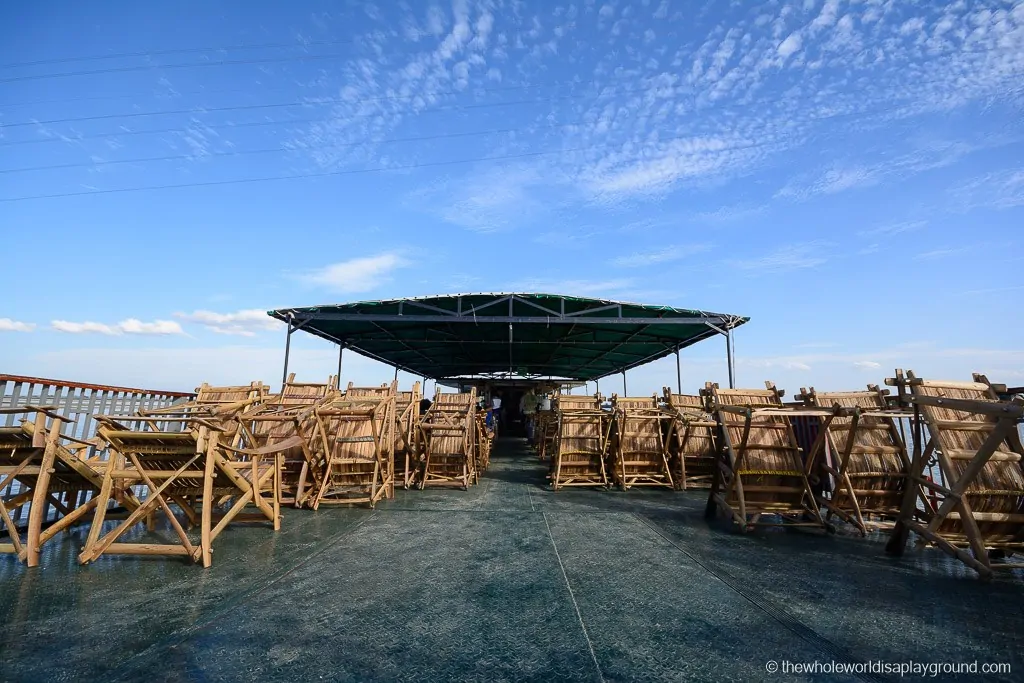 Bathroom Breaks
Having come to terms with the lack of toilets on Myanmar buses (yep, even the VIP ones) it was amazing to travel with not one, but two bathrooms on board the MGRG Express!
Top tip: bring some tissue in case supplies run low later in the trip. Hand sanitizer is also a good idea.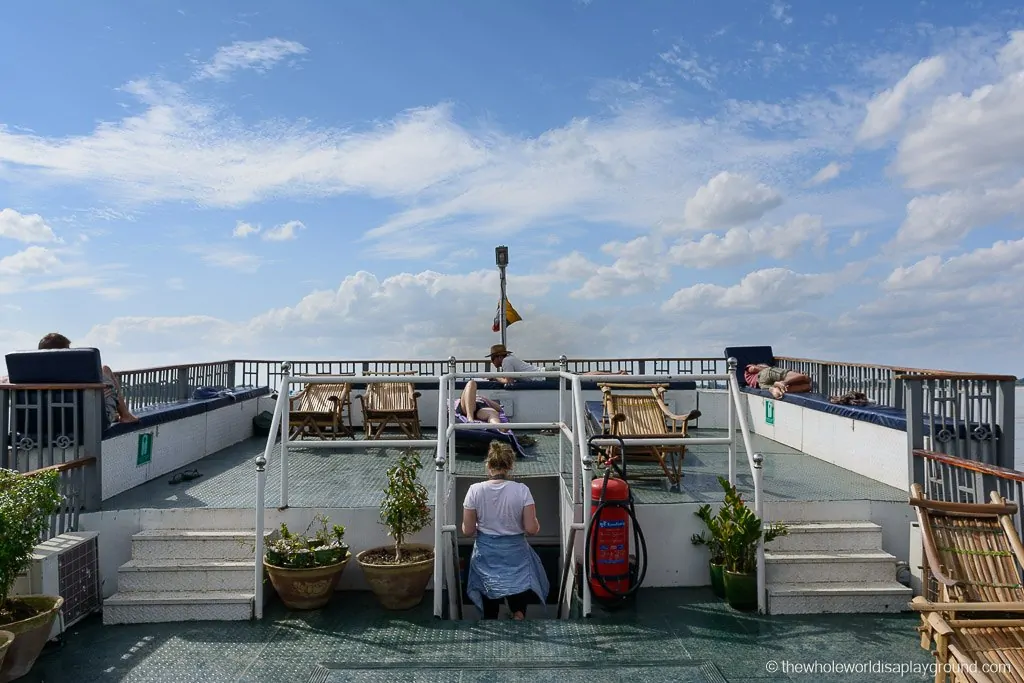 The Journey in Pictures
The promise of a glimpse into life along the banks of the Irrawaddy was one of the main reasons we were so excited to embark on our boat trip to Mandalay. We spent most of the day sitting on deck and snapping pictures of our journey!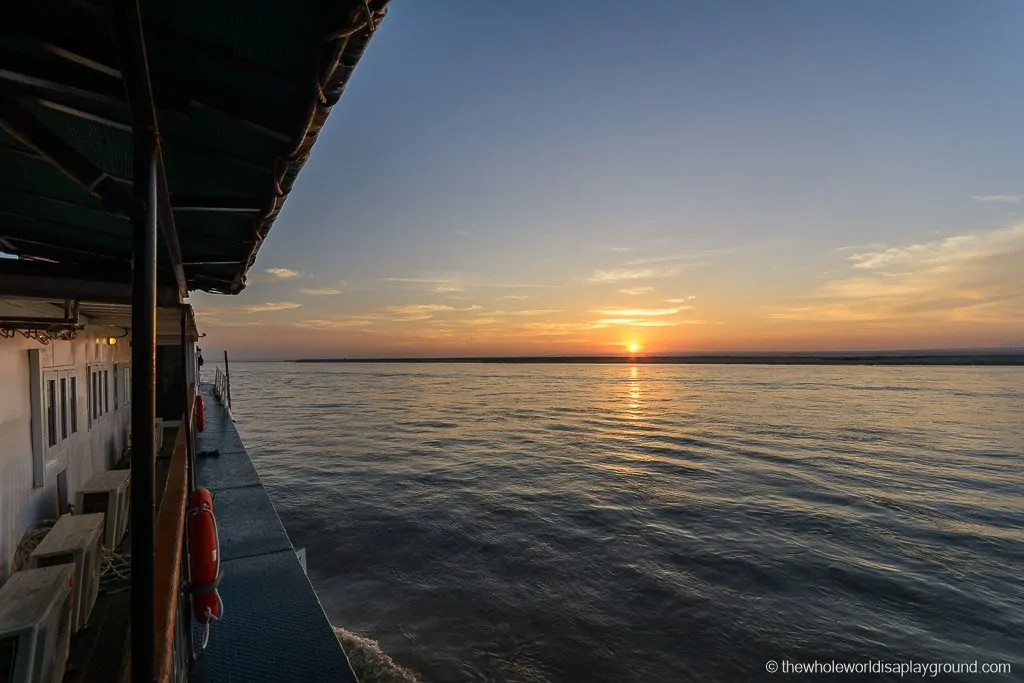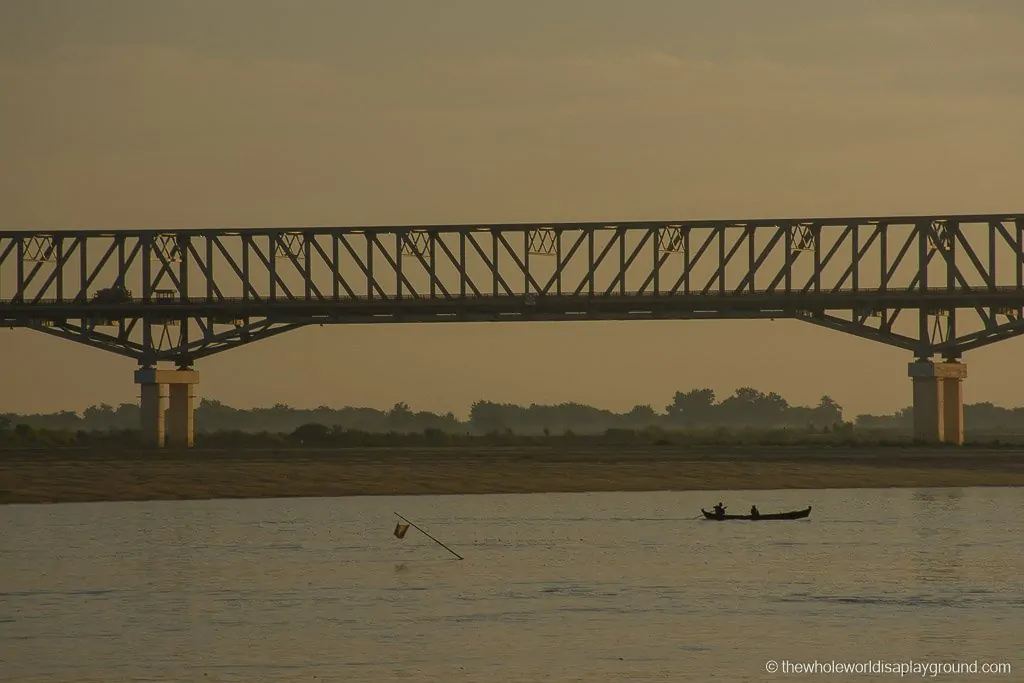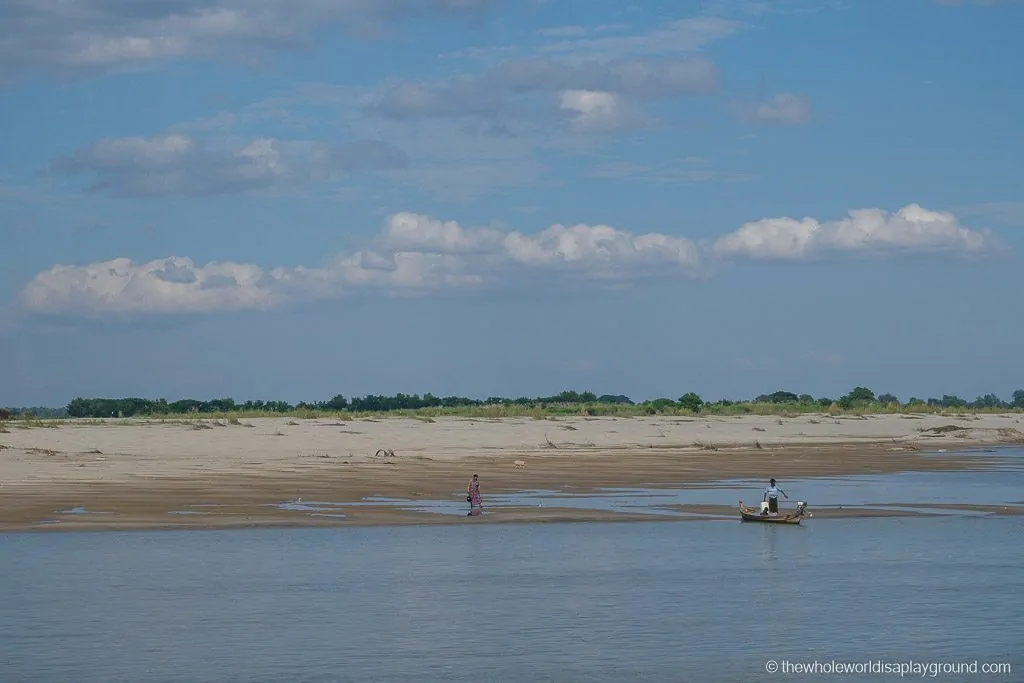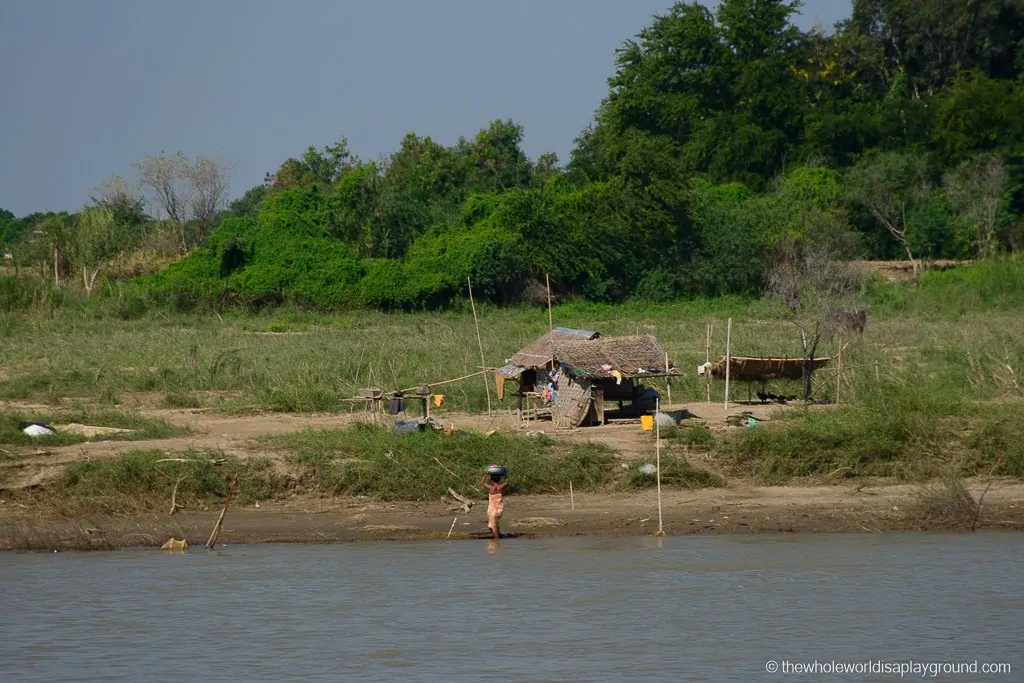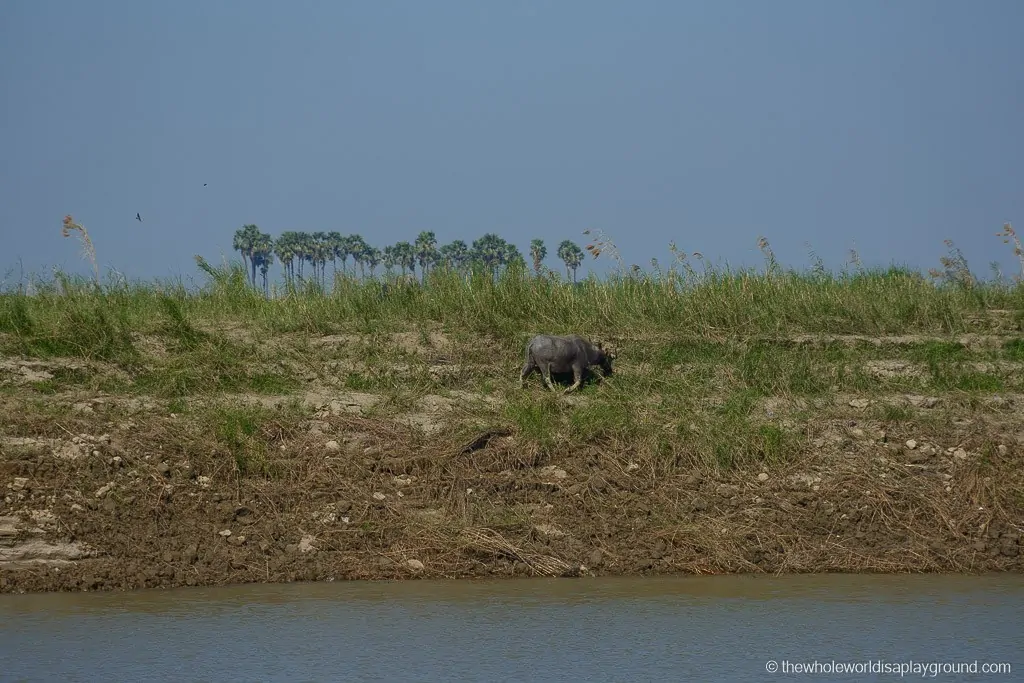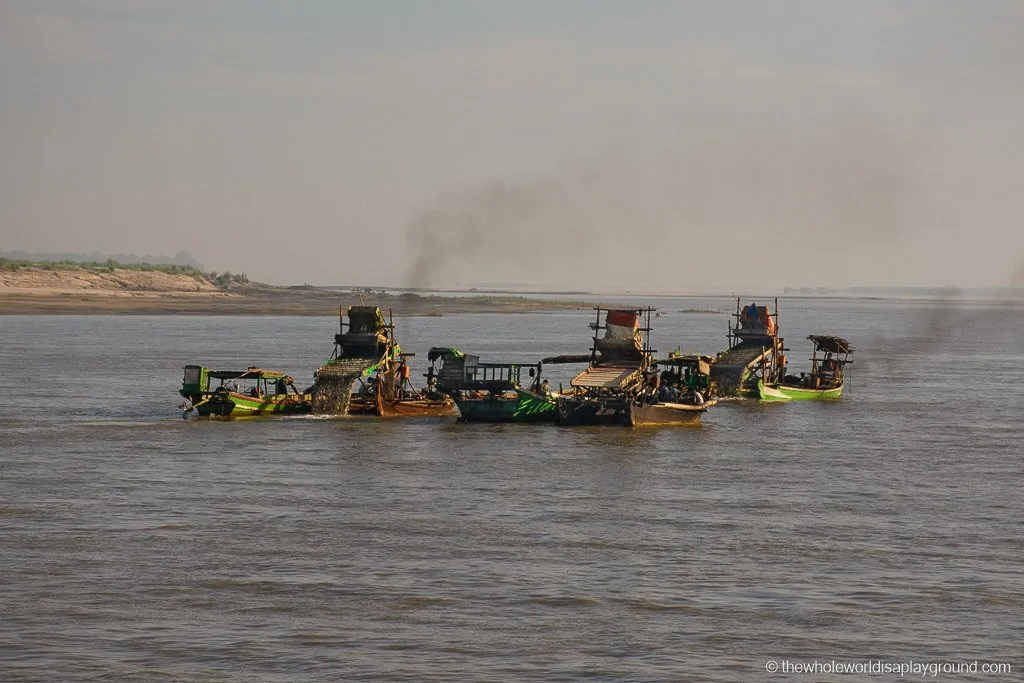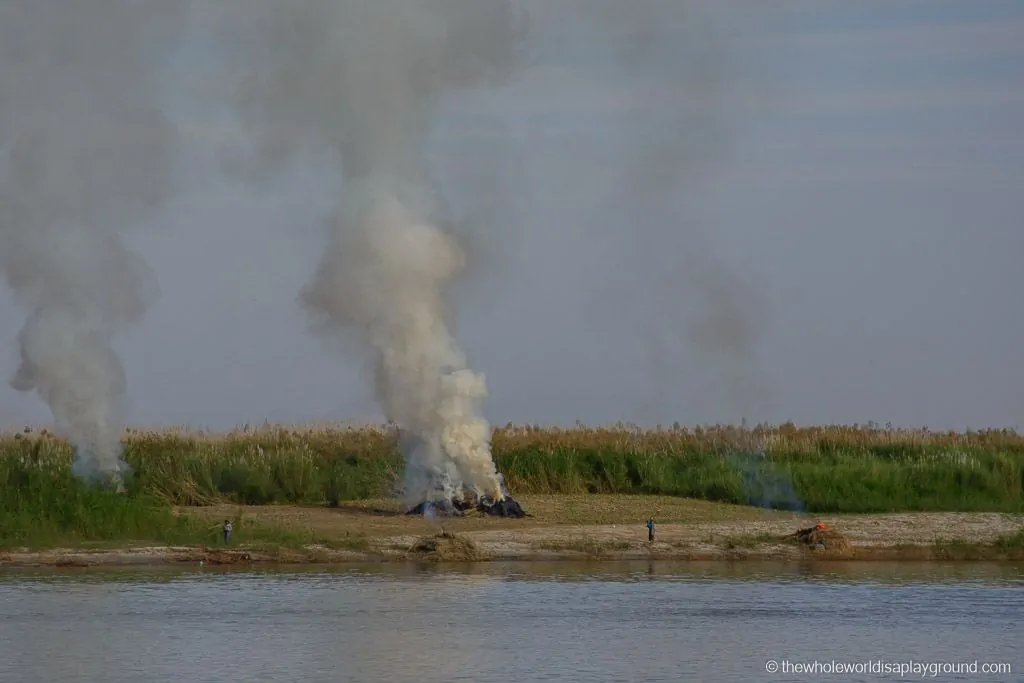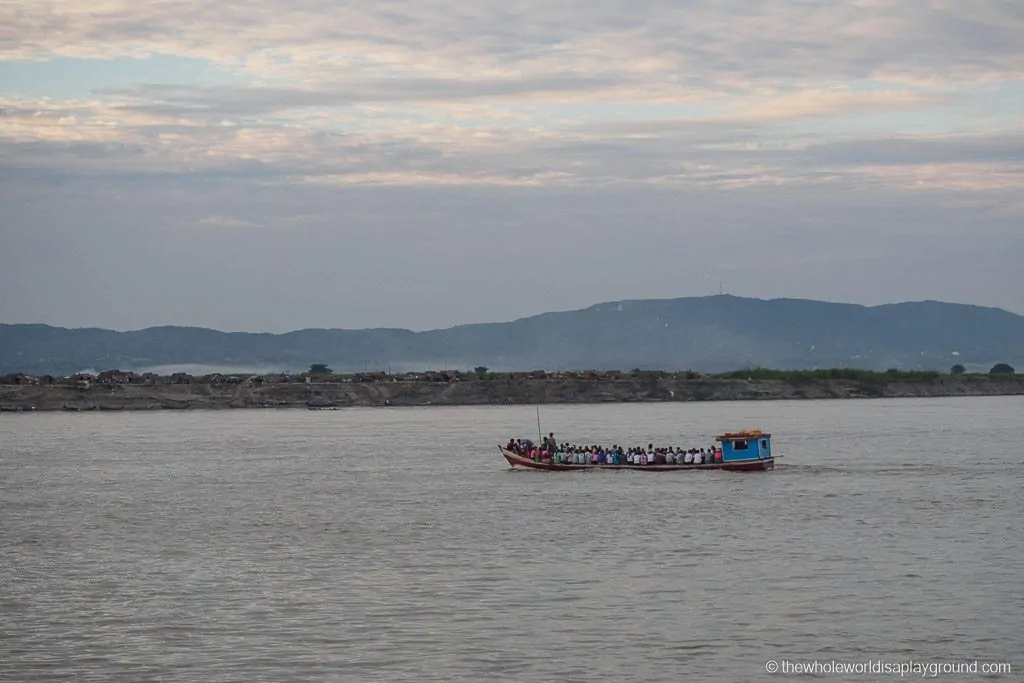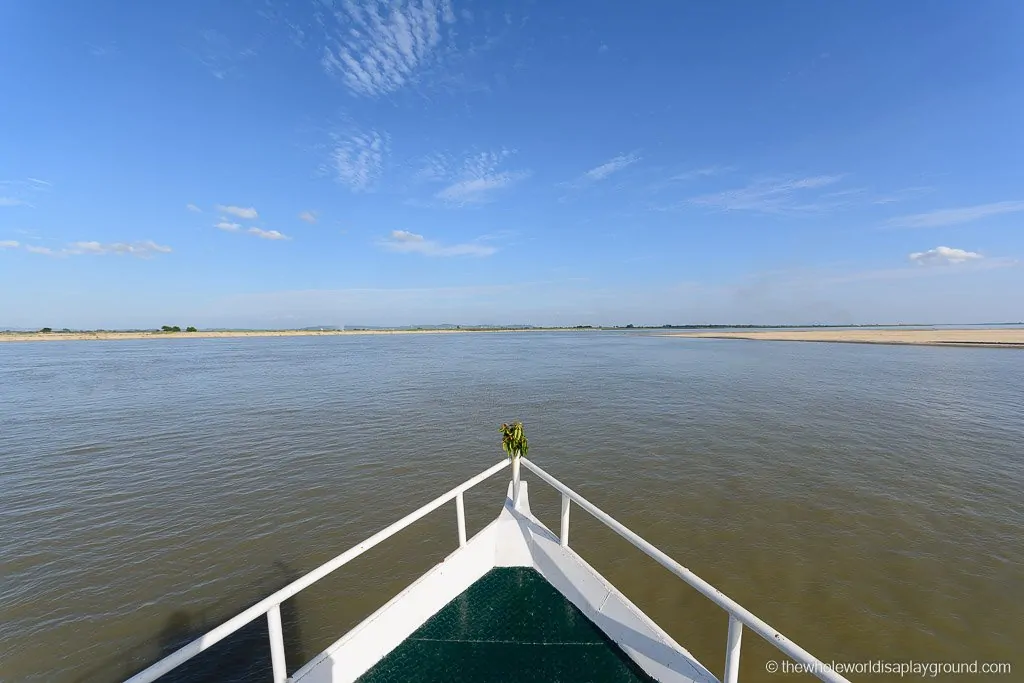 Arriving in Mandalay
Over 12 hours of river fun later we were greeted with the familiar sights of city life as we approached Mandalay. Traffic on the river increased, golden pagodas glistened on the hilltops and monasteries lined the banks of the river. Disembarking the boat required a quick climb through another boat parked alongside us and then a skip across a small wooden jetty until finally we were back on dry land!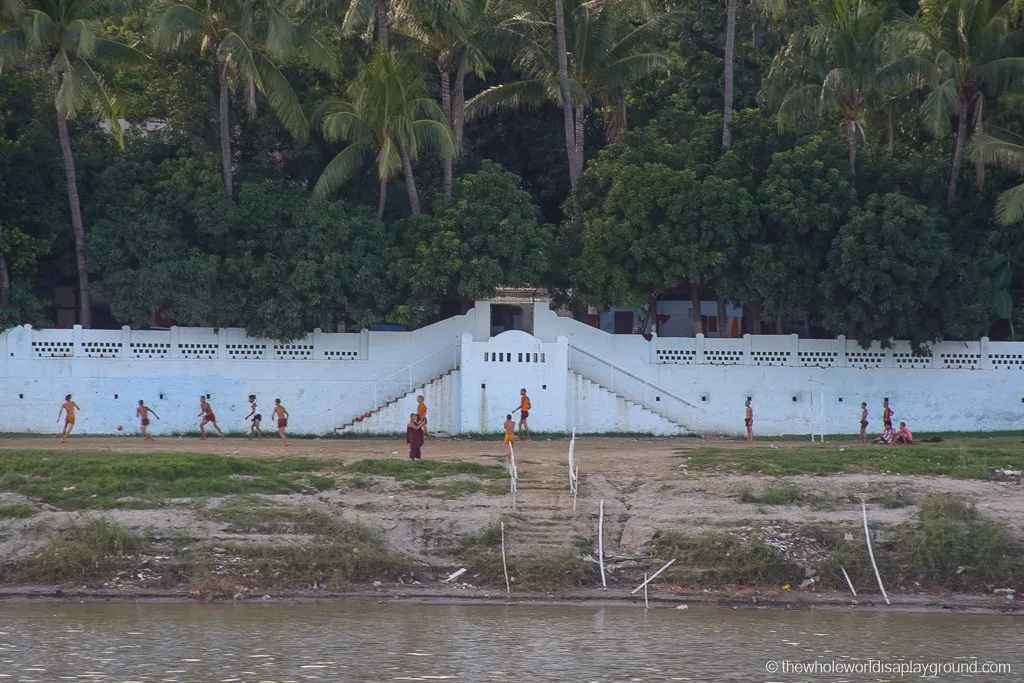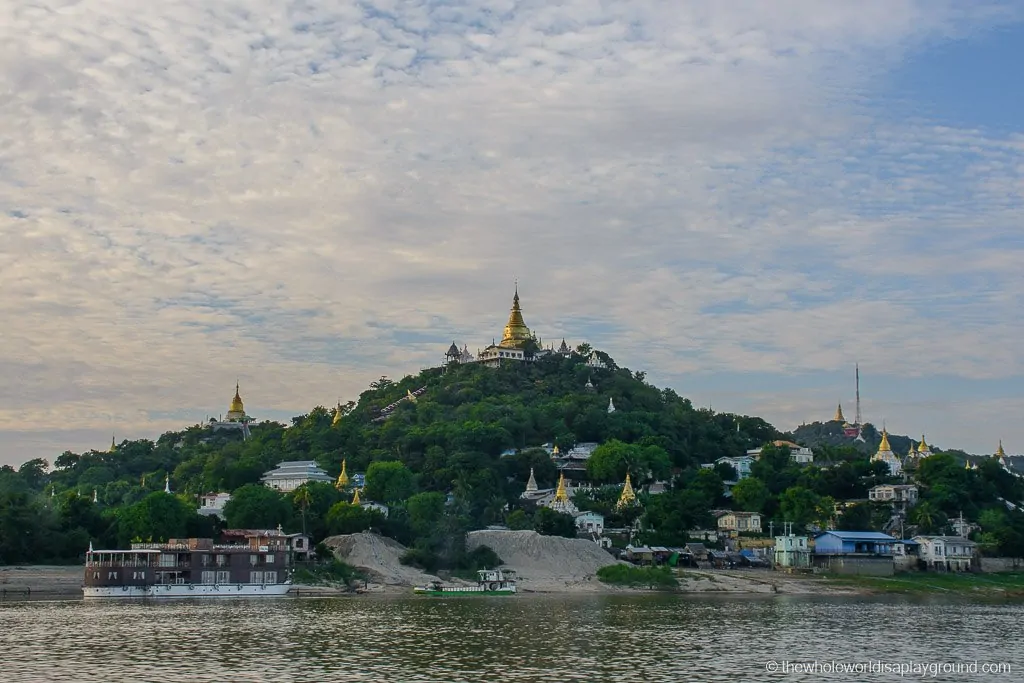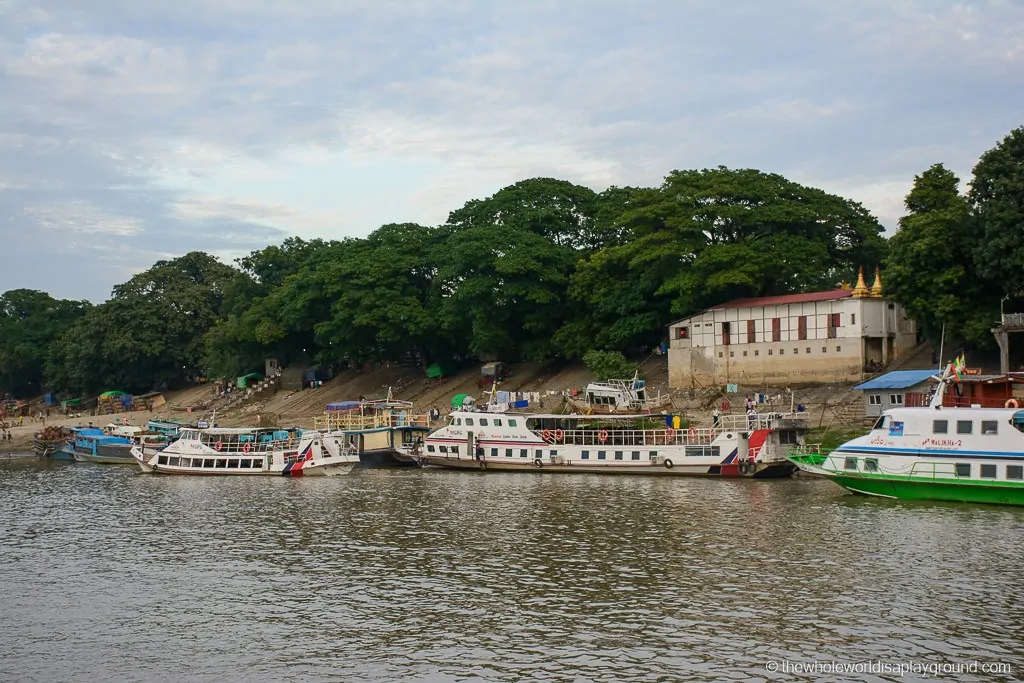 Mandalay transport
In Mandalay the boat drops passengers off at the MGRG Jetty on Myo Part Street (between 26th & 35th Street). There were plenty of tuk tuks and taxis awaiting our arrival and we paid USD $10 for a taxi to the Smart Hotel which we had prebooked through Agoda. USD $10 was expensive for the short journey to our hotel but we were so happy to be hotel bound that we didn't negotiate too hard!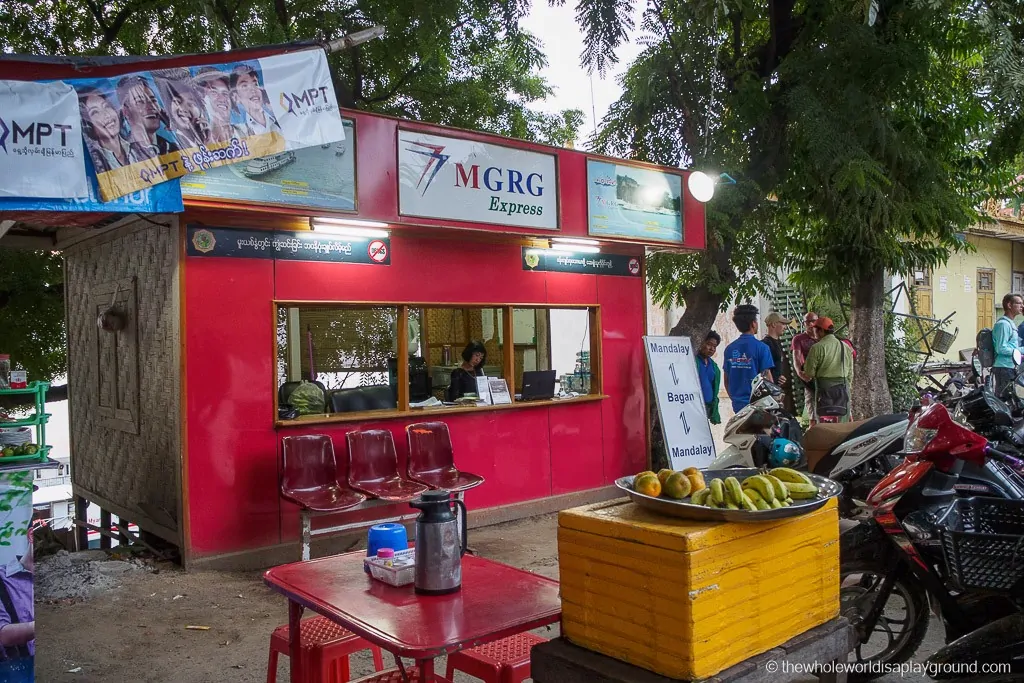 We stayed in central Mandalay which was a great base for exploring the city. The main sights are dotted around Mandalay so staying in a central hotel makes exploring the city much easier.
The Smart Hotel where we stayed is quite basic but was perfect for exploring the city. It's a great budget hotel and has a low key rooftop bar/restaurant which we really liked with traditional puppet shows in the evening.
The Link 78 Mandalay Boutique Hotel is a new boutique hotel in central Mandalay and a perfect base for exploring the city. Enjoy the sunset from the rooftop restaurant.
Hotel by the Red Canal Mandalay the perfect location for exploring the Golden Palace and Mandalay Hill, with a beautiful pool and spa.
Click here for the best Mandalay hotel prices
Overall
The good:
We loved our boat trip up the Irrawaddy! Travelling by boat was much more comfortable than the cross country buses we used for other long distance journeys in Myanmar. It was amazing to have the freedom to walk around and stretch our legs as well as to enjoy the sunshine and river life along the way. Travelling by land and river is a much cheaper alternative to flying and our wallets most definitely appreciated the gesture!
The not so good:
Almost 13 hours on a boat makes for a long day and we were glad to finally arrive in Mandalay. There are long stretches en route where, although the scenery is still pretty, there is very little to see along the river and we were glad to have our laptops and books to keep us entertained!
Long stretches of this view: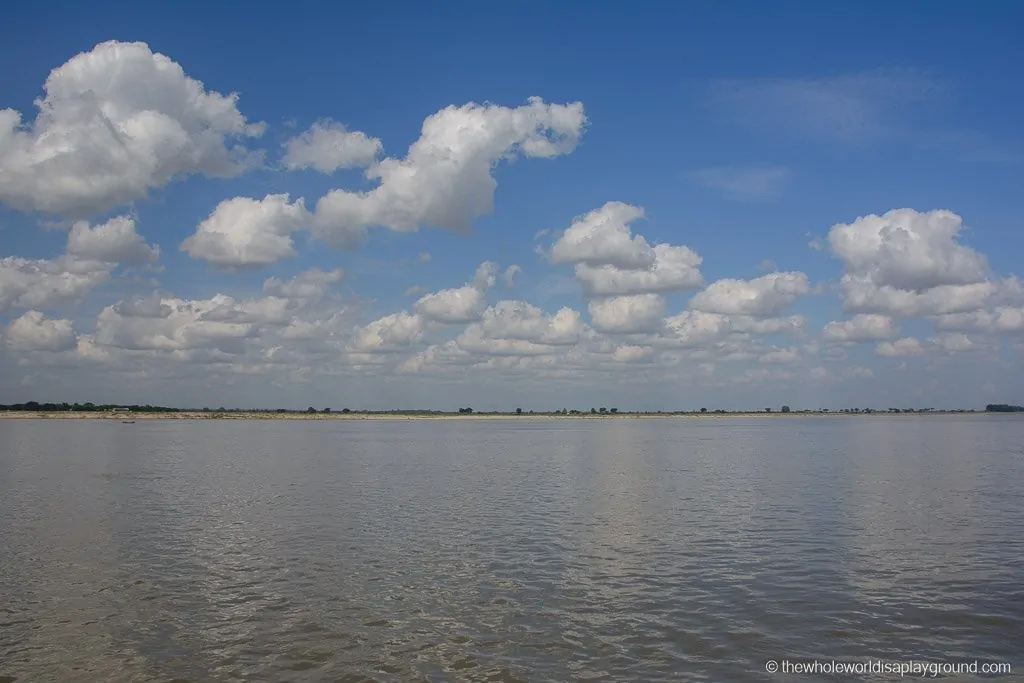 What to bring for the trip
Sunscreen
Snacks: tea/coffee and water were provided regularly.
Sunglasses
Something to read/watch/entertain yourself for 12+ hours!
Blanket: for nap time
Lock for luggage: luggage is stored in an accessible room.
Camera: to capture all the picture perfect moments along the way
Tissue and hand sanitizer
Sunscreen necessary! Disclaimer: in case of any doubt those legs belong to Dave and not me!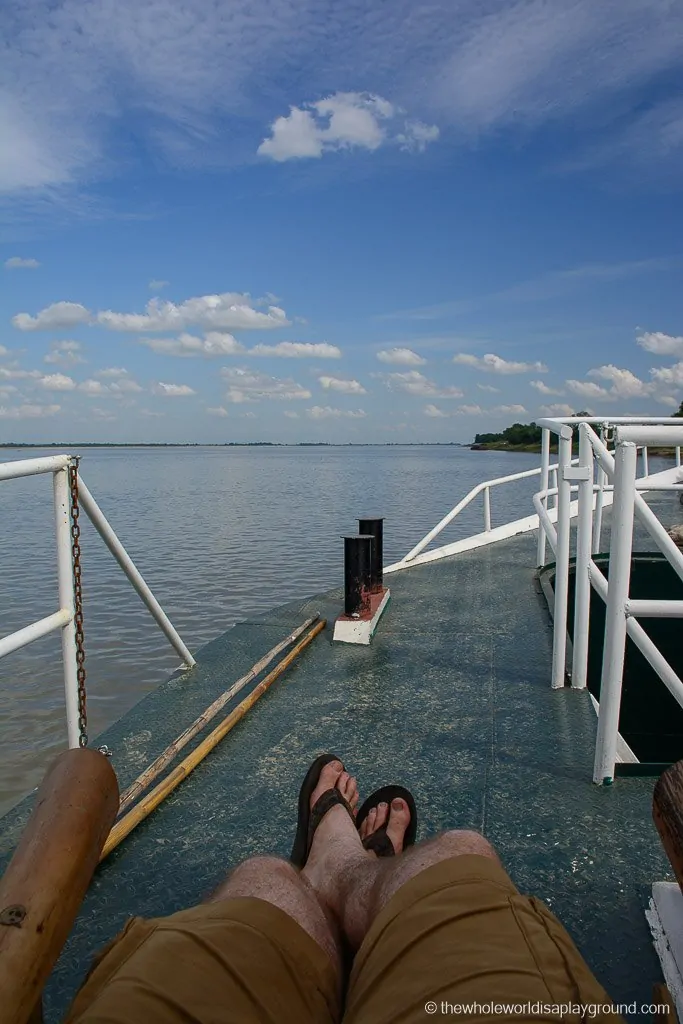 Mandalay to Bagan by boat
The return journey from Mandalay to Bagan is 2 hours shorter due to its downstream route and costs US $45.