Skellig Michael exploded on to the Irish tourism scene with its starring role in The Force Awakens, the latest Star Wars movie, and it's every bit as amazing as it looks on the big screen! The UNESCO World Heritage Site is breathtakingly beautiful and rugged and an absolute Kerry hidden gem. Here's our guide on how to get to Skellig Michael and our top tips for your visit!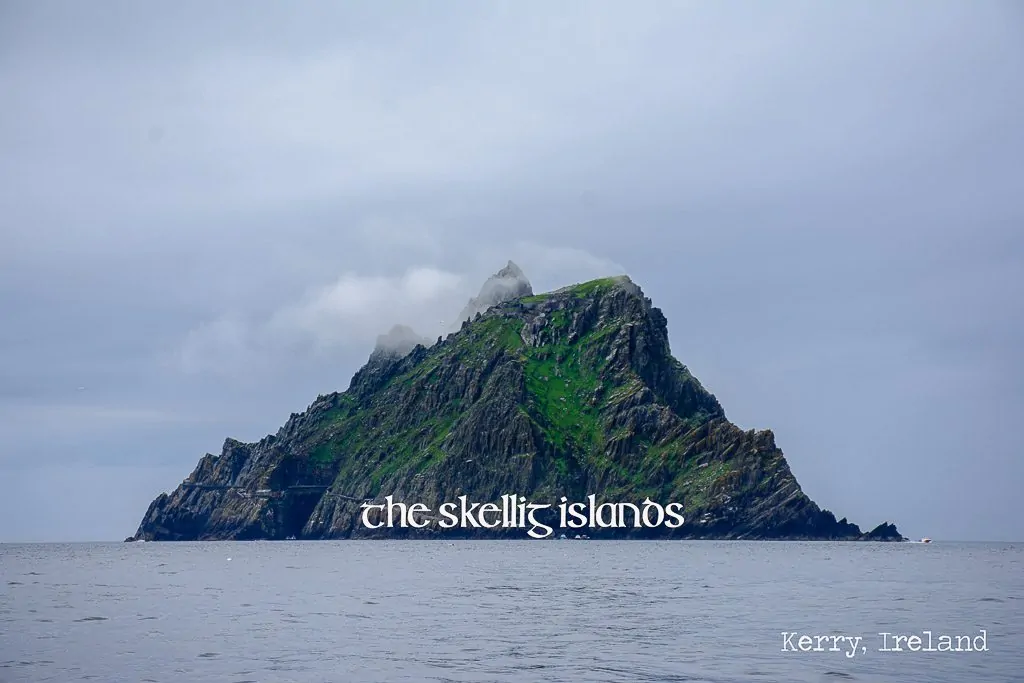 Where to Stay When Visiting Skellig Michael
Visitor boats to Skellig Michael depart from the quaint fishing village of Portmagee in Kerry. As the boats leave for the Skelligs early in the morning we recommend staying in Portmagee the night before so the boats are only a short stroll away the next morning. Portmagee is a beautiful little Irish fishing village, with some really awesome Irish B&B's. Our favourites are:
The Moorings Guesthouse & Seafood Restaurant: This luxury guesthouse is located opposite the actual Skellig boat mooring so you can't get any closer for your trip. The food is phenomenal, the atmosphere is always relaxed and the Guinness is pretty great too! – Click here for best prices!
The Waterfront B&B: This relaxed, family run B&B has beautiful views across the harbour and onto Valentia Island and is a short walk from the harbour – Click here for best prices!
Shealane Country House Bed and Breakfast: If you don't fancy staying in Portmagee this lovely Irish B&B is located a short walk across the bridge on Valentia Island – Click here for best prices!
Click here for the best Portmagee Hotel
The Skellig Islands
The Skelligs are two small rocky islands situated off the coast of Kerry and are made up of Skellig Michael and Little Skellig.  Little Skellig  is the smaller of the two islands and is home to over 25,000 sea birds, while the larger Skellig Michael is a UNESCO World Heritage Site designated as a result of its well preserved monastic outpost of the early Christian period. The island also featured prominently in the latest installment of the Star Wars movies, The Force Awakens!
Skellig Michael

Little Skellig: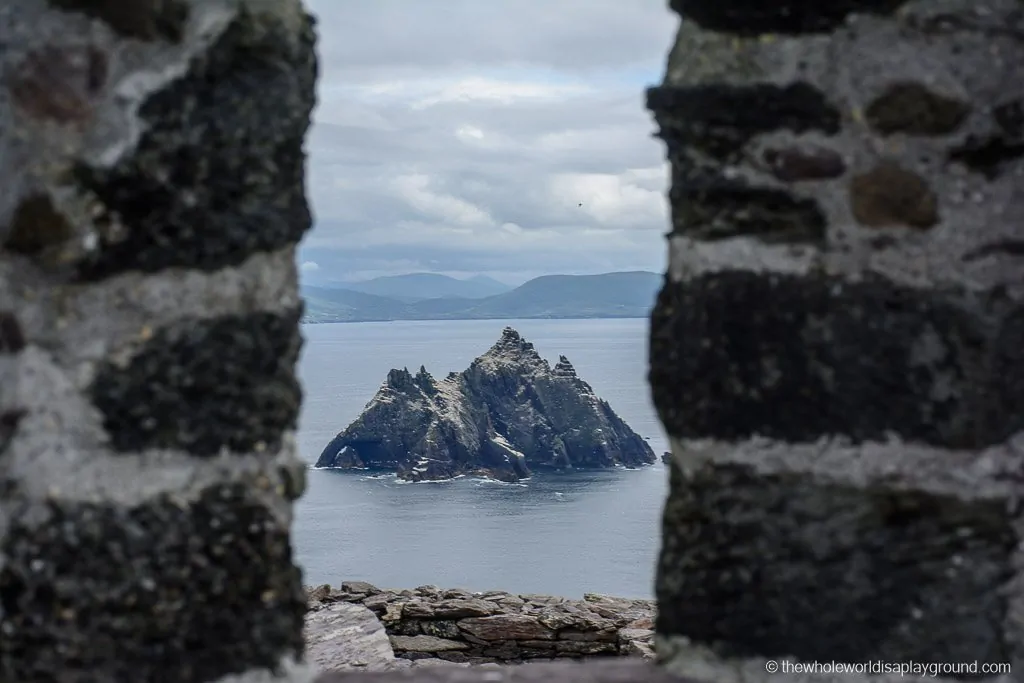 How to get to Skellig Michael
Weather permitting, Skellig Michael is open from May to September and is accessible by boat from Valentia, Portmagee, Ballinskelligs and Catherdaniel.  We travelled with Casey's Boat Trips from Portmagee. The following boat companies all run trips which include a 2 hour stop at Skellig Michael, very few offer online booking so we have included the telephone number for booking.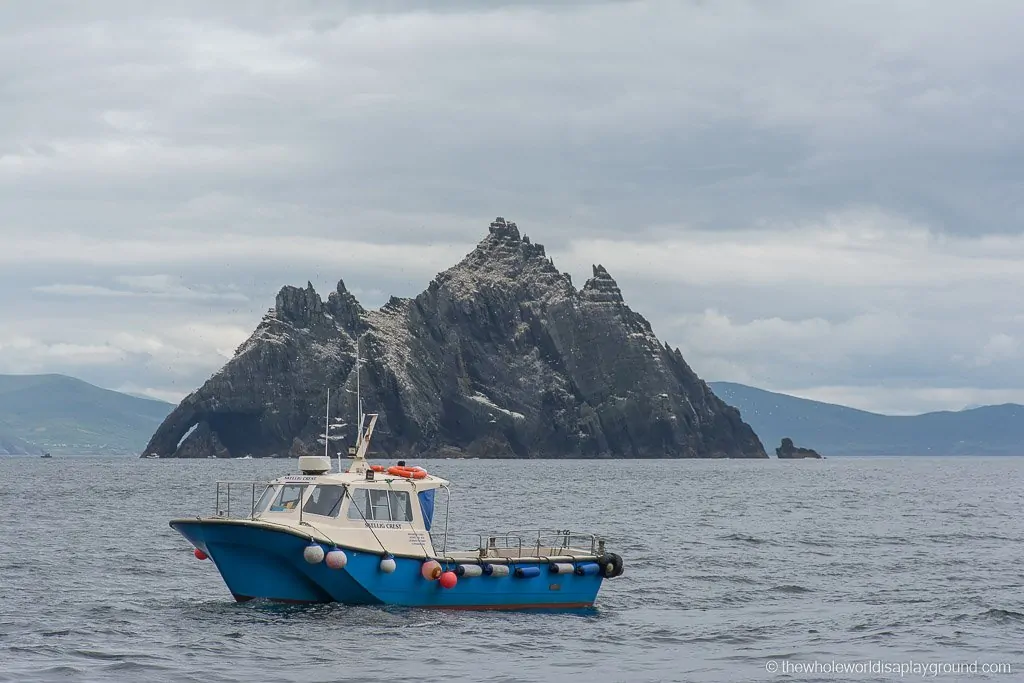 Valentia
Eoin Walsh, Skellig Boat Trips (skelligboattrips.ie, +353 87 2833522)
Dermot Walsh (+353 86 8339549)
Lavelles (+353 66 9476124)
Dan & Donal McCrohan: (+353 87 2399741)
Portmagee
Casey's Boat Trips (skelligislands.com, +353 87 2395470)
Skelligs Rock (skelligsrock.com, +353 87 2362344)
Joe Roddy & Sons (skelligstrips.com, +353 87 1209924
Murphy Sea Cruise (esatclear.ie/~skelligsrock/,  + 353 87 6451909)
Waterville Boats (+353 87 2202355)
Ballingskelligs
Feehan Boats (skelligboats.com, +353 86 417 6612)
Catherdaniel
John O'Shea Boats (+353 87 6898431)
Tips for visiting Skellig Michael
Skellig Michael is outstanding but there are two things to remember: the infamous Irish weather and the rugged terrain! Here's our tips for surviving a day at the Skelligs:
Choose the right boat trip. Some boats circle the Islands and a few stop at Skellig Michael.
Book in advance. Only 180 people are permitted to visit the Island on any given day. A limited number of boats depart for the Skelligs and they do book up at popular times. The trips are even more popular since the Star Wars movie screened.
The trips are weather permitting and the boats will not depart if conditions are too harsh. Our accommodation was a 20 minute trip from Portmagee, where our trip departed, and we checked in with our company the day before to see if the boat was likely to sail before we made the trip over.
Depending on where you depart from, the boat trip is at least 45 minutes so sea sickness is definitely possible! We sailed on a relatively calm day and everyone on our boat was fine although the journey was slightly bumpy.
Bring warm clothes and wet gear. The weather can change quickly and, even on a nice day, a 45 minute journey at sea can be quite chilly. Most of the boats keep wax jackets for when the rain or waves come knocking!
Wear walking boots. The pictures say it all! The terrain is rugged and steep.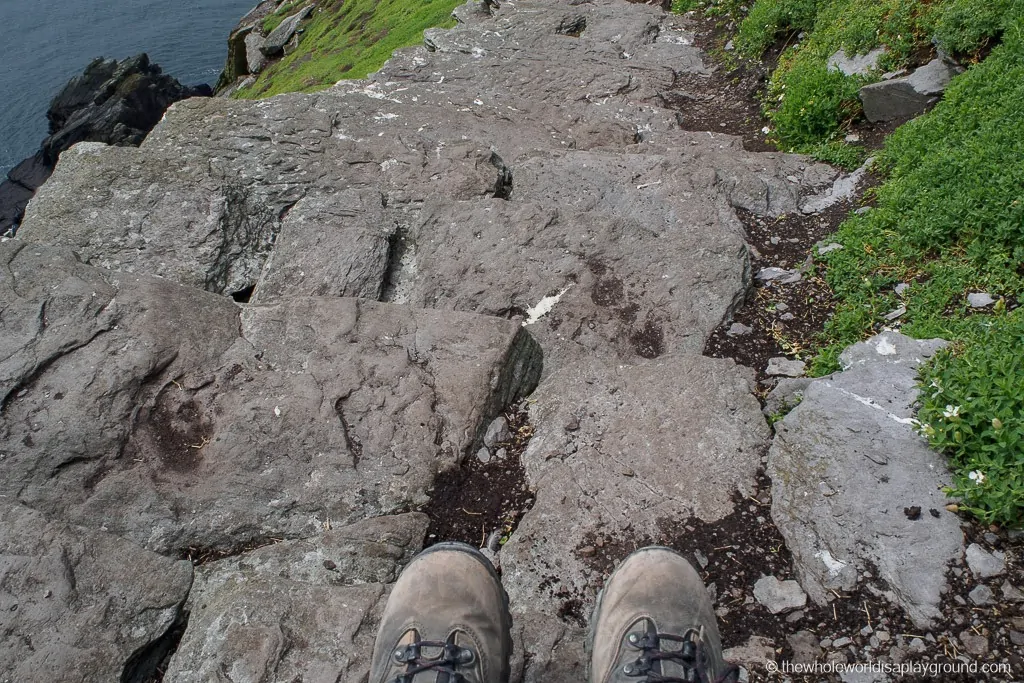 Mind your step! Due to preservation issues there are very view handrails on Skellig Michael and the steps are exposed to sheer drops. Bring a stick if it helps and pay attention to the path.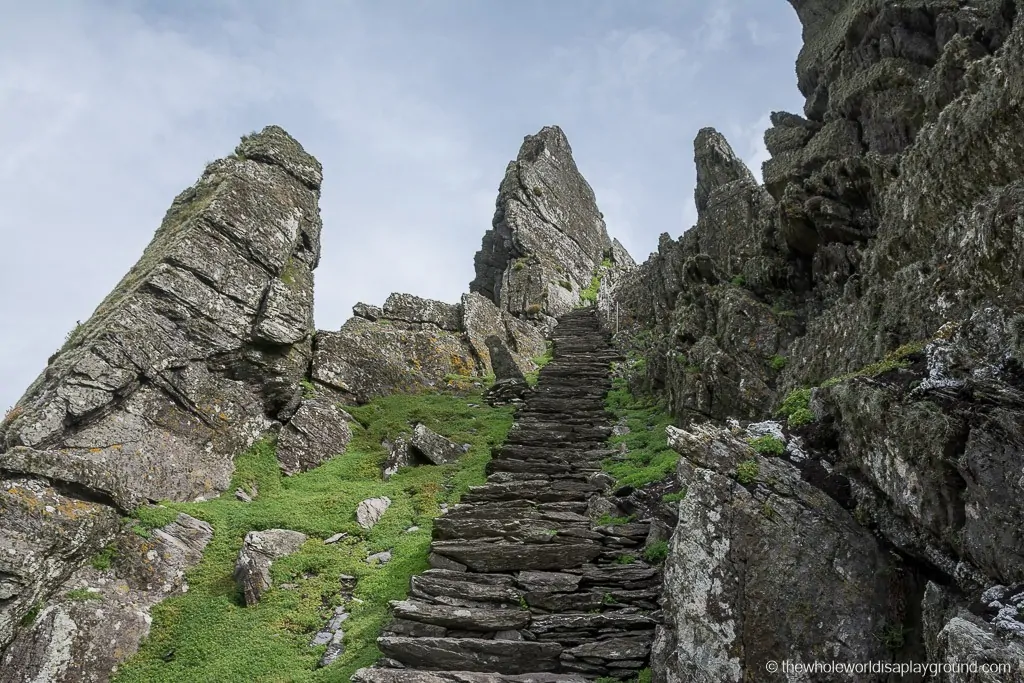 Pack a picnic and water. Trips that stop at Skellig Michael last for at least 5 hours and there's no doubt the climb works up an appetite and a thirst!
Have your camera at the ready. Skellig Micahel is one of the most stunning places we've visited!
Go to the bathroom before you board the boat. There are no bathrooms on Skellig Michael. You have been warned!
Have fun!
To find out what we got up on our trip to Skellig Michael, check out our round up of the trip here!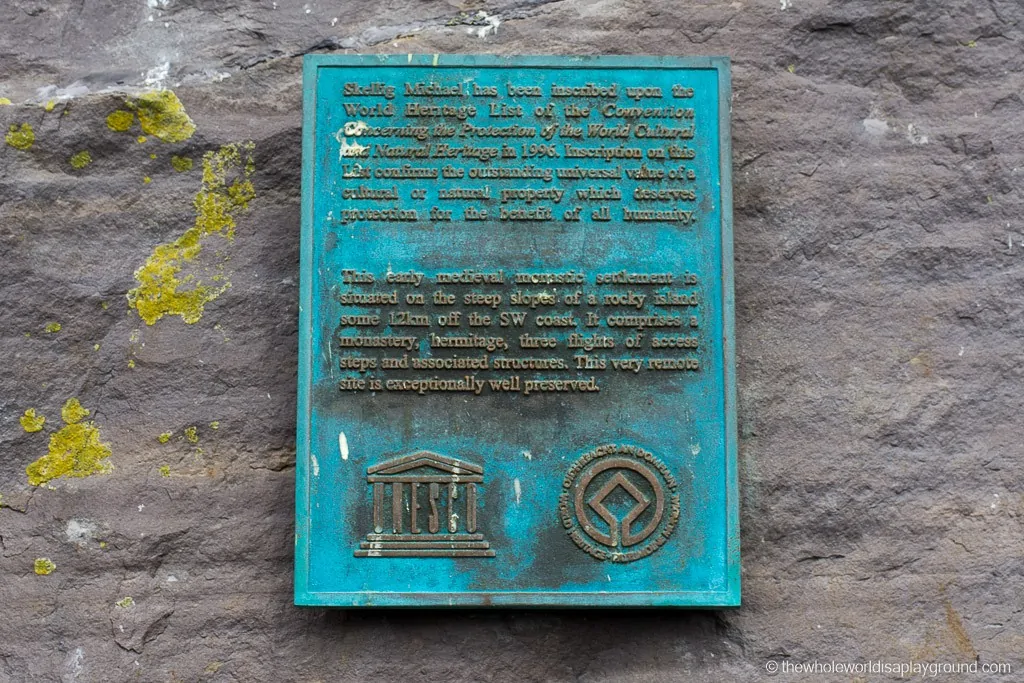 If you love adventures remember to follow on Facebook and Twitter. If you found the post useful please do share!