After an incredible week exploring the islands of Malta it was time to fly back home to Ireland and we stopped off in the La Valette Club Executive lounge in Malta Airport for some pre flight relaxation. It wasn't easy to leave the Malta sunshine en route to an Irish winter so we were relying on some lounge action to cheer us up!
The Lounge
Malta is home to a relatively small airport and this was reflected in the lounge size. The main part of the La Valette lounge consists of an open plan single room with a separate small VIP room reserved for members of their club. A fish tank takes pride of place in the centre of the room and I had a lot of fun watching the fish I have to confess! The lounge is nicely decorated in neutral colours and it was a relaxing space.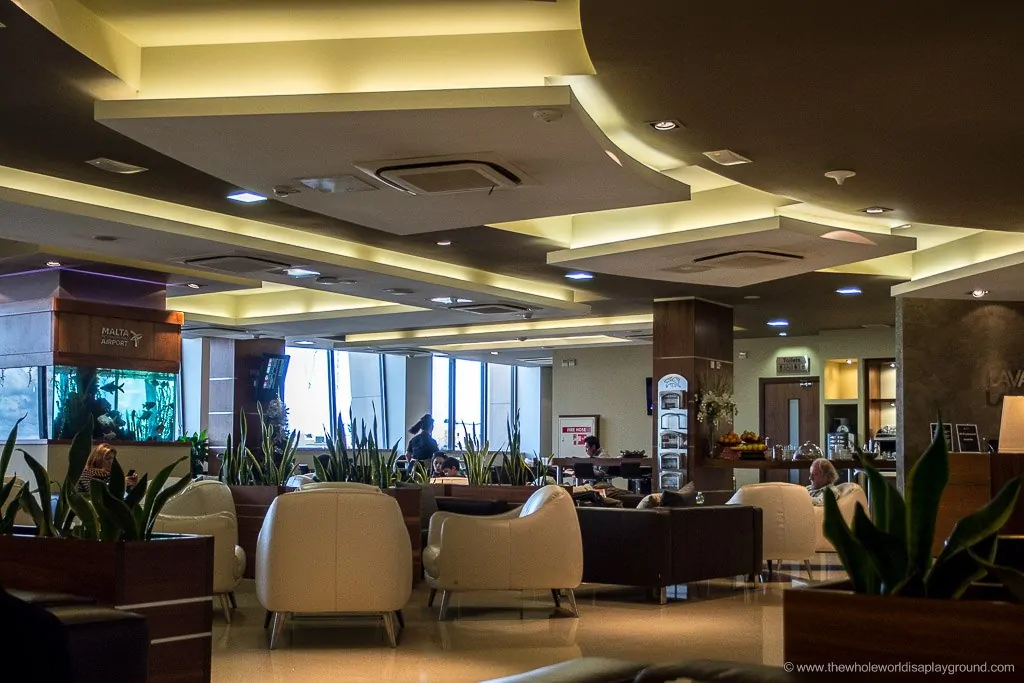 Priority Pass Lounges
A Priority Pass membership allows you to access Priority Pass lounges whoever you fly with no matter your class of travel. Anyone who flies regularly should seriously consider joining Priority Pass as their lounges significantly improve the travel experience. We love the app which allows you to check in at each lounge and overall the quality and availability of lounges around the world are very good. We've personally used Priority Pass for the past few years and highly recommend it.
There are three options available, standard, standard Plus and Prestige. We recommend the Prestige pass for frequent travellers (it's the one we use!) which offers unlimited visits throughout the year.
Click here to get your Priority Pass now!
Lounge Seating
The lounge is nicely furnished with plenty of brown and cream leather couches and armchairs to rest in. The variety of 1,2 and 3 seaters meant different sized groups were nicely spread throughout the lounge and the space didn't get overly busy when we were there.
Couches: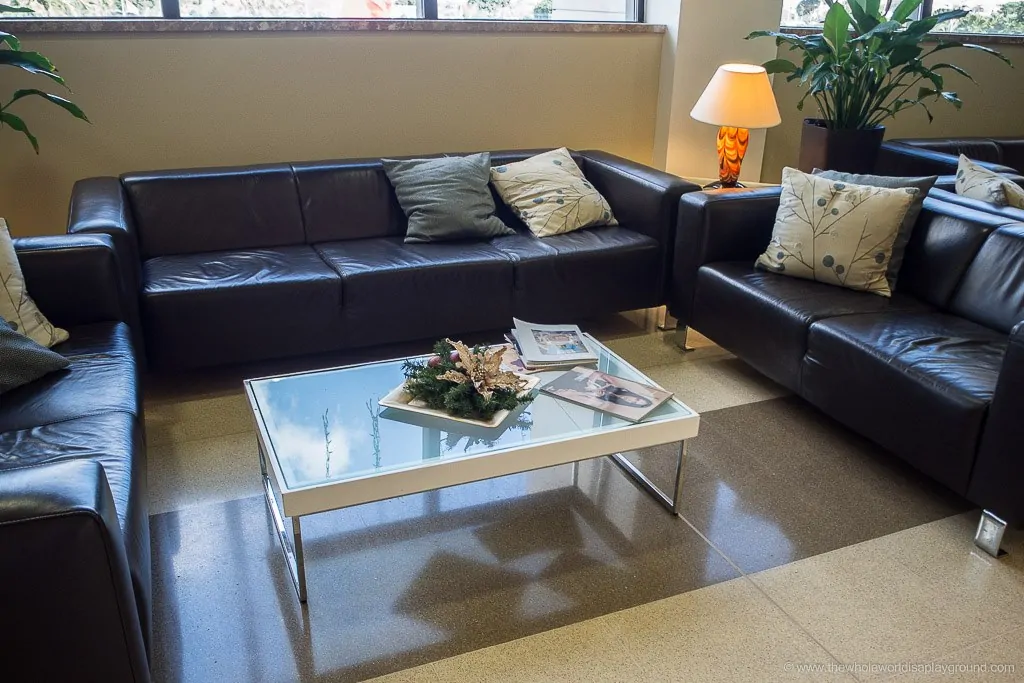 Lots of armchairs: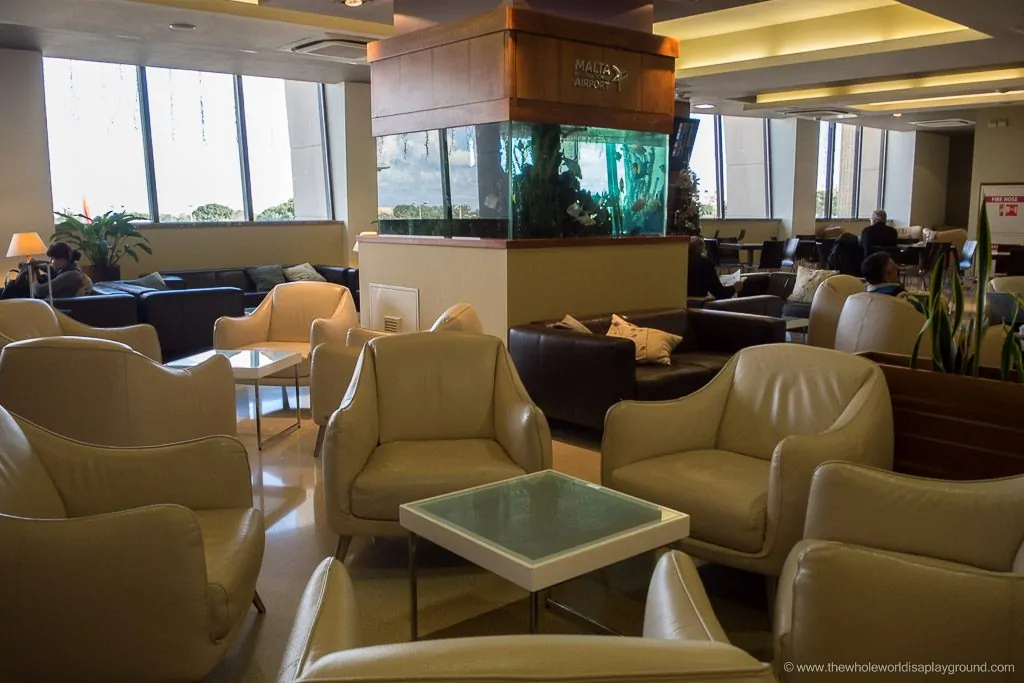 Food and Drinks
The food options included a selection of heated pastries and a variety of small bites such as meat, cheese and humus. The drinks shelf contained a number of spirits as well as some wines, beers, water and soft drinks. Although limited, the offering was standard for a paid lounge.
Small bites: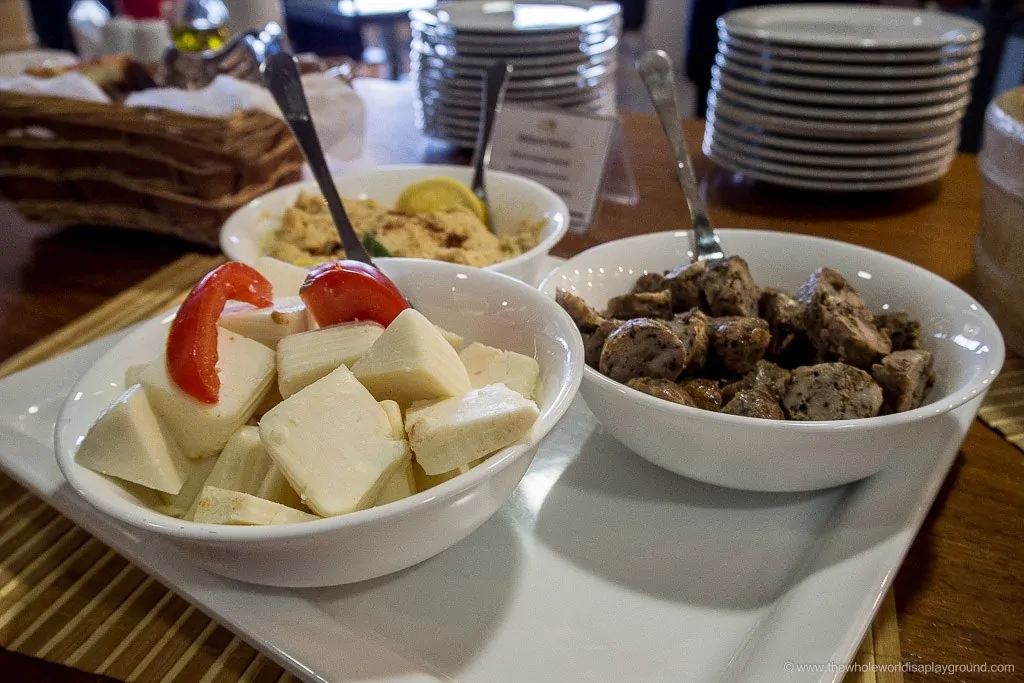 Pastries:
Drinks options: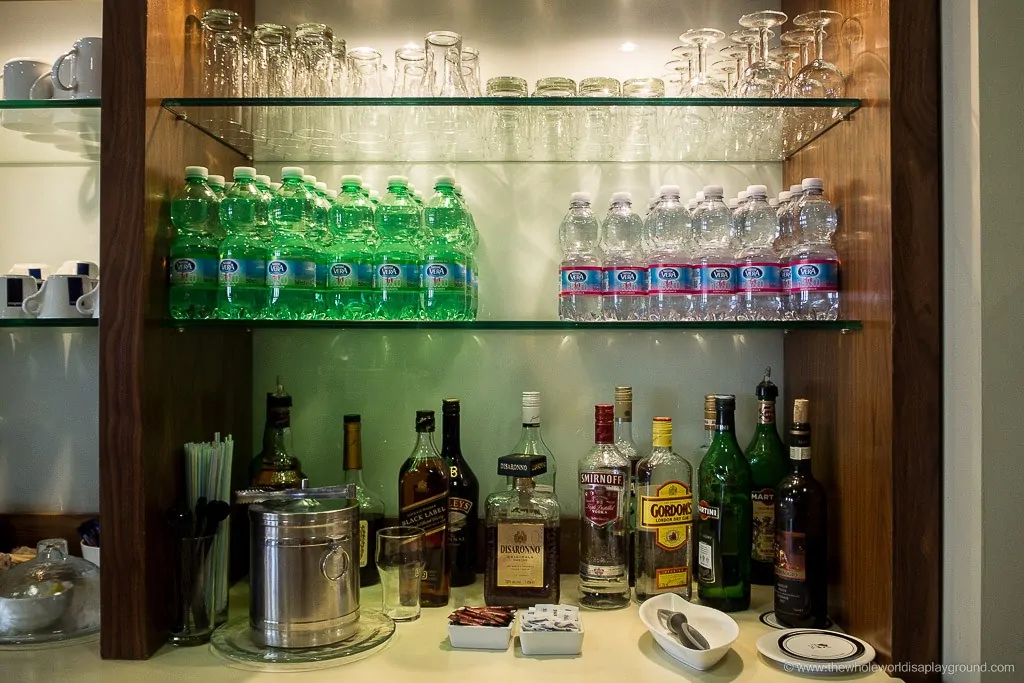 Wines, beers and soft drinks: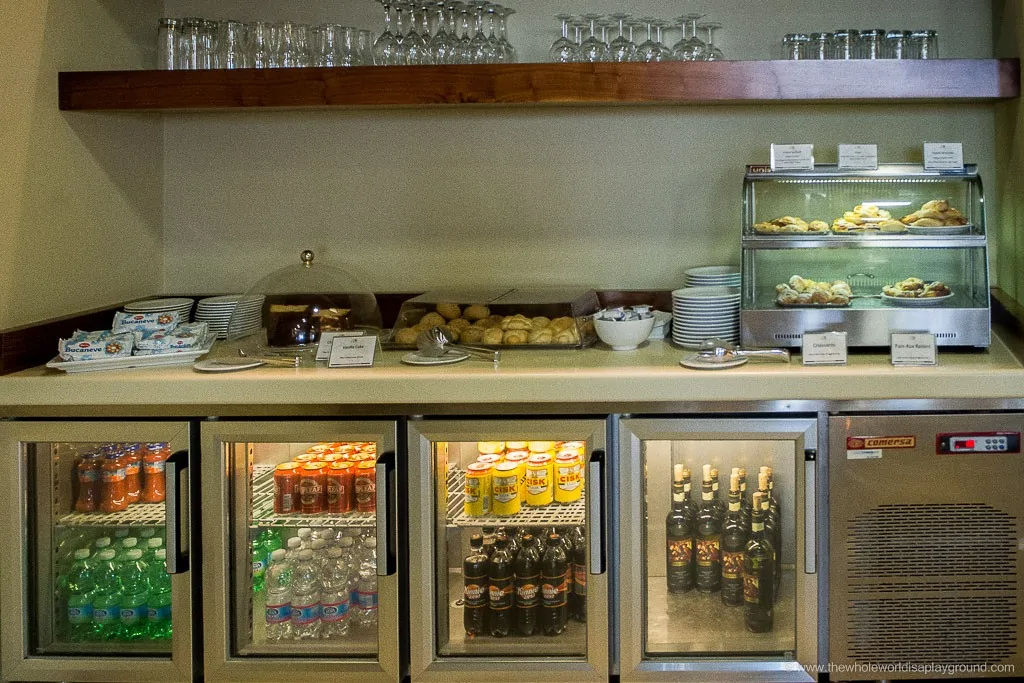 Facilities
The lounge was equipped with some iMac internet terminals and wi-fi was available throughout. A selection of newspapers and magazines were on display at the entrance. There were bathrooms but showers were not available in the lounge area.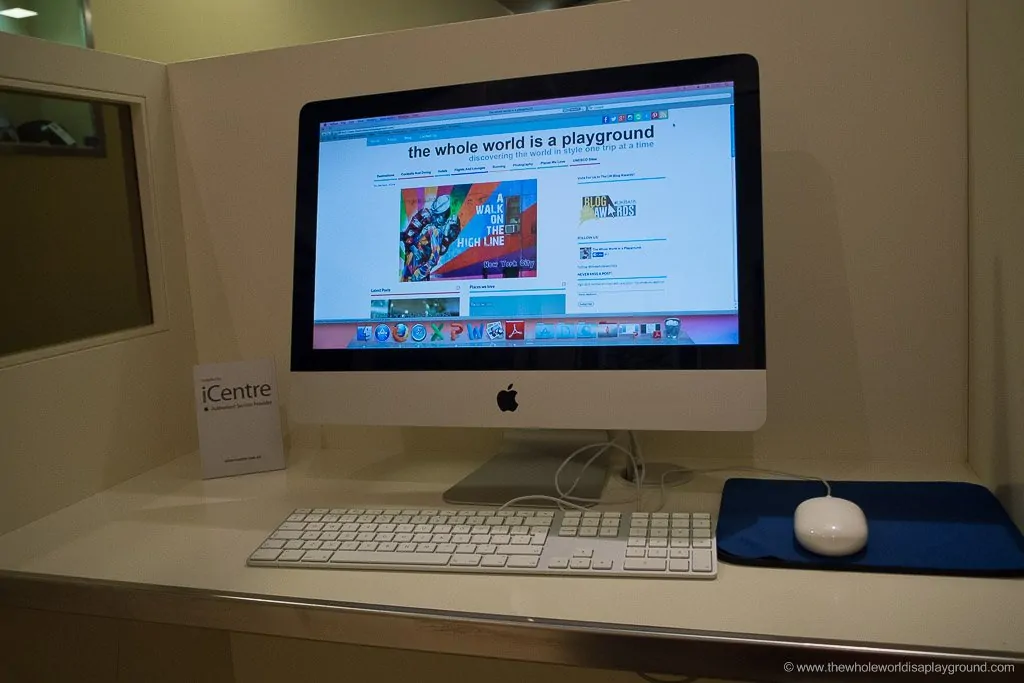 Access
We accessed the La Valette lounge with our Lufthansa business class tickets. Alitalia, Air Malta, British Airways, EgyptAir, Emirates, Turkish Airlines, SAS and Libyan Airlines were also listed as airlines using the lounge on suitable tickets and status. Paid access is also available through a variety of channels with the cost of pre booking directly being Euro 29.
Airline access: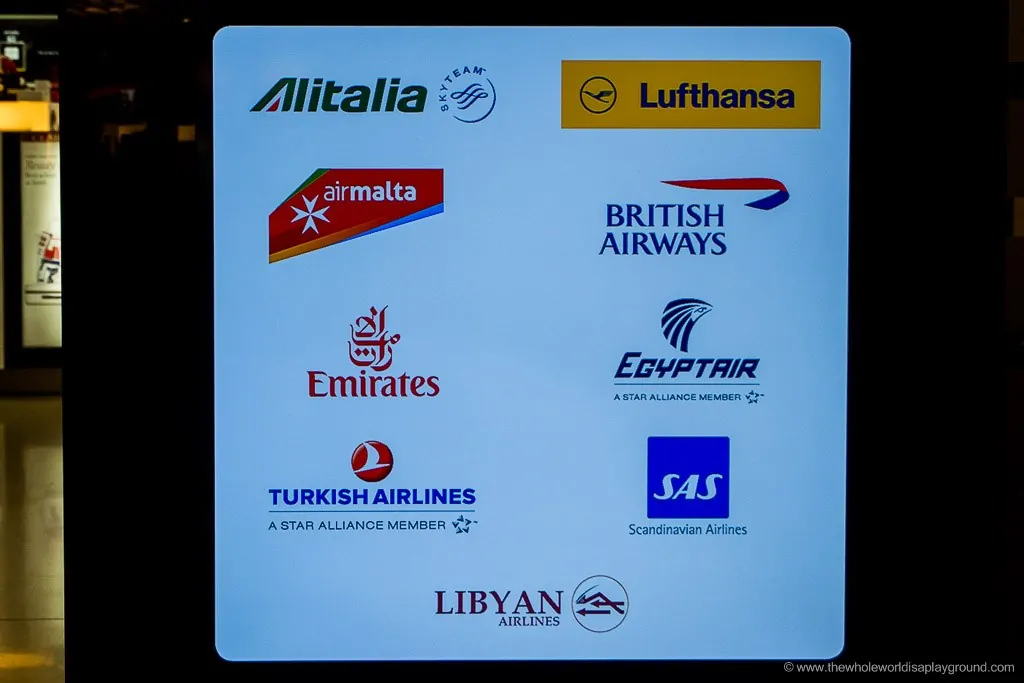 Non airline access options: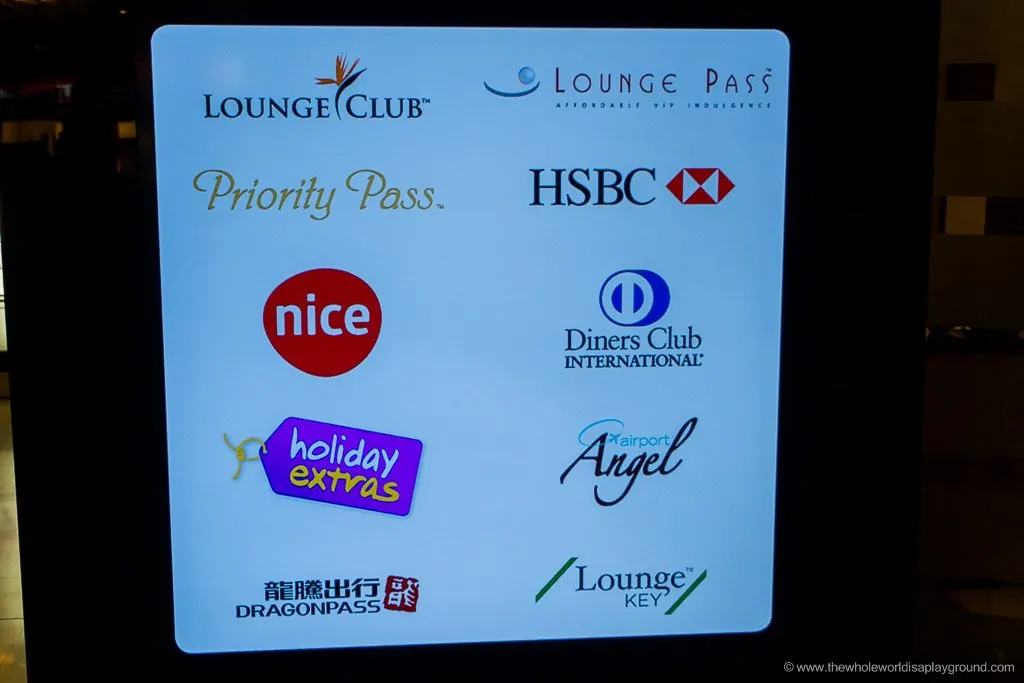 Lounge Location
The lounge is located in the Departures area opposite the Duty Free shop and we had a short walk to the gate to board our flight. Always a bonus!