Extravagant and quirky, Las Vegas is an Instagram dream and there are some incredible Instagram shots just waiting to be captured in the city. We've put together this list of our favourite Instagram spots in Las Vegas to help you find some of the most photogenic and Instagrammable locations Las Vegas has to offer.
From the decadent resorts to colorful art installations and the magnificent natural wonders nearby, we hope you have as much fun as we did visiting some of these best Instagram spots in Las Vegas!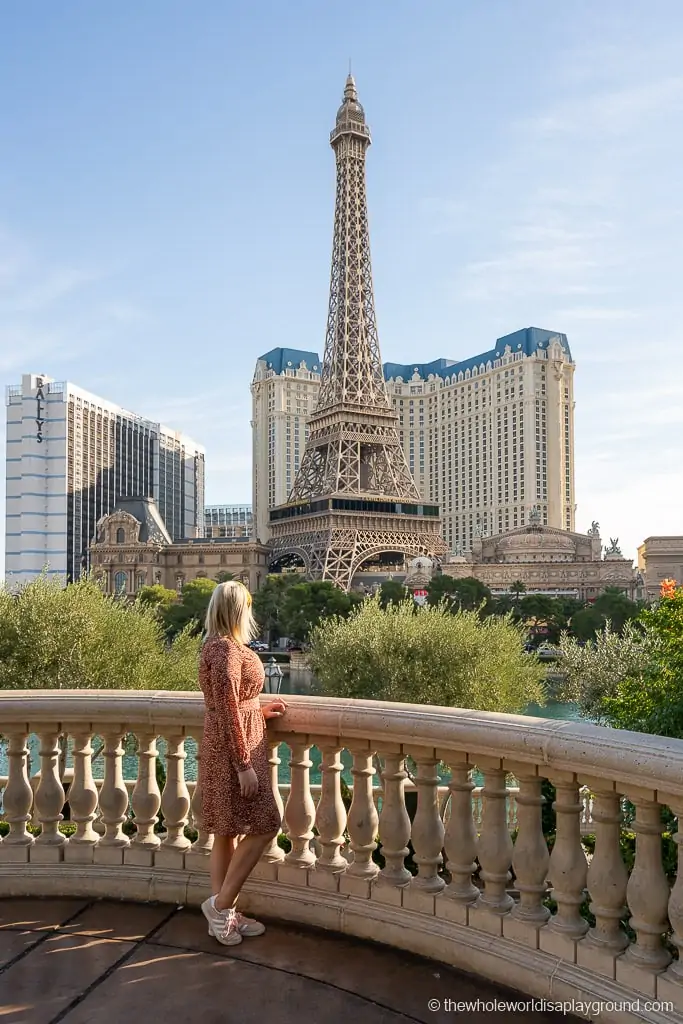 1 | Seven Magic Mountains
One of our favorite Instagram spots in Las Vegas! Seven giant towers of stacked neon boulders rise playfully over the surrounding desert and are said to express human presence in the desert.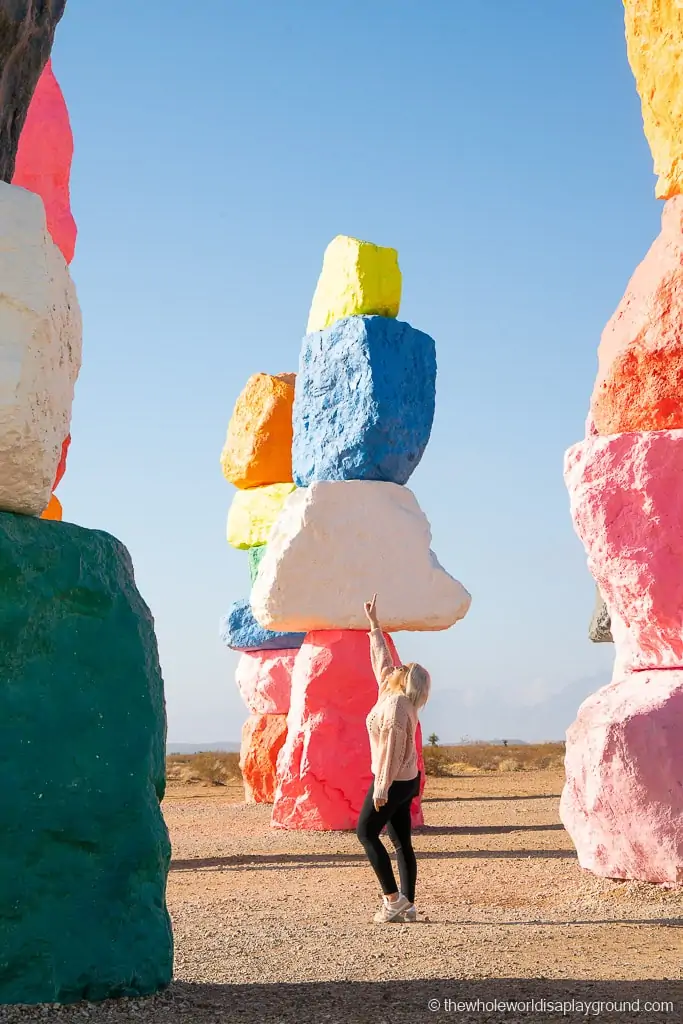 This public art installation by Swiss artist Ugo Rondinone is located 10 miles south of Las Vegas provides a colorful and fun backdrop for a photo.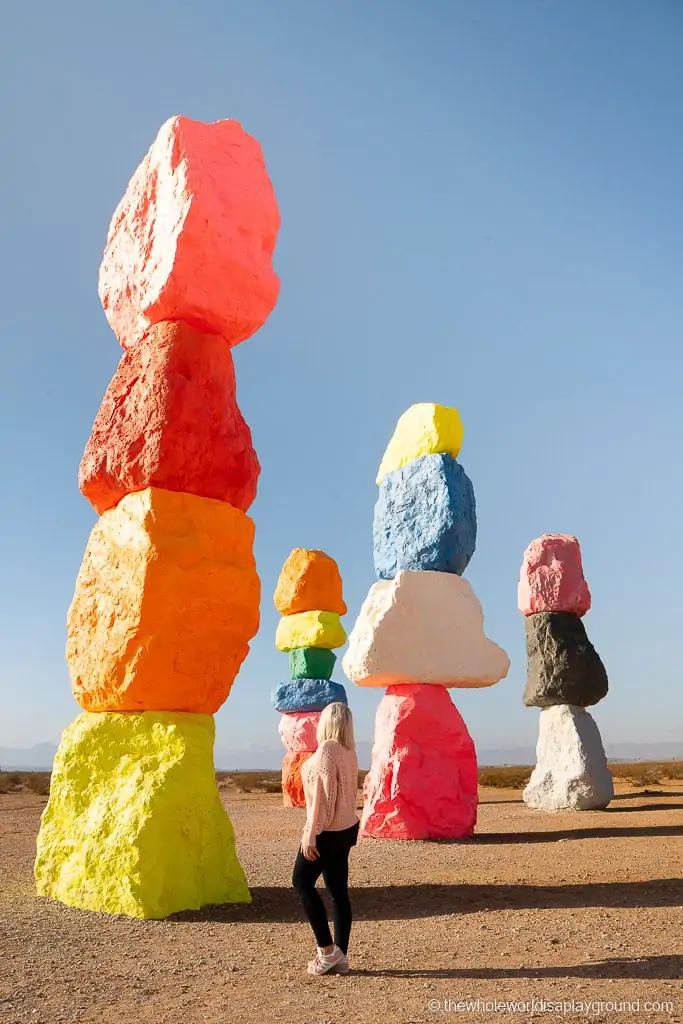 Best Instagram spots in Las Vegas tip: the temporary art installation opened in 2016 for 2 years but it's ongoing popularity has seen its run extended time and time again. It is currently scheduled to remain on show until the end of 2021. Make sure to check out Seven Magic Mountains while its still around.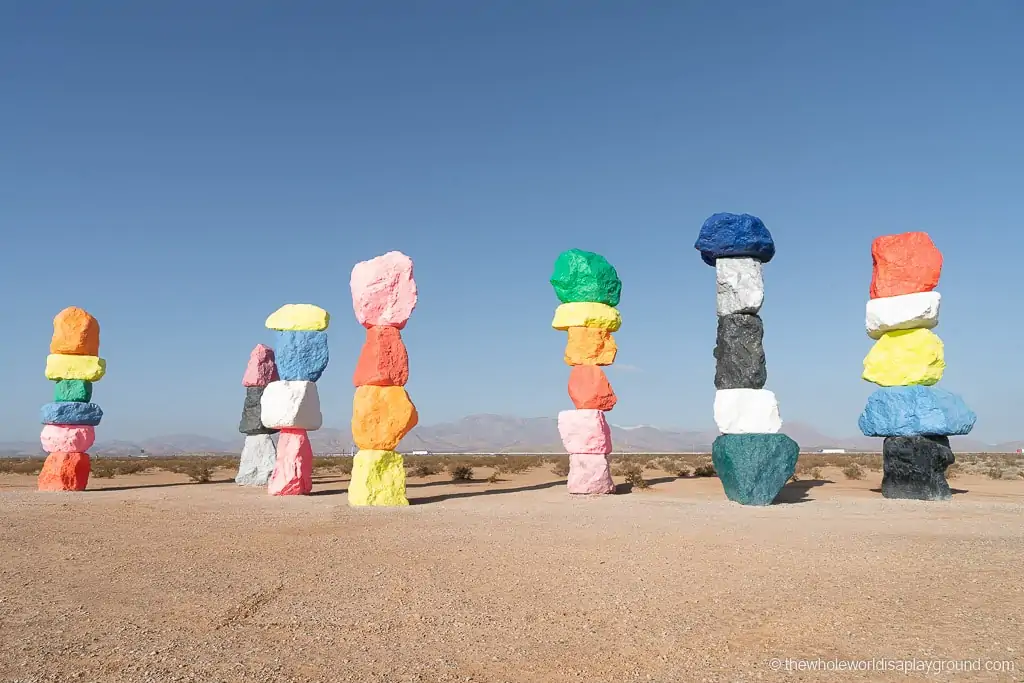 2 | Neon Museum
As art museums go, the Neon Museum is one of the most Instagrammable we've visited on our travels!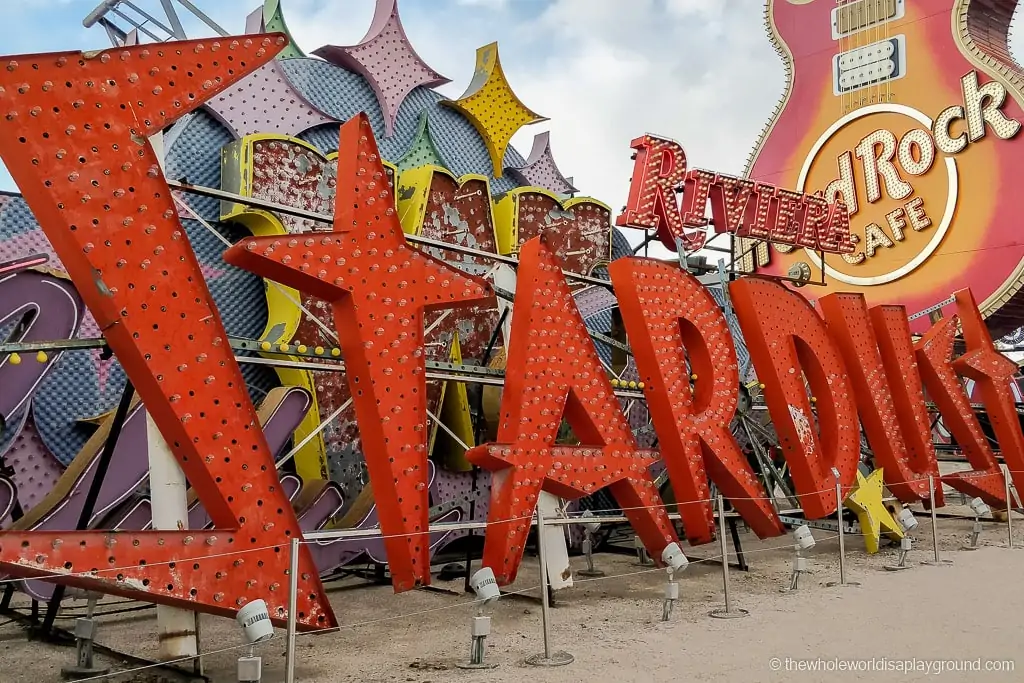 Often described as a graveyard for the iconic neon signs which once lit up the Las Vegas strip it's an incredible backdrop for photos. Retro signs are stacked along the museum's outdoor pathways, known as the Boneyard, and some are instantly recognizable – our favorite was the 82-foot tall original neon Hard Rock Café sign and the Stardust letters which have over 1,100 lightbulbs that are illuminated every evening.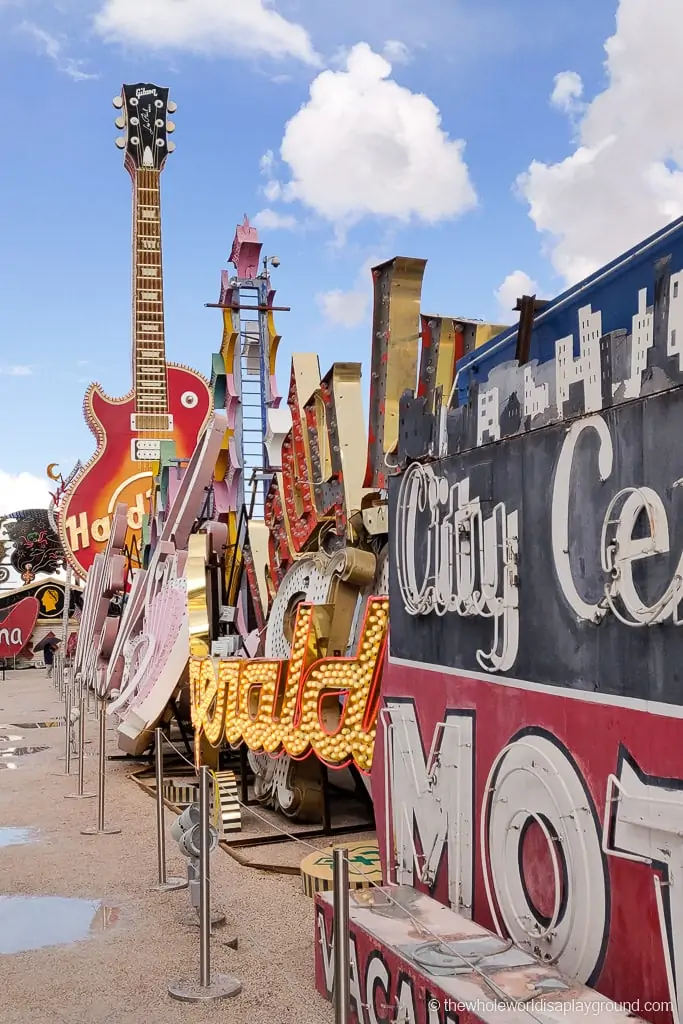 Instagram spots Las Vegas tip: only cell phones and tablets are permitted for photography at the Neon Musuem during regular entry times. The museum does offer Photo Walk tours during which you can use camera.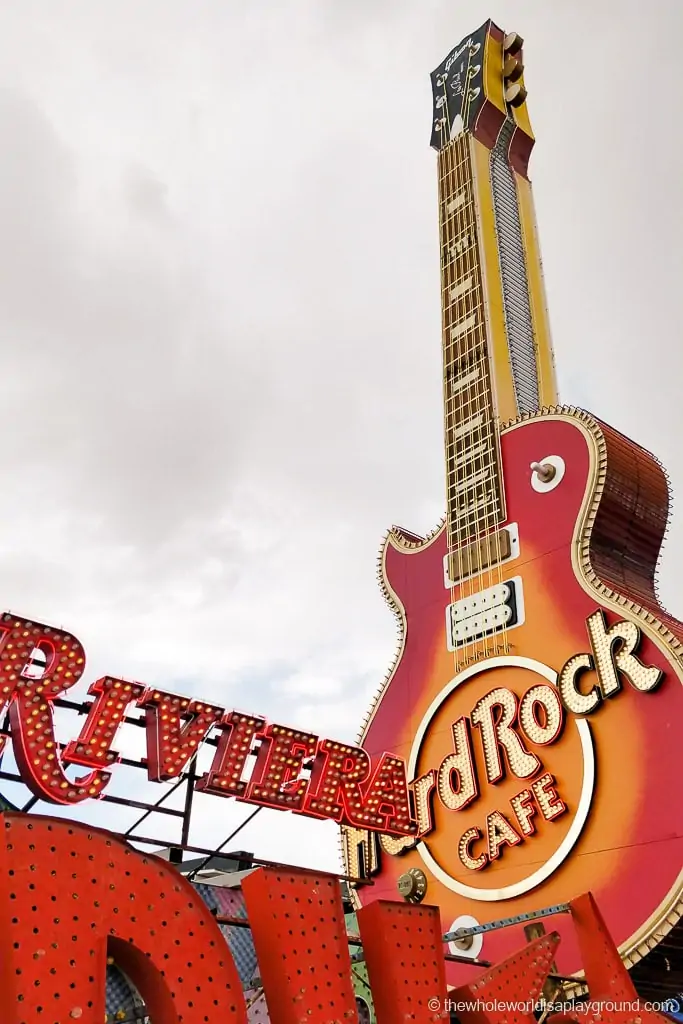 3 | Welcome to Las Vegas Sign
You can't come to Vegas without stopping by the iconic Welcome to Las Vegas sign. The Las Vegas landmark (located at 5100 Las Vegas Boulevard South) marks the beginning of the Las Vegas strip and was erected in 1959.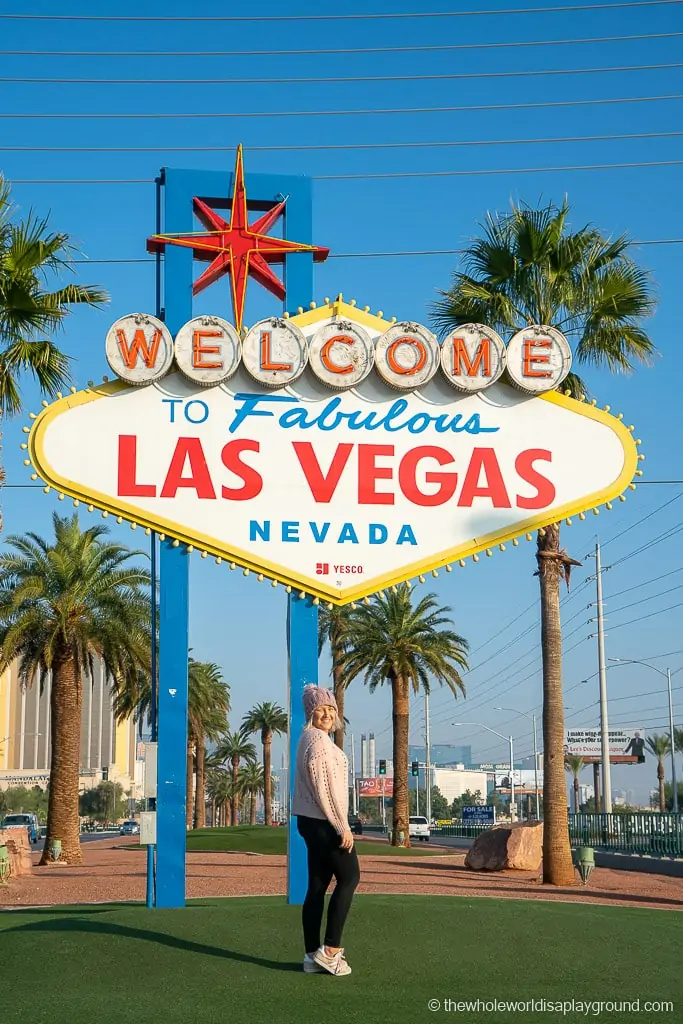 If you want to spend some time capturing your dream Instagram shot then make sure to arrive extremely early. There is typically a long line of visitors waiting for their chance for a photo but the line does move quick! There are usually a few locals who hang out at the sign and offer to take photos if you are alone or want a group/family shot – I don't usually hand over my camera to anyone but we took advantage of the offer and, in return for a small tip, got some awesome family photos!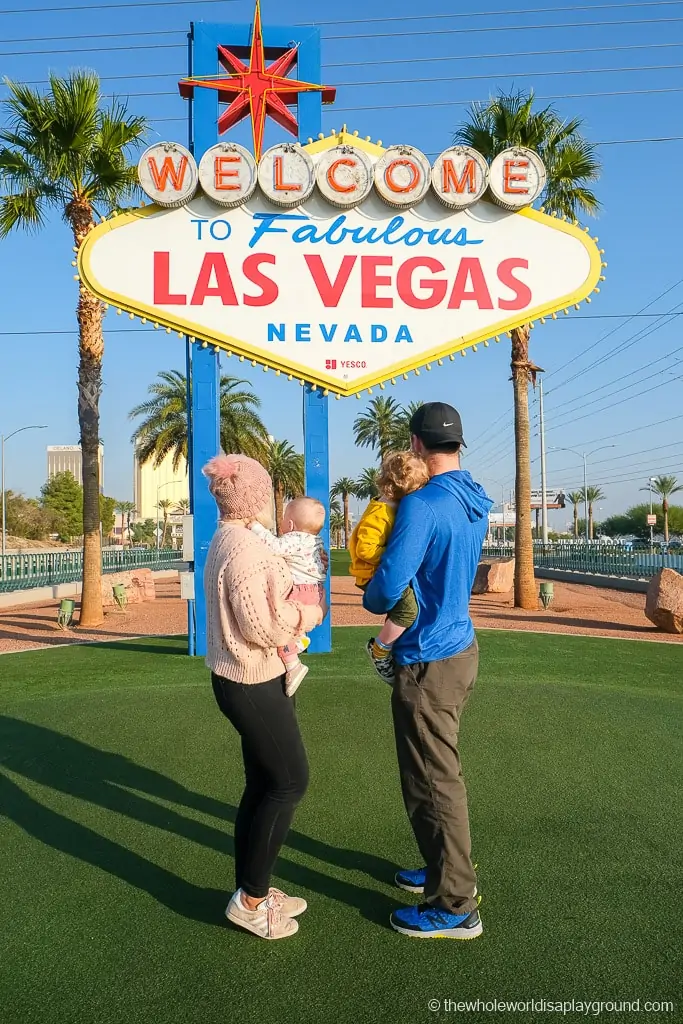 Instagram spots Las Vegas tip: if you are driving, there is a parking lot adjacent to the sign for easy access.
There are a few newer Vegas sign additions: since 2018 the Downtown Las Vegas sign has represented two Vegas greats, its shows and its casinos and, in 2020, the Gateway Arches were installed at the Northern End of the Strip. The two interlocking arches are lit by over 10,000 LED lights. Of course, neither come close to the original 'Welcome to Fabulous Las Vegas' but they're still fun to check out!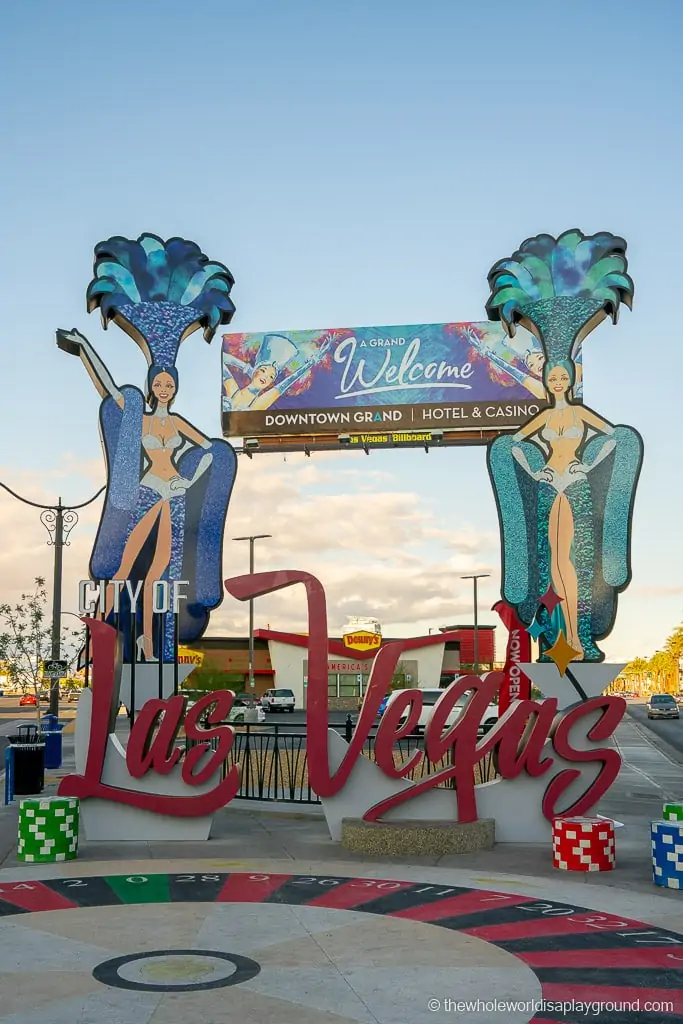 4 | Bellagio Fountains
The Bellagio is one of the Strip's most iconic hotels and it is home to three of our favorite Instagram spots in Las Vegas.
First up are the Fountains at the Bellagio where a mesmerizing water, music, and light show captivates all who watch. If you prefer a daytime shot for Instagram, the fountain shows run from 3pm on weekdays and noon on weekends and public holidays.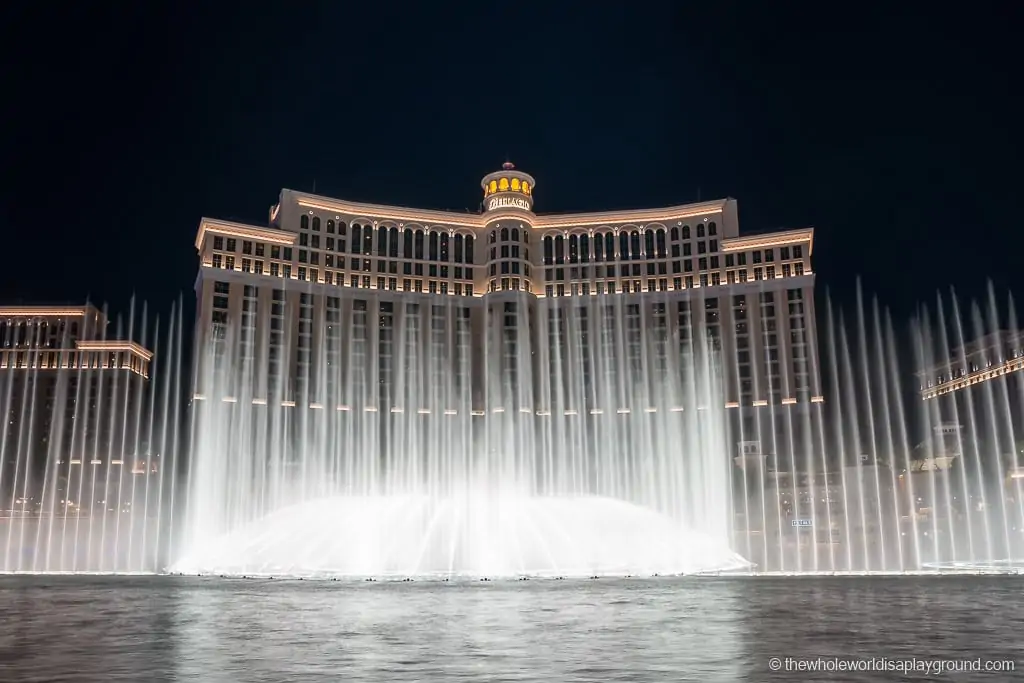 5 | Paris Hotel Las Vegas
What happens in Vegas stays in Vegas, right? Unless of course, you take a detour to Paris on the Las Vegas Strip! The iconic Paris Las Vegas Hotel features a 50 story Eifel Tower, cobblestone walkways, a mini Arc De Triomphe, and a neon-lit hot air balloon.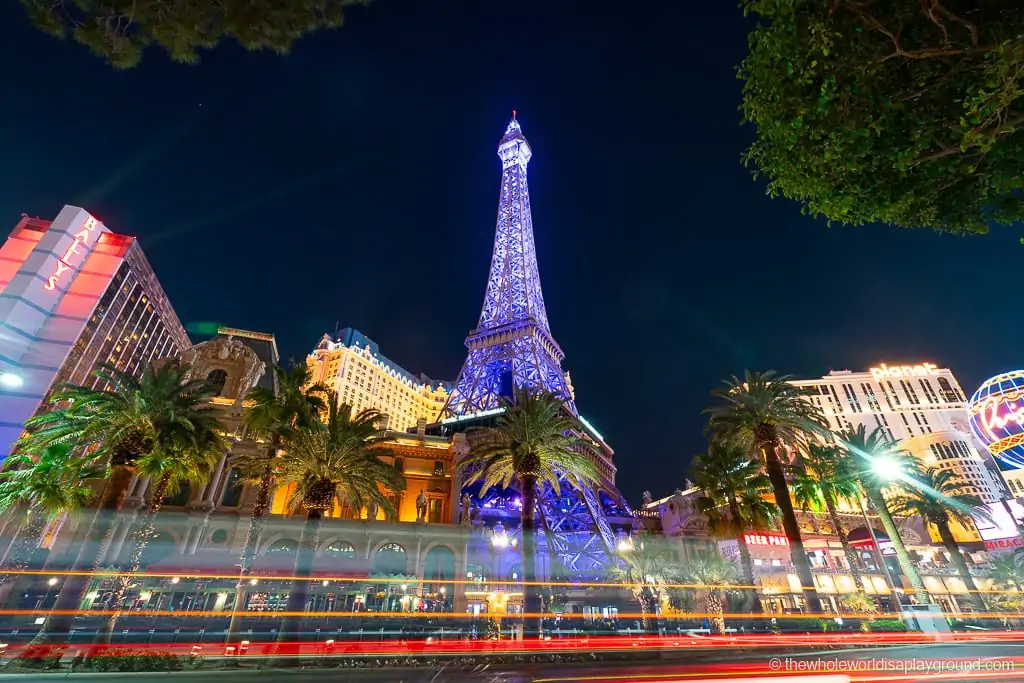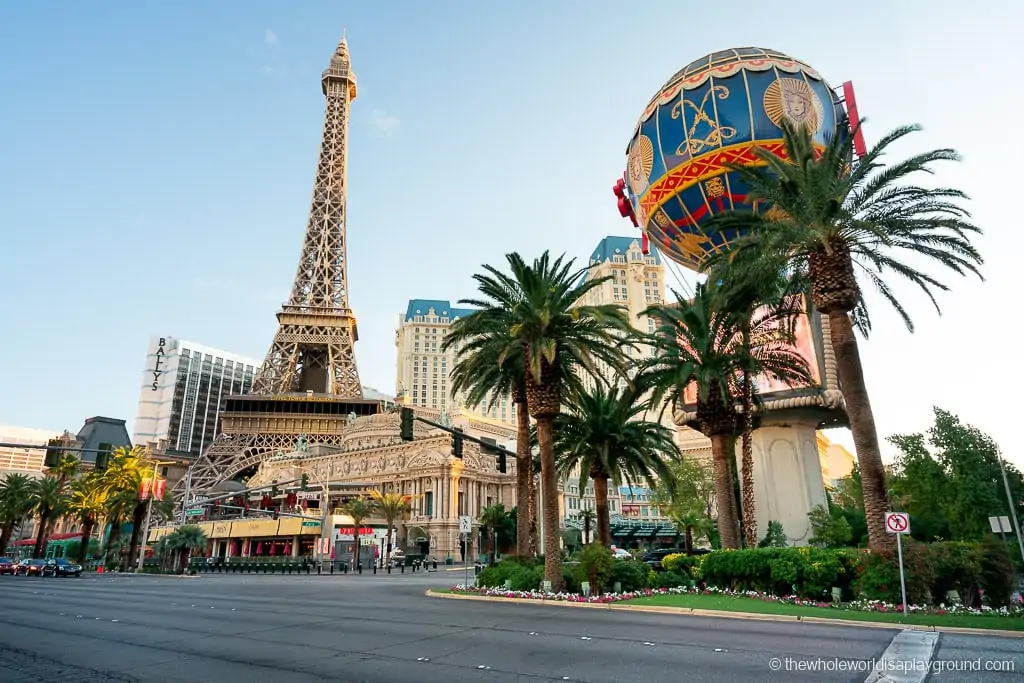 It can be hard to capture the iconic hotel for an Instagram shot but the perfect spot does exisit: Paris is directly opposite the Bellagio (of dancing fountains fame above!) and, if you walk towards the main entrance of the Bellagio, there is a perfectly positioned viewing deck which will allow you to capture Paris and its Eiffel Tower in their full splendor.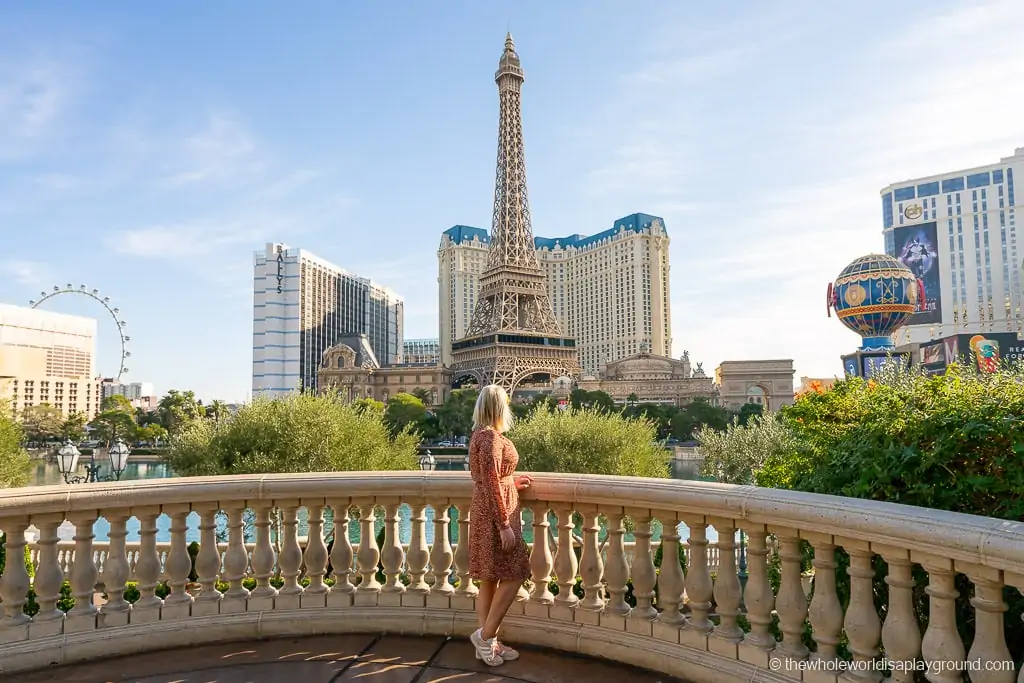 6 | Conservatory and Chihuly at the Bellagio
Inside the Bellagio, the glass-topped conservatory has been transformed into an incredible Botanical Garden with a new theme each season. The Conservatory is a colorful explosion of flowers, plants, trees and sculptures and is beautiful to meander through.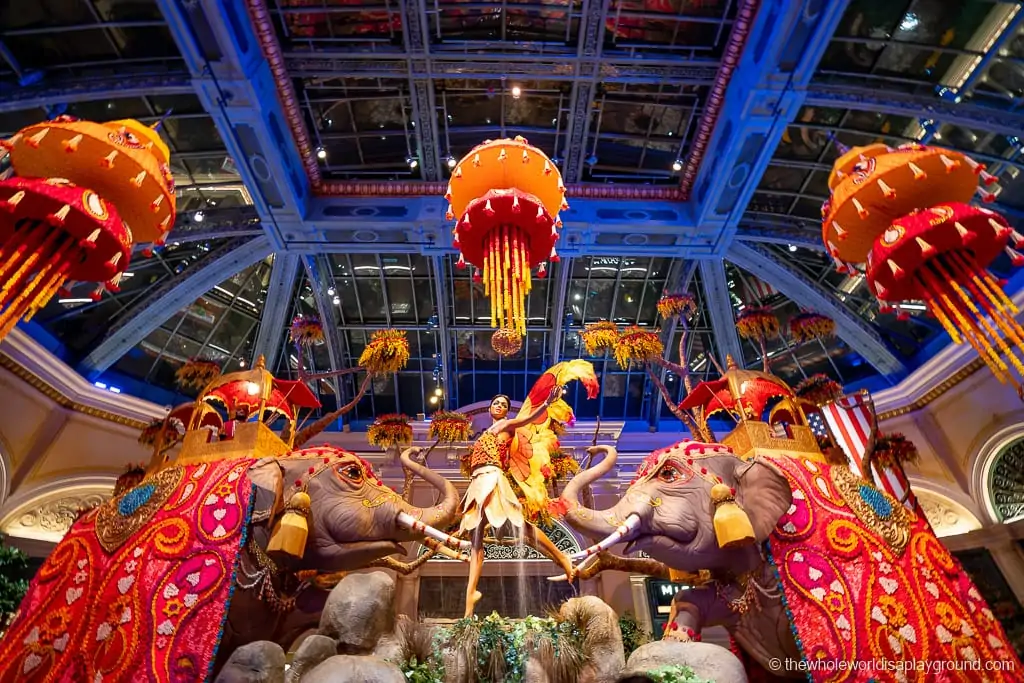 As you pass through the lobby make sure to take a moment to gaze skywards at the stunning ceiling. The huge canopy of hand-blown glass flowers is a stunning creation by the world renowned glass artist Dale Chihuly – if you've been to Seattle chances are you've come across the wonderful Chihuly Garden and Glass exhibition at the Seattle Center.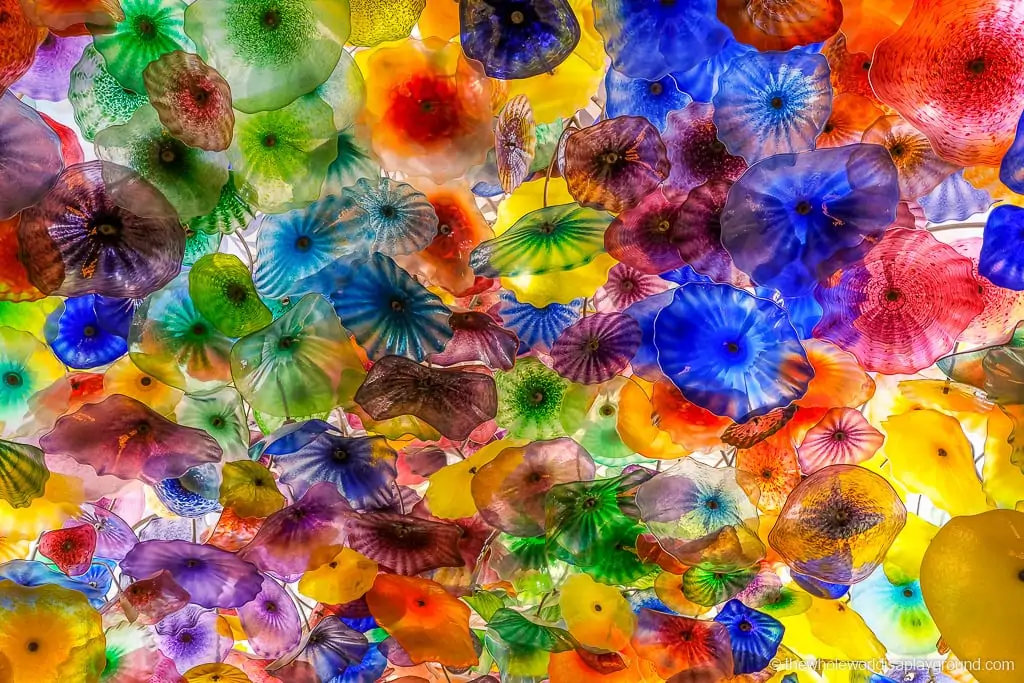 7 | Red Rock Canyon
Red Rock Canyon feels a million miles away from the neon lights and casinos of the Strip. Covering almost 200,000 acres of Nevada's Mojave Desert, the 180 million-year-old Aztec Sandstone cliffs have a distinct red color due to iron oxide being present in the rock.
As well as Red Rock Canyon State Park there are lots of National Parks near Las Vegas and the Instagram opportunities are endless!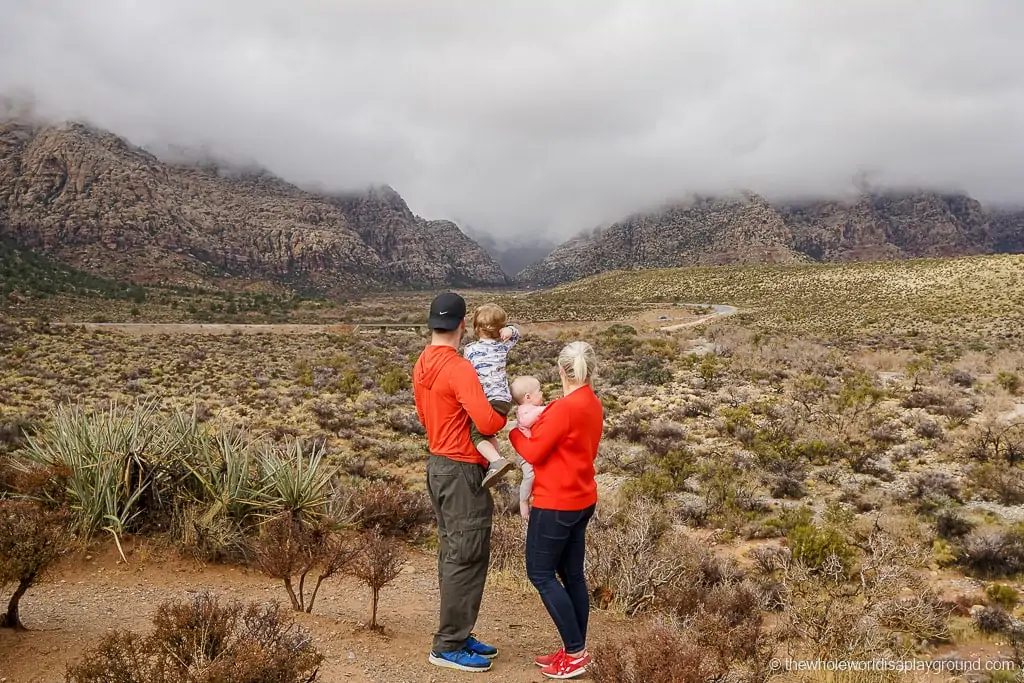 8 | Las Vegas Adventuredome
A definite bonus of traveling with young kids is visiting attractions we'd never consider otherwise. In this case, the Las Vegas Adventuredome in Circus Circus turned out to be our hidden gem! A quiet week morning visit meant that we not only got to take endless rides on the Adventuredomes rollercoasters, we also got to capture some shots on its traditional carousel.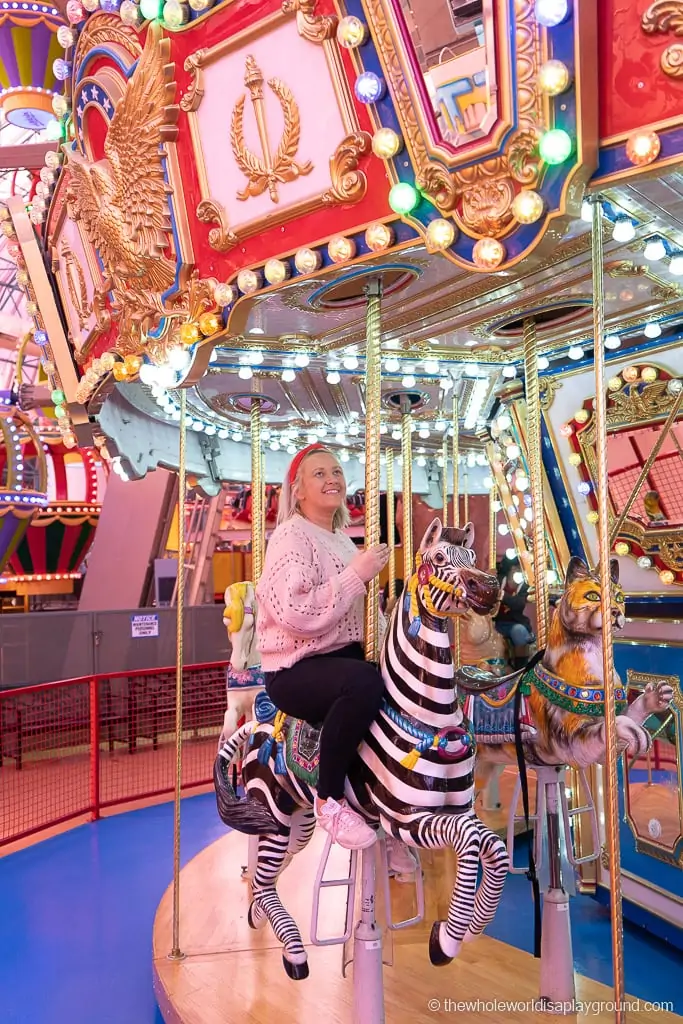 9 | Symphony Park
Downtown Las Vegas' Symphony Park is a development dedicated to arts, culture, science, and medicine and is home to the Smith Center for the Performing Arts and the DISCOVERY Children's Museum.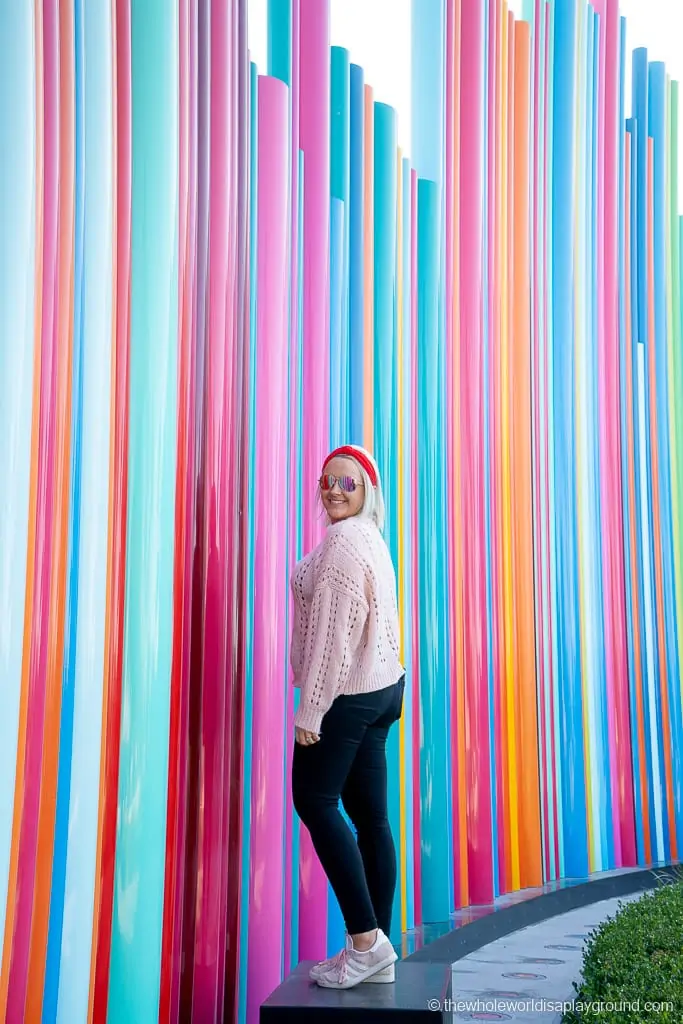 The park has two awesome spots for a unique Las Vegas Instagram shot: its colorful Pipe Dream Sculpture and the Frank Gehry designed building which houses the Lou Ruvo Center for Brain Health.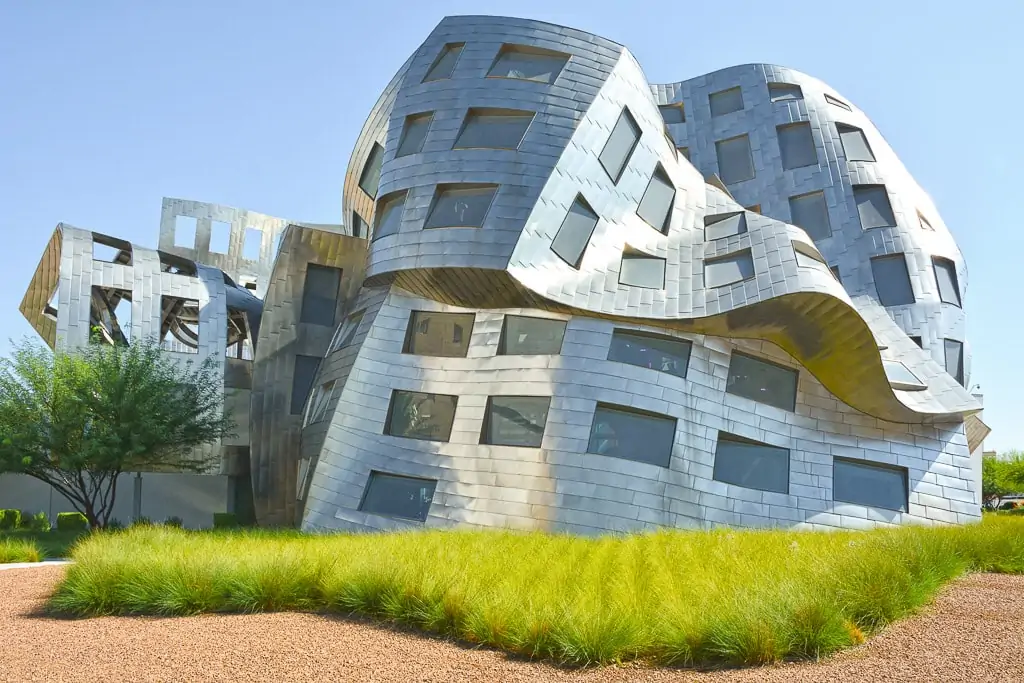 Pipe Dream is an 80-foot long sculpture comprised of steel pipes painted in 19 colors. Each pipe represents a single note from the composition Fanfare for the Common Man, composed by Aaron Copland and the width of the pipe represents the length of the note.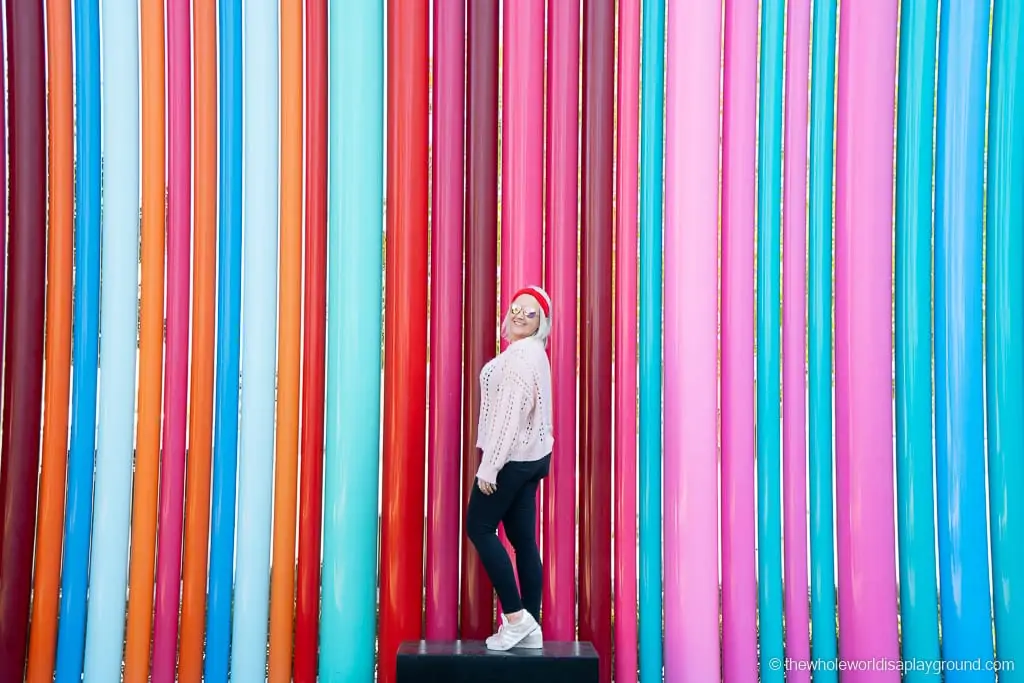 10 | The Strip Hotels
From the rollercoaster at New York, New York to the Sphinx and Pyramids at the Luxor to the recreation of Venice at the Venetian, there are lavish and extravagant resorts with awesome photo opportunities lining the Las Vegas Strip.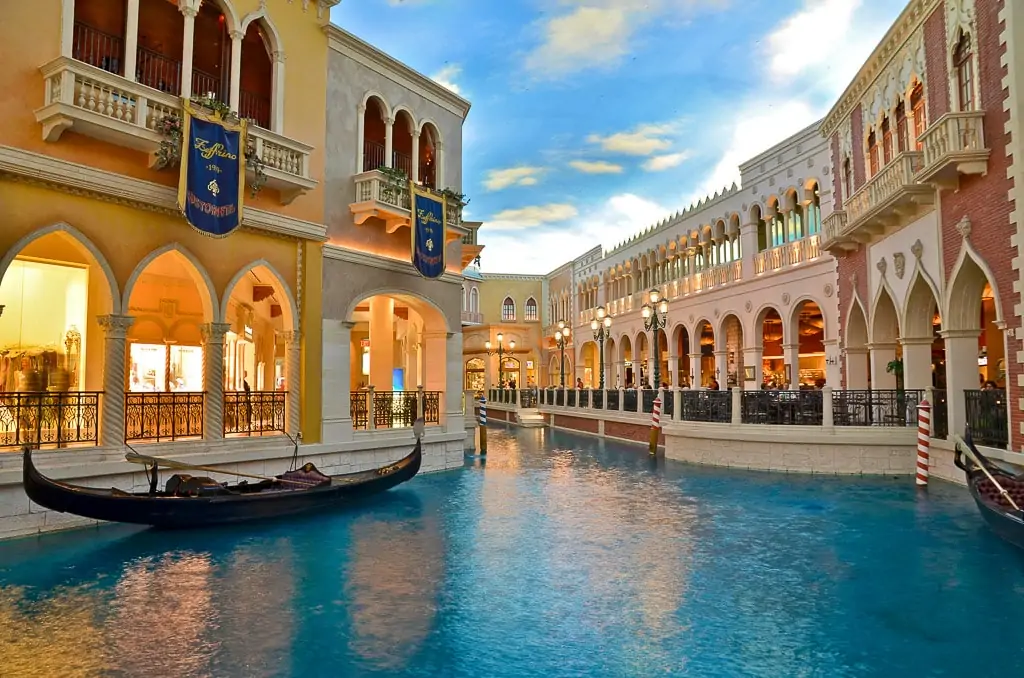 Our favorite Las Vegas Instagrams spots along the Strip include:
The Venetian: A recreation of Venice Italy, you can take your pick of Instagram spots in the Venetian. Our favorites include a gondola ride on the Grand Canal, a pose on the Rialto Bridge, or a walk under the frescoes of the Sistine Chapel in the hotel lobby.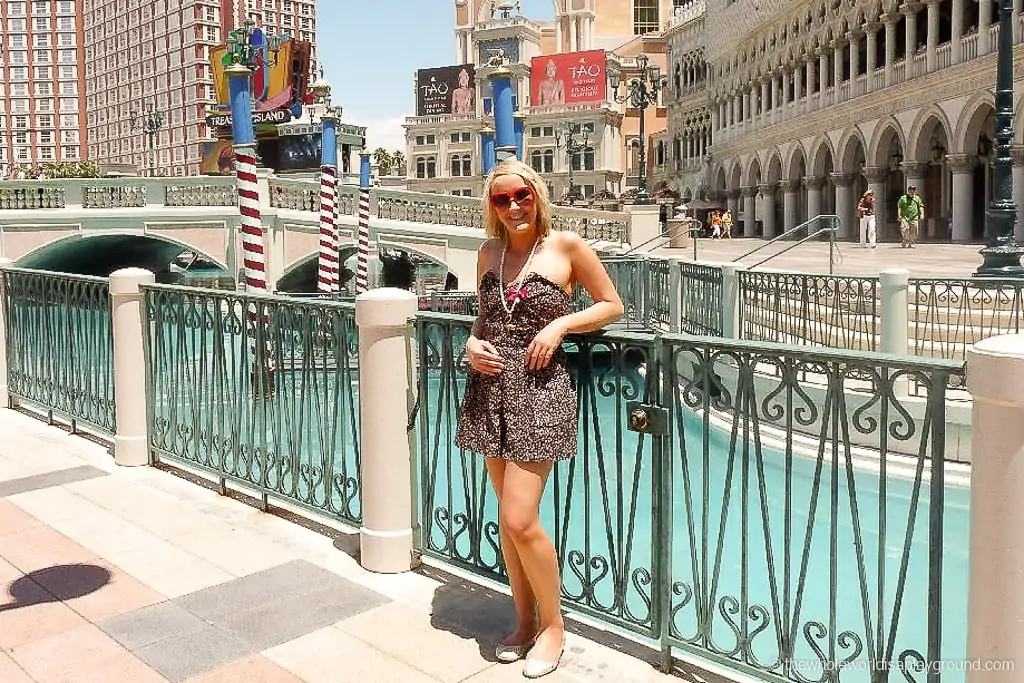 Ceasar's Palace: the Italian theme continues with a photo at the Trevi Fountain replica at Ceasar's Palace.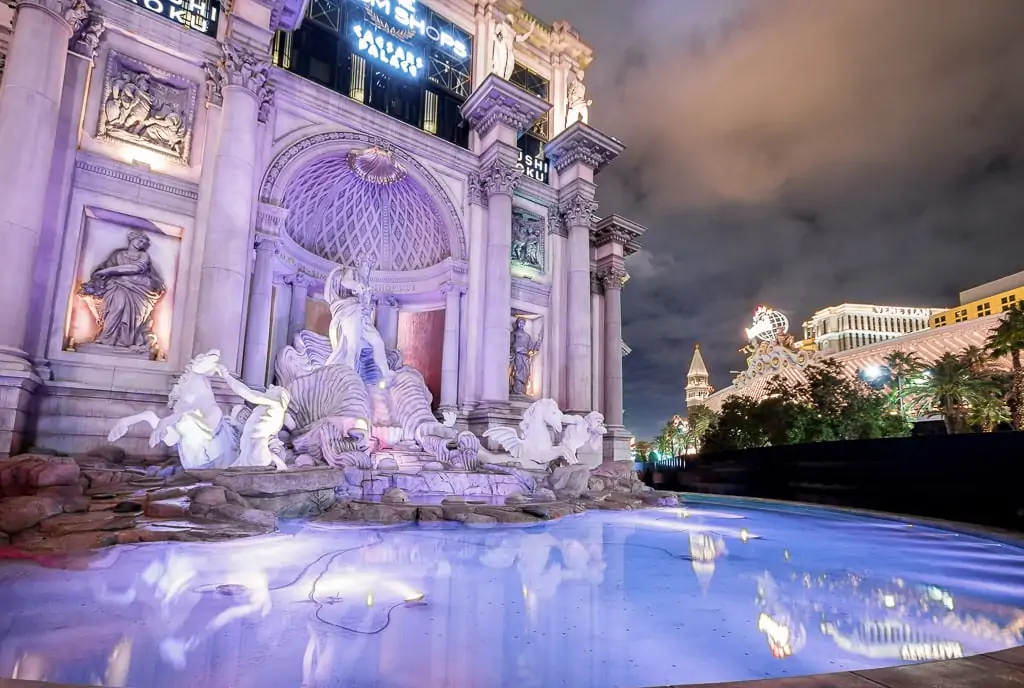 Luxor: taller than the original, a 110-foot replica of the Great Sphinx sits in front of the pyramid-shaped Luxor hotel.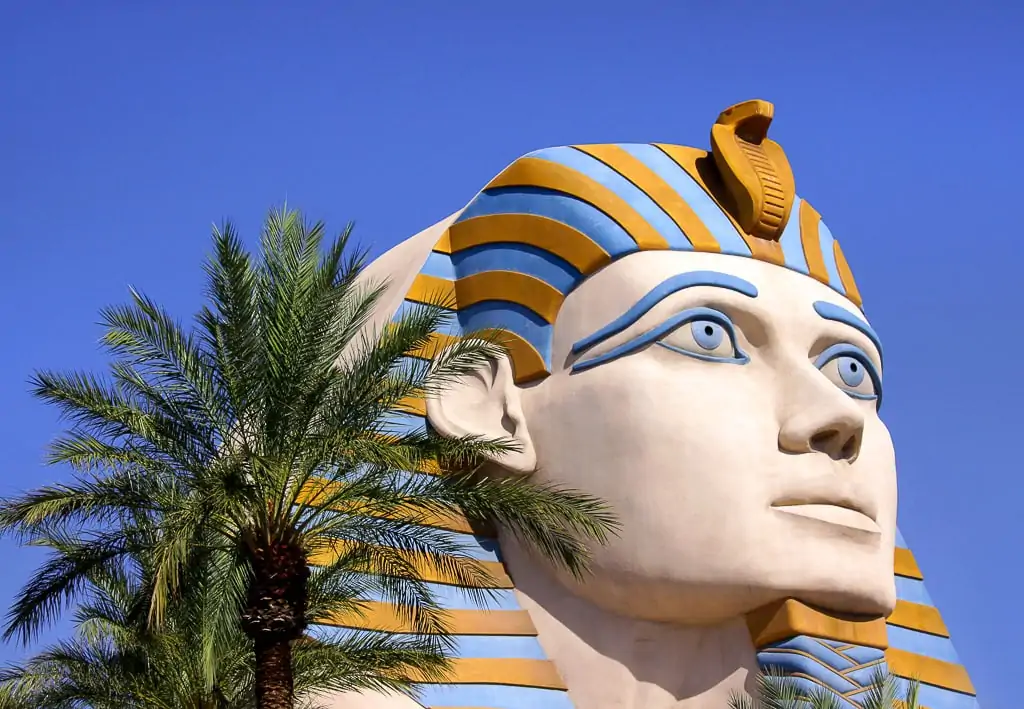 The Cosmopolitan: with shimmering light curtains cascading from its ceiling, the Chandelier Bar at the Cosmopolitan is an Instagram treat. If you are staying, reserve a Terrace Suite with fountain views for an amazing Instagram backdrop from your balcony.
11 | Valley of Fire State Park
The Valley of Fire State Park is located 50 miles north of Las Vegas. When it catches the sun the park's red Aztec sandstone illuminate the valley and it looks like it is on fire, hence the name Valley of Fire.
One of the most popular Instagram pics is the winding road at Valley of Fire State Park where the grey road is a beautiful contrast to the deep red rocks towering over it. If you are taking a photo on the road (we didn't) please take extreme care for passing cars and don't stop near a bend.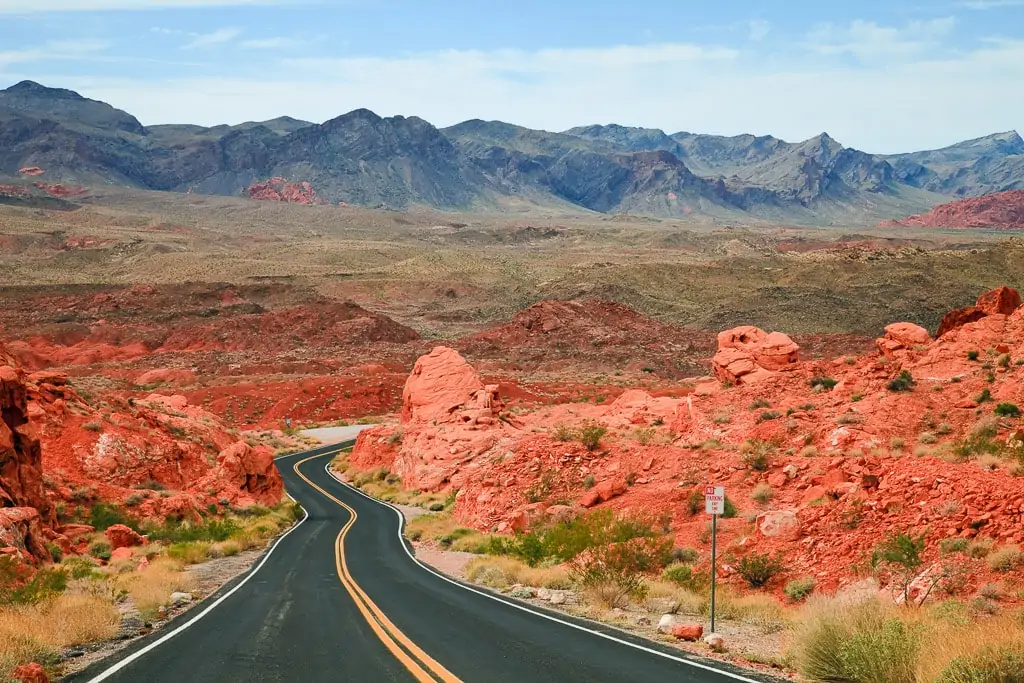 12 | West Rim, Grand Canyon
Take your Instagram shots back to nature with a day trip to the Grand Canyon, one of the 7 Natural Wonders of the World. Located 125 miles from Las Vegas, a helicopter is by far the most Instagrammable means of transport!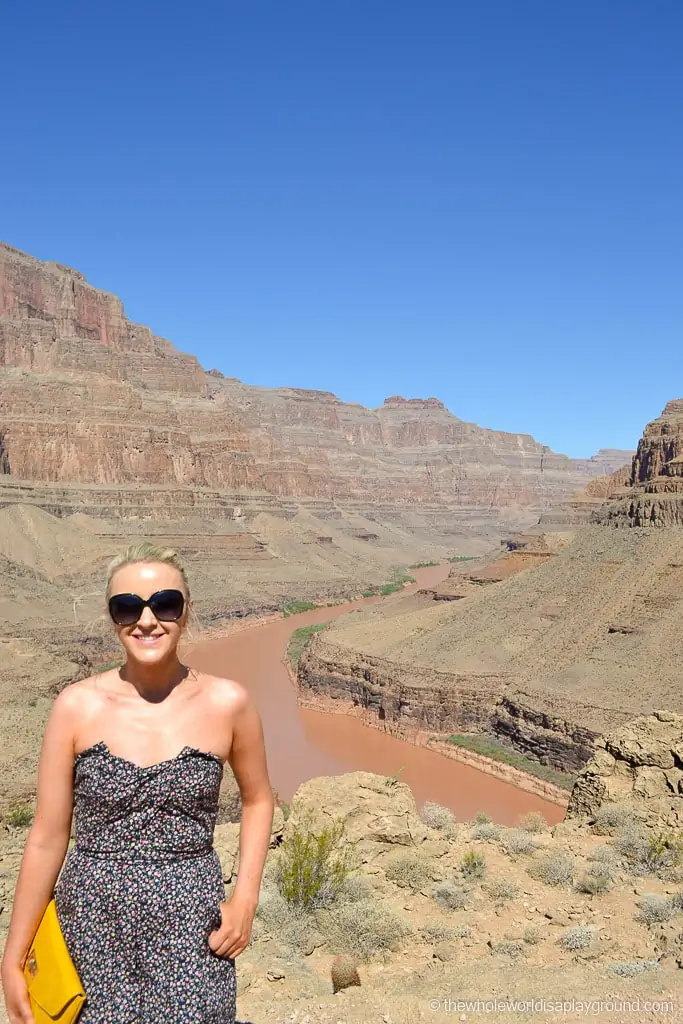 Best Instagram Spots Las Vegas tip: Our helicopter tour with a canyon landing was one of our favorite Las Vegas experiences! It was incredible to soar above the strip, Lake Mead and Hoover Dam before zooming over the Canyon and the Colorado River and landing at its base. Our tour included limos, lunch and a champagne toast – check helicopter tour prices here!
Click here for helicopter tours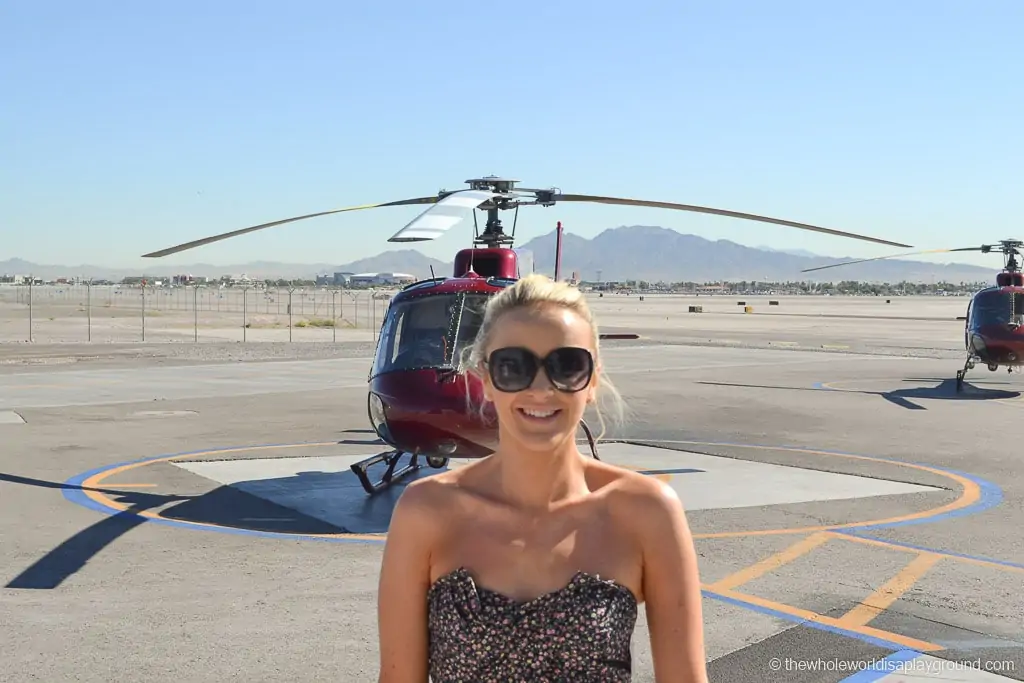 Home to the Skywalk, a horseshoe-shaped glass bridge elevated over the canyon and with a backdrop of the Canyon and the mighty Colorado River, there are endless photo opportunities at the West Rim.
You can also rent a car or take a bus tour to the West Rim:
Rent a car: we usually book our Vegas rentals through RentalCars.com. We've always found a great price for an excellent car.
Click here for the best rental car prices
It's an easy drive from Las Vegas and having your own car will give you the flexibility of following your own schedule. It means you can stop at the Seven Magic Mountains, an art installation just outside Las Vegas, and Hoover Dam. You can also visit some of the other spots on our list (such as Valley of Fire State Park) although you will need to plan this for a separate day.
Join a bus tour: many visitors join a bus tour from Las Vegas, most of which include a stop at Hoover Dam – check tour prices here!
13 | The Empty Club
Once a Vegas gas station, the abandoned building was transformed into an art installation by artist Andre Saraiva. He painted the empty building on Fremont and 8th neon pink and it is now known as the Empty Club.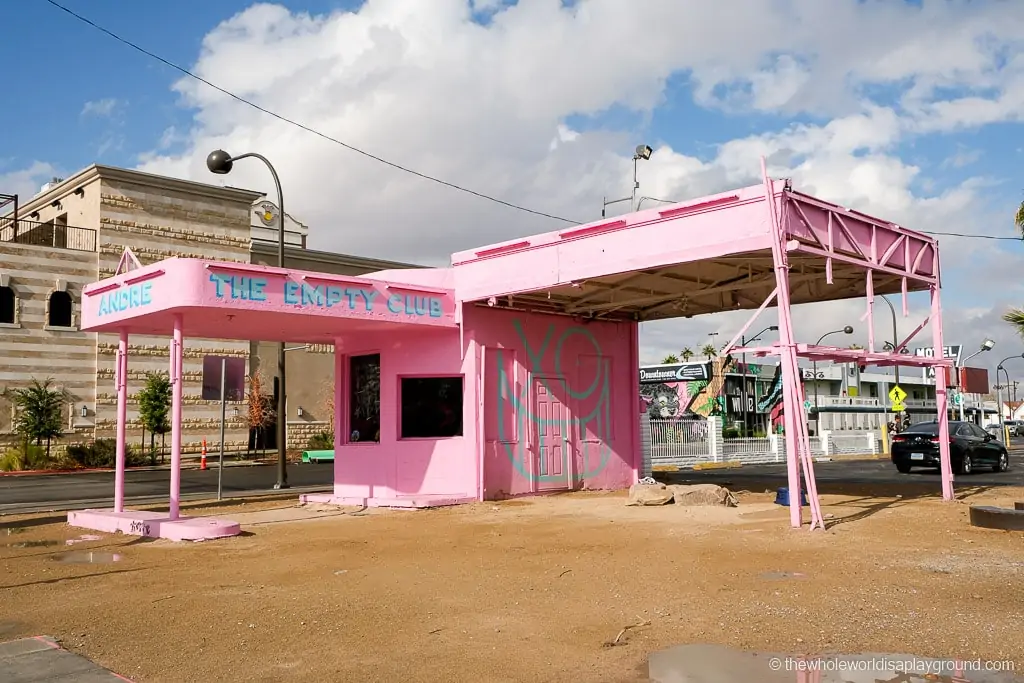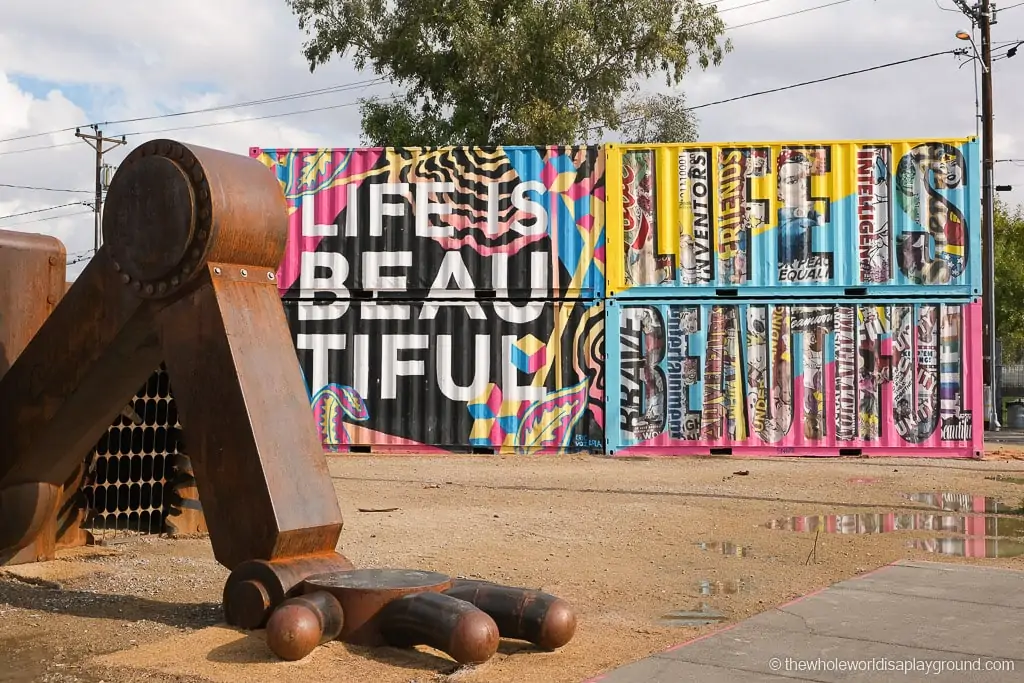 14 | Little White Wedding Chapel
Las Vegas is a popular wedding spot and the Little White Wedding Chapel is a city icon with a string of famous faces having tied the knot there. There's a drive-through tunnel of love, a pink Cadillac, and Elvis on hand to serenade.
One day I'm going to renew my vows in a pink Cadillac in the Little White Wedding Chapel but, until then, the best Instagram shot is under the sign on the street!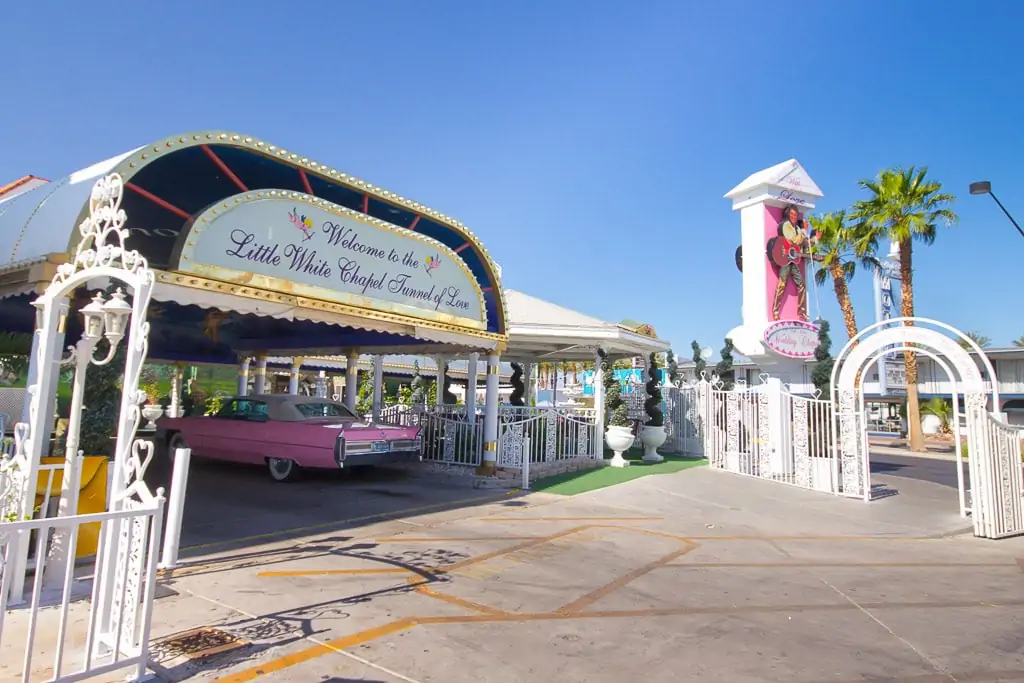 15 | Fremont Street
The area around Fremont Street is one of our favorite spots for capturing some Las Vegas street shots.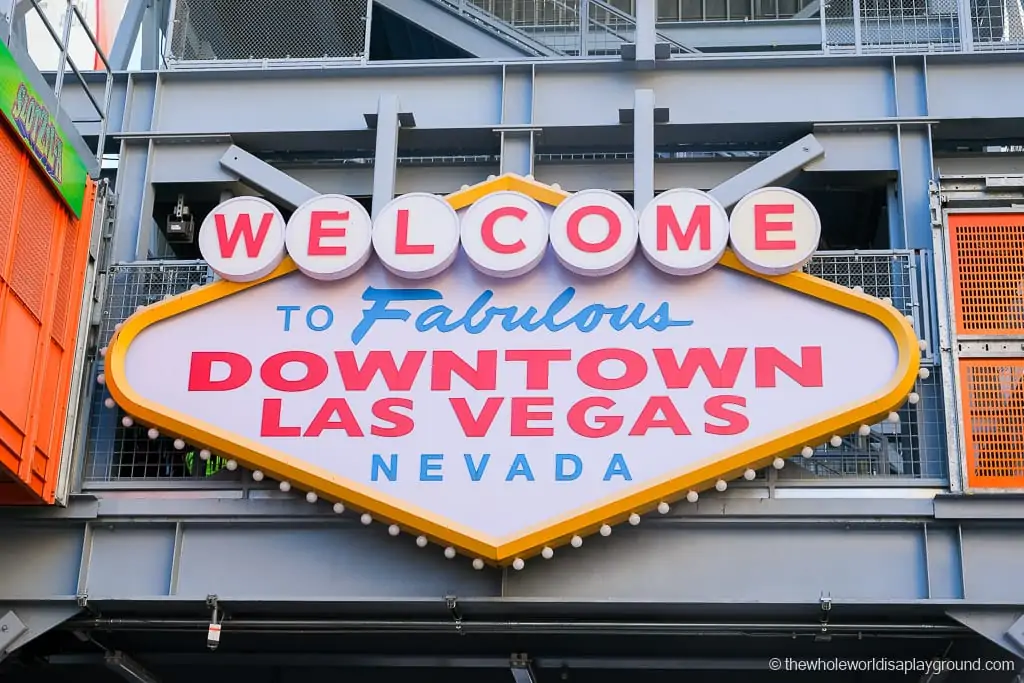 The retro facade of the El Cortez Hotel on Fremont Street is awesome for Instagram shots. There's a fantastic rainbow-colored crossing on the street below which is even an even better Vegas Instagram spot – unfortunately, when we visited the street was in the middle of a huge construction project.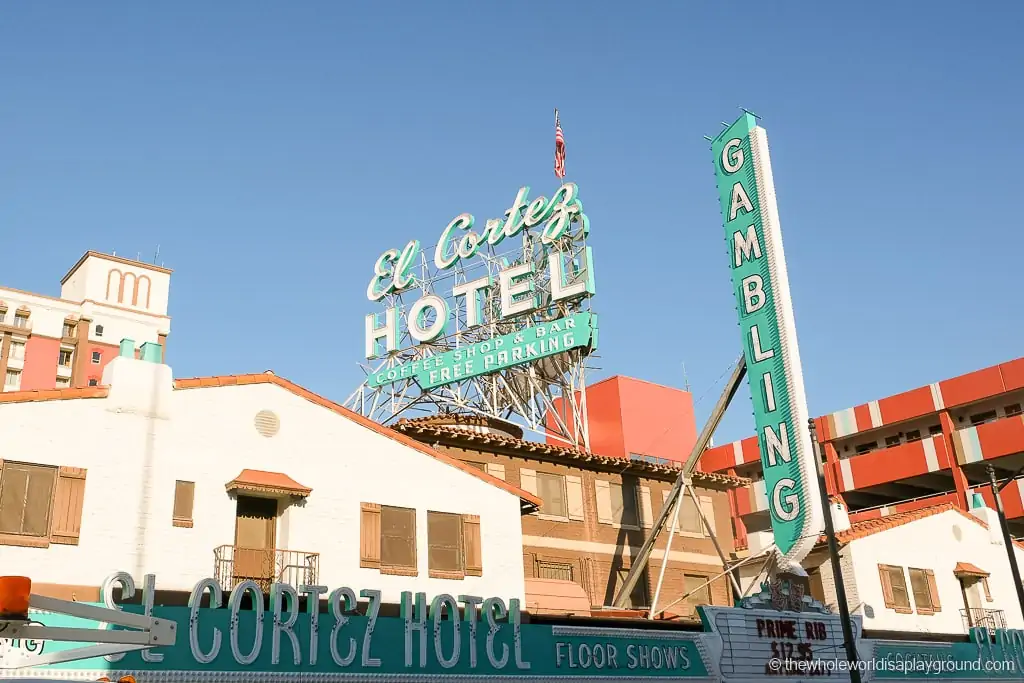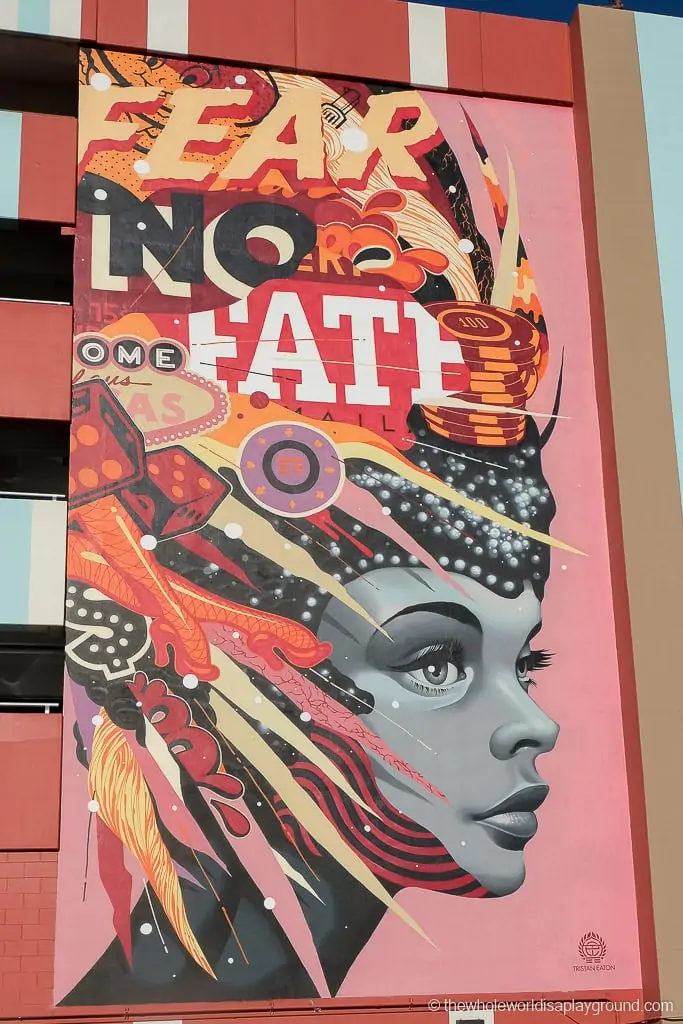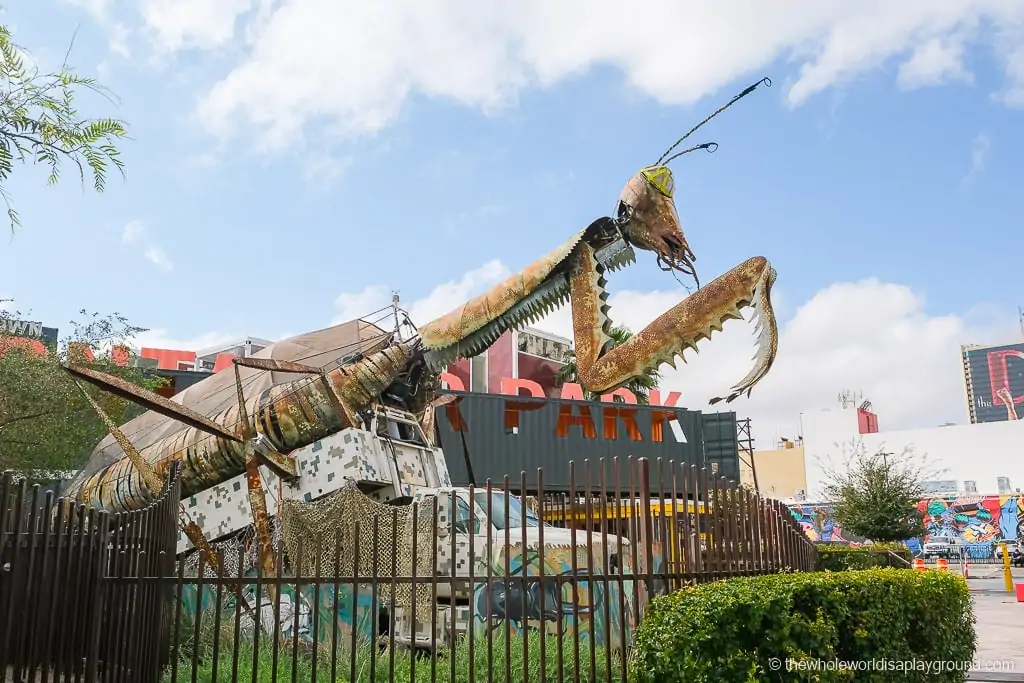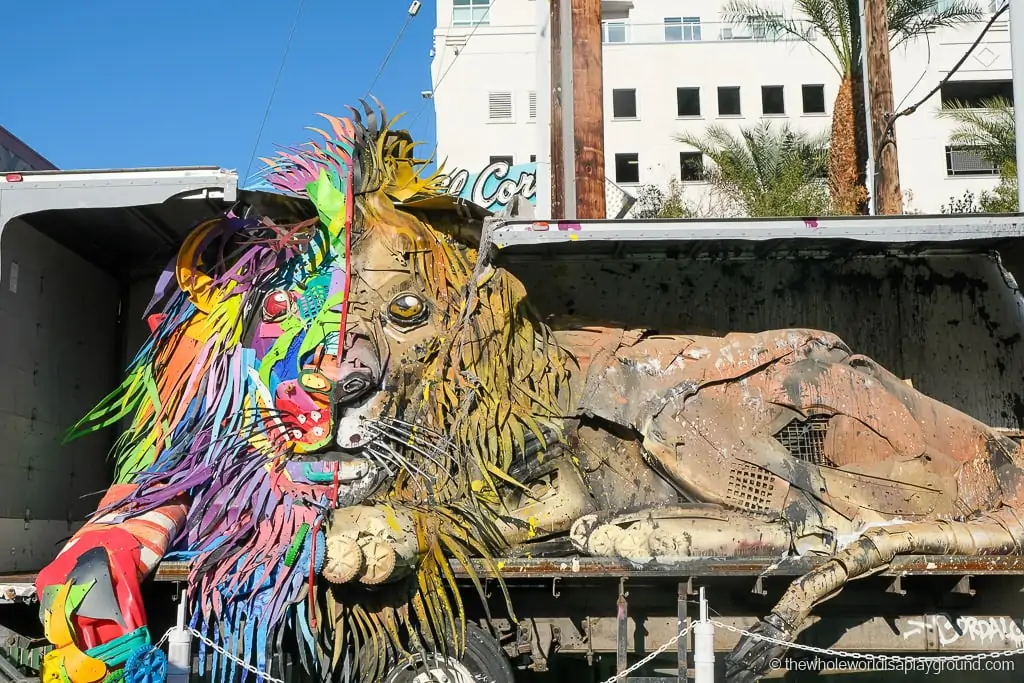 Map of the Best Instagram Spots in Las Vegas
How to Use This Google Map: Click on the grey star at the top of the map and this map will be added to your Google Maps account. You can then view it on your phone or computer in Google Maps by clicking on the menu button, going to "Your Places" and selecting this map. We use these maps all the time as you can set out your itinerary ahead of time and quickly reference the saved maps.