Marlfield House, Ireland: luxury boutique hotel review
With a weekend in Ireland to spoil ourselves we were seeking an intimate and luxurious country house getaway to indulge in a night of fine dining, roaring fires and walks through the countryside. Searching for inspiration in Ireland's Blue Book we came across the magnificent Marlfield House in Wexford. With lavish bedrooms, an award winning fine dining restaurant and beautiful gardens, Marlfield House looked like the perfect getaway and we couldn't wait to check in!
Marlfield House
After less than an hour drive from Dublin we arrived at the gates to Marlfield House and, as we reached the lantern lit path to the entrance, we knew we were in for a treat. We received a warm welcome from the staff as we admired the reception room with its period furniture and blazing fire and felt instantly at home in the family run property.
We booked our stay in Marlfield House through Ireland's Blue Book, a beautifully curated collection of luxury accommodations throughout Ireland. With some of the country's most unique and finest hotels and country houses listed we often look to Blue Book for inspiration for our Irish nights away. Often there are perks when booking a Blue Book voucher rate. In the case of Marlfield House, this was a glass of prosecco and tea and scones on arrival.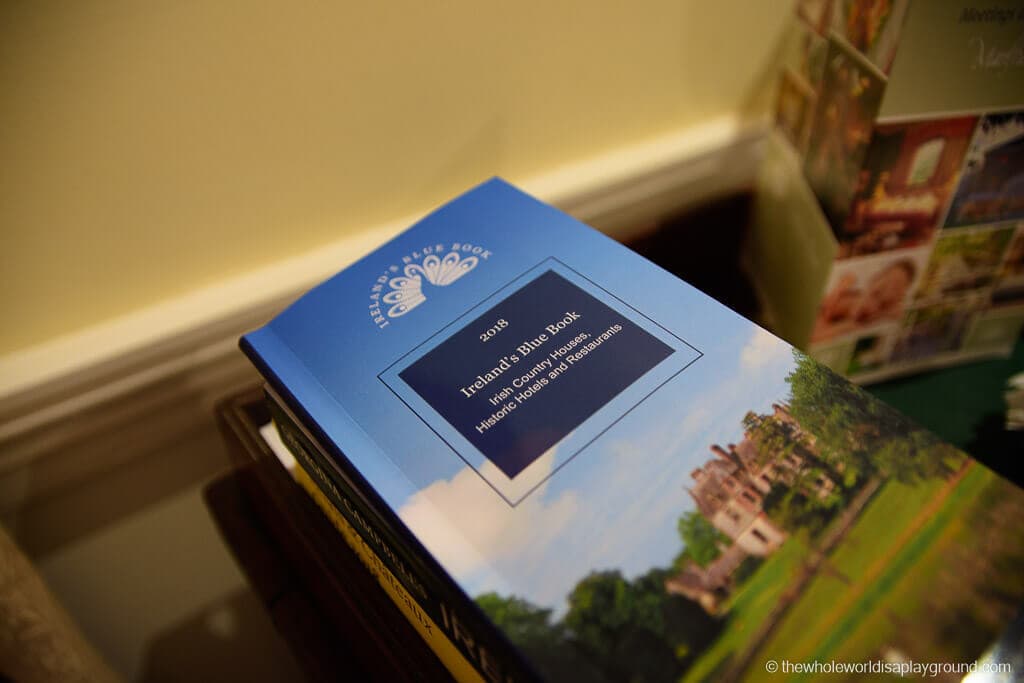 The Rooms
With 19 rooms Marlfield House is an intimate boutique hotel and each bedroom is richly decorated and unique. We adored our opulent State Room, the Stopford Room, which is one of the finest rooms in the hotel and exudes romance, elegance and luxury. The king size four poster bed together with the marble fireplace and free standing bath instantly won us over!
The rooms are perfect for relaxing and we loved reading by the fire, soaking in the marble bath and lounging in the wonderfully comfortable four poster bed. The attention to detail and the little touches shown by the staff at Marlfield House made our stay all the more enjoyable. From the great selection of reading materials by our fire to the fresh fruit and bottled water and the heated blanket on our bed, everything we needed was within easy reach.
Like all the rooms in Marfield House, the Stopford is breathtakingly beautiful and we only wished we could have stayed longer!
Food and Drinks
Marlfield House is a food lovers dream with both the fine dining Conservatory Restaurant and the more relaxed Duck Terrace on site and for drinks the Library Room bar is a favourite.
Drinks in the Library Room Bar
The Library room is our ideal drinks setting: intimate with a relaxed atmosphere and set against the backdrop of a blazing fire! Our elderflower gin and tonics were delicious and it's the perfect spot to curl up with a book or a newspaper and enjoy some down time.
Dinner in The Conservatory 
We opted for a 5 course evening meal at the Conservatory where the menu is described as classical with French and Mediterranean influence. For starters we chose a ham hock and fois gras terrine and a braised lamb shoulder, for mains we had turbot and venison and for dessert a cheese board and lemon tart. Amuse bouches of leek and potato soup and smoked salmon were served between courses.
The food was delicious and the atmosphere was relaxed while still offering a fine dining experience. The lamb and venison were our highlights and, having spent the previous month in South Africa, we couldn't resist accompanying our food with a bottle from a South African vineyard!
Breakfast
Breakfast at Marlfield House is served in the light filled conservatory dining room and is a relaxed affair. The menu is beautifully thought out and ranges from the traditional Irish breakfast to its modern equivalent of avocado toast. We indulged in the usual fruits and cereals from the buffet and had made to order pancakes and avocado toast from the menu, all of which were delicious. A selection of daily newspapers were provided in the dining room and we spent some time relaxing in the breakfast room with a coffee while catching up on the news.
The House
The hotel oozes elegance and old world charm with its blazing fires and period furniture. It's lovely to wander through the rooms and admire the beautiful decor and interesting art work. The library and reception rooms are warm and welcoming and are the perfect spots to settle with a good read. If it is unoccupied make sure to try and catch a glimpse of the Print Room: it's Marlfield's master suite: the vibrant room is adorned with fine antiques and paintings and the decor is striking.
The Gardens
Set in 40 acres of gardens the grounds of Marlfield House are beautifully manicured and, as well as the ornamental lake, there are a variety of gardens housing herbs, roses and vegetables. A wooded area, perfect for woodland walks, surrounds the hotel and ducks, hens and peacocks reside in the wildfowl reserve – the resident peacock even makes frequent appearances on the patios of the bedrooms!
Overall
Like all Blue Book properties, Marlfield House is the perfect escape for a luxury Irish retreat and we loved its elegance, relaxing atmosphere and attention to detail.
Ireland's Blue Book
Ireland's Blue Book is a beautifully curated collection of luxury accommodations throughout Ireland and some of the country's most unique and finest hotels and country houses are listed.
For more information check out:
 Thank you to Ireland's Blue Book for hosting us during our stay. As always, thoughts and opinions expressed here are entirely our own.
Disclaimer: As an Amazon Associate I earn from qualifying purchases. As an Airbnb Associate, I earn when you book through our links.