Rooftop drinks with a view is an experience not to be missed in chaotic Marrakesh where there is nothing quite like finding a quiet roof top bar with panoramic views to sit back and relax in the bustling city. Marrakesh has an amazing choice of rooftop bars with beautiful views and we wanted to share our faves: here's our guide to the best rooftop Marrakesh spots to enjoy the many stunning sights and sounds of Marrakesh!
1 | Le Grand Balcon du Café Glacier
Jemma el-Fnaa is one of the craziest places in Marrakesh: snakes, monkeys, henna tatoo artists, orange juice stalls, a night food market, spinning fireballs and thousands of people! For the absolute best view of the Jemaa el-Fnaa Square one café beats all others: Le Grand Balcon du Café Glacier has simply the most incredible view of the square, day or night.
Marrakesh sightseeing tip: There is a small cover charge to enter and you'll need to buy a drink: mint tea please! The only downside of the café is that it is packed with tourists and better for drinks. For a more relaxed spot to chill out at Jemaa el-Fnaa check out #3 Cafe de Paris below.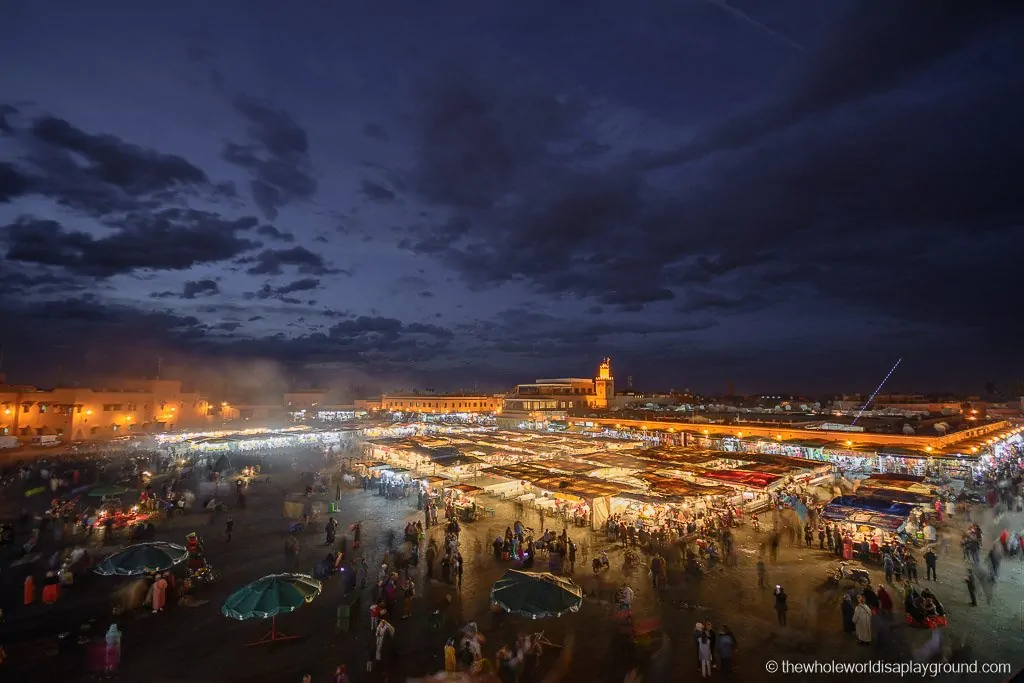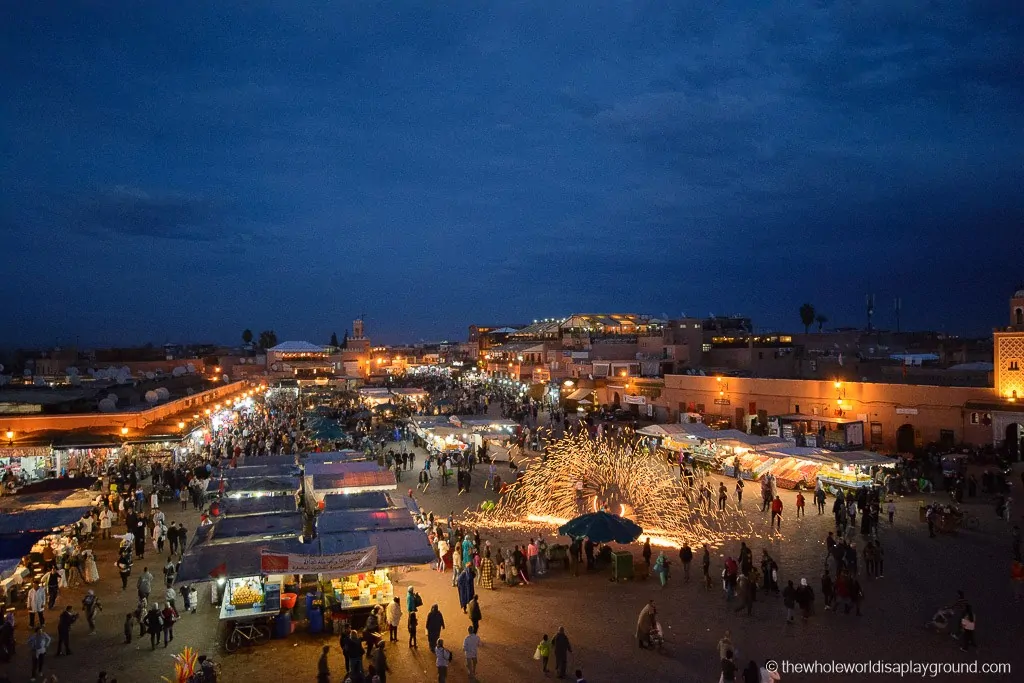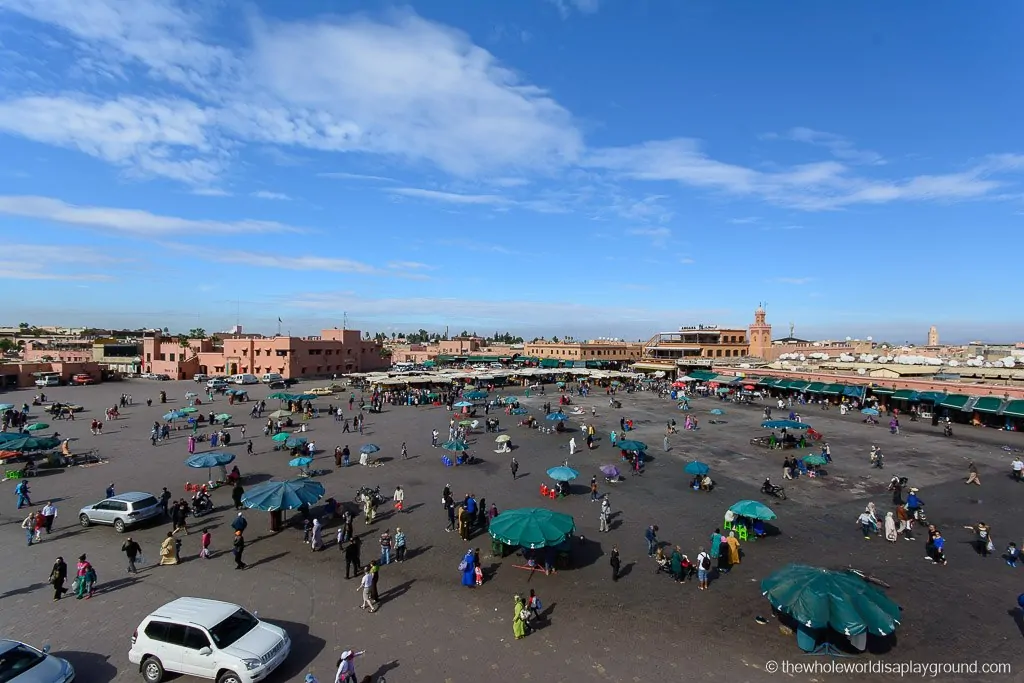 Where to Stay in Marrakech
Marrakech is a city best explored on foot and the best way to do this is to stay in the Medina (the historic centre of Marrakech) in a traditional Morroccan hotel known as a riad. This will allow you access to all of the medina at any time of the day, especially in the quieter evening and morning times. The best riads we reccommend in Marrakech are:
Riad Joya: Where we stayed while in Marrakech. Riad Joya is a truely beautiful, luxury riad with all rooms facing onto the interal courtyard. We enjoyed breakfast on the roof in the mornings and Jemaa EL Fna is a 5 mintue walk from the hotel door and the staff couldn't have done more for us. Our rate also included a free transfer to/from the airport which was really useful as finding your riad in Marrakech really hard when you arrive – Check prices now
Riad Enchanté: another intimate riad located close to Riad Joya and also a short 5 minute walk to Jemaa El Fna – Check prices now
Riad Les Nuits de Marrakech:Literally one minute walk from Jemaa El-Fnaa this beautiful traditional Moroccan Riad is perfect for couples and although it's in the centre of the medina it's very peaceful. This riad also has a beautiful terrace and swimming pool – Check prices now
2 | Maison de la Photographie de Marrakech
A photography museum is a fitting place to capture one of the best rooftop views of Marrakech. The relaxed rooftop terrace at the Maison de la Photographie de Marrakech looks over the Marrakesh rooftops towards the Atlas mountains and shows off the Marrakesh skyline at its finest!
Marrakesh sightseeing tip: There is a small entrance charge into the museum which itself has some amazing pics. The rooftop terrace is an added bonus!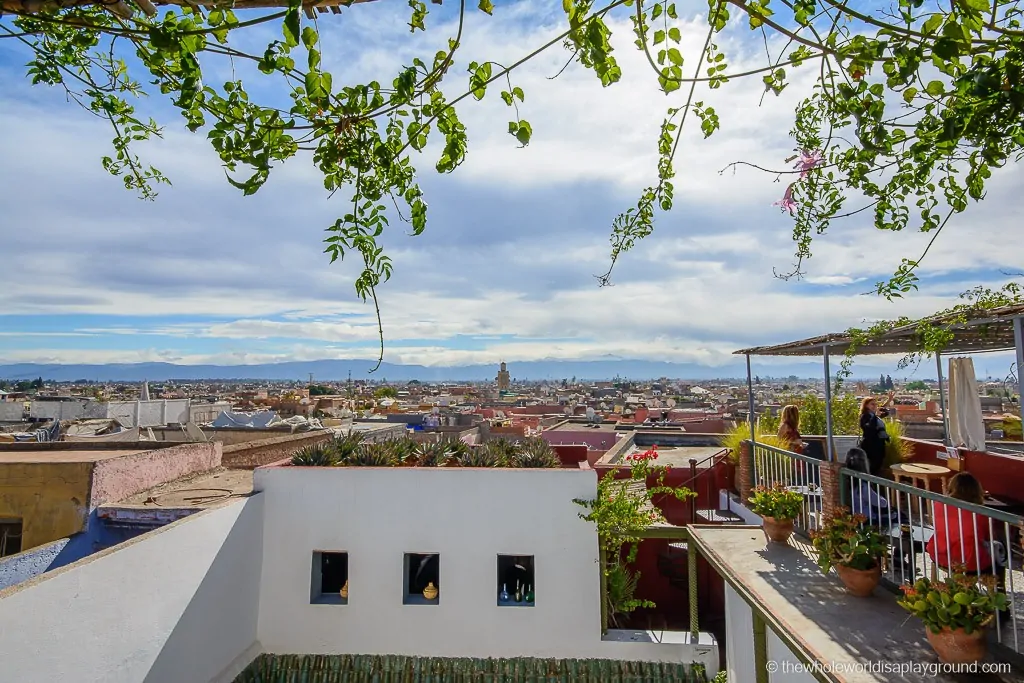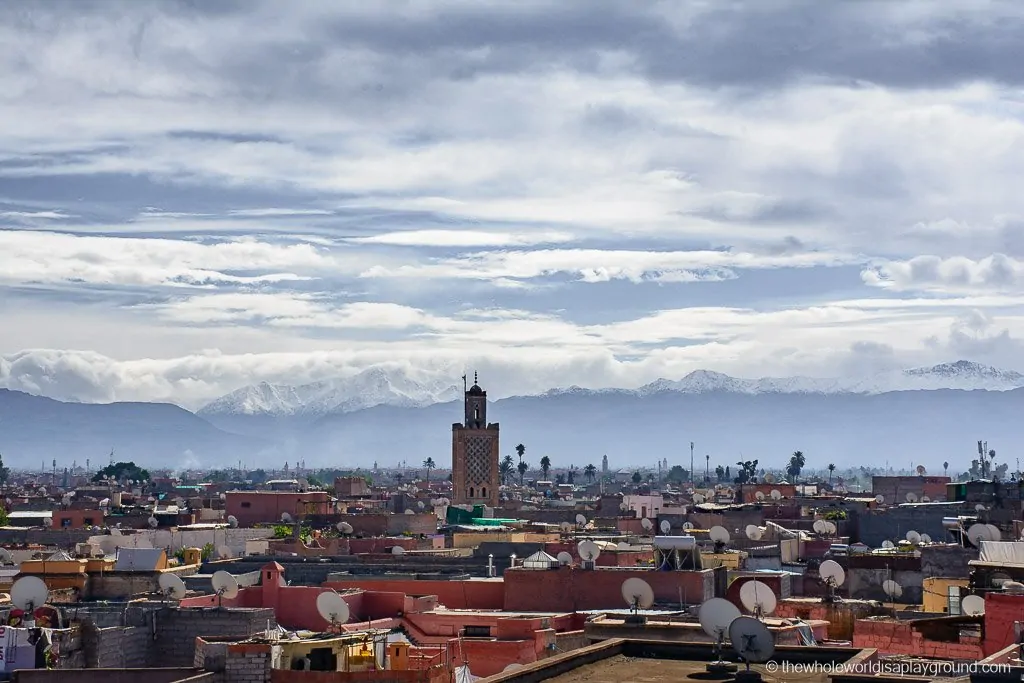 3 | Cafe de France, Jemaa el-Fnaa
This cosy cafe has stunning Jemma el-Fnna views, similar to Le Grand Balcon du Café Glacier, but is a lot less crowded and serves good food.
Marrakesh Sightseeing Tip: Make sure to climb the stairs to the top floor for the best view and a relaxed terrace area.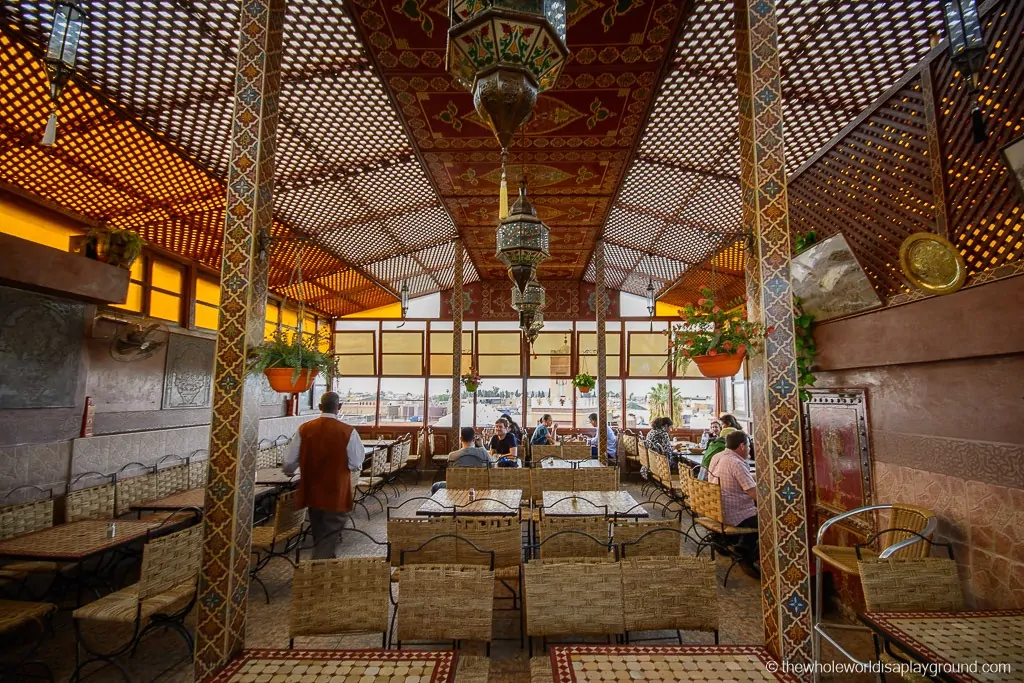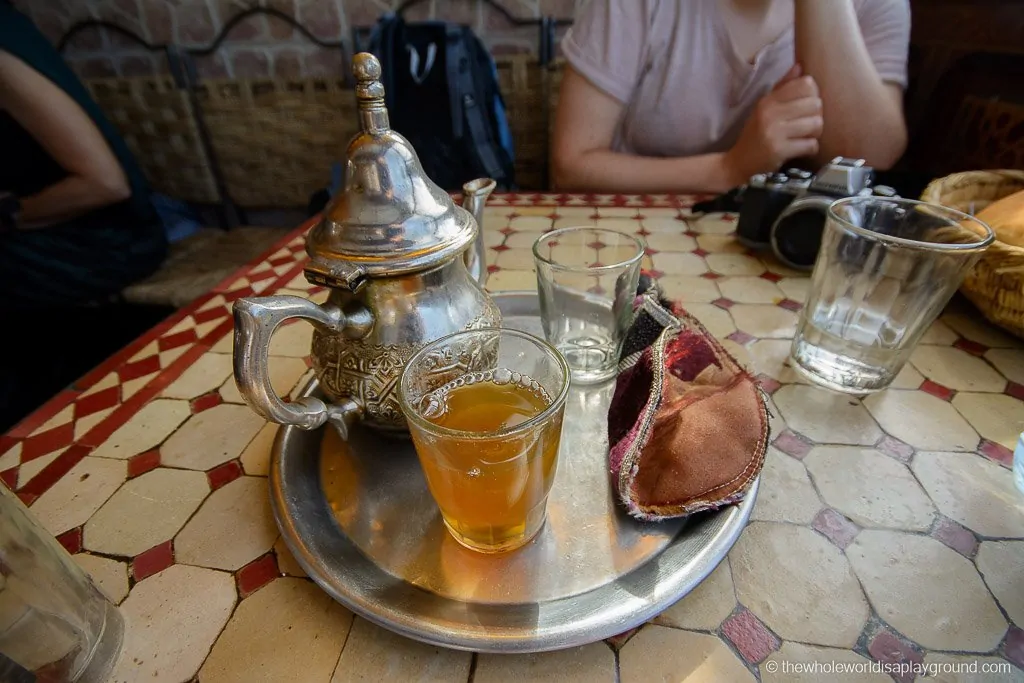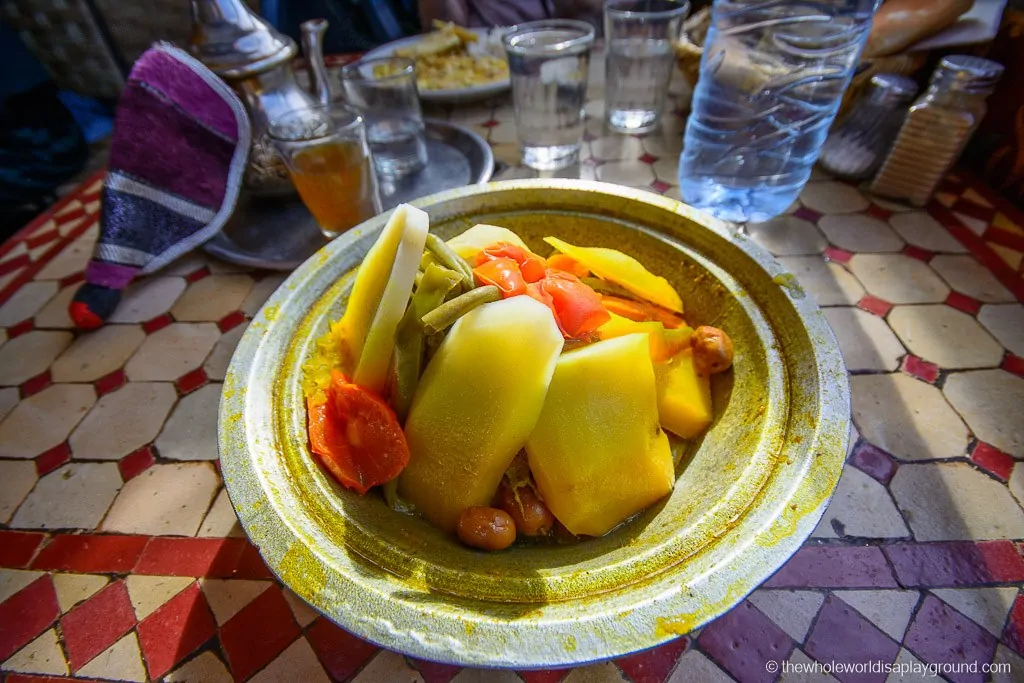 4 | Café Arabe
This restaurant/bar (the first serving alcohol on our list!) is located right on the tourist trail within the Marrakech Medina and is a great place to grab a bite to eat and a glass of wine while out exploring the city.
Marrakech Sighseeing Tip: Cafe Arabe is one of the few café's that serves alcohol in the Medina and also has great views of the city!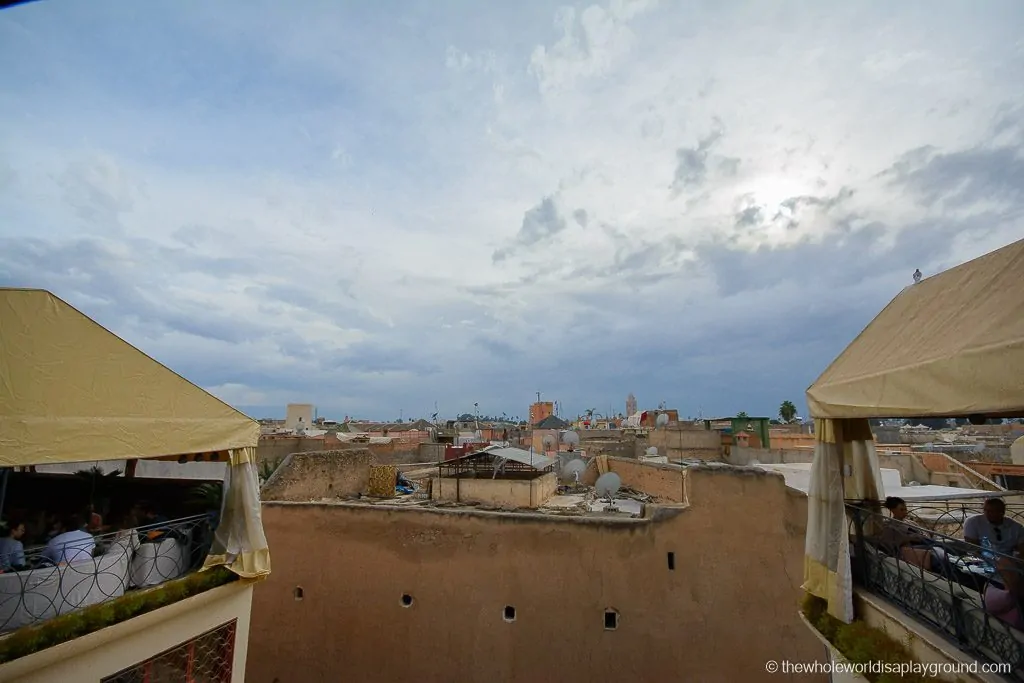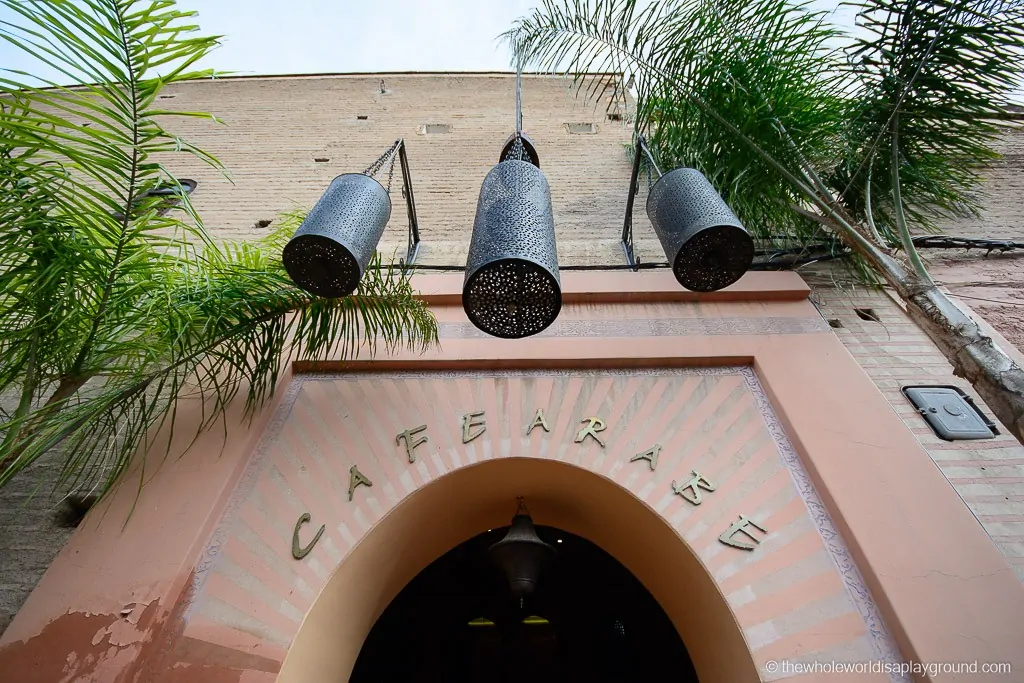 Morocco Travel Guidebooks
We recommend the following guidebooks for planning your Marrakech and Morocco trip.
5 | Kosybar
KosyBar is located close to the Palais El Badiî and is the perfect place to take break from a busy day of sightseeing. Settle down to a refreshing mint tea or something stronger as KosyBar. KosyBar is a more bar like setting and perfect if you want to indulge in something alcoholic on your Marrakesh travels!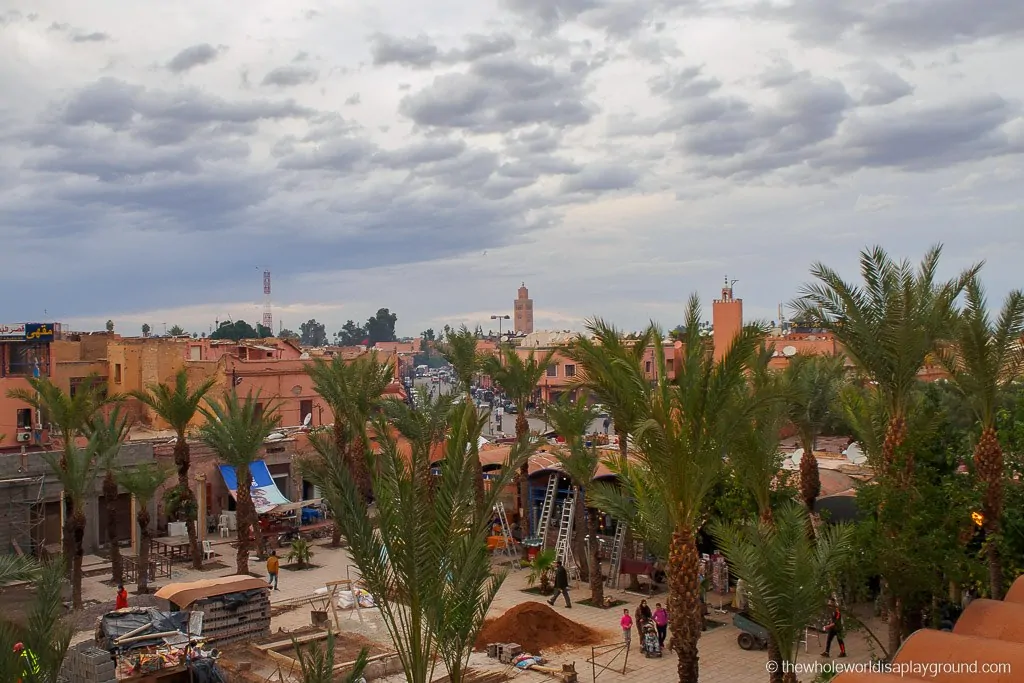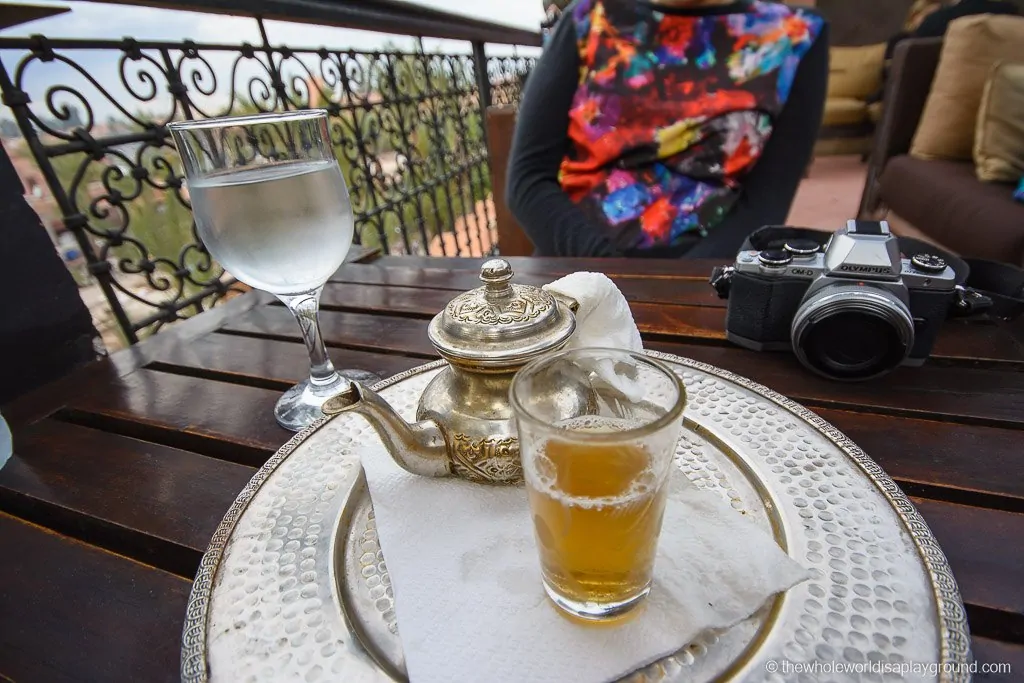 6 | Riad Rooftop
If you're lucky enough to be staying in a Riad within the Medina chances are there is fantastic views from its rooftop so make sure to ask the owner when you check in. We stayed in Riad Joya which had a stunning rooftop and we loved indulging in some sunshine, fresh orange juice and medina views to start the day.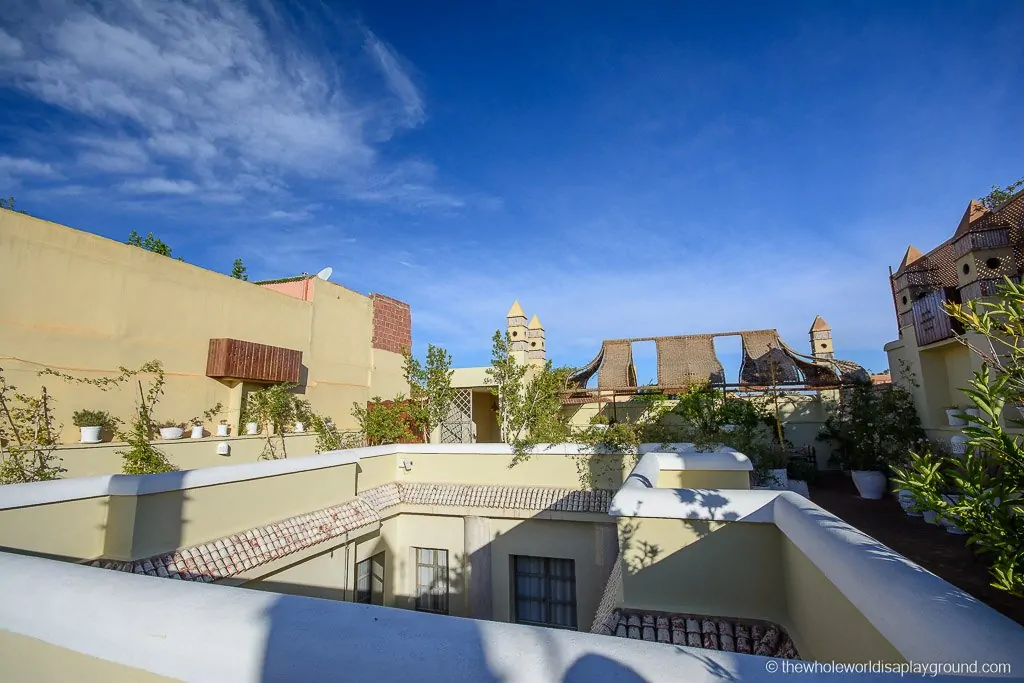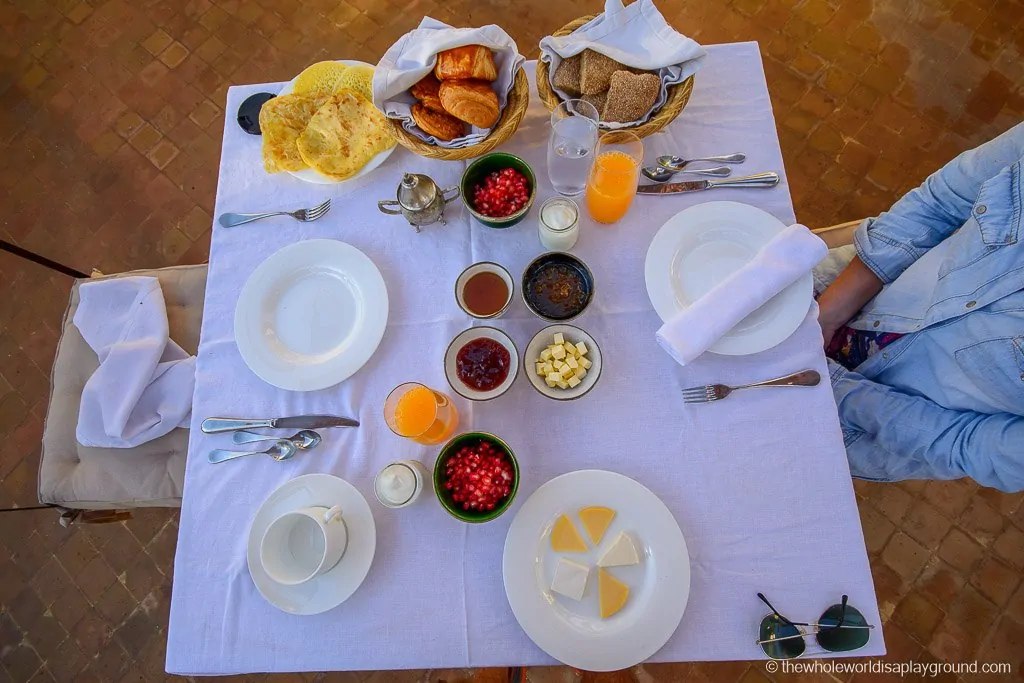 So there you have it… our 5 favourite Marrakech rooftop bars and restaurants. Did we miss any? Let us know in the comments!